Traditional mountain bikes, those without suspension, are common among older used bikes. They are usually made from steel or aluminum, accommodate knobby 26" tires, and have flat handlebars with trigger or grip-type gear shifters. The frame size is determined by the length of the seat tube. The instructions below explain how to measure a traditional mountain bike.
Frame Diagram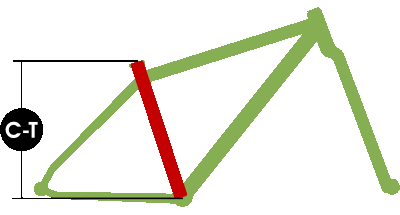 Measuring Instructions
1

Identify the top of the seat tube, where the seat clamp holds the seat post.

2

Identify the center of the bottom bracket (it's the axle that holds the crank arms together).

3

Measure the distance between the two points (C-T) - this is the length of the seat tube.

4

Record your measurement in both centimeters (cm) and inches (to the nearest half-inch).

5

Select your bike size from the drop-down on the right to see a rider height chart.
Traditional Mountain Bike
Rider Charts
Once you know your bike's frame size, select it from the drop-down to see how tall riders should be to use this bike.
Notes
Center to Top (C-T) - This is the length of the seat tube, measured from the center of bottom bracket to top of the seat tube.
Metric (cm) - Road bikes are measured in centimeters.
---
Related: Best Electric Mountain Bikes
---