Ancheer E-Bikes Brand Overview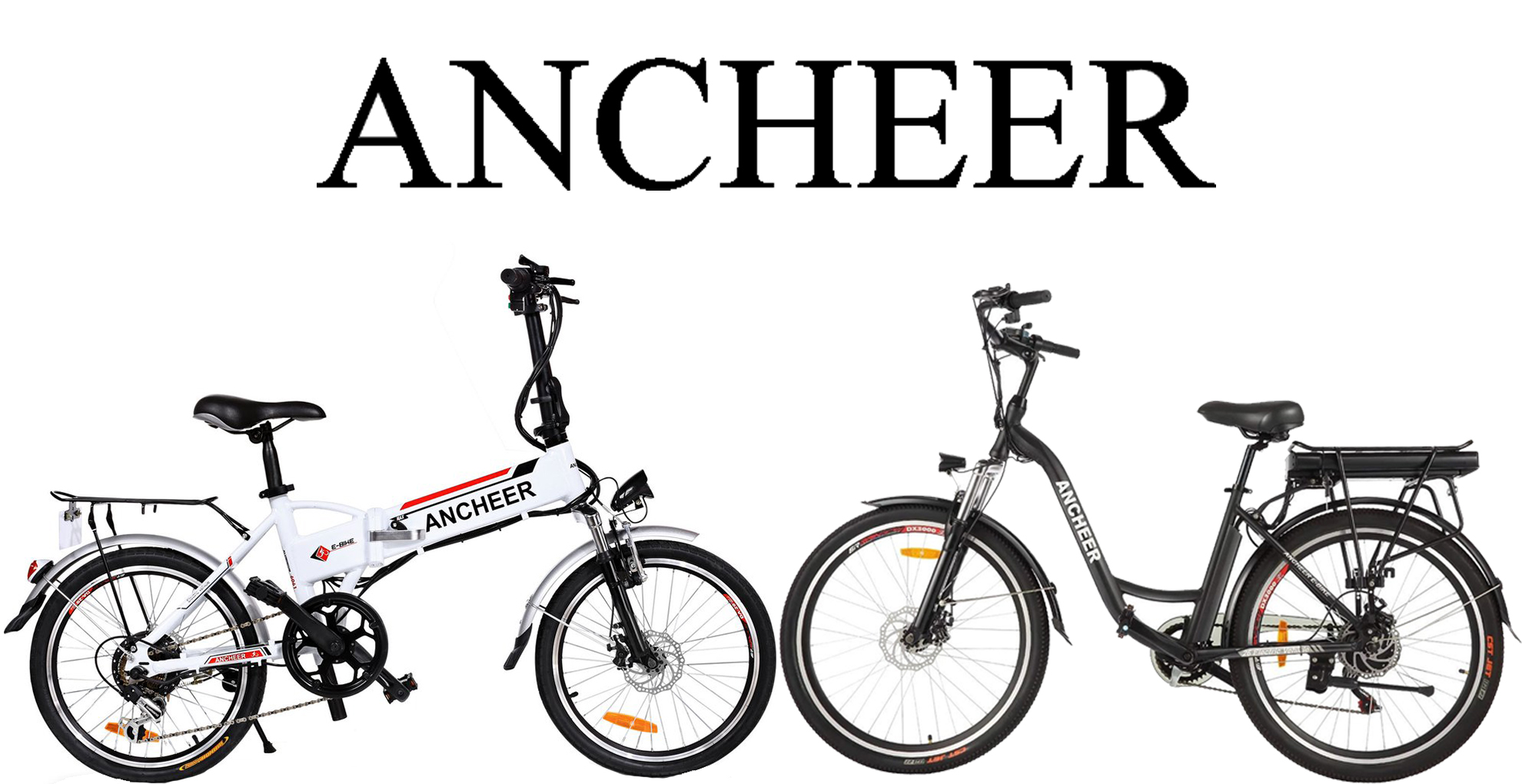 Ancheer is known for its wide selection of high-quality but affordable e-bikes and e-scooters. This company started out by making home gym equipment, but in less than a decade it became one of the fastest-growing electric bicycle distributors in the world.
In 2015, Ancheer opened its first warehouse in Los Angeles, California. American cyclists quickly appreciated the low-cost, high spec designs of their e-bikes. This company builds its e-bikes with the best available components from partner factories in China and Taiwan.
Ancheer has not been around as long as other bicycle manufacturers. However, they have already produced more than a dozen e-bikes. The company wants its products to reach even the most budget-conscious consumers. If you ever consider trying out a reliable e-bike in the current market, the Ancheer brand is worth a shot.
Overview of Ancheer E-Bikes
---
Ancheer e-bikes are popular for being chock-full of components that are otherwise absent in other brands of the same price range. Each e-bike comes with a front suspension fork, mechanical disc brakes, and Shimano gearing systems. For those components, an e-bike that costs less than $2,000 is pretty much a steal.
These e-bikes are categorized as Class 1 since they have a top speed of 20 mph. They are powered by Bafang brushless motors and removable Lithium-ion batteries.
You can either choose between a city e-bike or mountain e-bike. These different styles are available in six wheel sizes, ranging from 12 inches to 27.5 inches. Ancheer also offers e-bikes with fat tires and foldable frames.
What we Like and Dislike About Ancheer E-Bikes
---
Here is a list of the pros and cons for Ancheer e-bikes in general. It is important to check not just the best qualities, but also the lacking aspects that might be important to you.
Likes:
Portability. Ancheer e-bike frames are made of lightweight aluminium alloy. Both the standard and folding frames are easy to carry around with you.
Ancheer e-bikes have excellent mileage. A fully-charged battery can offer up to 20 miles of pedal assist on favorable terrain.
Very affordable. Ancheer e-bikes cost from $569 to $1,059. These are incredibly low prices considering the amount of high-spec components that are fitted in each e-bike.
The removable battery can be charged indoors and replaced easily if needed. This feature also further reduces the overall weight of the e-bike if you need to transport it elsewhere.
Sturdy frame and components. Several customers were satisfied to learn that their Ancheer e-bike still functions reliably after accumulating over 200 miles of off-road travel.
Ancheer's fast and responsive customer service helps address any issues with replacements, refunds, or any other technical concerns.
Considerations:
Ancheer e-bikes are known to have noisy motors especially on peak performance.
The disc brakes are not as responsive compared to other brands.
There are no ready bottle bosses for mounting a bottle cage available nor built-in cargo racks.
Popular Ancheer E-Bike Models
---
Ancheer currently has 17 e-bikes and three e-scooters available. Here are the five most popular e-bikes in their arsenal and the highlights for each one.
Motors, Batteries, and Components
---
Ancheer e-bikes use 250 W, 350 W, and 500 W brushless motors depending on the model.
These motors power the Shimano 7-speed or 8-speed drivetrains and enable the e-bikes to power across roads and small hills with little effort.
These e-bikes either use 36 V or 48 V Lithium-ion batteries for pedal-assisted travel.
Depending on the voltage and capacity, you can travel between 15 to 40 miles on pedal assist on a fully charged battery.
Additionally, batteries are water-resistant and detachable from the frame for indoor charging, safekeeping, or easy transport.
Every Ancheer e-bike comes with a smart charger, and it takes around four to six hours for the battery to reach full charge.
The Ancheer e-bikes have throttle grip handlebars that let you adjust the speed and pedal assist level.
There are three or five speed options depending on the e-bike model that you are using.
Every Ancheer e-bike is also equipped with an LED headlight and electric horn. These two components are useful for navigating at night, during traffic, or both.
Ancheer uses aluminum alloy for their pedals and frames, and carbon steel for their suspension forks. Four of Ancheer's e-bikes have folding frames if you prefer more portability.
Their e-bike wheels vary in sizes—16, 20, 26, or 27.5 inches—but all of them have double-layered aluminum walls for extra toughness.  The Ancheer city e-bikes have thin tires for a smoother cruising experience, while there are fat tires available for mountain e-bikes if you want to go for extra stability.
Ancheer E-Bikes Performance
---
Ancheer e-bikes have a maximum speed of 20 mph without throttle, which means they are categorized as Class 1. The motor can produce enough torque to let you run over flat or elevated ground with ease. However, the motor can get a little noisy if you strain it too hard.
Except for the 26-inch Electric Cruiser which uses a low-step frame, all Ancheer e-bikes are built with a step-over frame. Most customers found the city e-bikes easy to balance on flat roads. On the other hand, Ancheer mountain e-bikes are not really the best choice for traveling downhill or off-road at high speeds.
The adjustable seating adds more comfort for the rider especially during long commutes. Many customers even remarked that they barely felt bumpy rides because of Ancheer's simple but robust suspension system. Although Ancheer e-bikes are worth the cost considering they are chock-full of components, a few missing utility features like cargo racks and water bottle mounts would have been welcome.
Performance-wise, many riders are satisfied with the Ancheer e-bikes. The motor consistently produces the expected output, and the pedals are easy to operate. The Filel brakes are not as responsive as the Tektro brand, but you can get the hang of it after a few rides.
Overall, the Ancheer e-bikes displayed a satisfying road performance and adequate off-road experience.
Ancheer E-Bikes Customer Service
---
Ancheer is praised by many customers for their technical service team. Do you need guidance on installing or repairing your e-bike? Just leave them a message and expect a response almost immediately. There is also a simple Q&A page on their website that answers most basic questions.
The Ancheer website does not provide any manuals or video tutorials that can be accessed online. They do allow customers to post product reviews directly on their website, and the reviews are usually insightful. If you live in California and need to take your e-bike for a repair or maintenance check, visit any of Ancheer's authorized distributors.
All Ancheer e-bikes come with a one-year warranty. You can visit their website for the complete full warranty coverage. Free shipping is available for most e-bike and battery orders within the United States and Europe. You can also return any product for free within seven days or request for a replacement within 15 days after purchase.
You Might Also Ask
---
The most common questions about Ancheer e-bikes are answered below.
Where are Ancheer e-bikes made?
Ancheer e-bikes for sale in the United States are assembled at their main warehouse in Los Angeles. However, the frames and components are made in Taiwan and China.
Can I buy Ancheer e-bikes directly from their website?
Yes, you can buy Ancheer e-bikes straight from their official webpage. If you are a resident of California, check if there is an Ancheer authorized dealer near you.
Does Ancheer sell components for their e-bikes?
Yes, Ancheer Bikes sells replacement components on their website. You can find additional chargers, batteries, throttle grips, spokes, calipers, speed controllers, battery packs, and more.
What types of e-bikes does Ancheer make?
Ancheer manufacturers Class 1 city e-bikes and mountain e-bikes. The e-bike frames can either be folding or non-folding.
How fast do Ancheer e-bikes go?
Ancheer e-bikes can reach a top speed of 20 mph. Their maximum travel distance on assisted speed is 15 to 40 miles, depending on the model and the battery capacity.
Bottom Point — Who Are Ancheer E-Bikes For?
---
Ancheer e-bikes are excellent choices for commuters who need budget-friendly city e-bikes. Their mountain e-bikes also perform reliably off-road, albeit not as good as other brands.
Whether you are a new or a veteran cyclist, Ancheer e-bikes are guaranteed to make your daily trips to work much easier.
---