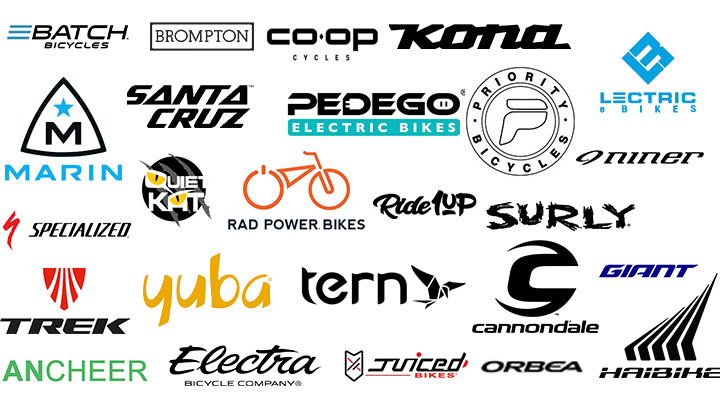 Electric bikes have seen a massive rise in popularity and sales recently, so it doesn't surprise that new electric bike brands are springing up on the market like mushrooms.
This is a good thing for e-bike enthusiasts and those looking to buy a new electric bike; however, choosing the right brand and the best model in such a sea of choices can feel daunting and overwhelming.
That's why we've decided to create this list of the best electric bike brands that you can find on the market right now. It will move you in the right direction and help you find the best e-bike for your needs.
How did we shortlist the brands below?
As you can see, the list below includes e-bike-specific brands that only make electric bikes, as well as general brands that make both analog bikes and e-bikes.
Our reasoning when selecting these brands was to point you towards reputable companies that make good-quality bicycles, have trustworthy customer practices, and offer a decent selection of models to choose from.
Some of these are worldwide popular brands such as Giant, Trek or Cannondale, whereas others are up-and-coming niche brands such as Ride1UP, Lectric or Juiced Bikes.
Before making a final decision, we recommend reading our detailed review, which is available for each brand listed in alphabetical order below.
---
Best Electric Bike Brands in 2023
---
1. Ancheer Electric Bikes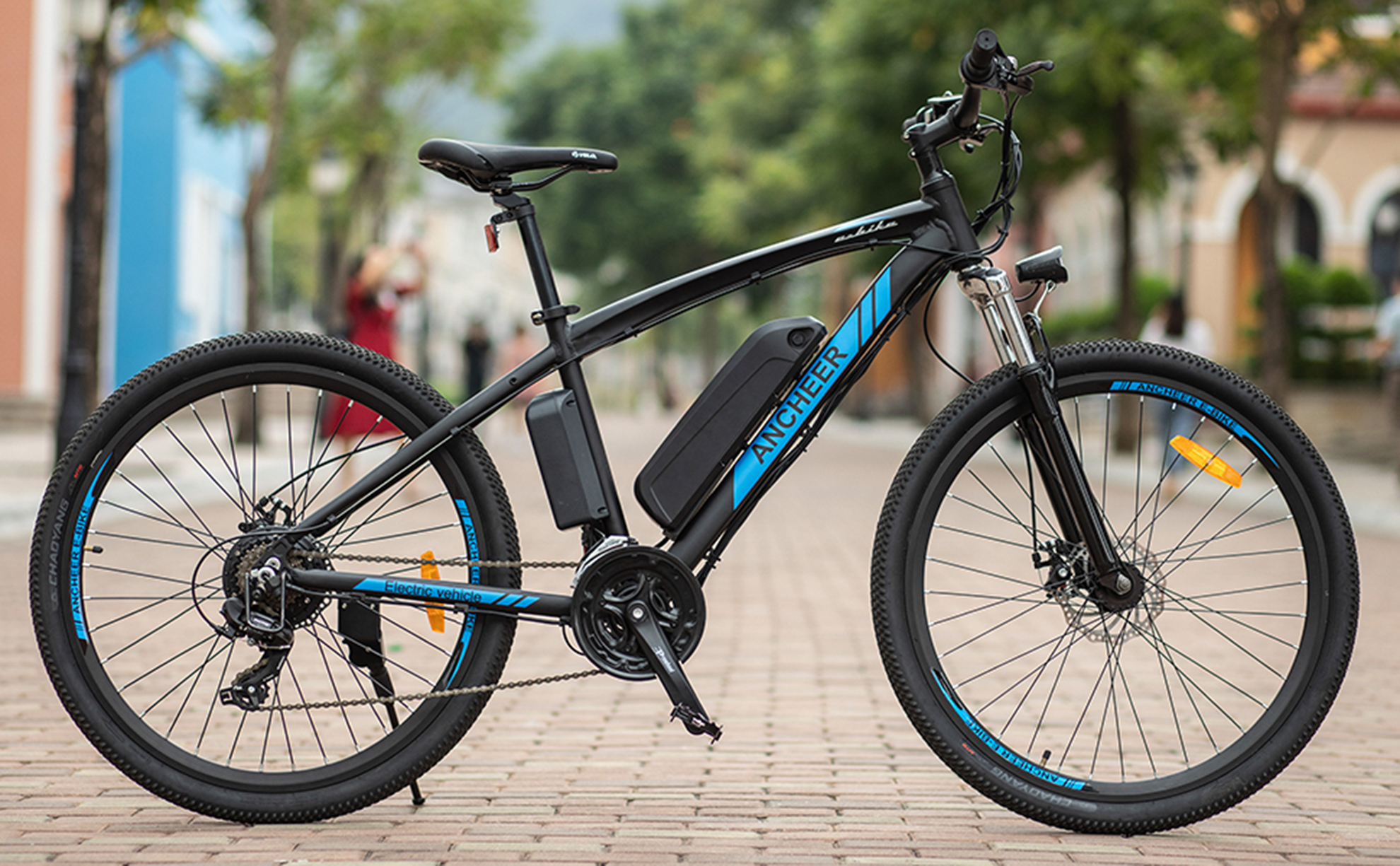 Ancheer is known for its wide selection of high-quality but affordable e-bikes and e-scooters.
In 2015, Ancheer opened its first warehouse in Los Angeles, California. American cyclists quickly appreciated the low-cost, high-spec designs of their e-bikes.
If you ever consider trying out a reliable e-bike in the current market, Ancheer is one of the best electric bike brands that you can find on Amazon.
Shop on Amazon   or   Read Our Full Review
---
2. Aventon Electric Bikes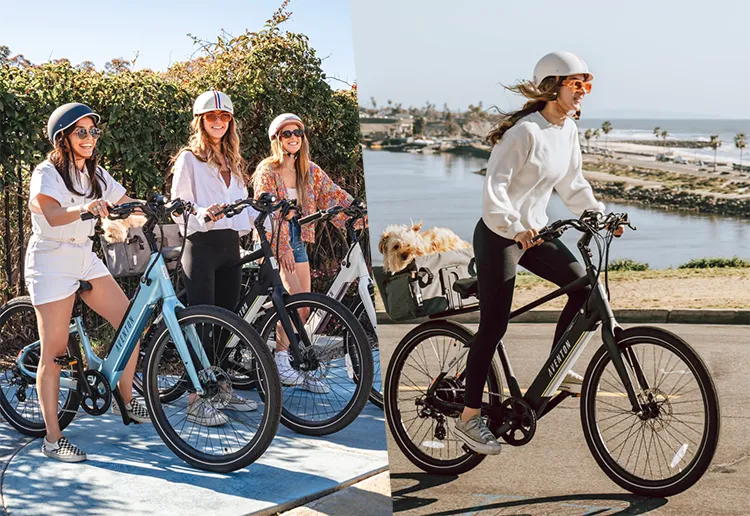 Aventon is a well-known brand in the electric bike industry, known for its sleek design and high performance.
The company designs, manufactures, and sells a variety of electric bikes that cater to different types of riders, from city commuters to off-road enthusiasts.
Aventon's electric bikes are recognized for their quality build, innovative technology, and affordability, making them a popular choice among e-bike users.
Some of their most popular bikes include the Aventon Aventure, Aventon Level, and Aventon Soltera.
As a testament to its commitment to quality, Aventon provides excellent customer service and support, ensuring its customers have the best possible experience with their products.
Shop on Aventon.com   or   Read Our Full Review
---
3. Batch Electric Bicycles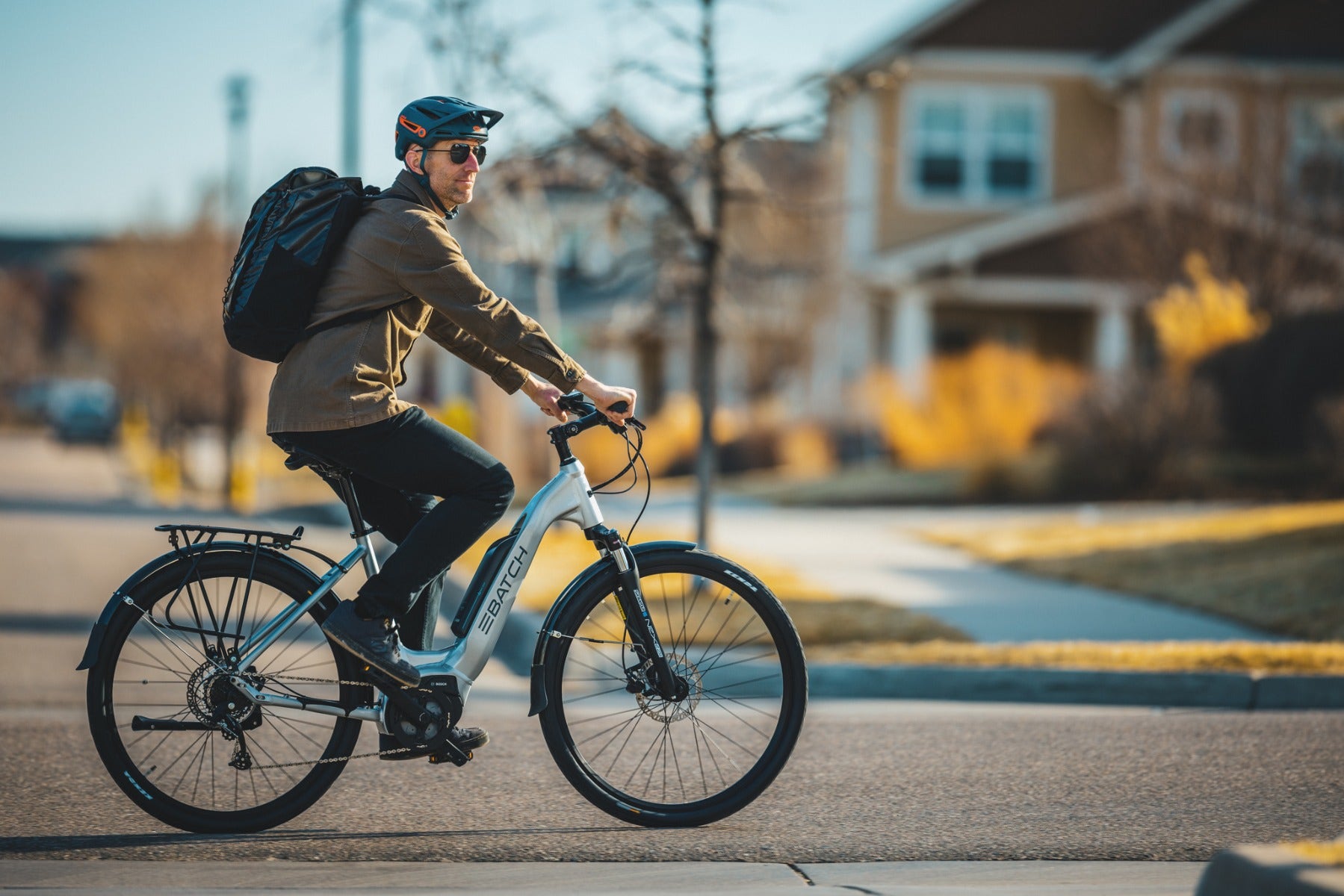 Batch Bicycles is a bike brand that is rising in popularity and that partners with many local bike shops. They offer simple-to-use bikes that you don't have to assemble and can ride every day.
These are straightforward bikes made for beginners, commuters, leisure riders, and even those who haven't been on a bicycle in decades.
They mainly make city and commuter e-bikes and you can also find them online on Jenson USA.
Shop on Jenson USA   or   Read Our Full Review
---
4. Biria Electric Bikes
Biria Bikes, founded in Germany in 1982 by Mehdi Biria, has long been known for innovative and comfortable bicycle designs, including the invention of the first anti-locking hydraulic brakes system for bicycles.
Branching into the e-bike trend, Biria e-bikes, classified under Class 2, are characterized by their European flair, offering both functionality and style.
These e-bikes possess a top speed of 20 mph on pedal assist mode, a rear-mounted motor, and a high-capacity battery delivering 30 to 55 miles of assisted travel.
Renowned for their affordability and quality, Biria e-bikes cater to urban riders, ensuring practicality and elegance in their rides.
---
5. Blix Electric Bikes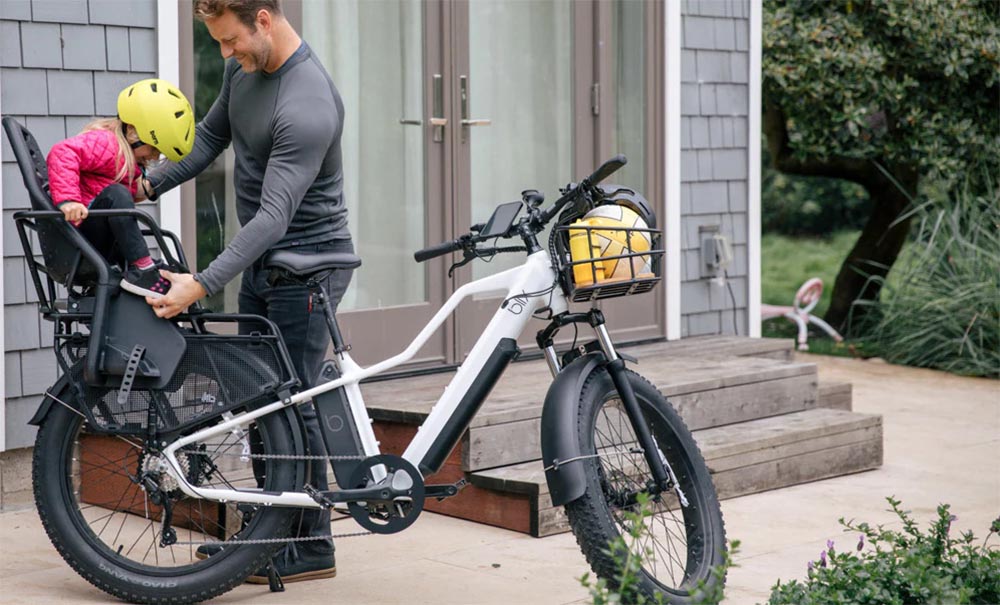 Blix Bikes is a brand that specializes in producing stylish, practical, and easy-to-ride electric bikes. With a focus on urban commuting and recreation, Blix offers a wide range of e-bikes that cater to different needs and preferences.
All Blix e-bikes are equipped with powerful motors and high-capacity batteries, providing a smooth and effortless ride that can take you up to 50 miles on a single charge. The brand also puts great emphasis on user-friendly features, such as adjustable seats, step-thru frames, and intuitive controls.
With their commitment to quality and customer satisfaction, Blix Electric Bikes is a top choice for anyone looking for a reliable, affordable, and enjoyable e-bike.
Shop on BlixBikes.com     Read Our Full Review
---
6. Brompton Electric Bikes
Brompton is a popular folding bike company from London, a city where e-bikes are becoming a very popular mode of transportation. Brompton's origin can be traced back to 1975, when a man named Andrew Ritchie designed a folding bicycle in his apartment.
The Brompton bicycles became popular because they were compact and foldable. Nowadays, there are many folding e-bike brands out there, but none of their bikes fold as small as Brompton.
Their selection of electric models is not huge, but it's decent enough for every urban commuter to find a suitable model for their needs and for us to list them as one of the best electric bike brands out there.
Shop on REI   or   Shop on Mike's Bikes
---
7. Cannondale Electric Bikes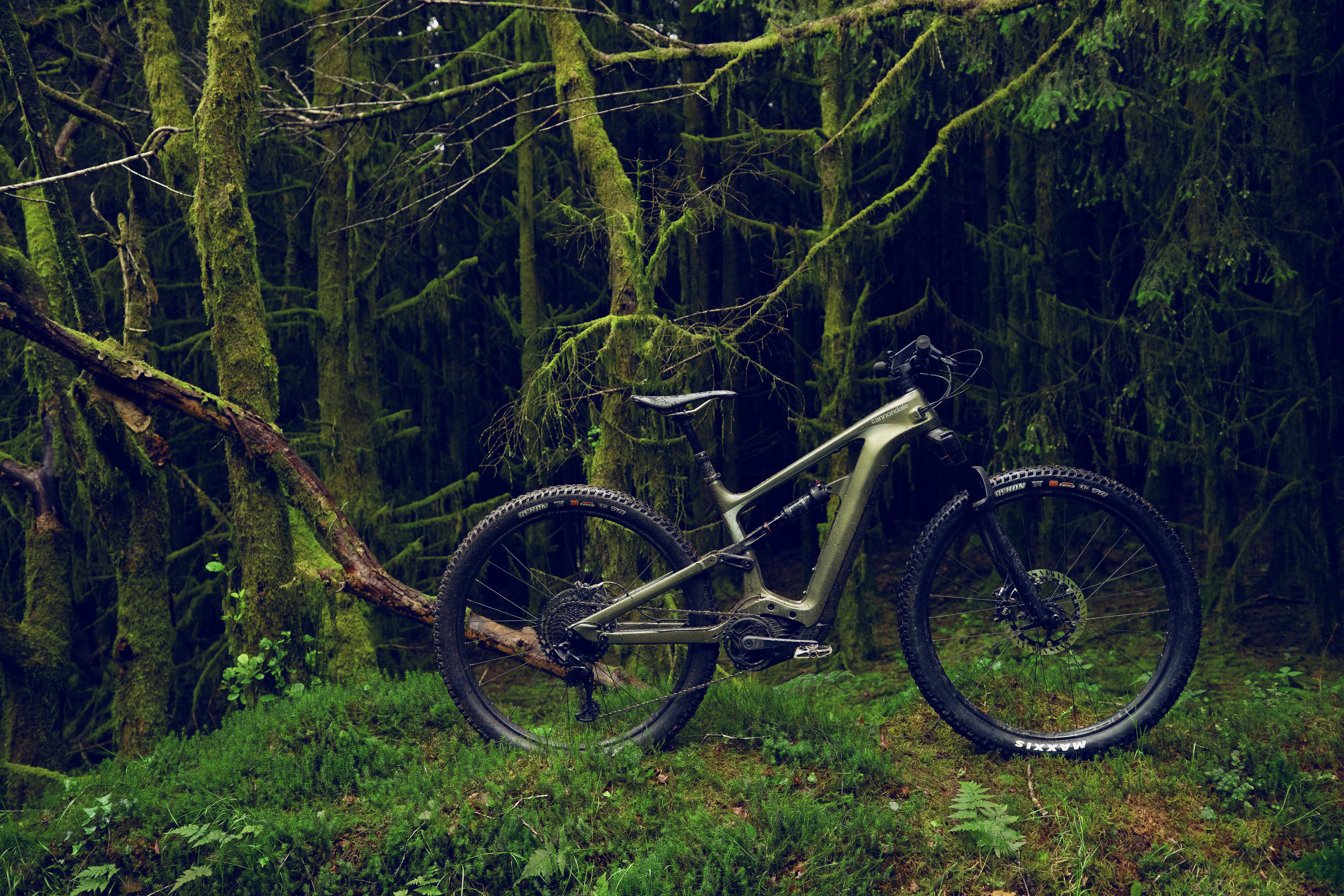 Cannondale Bicycle Corporation is a major American bicycle manufacturer that designs and produces high-end e-bicycles, recreational bikes, and apparel lines.
It has become one of the biggest and most influential bicycle companies in the world, selling millions of traditional and electric bicycles in more than 100 countries around the world. The company's headquarters are in Wilton, Connecticut, USA.
They call their e-bikes Neo, which is a suffix that's usually added to the original model name of the bike that's being electrified. That said, at the moment of writing this article, Cannondale offers almost 50 e-bike builds in all the popular categories.
Shop on REI    Shop on Mike's Bikes
---
8. Charge Electric Bikes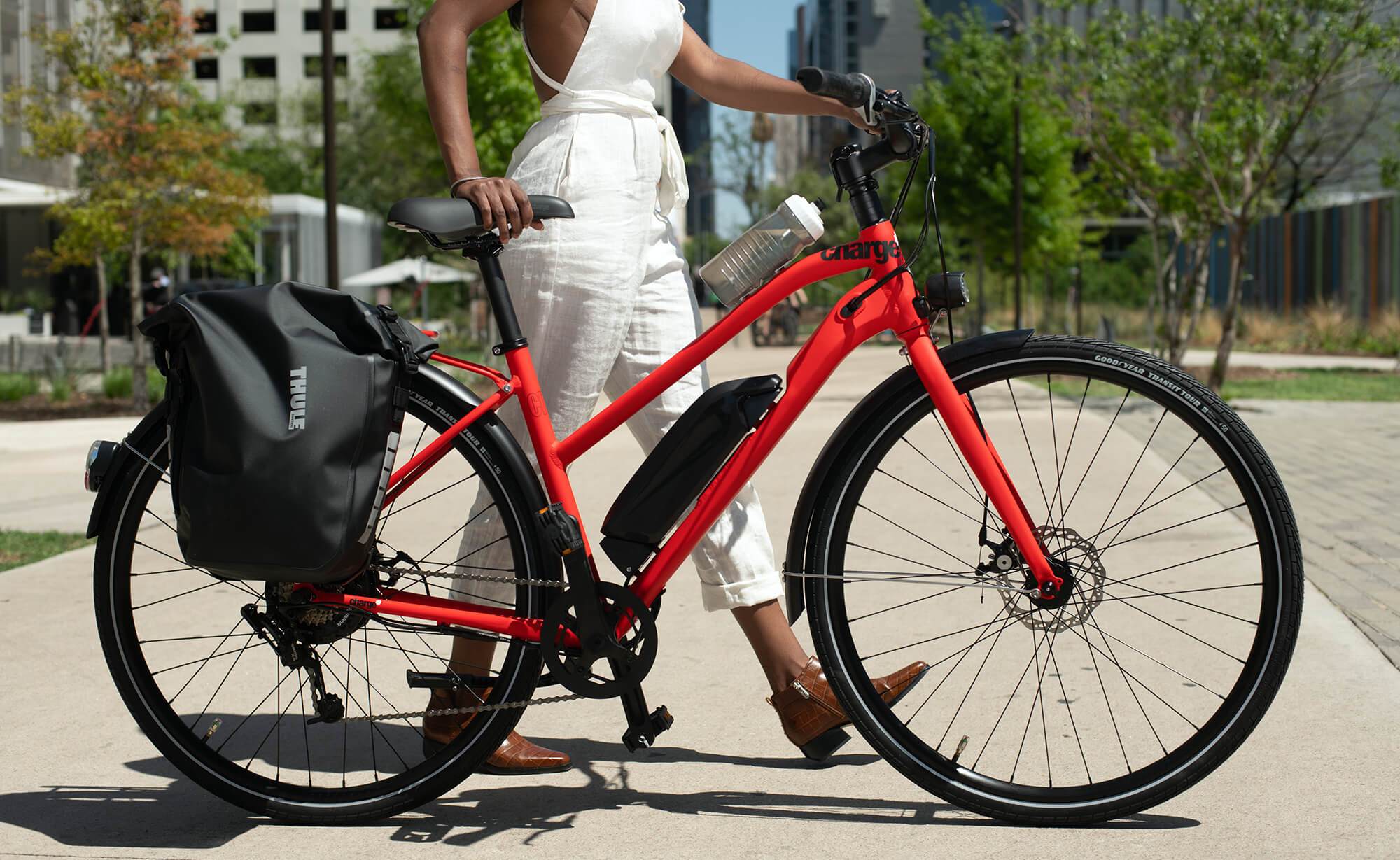 Since 2004, Charge Bikes has been producing reliable and functional bicycles. Founder, Nick Larsen had the mission of making cycling easy and accessible and built the company around that goal.
In 2020, Charge moved its operations back to the US and became an electric-only bicycle company. As part of a larger cycling group that includes Cannondale, Schwinn, and GT, Charge can benefit from the large-scale production and expertise available by sharing resources and talent across the group.
With two years of operation under its belt, Charge is growing its customer base across the US through its offering of four high-quality and affordable urban e-bikes. Their bicycles solve problems such as storage, tire pressure monitoring, and assembly.
Shop on ChargeBikes.com or Read Our Full Review
---
9. Co-op Cycles Electric Bikes
Co-op Cycles is a brand that's owned by one of the largest outdoor equipment retailers in the world, Recreational Equipment Incorporated (REI).
This is REI's cycling-specific sister brand that focuses on making bikes, gear, accessories, and apparel.
In addition to analog bikes, they also manufacture excellent city and urban electric bikes, such as their CTY and Generation E series.
Find them on REI.com!
Shop on REI   or   Read Our Full Review
---
10. Devinci Electric Bikes
Founded in 1987 by two engineering students in Chicoutimi, Quebec, Devinci Bikes was originally named "DaVinci", but it was later changed after Felix Gauthier's acquisition in 1990.
Evolving from a local enterprise to a global player, the company is now recognized for its top-tier e-bikes, particularly electric mountain bikes.
Sourcing durable materials from Canada's "Aluminum Valley", Devinci Bikes crafts reliable and versatile e-bikes suitable for diverse terrains, including urban ebikes.
Their commitment to research, superior components, and excellent customer service guarantees a premium cycling experience.
Shop on evo.com     Read Our Full Review
---
11. Electra Electric Bikes
Electra was founded in 1993 but was later acquired by Trek in 2014. The management and the company's philosophy have stayed the same, so Electra stays true to its primary idea of making bikes that are unique, fun, and built for everyone.
Some models are single-speed, some with derailleurs, and several have internal 3- or 8-speed hubs that are maintenance-free and let you shift while standing still.
Included in the company's wide range of casual bikes are several e-bike lines with Bosch or Hydrive rear hub or mid-drive motors and high-capacity batteries, suitable for commutes and casual rides around town.
Shop on REI    Shop on Mike's Bikes
---
12. Engwe E-Bikes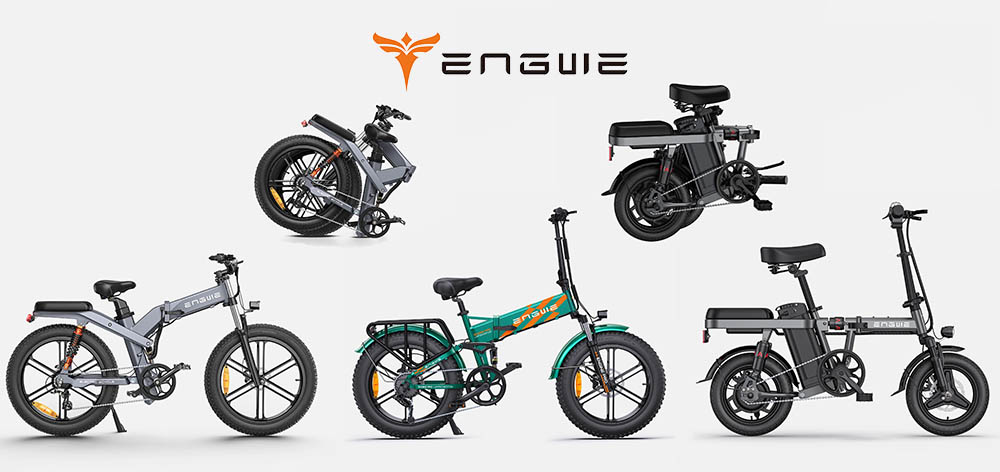 Engwe Bikes is a popular e-bike brand that specializes in affordable, entry-level bikes aimed at urban commuters and off-road explorers.
All Engwe e-bikes fold down compactly which makes them suitable for transportation and storage. Even though they are known for being quite heavy, they are also famous for featuring powerful electronics and numerous comfort-oriented features such as dual suspension, fat tires, wide saddles, and upright geometry.
If you're on a tight budget and you want a well-built bike that will meet all your daily transportation needs, Engwe is a safe choice.
Shop on Engwe-Bikes.com or Read Our Full Review
---
13. Giant Electric Bikes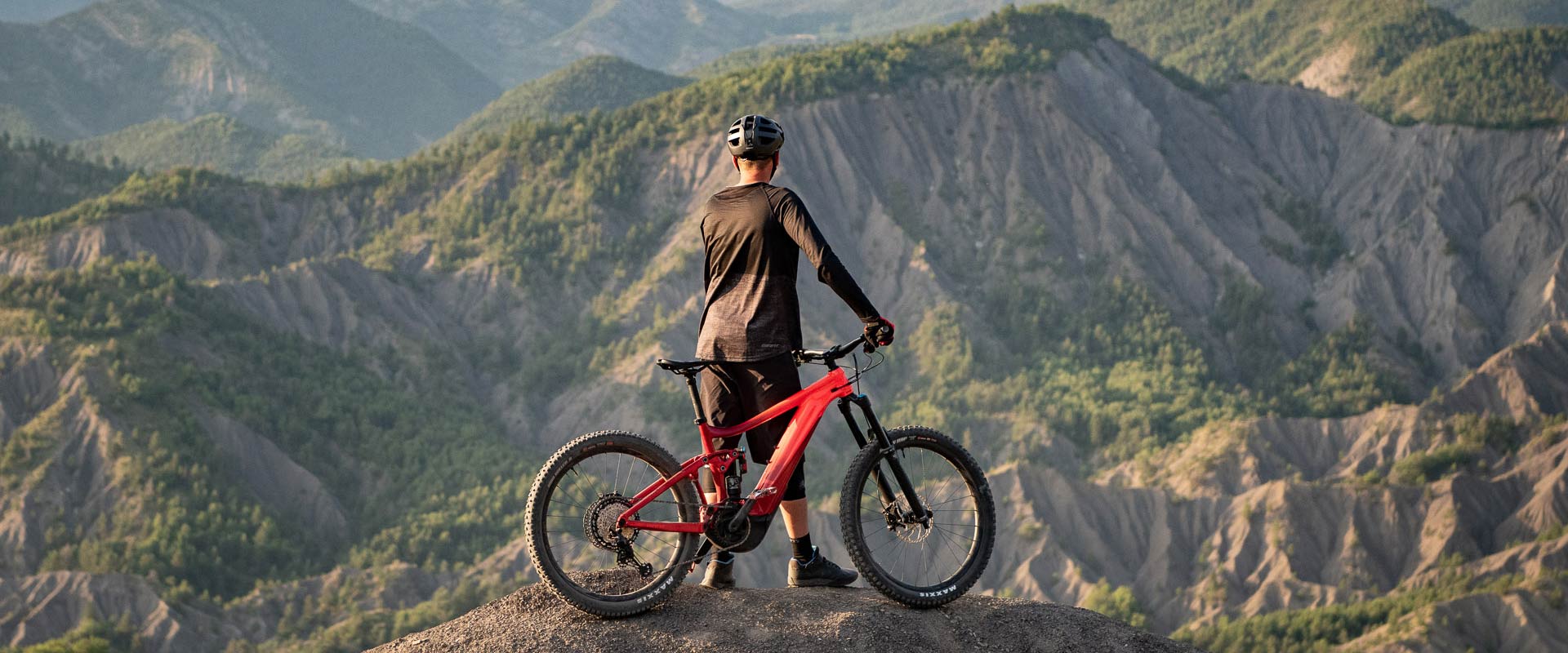 Giant is the world's largest manufacturer of traditional bicycles and is expected to become the most dominant player in the e-bike market in the near future as well.
Apart from designing and producing its own bikes, Giant also manufactures bicycles for other major cycling brands, such as Trek, Scott, and Colnago.
Today, Giant continues developing groundbreaking cycling technologies and manufacturing modern bikes, including e-bikes for recreational and practical use.
Shop on Mike's Bikes   or   Read Our Full Review
---
14. Haibike Electric Bikes
The success story of Haibike started in 1995 when it was founded by Susanne and Felix Puello in the small city of Schweinfurt, Germany. It started out as a child company of a bigger brand known as Winora. Over the years, Haibike became a brand in itself and produced many innovative models.
The company's goal is to create e-bikes that are comfortable, stylish, accessible, and high-performing. The company has made a name for itself with excellent quality and premium motors.
Haibike, without a doubt, is one of the leading and most prominent brands of electronic bikes out there. Due to its revolutionary role in creating the e-MTB sport, it will always be remembered as one of the best electric bike brands on the market.
Shop on REI    Shop on GovVelo.com
---
15. Hurley Electric Bikes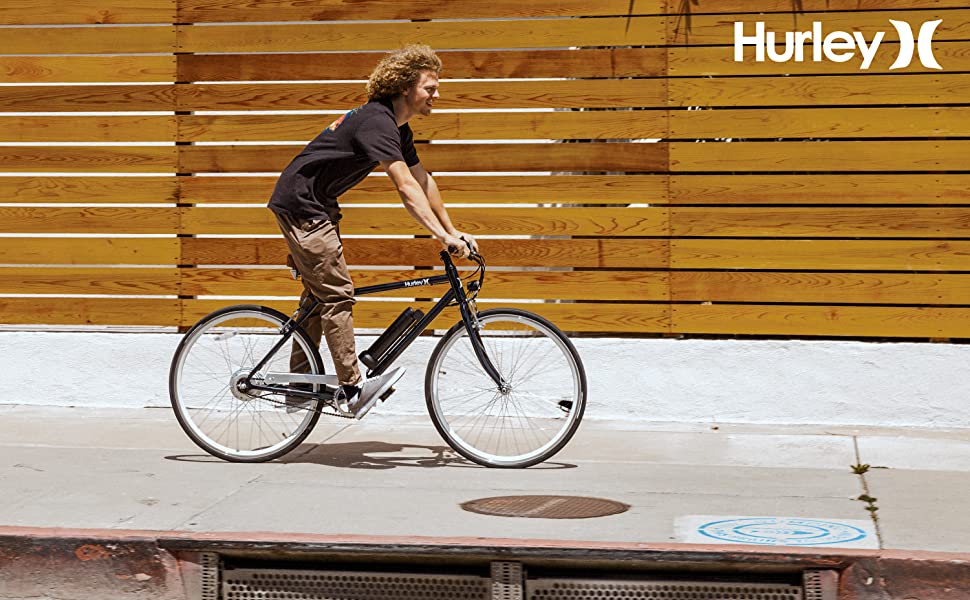 The Hurley Electric Bike Brand, an extension of the California-based surf and skate company, offers an affordable lineup of seven entry-level e-bikes for casual riders.
Established in partnership with New York-based Joy Ride, Hurley's e-bike range includes urban, cruiser, and moped-style models, all Class 2 with throttle and pedal assist, reaching speeds up to 20 mph.
Priced between $599 and $1,399, the bikes cater to riders on a budget, making electric biking accessible to a wider audience.
With a variety of spec levels and styles, the Hurley electric bike lineup aims to meet the needs and preferences of various riders.
SEE HURLEY EBIKES ON AMAZON     Hurley Electric Bikes Brand Review
---
16. Juiced Electric Bikes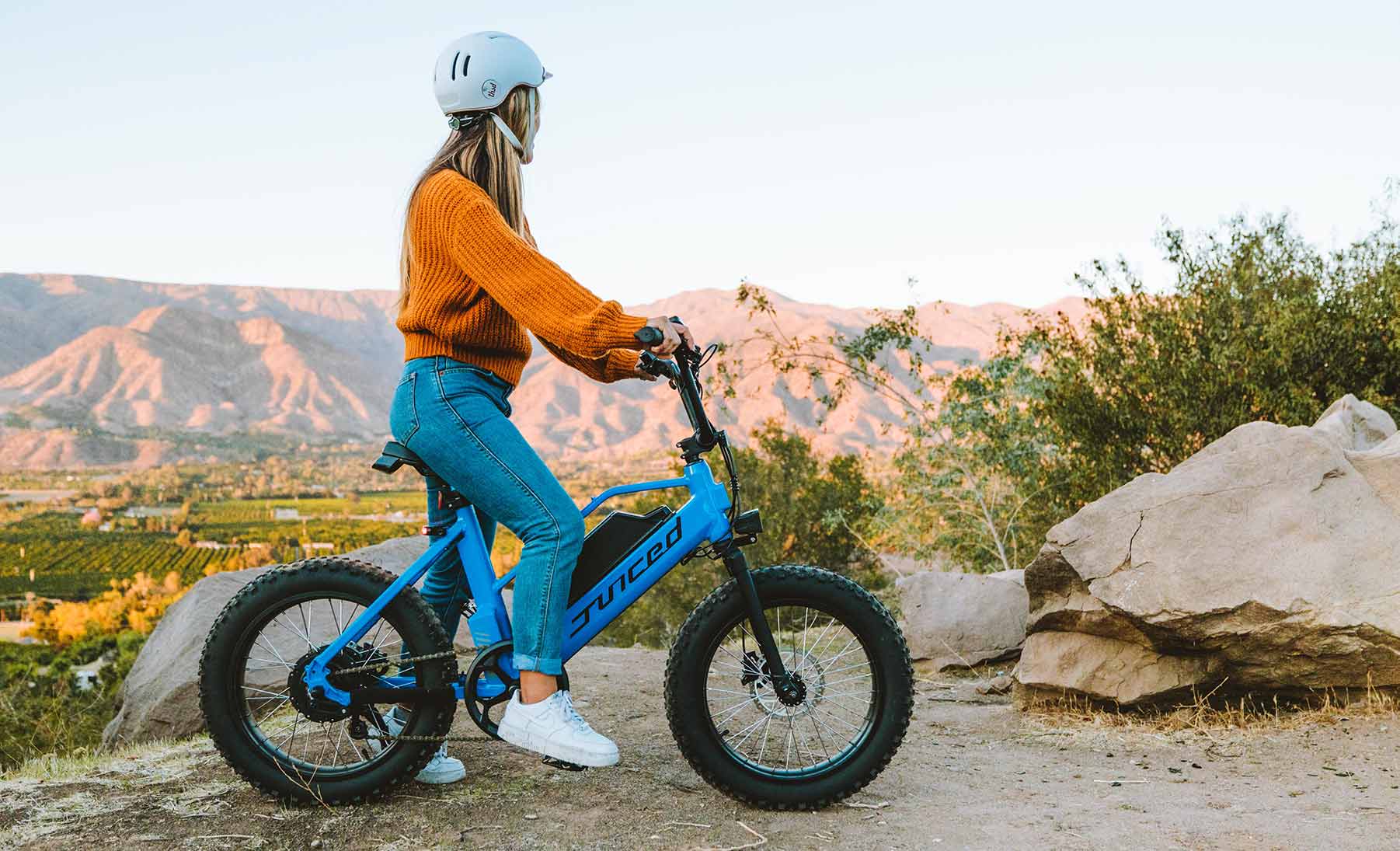 Juiced Bikes is a California-based e-bike company that manufactures moped-style, commuter, and fat-tire electric bicycles with powerful electronics at reasonable prices.
Their bikes are unique as some of them come with 1000W motors and 52V 19.2Ah batteries, which are among the most powerful electric setups money can get.
At the moment, Juiced Bikes produces e-bikes in four categories—Moped-Style, Adventure, Commuter, and Fat Tire—with around a dozen models on offer in total.
Visit Juicedbikes.com   or   Read Our Full Review
---
17. Kona Electric Bikes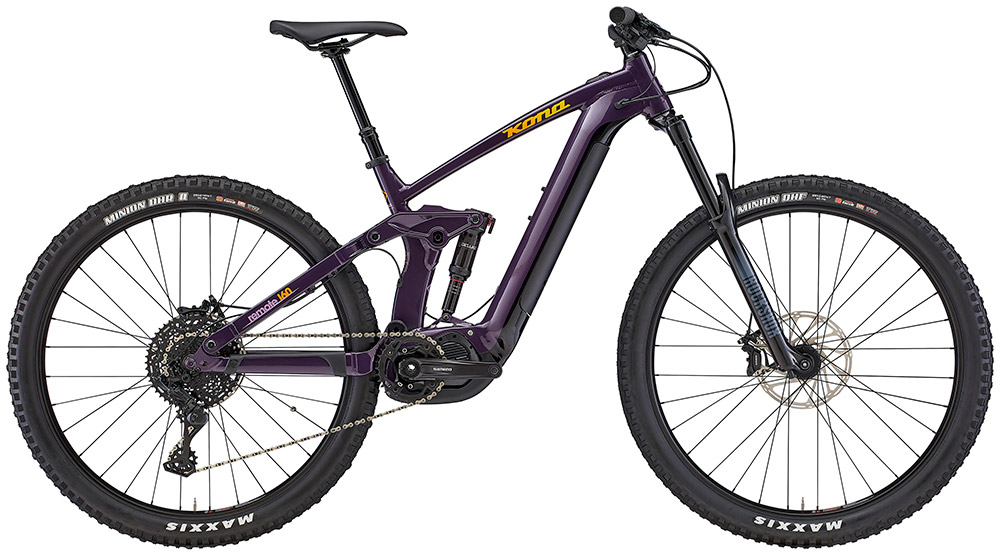 Kona is deeply rooted in bringing freedom and empowerment to both the cyclist and the bicycle. The outcome? Premium-quality, highly adaptable e-bikes designed to bring power to each of their patrons.
Kona was founded back in 1988 by Dan Gerhard and Jacob Heilbron. The company was founded in Vancouver, British Columbia but later moved to Ferndale, Washington. This brought them closer to the center of the Pacific Northwest's quickly-evolving bike scene.
Even though Kona is not primarily associated with e-bikes, they do have a pretty significant selection of e-mountain and e-city bikes that you can choose from.
Visit Konaworld.com   or   Read Our Full Review
---
18. Lectric Electric Bikes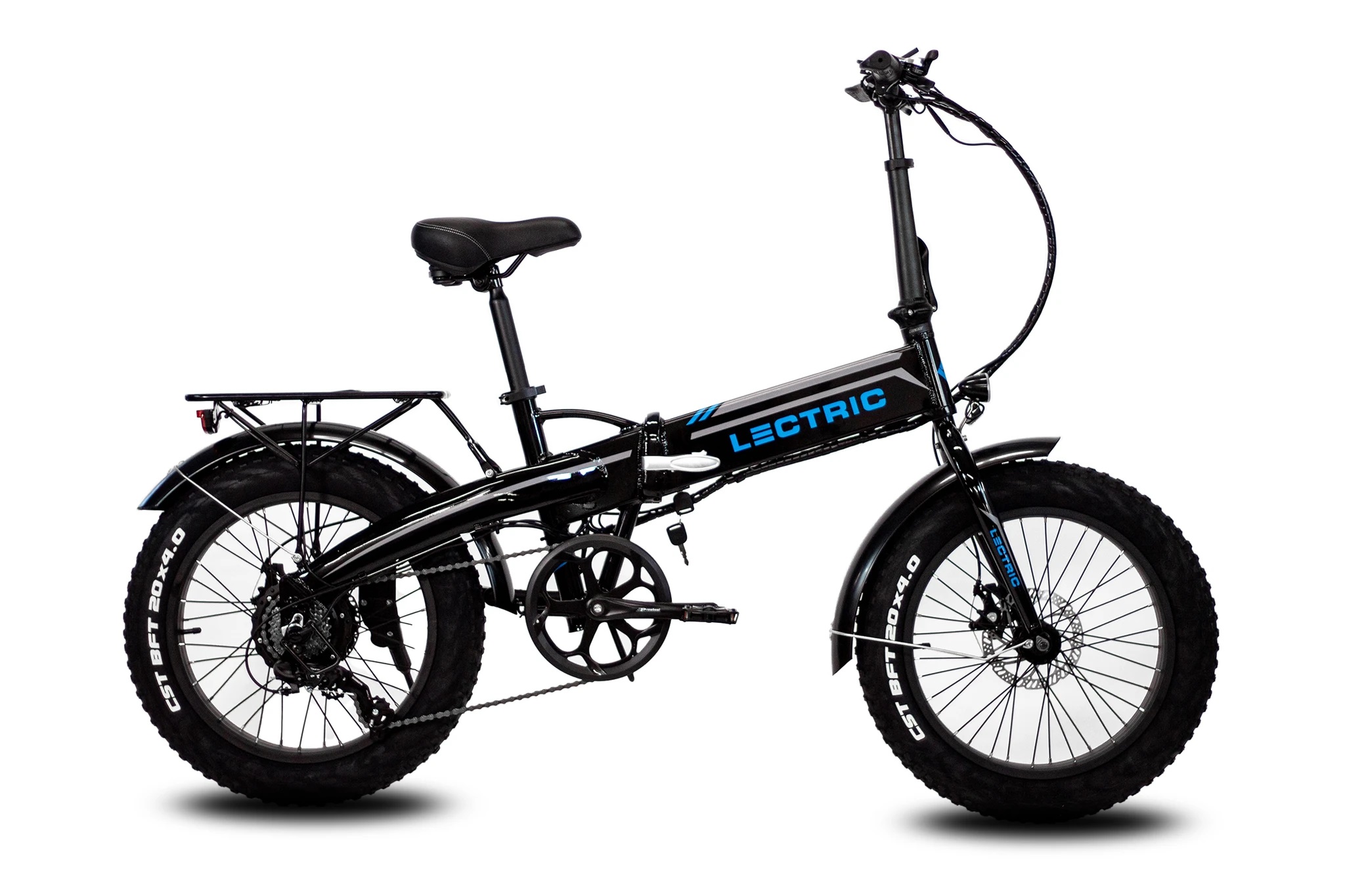 Lectric is one of the fastest-growing electric bicycle brands in the US, despite not having many models on offer. They specialize in making budget-friendly folding electric bicycles for commuting and everyday leisure riding.
Though Lectric bikes are a bit crude, they ensure quality in all the areas where it counts. The company provides excellent value for money and boasts free shipping, a decent warranty, and a dedicated customer support service.
Lectric is quickly becoming one of the best electric bike brands in its niche, owing to low prices, great quality, and regular updates of their lineup.
Shop on Lectricebikes.com   or   Read Our Full Review
---
19. Marin E-Bikes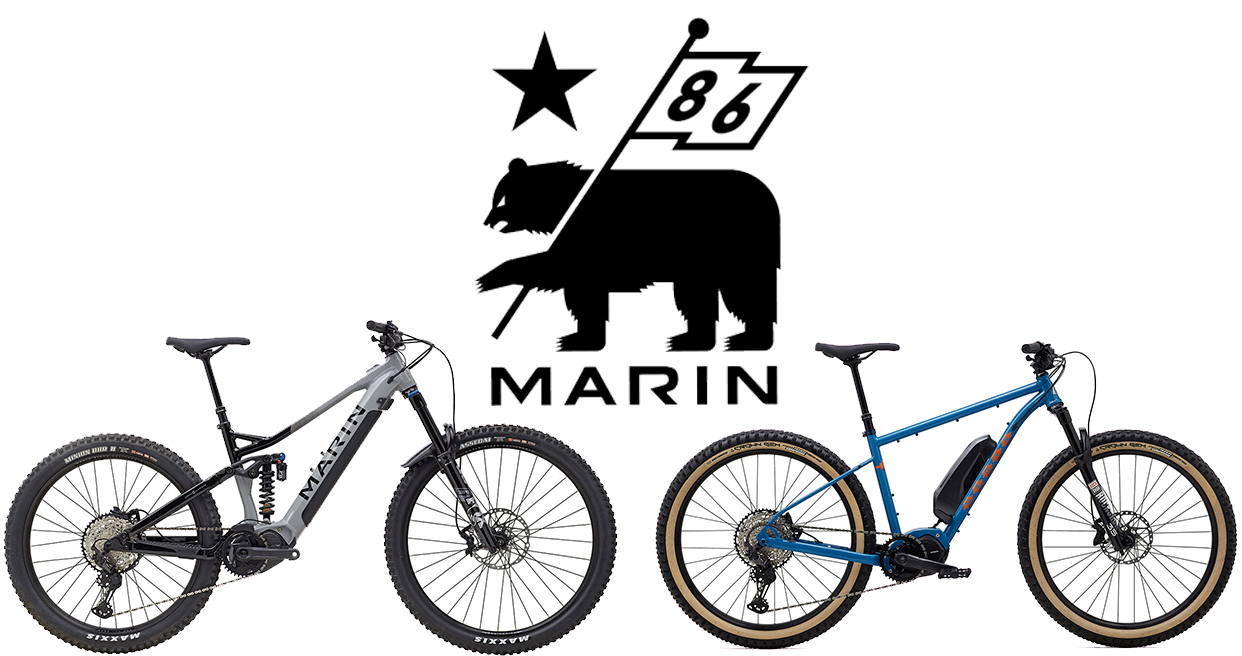 Marin Bikes was established in 1986 in Petaluma, California (located in Marin County). It was one of the pioneers of mountain biking, and today keeps manufacturing high-quality analog and electric bikes.
Marin e-MTBs are new to the e-bike market, but the first models have already received positive criticism.
At the moment, you can choose from electric mountain bikes and urban electric bikes, with a decent selection of models on offer.
Shop on Jenson USA   or  Shop on GovVelo
---
20. Niner E-Bikes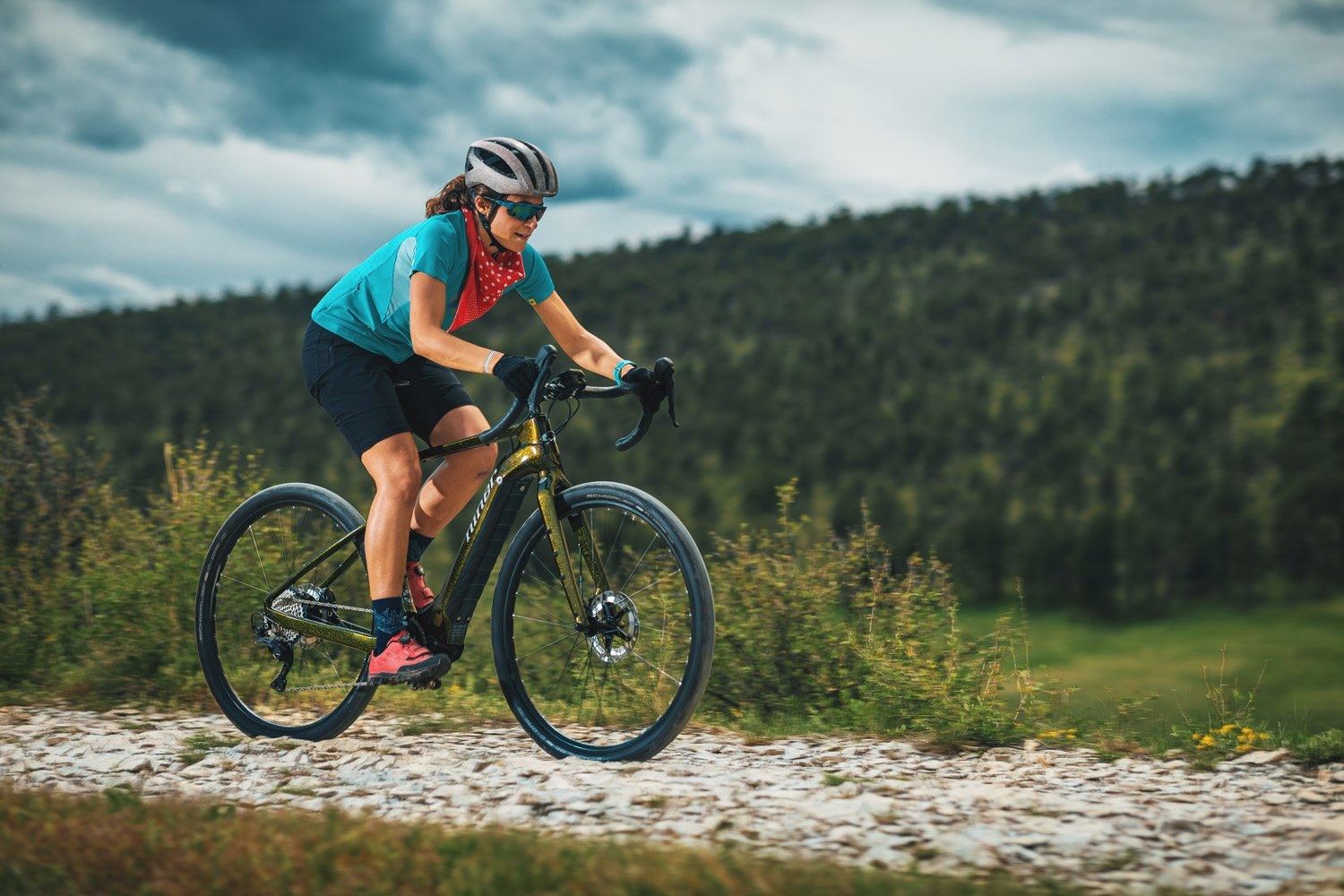 Niner Bikes continues to provide the world with top-class mountain bikes that can weather the roughest mountain trails and slopes. Their slogan, "Committed To Dirt", is a testament to their dedication to fun and efficient off-road cycling.
Niner was one of the pioneers of 29er mountain bikes but later added 27.5″ models as well. Today, they produce high-quality analog and electric bikes that are suitable for all types of riders.
Choose among electric mountain bikes, urban e-bikes, and even electric gravel bikes. Their pricing is steep, but it's usually well justified.
Shop on Jenson USA     Read Our Full Review
---
21. Orbea Electric Bikes
Orbea is a well-known brand that has been making some of the best bicycles in the world for decades. Their bikes are regularly seen in road cycling grand tours, as well as in mountain biking world championships.
But apart from supplying the world's best athletes with the right tools to win races, Orbea also makes Road, Mountain, and Urban E-Bikes for us mortals who need an extra push up a steep hill.
One of the best things about Orbea is that it lets you customize almost all of its bikes. You can choose the entire color scheme, some of the components, as well as the size of the handlebar, stem, cranks, etc. You end up with a bicycle that is uniquely your own.
Shop on Jenson USA   or   Read Our Full Review
---
22. Pedego Electric Bikes
Pedego Electric Bikes is one of the largest electric bicycle brands in the United States, helping tens of thousands of people get off the couch, putting them on e-bikes, and out on the open road.
Today, Pedego has more than 120 locally-owned stores and produces 20+ models of modern and powerful electric bikes. That's one of their biggest selling points — timely and helpful customer service.
Pedego produces cruiser, city, off-road, and specialty models for all types of riders, so check them out on the link below and read our full review before buying.
Visit Pedego Bikes   or   Read Our Full Review
---
23. Priority Electric Bikes
Priority Bicycles is an NYC-based electric bike brand that makes unique bicycles, including a few electric models, that prioritize low-maintenance, good looks, high comfort, and low price.
Its story began in 2012 when Dave Weiner, the founder of the company, decided to take a different approach to bicycle manufacturing.
He then decided to make his own bicycle that will meet the criteria his friends had: a bike that looks good, is not too technical, is comfortable, lightweight, easy to maintain and ride, and not too expensive.
The Current and Embark are Priority Bicycles' electric models, ideal for city riders and commuters.
Shop on Prioritybicycles.com   or   Read Our Full Review
---
24. QuietKat Electric Bikes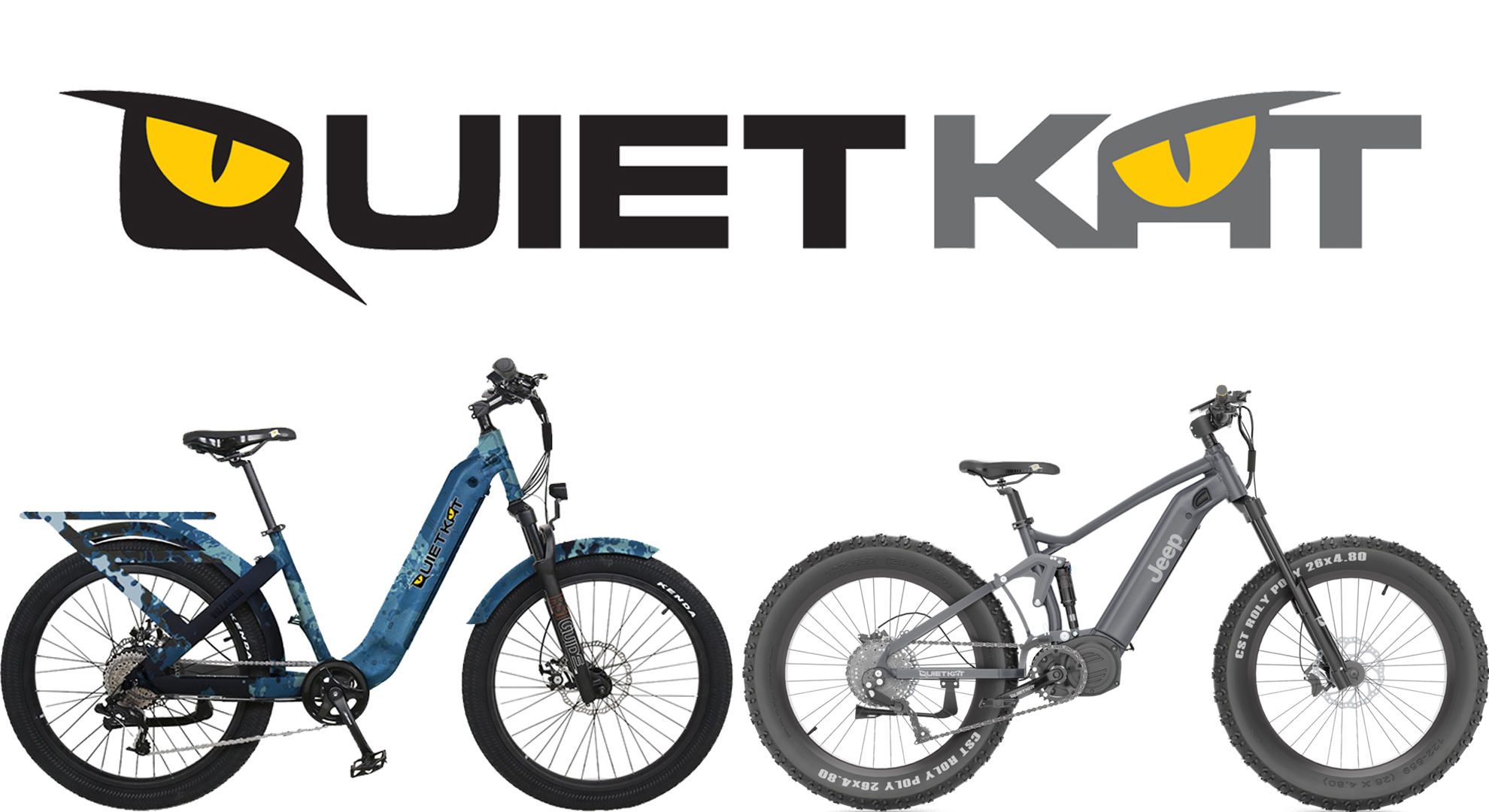 QuietKat was established in 2013 to meet the demands for electric bicycles that can tackle the vigors of the wilderness.
This company creates bikes that sport 4-inch wide tires and powerful electric motors, while still keeping their e-bikes silent. Most of their e-bikes are available with a 1000W motor option, while most competitors only have as high as 750W motors.
If you want a capable e-bike for hunting, angling, or backcountry camping trips, QuietKat is one of the best electric bike brands for you.
Shop on QuietKat.com   or   Read Our Full Review
---
25. Rad Power Bikes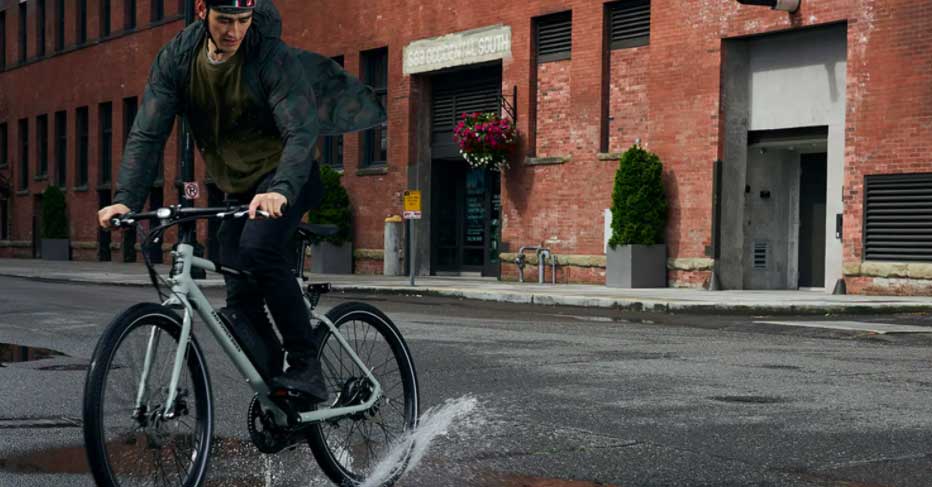 Rad Power Bikes is a young electric bicycle manufacturer, based in Seattle, WA, USA. They produce unique city, folding, all-terrain, cargo, and utility bicycles, as well as a plethora of accessories and parts.
They have a Direct-to-Consumer business model that eliminates retailers and third parties, bringing the price down for the end consumer.
At the moment, Rad Power Bikes produces and sells seven models that fall into five different categories: All-terrain, City, Cargo & Utility, Folding, and Step-Thru.
Shop on RadPowerBikes.com   or   Read Our Full Review
---
26. Ride1UP Electric Bikes
The company is based in San Diego, California, which is a common location for e-bike manufacturers. The company brings affordable yet premium quality e-bikes to the masses, perfect for going to work and back.
Although Ride1UP was only recently launched in 2018, it has since consistently performed well in the market due to its very affordable prices yet premium quality e-bikes.
Ride1UP offers a wide variety of e-bikes that its customers can choose from. For many, the best part of their design is in the minimalist yet refined quality of their e-bikes.
Shop on Ride1UP.com   or   Read Our Full Review
---
27. Santa Cruz Electric Bikes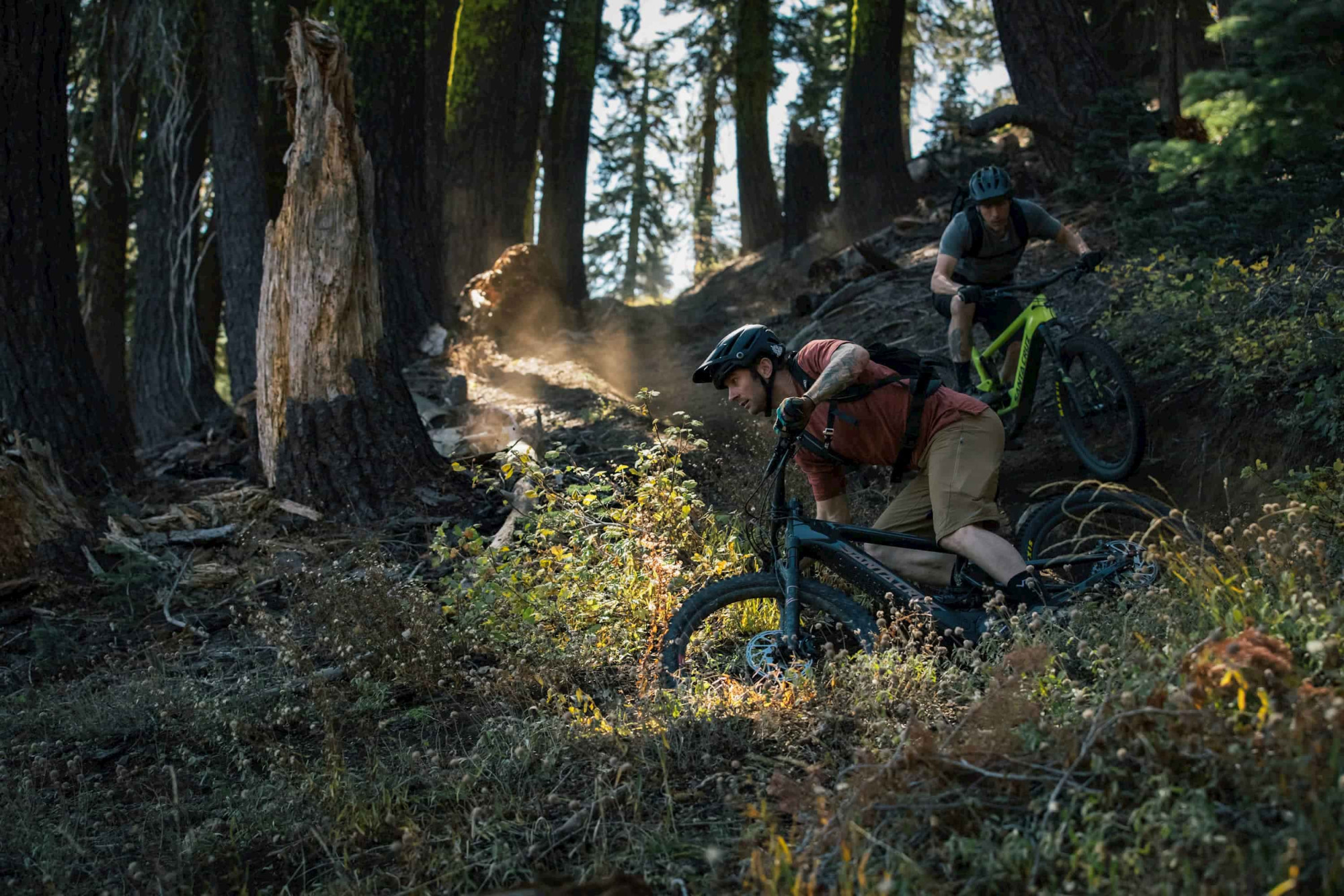 Santa Cruz continues to push forward with innovative and pioneering designs. The company's history of producing bikes that carry their customers to the moon and back is as strong as ever. Electrifying.
Santa Cruz Bicycles was founded back in 1994 by Rob Roskopp, Mike Marquez, and Rich Novak. The first bike they ever made was called the Tazmon and was the first bike ever to enter the market with a full suspension.
Currently, the company only has two e-mountain bikes in its portfolio. But given their track record of continually innovating, it is safe to say that there's more on the way.
Shop on evo.com   or   Shop on Mike's Bikes
---
28. Specialized Electric Bikes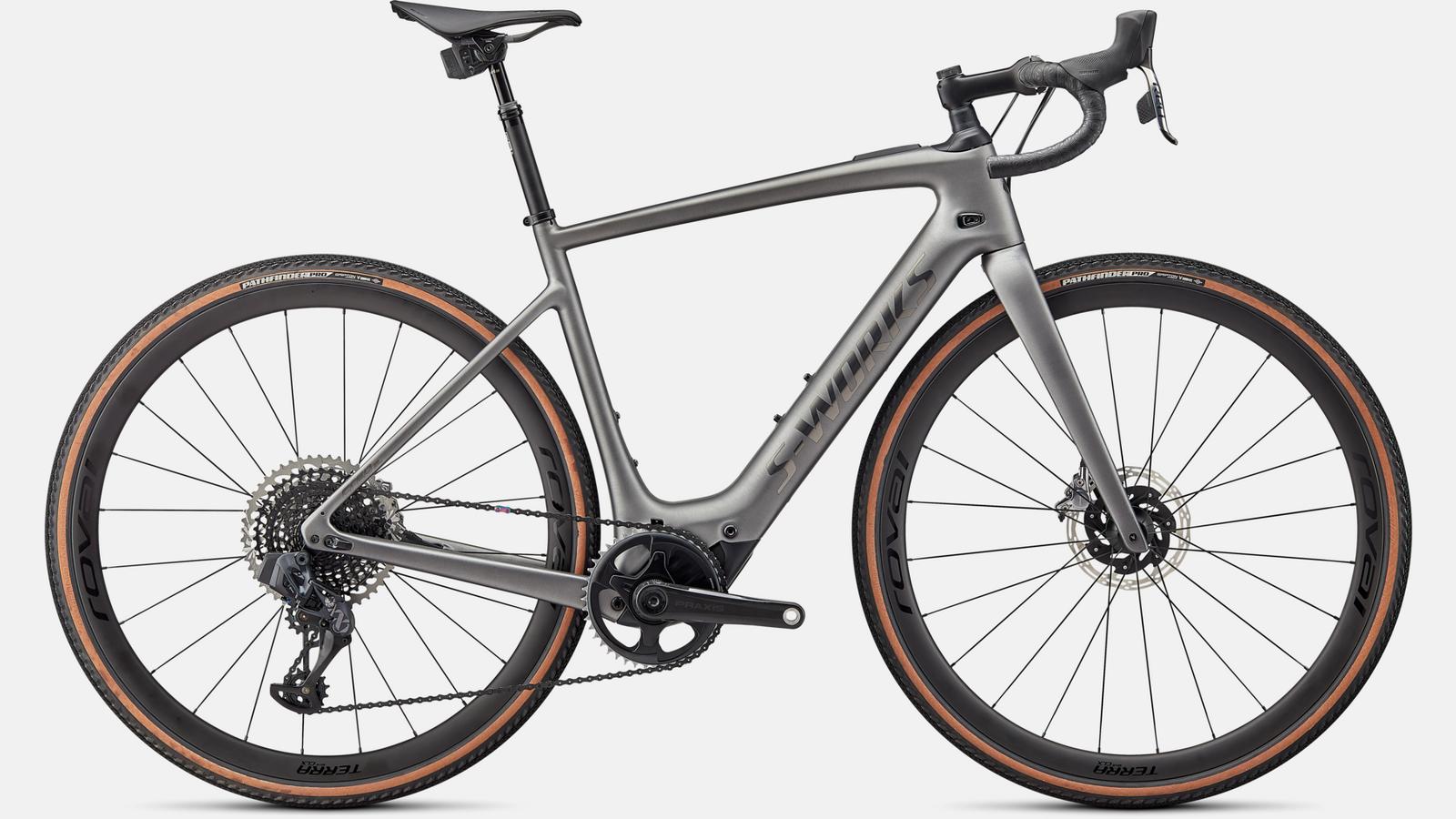 The Specialized brand is almost synonymous with innovation and performance. They constantly push their limits toward high-performance bicycles.
Specialized's collection of bicycles without a doubt belongs to the best of the world. Specialized has a ton of bicycles to offer the general public and their portfolio of e-bikes is no different. These bicycles cover all sorts of price ranges, but you'll definitely find one or two with a price tag that fits your budget.
Check out the selection on Mike's Bikes below and read our full review before buying to learn more.
Shop on Mike's Bikes    Shop on GovVelo.com
---
29. Super73 Electric Bikes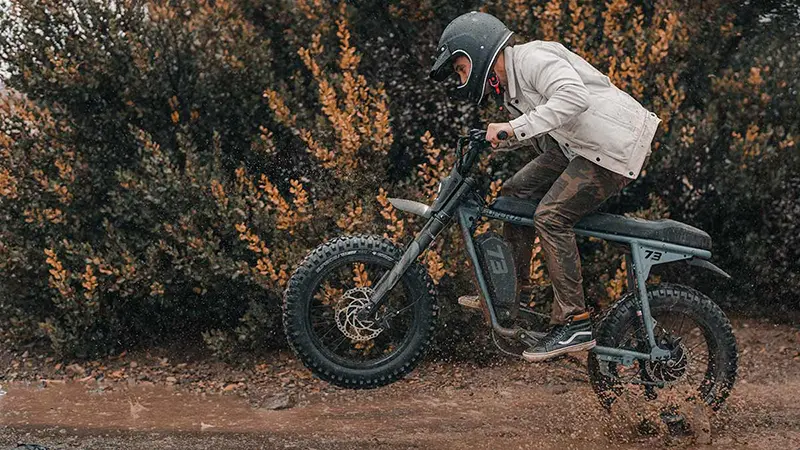 Super73 is a California-based company that has revolutionized the electric bike industry with their unique blend of retro aesthetics and modern technology.
Known for their distinctive, vintage-inspired designs, their electric bikes stand out in a rapidly growing market.
The brand offers a wide variety of models, designed to suit different riding styles from urban commuting to off-road adventuring.
With a focus on both performance and sustainability, Super73 is dedicated to providing a fun, eco-friendly alternative to traditional transportation.
Visit Super73.com   or   Read Our Full Review
---
30. Surly Electric Bikes
Surly Bikes is a company that emphasizes three important qualities for all their bicycles: durability, utility, and versatility.
Formed in Bloomington, Minnesota, Surly Bikes started as a sub-division of Quality Bicycle Products. Since 1998, Surly provided customers of all shapes and sizes with utility bikes that were built for their specific needs.
The recent increase in demand for e-bikes prompted Surly to launch its first electric bicycle. Surly cargo bikes were already popular, but the company wanted its customers to have the option of choosing an electric version for additional pedal support.
Visit Surlybikes.com   or   Read Our Full Review
---
31. Tern Bikes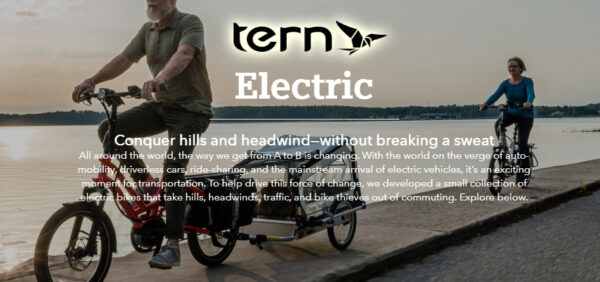 The Taiwanese company Tern makes several different types of affordable folding electric bikes and regular folding bikes.
These compact commuters and cargo vehicles are designed to allow you to easily carry and transport them, as well as to easily carry and transport you and any additional cargo you might have.
Tern bikes cost a lot, but they are jam-packed with high-tech features and accessories, meeting and exceeding the needs of even the most demanding riders.
Visit Ternbicycles.com   or   Read Our Full Review
---
32. Trek Electric Bikes
Trek was founded with an established goal of building high-end bikes for the United States market. Back in the day, all the good bikes came from European brands. This inspired Richard Burke and Bevil Hogg to take matters into their own hands.
The company offers models designed for Road, Mountain, and Urban biking. Trek is also renowned for supplying numerous Pro Tour teams with bikes that have achieved a large number of victories in the Grand Tours.
In terms of their electric bike portfolio, Trek covers a wide range of types, from amiable town bikes to more powerful road bikes and mountain bikes. Currently, the company sells a few dozens of these bikes with a price range between $1,500 and $12,000.
Visit Trekbikes.com   or   Read Our Full Review
---
33. VanMoof Electric Bikes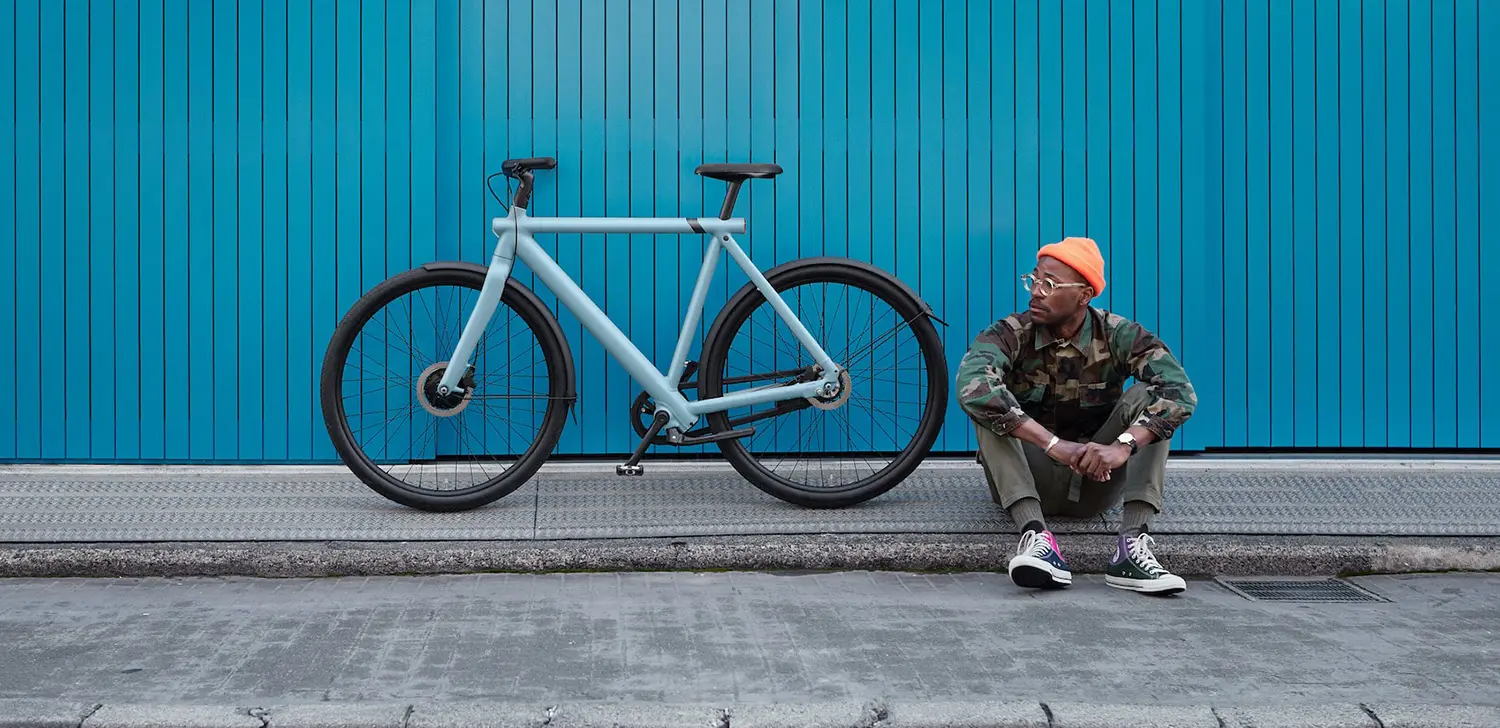 VanMoof is a Dutch company renowned for its innovative and stylish electric bikes.
Known for integrating technology seamlessly into their designs, VanMoof bikes often feature anti-theft systems, integrated LED lights, and electronic shifting, enhancing the rider's experience.
Their e-bikes are designed for urban commuting, with a focus on providing a smooth, effortless ride and a design aesthetic that's both sleek and modern.
VanMoof's commitment to sustainability and urban mobility solutions, along with its high-quality build and customer service, have cemented its place as a leader in the electric bike market.
Shop on VanMoof.com   or   Read Our Full Review
---
34. Yuba Electric Bikes
Yuba Bikes is a company that makes cargo e-bikes that can easily replace your car for daily rides to the store, help you take the kids to school, or even power your private business.
If you live in a city where you can replace most of your short car excursions with a bicycle, one of Yuba's creations is a godsend. You'll save money on gas and maintenance, simplify your life, improve health, and help the environment.
There are three types of Yuba cargo bikes that you can get: Compact Cargo Bikes, Full-size Cargo Bikes, and Front Cargo Bikes. Find them at REI on the link below.
Shop on REI   or   Read Our Full Review
---
Different Types of Electric Bikes You Can Get
How Much Should You Spend on a Good Electric Bike?
Determining how much to spend on a good electric bike is crucial to avoid over or underspending, relative to your needs.
Electric bike prices can vary significantly between brands, allowing you to choose from budget-friendly options to high-end models.
Here's a quick breakdown of different price ranges and what you can expect to get out of each one.
1. Electric Bikes Under $1,000:
In this range, you'll find entry-level electric bikes with a less powerful rear hub motor, smaller batteries, and cadence sensors, suitable for urban riding and short commutes.
Their components may be less durable, and the design might be simpler; though, novice riders will find these to be good enough for their daily needs as many come with features like fenders, a rear rack, suspension fork, step-over or step-through frames, and a removable battery.
Electric bikes under $1,000 are mainly suitable for occasional riders or those on a tight budget. If you really want to save, you can also consider electric bikes under $500, but be prepared to make compromises.
2. Electric Bikes Between $1,000 – $2,500:
This mid-range price point packs a good balance of quality and affordability. This is typically where the best-value electric bikes for regular riders can be found.
If you buy an ebike in this price range, you can expect to see better motors with more watts, larger batteries, and improved build quality. Ebikes with mid-drive motors and belt drive electric bikes can also be found in this price range.
These bikes are mainly suitable for daily commuters, recreational riders, and hauling groceries, so we recommend checking out our popular guides below for some recommendations:
3. Electric Bikes Between $2,500 – $5,000:
Within this price range, you'll find high-quality electric bikes with powerful mid-drive or hub motors and long-lasting batteries with more watt hours and decent mileage.
The components will be more robust, and features like integrated locks, hydraulic disc brakes, lights, and advanced displays with USB charging are more common.
These electric bicycles are ideal for riders who want performance, durability, and a feature-rich experience and are willing to spend more to get it.
4. Electric Bikes from $5,000 and Above:
The premium electric bikes in this price category come with top-notch components and cutting-edge electric technology. They usually have Bosch or Shimano mid-drive motors and integrated batteries, neatly integrated within their modern design.
You'll also get high-end performance, longer ranges, and luxury features like a torque sensor and hydraulic discs. Most ebikes in this price range come with carbon frames and are specialized for a specific use, such as e-road, e-gravel, electric cargo bikes, or e-mountain bikes.
Therefore, they are designed for serious cyclists, enthusiasts, and those who demand the best features and performance.
Frequently Asked Questions
What are the best electric bike brands?
Some of the best electric bike brands you can find on the market right now include Ride1UP, Lectric, Rad Power Bikes, Aventon, Blix, VanMoof, etc. Other popular big-name brands you should also consider include Trek, Specialized, Cannondale, Canyon, and Gazelle, to name a few.
How do I choose a good electric bike?
To choose a good electric bike, you need to find the right balance between the price, electric components, mechanical components, and brand reliability. You also need to consider your most important needs and get an electric bike that fits your requirements.
What are the top five eBikes?
Choosing just five best ebikes is really difficult because of so many choices out there and because each rider's needs are different. However, some of the best ebike brands we can recommend include Ride1UP, Lectric, Rad Power Bikes, Aventon, Blix, and VanMoof.
Is it worth it to buy an electric bike?
Buying an electric bike is definitely worth it for most people out there since ebikes are versatile vehicles that can be used for recreation, commuting, or even business. If you love riding bikes or avoid riding them because you find it too hard, an ebike would definitely bring positive value to your life.
How much should I spend on a good electric bike?
If you want to get a good electric bike with reliable components, a powerful motor, and enough battery capacity, we recommend spending at least between $1,500 and $2,000. If you can afford to spend more, you'll get even more power from the motor and battery, better components, and better accessories.