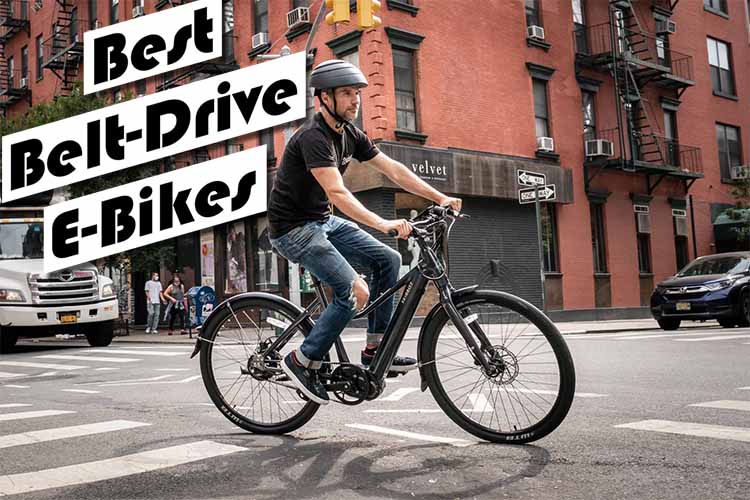 Belt drive eBikes are growing in popularity, with popular manufacturers like Gazelle, Vvolt, and Ride1UP offering the technology on their urban bikes.
Belt drives last significantly longer than traditional drivetrains and virtually eliminate maintenance needs, among other benefits. So you can see why they are popular with the time and money you can save.
This article will cover eight of the best belt-drive electric bike models on the market and finish with a short guide for buying a belt-drive eBike.
---
Best Belt-Drive eBikes of 2023
---
1. Ride1UP Roadster v2
Price: $1,095 – $1,245
Motor: 350W, 40Nm geared hub
Battery: 252Wh
Range: 20-30 miles
Drivetrain: Single-speed, 64/20T Toptrans or 63/22T Gates Belt Drive
The Ride1UP Roadster v2 belt drive electric bike is the cheapest model on this list.
It's perfect for zipping around urban environments with its upright and agile geometry, narrow tires, and lightweight build (33lbs).
The compact electronics provide just enough punch to commute or run errands without breaking a sweat. These include a 350W motor and a 252Wh battery that returns 20 to 30 miles of range and a 24mph max speed. The electronics are cleverly integrated into the frame, so the Roadster v2 doesn't look like an e-bike.
You'll have no problem pedaling this lightweight bike if your battery runs out. The 28mm Kenda Kwest tires roll fast over smooth surfaces, and rim brakes provide plenty of stopping power in dry conditions.
If you want more capability, the Roadster v2 comes in a gravel setup with mechanical disc brakes, a lighter Gates Carbon drive system, and puncture-resistant 40mm Continental Terra Trail tires for just $150 extra.
Don't miss out on Ride1UP's Roadster v2 if you want a stylish urban e-bike on a budget.
---
2. Priority Current E-Bike
Price: $3,299 or $3,499
Motor: 500W, 140Nm mid-drive
Battery: 500Wh
Range: 20-50 miles
Drivetrain: Shimano Inter-5 internal hub or Enviolo Sportive, Gates Carbon Drive CDX belt
The Priority Current is one of the most powerful belt-drive electric bikes on this list and a solid urban companion.
As mentioned, the Current has more than enough power to handle anything you throw at it. The smooth 500W, 140Nm mid-drive motor will easily handle the steepest gradients. Unfortunately, the 500Wh battery is a little smaller than we would hope at this price, with only 20-50 miles of range.
Customers can choose between Shimano or Enviolo hubs on checkout, with a $200 difference. Either way, you'll get a reliable Gates Carbon CDX belt drive to go with it.
The 650b wheels come wrapped in high-volume puncture-resistant tires for comfort and convenience. Four-piston hydraulic disc brakes give you plenty of stopping power for urban riding, and a bright 700-lumen headlight helps keep you safe on busy urban roads.
Finally, you have a kickstand, a taillight, and fenders pre-installed, with compatibility for a rack and other great ebike accessories. Consider the Priority Current if you want a powerful urban e-bike without breaking the bank.
---
3. Gazelle Ultimate C380
Price: $4,249
Motor: 250W, 65Nm Bosch Performance Line 3.0 mid-drive
Battery: 500Wh
Range: 70 miles
Drivetrain:  Enviolo 380 trekking internal gear hub, Gates Carbon CDX belt
The Gazelle Ultimate 380 is a premium belt-driven eBike from the famous Dutch bicycle manufacturer.
In typical Dutch city bike fashion, the Ultimate 380 has a comfortable low-step frame with upright geometry and a fully-equipped setup for commuting and running errands.
The electronics on this bike are impressive. Bosch's Performance Line 3.0 65Nm motor and a large 500Wh battery pack provide up to 70 miles of range and 20mph max speeds.
The drivetrain features Gates' CDX carbon belt and Enviolo's Trekking 380% gearing hub. This combination is long-lasting, reliable, silent, and clean, perfect for urban riding.
Other notable components on this bike include the powerful Shimano Deore disc brakes, plush 1.75″ Schwalbe Energizer Plus tires with puncture resistance, seat tube and fork suspension, and ergonomic touchpoints.
All things considered, this is an expensive city e-bike but one of the most complete and reliable you'll find.
---
4. Vvolt Sirius
Price: $2,799
Motor: 250W, 80Nm MPF Mid-drive
Battery: 375Wh
Range: 20-40 miles
Drivetrain: Enviolo Trekking 380% hub, Gates Carbon CDX belt
Vvolt's Sirius belt drive e-bike is an off-road capable model with solid components.
The Sirius has a powerful off-brand MPF mid-drive motor with 80Nm of torque and a 375Wh battery with an unimpressive range of just 20 to 40 miles. You can choose between a 20mph or 28mph version at checkout.
Vvolt included 27.5″ wheels with all-terrain Kenda tires and 100mm-travel fork suspension to provide off-road capability. In addition, the hydraulic disc brakes ensure you can stop reliably in all conditions, although the 160mm rotors are slightly smaller than desired.
The drivetrain includes an Enviolo Trekking 380% hub and a Gates Carbon CDX drive, an excellent pairing that runs smoothly and provides plenty of gearing options.
Overall, the Vvolt Sirius is a solid choice with excellent components and versatile capabilities but at a slightly elevated price.
---
5. Stromer ST2 Sport
Price: $5,700
Motor: 570W, 40Nm rear hub
Battery: 618Wh
Range: 75 miles
Drivetrain: 5-Speed Sturmey Archer hub, carbon belt
Stromer is a Swiss electric bike manufacturer specializing in speed pedelecs built primarily with proprietary components. Stromer's bikes are also unique, with GPS localization, remote updates, and customizable motor settings.
These premium e-bikes fetch high prices, but they have the durability and performance to back them up. The ST2 Sport is a fast urban belt-driven electric bike.
Power comes from a large 570W, 40Nm Stromer CYRO Drive IG hub motor. This motor provides plenty of power to haul a loaded bike up moderate hills, but we would rather see a mid-drive at this price. The battery has 618Wh of juice and lasts for up to 75 miles.
The Sturmey Archer 5-speed hub pairs with a carbon fiber belt to ensure maintenance-free pedaling for thousands of miles. Other notable features of the ST2 Sport include the fully-equipped setup and E-Gridlock balloon tires by Vee Tire.
Add this belt drive eBike to your shortlist if you have a big budget and want a premium urban e-bike built to last.
---
6. Priority e-Coast
Price: $2,000
Motor: 500W hub
Battery: 576 Wh
Range: 20-60 miles
Drivetrain: Single-speed, Gates Carbon CDN belt
The Priority e-Coast belt electric bike is another solid, affordable choice with Gates Carbon technology.
This cruiser e-bike comes with a punchy 500W hub motor that is perfect for leisurely rides. This motor relies on a 576Wh battery with an impressive max range of 60 miles.
The drivetrain is a single-speed Gates Carbon CDN setup. The e-Coast has the perfect configuration for urban riding, with a rear rack, full fenders, LED lights, and a kickstand.
The 26″ x 3″ CST Big Boat tires smooth out bumpy surfaces, and the 174HUDSON hydraulic disc brakes ensure you can stop on a dime in all conditions.
Don't look past the Priority e-Coast if you want comfort, reliability, and all the bells and whistles for urban riding.
---
7. Gazelle Ultimate C8 HMB
Price: $3,750
Motor: Bosch Active Line Plus 3.0, 50Nm mid-drive
Battery: 500Wh
Range: 90 miles
Drivetrain: 8-Speed Shimano Nexus, Gates Carbon CDX belt
The Gazelle Ultimate C8 is another option from the Dutch brand with less power and narrower gearing but more range to make up for it.
Gazelle Bikes chose Bosch's Active Line Plus 50Nm motor for this model and kept the 500Wh battery, meaning you get up to 90 miles of range. An 8-speed Shimano Nexus hub pairs with a Gates Carbon CDX belt drive, offering plenty of gearing for urban riding.
The Ultimate C8 is very comfortable, thanks to the seatpost and fork-integrated suspension with 40mm of travel, a low-step frame, relaxed geometry, and shock-absorbent Schwalbe tires.
As with all of Gazelle's e-bikes, the Ultimate C8 is fully-equipped for commuting and urban riding and has reliable hydraulic brakes for safe stopping in all conditions.
Choose the Gazelle Ultimate C8 HMB if you want a premium belt drive e-bike with lots of range for urban riding or light touring.
---
8. Vvolt Alpha
Price: $1,399
Motor: 350W rear hub
Battery: 375Wh
Range: 20-40 miles
Drivetrain: Single-speed, Gates Carbon CDN belt
The Vvolt Alpha is another simple and affordable belt-drive electric bike, perfect for urban rides.
This bike comes with a single-speed Gates Carbon CDN belt drive. Without gearing, you'll be limited on hills, relying primarily on the motor power. However, the reduced mechanical complexity means this system should last longer.
Power comes from a 350W rear hub motor and a 375Wh battery. You'll get 20mph max speeds and ranges between 20 and 40 miles. Unfortunately, the included lights are USB-rechargeable and not connected to the battery.
Its 160mm-rotor hydraulic disc brakes provide more than enough stopping power for a bike like the Alpha. In addition, you've got Chaoyang tires with light tread, capable of handling mixed-terrain rides. The frame can fit 2.4″ tires or 2″ tires with fenders.
Add the Alpha belt drive eBike to your shortlist if you have a limited budget but want a punchy and stylish urban companion.
---
Belt-Drive Ebikes Buying Guide
Belt-drive technology has been around since the late 1980s but was limited in scope until the widespread manufacturing of internally geared hubs for bicycles over the past few years.
Today, you can find a range of belt and hub manufacturers. The most popular system is the Gates Carbon, which offers four different belt drives:
CDX – Trekking and off-road, high-performance
CDC – Mid-drive motor-specific drive for <50Nm motors
CDN – For casual urban cyclists
ST – Entry-level performance bikes with three gears or less
However, there are many other belts and hubs from brands like Enviolo, Shimano, Sturmey-Archer, Rohloff, and SRAM.
What Is a Belt-Drive Ebike?
An electric bike with belt drive technology is simply a regular e-bike with a belt-operated drivetrain and an internally geared hub instead of a traditional chain, cogs, and chainrings. Otherwise, belt-drive e-bikes operate the same as standard ones.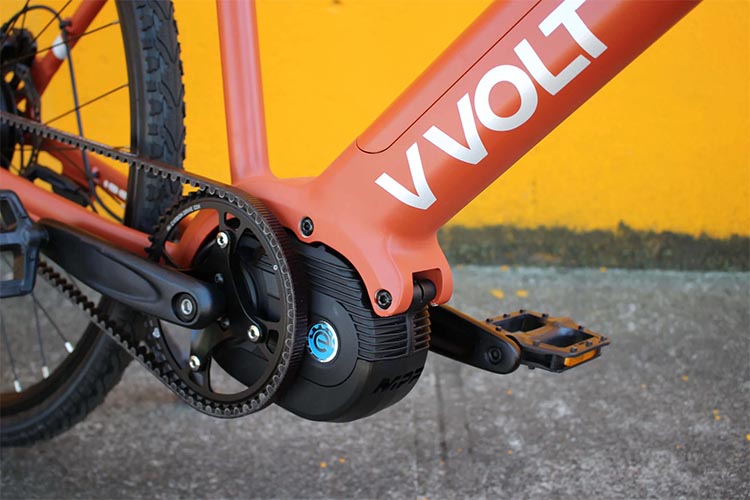 A belt drive consists of a continuous synthetic belt, typically made with carbon fiber or reinforced nylon, that runs around two plates, one front chainring, and a single rear cog. Belt drive cogs are made with metal alloys like stainless steel.
The belt drive system may or may not use an internally geared hub to provide a range of gearing. This hub replaces the multiple cogs and chainrings seen on typical chain drivetrains.
How does a belt-drive bike work?
A belt-drive bike works similarly to a chain-drive. By turning the cranks, you turn the front chainring and the rear chainring. The continuous belt connects the two plates. The rear cog usually connects to a hub containing planetary gears that provide a set range of gearing, much like a cassette.
What Are the Advantages of Belt Drive Ebikes?
The biggest advantage of an electric belt drive bike is its durability. Belt drive systems last three to four times longer than traditional chain drivetrains.
Belt drives also require virtually no maintenance, saving a lot of time and effort. In contrast, chain drivetrains need a lot of attention and care to maintain optimal function and efficiency and extend the lifespan of the components.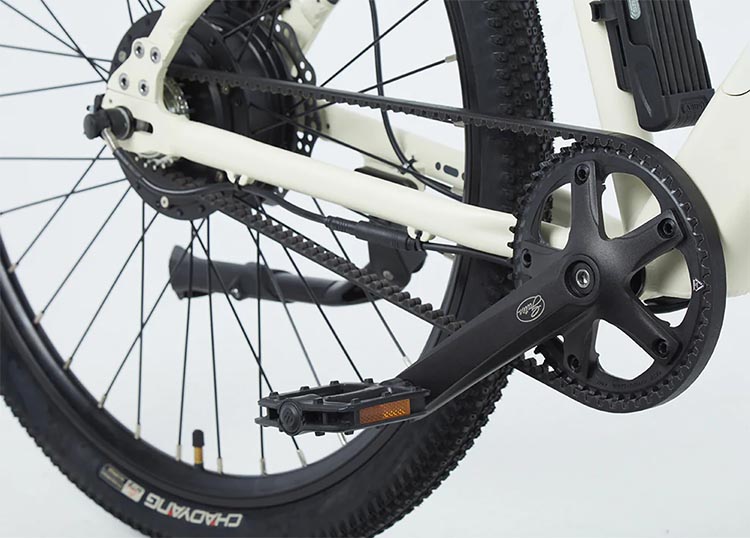 The internally housed gearing and synthetic belts are much more resistant to damage and don't require grease to run smoothly, meaning you don't have to attend to them regularly. The lack of lubricant is another benefit for commuters because there is no chance of staining your clothes. All of these factors combine to save you time and money in the long run.
Other less notable benefits are the modest weight savings, the quiet operation, and the ability to switch gears at a stop.
Downsides of Belt-Driven Ebikes
There are a few potential downsides to electric bikes with belt drive technology, most of which aren't obvious.
Firstly, they're more expensive than chain drivetrains, although prices are improving as the technology becomes more widespread.
Belt drives are also more expensive and time-consuming to repair because the parts are costly and harder to find.
Finally, belt drive systems aren't viable for some disciplines because they cannot offer the same range of gearing as a standard chain drivetrain with a large cassette and multiple chainrings. However, this is likely to be addressed as hub technology develops.
Are belt-drive bikes better than bikes with a chain?
No, belt-drive bikes aren't necessarily better than bikes with a chain; it depends on your priorities. For example, road cyclists who need a wide range of gearing and the freedom to change between groupsets may not like a belt-drive e-bike. However, for commuters and urban riders, belt drives are superior as they lower ebike repair and maintenance needs and are super easy to operate.
Are Belt Drive Ebikes Worth It and Do I Need One?
As mentioned above, we think belt drive eBikes are worth it for certain types of riders, especially urban cyclists and commuters. For this reason, most electric bike belt drive models are city bikes, such as those by Gazelle, Vvolt, and Stromer.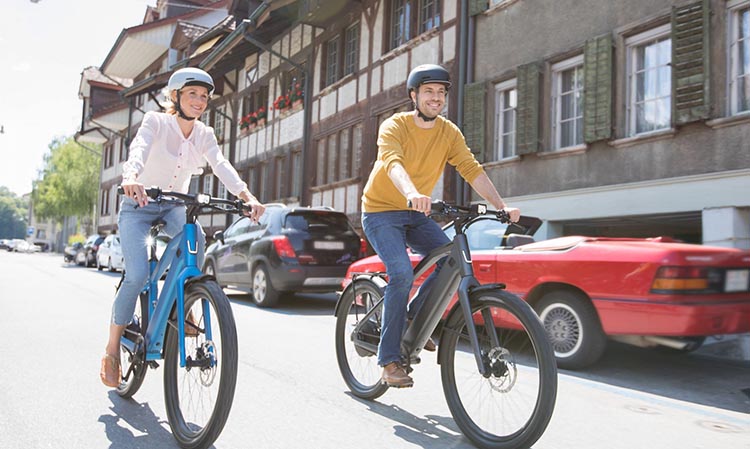 The cleanliness, lack of maintenance needs, durability, and simplicity, make these bikes very appealing. Nonetheless, they typically cost more, meaning you will sacrifice higher-quality components elsewhere on the bike to have a belt drive.
Therefore, if it fits your budget and you value convenience and time savings, consider a belt drive model for your next electric bike.