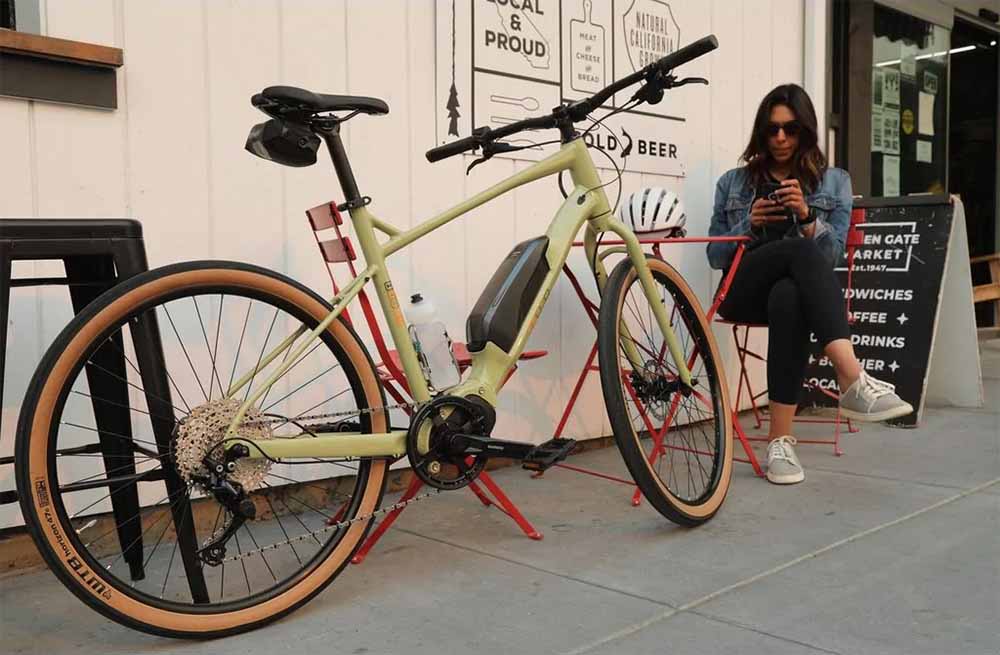 Mid-drive eBike motors are the most efficient, smooth, and powerful, making them the preferred choice for premium electric bike manufacturers.
These motors provide a natural ride quality that hub motors cannot match by feeding power directly to the drivetrain and using advanced torque sensors to measure your effort.
Given their superiority, most e-bike brands have at least one mid-drive electric bike in their lineup, many of which you'll see among the ten we've reviewed for this article.
How do mid-drive electric bikes work?
An eBike mid-drive motor generates torque to spin a shaft that connects to your chainring. With the motor positioned inside the bike's bottom bracket and connected directly to the drivetrain, the power transfer integrates more naturally with your pedaling power, unlike hub motors that turn the wheel independently of the drivetrain.
Mid-drive e-bike systems use torque sensors to measure how much force you're pushing into the pedals, and the motor responds by delivering a proportionate amount of support.
A key part of using a mid-drive eBike is to utilize the full range of gearing so you can get the most power and efficiency out of the motor. For example, riding up a hill in a gear that's too hard (a low cadence) will drain your battery faster and put more stress on the motor than if you use an easier gear and a higher cadence.
---
Best Mid-Drive Ebikes in 2023
---
1. Buzz Cerana
Most Affordable Mid-Drive Electric Bicycle
Price: $1,499
Motor: 350W
Battery: 36V 10.4 Ah / 375 Wh
Range: 40 miles (64 km)
Drivetrain: 7-speed
The Buzz Cerana is one of the best mid-drive electric bikes in the affordable category. This class 1 utility ebike costs just $1,499 but offers a lot for the money.
Utility electric bikes like the Buzz Cerana are practical machines that allow you to go farther, faster and get more things done than before.
The upright geometry, 24″ wheels with wide 2.8″ tires, and a step-through frameset make this bike a joy to ride on gravel roads and smooth city streets.
A 350W mid-drive motor provides plenty of torque for tackling steep hills, but the 375 Wh battery provides a modest range of up to 40 miles in a low pedal assist level.
Other notable features of this mid-drive e-bike include mechanical disc brakes, a 7-speed drivetrain, and accessories such as lights, fenders, a kickstand, and a front basket.
The only downside is the hard gear ratio on the rear cassette, which means it may be hard to reach high speeds when climbing, even with assistance from the powerful motor.
But all in all, you shouldn't look past the Buzz Cerana if you're on a tight budget but you want high practicality and accessories found on more expensive models.
---
2. Priority Current
Best Mid-Drive Ebike with a Belt
Price: $3,299
Motor: 500W / 140 Nm
Battery: 500 Wh
Range: 20-50 miles
Drivetrain: Shimano Inter-5 internal hub or enviolo Heavy Duty
The Priority Current is one of the most attractive mid-drive e-bikes on this list. Priority chose a complete set of quality components while keeping the price reasonable.
The Current mid-motor e-bike has a punchy 500W motor with 140 Nm of torque. You'll get up to 50 miles of range from the 500 Wh battery.
Commuters have all their bases covered with front and rear fenders, LED headlight, a height-adjustable stem, and a kickstand.
When it comes to gearing, you can choose between Shimano and Enviolo internal gear hubs, and you also get four-piston hydraulic disc brakes, which is a reliable setup for an urban e-bike.
The Priority Current is also very easy to maintain thanks to its Gates carbon belt that requires no lubrication and lasts for thousands of miles.
Overall, you won't find a more comprehensive, reliable, and affordable mid-drive eBike than the Priority Current.
---
3. Trek Verve+ 3
Best Commuter Mid-Drive Electric Bike
Price: $3,300
Motor: Bosch Active Plus 250W, 50 Nm
Battery: Bosch PowerTube 500 Wh
Range: ~60 miles
Drivetrain: 9-speed Shimano Alivio
The Trek Verve+ 3 is a versatile and comfortable electric bike that's perfect for commuting or leisurely rides.
Trek equipped this bike with a powerful Bosch Active Line Plus motor, which delivers smooth and reliable pedal assistance up to 20 mph. The motor is powered by a long-lasting 500 Wh battery that can provide up to around 60 miles of range.
Trek Verve+ 3 also comes with a Shimano Alivio 9-speed system that offers a wide range of gears for easy and smooth shifting. The hydraulic disc brakes also provide reliable stopping power, even in wet or slippery conditions.
The bike also comes with a range of accessories that make it practical for daily use. It has fenders to protect you from mud and water splashes, a rear rack for carrying cargo, and integrated lights for added visibility and safety.
Overall, the Trek Verve+ 3 is a reliable and well-equipped mid-drive electric bike that's perfect for both urban and countryside riding.
---
4. Electra Townie Go! 5i
Best Cruiser Mid-Drive Electric Bike
Price: $2,950
Motor: Bosch Active Line Plus 250W, 50Nm
Battery: 400Wh
Range: 20-70 miles
Drivetrain: 5-speed Shimano Nexus hub
Electra is a specialist in the design of cruiser bicycles and their Townie Go! 5i is their premium mid-drive electric bike.
Cruiser e-bikes are the most comfortable and relaxed type of bike you'll find. They make any ride feel relaxed thanks to the comfortable design and the smooth pedal assistance from the motor.
The Townie Go! 5i is a Bosch mid-drive electric bike featuring their 50Nm Active Line Plus motor and a 400Wh Powerpack battery with a max range of 70 miles. As a Class 1 e-bike, you have a top speed of 20mph. The charging time is just 3.5 hours thanks to a fast charger.
The Townie Go! 5i has typical cruiser components, including an oversized saddle, mustache handlebars, high-volume 2.35″ tires, and relaxed geometry. Unfortunately, this makes the bike a little heavy.
Other notable features include puncture resistance in the tires, Tektro hydraulic disc brakes, and a 5-speed internally geared hub that is extra durable and switches gears smoothly.
Consider the Electra Townie Go! 5i if you want a bike with a luxurious ride feel and everything needed for urban riding.
---
5. Lectric XPremium
Best Folding Mid-Drive Electric Bicycle
Price: $1,599
Motor: 500W mid-drive
Battery: 2x 500Wh (1000Wh total)
Range: 100+ miles
Drivetrain: 7-speed Shimano Tourney
In 2022, Lectric Bikes released its first model with a mid-drive electric bike motor, the XPremium.
This new, improved e-bike took the same base as their hugely popular XP 3.0 and supercharged it. Firstly, swapping in a mid-drive for the cheaper hub motor gives the XPremium a smooth ride quality and a low center of gravity gives it stability.
The most impressive upgrade is the dual 500Wh battery capacity that returns 100 miles of range. You can maximize your range by using the 7-speed Shimano Tourney drivetrain.
Another notable feature is the switch to hydraulic disc brakes, which provide reliable braking in all terrains and weather conditions.
Of course, the XPremium comes fully equipped with commuter components and a quick-fold frame for easy storage and transportation. Unfortunately, this bike weighs 75 lbs, making it difficult to lift and carry for many people.
Other notable features include an 80mm travel front fork, a suspension seat post, 4″ all-terrain fat tires, and a 330 lbs (150 kg) payload capacity for hauling cargo.
Choose the Lectric XPremium if you want a mid-drive e-bike with throttle functionality, a huge range, and an affordable price tag.
---
6. Ride1UP Prodigy
Best Mid-Drive Ebike for Any Terrain
Price: $2,295 – $2.395
Motor: Brose TF Sprinter 90Nm, 380% assistance
Battery: 504Wh
Range: 50 miles
Drivetrain: 9-speed Shimano Alivio
The Ride1UP Prodigy line features two mid-drive models; one off-road build and two urban builds.
Each Prodigy has a Brose TF Sprinter mid-drive motor with 90Nm of torque and a 380% assistance rating. The battery has 504Wh of juice and will last up to 50 miles.
The three builds also use a 9-speed Shimano Alivio drivetrain and Tektro hydraulic disc brakes with 180mm rotors. However, the XC off-roader uses a 42t narrow-wide chainring, while the urban models use a 46t chainring.
The XC also has a 120mm air suspension fork, 2.4″ Maxxis Forekaster cross-country tires, and MTB handlebars to provide more leverage over the front end.
The ST (step-through) and XR (step-over) use 2″ Maxxis Re-Fuse gravel tires which are perfectly good for mixed-terrain riding, although the rigid fork won't do you any favors on rough surfaces. In addition, they have a fully-equipped setup for commuters.
Consider the Ride1UP Prodigy if you appreciate the brand's attention to detail, renowned dependability, and competitive prices.
---
7. Tern Quick Haul D8
Best Cargo Ebike with Mid-Drive Motor
Price: $2,999
Motor: Shimano STEPS E5000
Battery: 400Wh
Range: 65 miles
Drivetrain: 8-speed Shimano Altus
The Tern Quick Haul D8 mid-drive eBike blends utility and commuter capabilities in a compact cargo-style frame.
This bike is relatively lightweight, weighing just 50.2lb, and comes with Schwalbe Big Apple 55mm tires suitable for bumpy pavement. In addition, the aluminum frame is loaded with an extra-long rack that can support 110lb.
Power comes from a Bosch Active Line Plus drive system, consisting of a 270% assist motor and 400Wh battery that provides up to 65 miles of range.
The drivetrain and brakes are Shimano Altus with an 8-speed Shimano cassette. Add the Tern Quick Haul D8 to your shortlist if you want a bike with versatile capabilities from an established manufacturer without a huge price tag.
---
8. Cannondale Tesoro Neo X Speed
Best Model for Long-Distance Commutes
Price: $5,500
Motor: Bosch Performance Line Speed, 85 Nm
Battery: 625Wh
Range: 73 miles
Drivetrain: Shimano Deore M6100, 12-speed
The Cannondale Tesoro Neo X Speed is the best mid-drive eBike for long-distance touring and commuting.
This fully-equipped urban e-bike gets its power from a premium Bosch Performance Line Speed motor with 85Nm of torque. The battery has 625Wh of juice and will support you on long days of riding up to 73 miles.
A 100mm SR Suntour Raidon fork will soften impacts on light trails but isn't meant for proper mountain biking. The 2.15″ Schwalbe Big Ben Plus Performance tires keep you rolling fast and protect you from punctures with a GreenGuard layer.
The groupset comprises Magura MT5 203mm hydraulic disc brakes and a 12-speed Shimano Deore drivetrain with a broad gear range.
A final noteworthy feature is the addition of a rack and fenders, allowing you to use the Tesoro Neo X Speed for commuting or bicycle touring straight away.
Choose this Cannondale mid-drive eBike if you want a powerful urban e-bike with touring capabilities.
---
9. Orbea Keram 29 30
Best Mid-Drive E-MTB
Price: $3,000
Motor: Bosch Active Line
Battery: 400wh
Range: 45 miles
Drivetrain: 10-speed Shimano Deore M4100
The Keram 29″ is an affordable hardtail electric bike suitable for cross-country trail riding or comfortable paved rides made by Orbea Bikes.
A 100mm SR Suntour X1 Coil fork performs well for light trails but the lack of full suspension is noticeable on very rough terrain. The 2.35″  Kenda K1153s are a broad-use MTB tire with a balance of rolling speed and grip (in dry conditions).
The Orbea Keram gets its power from a Bosch Active Line motor with 250% assistance and 40Nm of torque. This motor pairs with a 400Wh battery to deliver up to 45 miles of range.
Shimano provides the groupset with Deore 4100 10-speed gearing that includes an 11-46t cassette and 34t chainring. The brakes are MT200 hydraulic discs. Overall, this is a solid setup for an e-bike in this price range.
Other notable features include an ABUS battery lock, dual battery capacity to double the range, and hidden kickstand compatibility.
All things considered, this is a solid choice for those who want an entry-level electric mountain bike for cross-country and adventure riding.
---
10. Gazelle Ultimate T10
Best Mid-Drive Ebike for Urban Riders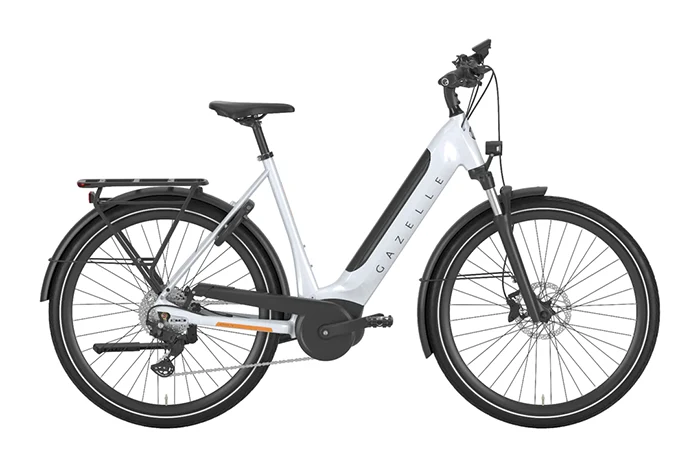 Price: $4,000
Motor: Bosch Performance Line 3.0 65Nm
Battery: 500Wh
Range: 70 miles
Drivetrain: 10-speed Shimano Deore
Urban mid-drive electric bicycles don't get much better than the Gazelle Ultimate T10.
Gazelle Bikes is a specialist in the design of comprehensive, high-end city e-bikes. We recommend reading our complete Gazelle electric bikes review if you want to learn more.
The Ultimate family of e-bikes is the brand's sporty line. The Ultimate T10 has a powerful 65Nm Bosch Performance Line 3.0 that easily crushes steep hills, even with a loaded rack.
A 500Wh Powerpack battery supports the motor for a maximum range of 70 miles (in low levels of pedal assist) and has a top speed of 20mph. To get the most out of the electronics, you have a 10-speed Shimano Deore drivetrain. Powerful Deore hydraulic disc brakes complete the groupset.
The solid range and fully equipped component list make this bike perfect for light trekking or commuting. These parts include LED lights, a kickstand, an integrated battery lock, a rack, and fenders.
Despite being the 'sportive' model, the Ultimate T10 is plenty comfortable, using 47mm Schwalbe Energizer Plus puncture-resistant tires, 40mm of fork travel, curved handlebars, a step-through frame, and plush touchpoints.
Don't miss out on the Gazelle Ultimate T10 if you have a big budget and want performance, reliability, and style.
---
11. Cannondale Adventure Neo 4
Best Step-Through Mid-Drive Electric Bike
Price: $2,875
Motor: Bosch Active Line
Battery: 400 Wh
Range: ~64 miles
Drivetrain: Shimano Altus 9-Speed
The Cannondale Adventure Neo 4 blends a commuter setup with the abilities of a comfortable everyday city e-bike.
An easy-to-mount step-through aluminum frame, fast-rolling Kenda Kwick Seven.5 tires, and Shimano MT200 hydraulic disc brakes allow you to tackle anything from city streets to smooth gravel paths with confidence and comfort.
The Adventure Neo 4 is the perfect commuter, with a comfy saddle, kickstand, and swept-back handlebars for an upright riding position.
A popular and powerful Bosch Active Line motor with 50Nm of torque provides enough punch to handle moderate gradients in all PAS modes. Maximize the 400 Wh battery by utilizing the buttery smooth Shimano Altus 9-speed drivetrain that will help you climb even very steep hills.
Cannondale e-bikes are some of the best on the market, so add the Adventure Neo 4 to your shortlist if you want a bike that can do it all at a reasonable price.
---
Mid-Drive EBike Buying Guide
Unless you've ridden a few different e-bikes or spent time researching mid-drive vs. hub-drive electric motors, you may not understand the difference between them. Well, we've done that research, and we hope this short guide will provide you with answers to some of your questions.
What are the benefits of Mid-Drive Ebikes?
Mid-drive e-bikes have several benefits when compared to hub-drive models.
The most notable is the higher torque at lower speeds and lower wattage, making mid-drives much better for hill climbing or towing cargo, which makes them the most common choice for the best electric cargo bikes.
Another benefit is extra efficiency. Torque-sensing and direct connection to the drivetrain mean these bikes do more with less, extending your battery power so you can get higher ranges from smaller batteries.
The smoothness of the power transfer is another notable improvement on hub motors—hub motors can have a jerky, unnatural power transfer due to the more primitive cadence sensing.
Differences Between Mid-Drive vs. Rear Hub Motors
The main difference between mid-drive vs. rear hub motors is that the mid-drive is located between the cranks and powers the drivetrain, whereas the rear hub motor is located inside the rear wheel's hub.
Other differences include smoother power transfer, higher efficiency, and greater proportional power of mid-drives. In addition, mid-drive motors have better weight distribution on the frame compared to the rear-heavy hubs. That's why they are almost universally used on all best electric mountain bikes.
In contrast, hub motors are cheaper, easier to retrofit, more compatible with throttles and 2x or 3x drivetrains, and easier to use as you don't need to worry about being in the correct gear.
Mid-drives, as mentioned at the beginning of the article, rely on efficient usage of the bike's gearing to get the most power and efficiency. Inexperienced cyclists may struggle with this initially, but it doesn't take long to learn.
Who are the best mid-drive electric bike manufacturers?
Some of the best mid-drive electric bike manufacturers are in this article. Examples include Gazelle (who only uses mid-drives), Orbea, Co-op Cycles, Norco, and Marin Bikes. Other notable manufacturers not mentioned in this article include Cannondale, Haibike, and QuietKat (who produce 1000W mid-drive eBikes).
Yes, you typically have to pedal with a mid-drive electric bike. Most mid-drives do not have a throttle, meaning that the motor only activates to assist pedaling. An example of an electric bike with a throttle is the Lectric XPremium.
Can a mid-drive eBike have a throttle?
Yes, a mid-drive eBike can have a throttle, but it is uncommon. An example of a mid-drive eBike with a throttle is the Lectric XPremium. Most mid-drive systems do not have throttle compatibility because a specific freewheel system is required to allow the cranks to drive without pedaling.