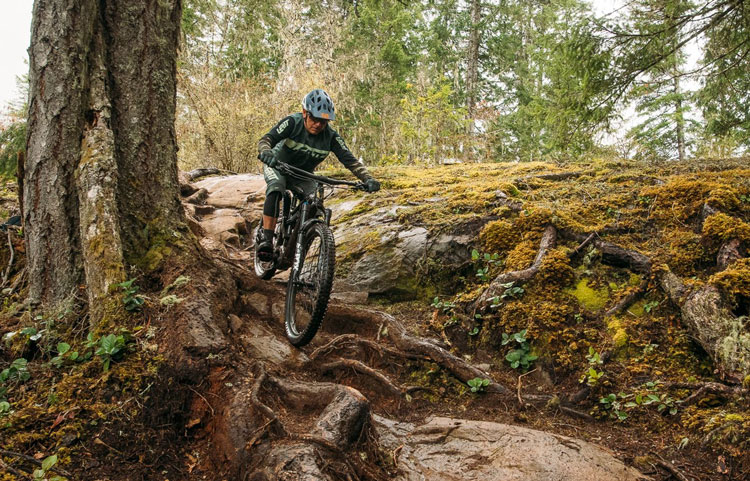 Getting the best electric mountain bike for your needs will open up the trails for you no matter your age or fitness level. With the help of a motor, you can go farther, faster, and do more runs each time you ride.
The best electric mountain bikes take the effort out of climbs and riding on flat terrain and still provide the performance you need to tackle the downhills confidently.
Riding with assistance doesn't always mean taking it easy, either. If you're in the mood, you can go just as hard with an e-bike. You'll just cover more ground and elevation than you would on a traditional bike.
The quality of electric mountain bikes has taken a massive jump in recent years, and we're excited to see where it goes as e-bike systems improve and new technology develops.
This article covers 15 of the best electric mountain bikes available in 2023 and finishes with a short guide on choosing the best one.
---
Best Electric Mountain Bikes
---
1. Orbea Rise M20
Best full-suspension electric mountain bike

Price: $7,399
Motor: Shimano EP8-RS, 60Nm
Battery: 360Wh
Class: 1, 20mph
Suspension Travel: 140mm
We've chosen the Orbea Rise M20 as the best full-suspension electric mountain bike for its exceptional performance and value. 
The Rise M20 is built around a lightweight carbon OMR frame with stealthy electronics that give it the look of a traditional bike. A Fox 34 Float Performance fork, Float DPS Performance shock, and modern trail geometry deliver confidence all over the mountain.
Orbea chose a Shimano EP8-RS e-bike system with 60Nm of torque and a 360Wh battery. This system will last up to eight hours of ride time and can crush over 13,000 feet of elevation on a single charge, an impressive return.
The rest of the build kit is of equally high quality, which is customary for all Orbea E-Bikes. You get RaceFace AR 30C wheels, Maxxis Dissector and Rekon 2.4″ EXO+ MaxxTerra tires, an OC MC20 dropper, and a solid Shimano SLX M7100 12-speed drivetrain.
Don't miss out on the Orbea Rise M20 if you want a carbon-framed trail e-MTB with exceptional performance.
Buy from Jenson USA    Buy from Mike's Bikes
---
2. Cannondale Moterra Neo 4
Best Cannondale electric mountain bike

Price: $5,900
Motor: Shimano EP8, 85Nm
Battery: 630Wh
Class: 1, 20mph
Suspension Travel: 150mm
Cannondale's Moterra Neo 4 is a burly, high-travel 29er trail mountain bike designed to handle whatever you throw at it.
Built around a SmartForm C2 alloy frame, the Moterra Neo 4 is relatively lightweight (~41 lbs) and has solid ride characteristics for an aluminum frame. The suspension is 150mm front and rear and comes from a RockShox 35 Silver R fork and Deluxe Select R shock tuned for suppleness on the downhills.
A Shimano EP8 system offers tons of torque for conquering steep gradients, and a 630Wh battery will last up to 75 miles.
The one disappointment of this Cannondale electric mountain bike is the SRAM SX Eagle drivetrain, which isn't as durable or efficient as the rest of the Eagle groupsets.
Finally, slack geometry, Maxxis Rekon EXO 2.6″ tires, and TRP Slate G4 four-piston hydraulic disc brakes help you stay in control on the trail, no matter the conditions.
Add the Cannondale Moterra Neo 4 to your shortlist if you want one of the most capable Cannondale e-bikes without the huge price tag.
Buy from REI     Buy from Mike's Bikes
---
3. Orbea Keram 29 30
Best electric mountain bike under $3,000
Price: $2,999
Motor: Bosch Active, 40Nm
Battery: 400Wh

Class: 1, 20mph
Suspension Travel: 100mm
The Orbea Keram 30 is one of the best value electric mountain bikes, as it balances a low price with light trail capabilities and urban functionality.
Orbea designed this bike for use as a comfortable urban cruiser or an off-road machine. The geometry is upright and comfortable, and an SR Suntour X1 coil fork and 2.35″ tires provide plenty of control for light trails and gravel paths. However, these tires aren't very durable, so we'd recommend upgrading them to something more robust if you plan to hit very rough trails.
Power comes from a Bosch Active Line 40Nm motor and a 400Wh battery, providing plenty of range for a day of riding and enough torque for moderate gradients. In addition, you can add a second battery to turn the Keram into a bikepacking companion.
Finally, the groupset is a full Shimano, with MT200 hydraulic disc brakes and a Deore 10-speed drivetrain. Consider the Orbea Keram 30 if you want a versatile electric hardtail with excellent value for money.
Buy from Jenson USA    Buy from Mike's Bikes
---
4. Rad Power Bikes RadRover 6 Plus
Best electric mountain bike under $2,000
Price: $2,099
Motor: 750W, 80Nm geared hub
Battery: 672Wh
Class: 2, 20mph
Suspension Travel: 60mm
The Rad Power Bikes RadRover 6 Plus is the best electric fat tire mountain bike, ideal for riders who want all-terrain capabilities and a cheap price tag.
Its 4″ Kenda Kontact fat tires and a 60mm coil fork mean the RadRover can tackle any surface you encounter, such as snow, sand, or mud. This capability is ideal for adventurers and backcountry riders who need to reach remote areas. Alternatively, you can add a rack and baskets to turn this e-bike into a comfortable urban commuter.
A 750W, 80Nm hub motor provides tons of power but quickly drains the 672Wh battery, meaning you can expect 25 to 45 miles of range.
Rad Power Bikes chose a reliable Shimano Altus 7-speed drivetrain with hydraulic disc brakes, a solid pairing for the $2,000 price category.
This bike's major downside is its high weight of 73.4 lbs, which can be cumbersome for lighter riders. However, it's still a worthy consideration for anyone who wants a cheap fat tire e-MTB.
---
5. Haibike AllMTN 3
Best mixed-wheel full suspension electric mountain bike
Price: $5,800
Motor: Bosch Gen4 Performance CX, 75Nm
Battery: 625Wh
Class: 1, 20mph
Suspension Travel: 160mm (f) 150mm (r)
The Haibike ALLMTN 3 is a unique option on this list with its mullet design, blending the roll-over speed of a 29er with the agility and corner shredding capability of a 27.5″ wheel.
This full-suspension electric mountain bike comes with Bosch's top-level Gen 4 Performance CX e-bike system with 75Nm of torque and 625Wh of juice. Unfortunately, the high power means the range is limited (20 to 40 miles).
A 2.5″ Maxxis Minion DHF front tire and 2.8″ Minion DHR II rear ensure plenty of grip on gnarly enduro-style descents. RockShox provides the suspension with a Yari RC fork and Deluxe RT rear shock. Additionally, aggressive geometry ensures confidence on steep, technical terrain.
Disappointingly, Haibike chose a SRAM SX Eagle drivetrain, which isn't the best choice for this type of riding. However, the brakes are powerful and consistent Shimano MT420 four-piston hydraulic discs.
All things considered, the Haibike ALLMTN 3 is a solid all-mountain e-MTB in terms of capability and price.
---
6. Niner RIP e9 3-Star
Best Bosch enduro e-bike
Price: $6,699
Motor: Bosch Gen4 Performance Line CX, 75Nm
Battery: 625Wh
Class: 1, 20mph
Suspension Travel: 160mm (f) 150mm (r)
The RIP e9 3-Star lives up to its name with serious shredding abilities and a solid design by mountain bike experts Niner.
This enduro e-bike combines a 160mm RockShox Zeb R fork, a 150mm Float DPX2 Performance shock, and aggressive trail geometry to provide a confidence-inspiring ride on almost any trail.
Bosch's Gen 4 Performance Line CX motor and 625Wh power pack are top-quality. With the RIP e9 3-Star, you can tackle up to 50 miles of trail riding in one day and never be underpowered.
The wheelset comprises Stan's NoTubes Flow D rims and Schwalbe tires, including an Eddy Current 2.4″ and Hans Dampf EVO 2.35″. We'd recommend setting these up tubeless, as they aren't the most durable.
Other notable features include a KS Lev SI dropper, a SRAM SX Eagle 12-speed drivetrain, and a set of Guide RE hydraulic disc brakes.
Add the Niner RIP e9 3-Star to your shortlist if you're in the market for an enduro electric bicycle and you have a big budget.
---
7. Ride1UP Prodigy
Best e-mountain bike for XC and urban riding
Price: $2,395
Motor: Brose TF Sprinter, 90Nm
Battery: 504Wh
Class: 3, 28mph

Suspension Travel: 120mm
The Ride1UP Prodigy XC is among the best e-mountain bikes because of its affordable price and versatile design.
We already wrote about it in our Ride1UP review, but the brand built this electric mountain bike to handle XC-style trails, equipping it with a 120mm air suspension fork, fast-rolling Maxxis Forekaster 2.4″ tires, and MTB geometry.
The Prodigy XC also doubles as a comfortable urban or bikepacking e-bike as it is compatible with accessories for carrying cargo.
Power comes from a Brose TF Sprinter 90Nm motor, the most powerful mid-drive on this list. The high torque allows you to reach top speeds of 28mph in just a few seconds, meaning no hill is too steep. In addition, a 504Wh battery will last between 30 and 50 miles.
Despite its low price, the Prodigy XC only weighs 50 lbs and includes a headlight and kickstand. Finally, the groupset is a Shimano 9-speed setup with Tektro hydraulic disc brakes.
Choose the Ride1UP Prodigy XC if you want a cheap cross-country hardtail that can do it all.
---
8. Santa Cruz Heckler C R MX
Best electric mountain bike for 2023
Price: $8,749
Motor: Shimano EP8, 85Nm
Battery: 720Wh
Class: 1, 20mph
Suspension Travel: 160mm (f) 150mm (r)
We've chosen the Santa Cruz Heckler C R as the best e-mountain bike 2023. This exceptional machine is a 29er trail/enduro beast capable of handling any terrain.
Santa Cruz electric mountain bikes are renowned for being among the best on the market, and the Heckler doesn't disappoint. Although it's not the top-end build, it offers the best value.
Premium VPP suspension provides a platform for the RockShox Lyric Select fork and Super Deluxe Select shock, ensuring you'll never be under-biked. The geometry of Heckler is ideal for hard riding on steep terrain, but short-ish chainstays ensure you can rip around corners without issue.
Santa Cruz chose a SRAM NX Eagle drivetrain and G2 RE brakes combination, which performs reliably mile after mile. The wheelset consists of WTB ST i30 TCS 2.0 rims wrapped in burly Maxxis Assegai 2.5″ and Minion DHR II 2.4″ EXO+ tires.
Don't miss out on the best electric mountain bike 2023 has to offer in the Heckler C R and make sure to also read our detailed Santa Cruz Heckler review.
---
9. Devinci eSpartan A29 Deore
Best electric downhill mountain bike
Price: $7,799
Motor: Shimano STEPS EP8, 85Nm
Battery: 725Wh
Class: 1, 20mph
Suspension Travel: 180mm (f) 170mm (r)
Devinci's eSpartan A29 is an electric downhill mountain bike with all the power and range you need to skip the ski lift and power to the top of your favorite run.
A 180mm Fox Float 38 Performance fork and 170mm DHX2 Performance Elite rear shock are enhanced by Devinci's e-bike-tuned split-pivot suspension platform, capable of handling huge hits without bottoming out.
The industry-leading Shimano STEPS EP8 motor and 725Wh battery provides more than enough power and range for a day of mixed riding. Additionally, you have a Shimano groupset with XT hydraulic discs and a 12-speed Deore drivetrain for maximizing your riding time.
Unfortunately, the eSpartan has an aluminum frame, despite costing almost $8,000. However, the Optimum G04 offers exceptional ride characteristics for alloy. Finally, Maxxis Minion DHF 2.5″ EXO+ and Minion DHRII 2.4″ DoubleDown tires will stand up to all the abuse you can give them.
Overall, the Devinci is a solid downhill/enduro eMTB build, albeit slightly overpriced.
---
10. Norco Fluid VLT A1 29
Best value electric mountain bike
Price: $5,199
Motor: Shimano EP8, 85Nm
Battery: 900, 720, and 540Wh batteries sold separately
Class: 1, 20mph
Suspension Travel: 140mm (f) 130mm (r)
The Norco Fluid VLT A1 is a mid-range electric full-suspension MTB perfect for fast trail riding with plenty of climbs and descents.
Norco tests its mountain bikes on British Columbia's most challenging trails, and the Fluid VLT A1 passes with flying colors. A RockShox 35 Silver 140mm fork and Select R 130mm rear shock work with the brand's proprietary suspension platform.
Modern trail geometry, a TranzX YS105 dropper post, and Maxxis Dessector 2.4″ EXO+ tires help you stay in control on technical descents and tight corners. In addition, you can set the tires tubeless for even more control and durability.
Norco chose a Shimano Deore 12-speed groupset with four-piston hydraulic disc brakes for the Fluid VLT, which is reliable and long-lasting.
Choose the Fluid VLT A1 if you're in the market for a trail-crushing full-sus electric mountain bike.
Buy from Jenson USA    Buy from Evo.com
---
11. Scor 4060 Z ST XT
Best electric mountain bike for trails
Price: $8,700
Motor: Shimano EP8, 85Nm
Battery: 720Wh
Class: 1, 20mph
Suspension Travel: 150mm (f) 140mm (r)
Scor is a lesser-known brand, but the 4060 Z ST is the best full-sus electric mountain bike for trail riding on this list, featuring premium Fox Factory suspension and a superb carbon fiber frame.
Scor uses a highly-tunable lower-link-driven virtual pivot suspension platform that's tuned to be supple off the top with plenty of bottom-out resistance at the end of the stroke.
A burly Fox Float 38 Factory 150mm fork and Float X Factory 140mm rear shock ensure you're in control at all times. Maxxis Assegai EXO+ 2.5″ and Dissector 2.4″ DoubleDown tires enhance this control and provide exceptional durability for aggressive trail rides.
Other notable features of the 4060 Z ST include the Shimano XT groupset, Bikeyoke Divine dropper, and lightweight DT Swiss H 1900 rims.
Add this Scor 29er full-sus electric mountain bike to your shortlist if you've got a big budget and want the best of the best in trail riding.
---
12. Scott Genius 910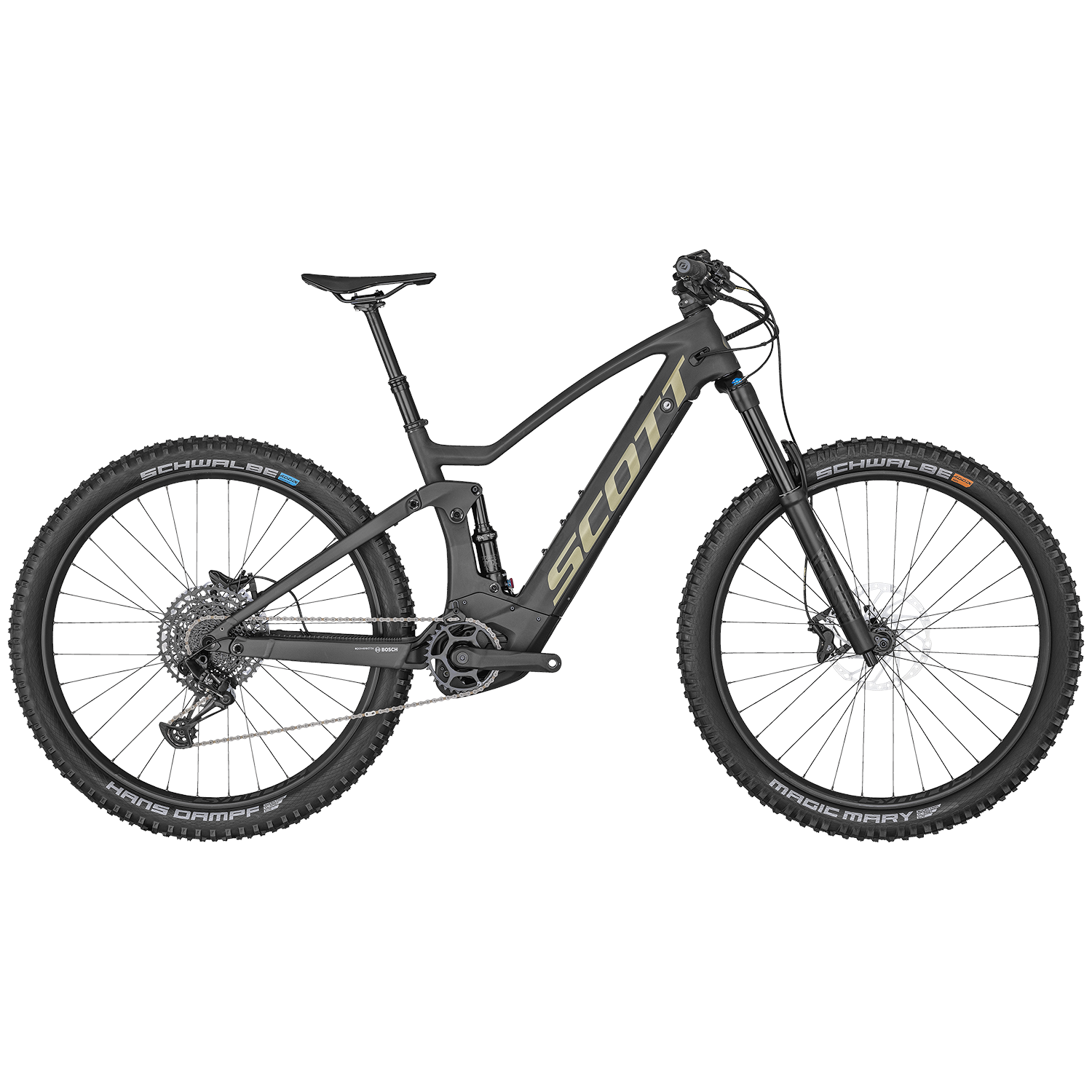 Price: $6,499
Motor: Bosch Performance CX Gen 4, 75Nm
Battery: 625Wh
Class: 1, 20mph

Suspension Travel: 160mm (f) 150mm (r)

Scott's Genius eRIDE 910 is another solid enduro electric bicycle that outperforms its mid-range pricing.
This electric mountain bike uses a TwinLoc suspension system that allows you to control the frame, fork, and shock position from the handlebars. A Fox Float 36 Rhythm fork, Float Performance rear shock, and long, slack geometry inspire confidence when taking on enduro-style descents.
Scott chose a mix of SRAM SX and NX components for the drivetrain, which is not ideal, given the price. Thankfully, you get a set of powerful four-piston Shimano Deore M6120 brakes.
The wheelset comprises Schwalbe Magic Mary and Hans Dampf Snake Skin, SuperTrail 2.6″ tires on Syncros MD 30 rims, perfect for hard enduro riding.
Choose the Scott Genius eRIDE if you're looking for a sleek enduro machine with a unique TwinLoc suspension.
---
13. QuietKat Ranger
Best e-mountain bike under $5,000 for hunting

Price: from $3,499
Motor: 750W hub (1000W available)
Battery: 614Wh
Class: 3, 28mph
Suspension Travel: 100mm
The QuietKat Ranger is the perfect hunter's machine, and the 1000W version is the fastest e-mountain bike on this list.
QuietKat makes some of the best hunting e-bikes, and the Ranger is one of their most affordable hardtail options. It comes with a 100mm coil fork and 4.5″ fat tires, so you can reach remote areas and traverse harsh terrain.
A choice between a 750W or 1000W hub drive motor means the Ranger can have a 28mph or 30mph top speed. Either way, it's enough to haul cargo on the integrated 100-lb-capacity rear rack. Unfortunately, a modest 614Wh battery will return just 19 to 38 miles of range.
The Ranger has a set of Tektro mechanical disc brakes with 203mm rotors that provide you with plenty of stopping power, and mountain bike geometry puts you in a stable position for riding on technical off-road terrain.
Don't look past the QuietKat Ranger if you're in the market for one of the cheapest electric mountain bikes for hunting.
---
14. Yeti Cycles 160 E C1
Best-Equipped Electric Mountain Bike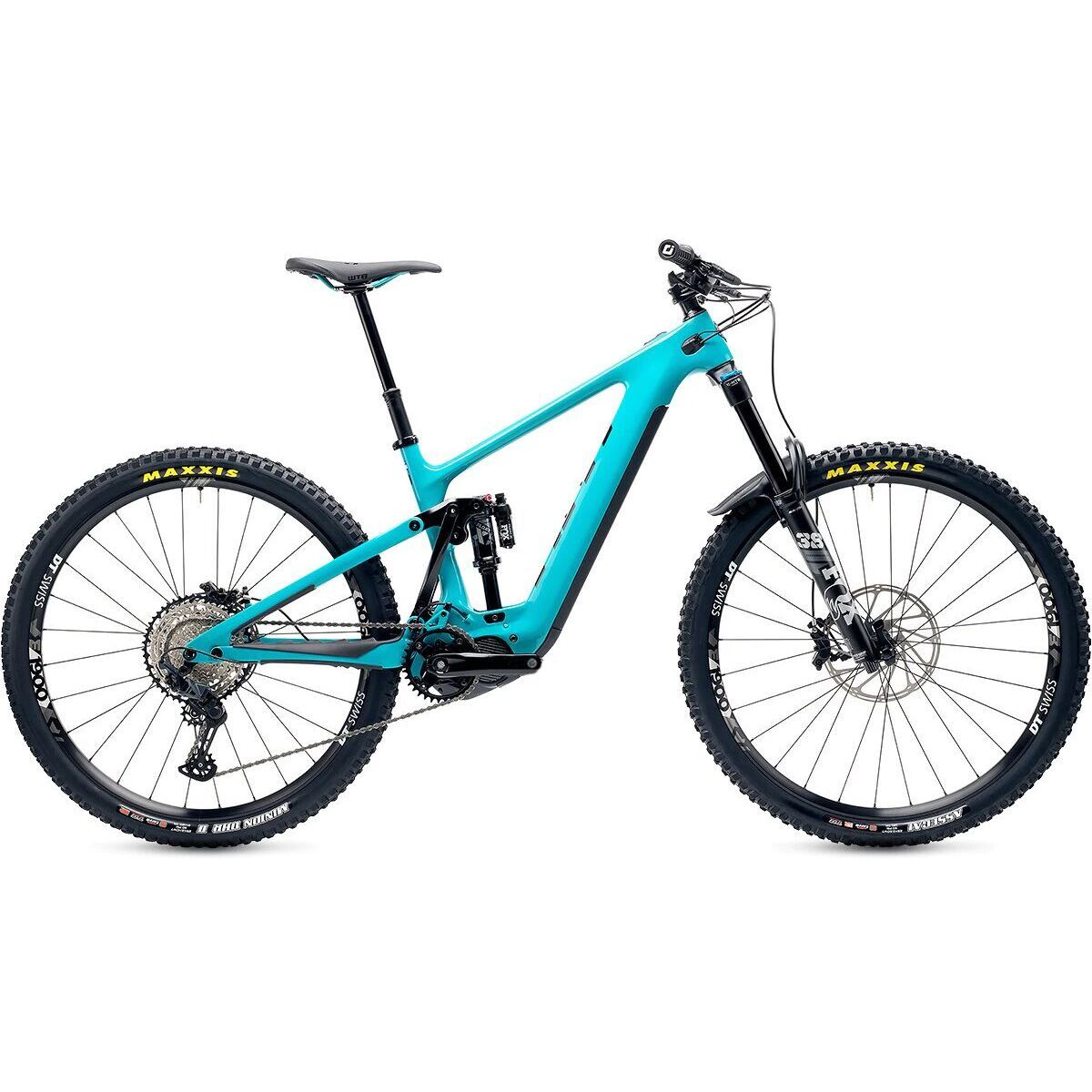 Price: $10,700
Motor: Shimano EP8, 85Nm
Battery: 630Wh
Class: 1, 20mph
Suspension Travel: 170mm (f) 160mm (r)
The most expensive option on this list is the Yeti 160 E C1, an enduro e-bike with industry-leading components and exceptional engineering.
Yeti is known for producing some of the best mountain bikes, and they've applied this expertise to their first e-bike.
The 160 E runs off a Shimano EP8 drive system and 630Wh battery, enough to last an entire day on the trails. A Turq carbon fiber frame provides exceptional ride characteristics and an ultra-light base to maximize the range.
Yeti designed an e-bike-specific version of their famed Switch Infinity suspension platform, Sixfinity. This six-bar linkage is designed to handle the added weight and speed of the e-bike system but operates similarly to Switch Infinity.
The rest of the components are unsurprisingly high-end, although we'd have liked to see Fox Factory suspension instead of Fox Performance and a Shimano XT groupset instead of SLX.
Consider the Yeti 160 E C1 if you want exceptional enduro mountain bike performance and have the budget to match.
---
15. Aventon Aventure.2
Best budget electric mountain bike
Price: $1,899
Motor: 750W hub, 80Nm
Battery: 720Wh
Class: 3, 28mph
Suspension Travel: 80mm
The Aventon Aventure.2 pedal-assist mountain bike is another excellent budget option, blending urban and off-road capabilities.
Aventon chose a powerful 750W hub motor and 720Wh battery combination to deliver hill-crushing power. This system will last between 30 and 60 miles.
A set of 4″ fat tires and 80mm fork suspension allows you to take the Aventure off-road onto light mountain trails, gravel paths, and fire roads.
Urban dwellers and adventurers can equip this bike with a range of accessories for commuting or light bikepacking and rely on the 8-speed Shimano drivetrain and hydraulic disc brakes to get you where you're going.
The downside of the Aventure is the weight of 77 lbs, making it one of the heaviest on this list. Nonetheless, it's a solid cheap electric mountain bike.
---
How to Choose the Best Electric Mountain Bike
---
To choose the best electric mountain bike, you must know what type of trails you will use it for, how you like to ride, and how much assistance you require.
Riders who want a slight boost for the steepest parts of the trail don't need powerful electronics, whereas a rider who wants to take it easy on all the climbs should pick a powerful e-bike with a large battery.
Now, let's look at all the different variables that affect the decision.
Types of Electric Mountain Bikes
Electric Fat-Tire Bikes (<100mm):  Fat-tire MTB eBikes such as Aventon's Aventure and the Rad Power Bikes RadRover 6 Plus are increasingly popular. These models are ideal for riding in areas with soft terrains like snow, sand, or mud or as comfortable urban commuters. In addition, they are affordable and typically have high-power motors and compatibility with commuter accessories.
Electric XC Bikes (100-120mm): XC electric mountain bikes are the first category specifically intended for mountain biking. However, these bikes often function for bikepacking or commuting as well because they are faster, more efficient, and more agile than other e-MTBs. Most XC e-bikes are hardtails, but there are some full-suspension models as well. The Orbea Keram and Ride1UP Prodigy both fit into this category.
Electric Trail Bikes (130-150mm): The trail discipline is the most common type of electric mountain bike, designed to tackle diverse terrain and provide a relatively efficient pedaling platform for climbs. These bikes typically have lots of torque and large batteries to handle long days with thousands of feet of elevation. Several of the bikes in the list above fall into the trail/light-enduro category.
Electric Enduro Bikes (160-180mm): Pure enduro electric bicycles like the Yeti 160 are built for handling any downhill you encounter while maintaining the ability to climb, albeit slowly. Again, enduro e-bikes have lots of power and range to help you get to the top of a run with minimal effort.
Electric Downhill Bikes (180mm+): The burliest type is the electric downhill mountain bike made for crushing downhills, disregarding climbing ability. These bikes need high-end components and electronics to handle the extreme demands of the discipline. As a result, they're heavy and expensive but are unbeatable at descending. The Devinci eSpartan straddles the line between enduro and downhill.
Electric Hunting Bikes: E-hunting bikes take many forms, including rigid, hardtail, and full suspension. They come with powerful motors, high payload capacities, and fat tires, making it possible to reach remote areas and haul out the game from a successful hunt. Unfortunately, these e-bikes are often expensive and have poor range.
Electric Mountain Bike Motors: Which to Choose?
Almost all pure electric mountain bikes use mid-drive motors, but you can find hub motors on cheaper models and fat-tire or hunting e-MTBs.
Hub motors drive the wheel directly without influencing the drivetrain. In contrast, mid-drives power the cranks, transferring power through the drivetrain to the wheel. Because mid-drives connect to the drivetrain, the rider must change gears appropriately to maximize efficiency.
Mid-drive ebikes are superior because they are the most efficient, meaning they get more range from smaller batteries and produce more torque at lower power (Watt) ratings. In addition, they're more durable, and the ride feel is smooth and natural because the power output matches the torque the rider is producing and goes through the drivetrain instead of directly to the wheel.
As you see in the reviews above, Bosch and Shimano are the most popular choices, and both brands have a range of options to suit different prices and demands.
In contrast, hub motor e-bikes are more clunky to ride as the power output is delivered according to cadence and goes straight to the wheel. These motors also produce less torque and are inefficient, meaning you need larger (and heavier) batteries. However, the advantage is they are cheaper and easier to use as you don't need to shift gears while using a hub-drive e-bike.
Sensors and Torque

As mentioned above, the ride quality of the motor changes depending on where it's placed and the types of sensors it uses (torque, cadence, or both) to determine power output.
Torque sensors provide power based on your output, the assistance level, and the selected gear. This method results in a natural feeling when you pedal.
On the other hand, cadence sensing alone delivers power based on how fast the cranks turn and the selected assistance level, which results in an unnatural ride quality. For this reason, most electric mountain bikes use mid-drive motors with torque and cadence sensors.
The torque rating is another variable to consider when choosing a motor. High torque is generally better for e-MTBs, because of the steep, technical climbs you encounter on the trail and the higher weight of the bikes.
Do I Need a Throttle?
You don't need a throttle, but they are a nice extra feature. The QuietKat Ranger, Aventon Aventure, and Rad Power Bikes RadRover 6 Plus have throttles, but the rest of the models in the list above do not.
Most pedal-assist mountain bikes don't have a throttle as they are not legal in Europe, so the major mid-drive manufacturers don't include them in their e-bike systems.
Electric MTB Battery and Range
The best electric mountain bikes should have plenty of range for a full day on the trails while using pedal assistance. But, unfortunately, a high battery capacity doesn't always mean a high max range.
As mentioned, hub motors are inefficient and require larger batteries, meaning they're heavier. In contrast, mid-drives can use smaller batteries and get more range.
When choosing an e-mountain bike, you should determine how much assistance you need, how much elevation you typically cover in a day, and how fast you want to go.
If you like a slight boost from the motor and your rides are hilly but not mountainous, you will get away with a smaller battery. However, if you want an easy ride and are taking on enduro-style trails, you'll want a big one.
The range you get also depends on the wind, elevation, speed, rider weight, bike weight, and tires. Most electric mountain bike manufacturers don't offer an average range, as it is highly variable, so take any manufacturer-stated range with a pinch of salt.
Where to Buy Electric Mountain Bikes
Electric mountain bikes are the second most popular type, after urban and commuter hybrid e-bikes. Most shops that stock electric bikes will have a selection of off-roaders, so check out your local e-bike shop to see what they offer and do a test ride.
Direct-to-consumer brands sell their bikes directly from their online stores for lower prices. Some of the most popular ones include:
Alternatively, you can also check out online retailers that offer e-mountain bikes for all budgets and disciplines. The ones we recommend include:
If you purchase an electric bike online without trying it in advance, ensure that the seller has a test-ride period. That way, you won't get stuck with an e-bike that doesn't fit or isn't what you expected.
See you on the trails! Let us know what you think about this guide and our recommendations in the comments below!