Electric hunting bikes have become hugely popular in wild areas of the US, particularly around the Great Lakes where deer are common. They offer significant advantages over ATVs and motorbikes due to their quiet motors, off-road agility, and ease of transport.
Besides hunting, the bikes make great fishing bikes, extreme off-road touring bikes or for any activity that requires a heavy load. The best electric bike for hunting should have a powerful motor, fat tires, and an extra-strong frame to carry equipment, animals, or trailers.
Why are these eBikes perfect for hunting/fishing/camping?
Although you could take any ebike hunting, you'll quickly find you're very limited in what you can do. Electric hunting bikes are specifically designed with specialized features to meet the demands of hunters. These include high-powered motors for quick getaways, long-range batteries to cover the extra distance, and fat tires to handle any terrain from mud and sand to rocks and scree.
In addition to these main features, electric hunting bikes typically have front suspension for a smoother ride and extra strong rear racks to carry heavy loads.
Motors with lots of power – over 750W+
Large battery capacities – for longer range.
Fat tires – 3.8″ and wider for better traction.
Suspension – to smooth out the bumps.
Different racks – to haul all the equipment.
The best electric bikes for hunting should also have:
Camo paint jobs to remain hidden in the wild, quiet motors to sneak up on prey, and payload capacities of 300lbs (136kg) or more. Usually, they also come with a selection of add-ons and accessories, such as gun or bow holders, scent straps, and trailer mounts.
Camo paint job
Quiet motors
Payload capacities (300lbs+)
Wide selection of accessories such as a gun/bow holder, scent strap, etc.
Which are the best hunting bike brands?
These companies are at the forefront of innovation in the hunting bike category. Bikes from these companies are all represented in this article as well.
QuietKat Bikes
Rambo Bikes
Bakcou Bikes
Rungu Bikes
---
Best Electric Hunting Bikes in 2023
---
1. Bakcou Scout
Best electric hunting bike in 2023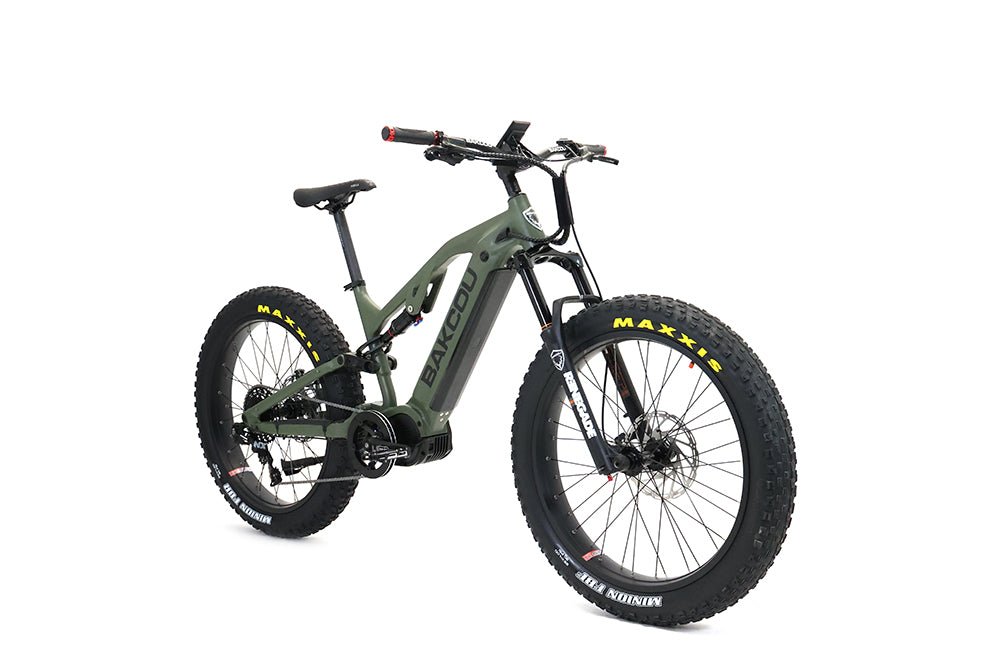 Load Capacity: 300 lbs | Motor Type: Mid-drive  | Motor Wattage: 750-1000W | Battery: 840-1000 Wh | Speed: 35 mph
MSRP: from $5,599
Aluminum alloy 6061
RST Renegade Air Fork (120mm of travel)
Rockshox Monarch Air Rear suspension
Maxxis Minion 26" x 4.0
11 speed Sram NX
Weighing in at a full 69 lbs with a massive 1000W mid-drive Bafang motor and 1000 Wh battery, the Bakcou Scout is an impressive ebike; it's one of the best value hunting e-bikes out there.
The powerful engine is supported by a 6061 aluminum frame rolling on 4″ Maxxis Minion tires wrapped around 80 mm rims with four-piston Tektro hydraulic disc brakes for good measure.
This is one of the most popular Bakcou electric bikes, capable of carrying 300 lbs (136kg) of weight and hitting speeds of over 30 mph. It uses SRAM NX 11-speed gearing so you can get the most out of your battery.
The Scout also has both front and rear suspension, comprised from an RST Renegade air fork (120 mm) and a Rockshox Monarch Air rear shock.
The Bakcou Scout is definitely not cheap, but it provides some of the best value for the money you'll see on this list.
---
2. QuietKat Jeep
Perfect electric off-road bike for hunting/fishing/camping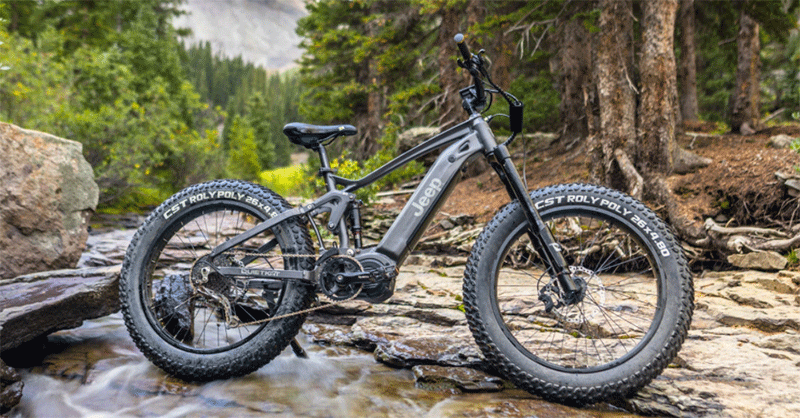 Load Capacity: 300 lbs | Motor Type: Ultra Mid-Drive | Motor Wattage: 750/1000W | Battery: 696Wh | Range: up to 58mi
MSRP: $7,099
Frame: Lifetime warranty
Fork: 150mm, QK Custom air suspension
Rear Shock: 150mm, RockShox Monarch
Tires: 26″x 4.8″ CST Poly
Gearing: 9-speed SRAM
E-bike manufacturer QuietKat has joined forces with popular SUV maker Jeep to bring you one of the best off-road electric bikes available. With 160Nm of torque and a peak output of 1500W on the top model, there aren't many places this bike won't go.
Bike hunters will love the solid frame and fat 4.8″ tires that support a 300lbs (136kg) payload capacity, plus front and rear suspension for comfort in all conditions. The ultra mid-drive motor is both powerful and quiet, run by a 696Wh battery that takes you 58 miles (93km) on a single charge.
With both a thumb throttle and a 9-speed SRAM drivetrain, it can be a Class 1 (pedal-assist) or Class 2 (throttle) eBike, making it the perfect electric mountain bike for hunting or recreational cycling.
---
3. Rad Power Bikes RadRover 6 Plus
Another great hunting eBike by Rambo Bikes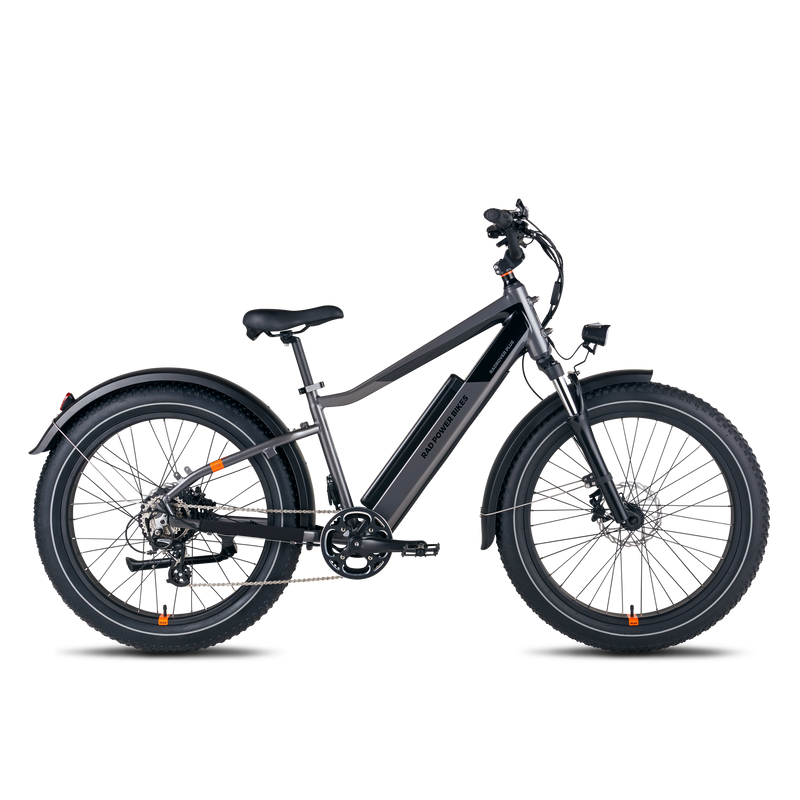 Load Capacity: 275 lbs | Motor Type: Rear hub | Motor Wattage: 750 W | Battery: 672 Wh | Range: 45+ mi
MSRP: $1,999
Aluminum alloy 6061 frame
RST Spring fork 60 mm
Kenda Juggernaut 26″ x 4″
7-speed rear derailleur
Rad Power Bikes RadRover 6 Plus is one of the best fat-tire electric bikes on the market, with a 750W rear hub motor and a 672 Wh battery that provides a 45-mile range. The entire bike weighs around 73.4 lb but with 80 Nm of torque and a 7-speed drivetrain, you won't feel any added weight.
With comfy 4″ Kenda tires, a quiet motor, and a cool paint job, this fat ebike will help you sneak up on even the most skittish of big game. Like other Rad Power bikes, the solid aluminum frame can carry up to 275 lb of weight and includes 2-piston hydraulic disc brakes for instant stopping power.
You also get Rad Power Bikes' stylish handlebar-mounted digital display unit and front suspension with 60 mm of travel. Altogether, the RadRover 6 Plus has an impressive selection of features for the price.
---
4. Bakcou Mule
A high-quality, affordable electric hunting bike
Load Capacity: 300 lbs | Motor Type: Ultra Mid-Drive | Motor Wattage: 1,000W | Battery: 840/922/1,008Wh | Range: up to 82mi
MSRP: from $4,799
Frame: Aluminum alloy 6061
Fork: 100mm, air suspension
Tires: 26″ x 4.0″ Maxxis Minion
Gearing: 9-speed Shimano Alivio
The Mule electric bike is a high-quality hunting vehicle from Bakcou ebikes that benefits from one of the best e-bike motors available: the Bafang Ultra Mid-Drive. This powerful smart motor with integrated torque-sensing automatically adjusts speed, cadence, and shifting to match the riding conditions, and can switch between all 3 ebike classifications.
The 160Nm or torque and 1500W of peak output are fuelled by an extended life battery that can take you up to 82 miles (132km) on a single charge. Bakcou bikes have also included a 9-speed Shimano Alivio drivetrain so you can save battery with max pedal assistance and hydraulic disc brakes for stopping.
All of this is built around a solid 6601 aluminum frame with fat 4″ Maxxis tires and a soft, air-sprung fork to swallow up the bumps.
The Mule is quite similar to the Rambo Rebel in both price and components, only with smaller tires and no camo paint. However, it does have longer range and includes some extras like a kickstand, rear rack, and fenders.
---
5. QuietKat Ranger
Affordable hunting eBike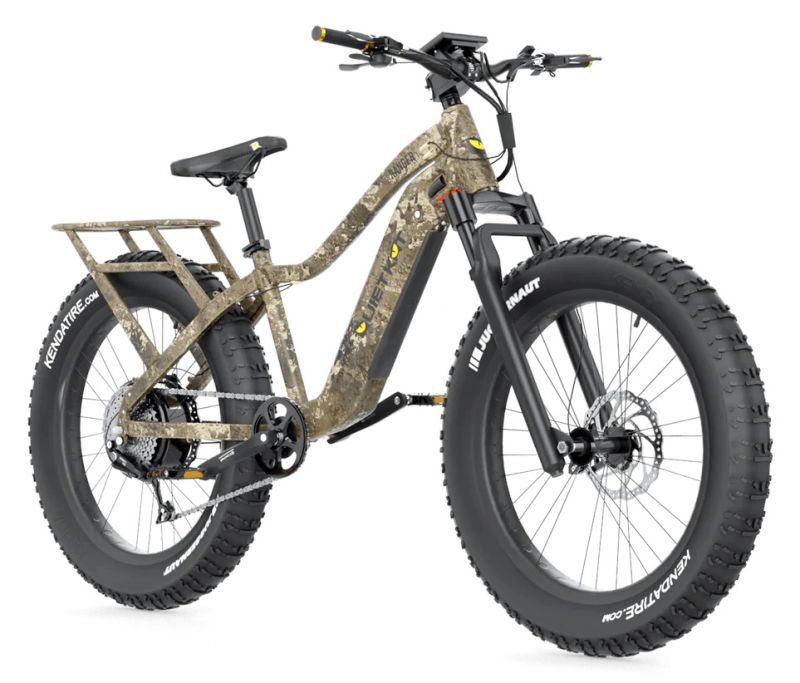 Load Capacity: 325 lbs | Motor Type: Hub-Drive | Motor Wattage: 750/1000W | Battery: 614Wh | Range: up to 38mi
MSRP: from $3,499
Aluminum frame
100mm fork
Kenda Juggernaut 26″ x 4.5″ (M/L) or 24″ x 4″ (S) tires
SRAM 7-speed drivetrain
If you're just looking for a fat tire hunting bike to get out into nature, track some deer and possibly bag a few geese, the Ranger could be for you. With a choice between 750 or 1000W hub drive motors and 38 miles of range, it'll get you around at a decent speed for most of the day.
One impressive aspect is the large payload capacity, which can hold up to 325lbs of weight on the camo or sandstone-colored alloy frame. This electric hunting bike has a 100mm fork and fat 4.5″ Kenda Juggernaut tires so it can take on rough trails and eat up most of the bumps.
It includes a 7-speed SRAM drivetrain and has a throttle for acceleration with 5-levels of pedal assistance. Brakes are Tektro mechanical discs – decent enough for stopping at low speeds on varied terrain.
---
6. Rungu Dualie XR Rubicon Trail Edition
Possibly the most powerful electric hunting bike
Load Capacity: 332 lbs | Motor Type: Mid-Drive | Motor Wattage: 1,120W | Battery: 2,340Wh | Range: up to 254mi
MSRP: from $7,449
Rungu custom aircraft aluminum frame
100mm travel, Custom Rungu aluminum suspension
26″ x 4.8″ Maxxis Minion tires
9-speed BOX Prime drivetrain
The Rungu Dualie is named so for its dual front wheels which are designed to avoid slipping out on snow, mud, or loose gravel. This means the Dualie comes with a "Goes Where Others Can't" performance guarantee and the ability to climb 50% gradients, making it a great hunting mountain bike.
As the flagship Rungu bike, the Dualie XR Rubicon Trail Edition features a powerful 1120W mid-drive motor kicking out up to 328Nm of torque! However, since this means it's not road-legal, you can also choose a downgraded Class 1 or Class 2 model with a 749W pedal-assist motor.
All this is packed into a custom aircraft aluminum frame, with custom suspension and a 9-speed BOX Prime drivetrain. All three tires are fat 4.8″ Maxxis Minion with 4-piston hydraulic disc brakes. The top speed is 23mph (37km/h) and the full range with dual batteries on throttle only is 33 miles (51km), while the full pedal-assist range is 254 miles (408km).
---
Hunting E-Bikes 101
---
What Makes the Perfect Electric Hunting Bicycle?
Ideally, your perfect electric hunting bike will have a very quiet but powerful motor so you can sneak up on prey and tackle the roughest terrain. You'll also need fat tires for going off-road through rocky mountains or thick bush, plus front suspension to absorb big impacts.
A strong frame and rear rack to carry equipment are essential if you're going hunting or fishing. For a full day out hunting, you'll really want a battery that can provide at least 50 miles (80km) of range on a single charge.
E-Bike Motor Types
Hub Motor
A hub motor is a small, lightweight device located in the hub of the ebikes rear wheel. They're usually pedal-assist motors run by a battery which provides varying degrees of power depending on how hard the rider is pedaling. These motors are often found on Class 1 commuter bikes that don't require lots of torque.
Mid-Drive
A mid-drive motor is located between the cranks and pedals of an ebike and helps to reduce the power needed to pedal. They work similar to hub motors but are usually more powerful and include several gears and sensors. Most decent electric mountain bikes and road bikes use mid-drive motors.
Ultra mid-drive
An ultra mid-drive motor is a much stronger mid-drive motor that provides double the torque of normal motors (160Nm+). They are usually used on heavy-duty, off-road, and hunting electric bikes that need to carry heavy weight over any terrain. Bafang makes the most popular ultra mid-drive motor, built entirely with metal and known as the diesel engine of ebike motors.
All-wheel drive (AWD)
An all-wheel-drive ebike includes two hub drive motors, in the front and rear wheels. These bikes are intended to work as a 4×4 car but are less common than other motor types because they use a lot of battery power. Another issue is the front wheel spinning independently when off the ground, making these bikes better for snow and sand than mountain biking.
Frame
Almost all electric hunting bikes have aluminum frames that are strong enough to support a heavy payload while light enough to handle off-road terrain. Some heavy-duty off-road e-bikes also come in steel frame models which are very strong but quite a bit heavier than aluminum.
Suspension
Electric hunting bikes usually include a front suspension fork to swallow up small bumps but no rear suspension because they don't need to absorb the extreme shock of mountain biking. Also, the rear is typically used to carry heavy loads which could damage a rear suspension system.
Fat Tires
Almost all electric hunting bikes come with fat tires of 4″ or larger, which help with cycling through sand, mud, or loose gravel. Although they add a bit of extra weight, they ensure you can go anywhere on any terrain without getting stuck.
Battery
When buying an electric hunting bike it's best to get the longest range battery possible so you can get a full day's riding in. Out in the wild, you never know where you may end up, so you don't want to get stuck overnight in a dangerous situation.
Benefits of Electric Hunting Bike
---
Extra Gear
They can carry a lot of gear like guns, ammo, fishing rods, tents, rope, knives, or whatever else you may need in the wild. Most come with strong rear racks and attachment points for extra accessories.
Long Distance Battery
With long-range batteries, hunting ebikes will get you further so you needn't worry about turning back in the midst of a hunt.
Extra Stealthy
On an electric hunting bike, you can be extra stealthy because the dampened motors are very quiet. The soft, fat tires roll silently over grass or dirt so you can easily sneak up close to prey.
Get your harvest out more easily
Unlike an expensive gas-guzzling vehicle or horse, an electric hunting bike costs barely anything to run and maintain. This means you can quickly recoup your initial expense and continue to maximize profits from your harvest.
Stay safe
Electric hunting bikes are much safer than motorbikes, 4x4s, ATVs, or other vehicles, including horses. Anybody can safely ride one without the need for special training and there's less chance of getting stuck in bad conditions.
Easy maintenance
Unlike cars or motorbikes, electric hunting bikes are easy to maintain, with cheaper parts and minimal upkeep. The batteries recharge overnight and the motors have basic parts that only require occasional oil and lubrication.
Electric Hunting Bike vs ATV
---
Many hunters have traditionally used ATVs for hunting but these come with significant disadvantages. Most notably, ATVs are loud and smell like burned fuel, which often scares away potential prey.
However, ATVs can generally go further on a single tank of fuel and can reach higher speeds with more power. Unfortunately, this means they're more expensive and require training, licenses, and insurance.
| | |
| --- | --- |
| Electric Hunting Bike | ATV/Motorcycle |
| Quiet | Loud |
| Portable and light | Not so good accessibility due to width & weight |
| Worse range than ATV | Can go very far |
| Doesn't leave a scent trail | Scent trail because of burned fuel |
| Less powerful than ATV | More power and higher speed |
| No license or insurance needed | Mandatory license and insurance |
| Costs less than ATV | Pricier than eBike |
| Easy maintenance | Needs more maintenance |
Are Regular Electric Mountain Bikes Suitable for Hunting?
You could go hunting on a regular electric mountain bike but there are some areas where you'll have trouble. They usually don't have thick enough tires for extreme off-road conditions so you'll need to follow the path. Also, they can't carry the same weight as hunting ebikes, so you won't be able to bring home large prey or carry heavy equipment.
---
Conclusion
If you're a frequent hunter, an electric hunting bike is a no-brainer. You'll be able to get closer to your prey, carry all your equipment, and save tons of money on fuel and maintenance. Plus, it's tons of fun and can be used for other activities like camping, bike touring, or just going to the shops.