Electric bikes are slowly transforming the way we travel, especially in big cities and sprawling suburbs. In many cases, they are a faster option than cars. But, how fast do electric bikes go actually?
Even though most ebikes have a maximum speed of between 20 mph and 28 mph, the answer to this question isn't that straightforward. Electric bike speed is influenced by legislation, motor power, weight, terrain, ebike components, and numerous other factors.
In the article below, we'll explain how fast electric bikes go, dig deeper into ebike legislation, and explore some of the most important factors that determine electric bikes' top speed.
How Fast Do Electric Bikes Go?
Electric bike speed is highly regulated in the US and the UK, mainly for safety reasons.
In the UK, all ebikes have a 15.5 mph top speed and are only allowed to use pedal assistance, without a throttle. All other ebikes need to be registered and operated with a valid license.
On the other hand, in the US, the legislation recognizes three electric bike classes that all ebikes fall into, based on their maximum speed and whether or not they have a throttle.
Let's see what these are.
Class 1 Ebikes: Class 1 ebikes have a 20 mph top speed, a 750W maximum motor power, and come with pedal assistance only.
Class 2 Ebikes: Class 2 ebikes also have a 20 mph top speed and 750W maximum motor power, but come with pedal assistance and throttle.
Class 3 Ebikes: Class 3 ebikes are faster with a 28 mph top speed, have a 750W maximum motor power, and can only use pedal assistance. However, some manufacturers also equip them with a 20 mph top-speed throttle that can be removed.
Unrestricted Ebikes: Unrestricted ebikes have top speeds higher than 28 mph, but are not street-legal and can only be ridden on private land.
It's important to note that many modern ebikes allow you to change speed configuration so you can comply with different class requirements. For example, you can limit the speed to 20 mph and remove the throttle to comply with Class 1 requirements or completely remove the speed limit to ride off-road and on private land.
Factors Influencing the Speed of Electric Bikes
Ebike classes regulate the top speed of electric bikes, but other factors determine whether you'll be able to reach those top speeds and how fast you'll be able to do it.
Let's see what the most important ones are.
Motor Power and Torque
The motor is the heart of an electric bike, providing assistance that keeps you going.
Its power, measured in Watts, and torque, measured in Nm, determine the ebike's speed and acceleration.
Most modern ebikes come with 250W, 500W, or 750W motors that generate anywhere between 40 Nm and 100+ Nm of torque. The more power and torque an ebike motor has, the faster you'll go.
Torque is especially important for climbing and acceleration, and high torque can help you reach your top speed more quickly and climb hills with more ease.
Motor placement plays an important role as well, so we recommend reading our guide on mid-drive motors vs hub motors to learn more.
Rider and Cargo Weight
The weight of the rider and any additional cargo can significantly impact how fast an ebike can go.
A heavy ebike, with a heavy rider and cargo, needs more power to reach and maintain high speeds, especially when going uphill.
Your ebike's motor will struggle to reach high speeds if it needs to haul a lot of excess weight, no matter how powerful it is.
Bike Design and Aerodynamics
The design of the bike, its components, and its aerodynamics also impact speed. Lightweight electric bikes with aerodynamic properties can reach higher speeds than their heavyweight counterparts.
The choice of tires and tire pressure play an important role as well. Narrow, high-pressure tires roll fast on smooth roads than wide and knobby mountain bike tires.
Surface and Terrain
Finally, the surface and terrain you are riding on will also determine how fast you can ride.
If you want to go fast, you should choose smooth roads with few hills and long stretches of flat terrain.
Rough surfaces such as gravel create more resistance and demand more power from the motor, reducing the top speed you can achieve.
Electric Bike Speed vs Normal Bike Speed
Comparing the speed of electric bikes and normal bikes can vary greatly based on the circumstances.
A fit cyclist riding a road bike can maintain speeds of 18-20+ mph on flat terrain with relative ease, unless there's a strong headwind. However, those numbers are lower for other types of bikes, such as hybrid bikes or mountain bikes. The speed is also much lower for unfit riders, who can maintain 10-15 mph on a road bike on flat terrain.
On the other hand, electric bikes maintain consistent speeds regardless of varying conditions. As explained above, a typical ebike has a 20 mph or 28 mph top speed which it can maintain as long as it runs out of battery.
Though, factors such as weight and gradient can lower the top speed, as most electric bikes can't reach their top speeds while climbing steep hills.
Tips to Increase Electric Bike Speed
If you're now wondering how to increase your ebike's speed, here are a few tips that will help you do just that.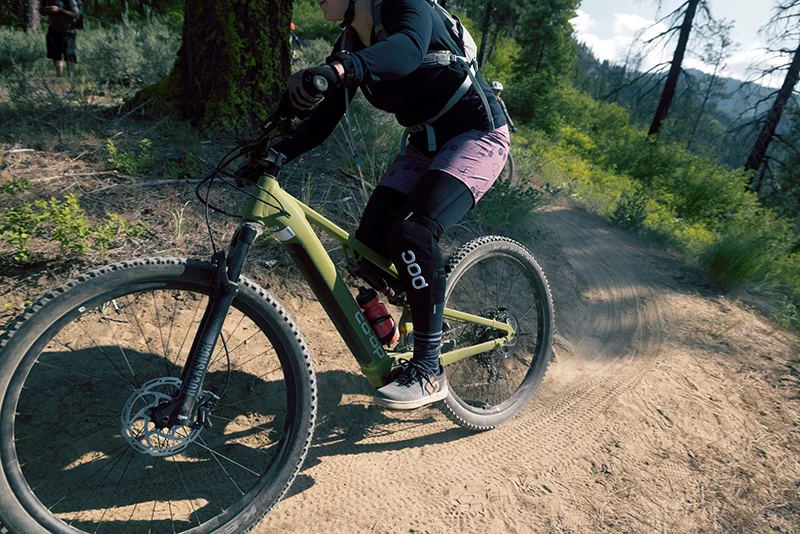 We also recommend reading our full guide on how to make your ebike faster, where we delve deeper into each of these factors and more.
Choose the Right Gear: By choosing the right gear (if your bike has gears) when pedaling, you can help the motor work more efficiently to reach and maintain its top speed faster.
Maintain Optimal Tire Pressure: Keep your tires pumped to the ideal pressure to minimize rolling resistance. This will make you a lot faster and help you extend your ebike's range.
Keep the Bike Properly Serviced and Cleaned: Of course, make sure that your ebike works properly, is clean, and is regularly serviced. This way, you'll get the full potential out of its components.
Modifying the Bike (with caution about legality and safety): Many ebike manufacturers allow you to change the top speed in the settings, provided you comply with your local ebike laws and regulations.
Reduce the Weight: Finally, keep your weight, the weight of your bike, and the weight of your cargo to a minimum to help your ebike go faster. If you live in an area with little rainfall and you're not carrying cargo, you can remove the fenders and racks to lower the weight.
What Are the Fastest Electric Bikes?
If you're interested in purchasing some of the fastest ebikes on the market, you can click on the link below to check out our guide.
We've compiled a list of the fastest ebikes from a variety of manufacturers, with top speeds of 28 mph or 30+ mph.