Electric bikes have taken the cycling world by storm. Unfortunately, many of them still have one big problem—they're just too heavy and unwieldy for most riders.
On average, e-bikes weigh between 60 and 80 lb. That's too much for an average rider to lift, let alone carry up a flight of stairs or load into their truck.
Luckily, not all ebikes are behemoths in dire need of a diet plan. In this article, we'll be showing you the 11 lightest electric bikes you can get, most of which weigh at or below 40 lb.
We've included road, urban, and folding lightweight ebikes, including carbon fiber and aluminum models with hub or mid-drive motors and integrated batteries.
Why Get a Lightweight Electric Bike?
There's no getting around the fact that electric bike weight is a major concern when choosing which electric bike to get.
The average ebike battery weighs around 10 lb but can go up to 20 lb depending on the size and capacity. The average ebike motor adds another 10 lb, on average. But ebikes also have a controller, additional wiring, and a display with control buttons that contribute a few pounds as well.
A lightweight electric bike is an excellent choice if you need to lift or carry it regularly, ride long distances, or combine commuting by bicycle with public transportation.
That's a lot of weight that can make a big difference when you run out of battery and have to pedal up a slope or need to lift your ebike to carry it inside your home.
That's why a lot of riders are looking into lightweight electric bikes that mitigate these downsides.
The lightest ebikes out there are often easier to handle, especially for smaller riders, and also look sleeker. In many cases, it's hard to even tell that you're looking at an ebike, as you'll see below.
---
Lightest Electric Bikes to Consider in 2023
---
Lightest Electric Road Bikes
1. Trek Domane+ SLR 6
MSRP: $9,000
Weight: 27.34 lb
Motor: TQ-HPR50, 50 Nm, 250W
Battery: 360 Wh
Range: 60 miles
Top Speed: 28 mph
Trek Domane+ SLR 6 is a high-end lightweight electric bike built around Trek Bikes's lightest 800 Series OCLV Carbon frame and equipped with IsoSpeed damping technology.
The Domane+ SLR 6 is the epitome of lightest electric bikes. Its TQ-HPR50 mid-drive system is there to enhance your ride rather than take over and work instead of you.
You'll get a real road biking experience with around 60 miles of assistance in Eco mode to make things a bit easier for you.
This carbon fiber ebike also boasts Bontrager Aeolus Pro 37 carbon wheels that further lower the weight and comes with a Shimano 105 Di2 drivetrain.
At around 27.34 lb, Trek Domane+ SLR 6 is truly category-redefining. The only catch is the $9,000 price tag, but it's well worth it if you're determined to go light.
---
2. Alchemy eRonin
MSRP: $11,000
Weight: 28 lb
Motor: Fazua Evation
Battery: 250 Wh
Range: 50 miles (average)
Top Speed: 20 mph
Alchemy eRonin is an American-made lightweight electric gravel bike and an analog bike at the same time.
It's powered by a Fazua Evation drive unit that comes with a detachable motor and battery designed as a single unit, which gives you the ability to choose how you want to ride.
The eRonin is a high-end carbon fiber electric bike intended for endurance gravel rides. You can easily spend hours in the saddle thanks to a 250 Wh battery that provides 50 miles of range on average, according to Fazua. However, if you often use higher assist levels, you'll probably achieve less than that.
But even if you run out of battery, the 28 lb weight is quite low, so you'll be able to pedal seamlessly with Shimano's or SRAM's 12-speed groupsets.
If you're looking for the lightest electric bike out there, you should definitely shortlist the Alchemy eRonin.
---
3. Santa Cruz Skitch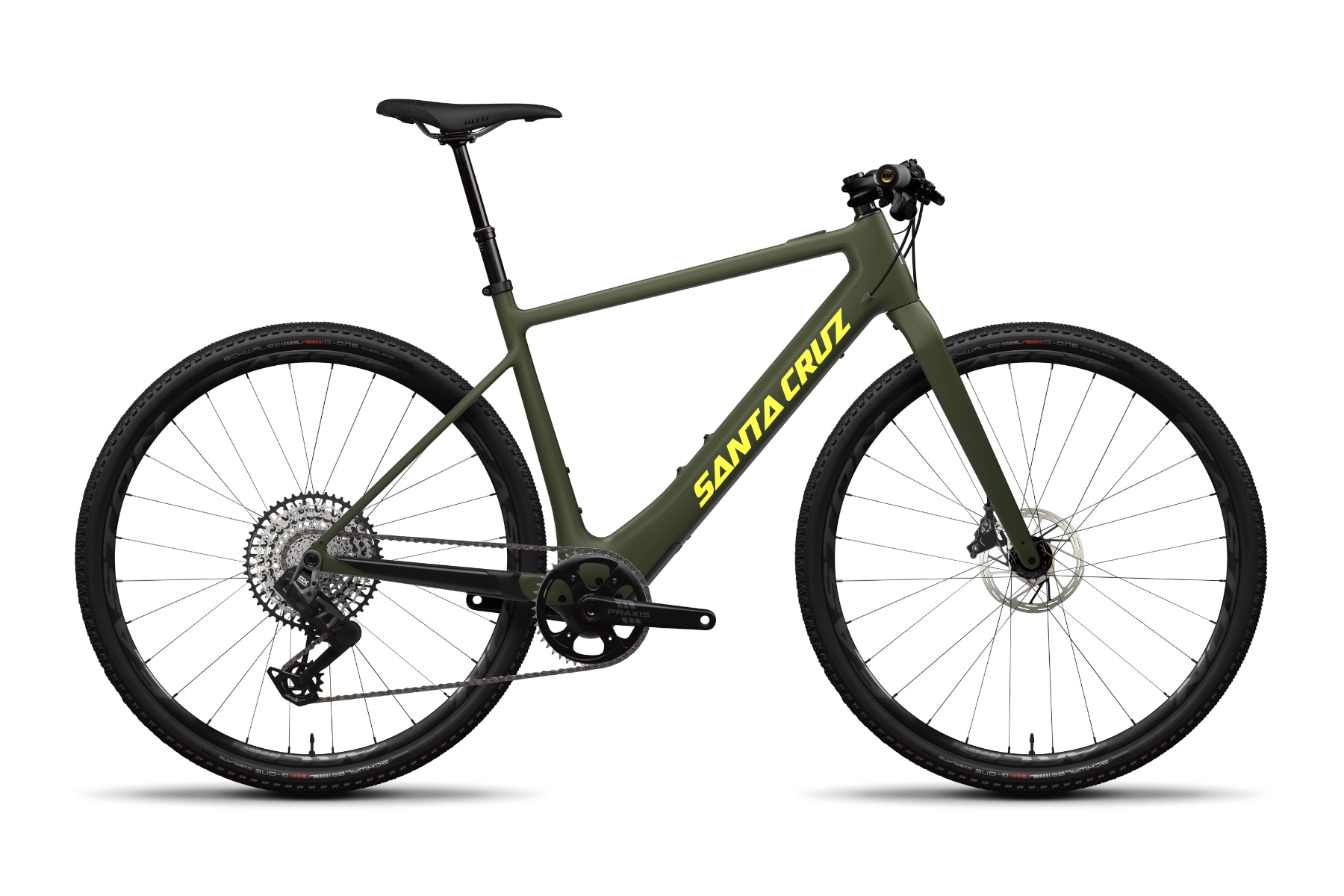 MSRP: $7,300
Weight: 30 lb
Motor: Fazua Ride 60 system, 60 Nm
Battery: 430 Wh
Range: 60 miles (depends on use)
Top Speed: 28 mph
Santa Cruz Skitch is an urban electric bike that looks like its Fazua Ride 60 drive unit was added as an afterthought.
It rides as a proper urban commuter, though its 700 x 45c Schwalbe G-One tires make it capable on gravel roads as well. You can also get it with drop bars if you're looking for a pure gravel electric bike.
Of course, the high-torque Fazua Ride 60 motor and 430 Wh battery are there to help you when things get steep.
Depending on how you use the pedal assistance, you can expect around 60 miles of range per charge, but that can fluctuate significantly based on a lot of factors. Still, this is a pretty admirable mileage from a lightweight electric bike.
You get a lot of value for $7,300, such as a lightweight carbon frame and fork, SRAM GX Eagle AXS T-Type, 12-speed drivetrain, SRAM Level brakes, and Santa Cruz's modern geometry.
However, that doesn't change the fact that the Skitch is prohibitively expensive for a lot of riders.
All in all, lightweight gravel and urban e-bikes don't get much better or lighter than the Santa Cruz Skitch.
---
4. BMC Roadmachine AMP TWO
MSRP: $7,300
Weight: 29 lb
Motor: Mahle X20 55 Nm
Battery: 350 Wh(Optional 172 Wh Range Extender)
Range: 80 miles
Top Speed: 20 mph
BMC Roadmachine is one of the best-performing endurance road bikes out there. Now it has a lightweight electric bike version as well—the Roadmachine AMP.
It's powered by Mahle's flagship X20 drive unit that's designed to replace the older X35 model. It delivers 55 Nm of torque while remaining hidden inside the rear hub.
The 350 Wh battery is installed into the downtube, but it can be removed if you want to lower the 29 lb weight further and go on an unassisted ride.
The BMC Roadmachine AMP may contend for the lightest electric bike title, but it certainly isn't the cheapest.
However, the $7,300 price is justified with premium electronics, SRAM's Rival eTap AXS, and a premium carbon frameset.
We recommend it if you're passionate about road riding and need a bike that will give you a push without killing the magic of riding a road bike.
---
Lightest Electric Urban Bikes
5. Trek Dual Sport+ 2
MSRP: $2,400
Weight: 38 lb
Motor: HyDrive 40 Nm, 250W
Battery: 250 Wh
Range: 35 miles
Top Speed: 20 mph
Trek Dual Sport+ 2 is one of Trek's lightest electric bikes, but it is also one of its cheapest models.
It tips the scales at around 40 lb, which is quite impressive for a bike that costs just $2,400.
The Dual Sport+ 2, as its name suggests, is a hybrid electric bike built for mixed-terrain riding. It's powered by a HyDrive 40 Nm and 250W rear hub motor and a 250 Wh battery integrated into the downtube. Together, they'll assist you up to 20 mph for around 35 miles per charge.
This light electric bike doesn't have many accessories, which contributes to its low weight. However, it does have front and rear lights and a kickstand.
Other than that, you get a Shimano Altus 9-speed drivetrain, 650x50c tires, and MT200 hydraulic discs.
It's a perfect choice if you want a simple e-bike to complete city commutes or explore off the beaten path.
---
6. Cannondale Treadwell Neo 2 Remixte
MSRP: $1,925 (REI / Mike's Bikes)
Weight: 41 lb
Motor: Hydrive MRC-250 250W
Battery: 250 Wh
Range: 47 miles
Top Speed: 20 mph
Cannondale Treadwell Neo 2 is a fun and lightweight electric bike perfect for any job that involves weaving through busy city streets.
It has a low-step aluminum frame that's practical for urban rides and versatile 47 mm tires that prioritize comfort and stability.
The Treadwell Neo 2 features a 250W Hydrive direct-drive hub motor and a 250 Wh battery tucked inside the down tube. The two will assist you up to 20 mph for around 47 miles per charge.
The bike also comes with an 8-speed MicroShift rear derailleur, which is a bit underwhelming, but it boasts a torque sensor which makes up for it in value and ride feel.
So if you're on the lookout for the lightest electric bike with an upright ride position and great looks, the Treadwell Neo 2 checks all the important boxes.
Buy from REI    Buy from Mike's Bikes
---
7. Aventon Soltera
MSRP: $1,199
Weight: 43 lb
Motor: 36V, 350W rear hub motor
Battery: 36V, 9.6 Ah with LG cells
Range: 41 miles
Top Speed: 20 mph
Aventon Soltera is an affordable urban e-bike, ideal for speedy commutes and running errands around the city. If you live in an apartment building, you should find it easy to carry it up a flight of stairs as it weighs around 43 pounds.
The Soltera has 5 pedal-assist levels and a throttle, that will help you maintain a 20 mph top speed. Similarly, its 345 Wh battery will last for around 40 miles, depending on how you use it.
One slightly underwhelming component is the Shimano Tourney 7-speed drivetrain, but most lightest weight electric bicycles in this price range come with similar specs.
The Soltera has an elegant and minimalist design thanks to an integrated battery and limited accessories (a kickstand and lights). Plus, you can get it with a step-through and step-over aluminum frame.
---
8. Ride1UP Roadster v2
MSRP: $1,095
Weight: 33 lb
Motor: 350W geared rear hub
Battery: 250 Wh
Range: 20-30 miles
Top Speed: 28 mph
Ride1UP Roadster v2 is minimalistic in every regard. It's the lightest ebike with a single-speed drivetrain on this list, and the only one with a carbon belt instead of a chain.
It has a quiet 350W geared hub motor delivering 40 Nm of torque and a concealed 250 Wh battery. You can get around 20-30 miles per charge from the battery and the motor will assist you up to 28 mph.
Unfortunately, the Roadster v2 comes with rim brakes, which lowers the weight but is not ideal for an e-bike. Though, if you want disc brakes, you can get the gravel version which also has wider off-road tires.
At 33 pounds, ebikes don't get much lighter than this, and at $1,095 you get lots of bang for the buck in addition to the low weight.
---
9. Specialized Turbo Como SL 4.0
MSRP: $4,000
Weight: 48 lb
Motor: Specialized custom motor, 240W / 35 Nm
Battery: 320 Wh
Range: 120 miles (with range extender)
Top Speed: 28 mph
Specialized Turbo Como SL 4.0 is a worthy candidate for riders who want the reliability of custom electronics and a well-known brand appeal.
The Turbo Como SL 4.0 weighs around 48 lb, which is not extremely lightweight, but it's pretty light considering all the accessories this bike comes with. If you want to make it even lighter, you can take the fenders, rear rack, and front basket off.
The motor and battery are the most appealing features. The Turbo Como SL 4.0 comes with a Specialized SL 1.1 custom lightweight motor that offers up to 240W of power, 35 Nm of torque, and reaches a 28 mph top speed. It's combined with a fully integrated Specialized 320Wh downtube battery, with an optional range extender for a 120-mile range.
This ebike also has a Shimano Nexus 5-speed internal gear hub and powerful hydraulic disc brakes, so it's super easy to maintain. If you commute at night, you'll also appreciate the bright integrated front and rear lights that will help you see and be seen
If we were in the market for a reliable, low-maintenance, and well-equipped lightweight e-bike, we'd certainly seriously consider the Specialized Turbo Como SL 4.0.
---
Lightest Electric Folding Bikes
10. Lectric XP Lite
MSRP: $799
Weight: 46 lb
Motor: 300W (720W peak)
Battery: 48V 7.8 Ah (375 Wh)
Range: 40+ miles
Top Speed: 20 mph
Electric folding bikes are typically not the lightest options due to their folding mechanisms that increase the weight. However, Lectric's XP Lite is a notable exception, weighing around 46 lb.
That may not make it the lightest ebike overall, but if you remove the 48V battery and carry it separately, the XP Lite becomes quite manageable. Plus, the fact that it folds down into a neat 36L x 16W x 26H" package means you can also tuck it away to save space when not in use.
Lectric XP Lite is also the cheapest option on our list. However, the $799 price tag means that some compromises had to be made, such as a single-speed drivetrain and mechanical disc brakes.
On the flip side, some positive aspects include a 300W rear hub motor, a throttle, front and rear lights, and multi-surface 20″ x 2.4″ or 2.6″ tires.
Overall, XP Lite is a decent, affordable lightweight electric bike that offers a lot despite the low price.
---
11. Brompton Electric C-Line
MSRP: $4,050
Weight: 38 lb
Motor: Brompton by Williams Engineering
Battery: 312 Wh
Range: 20-45 miles
Top Speed: 20 mph
Brompton is known for making some of the most compact folding bikes in the world. Consequently, they're also some of the lightest.
The Brompton Electric C-Line stays below 40 lb, though it could be even lighter if it weren't for the steel frame. But that's what makes Brompton a Brompton.
It comes with a bespoke Brompton front hub motor and a 312 Wh battery tucked inside a handlebar bag. You can expect assistance up to 20 mph and a range of 20-45 miles depending on your use.
The C-Line is quite expensive, but it does come with a 6-speed internal gearbox, a 40 lux Busch & Muller headlight, fenders, and Brompton's unique folding mechanism.
So if you want the absolute tiniest light weight electric bike, the Brompton C-Line is a solid choice.
---
What You Need to Know About the Lightest Electric Bikes
Lightweight ebikes are a popular trend these days, and there's no doubt that there are numerous benefits to getting an ebike with a lower weight.
But are there any downsides to the lightest electric bikes? And who should consider getting one? Let's find out.
What Is a Good Weight for an Electric Bike?
The weight of an electric bicycle can vary depending on its type, size, and components. So how heavy is the average ebike?
On average, electric bikes that cost under $2,000 (or slightly over) weigh anywhere between 60 and 80 pounds. However, some moped-style ebikes can weigh over 100 pounds.
Ebikes that cost upwards of $2,500 typically weigh a bit less, in the 50-60 lb range. But this again depends on the components and the size of the battery.
So what's a good weight for your electric bike? It depends on your budget and intended use. Anything slightly below or around 60 lb is considered average; below or around 50 lb can be considered reasonably lightweight; whereas below or around 40 lb is a proper lightweight ebike.
The lightest weight ebikes usually weigh around 30 lb, though these are mostly carbon fiber road ebikes that cost thousands of dollars.
Are There Any Drawbacks to Buying the Lightest Electric Bikes?
As is often the case in life, prioritizing things in one area means you may need to lower your expectations in other areas. This is also true when it comes to lightweight electric bikes.
As you can see above, there are no ebikes with beefy batteries and motors like those commonly found in the US. Instead, you get more compact hub or mid-drive motors and limited battery capacity (250-350 Wh). As a result, lightweight ebikes don't have a high electric bike battery range when you ride in high pedal-assist levels.
If you're looking for a powerful Class 3 ebike that will do most of the work for you, you'll need to look elsewhere. Most of the ebikes on this list are designed to provide auxiliary power to support your effort, rather than allow you to twist the throttle and forget about pedaling.
Another downside is the price. As the weight of an ebike goes down, its price invariably goes up. So if you want a lightweight ebike, you'll have to pay more for it.
Who Should Consider Buying a Lightweight Ebike?
While the lightest electric bikes are not for everyone and could be overkill for many riders, they can be especially beneficial for those who travel long distances or ride for fitness. They are also a good choice for riders who want to lose weight while riding an electric bike, as they will force you to work a bit harder compared to regular ebikes.
Compared to regular bikes, lightweight ebikes can give you a push on steep climbs or during strong headwinds without detracting from your riding experience.
They're also great for riders who need to carry their bike up stairs or onto public transportation. Regular ebikes that weigh around or more than 60 lb can be difficult to lift and manage for most people.
If you ride only occasionally for recreational reasons or to run errands around town, a regular ebike should be enough for you. But if you fall into any of these categories, spending more on the lightest electric bike you can find will be well worth it.