An e-bike is considered Class 3 when it reaches a speed of 28 mph with pedal assist. Once the top speed of 28 mph is reached, the pedal-assist system is disengaged. 
Class 3 e-bikes are a tier below true motorcycles and mopeds, which means their riders are limited to a certain age and must always wear a helmet.
What is a Class 3 e-bike?
Class 3 EBike motors are limited to 750 watts, and speed up to 28mph. Class 2 eBikes come in two types: Pedal-assist only, and with an optional throttle. Most Class 3 eBikes are equipped with a throttle though. This is due to e-bike regulations which allows to use those bicycles without a special permit.
Maximum assisted speed: 28mph
In the USA, the motor must be limited to 1 horsepower (750W)
The bike must be equipped with a speedometer
The motor will stop the assistance when the speed is over 28mph.
The rider must be over the age limit (the exact limit depends on the state)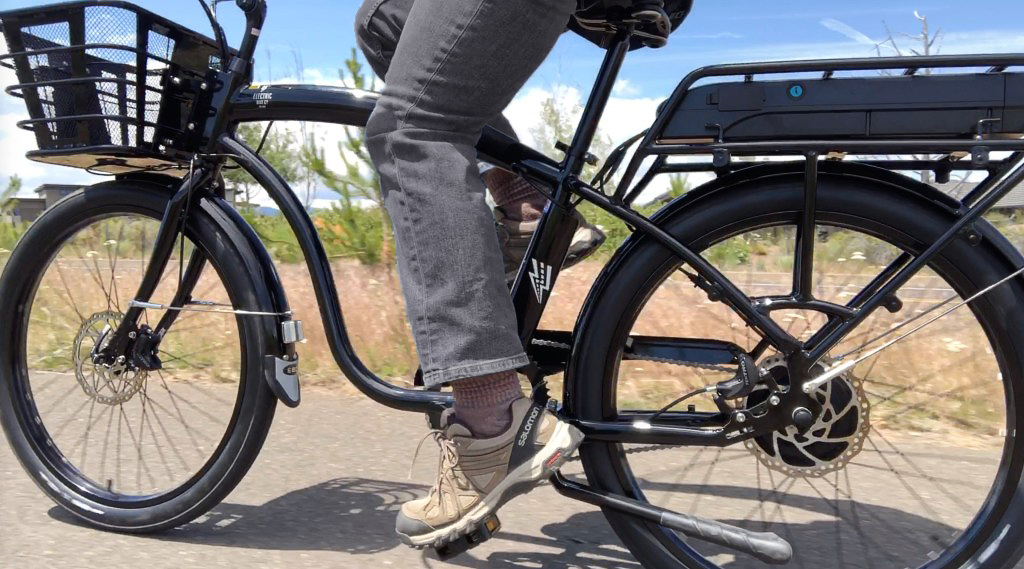 Down below we have listed the 8 best class 3 electric bikes that we could find online.
---
Lectric

XP 2.0
MSRP: $999
The Lectric XP folding e-bike was built for budget-conscious cyclists who want to enjoy a nice ride along the mountainside without breaking the bank. For less than a thousand dollars, you get a lightweight but efficient mountain e-bike with fat tires and Class 3 performance. You can even fold it to a third of its original size.
Motor and Battery:
This e-bike is fitted with a rear-mounted 500 W brushless motor that runs as quiet as a whisper. It has a peak capacity of over 800 W. By default, Lectric XP 2.0 has a maximum assisted speed of 20mph (throttle assist), which fits it under class 2. However, you can set the max pedal assistance speed to 28mph from the display to make it a class 3 eBike.
The Lectric XP comes with either a Samsung 48 V 9.6 Ah or an LG 48 V 10 Ah battery. Either way, the capacity ranges between 460 to 499 Wh, large enough for up to 45 miles of pedal assist.
Features:
20-inch wheels
Front and rear fenders
Rear cargo rack
Tektro 180mm mechanical brakes
Headlamp and rear light
The Lectric XP is available in high-step and step-through frames. If the traditional high-step frame is too high for you, then choose the step-through version. Whichever you choose, this e-bike comes with adjustable handlebars for your convenience.
You can ride the Lectric XP in the city or the mountainside, and it will run exactly the same. Its foldability is such a welcome feature for cyclists who ride in the city, and its fat tires are stellar for those who want to go off-road.
It's important to know that this e-bike arrives fully assembled. Just charge the battery and you can start pedaling in no time.
Best for: city commutes, off-road travel, night rides
Overall, the Lectric XP is a wise option for outdoor enthusiasts who don't have the resources to obtain a top-tier mountain e-bike but want to get great performance.
Lectricbikes.com/
---
Specialized

Turbo Vado SL 4.0 EQ
MSRP: $3,750
The Turbo Vado SL 4.0 EQ is a top-quality city e-bike that enhances your daily commuting experience. It looks just like any other bike from the outside, but it's armed with an array of components that will make you shake your head in amazement.
Specialized Bikes spared no expense in building a lightweight e-bike that you can bring along to multiple errands in the city. With a top speed of 28 mph, 75-mile range, and charging time of only 2.5 hours, the Specialized Turbo Vado SL is deemed a worthy investment for urban cyclists of any skill level.
Motor and Battery:
The Turbo Vado SL is equipped with the iconic Specialized SL 1.1 mid-drive motor. It's small and only weighs less than five pounds, yet it generates enough power to give this e-bike a Class 3 performance of 28 mph.
If you think the motor is impressive, then get ready to hear what the battery can do. This e-bike uses the built-in Specialized SL1-320 downtube battery, with a capacity of 320 Wh. That translates to a traveling distance of 75 miles, which can be bumped to 120 miles when you get the optional Range Extender.
Features:
28-inch wheels
Tubular fenders with rubberized flaps
Tektro 160mm hydraulic disc brakes
Rear cargo rack
40mm kickstand
The Turbo Vado SL frame is made from E5 aluminum, one of the lightest alloys used in the bicycle industry. This e-bike is only available in a high-step frame, but mounting it is still easy thanks to its good weight-balance distribution.
Despite its DryTech components, the Turbo Vado doesn't have fat tires or a suspension system. Therefore, it's not ideal to use it as a mountain e-bike. The strength of this e-bike lies in its mobility and high speed on paved roads.
Best for: city commutes, night rides
All in all, the Specialized Turbo Vado SL was designed to maximize your riding experience in the city. It's not as expensive as other high-tier Class 3 e-bikes, and yet it can hold its own in terms of weight and performance.
Specialized.com/
---
Electric Bike Company

Model C
MSRP: $2,099
Do you need an e-bike that emphasizes functionality over mobility? The Model C may just be the right choice for you. This cruiser-style city e-bike from Electric Bike Company is bulkier and heavier than most, but it makes up for it with a large loading capacity and multiple customization options.
Motor and Battery:
The MXUS XF15R 1,250W (max output) motor is responsible for accelerating the Model C up to 28 mph. It can generate enough torque to help you pedal this e-bike even when you're hauling large loads. The motor exhibits not only an impressive performance but longevity as well. It generally lasts up to 18 years, and even then, the Electric Bike Company threw in a 10-year warranty for your convenience.
The Model C also offers good mileage for a heavy e-bike. The Samsung 29E 48V battery powers it up to 556 Wh, enough to deliver up to 50 miles of assisted travel. This can also be upgraded if you wish to add an extra 300 Wh to its overall capacity. It takes six to nine hours to fully charge the battery using the external charger. But, if you want to cut its charging time in half, an optional smart charger is available.
Features: 
Puncture-resistant tires
Front and rear LED lights
Leather seatpost and grips
Non-slip, reinforced rubber kickstand
LCD display with USB ports
If there's one thing you should know about the Model C, it's one of the most customizable Class 3 e-bikes in the current market. There are 24 (yes, twenty-four!) colors for you to choose from.
This e-bike's frame is made of 6061 aluminum alloy. Only one size is available, but you can pick either a step-through or a high-step frame depending on your personal preference.
Originally, the Model C only came with a single-speed drivetrain. It's quiet, durable, and gets the job done. Electric Model Company currently released a 7-speed drivetrain for this e-bike for those who want the benefits of having multiple gears.
Best for: city commutes, night rides
Despite its extra weight, the Model C is easy to handle on the pavement. If there ever was a Class 3 e-bike version of a pack mule, this is it.
ElectricBikeCompany.com/
---
Gazelle

Ultimate T10+ HMB
MSRP: $3,999
The Gazelle Ultimate T10+ HMB was produced to provide city commuters and outdoor cyclists with a fast, stylish, and energy-efficient mode of transportation. With its lightweight and aerodynamic frame, top-shelf components, and ergonomic grips, the Ultimate T10+ continues to become one of the most highly recommended Class 3 hybrid e-bikes in the market.
Motor and Battery:
It's no secret that the Ultimate T10+ HMB is powered by a Bosch Performance Line Speed motor. This machine is solely responsible for the 85 Nm of torque that pushes the e-bike to a top speed of 28 mph.
The Bosch Lithium-ion 500Wh battery is integrated into the middle tube of the Ultimate T10+ frame. One battery alone is enough to give you fifty miles of pedal assist, but this e-bike is capable of doubling its range by adding another battery.
Features:
28-inch wheels
Rear cargo rack
AXA Defender ring-type lock
Headlight and rear light
Telescopic suspension fork
The Ultimate T10+ HMB was built to navigate tight turns and busy traffic, which is why it's made from industrial-grade aluminum alloy. The streamlined, aerodynamic frame lets you ride in a mid-upright position, making it easier to climb uphill terrain.
The slightly curved aluminum handlebars with an adjustable stem and ergonomic plastic grips deliver a comfortable riding experience.
Despite its iconic sporty look, this e-bike is not made just for exploring the mountainside. On a full charge, you can ride to work in the morning, travel along a backcountry trail in the afternoon, and do a quick run for some groceries in the evening.
Best for: city commutes, off-road travel, night rides
The Gazelle Ultimate T10+ HMB is neither the most expensive nor the cheapest Class 3 hybrid e-bike out there. That being said, it's an excellent mid-range option for cyclists who don't want to buy two separate e-bikes for commuting and off-road adventuring.
gazellebikes.com/
---
DŌST

KOPE
MSRP: $2,799
Are you having trouble choosing between a Class 1, Class 2, or Class 3 e-bike? The DŌST KOPE hybrid e-bike might put your indecisiveness to an end because it's capable of switching between all three classes.
As one of the most versatile e-bikes in the market, the DŌST KOPE may be the perfect choice for cyclists who would rather invest in a single e-bike for multiple activities.
Motor and Battery:
You can enjoy up to 28 mph on the KOPE thanks to its Bafang BBS02 750 W motor. In addition, its removable throttle lets you switch between Class 1, 2, and 3 performances without hassle. This versatility is perfect when you need to adjust the top speed based on the type of road you're running on.
The Samsung 48V battery is good enough to deliver 30 to 120 miles of pedal-assist on any given day. If you need extra mileage, a dual battery pack bumps the total charge capacity from 627 to 1,200 Wh.
Features:
27.5-inch wheels
Suntour XCT suspension fork
60-degree angle-adjustable stem
Long-range front and rear lights
Rear cargo rack
The DŌST KOPE uses a 6061-aluminum alloy frame to withstand the obstacles usually found in off-road terrain. Even then, it only weighs around 30 pounds, which is not too heavy compared to other Class 3 hybrids.
Customers love that the KOPE arrives fully assembled and ready to ride once the battery is charged. A two-year warranty is available for all orders if you ever change your mind about this e-bike.
Best for: city commutes, off-road travel, night rides
Overall, the DŌST KOPE has proven time and again that it's a force to be reckoned with in the city or on the mountainside. It's one of the toughest and most versatile hybrid e-bikes that you can get your hands on.
dostbikes.com/
---
Niner

e9 RDO
MSRP: $5,995
Gravel roads are no challenge for the Niner e9 RDO. It's one of the meanest gravel e-bikes available due to its efficient transmission, robust components, and aerodynamic frameset.
Motor and Battery:
The e9 RDO can reach the Class 3 speed limit of 28 mph because of its Bosch Gen4 Performance Line motor. The large-capacity Bosch Powertube 500 Wh battery gives this e-bike a modest cruising range when pedal assist is engaged.
Features:
27.5-inch wheels
Shimano GRX drivetrain
Bosch Purion LCD display
Internal cable routing
Multiple external mounts
This e-bike's frame and fork are made from the extremely durable RDO Carbon alloy. With four frame sizes to choose from, cyclists who are four feet eleven inches to six feet three inches tall will have no problem finding the right frame for them.
Niner Bikes designed the e9 RDO for extended off-road travel, which can be clearly seen from the components. The ones that were not made by Niner themselves were supplied by reputable brands like Shimano, Schwalbe, and Easton.
If you get a Niner RDO, you will also qualify for a lifetime warranty on the frame and a five-year warranty on the components.
Best for: city commutes, off-road travel
The Niner e9 RDO can be used to its full potential as a gravel e-bike or mountain e-bike. It's agile and light enough to be ridden on city roads as well, although it doesn't come with front or rear lights for nighttime rides.
All in all, it's fair to say that the Niner e9 RDO is a tough gravel e-bike with strong off-road potential and modest features. If you enjoy hearing the sweet crunch of gravel beneath your feet, this is worth giving a chance.
JensonUSA.com/
---
Trek Allant+ 9.9S
MSRP: $5,999
The Trek Allant+ 9.9S is one of the few high-tier e-bikes out there that's worthy enough to replace your car. Armed with the best motor and battery combination from Bosch, this carbon steel e-bike can take you on a long trip across the city, to the countryside, and back home in the most efficient way possible. All without breaking down at any point of the voyage.
Motor and Battery:
Trek Bikes wanted the Allant+ to be one of the most powerful Class 3 electric mountain bikes ever built, which is why they equipped it with the Bosch Performance Speed 350 W motor. It generates 75 Nm of torque, allowing this e-bike to accelerate up to 28 mph in the quickest time possible.
The Allant+ is also fitted with the Bosch PowerTube battery that provides 400 to 625 Wh of pedal assist, which translates to almost a hundred miles of assisted travel. And if for some reason that's not enough for you, an extra 500 Wh can be added thanks to Range Boost, a second battery.
Features:
27.5-inch wheels
Quad-piston hydraulic disc brakes
Bosch SmartphoneHub controller
High-power headlight and rear light
Aluminum rear cargo rack
Dedicated cyclists love this e-bike because they can customize the sizes of the tires, seat post, crank, handlebar, stem, brakes, lights, and even the brake rotor.
Trek Bikes is famous for its lifetime warranty all the way back to its first bikes in 1976. Register to Trek Care to qualify for the free lifetime warranty and accessible technical support for your e-bike.
Best for: city commutes, off-road travel, night rides
In summary, the Trek Allant+ 9.9S is a top-tier hybrid e-bike that delivers an outstanding performance as either a commuter e-bike or a Class 3 electric mountain bike. It's considered as one of Trek Bikes' finest creations, and with good reason.
Trekbikes.com/
---
Stromer ST3
MSRP: $7,499
The Stromer ST3 is an excellent display of Swiss bicycle craftsmanship and technology. It's a customizable high-performance Class 3 e-bike, also known as an S-Pedelec if you're in Europe.
This urban e-bike is armed to the teeth with an advanced pedal-assist mode, anti-theft GPS system, and motor tuning capability via the OMNI smartphone app.
If you want to experience riding on one of the most sophisticated e-bikes in the world, then the Stromer ST3 is something you might want to keep an eye on.
Motor and Battery:
This e-bike is powered by the SYNO Drive II rear-mounted motor. It's rated at 600W, generates 44 Nm of torque, and lets you accelerate up to 28 mph. Best of all, it does all of that without making a noise that's louder than a whisper.
As for the battery, the ST3 uses a BQ814 Standard 48 V 16 Ah battery with a capacity of 814 Wh. You have the option to get the upgraded BQ983 battery instead if you want an extra 100 Wh.
Features:
27.5-inch wheels
Hydraulic disc brakes
Keyless activation
Rear rack and bottle cage
LED ultra-bright lights
Weighing at 71 pounds, the ST3 is way heavier than the other e-bikes on this list. But the extra weight only means that Stromer has put in a plethora of components that will leave you impressed.
For one, you can connect your phone to the e-bike's systems via the OMNI app. This will convert your mobile device into a controller to adjust the lights or switch between three speed modes, among other functions.
Best for: city commutes, off-road travel, night rides
It's not a surprise that the Stromer ST3 runs efficiently and smoothly on all kinds of terrain. After all, it was built to fulfill the roles of a road, gravel, and mountain e-bike. If you're a dedicated cyclist who wants to test the best e-bikes in the current market, then the ST3 might be just what you're looking for.
Stromerbike.com/
---
Conclusion – Are Class 3 eBikes Worth it?
If you like fast riding then class 3 eBike is definitely something to consider.
Many people have swapped their car for a class 3 electric bike to save a lot of time and money. With class 3 eBike you can easily commute to work without getting sweaty. Also, you can pick up groceries or some other cargo without giving the motor too much stress.
If you are choosing a class 3eBike, you should definitely consider some of the bikes listed above.
---
Related