Black Friday 2023 is approaching (as is Cyber Monday). As a result, the first e-bike cycling deals are already hitting the shelves. We'll help you save money and upgrade your gear by rounding up the best deals available online.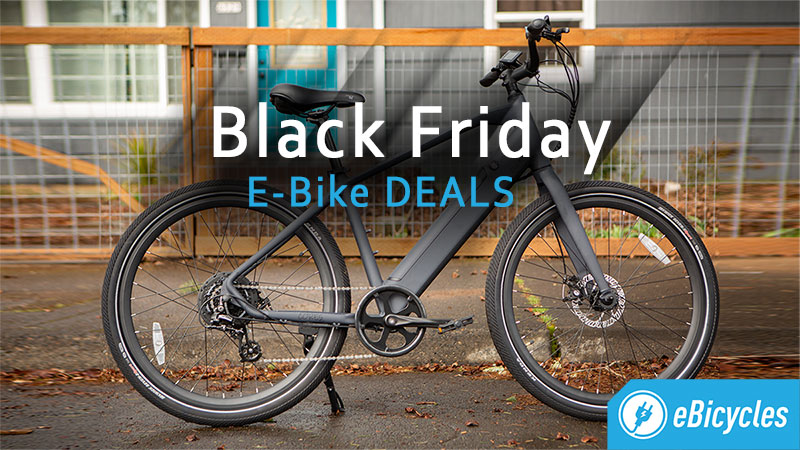 If you think cycling is an expensive hobby and e-bikes are out of your reach, you're probably shopping at all the wrong times. Black Friday is usually the best time to get a new e-bike, upgrade your gear, purchase a new cycling kit, and prepare for the upcoming season.
Online retailers jump at the opportunity to increase their sales and clear the shelves of last-season products by offering massive discounts. Depending on the shop and item, these can go up to 50% or even higher.
During the following month, we'll be researching the biggest online retailers and listing all the deals worth your time and money on this page, so stay tuned if you plan to do some shopping and save.
Where Can I Find the Best Black Friday E-Bike Deals?
Like every year, we'll include the best e-bike and cycling-related Black Friday deals on this page. We'll update it regularly with new deals as they arrive in the biggest online stores.
If you want to hunt for something specific and do your own research, we recommend scrolling through these sites during November and December to stay up-to-date with the best deals:
Online Retailers:
E-Bike Brands:
What Can You Expect from Black Friday 2023?
In short, you can expect to save money. Of course, you'll be spending money, but if these are things that you plan to buy anyway, it's much better to purchase now with a discount than wait until the cycling season begins and then pay full price.
Black Friday deals usually include all kinds of products, from complete bikes to cycling gadgets, to small items and accessories. As electric bicycles can be expensive, this is an excellent time to buy one. For example, a 10 to 20% discount on a $3,000 e-bike saves $300 to $600. That's serious money.
Discounts on larger items (such as complete e-bikes) typically stay between 5 to 20%, but they can go up to 50%. Other products, such as apparel, gear, and accessories, are usually heavily discounted at 20 to 50%.
Therefore, you can save a significant amount of money if you do most of your cycling-related shopping in bulk around Black Friday and set yourself up for the rest of the year.
---
Black Friday Electric Mountain Bike Deals
HiPeak 750W Folding Electric Bike
The HiPeak folding electric bike is one of the best-looking and most refined models you'll find on Amazon. It has a very high average rating from close to 200 users thanks to a high-power 750W motor, practical folding frame, and a high-capacity 720 Wh battery.
The HiPeak e-bike reaches Class 2 speeds, has a 60-mile range, and features a long list of accessories to make daily commutes in all conditions possible.
Giant Talon E+ 3 —

$2,900
$2,299.95 (
Save 21%)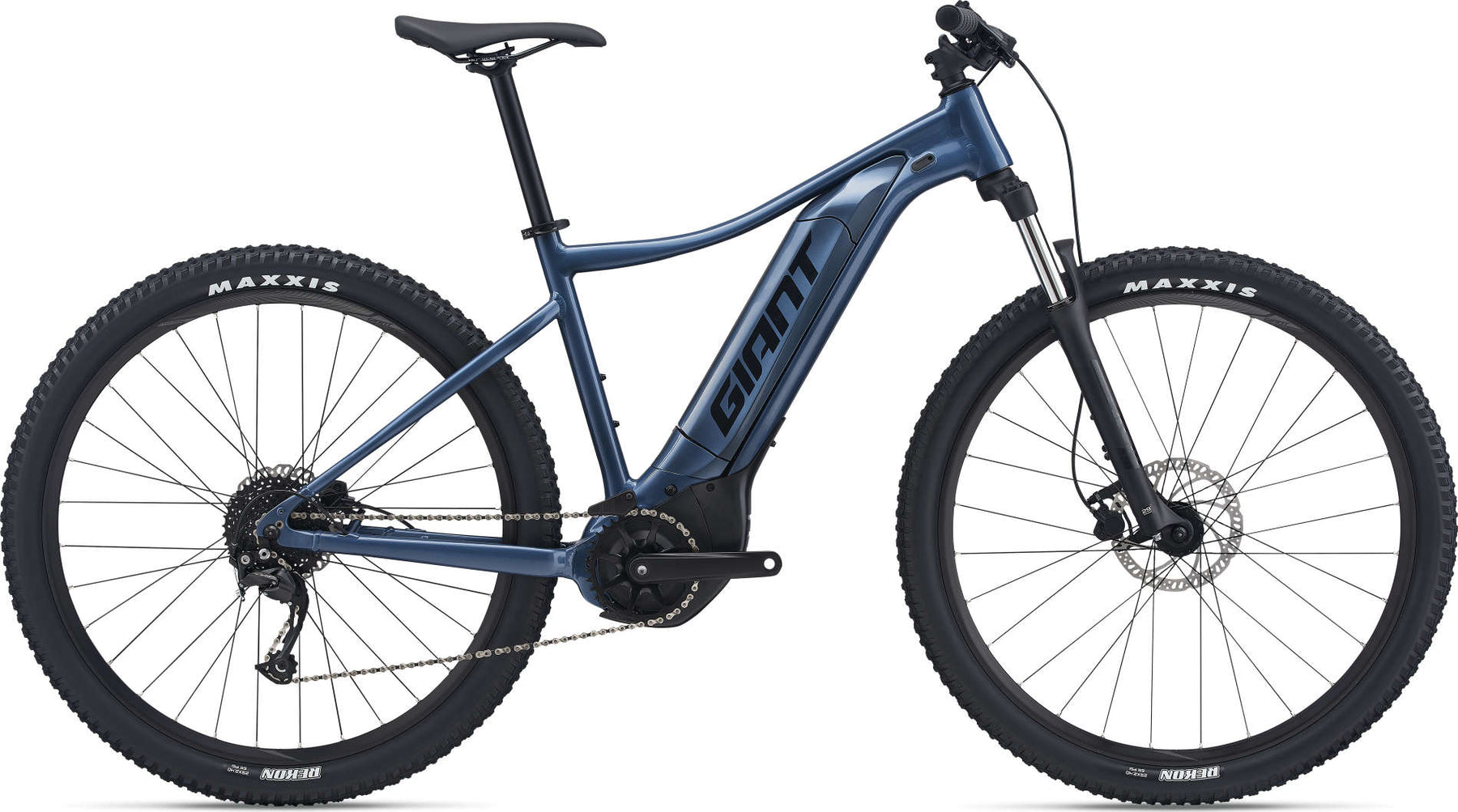 The Giant Talon E+ 3 is the perfect electric mountain bike for recreational riders who want a powerful and high-quality two-wheeler from a reputable brand.
The Talon E+ 3 features Giant's proprietary SyncDrive motor and battery that will assist you up to 20 mph and offer hours of trail riding.
With a 20% saving, this Black Friday electric bike deal is hard to pass if you're looking for a proper e-MTB.
Blix Ultra – Save $400 + Free Accessory Bundle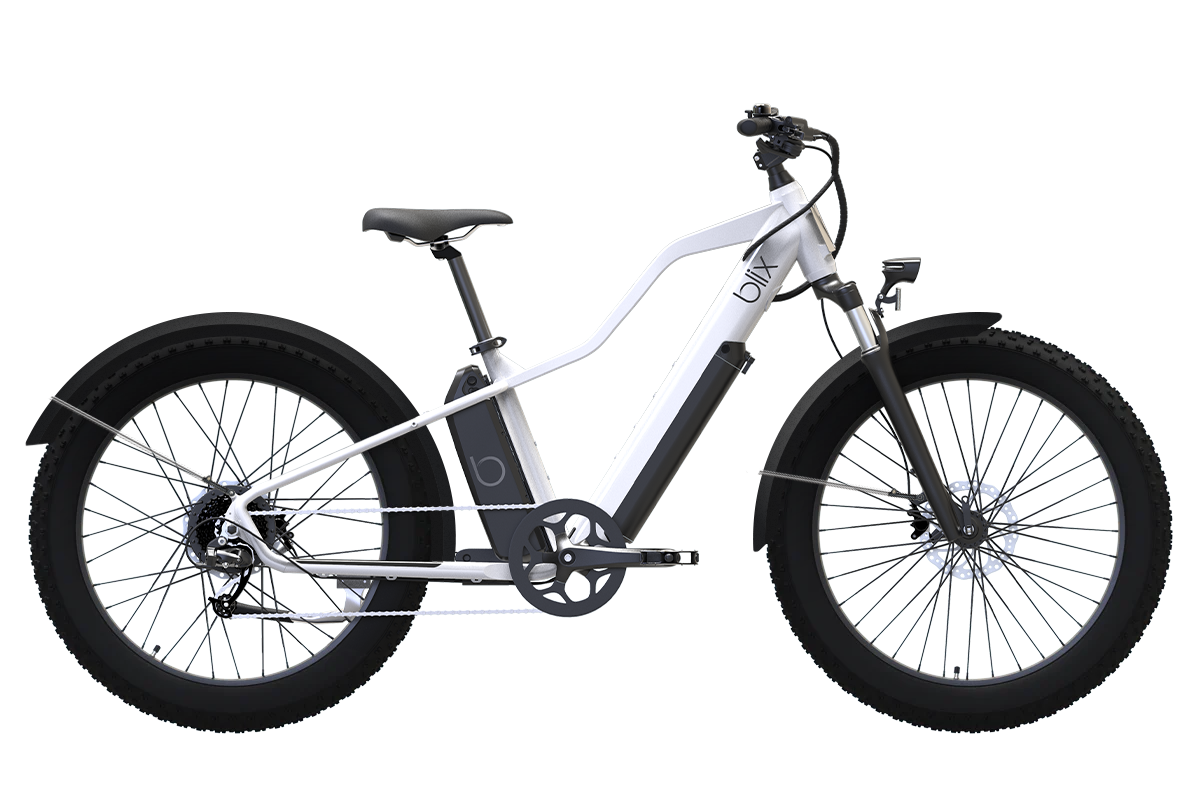 The Blix Ultra is a fat tire hardtail bike with dual battery compatibility and an affordable price tag. It's perfect for recreational mountain bikers who love spending the day in the saddle and covering long distances.
Blix lets you save $400 on this deal and get a free accessory bundle consisting of an Ultra Rear Rack and Passenger Foot Pegs ($200 total value).
Specialized Electric Mountain Bikes Black Friday Sale
Specialized is offering up to 50% off on all of its bikes this Black Friday 2023, including its premium electric mountain bikes. Get one of its capable models, such as the Turbo Levo, Kenevo, Turbo Kenevo, or one of the S-Works versions and save thousands of dollars.
Rad Power Bikes Black Friday Mega Sale
Up to $1,200 Off!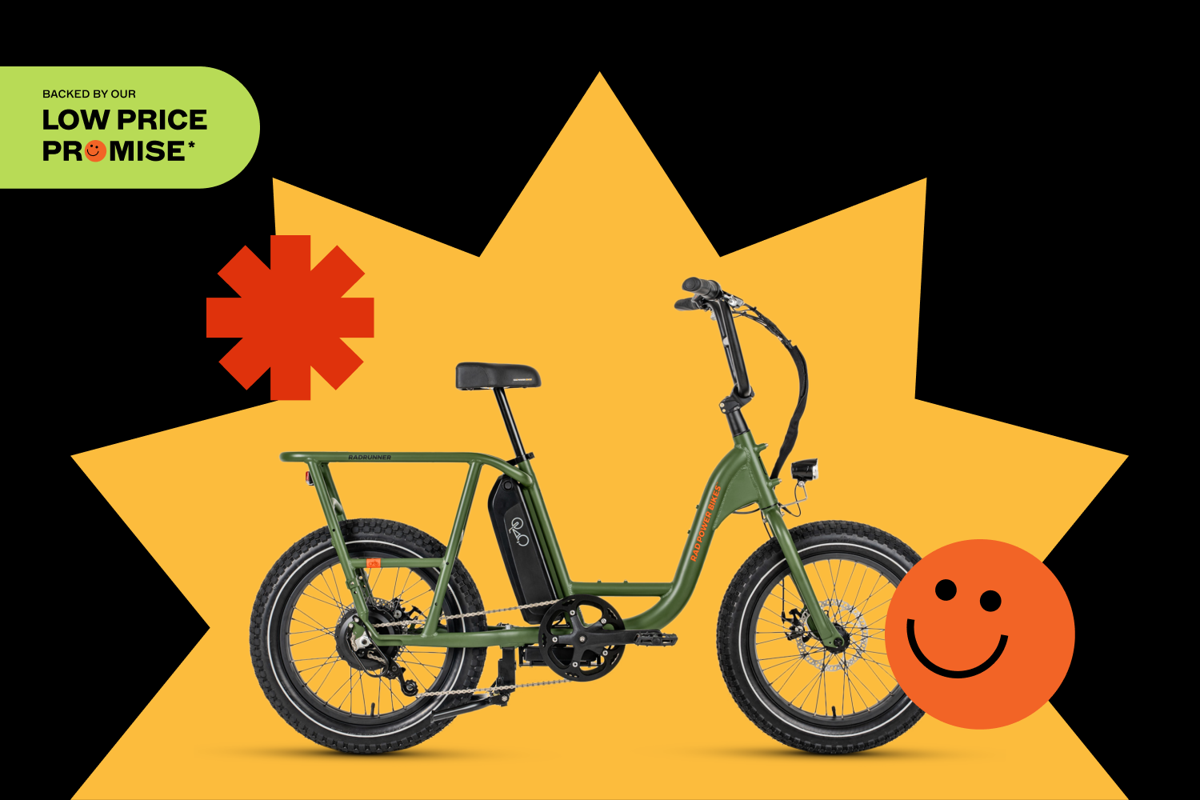 Rad Power Bikes
is a USA-based company specializing in affordable e-bikes for everyone's pocket. This Black Friday, they're offering hefty discount deals on their best-selling models.
You can get $1,200 off RadTrike 1 and up to $700 off on other selected models!
Aventon Bikes – Up to $600 Off E-Bikes
+ $100 in Accessories!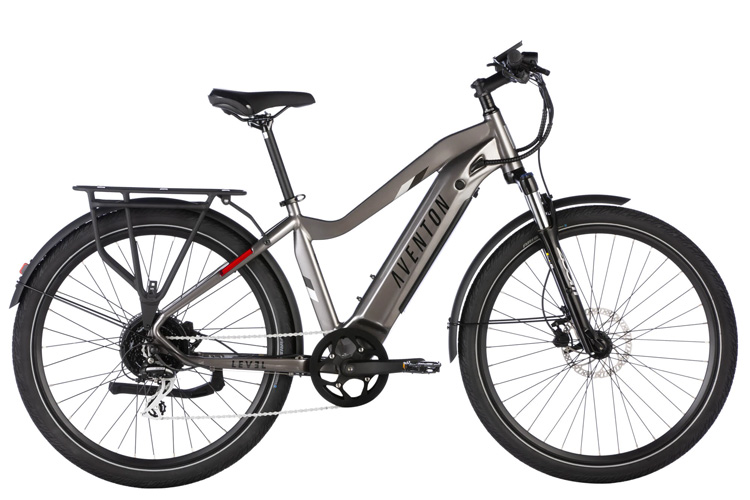 Aventon has become one of the most popular brands in the electric cycling world and this Black Friday they are rewarding their customers with up to $600 off e-bikes, plus $100 in accessories with every e-bike purchase. Check out the selection by following the link below!
---
Black Friday Electric Commuter & Urban Bike Deals
---
Huffy Electric Bikes Black Friday Sale – Save 30%
If you're looking for quality e-bikes that cost little but are also attractive, you should definitely check out Huffy Bikes' lineup. You can choose from men's, women's and kids' bikes, including cruisers, comfort bikes, MTBs, and more.
Wing Freedom 2 — $1,798.98 $1,098.98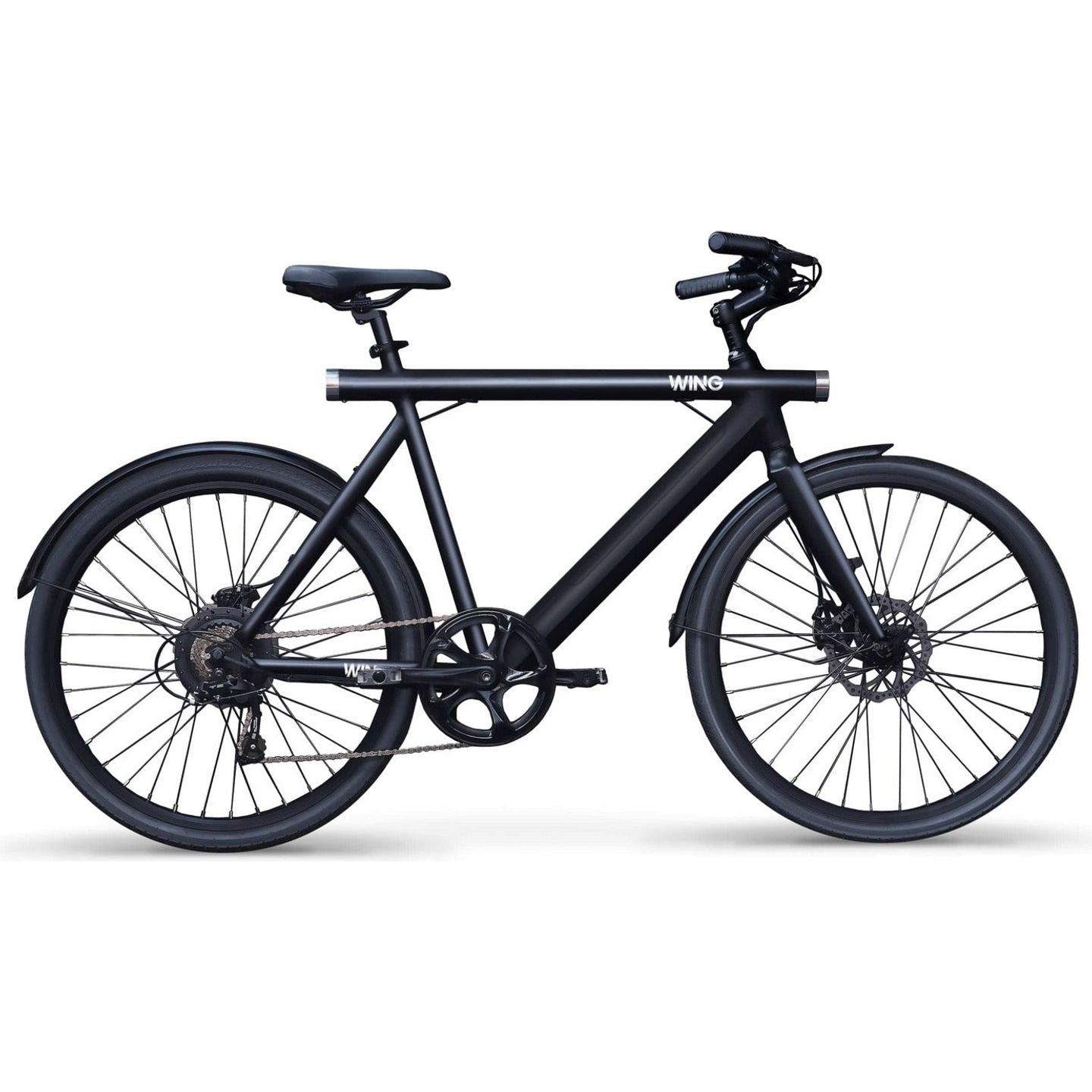 Wing Freedom 2 is one of the most unique electric commuter bikes on the market. It has a modern aluminum frame coupled with a 1x drivetrain, rear hub motor, three battery options (8.8AH, 10.4AH, or 14AH), integrated lights, an anti-theft system, and so much more.
Wing Bikes is offering an up to 40% discount on all of their e-bikes, so check out the other models as well!
Lectric Bikes Black Friday Sale – Up to $100 Off E-Bikes
+ $450 in Accessories!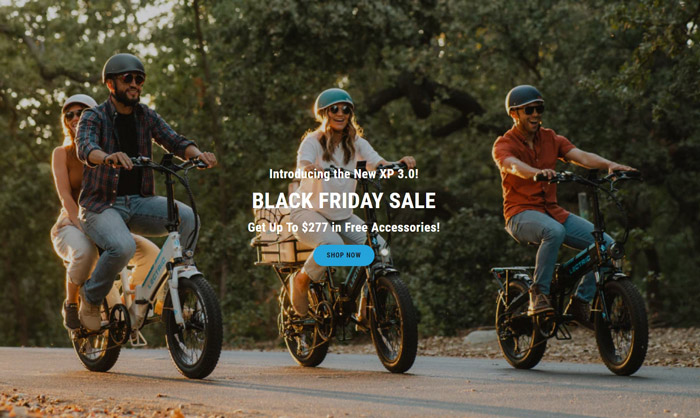 Nothing can beat a folding electric bike for urban commuting. Fold it and easily carry it up and down the stairs, in an elevator, fit it in your car's trunk, or take it on a train or a bus. When you unfold it, you get a powerful electric commuter that zips through busy city streets like a warm knife through butter.
Get $100 off e-bikes, plus $450 in free accessories this Black Friday 2023!
Stromer ST2 Sport — $5,699.99 $3,499.95
Save 39%
Stromer is a Swiss manufacturer of premium urban speed pedelecs with fully-equipped setups and unique GPS and Bluetooth connectivity. The ST2 is high-power, long-range model, perfect for riders who like to go fast.
Mike's Bikes has reduced the price of the Stromer ST2 by 39% ($2,200 off) for Black Friday 2023, with size Large still remaining!
Aventon Soltera — $1,399 $999
Save $400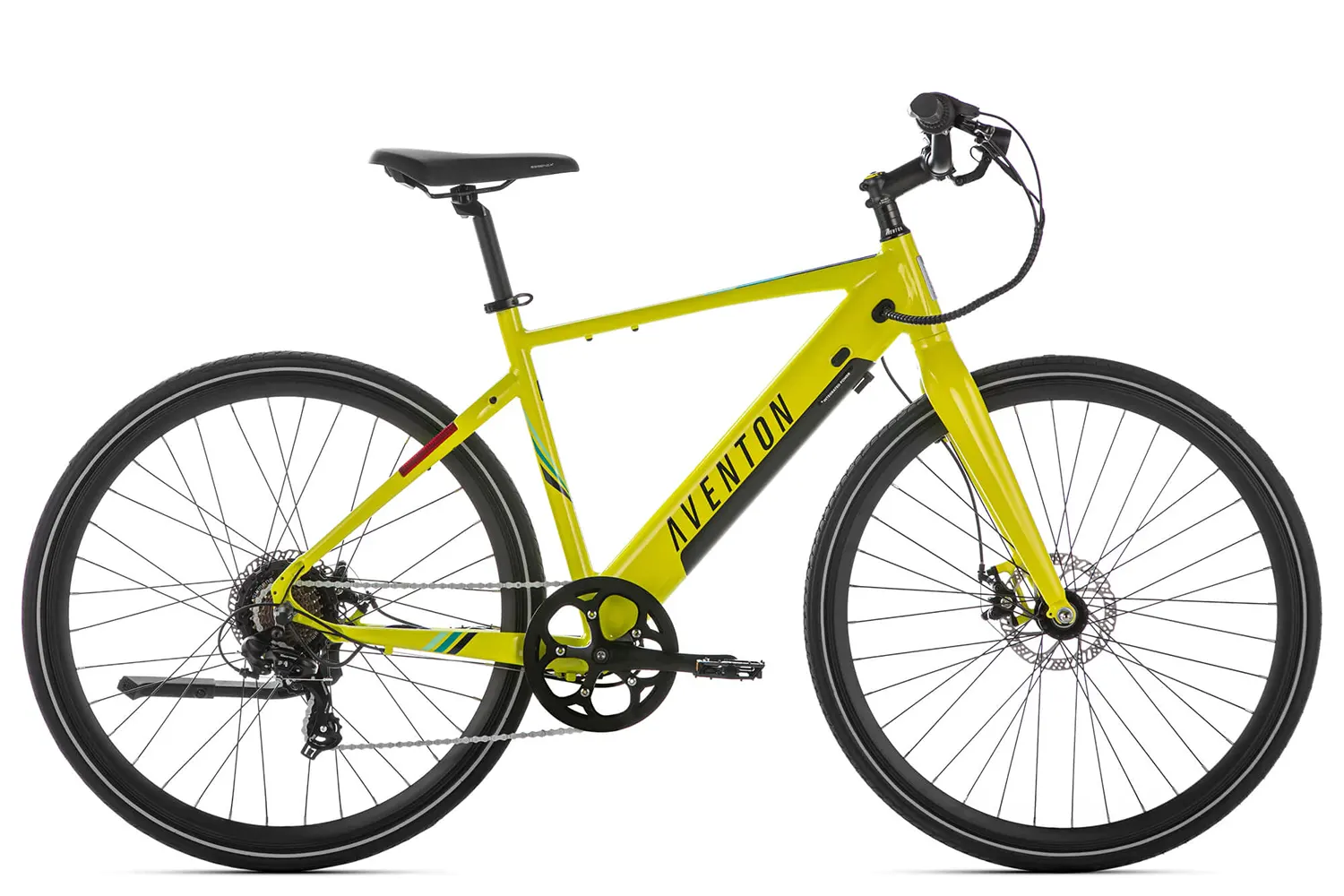 Another of the Black Friday bikes available from Aventon Bikes this year is the Soltera e-bike. This flat-bar electric hybrid is one of the simplest and most attractive single-speed bikes on the market. 
It comes with a 350W motor and a throttle, so you can easily get up any stubborn hill that was giving you trouble before!
Ride1UP Prodigy —
$1,895
Save $400
Ride1UP is another brand getting involved in the Black Friday deals on bikes with a $400 discount on the popular Prodigy urban e-bike. This sturdy commuter comes with high-power electronics and a cruiser-like feel, making it an excellent choice for a wide range of riders. 
You can take advantage of this eBike Black Friday deal on the step-through or step-over frames.
---
Best Black Friday Bike Deals on Gear, Components and Accessories
---
Echelon Smart Connect Fitness Bike
Winter is coming, which means you could lose your summer cycling gains! Getting an indoor bicycle means that you can continue cycling even when the temperatures drop outside and be in shape for the next cycling season.
Check out the Echelon smart connect indoor bike as part of Amazon's Black Friday exercise bike deals and get a high-tech indoor machine with a decent discount.
Wahoo ELEMNT ROAM GPS Cycling Computer Bundle — $400 $299.95
Wahoo ELEMNT ROAM is one of the most popular and best-selling GPS cycling computers on the market for a good reason. It has an intuitive interface, easily visible screen, and all the features you could possibly need.
In this Black Friday discounted bundle, you get the GPS unit, as well as a heart rate strap and speed and cadence sensors, along with a discount that sheds $100 off the original price tag.
Allen Sports Deluxe Steel Child Trailer — 45% OFF
Get your children involved with your rides and help them enjoy the outdoors with the Allen Sports Deluxe Steel Child Trailer. Amazon is offering an impressive 54% discount to parents this Black Friday. This product supports up to two 50lb kids and has padded five-point safety harnesses to keep passengers safe and comfy.
Garmin Instinct GPS Watch — $299.99 $249.95
SAVE 17 %
The Garmin Instinct is a GPS activity tracker reinforced to US military standards with shock, heat, and water resistance (to 100-meter depth). In addition, this impressive watch has a maximum battery of 14 days.
Take advantage of a 17% discount ($50 savings) from Mike's Bikes gear and bike Black Friday deals and choose between blue and graphite colors. 
Smith Shift Mag Sunglasses
The Smith Shift Mag Sunglasses blend casual style with high-performance technology. These stylish glasses have grippy rubber nose pieces and hydrophobic and scratch-resistant lenses for clearer vision and durability.
---
How to Get a Good E-Bike Deal on Black Friday?
Black Friday is a fantastic time to purchase cycling items and save, but there are a few things to keep in mind to avoid disappointment.
You need patience and knowledge to get the best deals, so here are a few tips to keep in mind if you're approaching this period with a long shopping list.
Do your own research. Take whatever you find online with a grain of salt and do your own research. Look at reviews of items you want to buy before you go to the checkout to avoid unpleasant surprises.
Stay away from shady websites. Black Friday is the ideal time for scammers who try to trick people by offering tempting and often unrealistic deals. It's best to stick with well-known and reputable retailers.
If it's too good to be true, it probably is. In line with what we've said above, if a deal seems too good to be true (e.g., An 80–90% discount on a $4,000 e-bike), you're probably about to get scammed.
Avoid splurging. Avoid buying something that you don't need just because it's discounted. That's not saving money; that's spending money unnecessarily. Instead, create a list of things you need and stick to it.
Be patient but don't wait too long. Good things come to those who wait. But they can also disappear when it comes to discounts if you're too indecisive.
Should You Wait for Cyber Monday or Christmas?
Cyber Monday and Christmas deals follow right after Black Friday.
Specifically, Cyber Monday usually merges with Black Friday into a four-day shopping event with sales, discounts, bundles, and freebies. Therefore, it's unlikely that a discounted item on BF will get even cheaper on CM, meaning it's best to get it right away on Friday because it might be sold out by Monday.
As for Christmas, you can again expect some sweet deals and discounts throughout December, but we wouldn't wait for it and risk if the item you're planning to buy is already discounted on Black Friday.
---
Where to Shop for Best Black Friday Deals?
Still haven't found this year's best cycling deals?
Follow the links below to see the biggest discounts from cycling's top online retailers and brands!
Online Retailers:
E-Bike Brands:
---
Why Trust Us?
Years of Experience: With a proven track record spanning several years, our team has been navigating the Black Friday landscape with expertise and precision. We've honed our skills over time to bring you the best deals and offers.
Deep Industry Roots: Being entrenched in the cycling industry for an extended period has given us valuable insights. Our longstanding connections and relationships allow us to curate Black Friday offerings that truly stand out, ensuring you get the most out of this shopping extravaganza.
Cost Knowledge: We understand the typical costs of cycling gear and accessories. Our team's in-depth knowledge allows us to sift through the Black Friday noise, handpicking deals that genuinely offer significant savings. Trust us to guide you through the Black Friday maze with our seasoned understanding of pricing trends.
When Is Black Friday (& Cyber Monday) in 2023?
This year, Black Friday officially falls on Friday, November 24, the last Friday of the month and the first day after Thanksgiving.
However, as usual, we can expect the deals to start arriving as early as November 1 and reach a crescendo on November 24.
The deals usually don't stop there but continue into Cyber Monday on November 27 and then morph with Christmas and New Year sales later in December.
Therefore, cyclists have roughly two months to shop around and look for heavily discounted items, though the most significant discounts and the best deals are at the end of November.
Suppose you're reading this at the beginning of November. In that case, you can see that some major online cycling retailers (such as Evo, Competitive Cyclist, Jenson USA, etc.) already have discounts and sales on some selected items.