Black Friday 2022 is approaching (as is Cyber Monday). As a result, the first e-bike cycling deals are already hitting the shelves. We'll help you save money and upgrade your gear by rounding up the best deals available online.
If you think cycling is an expensive hobby and e-bikes are out of your reach, you're probably shopping at all the wrong times. Black Friday is usually the best time to get a new e-bike, upgrade your gear, purchase a new cycling kit, and prepare for the upcoming season.
Online retailers jump at the opportunity of increasing their sales and clearing the shelves of last-season products by offering massive discounts. Depending on the shop and item, these can go up to 50% or even higher.
During the following month, we'll be researching the biggest online retailers and listing all the deals worth your time and money on this page, so stay tuned if you plan to do some shopping and save.

When Is Black Friday & Cyber Monday 2022?
This year, Black Friday officially falls on Friday, November 25, the last Friday of the month and the first day after Thanksgiving.
However, as usual, we can expect the deals to start arriving as early as November 1 and reach a crescendo on November 25.
The deals usually don't stop there but continue into Cyber Monday on November 28 and then morph with Christmas and New Year sales later in December.
Therefore, cyclists have roughly two months to shop around and look for heavily discounted items, though the most significant discounts and the best deals are at the end of November.
Suppose you're reading this at the beginning of November. In that case, you can see that some major online cycling retailers (such as Evo, Competitive Cyclist, Jenson USA, etc.) already have discounts and sales on some selected items.
What Can You Expect from Black Friday 2022?
In short, you can expect to save money. Of course, you'll be spending money, but if these are things that you plan to buy anyway, it's much better to purchase now with a discount than wait until the cycling season begins and then pay full price.
Black Friday deals usually include all kinds of products, from complete bikes to cycling gadgets, to small items and accessories. As electric bicycles can be expensive, this is an excellent time to buy one. For example, a 10 to 20% discount on a $3,000 e-bike saves $300 to $600. That's serious money.
Discounts on larger items (such as complete e-bikes) typically stay between 5 to 20%, but they can go up to 50%. Other products, such as apparel, gear, and accessories, are usually heavily discounted at 20 to 50%.
Therefore, you can save a significant amount of money if you do most of your cycling-related shopping in bulk around Black Friday and set yourself up for the rest of the year.
---
Best Black Friday E-Bike Deals
---
Rambo Hunting Bikes Black Friday Offer
Save up to $1,500!
Electric bicycles are becoming the go-to choice for hunters who want to reach remote hunting spots quickly, quietly, and easily. Rambo makes hunting-specific e-bikes with fat tires, suspension, powerful motors, a long-range, and some models even have 2WD. Get yours with up to $1,500 off this Black Friday!
Juiced Bikes Black Friday Sales
Save up to $900!
Juiced Bikes is offering up to $300 on in-stock bikes. So if you want one of the fastest e-bikes out there, with a super-long range, Juiced Bikes is your friend. Save on popular models such as RipRacer, Scrambler, and CrossCurrent.
Hurley Amped E-Bike —

$1,149.99

$498.94
Save 57%!
Hurley Amped is an affordable e-bike that doesn't have a lot of fancy features. Its straightforward design is perfect for those who want an efficient and cheap way to get from point A to point B. Ride around town in comfort, even at nighttime, thanks to a bright headlight. The single-speed drivetrain minimizes maintenance and is an excellent choice if you live in a flat(ish) area.
Lectric Bikes Black Friday Sale
Up to $300 OFF on eBikes + Up to $277 in FREE accessories!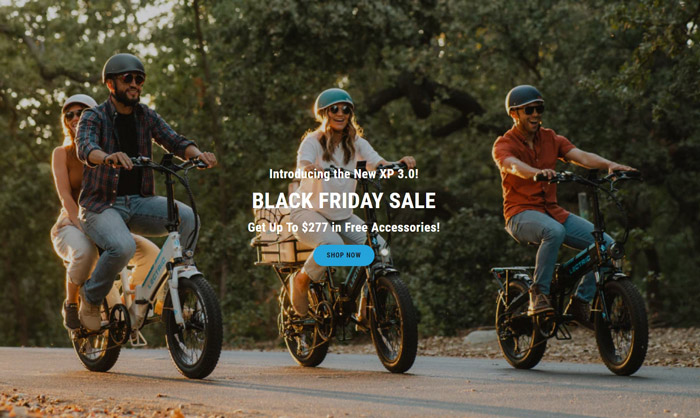 Nothing can beat a folding electric bike for urban commuting. Fold it and easily carry it up and down the stairs, in an elevator, fit it in your car's trunk, or take it on a train or a bus. When you unfold it, you get a powerful electric commuter that zips through busy city streets like a warm knife through butter.
Save up to $300 on Lectric eBikes and up to $277 in FREE accessories with this Black Friday deal.
Rad Power Bikes RadRover 6 Plus — $1,999 $1,299
Save $700!
Rad Power Bikes is a USA-Based company specializing in affordable e-bikes for everyone's pocket. This Black Friday, they're offering $700 off of RadRover 6 Plus, one of its most popular bikes.
Check out the other discounted models, such as RadMission and RadCity 4, which are among the brand's Black Friday bike deals.
Norco Charger HT VLT —

$3,999

$2,678.9
SAVE 33%
Norco is a well-known Canadian bike brand, and the Charger HT VLT is their mid-priced cross-country hardtail e-bike. This versatile eMTB would make the perfect companion for bikepacking trips or tackling fast, flowy singletrack.
Size Small is available at a 33% discount on JensonUSA.com as one of its Black Friday mountain bike deals.
Marin Sausalito E1 ST —

$2,499

$1,828.94
SAVE 27 %
Another excellent discount from Jenson USA's Black Friday bike deals is the Marin Sausalito E1 hybrid. This low-step electric bike blends MTB characteristics with the functionality of an urban commuter, perfect for riders who like to mix it up. Get the Sausalito E1 with over $670 off (27%), with size Medium and Large remaining.
Orbea Rise M20 — $7,399

$6,288.94

 
SAVE 15 %
The Orbea Rise M20 is an electric trail mountain bike with a carbon frame and premium Shimano components. This sleek machine makes it possible for any rider to conquer steep gradients and spend long days on the trails.
You'll find the Rise M20 with a 15% (over $1,100) discount at Jenson USA among the bikes for sale Black Friday 2022. It's available in sizes Medium to XL with three color choices. 
Stromer ST2 Sport — $5,699.99 $4,799.95
Save 16%
Stromer is a Swiss manufacturer of premium urban speed pedelecs with fully-equipped setups and unique GPS and Bluetooth connectivity. The ST2 is high-power, long-range model, perfect for riders who like to go fast.
Mike's Bikes has reduced the price of the Stromer ST2 by 16% ($900) for Black Friday 2022, with size Large still remaining!
Specialized Turbo Creo SL Comp — $6,999.99 $5,599.95
Save 20%
Another of the Black Friday bikes available on Mike's Bikes this year is the Specialized Turbo Creo SL Comp. This Specialized eRoad bike is one of the most advanced on the market and provides you with 240W of power so you can tackle any hill you encounter. 
The Turbo Creo SL comes with a 20% discount but is only available in size XXL, so act now before they're gone!
QuietKat Jeep — $6,799 
$5,299
Save $1,500
QuietKat's Jeep is one of the most capable electric mountain bikes out there, with a powerful 1000W motor and 4.8″ fat tires for tackling any terrain. You can save 22% ($1500) on the Jeep e-bike for Black Friday 2022. All three sizes and both color finishes are still available.
Ride1UP LMT'D —
 $1,595
Save $300
Ride1UP is another brand getting involved in the Black Friday deals on bikes with a 15% ($300) discount on the popular LMT'D urban e-bike. This sturdy commuter comes with high-power electronics and a cruiser-like feel, making it an excellent choice for a wide range of riders. 
You can take advantage of this eBike Black Friday deal on the step-through or step-over frames.
Velowave 750W Electric Fat Bike
17% OFF
The popular Amazon-based brand Velowave is offering 17% off its powerful Ranger 750W electric hardtail. This off-road eBike has a 50-mile range, 4″ Kenda fat tires, Shimano 7-speed gearing, and hydraulic disc brakes.
The Ranger is available in a black or white paint finish. Don't miss your opportunity to get it at a discount this Black Friday!
---
Best Black Friday Bike Deals on Gear, Components and Accessories
---
Allen Sports Deluxe Steel Child Trailer — 54% OFF
Get your children involved with your rides and help them enjoy the outdoors with the Allen Sports Deluxe Steel Child Trailer. Amazon is offering an impressive 54% discount to parents this Black Friday. This product supports up to two 50lb kids and has padded five-point safety harnesses to keep passengers safe and comfy.
Shimano GR7 Women's Bike Shoes — $140 $79.99
Save $60
Did you know that most electric mountain bikes are just as capable (if not more) as non-electric MTBs? If you want to rip trails and storm descents on your electric MTB, you should wear proper shoes, such as the Shimano GR7 model. It's specifically made for female riders and designed to ensure maximum grip, protection, and comfort. Get 42% ($60) off at Evo this Black Friday. But hurry, because only size 37 is left!
Saris SuperClamp EX 4-Bike — $999.99 $891.38
Save 11%
The Saris Superclamp EX is a US-made premium hitch rack for those who travel with their bikes regularly and want a sturdy, long-lasting rack. The Superclamp EX has broad compatibility and many extra features that make it a joy to use.
Jenson USA is offering 11% off as part of its Black Friday bike sales for 2022, so act quickly while stocks last!
Lazer Coyote MIPS — $109.99

$82.94
SAVE 25 %
Lazer is one of the cycling industry's most reputable helmet manufacturers, and the Coyote is one of the most affordable MIPS helmets on their lineup. MIPS is an impact-reduction technology and a great feature to look out for when upgrading your helmet.
Get the Lazer Coyote helmet at 25% off this Black Friday on Jenson USA, but don't hang around, as only small and medium sizes remain.
Garmin Instinct GPS Watch — $299.99 $249.95
SAVE 17 %
The Garmin Instinct is a GPS activity tracker reinforced to US military standards with shock, heat, and water resistance (to 100-meter depth). In addition, this impressive watch has a maximum battery of 14 days.
Take advantage of a 17% discount ($50 savings) from Mike's Bikes gear and bike Black Friday deals and choose between blue and graphite colors. 
Thule Helium Platform Bike Rack — $799.99 $511.77 
Save 36%
The Thule Helium platform rack holds two bikes and has a universal hitch adapter. The Helium isn't particularly heavy-duty but can hold up to 75lbs for two bikes and fits tires up to three inches wide.
You can get a whopping $289 off this premium rack at Mike's Bikes as part of their Black Friday deals on bikes and accessories. 
100% Renshaw Cycling Sunglasses — $110

$75.94

 
SAVE 31 %
The 100% Renshaw Sunglasses blend casual style with high-performance technology. These stylish glasses have grippy rubber nose pieces and hydrophobic and scratch-resistant lenses for clearer vision and durability.
The Matte Black Havana/Bronze-lens pair is on sale with 31% off for Black Friday this year, so take this opportunity to level up your eyewear game!
Bolle Messenger Helmet — $125

$29.03
SAVE 77 %
Bolle is a cycling and snowsports accessory brand with a line of helmets for commuters, mountain bikers, and road cyclists. The Messenger has a unique LED light system and convenient click-to-fit fitting.
Jenson USA is offering you the chance to get this helmet at a 77% discount ($96 off) this Black Friday, with only size Medium remaining. In addition, five other Bolle helmets are also discounted between 42 and 74%!
Giro Women's Chrono Pro Alpha Jacket — $275

$103.94

 
SAVE 62 %
Giro produces some of cycling's most advanced gear and accessories, and the women's Chrono Pro Alpha jacket is an example of high-performance sportswear at its best. This jacket is made with Polartec Alpha and Polartec Windbloc fabrics that are water-repelling, windproof, breathable, and fast-drying.
Get over $170 off this sleek winter cycling jacket on Jenson USA's Black Friday sale. Sizes Small, Large, and XL remain in stock.
---
Where Can I Find the Best Black Friday E-Bike Deals?
Like every year, we'll include the best e-bike and cycling-related Black Friday deals on this page. We'll update it regularly with new deals as they arrive in the biggest online stores.
If you want to hunt for something specific and do your own research, we recommend scrolling through these sites during November and December to stay up-to-date with the best deals:
NEW! QuietKat – you will receive either a Single-Wheel or Two-Wheel Trailor OR have the option to get 50% OFF an additional battery (Use promo code BFBATTERY)
NEW! Rambo – E-hunting bikes. Up to $1,000 off.
NEW! Lectric – Bundle all the way! Decent sales for XP 2.0 and Step-Thru.
Evo.com – Electric mountain bikes and all other cycling-related products with big Black Friday discounts.
CompetitiveCyclist.com – Premium Road and Gravel electric bicycles, gear, apparel, parts, accessories, and more.
JensonUSA.com – E-bikes, components, apparel, gear, accessories… Big Black Friday sales.
Amazon – All types and makes of electric bikes and other cycling-related products.
RadPowerBikes.com– Unique, practical, and affordable folding, cargo, city, fat and commuter made by a USA-based company.
---
How to Get a Good E-Bike Deal on Black Friday?
Black Friday is a fantastic time to purchase cycling items and save, but there are a few things to keep in mind to avoid disappointment.
You need patience and knowledge to get the best deals, so here are a few tips to keep in mind if you're approaching this period with a long shopping list.
Do your own research. Take whatever you find online with a grain of salt and do your own research. Look at reviews of items you want to buy before you go to the checkout to avoid unpleasant surprises.
Stay away from shady websites. Black Friday is the ideal time for scammers who try to trick people by offering tempting and often unrealistic deals. It's best to stick with well-known and reputable retailers.
If it's too good to be true, it probably is. In line with what we've said above, if a deal seems too good to be true (e.g., An 80–90% discount on a $4,000 e-bike), you're probably about to get scammed.
Avoid splurging. Avoid buying something that you don't need just because it's discounted. That's not saving money; that's spending money unnecessarily. Instead, create a list of things you need and stick to it.
Be patient but don't wait too long. Good things come to those who wait. But they can also disappear when it comes to discounts if you're too indecisive.
Should You Wait for Cyber Monday or Christmas?
Cyber Monday and Christmas deals follow right after Black Friday.
Specifically, Cyber Monday usually merges with Black Friday into a four-day shopping event with sales, discounts, bundles, and freebies. Therefore, it's unlikely that a discounted item on BF will get even cheaper on CM, meaning it's best to get it right away on Friday because it might be sold out by Monday.
As for Christmas, you can again expect some sweet deals and discounts throughout December, but we wouldn't wait for it and risk if the item you're planning to buy is already discounted on Black Friday.
Good luck with finding the best deals!