Choosing a women's electric bike can be a tricky ordeal. In addition to considering the usual factors like motor, battery, and range, you also need to think about female-friendly geometry and components.
Thankfully, there are dozens of options in all categories, but sifting through all of those choices to find the perfect one is where things get complicated.
That's why we've created this list of the 15 best women's electric bikes for different types of riders, uses, and budgets. It will help you narrow down the options and avoid making a costly mistake.
We've also written a detailed guide on what to look for when buying a women's e-bike, so you may want to scroll to the bottom of the article if you're new to electric bikes.
How Are Women's Bikes Different from Men's?
The differences between women's and men's bikes are minimal. Sometimes, the shape of the frame and the bike's geometry are slightly different, or parts such as the saddle and handlebars.
If you're shopping for a women's electric bike, there's no guarantee that a female-specific model is the right choice.
This is because all bodies are different, so the best bike for you is the one that fits your body. If you're a tall woman, you may be better off with a unisex bike.
For this reason, not many manufacturers produce women-specific electric bikes. Popular brands specializing in women's bikes include Liv Cycling and Juliana Bikes, while Scott has a women's range in addition to men's bikes.
Geometry-wise, women's e-bikes are usually shorter and have narrower handlebars because, on average, women have short torsos and long legs.
Electric bikes for women also have wider saddles because women tend to have wider hips and wider sit bones than men. However, the saddle is easily replaceable on any bike.
Therefore, while there's a high chance a women's electric bike will fit you well, you should consider your body geometry before making the final choice.
Popular Types of Women's Electric Bikes
---
Electric bikes come in all the types you can imagine so that women can choose from categories such as city and commuter, comfort and cruiser, mountain, cargo, folding, road, gravel, and so on.
Below, we'll describe the characteristics of the most popular types of e-bikes for women.
Women's Commuter and City Electric Bikes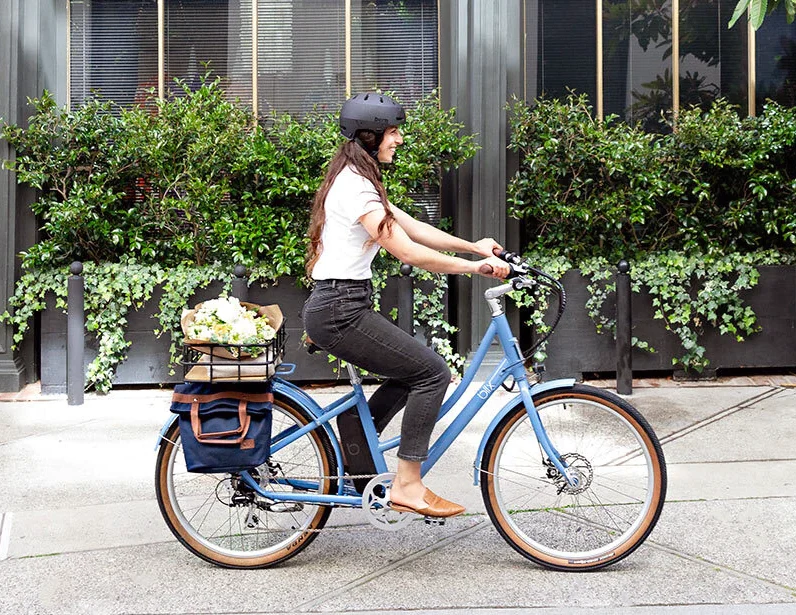 City/Commuter bikes are built for fast rides in urban conditions, efficient commutes to and from work or college, and practical applications such as grocery shopping.
If you're looking for a do-it-all bike that's reliable and well-equipped, one that you can use to navigate around a city and ride in different weather conditions, a city/commuter model is your best bet.
---
Related:
Best City Electric Bikes in 2023
18 Best Electric Commuter Bikes
---
Some of the key characteristics of these e-bikes include:
Comfortable upright seating position: City/commuter e-bikes put the rider in a relaxed upright seating position, as the saddle is typically at the same height as the handlebars or slightly lower. This means you will feel comfortable on longer rides, avoid pains and aches in your shoulders and hands, and have a good view of the road ahead.
Lots of practical accessories: This type is known for having numerous practical accessories, such as fenders, racks, lights, a kickstand, and a chain guard for year-round commutes, running errands, and family rides.
Powerful motor and solid range: City/commuter e-bikes typically have 500W-750W rear hub motors or high-torque mid-drive motors that make them fast and help them climb hills more easily. They also have medium to large batteries that provide ranges of around 40 miles per charge.
Throttle: Many commuter and city e-bikes come with a thumb or twist throttle that provides assistance independent of pedaling. This is great for getting a powerful push when climbing hills or starting to pedal from a stop.
Multiple gears: Cassettes with 7+ gears are quite common on city and commuter electric bikes, making it easier to pedal on different terrain and use the motor power more efficiently.
Multi-purpose tires: Not-too-wide and not-too-narrow multi-purpose tires are universal on these types of bikes. This means you can confidently ride on smooth bike paths, rough tarmac, and gravel roads.
Women's Comfort and Cruiser Electric Bikes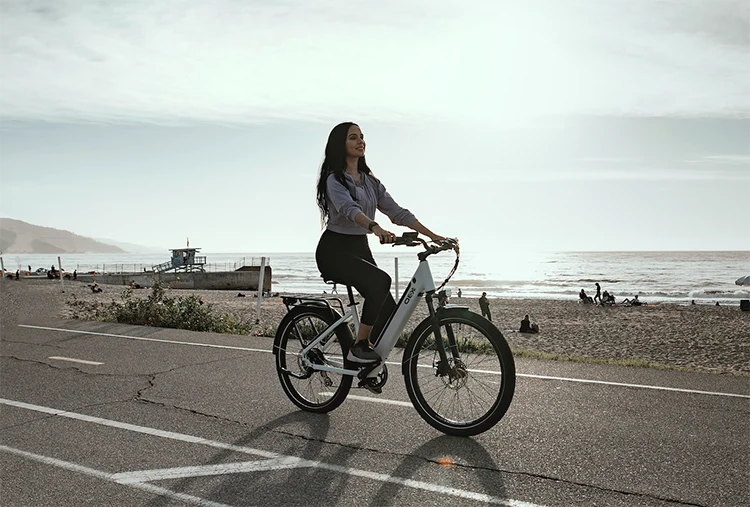 If your main reason for getting an electric bike is for leisurely riding on bike paths, on quiet streets in your neighborhood, and by the beach, a comfort/cruiser model is worth considering.
These bikes are built for comfort rather than speed and performance, so if you want to enjoy every ride without breaking a sweat, this is your best bet.
Related: Best Beach Cruiser Electric Bikes in 2023
Here are some of their main characteristics:
Laid-back riding position: Comfort and cruiser bikes have relaxed geometry with swept-back handlebars, similar to those on cruiser motorcycles. They also have wide padded saddles.
Medium-powered motors: These e-bikes offer less power and torque than commuter and city bikes and aren't as competent on hills. However, they provide enough assistance to make most rides easy.
Medium-capacity batteries: The batteries are also slightly smaller than on commuter e-bikes, so you can expect to cover fewer miles per charge.
Throttles: Some models have throttles, while others don't. If you want a relaxed ride without pedaling, look for a model with a throttle.
Wide tires: Most models have wide, high-volume tires that are great for comfort. They reduce vibrations and road chatter, creating a much more enjoyable ride.
Single-speed or geared drivetrains: Some models have single-speed drivetrains, whereas others come with gears. If you plan to ride on hilly terrain, choose one with gears.
Women's Electric Mountain Bikes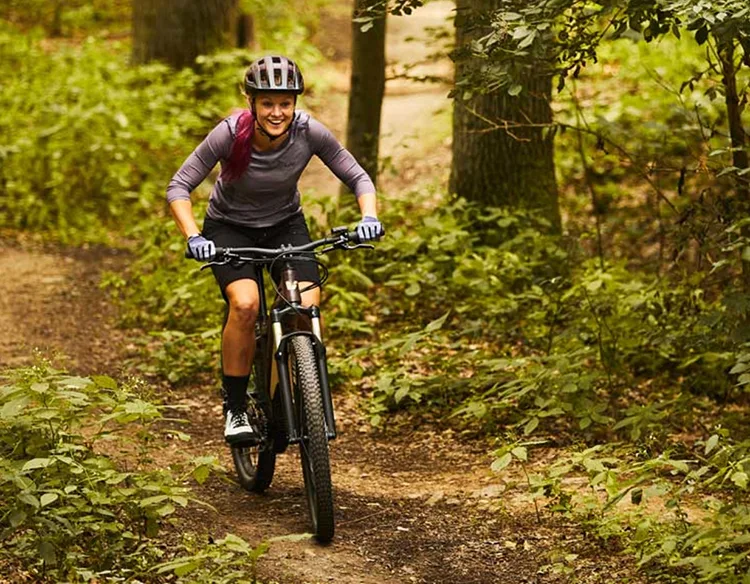 If you need a bike to explore, ride on rough gravel roads, or hit proper trails on the weekend, you should consider getting a women's e-MTB.
These e-bikes come with wide knobby tires, suspension, lots of gears, and powerful mid-drive motors with enough torque for conquering steep climbs.
Related: Best Electric Mountain Bikes in 2023
Here is what they're all about:
High-torque motors: Almost all serious women's e-MTBs have mid-drive motors that generate high torque. These pair with integrated high-capacity batteries. This combination is the best for climbing steep hills in rugged and muddy conditions.
Wide tires: To ride in rough conditions, your bike needs to have wide knobby tires for traction. Women's mountain bikes typically roll on 27.5″ or 29″ wheels with tires 2.2″ or wider.
Suspension: To help traverse off-road terrain, mountain bikes have front or dual suspension to provide comfort and stability.
Geared drivetrains: Most modern e-mountain bikes have 1x drivetrains with 9-12 gears on the cassette. Combined with mid-drive motors, these wide-range drivetrains allow you to climb steep hills, get the most torque out of the motor, and extend the battery's range.
Forward geometry: Mountain bikes have a more forward-leaning geometry that puts you in better control of the bike when riding on rough and technical terrain. However, this seating position is not the best choice for long rides as it may cause discomfort.
Women's Electric Cargo Bikes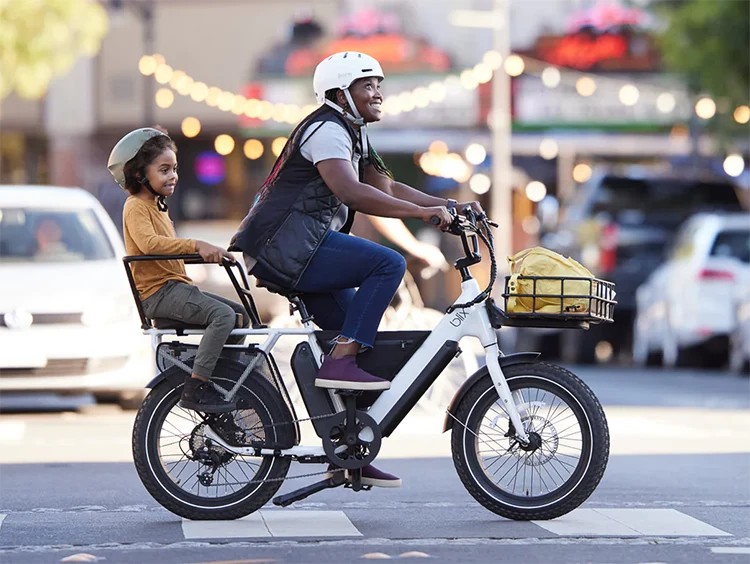 Electric cargo bikes are the workhorses of the e-bike industry. These capable machines are practical, cost-saving, and healthy alternatives to short-distance car journeys.
If you have heavy or bulky cargo to transport, a couple of kids to shuttle around town, or a big family to shop for, a cargo e-bike will make these jobs easier and save the headache of finding parking or sitting in traffic.
Related: Best Electric Cargo Bikes in 2023
These bikes share the following characteristics:
High payload capacity: Cargo e-bikes must safely support more weight than the average bike. Most models support 400 lb or more, including rider and cargo, and around 200 lb just on the rear rack.
Extra storage space: To carry more cargo, these bikes are typically longer than traditional bikes, with rear racks that can fit up to two child seats or bulky cargo. Some cargo models also have big front-loading boxes.
Low, stable design and wide tires: With up to 200 lb loaded onto a bike, it's essential to be stable. For this reason, these bikes usually have small-diameter wheels (20-24″) and a low center of gravity. These wheels are wrapped in tires from two to four inches in width to provide extra stability.
High power or torque: Carrying high loads requires more power or torque to overcome the resistance of the added weight. Most cargo e-bike motors have at least 60 Nm of torque, but heavy-duty models will have around 85 Nm.
Lots of accessories and compatibility: The best cargo e-bikes have preinstalled accessories or model-specific options for carrying different items and passengers. Ideally, these should be easy to install and switch between.
---
15 Best Women's Electric Bikes
| | | | | |
| --- | --- | --- | --- | --- |
| Bike | Motor Power/Torque | Battery/Range | Weight | Price |
| | | | | |
| Cannondale Adventure Neo Allroad EQ | 250W / 45Nm | 418Wh | 52.4lb | $1,825 |
| Lectric XP Step-Thru 3.0 | 500W / 55Nm | 500Wh | 64,71lb | $999 – $1,199 |
| Gazelle Medeo T9 City | 250W / 40Nm | 389Wh | 47.2lb | $2,500 |
| Liv Amiti-E+ 2 | 250W / 70Nm | 500Wh | 55lb | $3,450 |
| Blix Aveny Skyline | 500W | 614Wh | 56.5lb | $1,999 |
| | | | | |
| Electra Townie Go 5 | 250W / 50Nm | 400Wh | 55lb | $2,950 |
| Cannondale Treadwell Neo 2 | 250W / 40Nm | 252Wh | 38lb | $1,950 |
| Aventon Pace 500.3 | 500W | 614Wh | 52lb | $1,799 |
| Priority E-Classic Plus | 250W | 374Wh | 49lb | $1,699 |
| Mountain | | | | |
| Liv Tempt E+ 3 | 250W / 50Nm | 396Wh | N/A | $2,900 |
| Cannondale Moterra Neo 4 | 250W / 85Nm | 630Wh | 54.4lb | $4,000 |
| Orbea Wild H20 | 250W / 85Nm | 724Wh | N/A | $6,299 |
| Cargo | | | | |
| Tern HSD S | 250W / 65Nm | 482Wh | 58.7lb | $5,699 |
| Yuba FastRack | 250W / 60Nm | 504Wh | 76lb | $4,000 |
| Aventon Abound | 750W | 720Wh | 81lb | $2,199 |
Why You Can Trust Us
---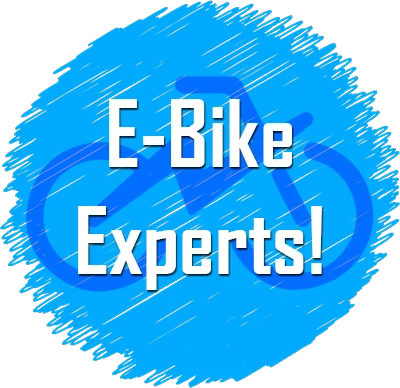 At the heart of what we do on this website is a passion for accurate and reliable information. We've invested countless hours researching the latest trends, technologies, and user reviews in the women's electric bike market.
Our selection process for these bikes was rigorous, focusing not only on popular brands but also on lesser-known gems that offer exceptional value. We chose these bikes based on criteria such as battery life, design aesthetics suitable for women, ease of use, and overall performance.
We also paid close attention to feedback from women who've used these bikes in their daily lives.
Our team comprises avid cyclists who have been following the e-bike evolution closely, ensuring we capture the essence of what's essential for women riders.
We prioritize safety, comfort, and efficiency in our evaluations and cross-reference manufacturer claims with real user feedback and expert analyses.
Our goal is to provide unbiased, clear, and comprehensive insights so that you can make an informed decision.
Women's Commuter and City Electric Bikes
---
1. Cannondale Adventure Neo Allroad EQ
Best value brand-name e-bike

Price: $1,825
Motor: 250W Bafang hub, 45Nm
Battery: 418Wh, 36V 11.6Ah
Range: 47 miles
Weight: 52.4lb
Cannondale's Adventure Neo Allroad EQ Step-Through is the brand's first foray into the sub-$2,000 e-bike category. With this model, Cannondale aims to compete with direct-to-consumer brands.
The Adventure Neo Allroad e-bike for women looks like a touring or trekking e-bike but falls short of this categorization due to its smaller 418Wh battery that returns 47 miles of range.
Where this bike excels is in its comfortable ride quality and versatility. It competes with models like Rad Power Bikes' RadCity 5 Plus, Aventon's Level.2 Step-Through, and Juiced's CrossCurrent Step-Through. All four are fully equipped for commuting and fall in the $1,500 to $2,000 price range.
The Adventure Neo Allroad lacks the power of these 750W and 500W alternatives, but the build kit is made up of brand-name or in-house components, which should be more reliable in the long term. Most notably, the Kenda Booster gravel tires and stable handling instill confidence on light off-road terrain.
Choose the Adventure Neo Allroad EQ if you need a versatile women's e-bike that excels in urban environments.
Buy from REI     Buy from Mike's Bikes
---
2. Lectric XP Step-Thru 3.0
Best e-bike for women with limited space at home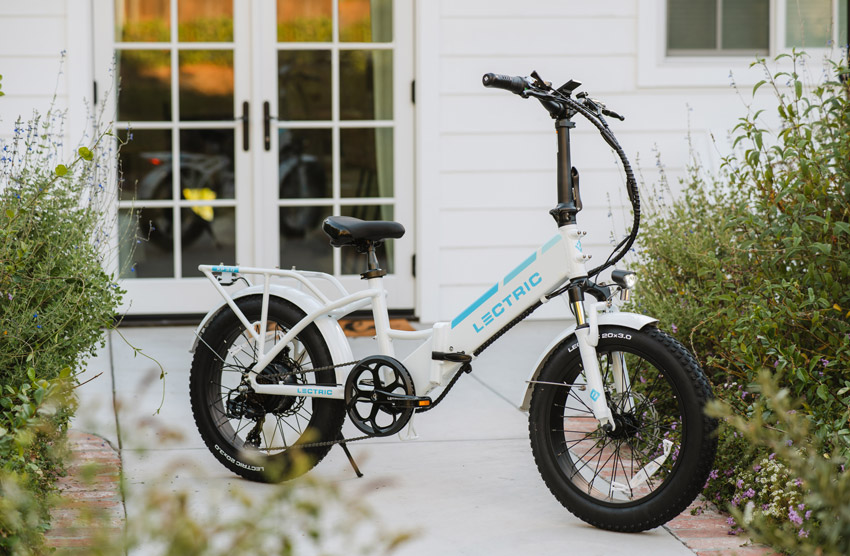 Price: $999 – $1,199
Motor: 500W hub, 55Nm
Battery: 500Wh, 48V 10.4Ah
Range: 45, 65 miles
Weight: 64, 71lb
The Lectric XP 3.0 Step-Thru is the latest iteration of the brand's flagship model, available in a single or dual-battery configuration.
This folding e-bike isn't the most striking or high-end, but it offers unmatched value. It's also one of the best e-bikes for short females as it has a 4'10" minimum height.
Folding alternatives like those from ENGWE are cheaper but much lower quality. The Rad Power Bikes RadExpand 5, Aventon Sinch.2, and Blix Vika+ Flex are more refined with marginally better components, but this comes at a significant price increase.
Impressively, this bike has hydraulic disc brakes and a Shimano drivetrain despite its low price. To illustrate, the more expensive RadExpand 5 has mechanical discs and a microSHIFT drivetrain.
If you need a folding e-bike with a high range, consider the XP 3.0 Step-Through. The dual-battery build has a solid max range of 65 miles, an impressive return for a bike priced at just $1,200.
---
3. Gazelle Medeo T9 City
Best women's electric bike for the city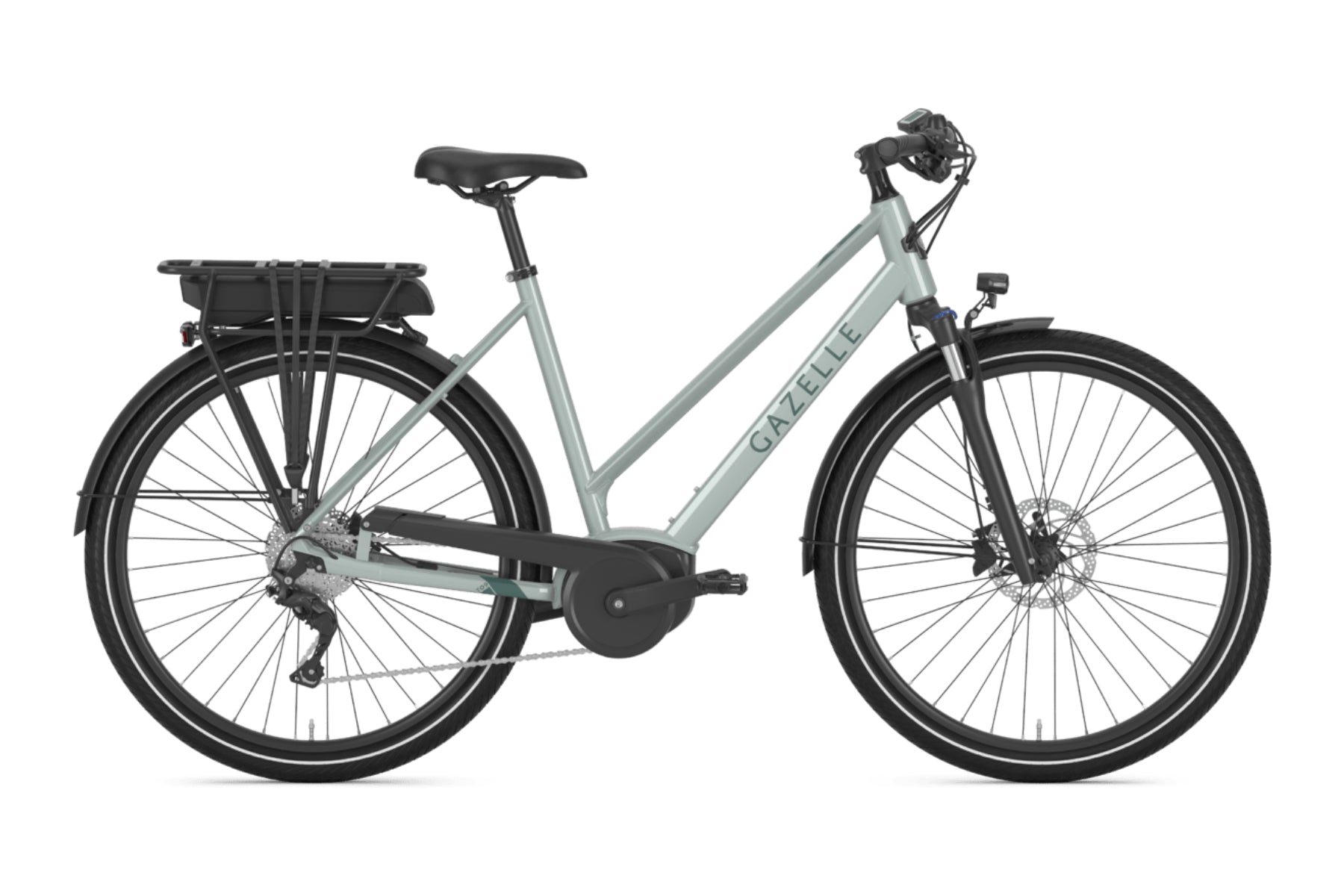 Price: $2,500
Motor: 250W Bosch Active Line, 40Nm
Battery: 389Wh, 36V 10.6Ah
Range: 65 miles
Weight: 47.2lb
Gazelle Bikes' Medeo family is aimed at active riders and commuters on a tighter budget, and the selection of small frame sizes makes it a great electric bike for women.
The Medeo T9 City is the most affordable on the brand's lineup. However, that doesn't mean it lacks quality. It has the same high-quality frame, attention to detail, brand-name components, and industry-leading warranties.
This pure urban e-bike competes with models like Blix's Aveny Skyline and Cannondale's Adventure Neo 4. The Medeo is fully equipped with commuter accessories and has a Shimano groupset, unlike the Adventure Neo 4.
It's also superior to the Aveny Skyline in almost every aspect, especially due to its Bosch mid-drive system. However, the Aveny has a throttle and a larger 500W motor, so it would provide a more relaxed ride.
Gazelle thinks carefully about each component, aiming to make its bikes as user-friendly and functional as possible, and the Medeo T9 City achieves this at an impressive price worthy of serious consideration.
---
4. Liv Amiti-E+ 2
Best for long-distance rides and touring

Price: $3,450
Motor: 250W Yamaha SyncDrive Sport, 70Nm
Battery: 500W, 36V 13.8Ah
Range: 133 miles
Weight: 55lb
Giant's sub-brand Liv specializes in women's electric bikes, and the Amiti-E+ 2 is their premium touring/trekking e-bike.
This is a fast, heavy-duty e-bike with the ability to handle mixed terrain, carry heavy loads, and reach over 130 miles on a single charge.
Its main competitors are Trek's Allant+ 7S and Cannondale's Tesoro Neo X 3 Remixte, all of which have very similar specs, weigh roughly 55lb, and boast broad functionality for urban and adventure riding.
Impressively, the Amiti-E+'s max range is 50 percent more than the Tesoro's, despite having the same 500Wh battery size. The Amiti is also the only one which is a dedicated e-bike for women. Trek's Allant+ 7 is capped at 20mph, whereas the other two reach Class 3 speeds.
If you're a female looking for a long-distance machine for adventure riding, commuting, or long touring trips, don't look past this capable machine.
---
5. Blix Aveny Skyline
Best e-bike for women who value style and practicality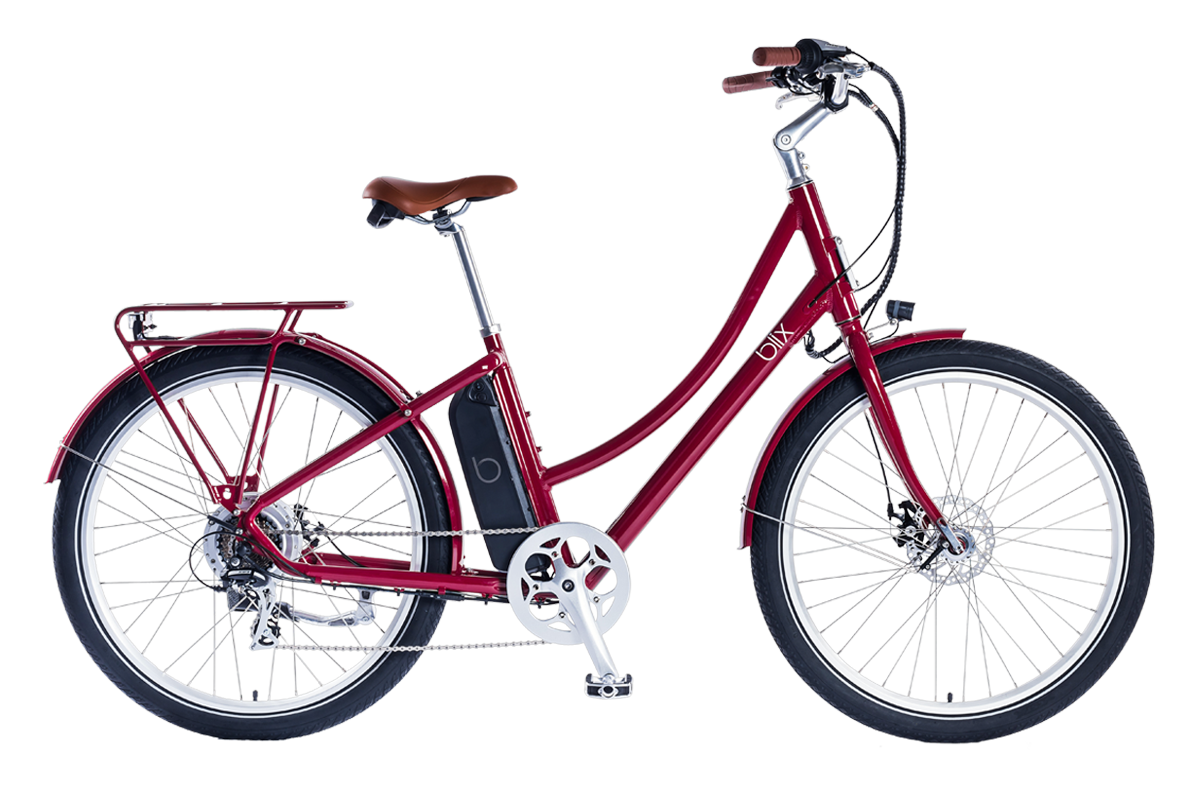 Price: $1,999
Motor: 500W hub,
Battery: 614Wh, 48V 12.8Ah
Range: 45 miles
Weight: 56.5lb
Blix's Aveny Skyline is a gorgeous Dutch-style e-bike. This bike blends looks, comfort, and practicality for urban living.
Blix Bikes equips it with all the essentials for your daily commute, including a rear rack, lights, and fenders. Additionally, it offers the option to add a front rack, perfect for commuting or running errands.
The Aveny Skyline's swept-back handlebars, 2.25″ balloon tires, steel fork, and comfy saddle ensure a smooth and enjoyable ride, even on uneven city streets and bike paths. A step-through frame makes it easy to mount and suitable for riders of all sizes and abilities.
Alternatives like Ride1UP's 700 Series and the RadCity 5 Plus by Rad Power Bikes are more affordable and powerful than the Aveny but don't offer the same clean aesthetics.
If you want a city e-bike that stands out without sacrificing practicality, add the Aveny Skyline to your shortlist.
Women's Comfort and Cruiser Electric Bikes
---
6. Electra Townie Go! 5i
Best for comfort cruising

Price: $2,950
Motor: 250W Bosch Active Line Plus mid-drive, 50Nm
Battery: 400Wh, 36V 11.1Ah
Range: 70 miles
Weight: 55lb
The Townie Go! 5i Electra women's bike is a premium electric beach cruiser with an approachable step-through design, five color options, and smooth Bosch electronics.
This model competes with bikes like the Electric Bike Company Model Y and Pedego Interceptor, both e-cruisers that cost close to $3,000.
The Townie Go! 5i outperforms both competitors thanks to its Bosch Active Line Plus motor and 400Wh battery that returns up to 70 miles of range.
A downside with mid-drive e-bikes like this is that you must pedal, as there is no throttle. In addition, they aren't as powerful as the 750W hub-drive bikes, and the max speed is capped at 20mph, although this isn't an issue for a leisurely cruiser e-bike.
The Townie Go! 5i also has a low-maintenance Shimano NEXUS 5-speed drivetrain, which makes it one of the best electric bikes for women who commute.
Overall, this is a pricey but well-specced electric bike for women who want pure comfort and all the bells and whistles for urban riding.
---
7. Cannondale Treadwell Neo 2
Best for simplicity and ease of use

Price: $1,950
Motor: 250W Hydrive MRC, 40Nm
Battery: 252W, 36V 7Ah
Range: 47 miles
Weight: 38lb
Women's electric bikes like the Cannondale Treadwell Neo 2 are ideal for active riders who want a streamlined, lightweight run-around without the extras.
The small 250W hub motor means you'll get minimal assistance on hills but enough to make rides more enjoyable. Then, the low weight and efficient tires make it possible to ride without assistance if you want to get exercise. For this reason, Cannondale brands the Treadwell Neo as an "electric fitness bike."
Other models like Trek's FX+ 2 ($2,499) and Aventon Soltera.2 Step-Through ($1,399) are similar lightweight alternatives, albeit at very different price points. The Treadwell and FX+ both have brand-name price premiums, which you pay for the assurance of buying from a big brand.
The Treadwell has a couple of disappointing components, given its price. Most notably, a basic 7-speed microSHIFT drivetrain and mechanical disc brakes.
It's possible to find many bikes with much better build kits at this price, so we only recommend choosing this Cannondale model if you want the guarantees that come with buying from a big-name brand.
---
8. Aventon Pace 500.3
Best for women who want a cheap yet smooth torque-sensing ride

Price: $1,799
Motor: 500W hub,
Battery: 614Wh, 48V 12.8Ah
Range: 60 miles
Weight: 52lb
Aventon's Pace 500.3 is the third iteration of their flagship e-cruiser. This e-bike balances affordability and performance in a comfort-optimized package.
Although it doesn't closely resemble the Townie Go! 5i beach cruiser, the Pace 500.3 is almost as comfortable, just with a more upright position for navigating busy city roads.
This e-bike competes with models like Blix's Sol Eclipse and Ride1UP's Cafe Cruiser. Of the three hub-drive bikes, the Cafe Cruiser is the only one with a set of commuter components (full lights, a rack, and fenders). However, the other two are compatible with these parts.
The Pace 500.3 stands out for its torque sensor, which provides a much smoother ride, as your power is matched instead of the motor providing power solely based on the pedals turning. Likewise, the max range of 60 miles is significantly higher than many bikes at this price point, including our two comparison bikes.
Add the Pace 500.3 to your shortlist if you want one of the smoothest-riding hub-drive e-bikes for women.
---
9. Priority E-Classic Plus
Best for style and practicality

Price: $1,699
Motor: 250W front hub,
Battery: 374Wh, 36V 10.4Ah
Range: 60 miles
Weight: 49lb
The Priority E-Classic Plus is a commuter e-bike for women 5'2″ and over. This model stands out for its belt drivetrain and hub gearing, making it a hassle-free choice.
The drivetrain comprises a Gates Carbon Sidetrack and Shimano NEXUS 3-speed hub, a solid, low-cost option. This setup needs little to no maintenance and runs grease-free, so your clothes won't get dirty.
Priority chose a small front hub motor for this bike, paired with a 374Wh integrated battery. With the motor up front, the handling is slightly slower, and traction loss can occur on wet or loose terrain.
Some competing belt-drive e-bikes include the Vvolt Alpha and Ride1UP Roadster V2. Both models are cheaper but have less range, single-speed gearing, and don't have fenders. However, they have more powerful rear hub motors (both 350W).
All things considered, the Priority E-Classic Plus is a solid electric bike for women who want a reliable commuter with the simplicity of a belt-drive system.
Women's Electric Mountain Bikes
---
10. Liv Tempt E+ 3
Best for cross-country riding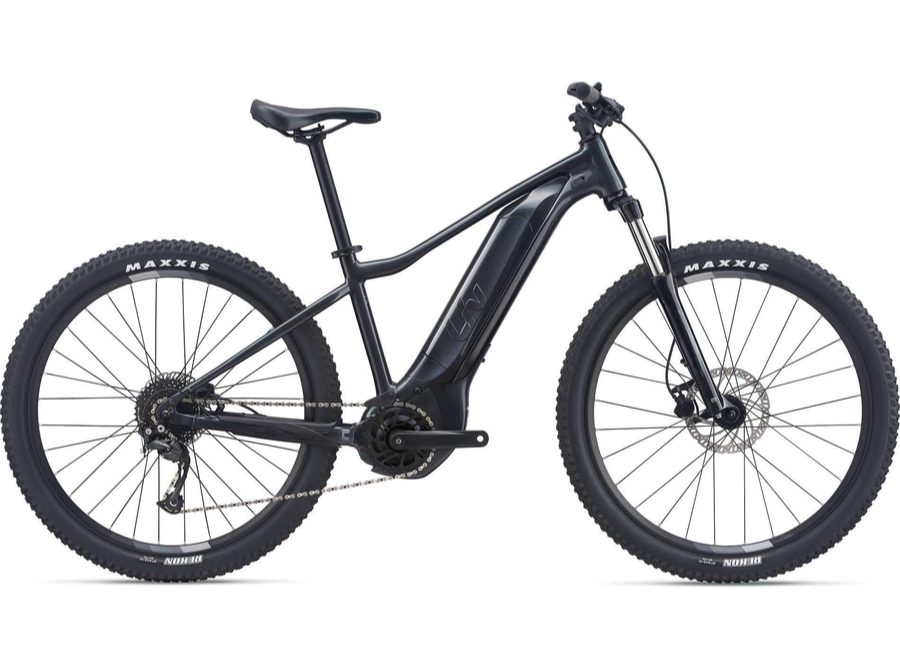 Price: $2,900
Motor: 250W Yamaha SyncDrive Core mid-drive, 50Nm
Battery: 396Wh, 36V 11Ah
Range: 62 miles
Weight: N/A
Liv's Tempt E+ 3 is a hardtail women's e-MTB designed for light off-roading with a basic Suntour XCM 100mm fork. As a Liv bike, the Tempt E+ is available in smaller sizes that use 27.5″ wheels to ensure a consistent ride quality for shorter women.
At almost $3,000, the capability of this e-bike is quite limited due to the low-end fork. Thankfully, the Maxxis Rekon tires provide solid performance. However, we recommend sticking to pavement, gravel, and very light mountain trails on this bike.
Some notable mid-drive hardtail competition includes the Orbea Keram 30 and Charge's XC, both of which have smaller sizes to fit women from 4'11" or 5′ and up.
These bikes use similar-spec Suntour coil forks and Bosch and Shimano electronics, compared to the Yamaha setup on the Tempt. However, the XC has more torque and a larger battery, and it comes with a full set of commuter components.
Consider the Liv Tempt E+ 3 if you want a simple hardtail designed for women.
---
11. Cannondale Moterra Neo 4
Best women's electric mountain bike for trail/enduro rides

Price: $4,000
Motor: 250W Shimano EP8, 85Nm
Battery: 630Wh, 36V 17.5Ah
Range: 60 miles
Weight: 54.4lb
Cannondale's Moterra Neo 4 is a mid-range women's electric mountain bike that straddles the trail and enduro categories with its 150mm of front and rear travel.
This comfortable and versatile e-MTB easily traverses a wide range of trails thanks to its ample travel and Maxxis Minion 2.6″ tires. Although it's a 29er, the small sizes have 27.5″ wheels, ideal for shorter female riders.
This category of e-MTB is increasingly popular, with competition like Orbea's Rise H20 and Marin's Alpine Trail E1 both with similar prices and suspension travel.
Of the three, the Moterra Neo 4 has the best motor, the lightweight Shimano EP8. However, it performs similarly to the EP6 used on the other bikes. The Orbea model has higher quality suspension and a better groupset, costing only $100 more than the full-price Moterra Neo.
Add the Cannondale Moterra Neo 4 if you want a highly capable e-MTB with progressive wheel sizing.
---
12. Orbea Wild H20
Best for pure enduro riding

Price: $6,299
Motor: 250W Bosch Performance Line CX, 85Nm
Battery: 724Wh, 36V 20.1Ah
Range: N/A
Weight: N/A
The 2023 version of the Orbea Wild is an impressive enduro machine, with the brand making big improvements to performance and weight over the previous iteration.
The H20 is the middle of three hydroformed aluminum models. Its impressive build kit and refined geometry and frameset give it comparable performance to Orbea's Rallon enduro bike.
The Wild H20 has a mix of RockShox and Fox 160mm suspension with performance enhanced by Orbea's Concentric Boost 2 pivot.
This bike is similar in price and spec to The Rocky Mountain Altitude Powerplay A30 and Scott Patron ST eRIDE 910. However, neither of these bikes has sizing for riders below 5'2″. Orbea's starts sizing at 4'11", making this a great electric bike for women.
Overall, this is about as high-end as aluminum e-MTBs get, but the impressive performance is matched by a considerable price.
Women's Electric Cargo Bikes
---
13. Tern HSD S+
Best high-end cargo e-bike for women

Price: $5,699
Motor: 250W Bosch Performance Line, 65Nm
Battery: 482Wh, 36V 13.4Ah
Range: 74 miles
Weight: 58.7lb
Tern's HSD S+ is one of the best women's electric bikes as it has a huge 400lb payload capacity but comes in a compact package with folding handlebars for neater storage.
Compact cargo e-bikes are the perfect light-duty choice for those who need most of the performance of a standard model but don't want to deal with the extra-long, cumbersome frame and maneuverability.
The HSD S+ is high-end, with premium Bosch electronics, an enviolo automatic-shifting hub, maintenance-free Gates Carbon belt drive, Thudbuster seatpost suspension, and puncture-resistant Schwalbe tires.
The closest bikes in price and design are the Yuba FastRack and Benno RemiDemi 9D Sport, but these bikes cost just $4,000 and $4,099, and understandably don't offer the same feature-rich performance.
Consider the Tern HSD S+ if you have a big budget and want the Rolls Royce of compact cargo e-bikes, one you can rely on day-in-day-out.
---
14. Yuba FastRack
Best electric bike for a short female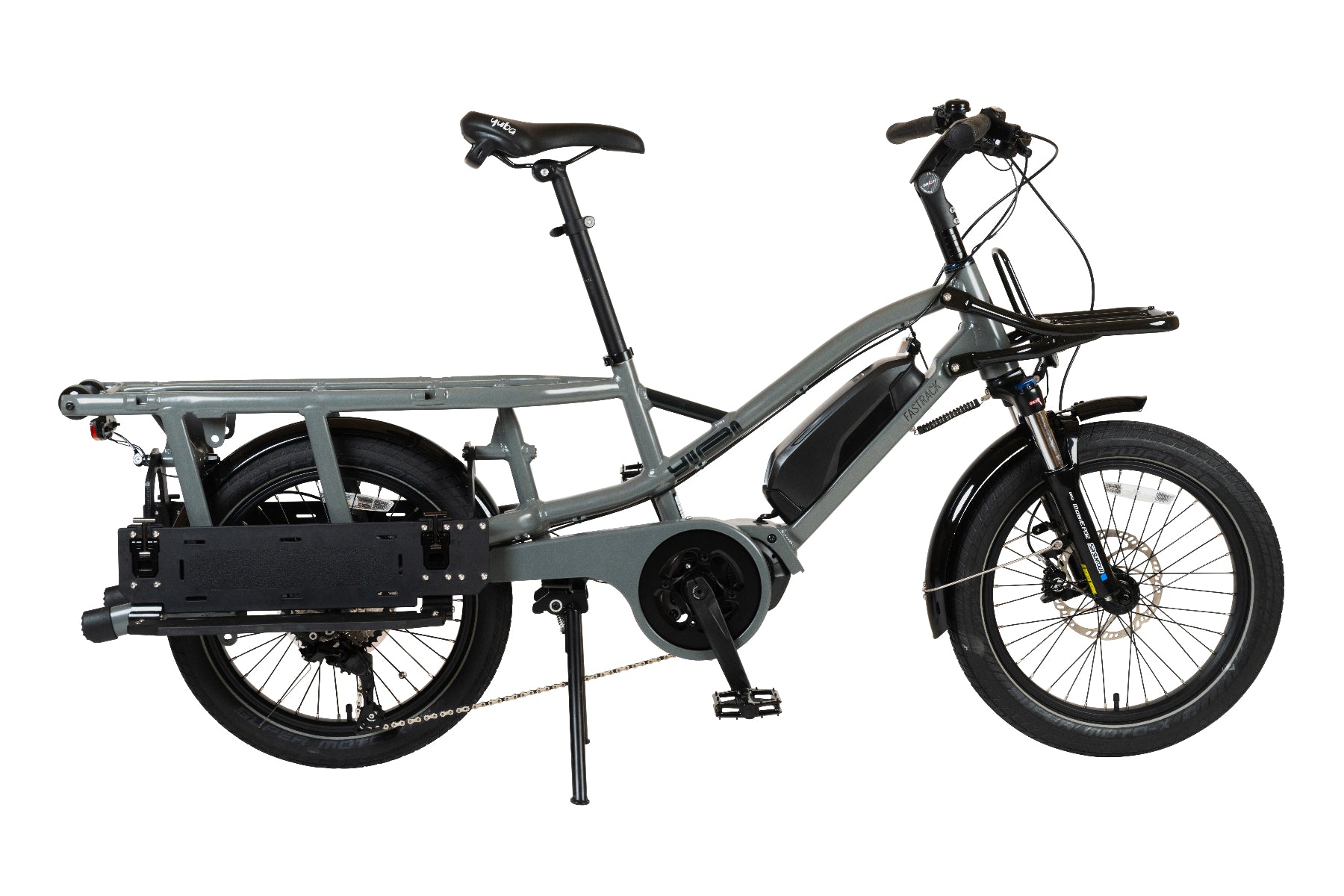 Price: $4,000
Motor: 250W Shimano STEPS E7000, 60Nm
Battery: 504Wh, 36V 14Ah
Range: ~60 miles
Weight: 76lb
The Yuba FastRack is part of the brand's compact cargo range, albeit less compact than competitors like the Benno RemiDemi 9D Sport and Tern HSD P9 Performance. It fits heights 4'9″ and up, making it the best e-bike for short females.
The FastRack has an impressive payload capacity of 440lb, including fitting two children on the rear rack. Yuba's unique DRS (Dual Rack System) allows you to configure the rack in four different ways on the go for carrying different types of cargo.
Another useful feature of this cargo e-bike is that it can be stored vertically to save space at home, thanks to the neat rubber legs on the rear.
Again, this model competes with the HSD P9 Performance and RemiDemi 9D Sport, both of which cost roughly the same, are lighter, and have slightly lower 400lb capacities with space for just one passenger on the rack.
The Yuba FastRack is undoubtedly the most feature-rich and capable option at this price, but it's worth considering the 56lb RemiDemi if you need a lighter bike.
---
15. Aventon Abound
Best entry-level electric cargo bike

Price: $2,199
Motor: 750W
Battery: 720Wh, 48V 15Ah
Range: 50 miles
Weight: 81lb
The entry-level e-bike market is flooded with cargo models, but Aventon's Abound stands out with its huge sizing range, torque-sensing hub motor, and integrated look.
The main competition for the Abound comes from the Rad Power Bikes RadWagon 4, Lectric XPedition, and Blix Packa Genie. All three bikes cost between $1,699 and $2,099.
Of the four, the Abound has the smoothest ride quality, thanks to its torque sensor, which measures rider input so the motor can provide proportional power in response. The Abound also has the cleanest design and features handy turn signals on the rear.
One downside of this bike is its limited range. The XPedition and Packa Genie come with dual-battery capacity and max ranges of 120 and 80 miles, respectively.
Consider the Aventon Abound if you want a smooth ride quality similar to a mid-drive cargo e-bike, without the huge price tag.
How to Choose a Women's Electric Bike
---
Choosing a women's electric bike requires a couple of female-specific considerations, but, in general, it's the same process for both sexes.
Before you start, measure your height and inseam length so you can use the manufacturer's sizing guidelines. Alternatively, visit your local bike shop for advice and test riding.
Type of Bike and Geometry
The first step in the process involves picking the style of bike. This is based on the riding you do and the demands you have for the bike. There is an electric version of each traditional bike type. For example, there are specialist e-bikes, like road, mountain, and gravel, and generalist urban-centric models, such as commuter, utility, and fat-tire e-bikes.
Each bike style has its own distinct geometry, which contributes to its specialist or generalist nature. Drop-bar road bikes have aggressive geometry that isn't the most comfortable for day-to-day riding but is unbeatable for efficiency over long rides of 40 miles and above.
In contrast, Dutch-style city e-bikes are very comfortable for short to medium-distance rides, and the upright position gives you better vision in busy urban environments. Look for a bike with the geometry that suits your preferences and abilities.
Another important aspect of geometry is fit. Bike models are all different shapes and sizes, so you must choose one that fits your body. This is easy with generalist models, which have broad sizing ranges. However, specialist bikes require more careful consideration of sizing, as a poor fit can result in strains and discomfort. If necessary, test-ride some bikes at your local bike shop to see what feels good.
Price Point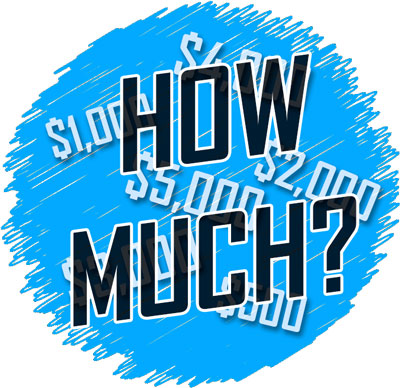 Your budget has a huge impact on the type and standard of bike available to you.
If you're working with a tight budget, you will be best served by a direct-to-consumer brand (Rad Power Bikes, Aventon, Blix) that sells e-bikes at lower prices than big-name companies like Trek, Cannondale, and Gazelle.
Performance e-bikes are more expensive. For example, e-road and e-MTBs are start at around $3,000. In contrast, you can get a commuter e-bike for as little as $500, although we recommend spending at least $1,000.
Set your budget and use our 'best of' articles to find bikes of a specific style at or below that price point. Finally, allocate some of your budget toward safety equipment and gear.
Motor Type and Placement
Electric bikes are powered by motors that drive the bike from the center of the front or rear wheel (hub) or the middle at the bottom bracket (mid-drive).
In the US, hub motors are slightly more common because they're cheaper. There are two types of hub motors: direct-drive and geared, but direct-drives are almost obsolete because geared hub motors are smaller, lighter, and more efficient.
Rear hubs are the most common position because they offer superior ride characteristics to front hubs, including better traction and control, especially on slippery or steep terrain, as the weight is towards the rear.
Mid-drive motors are mounted centrally on the bike, between the pedals. This central placement provides better weight distribution.
Mid-drive motors are much more efficient and smoother to ride than hub drives, especially on hills or rough terrain, as they take advantage of the bike's gears as a rider would on a standard bike, and they provide a proportional amount of assistance based on rider input. This reduces wasted power and allows the motor to work at an optimal RPM, extending the battery life.
As these motors connect directly to the drivetrain, they increase the wear rate of these components, potentially increasing maintenance costs. In addition, they are more costly at the outset.
Whether you choose a hub or mid-drive motor will depend on your budget, riding style, and the terrain you encounter on a daily basis.
Hub motors typically come with throttles and require minimal rider input to get maximum power output, so they are ideal for those who want an easy ride. This method is usually more clunky and doesn't feel like riding a traditional bike.
On the other hand, mid-drives require rider input, and the motor provides a proportional amount of power based on the assistance level, such as 100%, 180%, or 260% of your input. This results in a more natural, smooth ride quality and better hill climbing ability. However, you must use the correct gears to get the most from the motor.
A hub motor is perfect if you ride mostly on flat terrain and don't have a big budget. But a mid-drive motor is probably worth the extra investment if you have a decent budget and plan to tackle hills or off-road trails.
As always, test-ride a bike with each type of motor before making a decision.
Battery and Range
Battery size and average range are two of the most important considerations when choosing an e-bike.
The total stored energy in a battery is measured in Watt-hours (Wh). Higher capacity means more energy is stored, which can power the bike for longer. However, the actual range you get varies based on several factors, some of which include:
Level of assistance/average speed: Most e-bikes have different levels of pedal assistance. The more you use and the higher your average speed, the more power the motor draws from the battery.
Terrain and elevation: Riding routes with a lot of elevation gain or on rough or soft terrains requires more energy than on flat or smooth surfaces.
Weight: The combined weight of the rider, the bike, and any additional load affects range. The more weight the motor has to move, the more energy it uses.
Weather: Cold temperatures temporarily lower the battery's max capacity, leading to a shorter range. Likewise, hot weather leads to faster usage of energy. Fighting headwinds adds resistance much like elevation or soft terrain, meaning the motor must work harder to maintain the same speed.
Another consideration is battery charge time, which varies from two to over nine hours, depending on the Amp-hour (Ah) rating and the charger's Ampere output. The battery Ah rating divided by the charger Amps will give you a full charge time estimate (14Ah/2A=7 hours).
When choosing an e-bike, consider your typical riding distance and terrain. If you plan to use the bike for long commutes or extended rides, you may need a bike with a larger battery and longer range. Always check the manufacturer's information on battery capacity, estimated range, charging time, and lifecycle.
E-Bike Class and Type of Assistance (Throttle vs. Pedal Assist)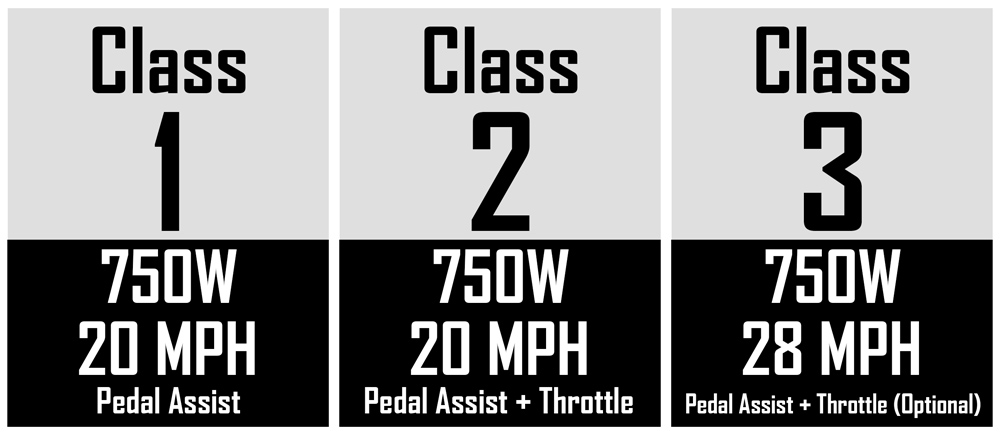 E-bikes are categorized into three classes based on their top speed and the type of assistance they offer: pedal assist only or both throttle and pedal assist. Again, if you like a relaxed ride reminiscent of a scooter or moped, try a bike with a throttle. The three classes are as follows:
Class 1: Pedal assist only, max speed of 20mph.
Class 2: Pedal assist and throttle, max speed of 20mph for both.
Class 3: Pedal assist only, max speed of 28mph.
Many e-bikes have a throttle and can be programmed to a max speed of 28mph on pedal assistance, which evades categorization and may cause issues if the police stop you. Choose an e-bike that suits your speed preferences and local regulations.
Components and Accessories
The rest of the build kit, components, and accessories of an e-bike are just as important as the motor and battery. Many of the components are determined by the style and price of the bike, but some manufacturers will cut costs in key areas, so you should look out for this.
All electric bikes should have mechanical or hydraulic disc brakes, but preferably hydraulic discs. These are the most powerful, easy to modulate (control), and reliable, especially in adverse weather conditions. The benefit of mechanical discs is that they're easier to maintain and cheaper.
The heavier and faster a bike is, the more important stopping power becomes. Larger brake rotors (180mm+) should be specced on all heavy Class 3 e-bikes.
The drivetrain and gear range are worth considering unless you ride in a flat area. With a wide range of gears, you can pedal more easily on hills and increase the battery range. However, more gears also mean more maintenance and weight, so a single-speed drivetrain can suffice for flat rides around urban environments.
Some models, like the Tern HSD S+ and Priority E-Classic Plus, use belt drives with or without internal gear hubs, which are grease-free, protected from dirt, and require almost no maintenance.
E-bikes can be without suspension (rigid), have front suspension (hardtail), or full suspension (front and rear). Some urban models also have seatpost suspension. These components help absorb shocks and bumps, providing a smoother, more controlled, and more comfortable ride.
Suspension is most common on off-road MTBs, but many urban and hybrid models use fork or seatpost suspension for extra comfort on rough city streets. Wide, high-volume tires 2″ and above also provide good shock absorption.
Accessories add functionality and comfort and increase the safety of your e-bike. For example, lights are essential for visibility, while fenders protect you from road or trail spray in wet conditions. A rack and basket or panniers help you carry cargo for commuting or running errands. You can also add mirrors or a phone mount for safety and convenience.
Some e-bikes have more advanced accessories and features like anti-theft systems, GPS tracking, and companion app connectivity. Direct-to-consumer brands usually offer a range of accessories on their online stores designed specifically for each model. Alternatively, check out retailers like REI or Jenson USA for accessories from major brands.
Frequently Asked Questions About Women's E-Bikes
---

1. What is the lightest women's electric bike?
The lightest women's electric bike that we've reviewed for this article is the Cannondale Treadwell Neo 2 at just 38lb. However, this model doesn't come with any extra accessories and has a small motor and battery. The Gazelle Medeo T9 City is fully equipped and weighs 47lb.
2. What should I look for in a ladies' electric bike?
Once you choose the type of bike you want and set a budget, the most important thing to consider about a specific ladies' electric bike is if the size range is adequate. Then, examine the components and accessories to see if they meet your needs and preferences.
3. Are e-bikes gender-neutral?
Most e-bikes are gender-neutral or unisex. However, some model lines are only available in one size, with limited lower-end sizing, eliminating a huge percentage of the female population. If the sizing is okay for your body, the other components are just down to preference, not gender specific.
4. Can a man ride a ladies' bike?
Yes, a man can ride a ladies' bike. Most bikes are unisex, so once the bike fits, it can be ridden by men or women. Men can also ride electric bikes for women from brands like Liv or Julian (if they fit).
5. Why are women's bike seats bigger?
Women's bike seats are bigger because they have, on average, wider hips and sit bones. In the case of road or mountain bike saddles, the wider saddle allows the sit bones to rest on the seat to avoid putting excess pressure on the soft parts of the undercarriage.