With the cost of fuel rising and our planet on the brink of a recession, now more than ever, electric bikes are the answer. Step-through electric bikes offer great levels of comfort which have transformed the biking world and disability is no longer an inability to ride.
Step-through e-bikes make it easier to hop on and off by excluding the top bar, making for both a fashionable and practical design. What was once a tiring sweaty affair, has turned into a relaxing and stress-free task.  As the name suggests, riders step through the bicycle rather than having to lift their leg over it. However, because of the build, there is less space for mounting extras such as luggage onto the bike frame. Most of the best women's electric bikes are also step-through bikes. 
Specialists have recommended four main points to consider before purchasing an E-bike. 
Battery Type: This dictates how many miles of fun riding one can get out of the bike and how much of a hassle it can be to charge it up.  
Power Output: The power produced by the motor determines the torque and speed. 
Load Limit: This is the maximum load the E-bike can take.
E-Bike Type: Class 1, Class 2, or Class 3
---
Best Step-Through E-Bikes in 2023
---
1. Trek Dual Sport+ 2 Stagger
Price:

$2,400

Motor:

40 Nm rear hub drive

Battery:

250W (optional range extender)

Range:

35 Miles (extendable to 70 miles)

Drivetrain: Shimano Altus 9-speed
Dual Sport+ 2 is one of Trek's best-selling and most-affordable class 1 hybrid e-bikes that provides good value for the money, even though some corners had to be cut to keep the price low.
It's powered by a 40 Nm Hyena G2 rear hub motor that's not super well known, but user reviews tell us that it performs surprisingly well. It's complemented by a 250Wh battery, so you can expect around 35 miles of pedal assistance.
Of course, the Trek Dual Sport+ 2 has a step-through frame and weighs just 40 lb. It rolls on fast, multi-purpose 650 x 50c tires, so you can ride it around town, or hit some gravel. That's where its name comes from.
It's also equipped with a Shimano Altus 9-speed rear derailleur that's reliable and precise, but it would be better to see Alivio at this price point. On the other hand, the Shimano MT200 hydraulic brakes are more than satisfactory.
So if you want a comfortable, multi-purpose hybrid step-through ebike with integrated lights and decent components, you can't go wrong with Trek Dual Sport+ 2 Stagger.
---
2. Ride1UP 700 Series
Price:

$1,695

Motor:

750W Geared Hub Bafang

Battery:

48V 15Ah

Range:

30 – 50 Miles (48-80km)

Drivetrain: Shimano Acera 8-speed
The Ride1UP 700 Series Step-Through bike is an excellent reason to give the car a rest and enjoy some fresh air cycling around town. Ideal for riders with a height range between 5'-6'2", it's one of the best electric step-through bikes for city commuting or weekend excursions.
Equipped with a Bafang Brushless motor and disc brake mount, Ride1UP's 700 Series is a powerful Class 3 Electric bike with a step-thru frame and top pedal assist speed of 28mph (45km/h) and 20mph (32km/h) on the throttle. It's an outstanding bike to take on a light tour or long haul thanks to the 50kg carrying capacity on the rear, perfect for two large pannier bags.
The 700 Series comes with a 100mm travel suspension and all-weather tires, giving it the edge needed to grind some treacherous trails. To finish off this list of quality components, Ride1UP has opted for a concealed Retention Rhino Samsung 15Ah cell battery, known to perform very well in most conditions.
---
3. Juiced RipRacer
Price:

$1,299

Motor:

750 Watts

Battery:

RipRacer 52V 10Ah or 15Ah

Range:

55+ Miles (88km)

Drivetrain:

RipRacer Motorhub
The Juiced RipRacer starting at $999.00 is one of the most affordable and attractive step-through E-Bikes available on the market. RipRacer's fat electric bike tires make it not only look trendy but allow riders to rip through hard trails with no problems while adding to the ride's comfort. 
The RipRacer's available in either class 2 or 3, giving cyclists a range of between 35 and 55 miles and speeds of up to 28mph (45km/h). Juiced has designed this to be their most size-inclusive bike yet, fitting riders 5' – 6'3" comfortably. Also, components such as hydraulic brakes, Cadence Pedal Assist Technology, and integrated brake lights, add to the many reasons this RipRacer is outstanding.
However, only the Class-3 model comes with an advanced LCD display, while the others have a button to select between the 5 levels of assisted riding. 
---
4. Aventon Level.2
Price:

$1,799

Motor:

750W Peak Performance

Battery:

Removable Internal Lithium-ion 48V, 14Ah (672Wh)

Range: 60 Miles (97km)
Drivetrain: 8-speed
The Aventon Level.2 is a reasonably priced step-through commuter e-Bike loaded with a 5-level assist system for a relaxing ride. Although the top speed is capped at 20mph (32km/h), you have the option to derestrict it up to 28mph(45km/h) – depending on regulations.
Aventon has rated it to be IPX4 water-resistant standard, intended for gentle rain and wet roads, however, it's recommended not to expose it to damp conditions.
The Aventon Level.2 Step-Through commuter e-bike is designed with the average rider in mind for ease of use and is built to cater to a range of needs, from work commutes to light gravel riding, Aventon has thought of it all. The Coil Spring Suspension, Thru-axle, and 65mm travel with lockout add superior levels of comfort along bumpy trails. 
This Aventon step-through electric bike has a smart app that synchronizes to the Level.2, which is useful for tracking performance and also features rewards to motivate riders.
---
5. Cannondale Treadwell Neo 2 Remixte
Price:

$1,925

Motor:

Hydrive MRC-250 250W

Battery:

250 Watt Hours

Range: 47 Miles (75km)
Drivetrain: microSHIFT 7-speed
The Cannondale Treadwell Neo 2 Remixte is a lightweight ebike that gets around places swiftly. It enjoys speeds of up to 20mph (32km/h) on pedal assist and can cover over 40 miles (64km) before you need to worry about recharging the bike. 
The Treadwell Neo 2 Remixte is suited for cyclists who prefer an upright handlebar with a balanced riding position. Cannondale has gone for concealed cabling and battery for a neat look and has added Urban Armor bumpers to protect the frame from dents. However, this may make battery replacements a tedious task, unlike some ebikes that are easier to deal with. 
This step-through electric bike is available in S/M or M/L and caters to riders between 4'11" – 6'0" (125cm – 182cm). The Tektro flat-mount mechanical 160mm disc brakes are powerful enough to bring the bike to a halt in good time, but the lack of suspension is noticeable on rough roads.
---
6. Huffy Montview
Price:

$1,599

 $579
Motor: 350W rear hub motor

Battery: 36V
Range: 25

 Miles

Drivetrain: Single-speed
The Huffy Montview is a versatile urban e-bike with entry-level components and a simple user-friendly design. This bike is intended for commuting in comfort due to the fact that its 700c wheels, upright geometry, and city tires create a comfy ride quality.

Huffy constructed the Montview step-through e-bike from lightweight aluminum. The semi-integrated wiring adds to the neatness, while the exposed battery makes replacement and charging easier. To top it off, its 350W rear hub motor offers pedal assistance and throttle up to 20 mph. 
The choice of a single-speed drivetrain is great for maintenance but limits climbing ability, so Huffy Montview is best used in areas with flat terrain. 
Finally, Huffy offers this ebike in one frame size but doesn't provide any info on recommended rider heights, so it's best to contact them for more information before purchasing.

---
7. Blix Aveny Skyline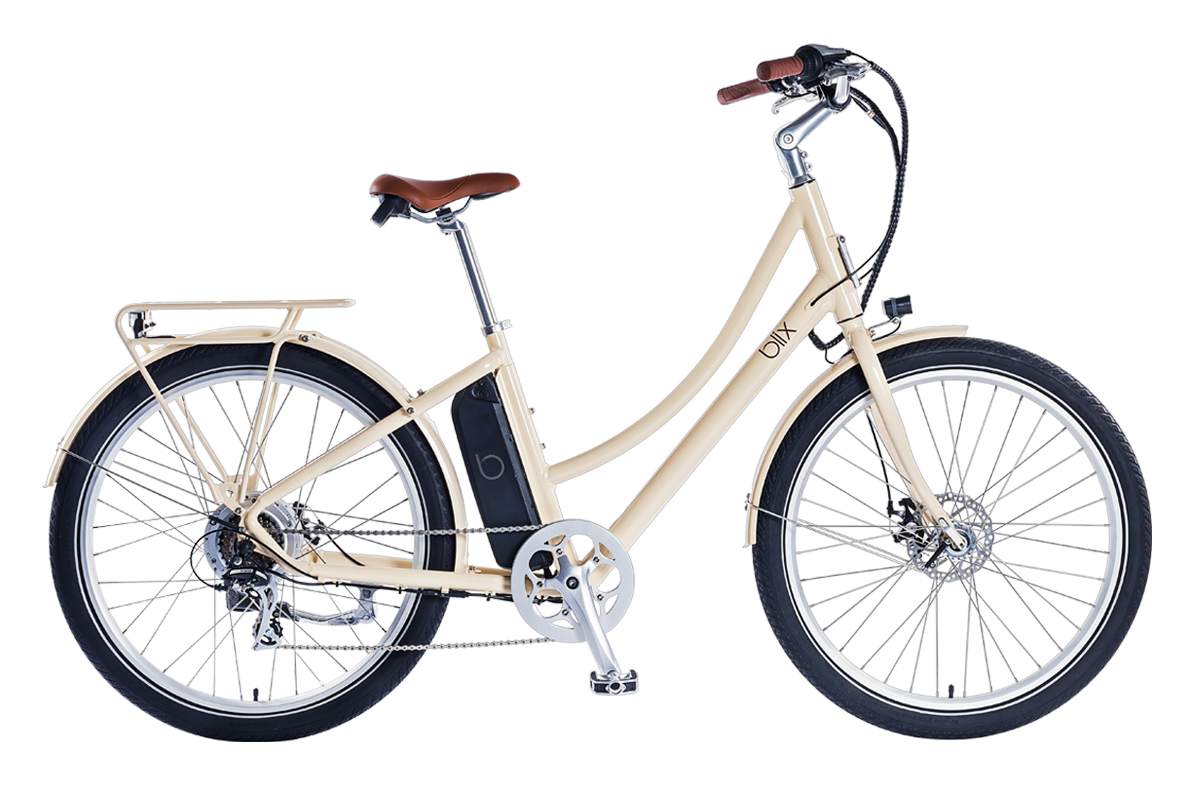 Price:

$1,999

Motor: 500W hub

Battery: 614Wh
Range: 45 miles

Drivetrain: Shimano Acera 7-speed
The Aveny Skyline bike is a step-through electric bike from Blix, a bicycle manufacturer that specializes in affordable and customizable e-bikes.

Blix fit the Aveny Skyline model with a rigid fork, comfortable saddle, and wide 2.25″ tires that will soak up any bumps on the road. Combined with a lightweight aluminum frame, this makes it one of the best step-thru e-bikes for urban riding. 
A seat-tube-mounted battery on the Aveny Skyline is easily removable for charging and can also be charged while still on the bike. In addition, you get mechanical or hydraulic brakes (Burgundy version) and a full set of commuter components.

---
8. Gazelle Ultimate C380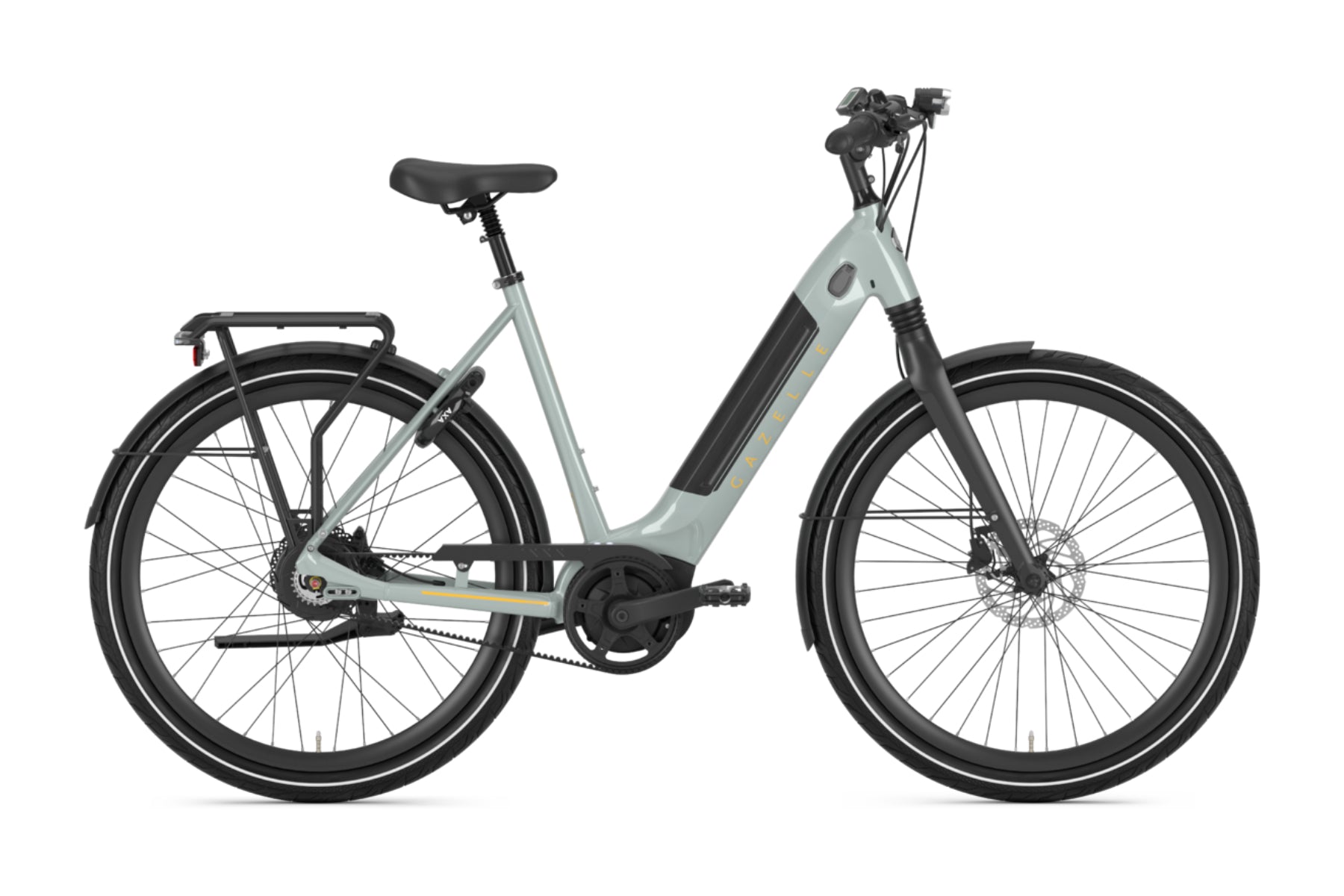 Price:

$4,250

Motor:

Bosch Performance Line 65 Nm

Battery:

Bosch 500 Watt Hours

Range:

70 miles on Eco Mode (112km)

Drivetrain:

Enviolo Trekking Manual stepless gear system
The Gazelle Ultimate C380 offers a modern twist to Step Through E-Bikes with a mixture of Shimano and Bosch components. The sporty-looking bike is built for daily commuting and is quite eye-catching with its fully-concealed battery.
Gazelle Bikes further improved this impressive design and build quality with the inclusion of an Enviolo Trekking Manual stepless gear system. 
Without a doubt, the combination of the belt-driven drivetrain and an electric motor makes it one of the best steps through E-bikes on the market. Depending on the mode selected, you can enjoy between 25 and 70 miles (40-112km) of assisted riding. 
The Ultimate C380 is available in either small or medium sizes in a shade of light green or blue. Being a Class-1 step-through electric bike, the max speed assistance goes up to 20mph (32km/h), with rapid stopping power thanks to 4-piston Shimano disc brakes.
---
9. Electra Vale Go! 9D EQ
Price:

$3,750

Motor:

Bosch Performance Line Sport 250 watts

Battery:

Bosch Powertube 500 Watt Hours

Range:

70+ Miles on Eco Mode (112 km)

Drivetrain: Shimano Alivio
The Electra Vale Go! 9D EQ Step through class-3 E-Bike is a trendy commuter bike available in one size to suit a variety of riders. Step-through bikes offer you the ease of hopping on and off and the design on this Vale Go! has even more space compared to its competition. With the smooth finish of a fully integrated battery, you get an elegant look suited to the executive rider.   
Class 3 e-Bike regulations allow Electra to provide a top-assisted speed of up to 28mph (45km/h) on the Vale Go. Thanks to the Bosch Kiox display, you can connect the bike to your phone via Bluetooth for on-the-go cycling information – something you'll find very useful.
Go! for a weekend adventure on the Electra with ease, because of the patented Flat Foot Technology that offers unparalleled comfort and control. The alloy suspension post-27.2×400 mm with a 40mm travel is a handy addition to the Vale Go! 9D EQ.
---
10. Rad Power Bikes RadRover 6 Plus
Price:

$1,399

Motor: 750W Brushless Geared Hub Motor
Battery:

589-672 Wh

Range:

25 – 45 Miles (40-72km)

Drivetrain: RadPower 7-speed
The RadRover 6 Plus is a fat-tire step-through electric bike from the versatile bike manufacturer, Rad Power Bikes. They certainly produce some 'rad' bikes that appeal to a variety of bikers of varying heights. The RadRover 6 Plus is a comfortable beastly bike with a 30" inseam and can carry up to 125 kg of weight.  
You can customize it with an All-Terrain Adventure kit to mount your belongings on long hauls and amplify the experience. The intelligent 5-level pedal assist with a 12-magnet cadence sensor allows cyclists to enjoy a range of different ride types depending on their mood, whether it's a leisurely cruise or a quick ride. 
Rad Power Bikes has opted to equip this step-through electric bike with a semi-integrated battery which may not give the best look but is a very practical design as it pops in and out and has a 10 LED display monitor.
---
11. Wing Bikes Freedom ST
Price:

$1,300 to $1,500

Motor:

36V 550W Bafang with 45Nm of Torque

Battery:

Panasonic Cells Available in 8.8Ah, 10.4Ah, and 14Ah

Range: 35 – 60 Miles (56-96km)
Drivetrain: Shimano Tourney 7-speed
The Wing Bikes Freedom ST is a new and improved lightweight step-through electric bike with a very simple but extraordinary design. The round tubing that's unique to the Freedom ST is peculiar and makes it stand out from the other step-through e-bikes.
Wing Bikes has included a state-of-the-art remote-operated anti-theft system with tamper detection and optional location tracking for added security. 
Wing Bikes has gone the extra mile by fitting the Freedom ST with a smart built-in sensor that tracks your behavior and tweaks the ride assist to suit your riding. Also, the feature that is exclusive to the Freedom ST is a removable battery with an inbuilt horn to warn others on the road.   
The Freedom ST is available with three batteries to choose from, 8.8Ah, 10.4Ah, and 14Ah for riders to enjoy between 35 to 60 miles (56-96km) of uninterrupted cycling.
---
12. Cannondale Adventure Neo 4
Price:

$2,875

Motor:

250W Bosch Active Line

Battery:

400Wh

Range: 64

Miles

Drivetrain: 9-speed Shimano Altus
The Cannondale Adventure Neo 4 step-thru e-bike is a simple but practical electric bike loaded with quality components to offer a comfortable and long-lasting ride to users.
An upright seating position with wide 2.2″ tires and soft touchpoints makes up for the lack of suspension and adds up to the overall comfort of the ride.  
The Adventure Neo 4 step-through electric bike has a Shimano groupset that includes hydraulic disc brakes and a 9-speed Altus drivetrain. The 250W Bosch motor provides assistance up to 20mph and, with a 400Wh battery, gets up to 64 miles of range.