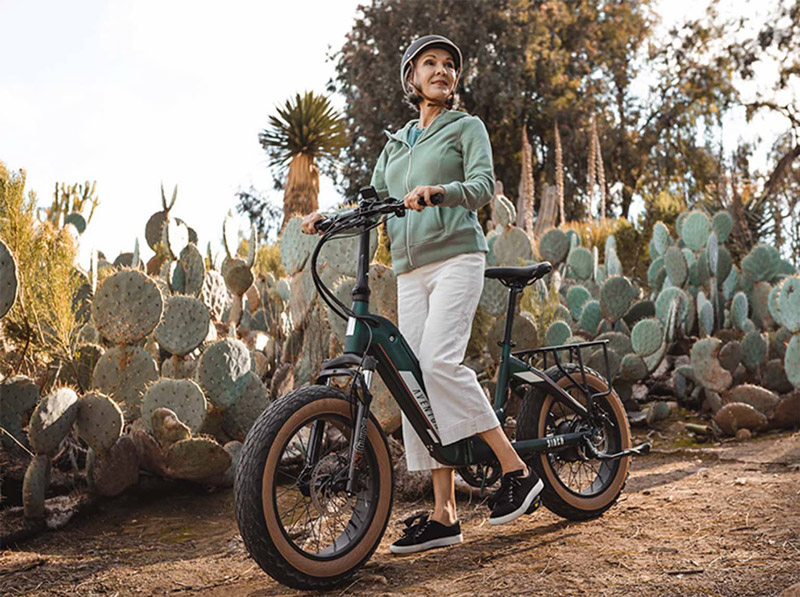 The best electric bike for seniors looks different for each individual. Some people want a simple e-bike for leisurely weekend cruising, while others need more versatility for running errands and tackling mixed-terrain rides.
Nonetheless, all e-bikes suitable for seniors should have a few features that enhance practicality and comfort, such as a step-through frame, wider tires, front suspension, and accessories like fenders, a rear rack, and a kickstand.
For this article, we put together a list of 11 different electric bikes for seniors with varied characteristics to meet a mix of needs, and we even included one electric tricycle!
---
Best Electric Bikes for Seniors in 2023
---
1. Rad Power Bikes RadRunner 2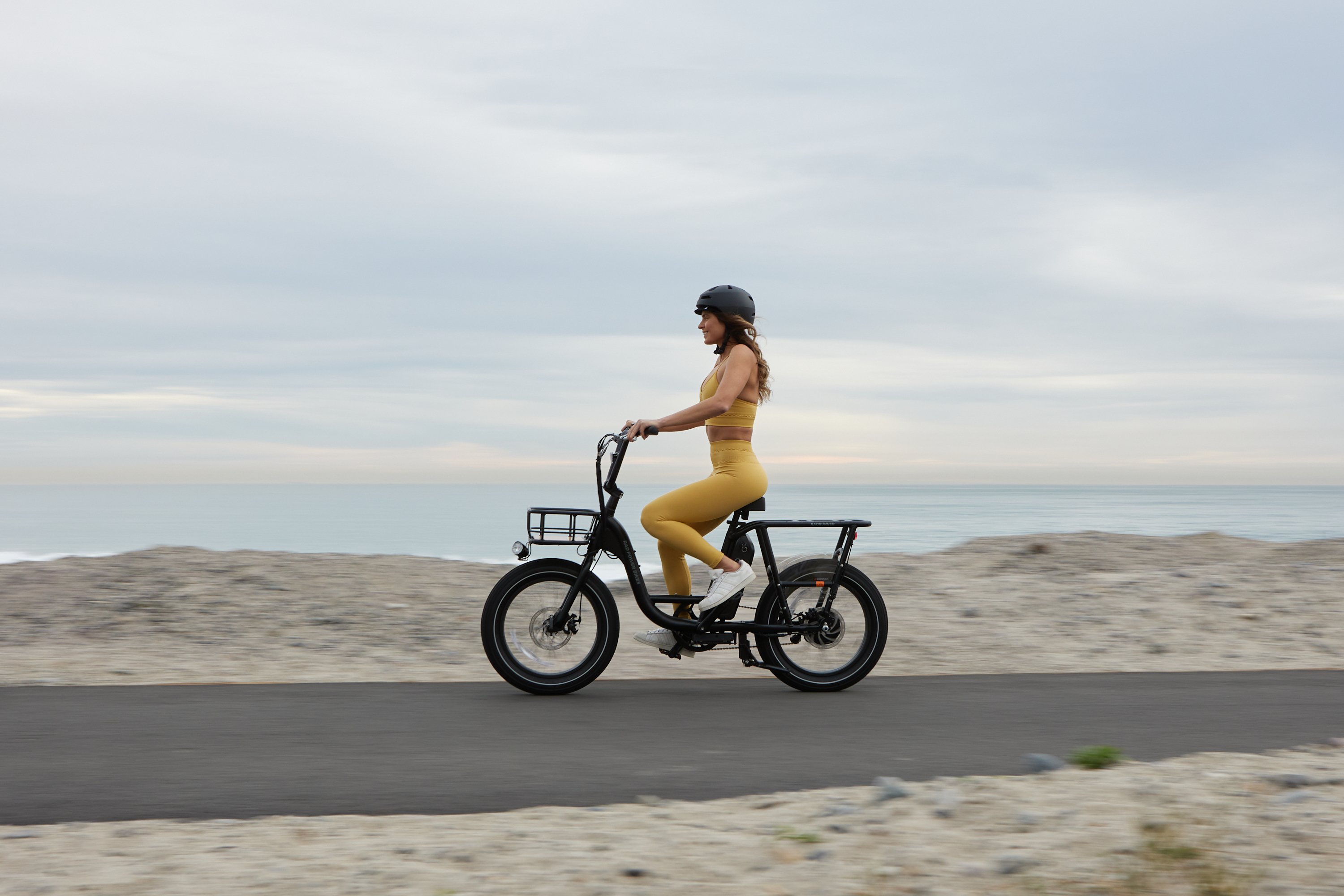 The Rad Power Bikes RadRunner 2 is an electric utility bike that balances simplicity and versatility.
The RadRunner 2 is compatible with 330 different accessory combinations, allowing you to personalize it for the job you need. In addition, a powerful 750W hub drive motor ensures you can maximize the 300lb payload capacity and tackle moderate hills.
With only single-speed gearing, you are more limited when tackling steep hills, but the advantage of this setup is that it is low maintenance and lightweight.
Wide 3.3″ fat tires, a high-rise handlebar, a padded saddle, and a steel fork make for a relaxed and smooth ride on varied surfaces. Other notable components include mechanical disc brakes, LED lights, and a frame-integrated rear rack.
At just $1,499, the RadRunner 2 is a solid choice for seniors with a limited budget who want the freedom to customize their electric bike for different jobs.
---
2. Huffy Parkside
The Huffy Parkside is a popular entry-level electric bike designed around a smooth rear hub motor and a fully-equipped commuter setup.
Seniors will enjoy this cheap electric bike because it's very comfortable and has a dual spring saddle that will stop you from getting saddle sores. It also has versatile 27.5″ tires to smooth out bumpy roads and provide ample traction on city streets.
The Huffy Parkside includes bright LED lights to keep you safe, fenders to stop road spray, and a kickstand for conveniently resting the bike once dismounted.
Huffy did a good job with the electronics as well, choosing a 350W motor, and a 36V li-ion battery. This punchy motor makes hills feel easy, and the battery should last for 30-40 miles if you use it conservatively.
Other notable components of the Huffy Parside include its 7-speed drivetrain, mechanical disc brakes, and a comfortable cruiser-style handlebar.
Add this e-bike for seniors to your shortlist if you want comprehensive functionality for urban living and quality electronics to match.
---
3. Tern Quick Haul D8
The Tern Quick Haul D8 is a mid-range electric utility bike ideal for seniors who frequently run errands, thanks to its comfortable design and fully-equipped setup.
This bike delivers comfort with a low-step frame, 55mm tires to smooth out bumpy roads, and a plush saddle.
The Quick Haul D8 has a long rear rack, fenders, lights, and a kickstand that makes riding in the city convenient and safe. This bike has a Shimano Altus groupset, including an 8-speed drivetrain and hydraulic disc brakes that provide plenty of stopping power for urban riding.
The Bosch mid-drive motor has 50Nm of torque and 400Wh of juice for long days in the saddle.
Overall, this is one of the best electric bicycles for seniors in this price range, with solid components and a practical design.
---
4. Ride1UP 700 Series
Ride1UP's 700 Series is among the best eBikes for seniors for its value for money.
A sturdy step-through aluminum frame features a fully integrated battery and all the accessory components needed for urban living or commuting.
The electronics include a 750W, 60Nm hub motor to power you with a loaded bike up light to moderate hills. In addition, you have an 8-speed Shimano drivetrain to support the motor. Using this combination, you can get up to 50 miles range from the large 720Wh battery.
A padded saddle, cruiser-style handlebars, shock-absorbent 100mm suspension, and 2.4″ tires each contribute to the comfortable ride feel. These components also make it possible to go off-road onto gravel trails.
The Ride1UP 700 Series also has powerful hydraulic disc brakes to round out a solid component list. Don't miss out on this e-bike if you want versatility and power at an affordable price.
---
5. Blix Sol Eclipse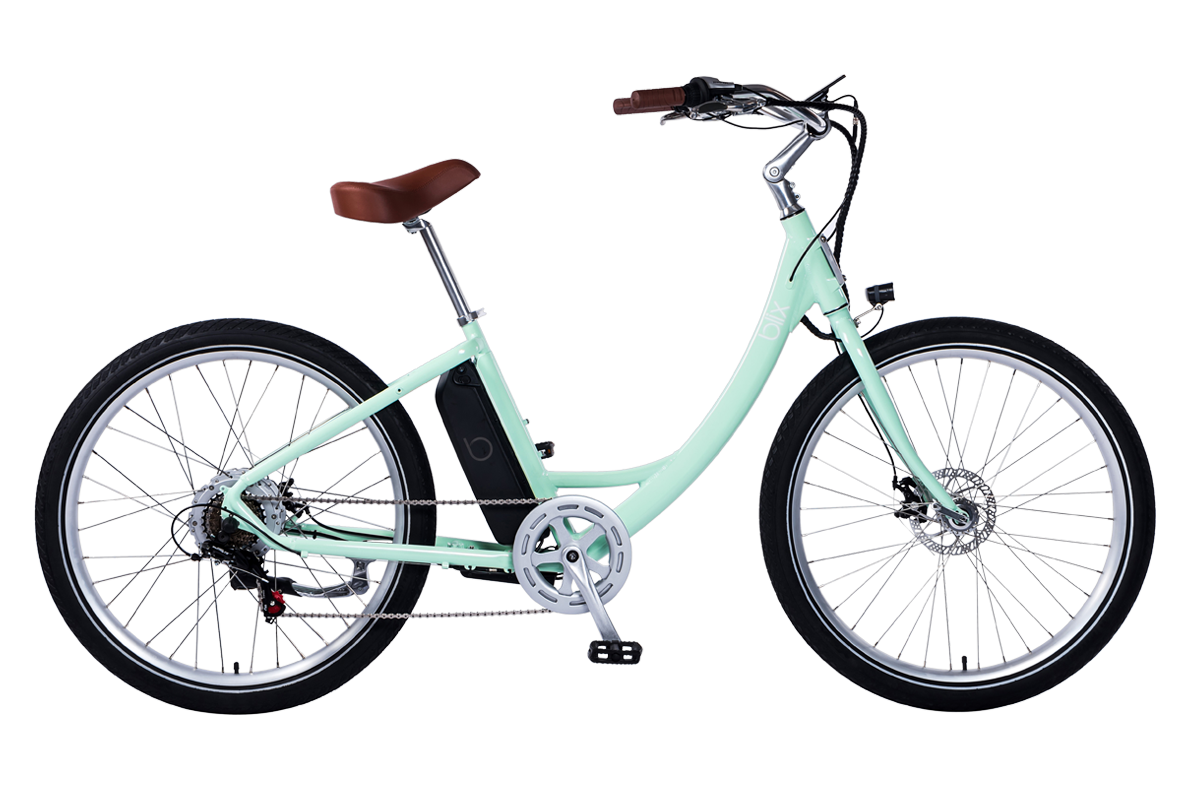 The Blix Sol Eclipse is one of the best electric bikes for seniors who like to enjoy smooth, effortless riding.
Using a high-torque motor, the Sol Eclipse has enough kick to flatten out the steepest climbs. It pairs with a 614Wh battery that provides a decent range.
The shock-absorbing 2.4″ tires, cruiser handlebars, plush saddle, and step-through frame give this bike its comfortable, convenient ride quality.
A Shimano Acera 7-speed drivetrain ensures you can keep a relaxed, steady cadence and maximize the range of the battery. Blix chose mechanical disc brakes for this bike, which are powerful but not the most consistent.
The Sol Eclipse has mounts on its aluminum frame if you want to add a rack or fenders. Otherwise, it's a streamlined bike and a good option for seniors who enjoy comfort and power.
---
6. Cannondale Adventure Neo 4
The Cannondale Adventure Neo 4 step-through e-bike is among the best electric bikes for seniors that want lots of range and power without the need for extras.
Cannondale designed this bike with comfort at the forefront of thinking. The low-step frame, swept-back handlebars, plush saddle, and balloon tires make for relaxed and smooth riding.
Powerful Bosch electronics ensure you can get where you're going without breaking a sweat. These include an Active Line 50Nm motor and a 400Wh battery with a max range of 63 miles and a short 3.5-hour charge time.
The groupset comprises Shimano's 9-speed Altus drivetrain and MT200 hydraulic disc brakes, a reliable combination for this price range. Overall, this is a solid choice for riders who want a simple bike with premium components.
---
7. Aventon Sinch Step-Through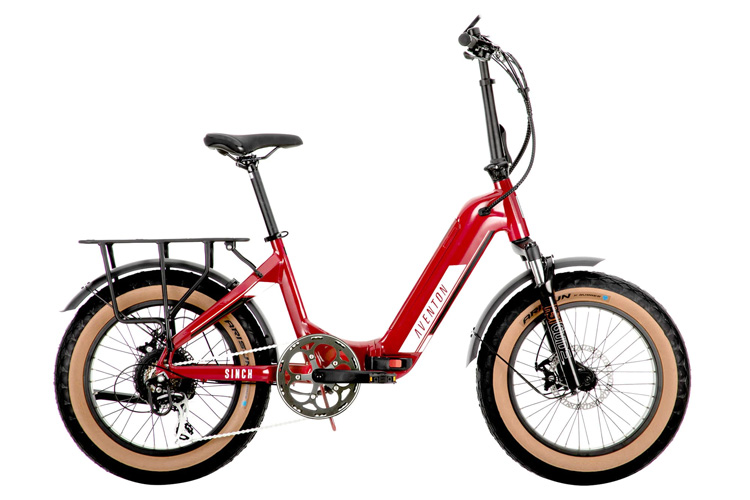 The Aventon Sinch is a folding fat-tire e-bike for seniors, perfect for taking on road trips, commuting with, and storing neatly at home.
The 4″ fat tires used on this bike act like suspension to reduce vibrations, provide tons of grip in wet weather, and allow you to roll smoothly over soft surfaces like grass, snow, and sand. In addition, 45mm of fork suspension further improves comfort.
Aventon's Sinch can fold up in just a few seconds with dimensions of 46x28x30″. Unfortunately, the bike weighs 68lbs, so it isn't easy to lift or carry.
Power comes from a 500W hub motor and 672Wh battery that lasts up to 54 miles of range on Eco. A 7-speed Shimano Acera drivetrain supports this system.
Overall, this versatile e-bike is perfect for off-road riding and transportation around the city.
---
8. Gazelle Ultimate C8 HMB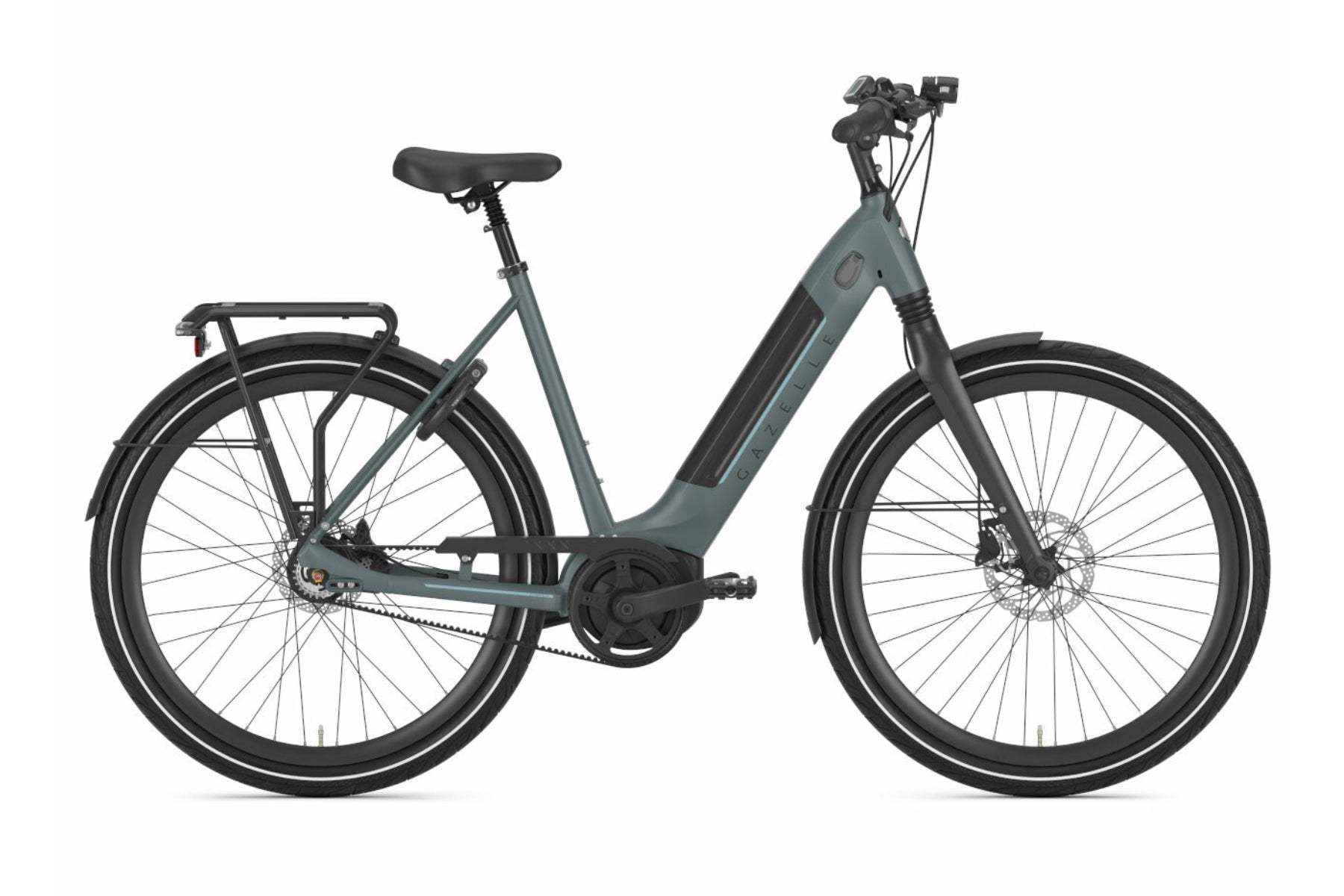 Gazelle's Ultimate series has several excellent bikes for older adults. These e-bikes are comfortable, pack plenty of power and range to make any ride effortless, and are easy to care for thanks to the belt drive system.
The C8 HMB uses an 8-speed Shimano Nexus internally geared hub and a Gates Carbon belt-drive system to provide smooth shifting and maintenance-free performance. Another great feature of hub gearing is that you can change gears while stopped.
The 1.75″ Schwalbe Energizer Plus balloon tires are puncture-resistant and provide plenty of cushioning when paired with the 40mm front suspension.
The Ultimate C8 HMB gets its power from Bosch's Active Line Plus 50Nm motor and a 500Wh battery pack, returning up to 70 miles of range from Eco mode in optimal riding conditions.
Other notable features include Shimano hydraulic disc brakes and a fully-equipped setup. Don't miss out on this premium Dutch-made e-bike if you want unbeatable performance for urban riding.
---
9. Electra Townie Go! 7D Step-Through
Cruisers make some of the best electric bikes for seniors because they're supremely comfortable and enjoyable to ride, no matter your fitness or flexibility.
The low, laid-back position, mustache handlebars, and 2.35″ shock-absorbent tires make for a leisurely ride whenever you head out on the Townie Go! 7D.
Electra chose Giant's Hydrive electronics for this bike. These include a 250W rear hub motor and a 250Wh battery, returning up to 40 miles of range.
The Flat Foot Technology design of the Townie's frame means you can get your feet flat on the ground when coming to a stop and pedal in a natural position, making for much more comfortable rides.
One disappointing component is the Shimano 7-speed Tourney drivetrain, which isn't very durable or crisp. Nonetheless, the Electra Townie Go! 7D is a solid choice for seniors who want unbeatable comfort.
---
10. Charge Bikes City
The best e-bikes for seniors make riding comfortable and convenient, and the Charge City does exactly that.
This urban e-bike has features unique to the Charge brand, including folding handlebars and pedals that allow you to store the bike in narrow spaces and tire pressure indicators that help you maintain the optimal PSI at all times.
The City has 40mm Goodyear puncture-resistant tires that roll fast and absorb some road vibrations, rider-facing handlebars that allow you to keep an upright position, and a fully-equipped setup for riding in urban environments.
Shimano provides 7-speed gearing that is adequate for this type of bike. One slightly disappointing feature of this bike is the mechanical disc brakes; we would like to see hydraulic discs at the $1,800 price point.
Power comes from a 250W, 40Nm Bafang hub motor, which isn't as smooth as a mid-drive but is easier to use as you don't need to worry about gearing. The 418Wh battery lasts up to 50 miles on Eco mode.
Add the Charge City to your shortlist if you want a bike that's affordable and extremely practical for city living.
---
11. Buzz Cerana E-Trike
Buzz's Cerana is our top pick of the best 3-wheel electric bikes for seniors. This trike is ideal for those who want to carry cargo without worrying about balancing.
Despite costing just $1,700, the Cerana uses a smooth mid-drive motor with 350W of power. This pairs with a 36V battery that returns up to 40 miles of range.
This bike's wide 3″ and 2.25″ tires ensure stability and traction in all conditions. In addition, you won't need to worry about balancing or weight distribution when taking corners while the pre-installed carrier baskets are full.
Buzz also included full fenders and LED lights to keep you dry and safe while riding. Overall, this unique option will appeal to some riders based on its ease of use, confidence-inspiring handling, and affordable price.