Electric tricycles for adults are becoming increasingly popular as the world moves toward more sustainable modes of transport.
These machines can easily replace a car for short to medium-distance journeys and are an excellent alternative to standard e-bikes as they offer more stability, comfort, and carrying capacity.
Riders with limited mobility or impaired balance and those who aren't confident on two wheels will appreciate the benefits of e-trikes.
With their rising popularity, there are now many adult electric trikes to choose from, so we've reviewed seven of the best models for 2023 and finished with a short guide to help you choose the perfect one for your needs and budget.
---
Best Electric Tricycles for Adults in 2023
1. Lectric XP Trike
2. Buzz Cerana T
3. Rad Power Bikes RadTrike
4. Malisa Electric Trike for Adults
5. Emojo Electric Trike
6. DVMEIGI 750W Electric Tricycle for Seniors
7. ADDMOTOR Electric Trike for Adults
---
1. Lectric XP Trike
MSRP: $1,499
Motor: 500W hub, 65Nm
Battery: 672Wh, 48V
Gears: Single-speed
Brakes: Hydraulic discs
Features: Differential wheel axle, rear-wheel drive, lightweight, folding frame, 415lb capacity
The Lectric XP Trike folding electric trike is the cheapest option on this list, coming in at $1,000 below the RadTrike. Of course, the design and componentry won't be as robust at this price, but affordability and functionality help it stand out.
Firstly, the XP Trike is sold without accessories, but it only costs $149 for the cargo package with front and rear baskets and a front rack, which support 110lb of cargo (35+75).
The ride quality is slightly bumpy due to the small-diameter 20″ wheels, narrow 2.6″ tires, and rigid aluminum frame. However, these features keep the weight lower (69.5lb), resulting in a longer range (60 miles) than other electric tricycles for adults.
Lectric designed its tricycle with a dual differential wheel axle, so the wheels spin independently, improving stability while turning. However, unlike similar models, the XP Trike has a hub motor that drives both rear wheels and is the only model on this list with hydraulic disc brakes.
Don't look past the XP Trike if you want a lightweight adult electric trike and you have a tight budget.
---
2. Buzz Cerana T
MSRP: $1,699
Motor: 350W mid-drive
Battery: 374Wh, 36V
Gears: 7-speed Shimano Tourney
Brakes: Mechanical discs
Features: Mid-drive motor, 10-year frame warranty, two baskets included
The Buzz Cerana T three-wheel electric bike is another cheap sub $2,000 option for those on a budget, like the XP Trike.
Unfortunately, this model lacks long-term reviews, but it has an impressive spec for the price, as it is the only mid-drive option on this list. The 350W mid-drive motor provides a superior ride quality that's smoother and more capable of carrying heavy cargo.
Buzz sells the Cerana T with two baskets pre-installed. The rear rack supports just 40 lb of cargo and can fold down when not being used.
The small 374 Wh battery provides a limited range of 20-40 miles, but the 7-speed drivetrain gives you more options to pedal and extend the battery life compared to the single-speed RadTrike and XP Trike.
Another disappointing feature of this model is there is no backrest on the seat, nor an option to add one, which takes away from the comfort appeal.
All things considered, the Buzz Cerana T is a decent, light-duty choice for those with budget constraints.
---
3. Rad Power Bikes RadTrike
MSRP: $2,499
Motor: 750W hub
Battery: 480Wh, 48V
Gears: Single-speed
Brakes: Front mechanical disc, rear coaster
Features: Seat with backrest, 415lb capacity, folding handlebars, reverse mode, parking brake
The Rad Power Bikes RadTrike demonstrates the keen attention to detail that the brand is known for but sits at the higher end of the pricing for e-trikes.
Each design feature and component choice is cleverly thought out, such as the handy reverse mode, adjustable seat and backrest, folding handlebars, and sturdy fenders.
The disappointment of the RadTrike is that you must purchase accessories separately, and realistically, you won't own it without buying a basket at a minimum. That said, there is a broad selection of accessories and combinations you can choose from, giving you more customizability than other models.
This heavy-duty electric trike has a heavy yet shock-absorbent steel frame which helps make up for the relatively narrow 2.25″ tires; it weighs 82 lb without accessories.
Finally, the single-speed drivetrain reduces maintenance requirements but makes you more reliant on the motor and throttle. You can expect up to 55 miles of range from the RadTrike.
Choose the RadTrike if you want a high-quality, versatile electric tricycle for adults and don't mind the higher price.
---
4. Malisa Electric Trike for Adults
MSRP: Check price on Amazon
Motor: 750W Bafang
Battery: 624Wh, 48V
Gears: 7-speed Shimano
Brakes: Mechanical discs
Features: 440lb capacity, two integrated baskets, seat with backrest, fat tires
The Malisa Forte is a high-capacity fat tire electric trike for adults from a small-scale US manufacturer specializing in electric mobility products.
The Forte has a powerful 750W motor with a somewhat dangerous top speed of 26 mph. The 624 Wh battery allows you to travel up to 38 miles using the throttle alone or up to 50 miles with pedal assistance.
The 4″ fat tires give you plenty of grip and shock absorption for riding on bumpy surfaces, but the powerful front hub motor can lose traction on loose surfaces or steep inclines. The mechanical disc brakes are slightly underpowered for such a heavy machine with a high top speed.
A weight capacity of 440 lb makes this one of the highest on the market, equivalent to heavy-duty cargo e-bikes. In addition, Malisa includes front and rear baskets with the bike, so it's ready to be the perfect electric cargo trike straight out of the box.
Overall, this is a solid choice if you want a fast electric trike with a huge payload capacity and don't mind the extra cost.
---
5. Emojo Caddy Pro Electric Tricycle for Adults
MSRP: Check price on Amazon
Motor: 500W
Battery: 749Wh, 48V
Gears: 7-speed
Brakes: Hydraulic disc brakes
Features: Two integrated baskets, fat tires, cruiser handlebars, front hub motor
The Emojo Caddy is a fat tire electric trike equipped with baskets and comfort-focused components.
Firstly, you get a comfortable saddle, wide 4″ fat tires, swept-back handlebars, and a low-step frame. These features make for a smooth ride quality.
The Caddy weighs 90 lb but has a low max capacity of 330 lb, almost 100 lb less than the similarly-priced RadTrike. Power comes from a 500W motor with a max speed of 20 mph. This motor pairs with a 749 Wh battery but only lasts up to 35 miles because of the inefficient fat tires and high weight.
Many reviewers of this bike complain about the time-consuming and challenging assembly process, so if you're not a competent home mechanic, you may want to take it to a professional.
Consider the Emojo Caddy if you don't require a high payload capacity and you want a cruiser-style electric tricycle for adults.
---
6. DWMEIGI 750W Adult Electric Trike
MSRP: Check price on Amazon
Motor: Bafang 750W, 80Nm
Battery: 874Wh, 48V
Gears: 7-speed Shimano
Brakes: Tektro MD300 mechanical discs
Features: Fast charging, 58L waterproof storage bag included, puncture-resistant fat tires
The DWMEIGI MG1703 is another off-brand three-wheel electric bike with fat tires and a relatively high price.
This e-trike has a powerful Bafang hub motor with 80Nm of torque which can easily handle pulling heavy payloads. A large 874Wh battery can achieve up to 45 miles of range using the throttle only and 60 miles with pedal assistance.
The max capacity is below average, at just 330lb, but DWMEIGI includes front and rear baskets with a waterproof 58L bag for carrying your valuables.
The 4″ wide tires and fork suspension give this model plenty of shock absorption for riding on bumpy roads and light off-road tracks, but the mechanical disc brakes are underpowered for a heavy e-tricycle.
Many users complain about the MG1703's complicated assembly process, so we recommend having it assembled by a professional if you're not a competent home mechanic.
All things considered, this model is slightly overpriced compared to the other electric trikes for adults on this list, but it comes fully equipped and has a solid max range.
---
7. ADDMOTOR Electric Adult Trike
MSRP: Check price on Amazon
Motor:

Bafang 750W

Battery: 960Wh, 48V
Gears: 7-speed Shimano Altus
Brakes: Tektro MD300 mechanical discs
Features: 85-mile range, fat tires, 100lb rear basket capacity, seat with backrest
The ADDMOTOR M-360 is the only electric recumbent trike we've picked for our list of the best electric tricycles for adults.
This model is the ideal tricycle for seniors with disabilities thanks to the laid-back and relaxed ride quality with full support from a powerful electric motor and large battery.
ADDMOTOR chose a padded seat with a backrest and long rider-facing handlebars to put you in the perfect position for a day in the saddle. The 4″ fat tires also help absorb road vibrations and enhance the ride quality.
The M-360's electronics are impressive, featuring 750W of power that will take you up to 22mph and easily flatten any hills. Unfortunately, most of the bike's weight is over the rear wheel, meaning the powerful front-wheel drive can cause traction issues, so be careful on steep slopes or loose terrain. The 960Wh battery lasts up to 85 miles on one charge.
As a recumbent trike, the M-360 isn't compatible with a front basket, but it has a 100lb-capacity rear basket and a 350lb total payload capacity.
Choose the ADDMOTOR M-360 if you want one of the best electric trikes for seniors or those with disabilities, and don't mind the higher price tag.
---
Buying Guide for the Best Electric Tricycles for Adults
Electric tricycles for adults are ideal for riders with limited mobility, impaired balance, or who aren't comfortable navigating busy areas on two wheels. However, the different designs and specs can make deciding tricky. This section will detail the characteristics and features to look out for when choosing an adult electric trike.
Payload Capacity
One of the major draws of an electric tricycle for adults is the ability to haul heavy cargo loads without worrying about stability. The space between the two rear wheels also increases surface area for adding a large basket than can hold your items.
The bikes on our list can support 320lb up to 440lb. However, each rack has its own weight capacity, so it's important to factor this into your decision. Heavier riders should choose a model with a higher total payload capacity, so they're not limited when carrying cargo.
If you're a fan of the best electric cargo bikes for their carrying capacity but want more stability, an e-trike is a better choice.
Comfort Features
Comfort is another universal characteristic of adult electric trikes. Most models come with a comfortable padded seat with a backrest that allows you to sit back and upright in a completely relaxed position.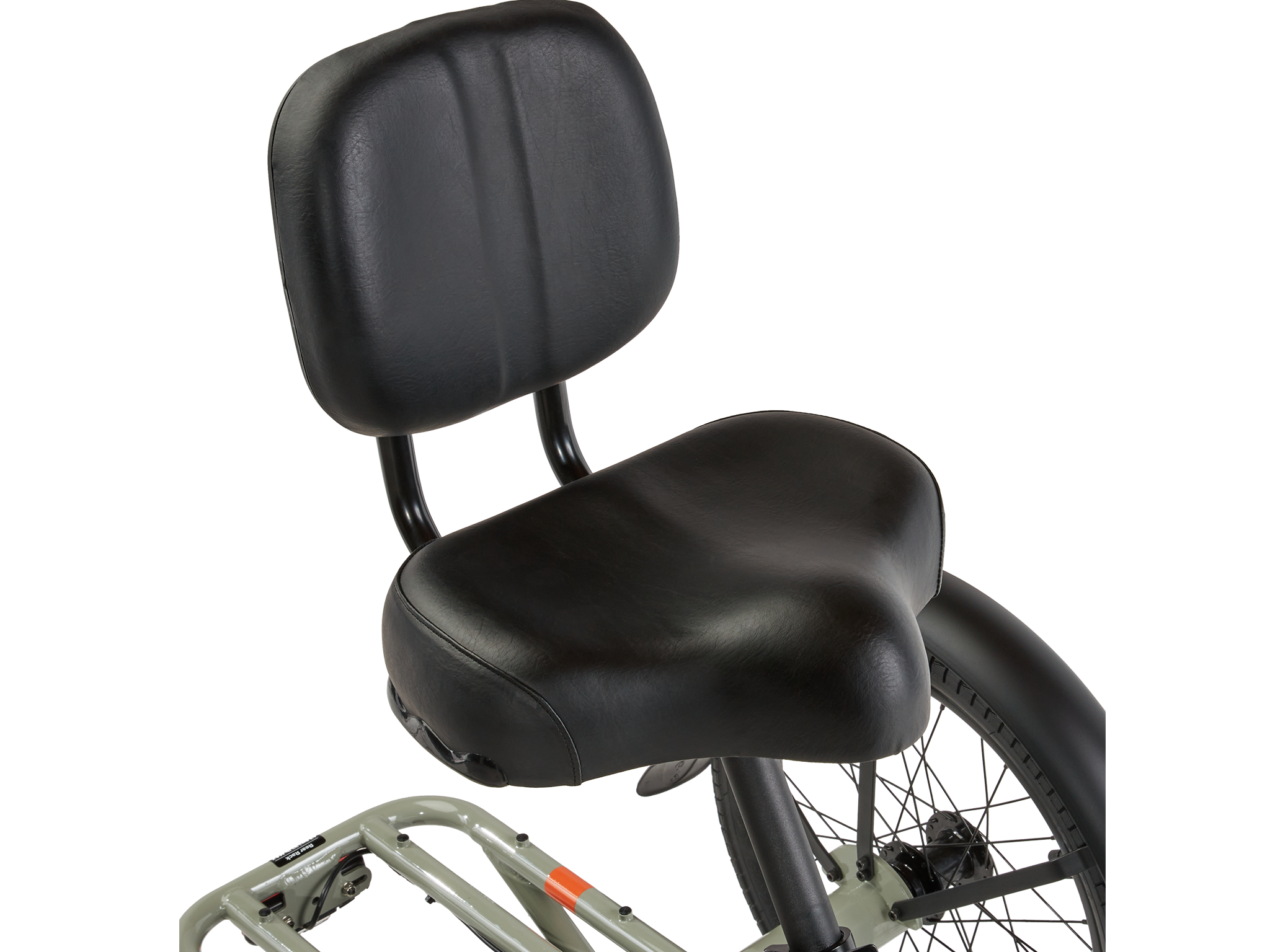 The small-diameter wheels typically used on e-trikes transfer much more road chatter, so another valuable feature is high-volume tires that can absorb road vibrations.
There is one recumbent model among our list of seven electric adult trikes. This design is incredibly comfortable and even more accessible for riders with limited mobility.
Range
Throttle mode is almost ubiquitous on e-trikes sold in the US. The throttle allows you to start easily from a stopped position and use the tricycle as a mobility device akin to an electric scooter.
The problem with throttle use is that it uses the battery quickly, so if you expect to use the throttle regularly, choose an electric tricycle with a higher max range. Models like the DWMEIGI MG1703 and ADDMOTOR M-360 have high max ranges.
Motor Position and Speed Limit
Most electric tricycle motors are positioned in the front wheel's hub. However, the Lectric XP Trike uses rear-wheel drive, and the Buzz Cerana T has a mid-drive motor.
The position of the motor in the front wheel and the rear-heavy weight distribution of electric tricycles means it can be hard to get traction on loose surfaces or steep hills, especially if conditions are wet. This effect is compounded for high-power motors such as the 750W hubs used on some of the models on our list.
Another consideration is the speed limit of the tricycle. Brands like Rad Power Bikes and Lectric limit their electric trikes to 14mph to ensure the safety of their riders. Tricycles are unstable when turning at speed, so riding over 20mph can be dangerous. Thankfully, you can usually modify the max speed of your motor through the settings in the display.
We wrote more about this in our hub motors vs. mid-drive motors guide, so consider checking it out if you want to learn more.
Baskets and Extra Accessories
As you've seen in our list of the best electric trikes for adults, most of these products come with pre-installed cargo baskets, so you're ready to run errands when the bike arrives. Some brands even include a waterproof bag or a basket liner.
Rad Power Bikes chose to ship its RadTrike without any accessories, but it has a wider range of purpose-built options to purchase from its online store, allowing greater personalization for different jobs.
If you want more similar choices, we recommend also checking out our selection of the best electric bikes with baskets.
FAQ
1. What Are the Benefits of an Electric Tricycle Compared to a Traditional Bicycle?
An electric tricycle has three distinct benefits over a traditional bike. Firstly, the extra wheel removes the need to balance and worry about stability when it's loaded with cargo.
E-trikes also have higher load capacities and more space to carry cargo. Lastly, the relaxed ride position and seat with a backrest make riding a tricycle more comfortable than a traditional bike.
2. Are There Any Legal Requirements for Riding an Electric Tricycle?
Yes, there are legal requirements for riding an e-trike, but there are no additional legal requirements for riding an electric tricycle compared to a standard electric bike. They are subject to the same three-class system and state-by-state regulations that apply.
For example, some states have a minimum age requirement of 16 or 18 years old for riding an e-bike. Read more about this in our E-Bike Classes Guide.
3. Are There Any Safety Concerns When Riding an Electric Tricycle?
Yes, there is one major safety concern when riding an electric tricycle. The extra wheel creates a much more stable base when riding in a straight line.
However, this makes it unsafe to corner at speed, so you must slow down significantly when taking corners. Otherwise, the outside wheel will lift off the ground, potentially causing you to topple.
4. How Far Can an Electric Tricycle Go on a Single Charge?
An electric tricycle can go up to 85 miles on a single charge, based on the longest-range model we found, the ADDMOTOR M-360. However, the average range is much lower if you use throttle mode and carry extra cargo.