Cheap electric bikes are becoming easier to find with each passing year.
Advancements in technology and increases in popularity mean low-cost e-bike brands are constantly popping up, offering more competitive options that are more accessible to the general public.
Like the nine we've reviewed for this article, the best cheap electric bikes should cost less than $2,000. In addition, they should serve their intended purpose and be relatively reliable.
It's worth remembering that low-price e-bikes will, on average, run into more issues than the expensive alternatives by big-name brands. That said, it's a worthy tradeoff if it opens the possibility of owning one.
The article will cover a selection of the best budget ebikes available in 2023 and finish with a short guide on what to expect from the sub-$2,000 range.
---
Best Cheap Electric Bikes to Get in 2023
1. Rad Power Bikes RadExpand 5
2. Co-op Cycles Generation e1.1
3. Ride1UP Roadster v2
4. Aventon Pace 500.2
5. Lectric XP 3.0
6. Electra Cruiser Go
7. Vvolt Alpha
8. Charge City
9. Wing Freedom 2

---
1. Rad Power Bikes RadExpand 5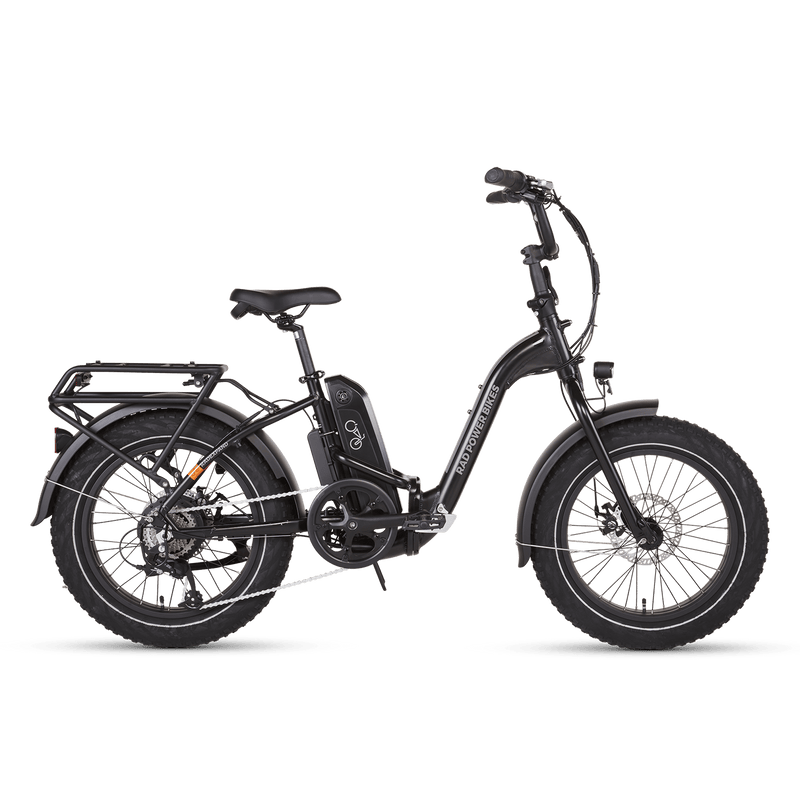 The RadExpand 5 is Rad Power Bikes' unique folding option, with solid components for the price and the brand's renowned reliability.
This e-bike costs 50% more than the Lectric XP 3.0, which is hard to justify considering the components aren't significantly better. However, it does have more powerful electronics, including a 750W motor and 672Wh battery, but a similar max range of 45 miles.
The high-volume 4″ tires with light tread and puncture resistance make for comfortable riding off-road and on bumpy pavement, and a rigid fork doesn't add unnecessary weight, although it's still quite a heavy bike.
The rear rack can support 55 lbs, and you also get fenders and lights. With fat tires, a steel fork, and upright adjustable geometry, the RadExpand 5 is very comfortable.
Add it to your shortlist if you want an e-bike with a balance of reliability, affordability, and versatility.
---
2. Co-op Cycles Generation e1.1
The Co-op Cycles Generation e1.1 is an urban utility machine with a compact, high-capacity frame, making it the best cheap electric bike for carrying cargo.
Co-op Cycles chose 2.4″ Schwalbe puncture-resistant tires, a 70mm Suntour fork, upright geometry, and a step-through frame to create an enjoyable ride quality, despite the smaller 20″ wheels. It also has a highly-adjustable seatpost and handlebars, so it's easy to find the perfect fit.
The Generation e1.1 has a long integrated rear rack that's compatible with various accessories or a child seat. In addition, it has extra durable wheels, a heavy-duty kickstand, and a high-torque motor to deal with the cargo weight.
Impressively, this cheap electric bike comes with Tektro hydraulic disc brakes which are solid for the price. However, the 7-speed Shimano Altus drivetrain leaves you short of gears when riding on flat terrain or with an unloaded bike.
Add the Co-op Cycles Generation e1.1 to your shortlist if you need an affordable urban utility bike with brand-name componentry.
---
3. Ride1UP Roadster v2
The Ride1UP Roadster V2 is a cheap, lightweight electric gravel bike designed to provide just enough assistance for short days on the trails or mixed-terrain commutes.
This build has 42mm gravel-specific tires with light tread and sleek tan sidewalls, helping you stay in control on loose terrain. In addition, you get Tektro mechanical disc brakes which are adequate for a cheap Class 1 e-bike.
The Roadster's electronics and cabling are seamlessly integrated into the frame, giving it the look of a traditional bike. A 350W motor takes the effort out of your rides, and the small battery will continue to assist you for up to 30 miles. That said, this bike is easy to ride without assistance if your battery dies while you're riding.
A single-speed Gates Carbon belt drive is highly durable and requires no maintenance, but it limits your ability to pedal on steep gradients. Finally, you can add a rack and fenders if you plan on commuting with this e-bike.
All things considered, this is among the best cheap eBikes for light gravel riding and fast commuting and a great choice if you appreciate simplicity.
---
4. Aventon Pace 500.2
Aventon's Pace 500.2 step-through is another straightforward urban model with cruiser characteristics like swept-back handlebars, plush touchpoints, and low, relaxed geometry.
Unlike the Cruiser Go!, the Pace 500.2 has powerful electronics, including a 500W motor and 614Wh 48V battery that returns up to 47 miles of range. Unfortunately, the cadence sensor produces a clunky power transfer.
The 8-speed Shimano Acera drivetrain is solid at this price and gives you plenty of range to get the most out of the battery. Aventon also included hydraulic disc brakes for reliable stopping power and lower maintenance.
Unfortunately, this bike doesn't have a rack or fenders for commuters, but there are mounts to add them, and you get integrated lights. Finally, you get puncture-resistant 2.2″ Kenda tires to take the sting off bumpy roads.
Overall, there isn't much to fault in the Pace 500.2, and it's easily among the best affordable electric bikes thanks to the blend of performance and comfort. If you want a cheaper option with the same look and slightly lower specs, check out the Aventon Pace 350.2 as well.
---
5. Lectric XP 3.0
The Lectric XP 3.0 is the best cheap electric bike with a fully equipped setup and folding frame. The brand is known for producing high-value e-bikes in the budget price range, and the XP 3.0 is their flagship model.
This e-bike has a solidly-constructed frame with a convenient folding mechanism for neater storage or transportation. However, the 64-lb weight makes it difficult to carry, so it's not ideal for multi-modal commuting.
Lectric integrated a rack into the frame, resulting in a 150-lb capacity. It's also compatible with a passenger accessory kit. The 55Nm, 500W motor is enough to power you up light to moderate climbs without issue, and the 500Wh battery can last up to 45 miles if you're using the 7-speed drivetrain. In addition, you get a throttle for easier riding in busy city traffic.
Other notable features include 3″ puncture-protected tires, a 50mm travel suspension fork, and 180mm mechanical disc brakes.
Choose the Lectric XP 3.0 if you want the best cheap eBike under $1,000 with all the extras for urban riding and a folding frame.
---
6. Electra Cruiser Go!
Electra's Cruiser Go! is the best budget electric bike for riders who want comfort but don't need super high performance. This model comes with a straightforward aluminum frame that's relatively lightweight for the category (~46 lbs).
A non-removable 250Wh battery and light-duty 40Nm Hyena motor help keep the weight down but return modest range and power. Also, keep in mind that with just a single-speed drivetrain and light-duty motor, this e-bike will struggle on steeper gradients.
One noteworthy feature of the Cruiser Go! is its torque sensor, which makes power transfer smoother and more natural than the lone cadence sensor typically used for hub drive systems. That said, getting going from a standstill without a throttle or low gear requires more effort.
This e-bike has typical cruiser comfort with mustache handlebars, a low and laid-back seated position with Electra's Flat Foot design, 2.35″ balloon tires, and ergonomic touchpoints.
Consider the Electra Cruiser Go! if you want the best cheap eBike for comfort cruising.
Buy from REI    Buy from Mike's Bikes
---
7. Vvolt Alpha
Vvolt's Alpha is the brand's cheapest model, which says nothing about the quality; it's a sleek belt-drive e-bike that takes the stress out of urban living.
The single-speed Gates Carbon belt drive is silent, greaseless, maintenance-free, and incredibly durable, making this bike ideal for commuters in flat-ish areas.
The Alpha has electronics typical of this price range, although from lesser-known brands (Xplova/Celxpert). The hub motor will provide enough assistance for most urban rides.
The 2″ tires have light tread and come on 27.5″ wheels, allowing you to tackle light off-road terrain. In addition, the Radius hydraulic disc brakes provide plenty of stopping power for a Class 1 e-bike.
Overall, this is among the best affordable electric bikes for riders who value low maintenance and durability.
---
8. Charge City
The Charge City is an urban commuter e-bike that stands out for its convenient folding components and fully-equipped setup.
All Charge e-bikes have folding handlebars and pedals that reduce their footprint for neater storage in urban apartments. They also have tire pressure indicators and puncture-resistant tires.
The frame is well designed with smartly integrated cabling but with a cheap-looking externally-mounted battery. The City is lightweight (45 lbs) and responsive with fast 40mm tires making it easier to pedal on low assistance levels. However, the tradeoff for this speed is the bumpier ride quality, a frequent complaint from owners and reviewers. In addition, the gear range is limited when pedaling at higher speeds.
Power comes from a light-duty 45Nm Bafang motor and 418Wh battery, with an absolute max of 50 miles but typically returns 25 to 40 miles.
Again, this bike is ideal for the urban commuter who doesn't rely heavily on electric power and has limited space for storage at home.
---
9. Wing Freedom 2
The Wing Bikes Freedom 2 is the brand's flagship model, sporting its distinct monotone frame with a straight top tube and smartly-integrated lights.
Wing's ebikes are some of the best budget eBikes for security. They come with a remote locking key fob, an integrated tamper-detection alarm, and a hidden Apple AirTag slot for tracking in the event of theft.
The Freedom 2 is available in three battery sizes with three distinct max ranges. The 36V, 350W hub motor won't blow you away but provides enough assistance for urban rides. In addition, the relatively low weight of 39 lbs and responsive frame make it easy to ride the Freedom 2 without motor power.
Unfortunately, the groupset is very basic. You get Shimano's bottom-tier drivetrain, which rapidly loses performance, and cheap mechanical disc brakes require frequent maintenance. That said, for $1,100-$1,400, this is expected.
Choose the Wing Freedom 2 if you want one of the best cheap electric bikes for adults who need extra security features.
---
What to Expect from Cheap Electric Bikes in 2023
Budget e-bikes are ideal for daily riding in urban environments, such as commuting and running errands, and some can handle light off-road terrain, such as the RadExpand 5 or XP 3.0.
The variability among cheap electric bikes is limited, as electric bike cost constraints restrict the level of components that can be used. For example, only hub motors are available at these prices, and drivetrains are limited to basic 8-speed configurations or below.
Most brands selling cheap models are direct-to-consumer, meaning you purchase them through the company's website, allowing the brand to save costs and pass them on to the consumer. So let's see what you can expect from the best budget electric bike models in 2023.
Motor Type and Ratings
As mentioned, the cheapest electric bike models only use hub drives. These bikes are more affordable than mid-drive ebikes, but they aren't as efficient, and they have lower torque levels and uneven weight distribution.
Power and torque ratings vary hugely between hub-drive motors. Manufacturers will choose the motor based on the bike's purpose, how much range they want to get, and how light they want it to be.
For example, the Generation e1.1 utility bike must pull heavy cargo, so it has 350W and 80Nm of torque. In contrast, the Cruiser Go! has 250W and 40Nm of torque because it's a single speeds cruiser for flat, leisurely riding.
Sensors and Throttle
Most hub-drive systems have cadence sensors, which act as an on-off switch for the motor, provide an unnatural ride feel, and usually a slight lag before the motor engagements. Some manufacturers (Electra) add torque sensing, which dynamically provides power based on the force you push into the pedal, resulting in a more natural ride feel.
Most hub-drive e-bikes have throttles. These allow you to start from a stopped position without turning the pedals, reducing the effort needed when riding in a busy urban environment with lots of traffic and lights. However, relying on the throttle will drastically reduce your range. The Vvolt Alpha and Ride1UP Roadster V2 don't have throttles.
Battery Capacity, Range, and Charge Time
Battery capacity is limited in cheap e-bikes, as high-capacity batteries are expensive and largely unnecessary for urban/commuter models. In addition, more energy-efficient mid-drive motors aren't accessible, and cheaper components are usually heavier, decreasing range.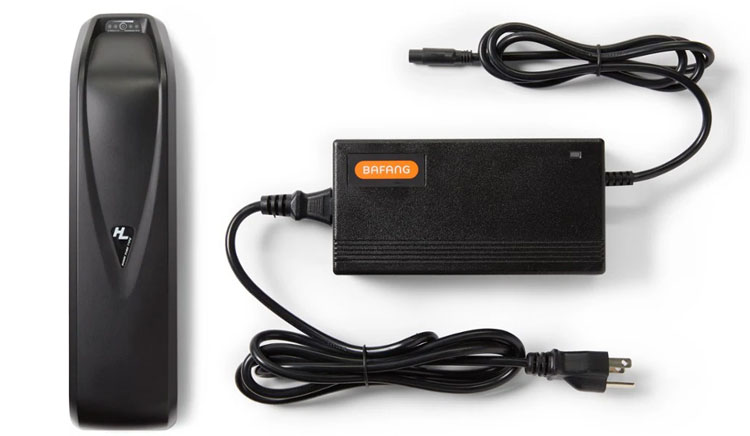 The e-bike on our list with the longest range is the Wing Freedom 2 with a 14Ah, 504Wh battery and 60 miles max range. Most models in the sub-$2,000 category have roughly a 45-mile maximum, averaging around 30 miles in normal riding conditions.
Thirty miles is plenty for most urban riding, but you'll typically have to charge more frequently if you do longer rides. Keep an eye out for e-bikes with short charging times and removable batteries if you plan to recharge at the office.
Brakes and Drivetrain
The best cheap electric bikes have hydraulic disc brakes, but mechanical discs are more common because they're cheaper.
Hydraulic discs are usually more durable, require less maintenance, provide better modulation, and are more powerful. The Pace 500.2 and Alpha are two budget e-bikes that use them. In addition, look out for trusted manufacturers like Tektro and Shimano, as they typically last longer and are easier to find replacement parts for.
Drivetrains range from single-speed chain drives to 8-speed Shimano Acera drivetrains. The wider the drivetrain, the more gears you will have for pedaling at high speeds and climbing hills. In addition, wider typically denotes higher quality, for example, Shimano's 7-speed Tourney (bottom tier) vs. 8-speed Acera (third tier).
A single-speed drivetrain is adequate if you ride primarily on flat terrain at leisurely speeds. Some cheap e-bikes even have belt-drive systems which are three to four times more durable than chain drives, greaseless, and maintenance-free. For example, the Vvolt Alpha and Ride1UP Roadster V2 both have belt drives.
Frame Design and Integration
A good indication of an e-bike's price and quality is the integration of electronics and cabling and the attention to detail in frame design, such as the placement of wires, electronics, and mounts. The Wing Freedom 2 or Vvolt Alpha are examples of e-bikes with cleverly designed and integrated frames. Wing bikes are designed similarly to Vanmoof electric bikes, but are much more affordable.
Externally routed wires and electronics are more susceptible to damage. However, if everything is integrated it can be challenging to access if it's not well thought through. Some design features to look out for include the positioning of the battery, charger port, and bottle cage mount.
Assembly
Direct-to-consumer brands make most of the best cheap electric bikes, so they are ordered online and delivered partially assembled. Each brand and model requires varying amounts of time to finish assembly.
Some companies, such as Charge Bikes, send their products almost completely assembled, with just a few short steps to get the bike ready. Others, like Ride1UP, have a laborious and challenging assembly process.
If you want to purchase a bike and have it assembled by a professional, REI offers professional assembly services for its Co-op Cycles bikes. Alternatively, you can take any e-bike purchased online to a local e-bike mechanic for assembly and tuning if you're not confident doing it yourself.
Extra Features
Don't expect to find an array of extra features even on the best cheap electric bikes, as these manufacturers must keep costs down. However, the best brands find a way to squeeze in practical extras.
Puncture resistance is an invaluable feature for urban or commuter-style e-bikes. Changing flat tires is a pain for any rider, but doing it on the way to work or returning from the store with bags of groceries is even worse.
Most of the models reviewed above have integrated lights powered by the battery, so you don't need to remember to charge them. However, the Cruiser Go! and the Roadster V2 don't come with lights, and the Alpha's lights require disposable batteries.
Security features like Wing's tamper-detection alarm and remote locking fob are also valuable for urban riders, although uncommon. Finally, the Charge City has unique tire pressure indicators which help you avoid flats by maintaining the optimal air pressure. This bike also has folding handlebars and pedals, making it easier to store at home.