Electric bikes are impressive feats of engineering—they give you the power, speed, and ability to take on any terrain, regardless of your current physique.
But the prices… they can make your eyes water. It seems like you need a mountain of cash to get a good one, which can be a barrier for many enthusiasts.
Luckily, that's not always the case. In this buying guide, we will show you the 9 best electric bikes under $1,500 that won't leave your wallet gasping for air, proving that quality and affordability can coexist.
Plus, we've also put together a straightforward guide outlining key aspects to look at when shopping for a budget-friendly e-bike. If you want to purchase your first ebike, this will be a good place to start.
So, let's find out how you can zoom around on a great electric bike without spending a fortune.
What Features Can You Expect from an Electric Bike Under $1500?
Even the best electric bikes under $1,500 will have to make some compromises, so it's not realistic to expect every single one of your requirements to be met in this price range.
That being said, you can definitely find a powerful, well-equipped, and stylish e-bike within this budget if you know where to look.
Here's what you can expect in terms of components, features, and performance when your budget caps at $1,500.
Decent Motor Power and Battery Capacity
Nearly all electric bikes under $1,500 come equipped with rear hub motors that typically deliver between 350W and 750W of power. Mid-drive ebikes tend to be a bit more expensive, with the most affordable option we found being the Lectric XPremium, priced at $1,599.
For example, the Ride1UP Turris comes with a 750W motor, whereas the Aventon Pace 350.2 only has a 350W motor, so the former is a much better fit for areas with steep hills. However, as we'll see below, motor power isn't the only factor to consider.
The story is similar when we turn to batteries. Capacities can range from as low as 360 Wh on lightweight builds such as the State Bicycle Co.'s 6061 Ebike Commuter, to as high as 672 Wh on bulkier models such as the RadRunner 2.
Therefore, with setups like these, you're typically looking at Class 2 (20 mph) or Class 3 (28 mph) speeds and 20-40 miles of range per charge, which is more than enough for most day-to-day uses.
Cadence Instead of Torque Sensors
Typically, electric bikes under $1,500 come fitted with cadence sensors instead of torque sensors.
Cadence sensors detect when you're pedaling and send a signal to the motor to provide assistance. They don't consider how hard you're pedaling, which means the level of assistance is consistent, regardless of your effort. Essentially, they work like cruise control on a car.
In contrast, torque sensors measure the force you put into the pedals and adjust the motor assistance accordingly. They provide a more intuitive riding experience, closely mirroring traditional biking.
While cadence sensor-based e-bikes can still be a joy to ride, they might feel less natural, especially on hilly terrains or during slow low-effort rides, where a torque sensor's responsive power delivery would shine.
In short, even the best ebike under $1,500 will generally offer a less nuanced, but still effective pedal assist experience.
Low-Tier Drivetrain and Mechanical Disc Brakes
Drivetrain and brakes are usually the areas where the most compromises are made to fit electric bikes under the $1,500 price tag.
These e-bikes often come with lower-end 7- or 8-speed Shimano Tourney or microSHIFT rear derailleurs paired with basic Tektro mechanical disc brakes.
While these inexpensive rear derailleurs are sufficient for everyday commuting and casual rides, they might not withstand heavy and sustained use over time.
Similarly, mechanical disc brakes can provide ample stopping power for most situations. However, they require more frequent adjustments than hydraulic disc brakes and demand greater finger strength to operate, particularly in emergency braking scenarios. This might marginally impact your overall riding experience.
Thankfully, a few models in this list, such as the Ride1UP Turris, Co-op Cycles CTY e1.1, and the Juiced RipRacer, feature hydraulic disc brakes, offering a superior braking experience.
High Overall Weight and Simple Design
Electric bike weight is often the biggest drawback that even the best electric bikes under $1,500 can't avoid, along with their relatively simple design.
Fully equipped models typically weigh between 55-65 lbs, while minimalist options come in at around 45-50 lbs. These figures are quite standard for electric bikes since there's no getting around the additional weight of the motor and battery.
However, pricier e-bikes often manage to shed some weight by using higher-end components and lightweight frame materials, potentially bringing the weight down to the 30-40 lbs range. The trade-off is that these lighter e-bikes often come with smaller batteries, which reduces the ebike's range.
Aesthetics can also play a role—more expensive e-bikes generally sport a better design. So, if style is a key consideration for you, it may be worth investing a bit more when buying your next electric bike.
Commuter-Ready but Entry-Level Accessories
Finding an electric bike under $1,500 equipped with all the must-have ebike accessories for daily commuting isn't difficult.
Luckily, most models in this price range come with front and rear fenders, a rear rack, a kickstand, front and rear lights, and even a bell, though this depends on the bike's intended primary use.
For instance, the Ride1UP Turris, Engwe L20, and Lectric XP 3.0 come with all the accessories we've mentioned above. In contrast, Aventon Pace 350.2, Co-op Cycles CTY e1.1, and State's 6061 Ebike Commuter come with none of these additions, which is in line with their minimalistic and lightweight design.
It's worth noting, however, that the quality of these accessories may not always match those found on pricier e-bikes. They might not be as durable or functional, and the lights may not be as bright.
Despite this, the key takeaway is that, in most cases, you won't need to spend extra to start riding right away with full functionality.
---
Best Electric Bikes Under $1500
---
1. Ride1UP Turris
Price: $1,295
Motor: 750W, 60 Nm, Class 3
Battery/Range: 614 Wh / 25-45 miles
Brakes: Zoom hydraulic disc brakes
Weight: 55 lb
The Ride1UP Turris undoubtedly tops this list as the best electric bike under $1,500. It's fascinating how Ride1UP manages to offer so many features for just $1,295 (or $1,095 when on sale!) and still make a profit.
The Turris is powered by a 750W rear hub motor generating 60 Nm of torque, coupled with an integrated 614 Wh battery that provides a range of 25-45 miles. It also features a cadence sensor and boasts a top speed of 28 mph, making it perfect for city commuting.
Instead of the lowest-tier Shimano Tourney, the Turris has a Shimano Altus 7-speed rear derailleur and hydraulic disc brakes, which is a combination usually found on pricier ebikes.
What's more, Ride1UP has also included a bright headlight, suspension fork, fenders, kickstand, backlit display, and even attractive tan-wall tires.
The only thing missing is a rear rack (which you can add for $50), but this minor investment seems trivial considering the overall value this ebike provides.
---
2. Engwe Bikes L20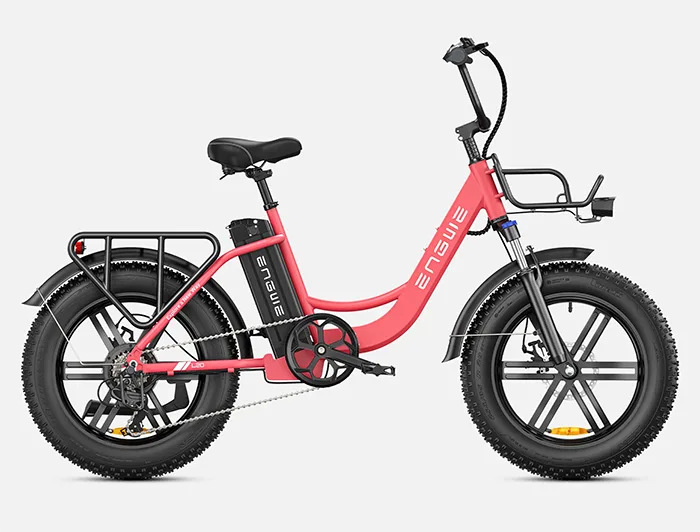 Price: $1,199
Motor: 750W / 50 Nm
Battery/Range: 624 Wh / 90 miles (max)
Brakes: Mechanical disc brakes
Tires: 20″ x 4″
The Engwe Bikes L20 is a fresh release by this affordable brand that significantly resembles Rad Power Bikes' RadRunner 2.
While the appearance is similar, there are some important differences between the two. The L20 costs $300 less and has a 90-mile range (according to Engwe) from a 625 Wh battery, compared to RadRunner 2's 45-mile range.
The L20 is powered by a 750W rear hub motor and has a 25 mph top speed, which makes it a Class 3 ebike with a throttle. It also boasts mechanical disc brakes and a low-tier Shimano 7-speed rear derailleur.
As an ebike under $1,500, the L20 looks surprisingly good, offering four colors, including Flamingo Pink and Avocado Green, which are quite rare.
It also features front and rear fenders, front and rear racks, and a plush suspension fork, so we can safely say the L20 is a bargain for commuters and riders seeking utility at a wallet-friendly price.
---
3. Co-op Cycles CTY e1.1
Price: $1,299
Motor: 250W, 40 Nm, Class 1
Battery/Range: 450 Wh / 40 miles
Brakes: Tektro hydraulic disc brakes
Weight: 48 lb
Co-op Cycles is known as a wallet-friendly brand that offers excellent value for the money with its ebikes. The CTY e1.1 is no exception, as it delivers a well-rounded package for only $1,299.
If you're looking for a fully-equipped commuter ebike, the CTY e1.1 may not be the right choice for you. But you will like it if you value low weight, nimble ride feel, and low maintenance.
The CTY e1.1 is equipped with a 250W rear hub motor and a 450 Wh battery. While not the most powerful on our list, these specifications deliver reliable performance for everyday commuting, providing a range of around 40 miles. It's a Class 1 e-bike, meaning it offers pedal assistance up to 20 mph.
The bike comes with a Shimano Altus 7-speed rear derailleur and Tektro hydraulic disc brakes, making it a notable upgrade compared to many bikes in this price bracket.
Unfortunately, Co-op Cycles has skimped on some extras like fenders and a rear rack, but they managed to include bright front and rear lights, a backlit display, and a kickstand.
So, if you're looking for a balanced and affordable e-bike from a reputable brand, the Co-op Cycles CTY e1.1 is certainly worth your consideration.
---
4. Lectric XP Step-Thru 3.0 Long-Range
Price: $1,199
Motor: 500w, 55 Nm
Battery/Range: 500 Wh / 30–65 miles
Brakes: Hydraulic disc brakes
Weight: 64 lb
The Lectric XP 3.0 is a powerful compact ebike that's very popular among folding fat-tire electric bike fans—whom there are a lot of.
The XP 3.0 costs just $1,200 and offers everything you need in a commuter ebike, short of a torque sensor, but the cadence sensor works smoothly enough.
Featuring a 500W (55 Nm) rear hub motor and 500 Wh battery, the XP 3.0 is not the most powerful ebike out there, but it still has a decent 30-65-mile range and 28 mph top speed.
Recently, its mechanical disc brakes have been replaced with hydraulic discs, which is great as this was a big sticking point. Now the braking is much more powerful and predictable.
Apart from the compact folding frame, the XP 3.0 also boasts a rear rack, fenders, 7 speeds, front and rear lights, and even a suspension fork.
So if you're in the market for one of the best folding electric bikes, the Lectric XP 3.0 is an excellent choice.
---
5. Aventon Soltera.2
Price: $1,399
Motor: 350W, Class 2
Battery/Range: 360 Wh / 20-46 miles
Brakes: Mechanical disc brakes
Weight: 46 lb
The Aventon Soltera.2 is a minimalist e-bike under $1,500, outfitted with standard components for this price range and sprinkled with a few premium-feeling features.
The Soltera.2 features fast-rolling tires, a lightweight design, comfortable upright geometry, and seamlessly integrated components, making it a great example of the best city electric bikes.
Though its 350W rear hub motor and 360 Wh battery may not be the most powerful on this list, they provide ample performance for the average rider. However, if you live in a particularly hilly area, you might want to consider its bigger sibling, the Aventon Pace 500.2.
As a Class 2 e-bike, it can assist you up to 20 mph across four PAS levels or solely on the throttle, offering a range of roughly 20-46 miles per charge.
As depicted in the image above, the Soltera.2 comes with minimal accessories. The most notable among these are the integrated rear lights (complete with brake lights), a bright headlight, and a premium full-color LCD display.
All in all, the Aventon Soltera.2 is a good choice if you're after a simple, fuss-free ride.
---
6. Juiced Bikes RipRacer
Price: $1,499
Motor: 750W /80 Nm
Battery/Range: 811 Wh / 55 miles
Brakes: Hydraulic disc brakes
Weight: 66 lb
The Juiced Bikes RipRacer just barely fits the category of best electric bikes under $1,500 as it costs $1,499. However, it's worth the money, especially if you're looking for as much battery capacity and motor torque as possible.
Namely, the RipRacer's 750W rear hub motor generates 80 Nm of torque, which is pretty impressive for a hub motor. It has class 3 capabilities, so it boasts a 28 mph top speed, as well as a twist throttle with a 20 mph top speed.
The 52V 15.6 Ah (811 Wh) battery is one of the main selling points. Most competitors come with 36V or 48V batteries, which affects the motor power. Therefore, the merrier the better—you can expect much better acceleration and climbing with the RipRacer.
But there are some drawbacks as well, such as a single-speed drivetrain and a lack of fenders and a rear rack. Though, hydraulic disc brakes and bright front and rear lights are always a nice touch on ebikes under $1,500.
So if you're after an affordable punchy ebike and you don't mind buying fenders and a rear rack separately, we recommend shortlisting the Juiced RipRacer.
---
7. Co-op Cycles Generation e1.1
Price: $1,499
Motor: 350W / 80 Nm
Battery/Range: 417 Wh / 30—40 miles
Brakes: Hydraulic disc brakes
Weight: 54 lb
Co-op Cycles is a recognizable name in entry-level ebike circles thanks to the high value for the money this brand provides.
The Generation e1.1 ebike is a recent addition to Co-op Cycles' lineup of best electric bikes under $1,500, meeting the needs of riders who want a compact ride with a high-quality finish and a punchy motor.
This is a practical commuter ebike that can fit through tight spaces and comes with most accessories you need for daily use, except for front and rear fenders.
The powerful 350W motor produces up to 80 Nm of torque, so the Generation e1.1 can climb decently well, whereas the 417 Wh battery offers 30-40 miles of range. The range could be better, but it's still more than enough for the average rider and in line with category standards.
In addition, this ebike also comes with a 7-speed Shimano drivetrain, hydraulic disc brakes, a suspension fork, and front and rear battery-powered lights.
We recommend it as a solid alternative to folding ebikes, that's still quite compact but keeps things simple and fuss-free.
---
8. State Bicycle Co. 6061 Ebike Commuter
Price: $1,500
Motor: 250W, 36V
Battery/Range: 360 Wh / 18-100 miles
Brakes: Mechanical disc brakes
Weight: 38 lb
Lightweight electric bikes typically cost a lot of money and are usually out of reach for budget buyers, but that's not the case with State Bicycle's 6061 Ebike Commuter.
At just 38 lb, the 6061 Ebike Commuter is the lightest ebike on this list, so if low weight is at the top of your priorities, you won't find a better choice.
The flip side of the low weight is that this ebike has limited power and battery capacity. It comes with a 350W rear hub motor and a 360 Wh integrated battery. You can expect Class 1 top speeds and a range of 18-100 miles. Realistically, you can probably expect between 20-40 miles on a single charge, unless you stay in Eco mode all the time.
The 6061 Ebike Commuter also features a single-speed drivetrain and mechanical disc brakes, which makes it unsuitable for climbing extremely steep hills. But thanks to the low weight and narrow 700c x 40 mm tires, it can be pretty fast on flats even without any assistance from the motor.
You also get a colorful ebike display integrated into the handlebar stem, which looks very premium and performs flawlessly.
All in all, the State Bicycle Co.'s 6061 Ebike Commuter is a great choice if you want a nimble, affordable, and stylish urban ebike under $1,500.
---
9. Rad Power Bikes RadRunner 2
Price: $1,449
Motor: 750W, 80 Nm
Battery/Range: 672 Wh / 45 miles
Brakes: Mechanical disc brakes
Weight: 65 lb
Last but not least on our list of the best electric bikes under $1,500 is Rad Power Bikes' RadRunner 2, which is well-known in ebike circles as a highly customizable affordable option.
Regarding electronics, the RadRunner 2 gets Rad Power Bikes' usual combo—a 750W rear hub motor and a 672 Wh battery with Class 2 speeds, a half-twist throttle, and a 45-mile range.
It also comes with a single-speed drivetrain, mechanical disc brakes, 20 x 3.3″ tires, lights, and an integrated rear rack. Though, unfortunately, it doesn't have fenders.
But the best thing about this ebike is how customizable it is. There are more than 330 accessory combinations that you can outfit it with to make it suitable for whatever application you need—transporting cargo, an adult passenger, or kids.
Thanks to its low-step frame and upright geometry, the RadRunner 2 is also one of the best ebikes for seniors or those with mobility issues who can't ride a step-over ebike.
Therefore, if you want a tried and true ebike from a popular brand, get the Rad Power Bikes' RadRunner 2.