Urban bikes have a pretty standard look and feel, which the Dutch popularized. They share features like upright and relaxed geometry, mid or low-step frames, pannier racks, and fenders.
These bikes allow you to carry cargo, stay clean from road spray, and navigate traffic with a clear view of the road ahead. On top of that, this design makes urban living convenient, comfortable, and safe.
By adding the assistance of a motor, you can extend your journeys, arrive at your destination sweat-free, and take on hilly routes that you would otherwise avoid.
This article will review ten of the best city electric bikes available in 2023 and finish with a short guide on what to look for when choosing one.
---
Best City Electric Bikes in 2023
---
1. Rad Power Bikes RadCity 5 Plus
MSRP: $1,999
Motor: 750W hub motor, 58Nm
Battery: 672Wh
Range: 28-50 miles
Top features: Throttle, fully equipped commuter setup, puncture-resistant tires
The Rad Power Bikes RadCity 5 Plus is the brand's premium urban e-bike, designed with everything you need for comfortable and convenient city riding.
It has a 59.5-lb capacity rear rack, fenders, and lights. In addition, you get useful features like puncture-resistant tires and a throttle to pull away effortlessly from traffic lights.
Rad Power Bikes
chose a powerful 750W motor and a 48V, 672Wh battery, which delivers a 50-mile max range. This battery is semi-integrated, removable, and charges in 6 hours.
The RadCity has a smooth and relaxed ride feel on pavement thanks to the 50mm coil fork, plush 2″ tires, upright geometry and swept-back handlebars, and ergonomic grips.
Finally, you get a basic groupset which isn't very long-lasting. It includes off-brand NUTT hydraulic disc brakes and a 7-speed Shimano Altus/Tourney drivetrain.
All things considered, you should add the RadCity 5 Plus electric city bike to your shortlist if you want a well-rounded, affordable e-bike with a throttle.
---
2. Ride1UP 700 Series
MSRP: $1,695
Motor: 750W Bafang hub, 60Nm 

Battery: 720Wh
Range: 30-50 miles
Top features: Powerful motor, fully-equipped setup, hydraulic disc brakes
The Ride1Up 700 Series is one of the brand's most popular models thanks to the balance of price and functionality.
This city electric bike is solidly built and durable, although slightly heavier than the competition (62 lbs). It includes a full commuter setup of a 50-lb-capacity rack, metal fenders, and bright lights.
Power comes from a 750W, 60Nm hub motor that can easily drag you up steep gradients. In addition, the inclusion of a throttle makes for effortless riding in the city. This motor pairs with a 720Wh battery that will last up to 50 miles.
The 700 Series has a solid groupset for this price range, including an 8-speed Shimano Acera drivetrain and Tektro hydraulic disc brakes.
In addition to that, 2.4″ tires, a 100mm travel fork, relaxed geometry, and comfortable touchpoints create a smooth, enjoyable ride quality. That said, the high-travel suspension is overkill for an urban e-bike.
Overall, we feel this is the best city eBike under $2,000 and a worthy consideration for any budget-conscious rider.
---
3. Trek Verve+ 4S Lowstep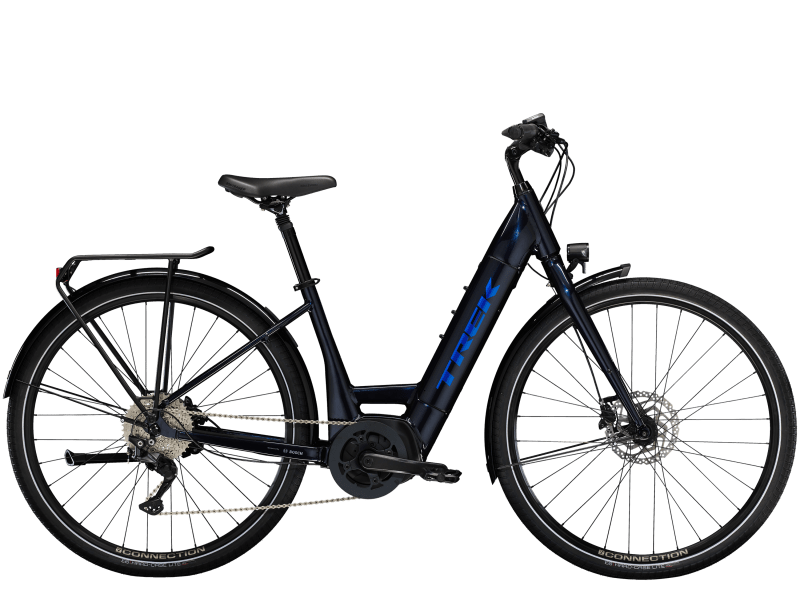 MSRP: $3,500
Motor: 250W Bosch Performance Line Sport, 65Nm
Battery: 500Wh
Range: ~70 miles
Top features: Deore drivetrain, hydraulic disc brakes, a mid-drive motor, puncture-resistant tires
Trek is a colossus in the bike industry, and with the Verve+ 4S Lowstep, they've designed a solid urban hybrid that's ready for commuting or the demands of daily riding. 

It has a set of slick Bontrager E6 Hard-Case Lite 50mm e-bike tires and a wide-range 10-speed Shimano Deore drivetrain.
If you're looking for a commuter e-bike out of the box, this model comes with a rack, fenders, and lights. In addition, there are mounts for adding a front rack.
Power comes from Bosch's Performance Line Sport 65Nm mid-drive, which gives you plenty of kick for riding up steep hills. This efficient, lightweight system will get up to 70 miles of range from the 500Wh removable battery.
The Verve+ 4S is enjoyable to ride, comfortable, and smooth on pavement. The step-through frame, wide tires, Bontrager saddle, and upright geometry each contributes to this quality.
Don't miss out on this Trek electric city bike if you want a premium machine with everything you need for urban living.
---
4. Priority Current
MSRP: from $3,299
Motor: 500W, 140Nm
Battery: 500 Wh
Range: 50 miles
Top features: Mid-drive motor, internal gears, Gates carbon belt
The Priority Current is one of the best city electric bikes commuting with a Gates carbon belt instead of a chain and an internal gearbox.
The most impressive aspect of the Priority Current is that it comes with a 500W 140Nm mid-drive motor and a large 500 Wh battery. This setup will return an average of 20-50 miles and easily take you over steep inclines.
The battery is fully integrated and charges both on and off the bike. Commuters will be happy to know this ebike comes with front and rear fenders, LED lights, and a sturdy kickstand.
Priority chose 650b x 47 mm tires with puncture resistance, a mid-step frame, an adjustable stem, and upright geometry resulting in a comfortable and accessible ride. However, some reviewers comment that the stem needs to be re-tightened frequently.
Another noteworthy aspect of this bike is the fully internal Shimano Inter-5 internal hub or enviolo Heavy Duty gearbox (choose at checkout) and hydraulic disc brakes. This setup should maintain solid performance over time.
Choose the Priority Current if you want an affordable and well-equipped city electric bike.
---
5. Lectric XP 3.0
MSRP: $999
Motor: 500W hub, 55Nm
Battery: 500Wh
Range: 45 miles
Top features: Folding frame, cheap, high-capacity rear rack, puncture-resistant fat tires
The Lectric XP 3.0 is the cheapest electric city bike on this list and the only fully folding option we've included.
It has a sturdy folding frame that allows you to store or transport it more easily. That said, at 64 lbs, you won't be carrying it too far.
The XP 3.0 includes a 150-lb-capacity integrated rear rack, bright lights, and fenders. This rack is compatible with a passenger kit for taking along a friend and utilizing the 330-lb payload capacity.
The 55Nm motor and 500Wh battery pack provide a range of 45 miles. However, this can be significantly less if you carry cargo or utilize the throttle. However, Lectric offers a "Long-Range" model with a 65-mile range for $200 more.
The rest of the build kit is entry-level, including a Shimano Tourney 7-speed drivetrain, cheap mechanical disc brakes with 180mm rotors, 3″ puncture-resistant tires, and a 50mm fork. Thankfully, high-volume tires make for smooth, controlled riding.
All things considered, if you're in the market for a cheap folding e-bike, you won't find one better than the XP 3.0.
---
6. Aventon Soltera E-Bike
MSRP: $1,199
Motor: 350W hub
Battery: 345Wh
Range: 22-63 miles

Top features: Lightweight, excellent range, fast and responsive
Aventon's Soltera
is the cheapest model on their lineup but offers a
lightweight and responsive choice
to urban riders who want an e-bike that closely resembles a traditional bike.
At first glance, the Soltera doesn't look like an e-bike with its narrow-profile tubing and inconspicuous 350W rear hub motor. This motor is weak but adequate for those who don't require tons of assistance.
The 345Wh battery is integrated into the underside of the downtube and is lockable and removable. It provides modest ranges, but if you are comfortable using the lower assistance levels, you can squeeze around 50 or 60 miles from this e-bike. Thankfully, it weighs just 43 lbs and has sporty geometry to make for easier riding on lower PAS levels.
The groupset comprises a Shimano Tourney 7-speed drivetrain and Tektro mechanical disc brakes, a basic but respectable setup for such a low price. Other notable features include integrated lights and cabling, fast 35mm Kenda tires, a throttle, and connectivity with Aventon's app.
Overall, this is one of the best urban bikes you'll find if you want a lightweight and fast ride with a budget-friendly price tag.
---
7. Cannondale Adventure Neo 4
MSRP: $2,875
Motor: 250W Bosch Active Line, 40Nm
Battery: 400 Wh
Range: 64 miles
Top features: Solid range, Shimano groupset, comfort-optimized
The Cannondale Adventure Neo 4 is an urban cruiser electric bike with a high-quality aluminum frame and Bosch electronics.
This model is built around the brand's durable SmartForm C3 aluminum frame. In addition, it has sleek integrated electronics and cabling. The motor is a Bosch Active Line with a 400 Wh battery pack.
This 40 Nm mid-drive is smooth and efficient but low-performance. Expect modest capabilities when climbing and hauling heavy payloads. The 400 Wh is removable, charges in just 3.5 hours, and will return ranges up to 64 miles.
This version of the Adventure Neo doesn't come with a rear rack, fenders, lights, or bottle cage mounts—if you need these features, you should consider the Adventure Neo 3 EQ model. Other notable features include Kenda Kwick Seven.5 2.2″ tires with K-Shield puncture resistance and a Shimano Altus 9-speed drivetrain.
The highlight of this e-bike is its ride quality. The mid-drive motor and comfort-focused build kit and geometry deliver buttery-smooth riding.
Don't miss out on this sleek Cannondale machine if you want unbeatable comfort from your city electric bike.
---
8. Charge City
MSRP: $1,799
Motor: 250W Bafang hub, 45Nm
Battery: 418Wh
Range: 50 miles
Top features: Lightweight, fully-equipped commuter setup, foldable pedals and handlebars, tire pressure indicators
Charge Bikes
specializes in city electric bikes with uncommon yet highly-practical features to make your life more convenient.
The City e-bike is the brand's most affordable and lightweight model. It weighs just 45 lbs and has a responsive frame and fast 40mm tires, making it easier to ride on lower PAS levels and extend the range.
This bike won't be suitable for those who rely heavily on assistance, as it has a modest 250W, 45Nm hub motor. You can squeeze up to 50 miles from the 418Wh battery, but it takes a lengthy seven hours to recharge.
All Charge electric city bikes come with folding pedals and handlebars for easier storage at home, handy tire pressure indicators, puncture-resistant tires, and a fully-equipped setup to make commuting and running errands convenient.
Finally, the Shimano Altus 7-speed drivetrain is acceptable, but we're disappointed with the cheap Promax mechanical disc brakes at this price.
Add the Charge City electric bike to your shortlist if you want a feature-rich and versatile urban companion.
---
9. Gazelle Ultimate C380+ Mid-Step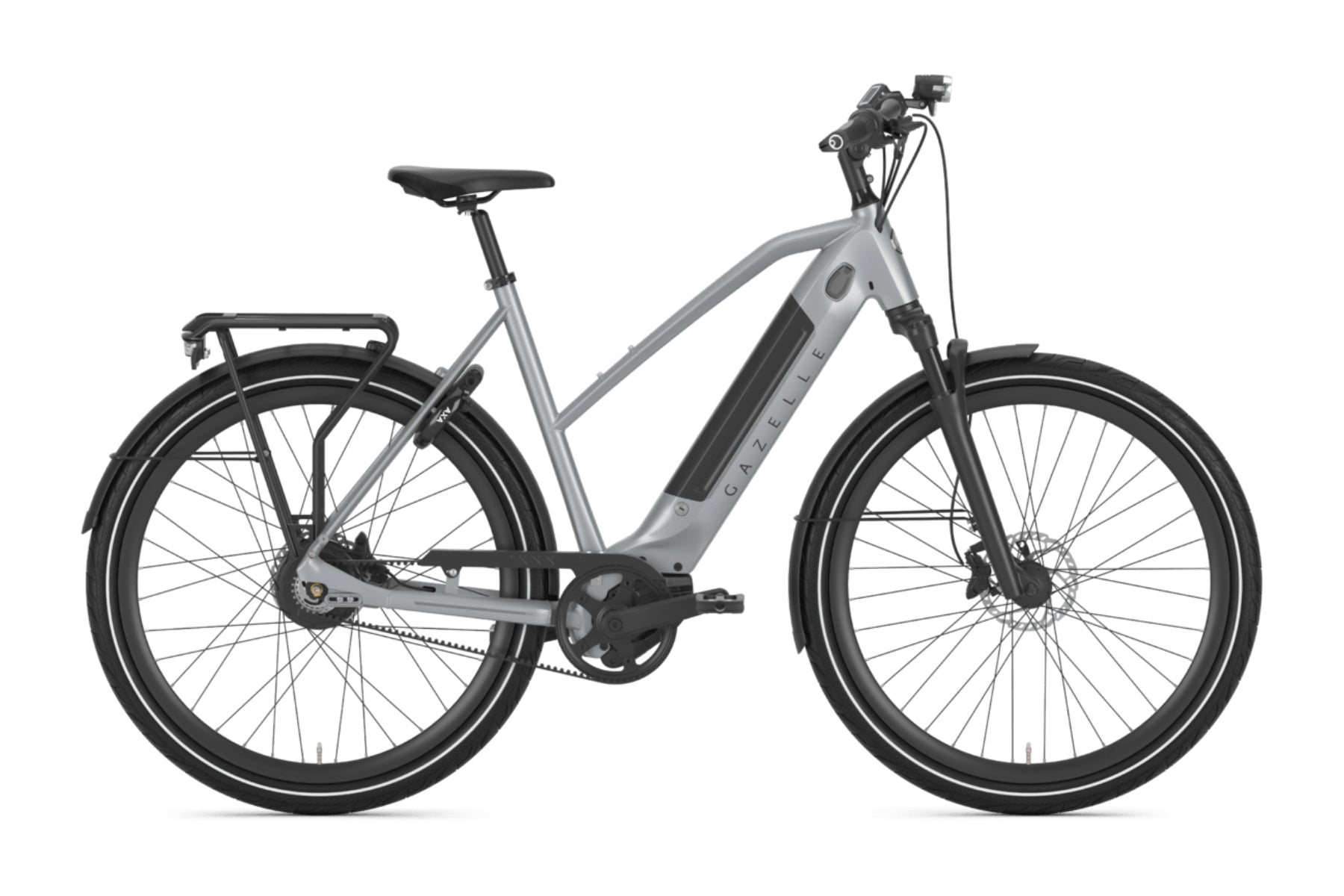 MSRP: $5,000
Motor: 250W Bosch Performance Line Speed, 85Nm
Battery: 500Wh
Range: 55 miles
Top features: High-torque motor, premium ride quality, 10-year warranty, belt-drive system
The Ultimate C380+ is Gazelle Bikes' top-end city electric bike, equipped with some of the most advanced components and electronics in this category.
Firstly, you get Class 3 speed from the Bosch Performance Line Speed 85Nm motor and 500Wh battery pack. You'll get up to 55 miles of range, and you can remove the battery to charge it off the bike.
Gazelle chose a premium Gates Carbon belt drive and Enviolo's Trekking 380% hub for the drivetrain. This combination is ultra smooth, maintenance-free, and doesn't require grease, ideal for the city dweller or commuter.
Other notable features of this bike include a Dutch-style cafe lock, Axa LED lights, a rear rack, fenders, puncture-resistant Schwalbe tires, and Shimano MT420 hydraulic disc brakes.
Overall, the Ultimate C380+ is solidly built and has an unbeatable ride quality thanks to the careful selection of components and balanced geometry.
Choose the Ultimate C380+ if you have a big budget and want the best of the best in city electric bikes.
---
10. Co-op Cycles Generation e1.2
MSRP: $1,899
Motor: 350W Bafang hub, 80Nm
Battery: 672Wh
Range: 40-50 miles
Top features: High-torque hub motor, two racks, puncture-resistant tires, hydraulic disc brakes
The Co-op Cycles Generation e1.2 is the more expensive of the brand's two utility-style electric city bikes.
This model comes fully equipped with two racks, supporting up to 22 lbs in the front and 59 in the rear. The 350W, 80Nm Bafang hub motor is decent but will struggle on hills when the bike is loaded close to the 300-lb payload capacity.
A  672Wh battery is removable and lockable but takes up to eight hours to charge from empty. From full, it will provide up to 50 miles of range.
Co-op Cycles chose a Shimano Altus 7-speed drivetrain and Tektro hydraulic disc brakes, a typical pairing for this price range. Unfortunately, this e-bike doesn't come with fenders, and one reviewer noted the LED lights aren't very bright.
The Generation e1.2 is comfortable and stable thanks to its upright geometry, adjustable stem, and shock-absorbent 2.4″ Schwalbe Super-Moto-X tires.
Consider this Co-op Cycles city electric bike if you need an affordable light-duty utility machine for your urban rides.
---
Features to Look for in Best Electric City Bikes
As mentioned, most city electric bikes share a narrow set of traits that make them functional for urban life. These include commuter components (rack, fenders, lights), relaxed geometry, wide-ish tires with puncture resistance, and mid-tier electronics.
This section will cover these features in greater detail so you can choose the bike with the right balance for your needs and budget.
Motor Type, Power, and Torque
City electric bike prices vary greatly, with the cheapest models starting at around $500 and the most expensive ones going well above $5,000.
The best urban bikes have mid-drive motors, while the cheaper models will typically have hub drives. In addition, you can find hub motor e-bikes with torque sensors added, bridging the gap in performance between the two motor systems.
Hub motors power the wheel axle directly, making the ride quality more clunky. Likewise, they aren't as efficient, and the amount of torque they produce is limited. However, they are cheaper, easier to use, widely compatible with throttles, and perfectly adequate for urban-style riding.
In contrast, mid-drives are expensive, largely incompatible with throttles, and more challenging to use as you must change gears regularly to get maximum efficiency. However, mid-drive ride quality is more natural and smooth, and the bikes get more range from smaller batteries and higher torque from lower power ratings. Read more in our detailed hub motors vs. mid-drive motors guide.
High power and torque allow you to ride faster, reach your desired speed quicker, and tackle hills or pull heavy cargo without dropping speed. Given that, riders living in hilly cities, those who are heavier, or who regularly load the bike should choose a hub drive with more power (500W+) or a mid-drive with a torque rating above 50Nm. Otherwise, you'll need to contribute more power when riding.
Battery and Range
Electric city bike range typically isn't the highest, but most models have enough to cover the types of journeys urban riders do.
The expected range of an e-bike is the hardest part of its performance to predict. Many factors can influence it, some of which include rider weight, assistance level, temperature, elevation gain, and terrain.
When you read any manufacturer-stated range, take it with a pinch of salt, as there is no standardization in these ratings. For example, one brand might state the average max range, while another will state the absolute maximum in perfect conditions with a rider of a specific weight.
That said, you can get an idea of range by reading what a manufacturer states, reading user reviews, and comparing them to your circumstances.
When you look at a battery's total stored energy in watt-hours (Wh), you must consider if it is a hub or mid-drive e-bike. Hub motors must have larger batteries because they aren't as efficient. Likewise, more powerful systems (higher voltage, torque, or wattage) usually pair with larger batteries as they use energy faster.
Other battery characteristics to look out for include the ability to lock on the bike, remove for security or charging, and total charge time. These traits will be relevant to some riders and not to others. We've highlighted them in the reviews to help you decide if a model fits your criteria.
Commuter Components and Accessories
As discussed, most electric city bikes have commuter components to make riding convenient and safe. They include a rack, fenders, and LED lights at a minimum.
Not all riders need these components, so bikes like the Aventon Soltera may be favorable for these riders. On the other hand, most Biria bikes have a full set of commuter-friendly accessories.
Other features to look out for include a rear wheel lock, a front rack, and compatibility with accessories like pannier bags and baskets.
Of course, in addition to the accessories that come with your ebike, make sure to also buy a quality electric bike lock and a quality ebike helmet for the best protection.
Drivetrain and Brakes
The best city eBikes have hydraulic disc brakes, which are the most consistent, powerful, easy to modulate, and low maintenance. Mechanical discs are a cheaper alternative that works well for urban riding and helps keep costs down on bikes like the Lectric XP 3.0.
Drivetrains don't vary hugely from bike to bike, with most having seven, eight, or nine speeds. The wider the cassette, the more options you have to continue pedaling when climbing or riding fast. Introductory products like Shimano's Tourney or off-brand drivetrains will lose shifting performance rapidly and wear more quickly.
Suppose you like to pedal a lot when riding your e-bike and take on diverse gradients. In that case, a bike like the Trek Verve+ 4S with its Shimano Deore 10-speed or the Co-op Cycles CTY e2.2's 9-speed Alivio/Acera setup will suit you better.
Riders of hub motor e-bikes who like to utilize the throttle and ride mostly on flat terrain shouldn't worry as much about the type of drivetrain.
Geometry and Comfort
Most city electric bike manufacturers use relaxed geometry to suit the broadest range of riders. Likewise, they choose components that make for smooth riding on pavement. In addition, you'll often find step-through frame designs that make mounting and dismounting easier.
Fat tires are a great addition to city electric bikes as they act as shock absorbers while providing more grip and the ability to venture off-road.
If you value comfort above all else, an urban cruiser electric bike like the Cannondale Adventure Neo X 3 is unbeatable, as it's designed with comfort as the priority. Otherwise, look for bikes with wider tires, fork suspension, swept-back handlebars, padded saddles, and ergonomic grips. Avoid models like the Aventon Soltera as it has a speed and efficiency-focused design.
Extra Features
As mentioned above, throttles make riding in cities easier, especially for inexperienced riders. Unfortunately, they are only found on hub-drive city electric bikes. The main benefit of throttles is they allow you to begin moving from a stopped position without having to spin your legs, which can be tiresome if done repeatedly. They also allow you to forget about changing to a lower gear before you stop.
The best urban bikes have puncture-resistant tires. This technology drastically reduces your chance of getting a puncture and may allow you to ride for years without getting one (if you're lucky). Changing a flat on a hub-drive e-bike is more laborious than on a regular bike, so puncture protection is even more important on these bikes.
A belt-drive e-bike such as the Gazelle Ultimate C380+ has many advantages for city riders. These systems require little to no maintenance, don't use grease that can get on your clothes, and run silently. Of course, belt-drive bikes cost more upfront, but they last three to four times longer than standard chain drivetrains and save you plenty of headaches along the way.
Finally, folding components can make an urban dweller's life more convenient and increase the appeal of an e-bike. For example, city apartments aren't the most spacious, so reducing your bike's footprint for storage will make it easier to store at home. Likewise, you can take a folded e-bike on public transit if you must use it as part of your commute. Examples include the Lectric XP 3.0 or folding components (handlebars, stems, pedals) like those found on the Charge City.