Each cyclist should own a handful of essential accessories and, over time, add some nice-to-have extras to make riding safer and more enjoyable.
The type of bike you have, the riding you do, and where you ride will determine which eBike accessories you'll need. For example, urban riders will want fenders, lights, and a lock, whereas backcountry adventurers might need an ebike car rack and phone mount.
This article is a guide to help you decide which accessories you need for your bike and provide our list of must-haves.
Why Do I Need E-Bike Accessories?
Safety is the main reason to buy eBike accessories. Start with a helmet, reflective clothing, and lights to protect your head in the event of a crash and make yourself clearly visible to other road users.
Thankfully, lights are one of the most common electric bike accessories on urban models. The battery usually powers these, so you don't need to remember to charge them.
Accessories can also make riding more comfortable and enjoyable. For example, if you are commuting or running errands, putting your work gear or groceries into pannier bags or a basket is more comfortable than carrying them in a backpack.
Urban riders must keep their clothes dry and clean from spray on wet roads, so fenders are essential for many people.
Finally, all riders need to be able to repair a puncture when they're far from home. There's nothing worse than getting stuck by the side of the road with a flat tire and no means of fixing it, so carry a spare tube, a hand pump, and tire levers on rides where you stray far from home.
Will Any Accessory Fit on My E-Bike?
Accessories for electric bikes are not as widely compatible as those for traditional bicycles. The unusual frame shapes, locations of mounts, and placement of electronics limit compatibility.
For example, Aventon eBike accessories are designed specifically for their models, so if you need an item from the brand's online store, you must match it to the build you own. Many direct-to-consumer e-bike manufacturers operate like this.
You can purchase accessories like repair tools, locks, and lights from almost any brand; but others, like fenders, racks, and baskets, are usually model-specific.
Tips for Choosing Accessories for E-Bikes
E-bicycle accessories fall into two categories, essential and non-essential. For example, every rider should own a helmet, lights, one piece of high-vis clothing, a pump, a multitool, and spares for punctures. In contrast, depending on your specific needs, you can add fenders, racks, mirrors, and locks.
Most bike shops and online retailers have a range of products within each category of ebike accessories. However, collections by direct-to-consumer brands, like Lectric eBike accessories, typically only have one choice for each product.
The best eBike accessories are typically more expensive, but sometimes you can find them on sale. Cheaper products usually wear out quickly, so it's worth investing in a higher-quality product that will last longer if you plan to use it frequently.
Which E-Bike Accessories Should I Buy?
---
As mentioned, electric bike safety should be the number one priority when considering which electric bike accessories to purchase. Then, decide what you need based on where, when, and how you ride.
Below are 11 categories of accessories for eBikes that make riding safer and more enjoyable. It's best to start with the essentials and buy others as needed. All online retailers, direct-to-consumer brands, and bike shops have a range of accessories, so you can add them when you buy your electric bike.
1. A High-Quality Helmet
Helmets are essential electric bike accessories. They should be used whenever you ride, even if laws do not require them. Bike helmets reduce the risk of head injury by 51% and fatal head injuries by 65%, and the high speeds of e-bikes increase their importance.
The best helmet for electric bike riders is the one that fits. You can measure the circumference of your head at the widest part and use that number to refer to helmet sizes. Alternatively, go to a store and try on different brands to find one that fits you best; each manufacturer fits differently.
All helmets sold by reputable stores meet minimum safety standards set and enforced by the Consumer Product Safety Commission (CPSC). However, premium products have extra technologies for increased protection (MIPS, WaveCel), comfort, and performance.
Additionally, you can choose helmets for different riding styles, such as commuting, mountain biking, road biking, and triathlon. Check out best ebike helmets buying guide to see which models we recommend!
Where to Buy?
2. Rearview Mirrors
Commuters, city riders, and those with neck mobility or balance issues that can't safely look over their shoulder may find a mirror or a set of mirrors helpful. Like those for cars, they allow you to see what is approaching from behind.
Rearview mirrors clip or mount to your handlebars on the bar-end or the inside of the grip. Alternatively, you can buy a mirror for your helmet. Some products are adjustable and universal-fitting.
For example, Rad Power Bikes Accessories page has one mirror that fits all its models. In contrast, among the Aventon eBike accessories, you can find four different mirrors with different designs.
Where to Buy?
3. A Trustworthy E-Bike Lock
If you plan to leave your e-bike outside, invest in one of the best ebike locks. Electric bikes are expensive, with the cheapest models costing close to $1,000, so buying a high-quality bike lock is a small price to pay to protect that investment.
The area you live in and the level of risk will determine how much you spend and what type you buy. Though, the general rule of thumb is to spend 10% of your bike's worth on securing it.
Buy a more robust and protective lock if you live in a high-risk area, and ensure the one you buy is easy to use. Thankfully, with the extra power from your e-bike motor, you don't have to worry if it is heavy, like you would when riding a traditional bike.
The most common and best-regarded lock brands are ABUS and Kryptonite. You can find locks of different thicknesses and designs (chain, U-lock, folding). Likewise, you can choose between keyed or combination mechanisms.
Avoid flimsy cable locks, as these can be cut through in seconds without any noise and offer no protection from a prepared thief.
Where to Buy?
4. Repair Kits: Multitool and Puncture Repair Tools
When you cycle, you should carry a basic repair kit containing tire levers, a spare tube, and a multitool for making basic adjustments to the saddle or handlebars.
Add the appropriate wrench to your kit if you don't have a quick-release seatpost and wheels. You can also carry a puncture repair or tubeless repair kit if necessary.
These repair accessories for eBikes can fit in a small bike bag that attaches under the saddle or in a pannier bag if you leave yours attached. You might have other bike maintenance tools at home, but the basics should be all you need when out riding.
Where to Buy?
5. A Mini Bike Pump and Floor Pump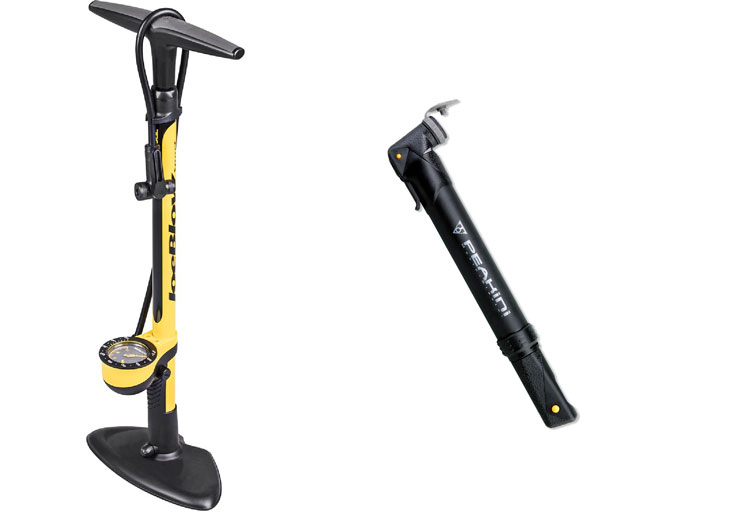 Bike pumps today are very user-friendly, although the kind you need depends on the tire valve, Presta or Schrader. In general, most modern pumps work with both types but double-check the type of valve you have and the pump's compatibility before purchasing one.
We recommend having two pumps, one mini hand pump to take along on your rides to use after fixing a puncture, and another larger floor pump with a pressure gauge for at-home use. Mini pumps often don't show current tire pressure (or do so imprecisely) and are laborious to use.
Where to Buy?
6. Quality Bike Bags and Panniers
If you regularly commute, run errands, or tour, bike bags will allow you to carry more and be more comfortable than wearing a backpack. In addition, backpacks are often hot and uncomfortable, leaving sweat marks in the summer.
Many electric bikes come with a preinstalled pannier rack, so buying pannier bags is a simple option. If you don't have a rack, you can buy a saddle or handlebar-mounted bag, albeit with less storage capacity than panniers. Some features to look out for are waterproofing and organization pockets.
Where to Buy?
7. Front and Rear Lights
Every bike owner should buy a set of lights as you never know when you will get caught riding in a period of low light (dusk, dawn, heavy cloud cover) or at night. Thankfully, the best commuter electric bikes typically come with lights preinstalled, but if yours doesn't, we recommend buying a set.
In general, lights are used to increase your visibility to others instead of illuminating your way. However, you will need brighter lights if you ride at night through the forest or in rural areas without street lighting.
Brightness for bike lights is usually measured in lumens, with 50 lumens needed to be seen clearly by other road users at night and 100 during the day.
Some features to look out for when choosing a light are different brightness modes, flashing, a battery indicator, rechargeability, and tool-free mounting.
Always check your batteries before heading out, recharge the lights regularly, or put spare batteries with your repair tools so you can change them if the batteries die while you're riding.
Where to Buy?
8. Front and Rear Fenders
Fenders are essential if you ride your electric bike in the rain or on wet roads unless it's for exercise and you are comfortable allowing dirt and road spray to cover your back and spray into your face.
Another benefit of fenders is that they stop mud and dirt from collecting on the underside of your bike and caking screws and bearings with grime which can speed up wear.
Again, most city and urban electric bikes come with fenders. If not, you can typically buy model-specific fenders from the brand's store. If you want to purchase third-party fenders for your e-bike online, ensure they can be mounted first, as the compatibility varies. Alternatively, your local bike shop can check if they have a set that fits.
If your e-bike doesn't have fender mounts, you can buy a clip-on set. In addition, riders of e-mountain or e-road bikes can buy a small mudguard that mounts to the seatpost and blocks the majority of spray from the road or trail.
Where to Buy?
9. Front and Rear Racks or Baskets
Bike cargo racks provide cargo-carrying capacity when you're riding. We recommend reading our complete guide to bicycle racks to learn more about why they matter. Many e-bikes come with one preinstalled or with mounts, such as the best electric cargo bikes. If yours doesn't, check the manufacturer's site for a model-specific rack that is guaranteed to fit.
If you're loading a rack with cargo, be conscious of the rack's load limit, as exceeding this can cause damage to the frame or lead to failure while riding.
Baskets can also be attached to racks for shopping to carry smaller items or even pets. Ebikes with baskets also allow you to carry bulkier items without having to secure them as you would to a rack. Some baskets have quick-release attachments, while others bolt to your frame.
Where to Buy?
10. An E-Bike Car Rack
Many riders enjoy taking their electric bikes along on road trips or to distant locations to ride and explore, so having a way to secure them to your vehicle is essential.
E-bikes are much heavier than traditional bicycles, sometimes weighing as much as 100lb. For this reason, they require solid, high-capacity car racks that can support heavy loads, diverse wheel sizes from 20″ to 29″, and varied tire sizes up to 5″.
The best type of e-bike car racks for e-bikes are hitch-mounted platform racks, which have the highest weight capacities and are the most secure. In addition, you don't need to lift the bike very high to load it, as you would with a roof rack.
11. A Cell Phone Mount
If you live in a big city or enjoy discovering new routes, you'll need a way to navigate safely and conveniently. A bicycle phone mount allows you to attach your phone to the handlebars or stem with the maps open so you can follow turn-by-turn directions. This is an affordable alternative to buying a bike computer with navigation features.
These accessories vary in their attachment mechanism, the position of mounting, and whether they are in a case or not. Look out for a waterproof case if you ride in the rain, such as when commuting or bicycle touring.
Where to Buy?
Other EBike Accessories You May Need
Above, we've covered the eBike accessories we believe are the most important, but there are a few more worth mentioning briefly. You may need them depending on how, when and where you ride.
Child Carriers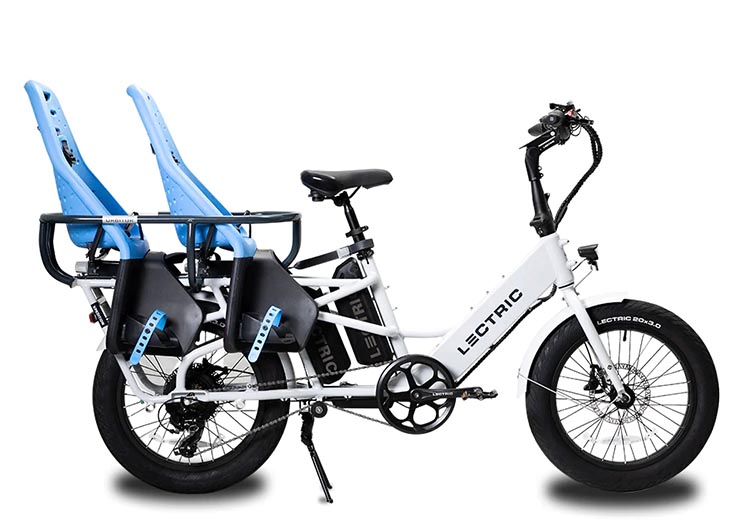 Kids' seats are also great for electric bikes as you can let the motor do the work and enjoy the ride more than you would on a traditional bicycle. The most important thing is to ensure that the rack can support the weight extra weight of the seat and the child and that you're not exceeding the bike's payload capacity.
Water Bottle Cage
Firstly, a water bottle cage is essential if you use your e-bike for long recreational rides or exercise. Unfortunately, many e-bike frames don't have space for a bottle due to the battery, but you can purchase a bottle cage for those that do. In general, these are universally compatible.
Secondary Battery
The main limiting factor of any electric bike, especially those in the entry-level price category, is range. All e-bike riders have experienced forgetting to charge and running out of juice on their way home, or putting in more effort than they'd like to in order to extend the range.
Secondary batteries take the stress out of remembering to charge after each ride and double the range of your e-bike. Most e-bikes have removable batteries you can slide out of the frame and replace quickly with a second battery. Those with non-removable batteries may be compatible with a range extender that sits in the bottle cage.
Another reason to buy a second battery is to have a spare if production stops on your model, which happens regularly with smaller manufacturers.
Trailers
Bike trailers are valuable eBike accessories for many people, offering a heavy-duty solution for transporting large cargo loads that wouldn't fit on a rack or in bags. Some trailers are designed specifically for children, and others for pets. The power of an electric bike allows you to pull these trailers effortlessly. Before buying, ensure the trailer is compatible with your e-bike.
Storage Rack
If you have multiple bikes or limited space at home, a bike storage rack can help you reduce the footprint of your electric bike. Double-check that the rack can support the weight of your e-bike. If not, you can try a floor rack.
GPS Trackers
Finally, GPS tracking is an excellent way to boost the security of your expensive machine. These tags or devices allow you to track the e-bike in the event of theft. Some trackers are integrated into lights, while others are designed to be hidden in the frame. If you use one of these devices, remember that it's not a replacement for a lock, just an extra safety precaution.