One of the most common questions new e-bike owners ask is, "Can you ride an electric bike in the rain?". In almost all cases, the answer is yes, but some cheap off-brand electric bikes cannot get completely wet.
While most e-bikes are protected against light to moderate rainfall, heavy downpours or prolonged exposure could damage the electronic components, which are not cheap to replace.
Given that, it's essential to check the level of protection (the IP rating) your e-bike has if there's a chance you will get caught in a shower or ride on wet roads. This information should be in the owner's manual or online on the product information page or FAQ.
This article will explain water resistance ratings, explore the risks and challenges of riding in the rain, and finish with some tips to help make your rainy-day rides safer and more enjoyable.
Water Resistance Ratings of Electric Bikes: What Do They Mean?
The IP (Ingress Protection) system is an international standard that rates the degree of protection a device or electric component has against dust and water.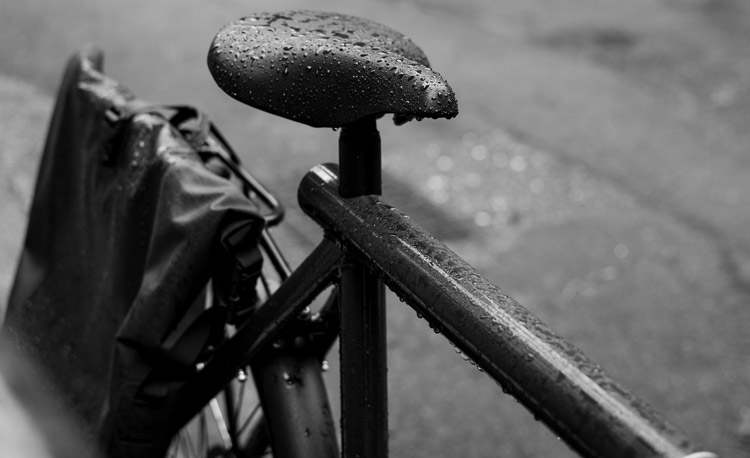 As you'll see below, it provides specific and detailed information about how well a device can withstand exposure to dust and water, so the consumer can avoid being misled by marketing terms.
The Rating System
The rating system consists of four digits, beginning with the letters IP and followed by the letter X or any number from zero to eight.
The first digit after IP refers to dust and particle protection; the second refers to water protection. For the purposes of this article, we will only list the water protection definitions.
IPXX: Not tested
IPX0: No protection
IPX1: Protection against vertically falling water drops: light rain up to 1 mm (0.039 in) per minute
IPX2: Protection against water dripping at an angle of 15 degrees: rain of 3 mm (0.12 in) per minute
IPX3: Protection against spraying water up to 60 degrees
IPX4: Protection against water splashing from any direction
IPX5: Protection against water jets from any direction (garden hose)
IPX6: Protection against strong water jets and waves from any direction (power washer)
IPX7: Protection against immersion in water up to 1 meter (3'3″) for 30 minutes
IPX8: Protection against continuous immersion in water of 3'3″ or more (conditions specified by the manufacturer)
So, Can You Ride an Electric Bike in the Rain?
The electrical components of an e-bike are typically rated at IPX4 at a minimum, meaning you can ride them in the rain as they are protected from splashes from any direction.
Most riders will encounter rainy weather conditions or ride on wet roads from time to time, so this level of water resistance is vital for protecting the most expensive parts of the bike, the electronics, from damage.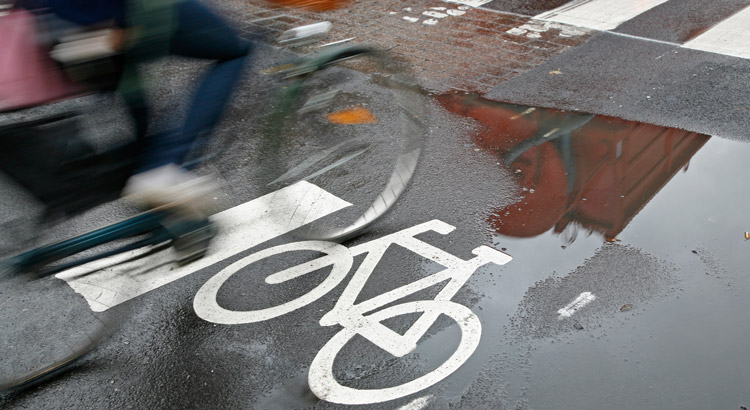 If you enjoy riding in heavy rain or on terrain with lots of puddles, we'd advise looking for an e-bike with an IPX5 or IPX6 rating. Again, up to IPX6, the components cannot be submerged in water, so avoid doing so.
Many manufacturers offer specific guidelines for riding in the rain or washing the bike, which you can find on the product's information page, FAQ, or owner's manual.
It's worth noting that each electrical component may have a unique IP rating. For example, a motor is closer to the ground and more exposed than a battery, so it may have a higher rating. But, again, following the manufacturer's usage guidelines is the best way to ensure you avoid damage.
Are Some Electric Bikes Waterproof?
No, electric bikes are not waterproof. There are currently no waterproof e-bikes (IPX7 or IPX8 rating) that we're aware of.
Protecting an e-bike to this degree is unnecessary and expensive, the cost of which would be passed on to the consumer and deter buyers who aren't explicitly searching for that feature.
Risks and Challenges of Riding an Electric Bike in the Rain
Riding in the rain requires much more care, concentration, and defensiveness than riding in dry conditions.
Firstly, you're not as visible to other road users, and visibility decreases as the rain gets heavier. For this reason, ride as if those around you cannot see you, give extra space to others, and allow more time to stop safely.
Secondly, wet roads are slippier, so traction is lower, especially when turning, and braking distances are longer. Wide, treaded tires and disc brakes give the rider more control and increase safety compared to narrow, slick tires and rim brakes. The more tire that's in contact with the ground, the better. For this reason, many e-bikers appreciate the added control and grip that the best fat tire ebikes offer.
Some surfaces are slippier than others when wet, so if you're unfamiliar with an area, be extra cautious when riding your ebike in the rain.
Avoid turning or braking on crosswalks or metal covers as they are especially slippery when wet.
In places where it rains frequently, road surfaces are often modified to increase grip in wet conditions. In contrast, places where it rains infrequently may have slippier road surfaces.
Finally, riding in extremely heavy rain may cause damage to an e-bike's electrical components. As mentioned, many e-bikes only have a rating up to IPX4, which should (but may not) protect against extreme rain.
Tips for Riding an Electric Bike in the Rain
For many of us, riding in the rain is unavoidable, but being cautious and implementing the following tips can make your rainy-day rides safer and more enjoyable.
Choose the Appropriate Gear
We recommend preparing your wardrobe and buying waterproof gear if you plan to ride in varied weather conditions. You won't produce much heat when riding an e-bike in the rain, so you can quickly become very cold once your clothing gets wet.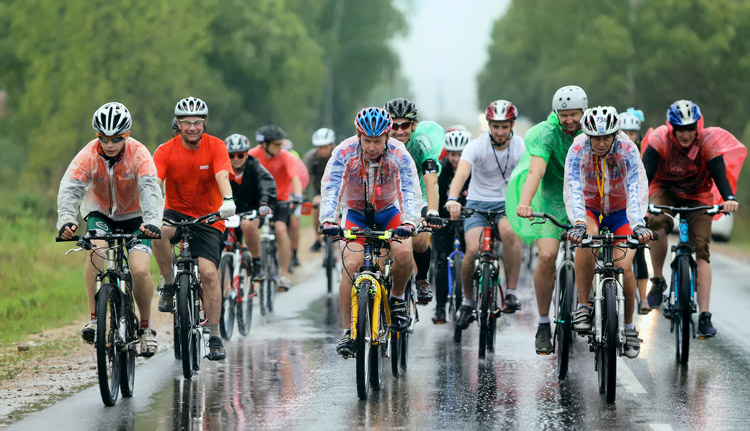 If you expect to get caught in the rain when you ride, such as on a weekly commute to work or university, prepare by buying waterproof gear. This could be a waterproof backpack or pannier bag to put a spare change of clothes into or a good rain jacket and waterproof pants to cover your clothes.
If you're riding for exercise or leisure, you may just want a lightweight rain jacket to keep your upper body dry until you get home. Of course, make sure to wear your e-bike helmet at all times, regardless of the type of riding you do, especially if it's slippery from rain outside.
Cornering and Braking in the Rain
When cornering in wet conditions, take the corner wider than usual and avoid leaning to maintain maximum tire contact with the ground. Avoid sudden changes of direction, and don't ride through large puddles that gather on the sides of the road.
Braking in wet weather requires a more gentle touch. Leave plenty of time to brake when possible, and slowly and gradually apply the brakes to avoid skidding or locking out your disc brakes.
In general, it's recommended to slow down when riding in the rain. Reducing your average speed to roughly 80 percent of normal will make for safer riding.
Equip Your E-Bike for Riding in the Rain
If you plan to ride your e-bike in the rain, there are two electric bike accessories that we recommend adding.
Firstly, install fenders to block the spray from the road from reaching your clothes and the sensitive components of the bike. Road spray will have dirt and oil that can stain your clothes or cause damage to bearings or connections over time.
Lights are another essential accessory for riding in the rain. Turn them on when it's raining to increase your visibility to other road users.
Tire Choice and Tire Pressure
If you live in an area where it frequently rains during certain times of the year, it may be worth having two sets of tires, one for dry conditions and another for wet.
Alternatively, you can modify your tire pressure to suit different conditions. For example, lowering your tire pressure will increase the size of the tire's contact patch on the ground, increasing traction.
Anticipate Hazards on the Road
As mentioned, wet roads are more hazardous, with the possibility of water, debris, or oil runoff from other vehicles gathering on the road.
These obstacles could cause you to skid or lose control if you don't see them in time. Again, this is why it's vital to slow down and give yourself more time to react.
Maintenance for Your Electric Bike After Riding in the Rain
Let's say you get caught in a shower while commuting home from work. When you arrive back, there is dirt on the underside of the frame and the drivetrain, and the e-bike is dripping wet.
Instead of leaving the bike to dry and the dirt and grime to cake on, be proactive by drying the electronics, cleaning the dirt off, and lubing the drivetrain.
First, remove the battery and use a clean rag to dry it and the connecting ports, the display, the cabling, and the area around the motor. Once dry, use this rag to wipe excess dirt off the frame and drivetrain. Then, you can quickly reapply lube with the chain dry and clean.
If the bike didn't get noticeably dirty, you can skip the cleaning and just dry off any excess moisture. However, it's important to spend this time to maximize the lifespan of your e-bike.
How to Protect Your Electric Bike from Water Damage
To protect your e-bike from water damage, follow the best practices:
Don't leave the bike sitting out in the rain. If you must leave it outside, buy an electric bike rain cover.
Get fenders to stop road spray from reaching sensitive components.
If possible, take shelter if you get caught in a heavy downpour.
Don't submerge the e-bike, ride through deep puddles, or pressure wash it.
Conclusion
So, in conclusion, can you ride an electric bike in the rain? Riding in the rain is an inevitable part of cycling. Even if you try to avoid it, unexpected summer downpours or incessant spring drizzle will catch us all eventually.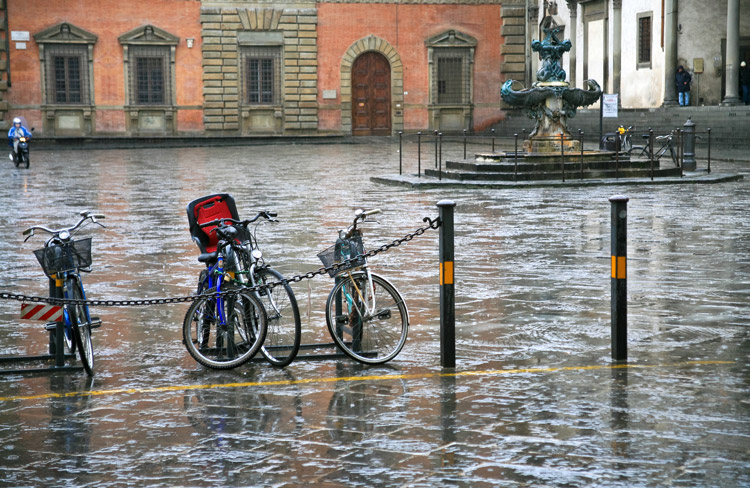 Thankfully, as highlighted throughout the article, you can safely ride an electric bike in the rain if you take the necessary precautions. Most importantly, know your bike's water resistance rating.
Always ride defensively and be aware of hazards in the road, allowing extra distance for braking. Use lights and fenders if possible, dress appropriately, and take corners slowly, without leaning.
After riding in the rain, be sure to spend a few minutes drying and cleaning, and re-lubricate the chain when possible.
With some planning and care, you can safely ride your electric bike in the rain, so don't let a shower deter you from getting out on the road or trail and enjoying your e-bike.
---
Read Next
18 Best Electric Commuter Bikes in 2023
Best Belt-Drive E-Bikes for Rainy Rides
How Do Electric Bikes Work? Here Are 14 Things You Need to Know