The benefits of electric bikes are pretty obvious.
With their pedal-assist capabilities and environmentally friendly design, ebikes are a great option for those looking for an alternative to traditional bikes or cars.
They allow you to travel faster with less effort, save money on gas, and even get a good workout during your daily commute.
But have you ever wondered how they actually work?
In this article, we'll break down the ins and outs of electric bikes and explain how they work in an easy-to-understand way.
1. Electric bikes have an electric motor that assists the rider's pedaling
Electric bikes are powered by an electric motor, which is usually located inside the rear wheel hub or the bottom bracket. Each position has its pros and cons.
The motor draws power from a battery, which is typically installed inside the down tube on more expensive models or on top of the down tube on cheaper models.
E-bikes also have a controller unit that acts as the brain of the bike. The controller unit controls how much power the motor delivers to the pedals, working in harmony with speed, cadence, or torque sensors. This way, most e-bike motors turn on only when you pedal.
Torque sensors are the best option as they offer the most natural ride feel, measuring the power you produce while pedaling and supplementing it accordingly.
On the other hand, speed and cadence sensors measure your current speed and pedal rotations, respectively. Hence, they are less smooth compared to torque sensors.
Read more: Torque vs. Cadence E-Bike Sensors: Differences Explained
Most electric bikes come with 3-5 pedal-assist levels that allow you to choose the level of assistance you want from the motor. Some models also come with a throttle that moves the bike without the need for pedaling.
If you ride on a low pedal-assist level, you'll need to work more yourself, but you'll use less energy. Conversely, if you choose a higher level, you'll get more assistance from the motor, but it'll use more energy.
2. Some electric bikes can be ridden without pedaling
All ebikes have pedal-assistance capabilities, which means that the motor turns on only when you're pedaling to supplement the power that you're producing.
However, some ebikes have throttles as well, so they operate the same way as electric mopeds.
When you twist the throttle, the bike starts rolling without you having to pedal. This is great for urban commutes when you frequently have to stop and start riding again. It's also perfect for cargo electric bikes, as it's hard to start pedaling from a dead stop when you're carrying a lot of weight.
In the US, ebike throttles will assist you only up to 20 mph, after which the power will cut off. Also, keep in mind that all electric bikes with a throttle are Class 2 ebikes, but more on that below.
3. There are three classes of electric bikes in the US
In 38 out of 50 states in the United States, ebikes are categorized into three classes based on their top speed and whether or not they have a throttle.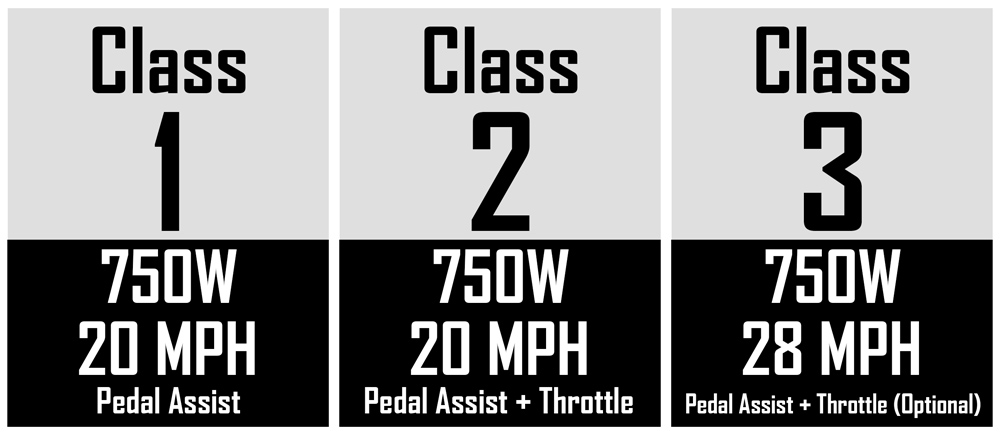 No license is required to ride an e-bike in these three classes, but other regulations and restrictions apply, such as helmet use, trail access, age requirements, and more. Read our guide on ebike regulation and licensing to learn more.
These three classes are:
Depending on your location, Class 2 and Class 3 e-bikes might not be allowed on mountain biking trails and bike paths. Therefore, it's important to familiarize yourself with local regulations before deciding which e-bike to buy.
4. The range of an electric bike depends on various factors
The range of an electric bike depends on various factors, including battery capacity, motor efficiency, terrain, rider weight, and level of assistance.
However, calculating the ebike range correctly can be hard due to the numerous factors involved.
Larger batteries generally offer greater capacity, measured in watt-hours (Wh), but they also weigh more and occupy more space.
Choosing between a hub motor vs. a mid-drive motor for your ebike can also make a big difference as mid-drive motors are usually much more efficient.
Furthermore, rider weight (or cargo weight), terrain, and aerodynamics also play crucial roles in determining the distance you can travel on a single charge.
The most significant factors that affect the ebike range are the assistance level you ride in and whether or not you use a throttle.
To extend your battery life, simply pedal more yourself and rely less on motor assistance.
5. There are different types of electric bikes for different purposes
Electric bikes are just as diverse as regular bikes. There are many different types suitable for different purposes.
Here are some common ones you'll encounter:
By understanding the most common types of electric bikes available on the market, you can select the ideal e-bike to suit your lifestyle and requirements.
6. Electric bikes can go up to 20-28 mph
In the US, most legal electric bikes can assist you up to 20 mph or 28 mph, depending on which class they belong to. However, this doesn't mean that you can't ride faster than that.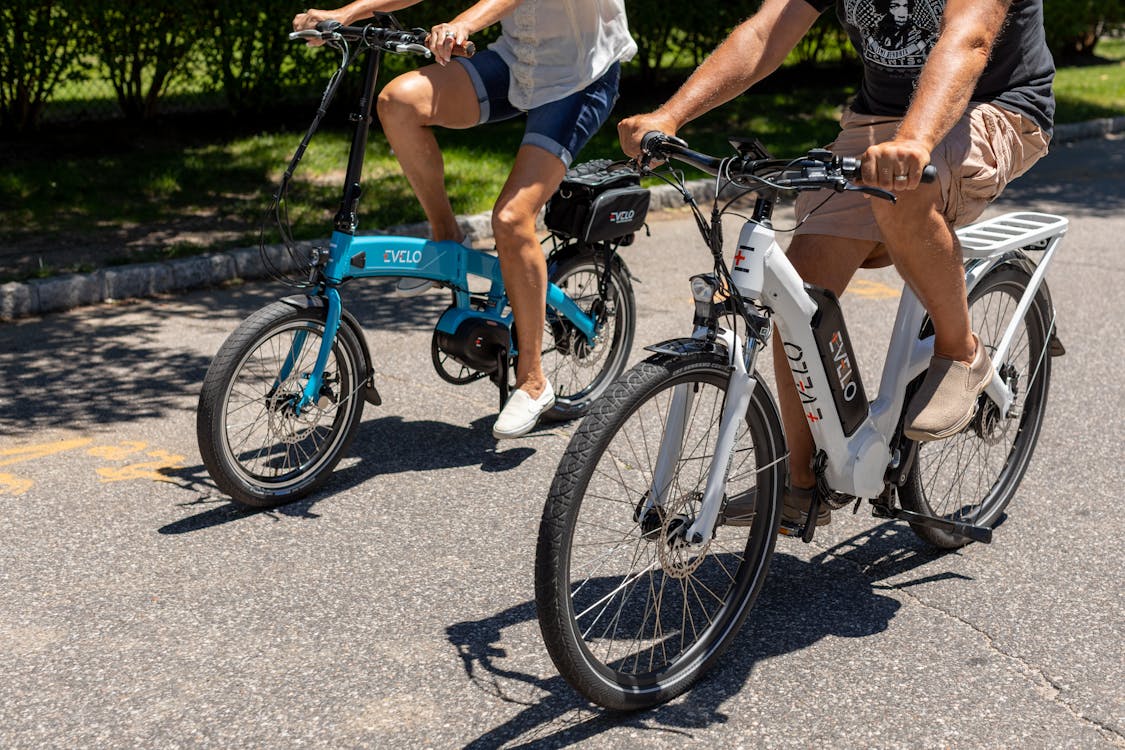 On class 1 and class 2 ebikes, the motor stops assisting at 20 mph, while for Class 3 e-bikes, it stops at 28 mph. In the EU, all legal ebikes have a 15.5 mph (25 km/h) top speed.
If you want to ride faster than that, you can still do it, but you'll need to use your own power to propel the bike.
There are, however, some unrestricted ebikes with speeds around or over 30 mph, but you can ride these only on private land. Some examples include models from Juiced Bikes and Quietkat.
There are also easy ways to make your ebike faster, which we wrote about in our guide, some of which take seconds and require no investment.
7. Ebikes can provide a great exercise
Contrary to popular belief, you can still get a great workout while riding an electric bike.
By lowering the pedal assistance level, you'll need to work harder to maintain speed or climb a hill, so you can burn calories efficiently.
Once you've had enough or you start feeling too tired, you can simply increase the level of pedal assistance and ride back home in a breeze.
Electric bikes are a great option for you if you're often riding with a much stronger cyclist (such as a spouse) and you want to be able to keep up while still getting your workout in.
8. It takes 3-6 hours to charge an electric bike battery
Charging electric bicycle batteries takes some time, so you need to plan when you do it or risk running out of charge mid-ride.
On average, it takes around 3-6 hours to charge an electric bike battery fully. On some ebikes with lower-quality batteries, it might take more than that, so you might need to do it overnight.
However, keep in mind that ebike batteries are notorious for occasionally catching fire, so it's best not to leave them to charge completely unattended. Alternatively, you can charge them inside a fireproof bag to lower the risks.
Though, it's important to note that fires usually happen with third-party replacement batteries from China with low-quality cells. They are quite uncommon with quality batteries that use LG, Samsung, or other well-known cells.
9. An electric bike battery can last for several years
Electric bikes can easily last for a decade with regular maintenance, just like regular bikes. However, their batteries have a slightly shorter lifespan and might need replacing after a few years.
Namely, most electric bike batteries are rated for around 500 full charge cycles. That means that every time you deplete the battery to 0% and charge it back to 100%, you complete one full charge cycle. If you deplete it to 50% and charge it to 100%, you've only completed a half charge cycle.
So, if you charge your battery twice a week on average, you can expect it to last for around 5 years before needing replacement.
To further prolong its lifespan, it's a good idea to avoid discharging li-ion batteries to 0% and back up to 100%. Instead, you should aim to keep the charge between 20% and 80% for the best battery life.
10. Electric bikes can be ridden in the rain, but with caution
Can you ride your electric bike in the rain? Even though electric bikes are jam-packed with electronic components, they can still be ridden in the rain, with a few caveats.
Riding an ebike in the rain is inevitable if you ride regularly and you should not be afraid of it.
Most ebikes have an IPX4, IPX5, or IPX6 rating, which means they are water-resistant, but not waterproof.
Therefore, if you get caught in a drizzle or moderate rain, you can safely continue your ride without worrying about the electronic components getting damaged.
However, you should avoid riding your ebike when it's raining cats and dogs, as well as riding through deep puddles that could reach your motor and battery.
Also, avoid submerging the bike in water or washing it with a garden hose or power washer unless it's rated IPX6 or higher.
11. Electric bikes require the same maintenance as any other bike
Electric bikes require regular maintenance like any other bike, with occasional but rare servicing of the motor and battery.
E-bikes are the same as traditional bikes, with an added motor and battery. They still have wheels, tires, brakes, gears, headsets, pedals, and so on.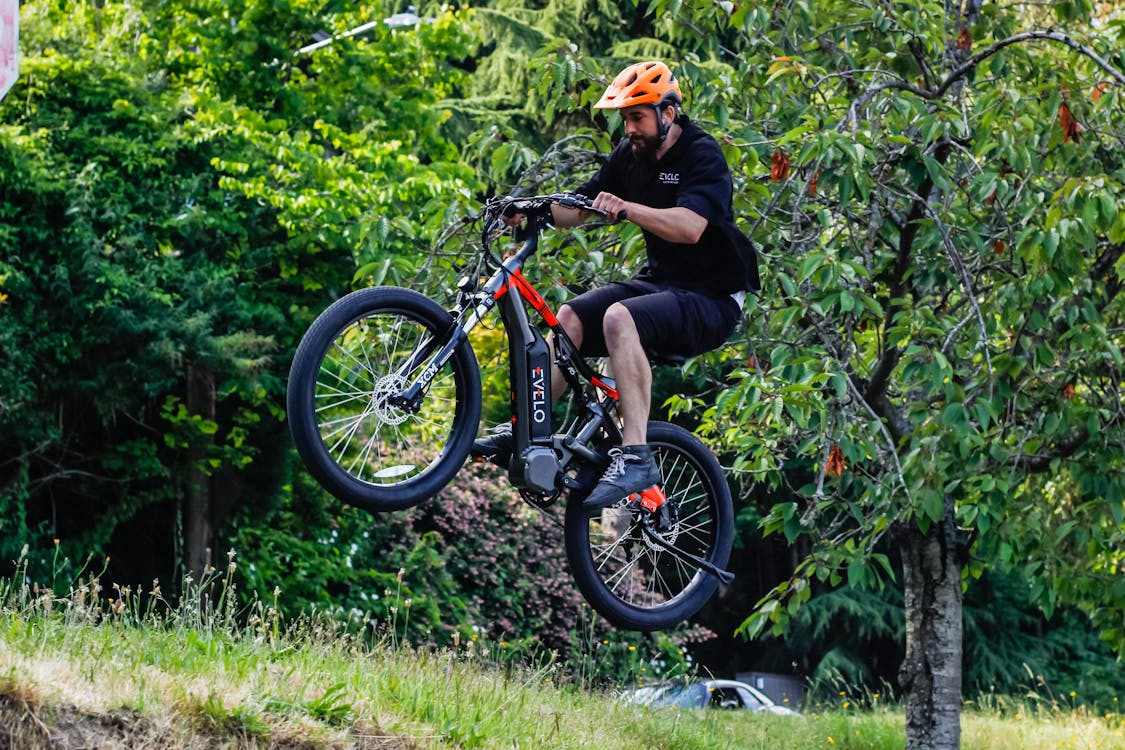 Therefore, you should take care of all of these components the same way you would on a regular bike.
Make sure to regularly check the tire pressure, check and adjust the brakes, clean and lubricate the drivetrain, and check for any loose bolts.
Other than that, make sure that your battery is always sufficiently charged and replace it once every 4-5 years.
If all goes well with the motor and you're not abusing your e-bike, chances are you won't need to do any maintenance on it. However, if you hear strange noises coming out of it or experience poor performance, you should reach out to a professional ebike mechanic for troubleshooting and servicing.
12. Electric bikes are more environmentally friendly than cars and motorcycles
It comes as no surprise that electric bikes are more environmentally friendly than cars and motorcycles because they emit fewer pollutants and greenhouse gases.
According to a study by the European Cyclists' Federation, regular bikes emit only 22 grams of CO2 per kilometer traveled, while cars emit 271 grams of CO2 per kilometer.
When we take into account the fact that cyclists consume less food and burn fewer calories while riding electric bikes, we come to the conclusion that e-biking emits 14.8 grams of CO2 per kilometer traveled. That's 30% lower than regular bikes and more than 18 times lower than cars.
Additionally, electric bikes don't produce any emissions that contribute to air pollution, such as nitrogen oxides (NOx) or particulate matter (PM).
They also don't produce noise pollution, which is a significant problem in urban areas.
13. Electric bikes can be costly
Let's be honest, electric bikes are usually not cheap, at least by cycling-related standards. However, compared to the price of a standard family car, they are extremely cheap.
If you're on a tight budget, you can look into electric bikes under $1,000 that won't put a dent in your budget, but will easily get the job done. Ebikes under $2,000 are also a good choice, which is the average price of an electric bike.
Electric bikes require a large initial investment, but pay themselves off in the long run.
However, if you're looking for a lighter-weight ebike with a sleeker design and more features, you'll have to spend upwards of $3,000 or $4,000.
Some high-end ebikes, such as electric road and electric mountain bikes can easily cost more than $5,000, and some even reach $15,000 at the extreme end.
Still, in the long run, ebikes quickly pay themselves off, as they save you thousands of dollars each year on car maintenance and gas.
14. Ebikes can weigh quite a bit
Apart from the price, which can sometimes be quite high, the only disadvantage of electric bikes is their weight. There's no doubt some of them need a diet plan.
Namely, most ebikes that cost under or around $2,500 weigh between 60 and 70 pounds on average. When you transition from a regular bike, that might seem like a lot.
Even though 60-70 lb is heavy to lift and carry around, you won't feel it while riding thanks to the assistance you get from the motor.
You can also look into lightweight electric bikes that weigh around or under 40 pounds, but they usually cost upwards of $3,000. Some lightweight e-road bikes can even cost upwards of $8,000, but they weigh at or below 30 pounds.
But, unless you're looking to ride extremely long distances and ride for fitness, you don't need to spend thousands on a lightweight ebike—a standard one will do the trick just as well.