Class 1 e-bikes are some of the most popular because they have very few, if any limitations to their usage both in the United States and around the world, unlike Classes 2 and 3 which are limited in their use.
In this article, you will find class 1 eBike reviews of road, commuter, and mountain bikes from various price ranges and brands so you can make the perfect choice the next time you're in the market.
What is a Class 1 eBike?
The Class 1 category is the least restricted one of all the e-bikes. Class 1 eBikes do not have throttles and the motors are limited to 20mph, when this speed is reached the motor stops providing assistance.
This limitation usually means that these bikes are more efficient so they have higher ranges from the same size or smaller batteries, but are limited to pedal assistance.
Speed limited to 20mph
Motor power limited to 20mph
Best Class 1 E-Bikes in 2023
---
1. Co-op Cycles CTY e2.1
Price: $1,799
Range: 50mi | Charge time: 6.5h | Motor: 250W Mid-Drive
9-speed Shimano Acera/Alivio
27.5″ x 1.95″ Schwalbe Big Ben tires
Max payload: 300 lbs
Hydraulic disc brakes
Co-op Cycles CTY 2.1 is one of the most complete hybrid commuter e-bikes in this price range packed with everything you need to make life easy.
Firstly, you've got a silent and punchy 250W Shimano motor with 40Nm of torque to make hills feel like riding on the flat. This is backed up by a Shimano 418Wh battery which along with the 9-speed drivetrain gives max speeds of 20mph and a range of up to 50 miles.
Along with solid electronics, the CTY e2.1 has the commuter setup of a rear rack, integrated LED lights, and a kickstand. Finally, this bike is easy to control and super comfortable due to its low standover height, upright geometry, 75mm Suntour suspension, all-terrain Schwalbe 1.95″ tires, and Shimano Altus hydraulic disc brakes.
---
2. Gazelle Ultimate T10 HMB
Price: $4,000
Range: Up to 70 mi | Battery: 500 Wh | Motor: Bosch Performance Line motor 65 Nm
10-speed Shimano Deore
28″ x 47mm tires
Weight: 50.7 lb
Hydraulic disc brakes
Gazelle Ultimate T10 HMB is a long-range electric bike optimized for comfort, ease of use, and smooth power on big rides.
To deliver unbeatable comfort, Gazelle designed this bike with upright riding geometry, a plush saddle, ergonomic grips, and wide tires to take that comfort and convenience to the next level.
The electronics on this bike are premium Bosch, starting with a 65 Nm mid-drive motor. This pairs with a 500Wh battery, delivering a high range of up to 70 miles and using a pedal force sensor, rotation sensor, and speed sensor.
Finally, this bike is fully equipped with LED lights, fenders, and a rear rack, as well as powerful hydraulic disc brakes, but also front suspension with 30 mm of travel.
---
3. Electra Townie Go! series
Price: from $1,550
Range: up to 70mi
Charge time: 3.5-5.5h
Motor: 250W mid-drive
The Electro Townie GO! Series are class 1 electric cruiser bikes with affordable prices designed to be the perfect beach cruisers.
Both the 7D and the 5i come with a choice of step-over or step-through depending on your preference. No matter which you choose, the bike will be very comfortable as the upright, relaxed geometry, shock-absorbent 2.35″ balloon tires, and soft touchpoints smooth out any ride.
The 5i has a slight edge in the electronics, with a 250W mid-drive motor, Shimano Nexus internally geared hub, and 400Wh battery combination providing 70 smooth miles of range. The 7D relies on a less efficient 250W direct drive motor and 309Wh battery for up to 50 miles of range.
Notably, both models have Flat Foot technology which allows you to keep a foot flat on the ground while sitting and pedal in an optimal position. Finally, the 5i has improved hydraulic disc brakes as well as fenders and integrated lights, unlike the 7D.
---
Best Class 1 E-Mountain Bikes
---
4. Cannondale Moterra Neo 4
Price: $5,900
Travel: 150 mm | Battery: 630 Wh | Motor: 250W 85Nm
12-speed SRAM SX Eagle, 11-50T
RockShox Recon RL Silver fork
RockShox Deluxe Select R shock
Maxxis Rekon 29 x 2.6″ tires
TRP Slate G4 4-Piston hydraulic disc brakes
The Cannondale Moterra Neo 4 is a full-suspension Class 1 mountain e-bike built for extreme performance up and down the mountain.
The electronics on this bike are Shimano's STEPS EP8. The premium mid-drive motor has smooth, torque-sensing output with 250W of power. This is supported by a huge 630Wh battery which provides plenty of range when used with the wide gearing of a 12-speed SX Eagle drivetrain.
The frame material is Cannondale's SmartForm C2 aluminum, built with modern trail geometry for better handling. The suspension used is exceptionally smooth-rolling over rocky trails with plush 150mm front and rear travel from RockShox's  Recon RL Silver fork and Deluxe Select R shock.
Additionally, you also have wide 2.6″ Maxxis Rekon tires to boost handling, as well as confidence-inspiring 4-piston hydraulic brakes.
All of this makes Cannondale Moterra Neo 4 one of the best electric off-road bikes you can buy.
---
5. Orbea Rise M20
Price: $7,399
Battery: 360Wh | Motor: Shimano EP8-RS | Max speed: 20 mph
11-speed Shimano SLX drivetrain
140mm Fox Float front suspension
130mm Fox Float Rear Shock
29″ x 2.4″ tires
Shimano hydraulic brakes
The Orbea Rise M20 is one of the best e-MTBs on the market, with all of the best individual components available packed onto an elite-level frame with unparalleled technology.
This Orbea class 1 eBike is a trail-ready full-suspension model which delivers all-around performance up and downhill. Starting with a super-light OMR full-carbon frame with fully internal cabling.
It's powered by a pro-level Shimano SLX M7100 drivetrain combined with a Shimano EP8-RS motor and 360Wh battery. Together, they offer precise shifting and immediate power output on the trails.
Finally, the RaceFace AR 30c Tubeless-Ready wheelset is loaded with Maxxis 2.4″ tires. Also, let's not forget about the 140mm/130mm of travel provided by Premium Fox Float suspension front and rear.
---
6. Norco Fluid VLT A1 29
Price: $5,199
Battery: 540Wh – 900Wh | Groupset: Shimano Deore 12-Speed | Motor: Shimano STEPS EP8
12-speed Shimano Deore
140mm RockShox 35 Silver fork
130mm RockShox Select R shock
Maxxis Dessector 29 x 2.4″ MaxxTerra, EXO+ tires
Shimano MT420 hydraulic discs, 4-Piston, 203mm rotor
The Norco Fluid VLT A1 is another full-suspension trail e-bike with premium quality throughout and great trail performance.
The power on this bike comes from a smooth Shimano STEPS EP8 mid-drive motor and a choice between a 540Wh, 720Wh, or 900Wh battery that's sold separately. To maximize the range, you have a Shimano Deore 12-speed drivetrain with reliably precise shifting.
The modern aluminum frame comes with a RockShox suspension in the front (140mm) and back (130mm). This combines with slack, low geometry to suit an aggressive trail riding style.
Finally, powerful Shimano hydraulic disc brakes, tubeless-ready 2.4″ tires, and a TranzX dropper post ensure you feel confident and in control at all times.
---
Best Class 1 Electric Road Bikes
---
7. Bianchi Aria Ultegra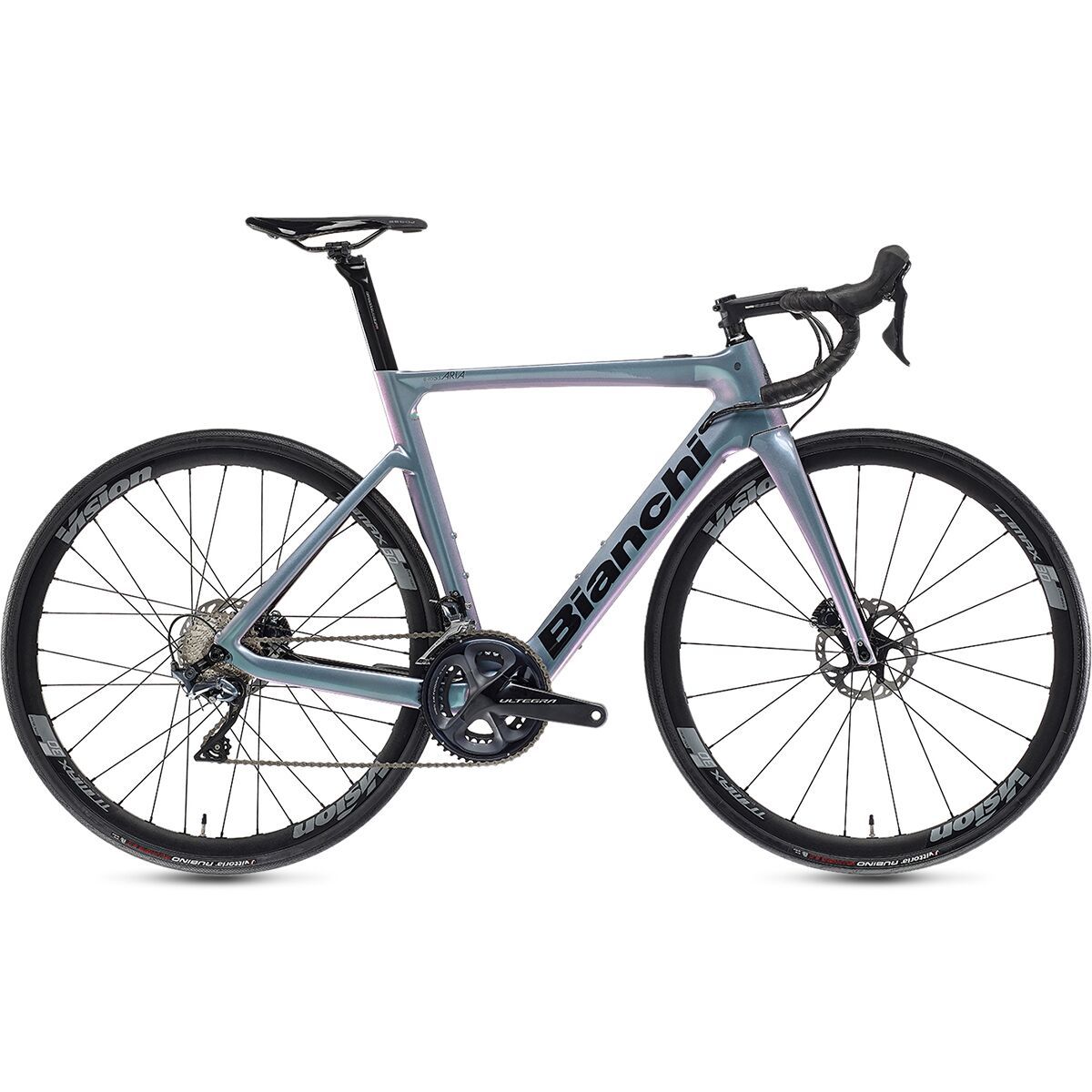 Price: $6,150
Range: up to 60mi | Charge time: ~4h | Motor: Mahle ebikemotion X35 250W
2 x 11-speed Shimano Ultegra R8000
Carbon frame
Vittoria Rubino IV 700c x 28 mm tires
Shimano Ultegra R8070 hydraulic disc brakes
Bike weight: 27.2 lbs
Feel like a pro with Bianchi's ultralight Aria electric road bike. This high-level model is made for passionate road cyclists who want the backup of premium electronics.
The frame used is made from carbon fiber which maximizes stiffness and reduces vibration fatigue. The electronics include a lightweight Mahle ebikemotion X35 250W, 40Nm motor and a 250Wh battery.
The stock 250Wh battery provides up to 60 miles of range when combined with the efficient 2×11-speed Ultregra Shimano R8000 drivetrain and 28mm Vittoria Rubino IV tires. Additionally, you have tubeless-ready Vision Trimax wheels and Ultegra hydraulic disc brakes.
---
8. Orbea Gain M20
Price: $5,599
Battery: Ebikemotion 36V/6.9A 248Wh ANT+ | Motor: Ebikemotion X35
2×11-speed Shimano Ultegra R8000
Shimano R8070 hydraulic disc brakes
Carbon frame
700x30c Schwalbe One
The Orbea Gain M20 is a stylish and versatile e-road bike with great components and a powerful yet lightweight drive system.
For this bike, Orbea has chosen an Ebikemotion X35 motor and battery. The motor is a 250W rear hub-drive model which is just powerful enough in terms of performance and keeps the weight down. The battery has 250Wh and provides large ranges. Finally, you have Shimano's ever-reliable Ultegra R8000 groupset.
The Gain M20 has a carbon fiber frame with a seamlessly integrated battery and motor, high tire clearance of up to 40c, and tubeless-ready rims all combining to make this bike smooth and comfortable with great traction to match.
Other notable components of the Orbea Gain M20 are the Fulcrum E-Racing 900 wheels and Shimano hydraulic disc brakes.
---
9. Bianchi Impulso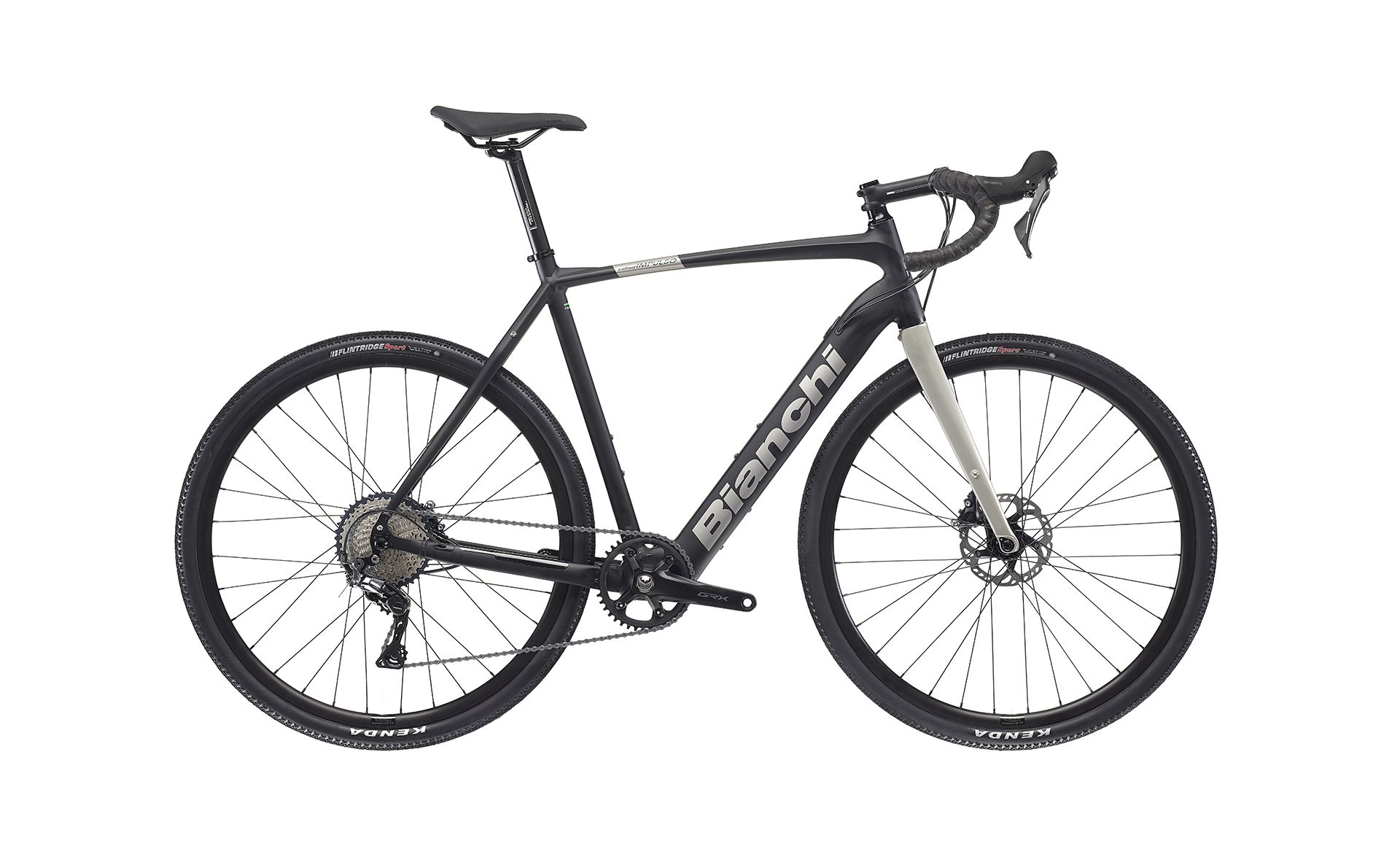 Price: $4,950
Competitive Cyclist| Backcountry
Battery: 250Wh li-ion | Motor: 250W/40Nm Ebikemotion x35 Plus rear hub-drive
11-speed Shimano GRX/SLX
Shimano BR-RX400 hydraulic disc brakes
Aluminum frame and carbon fork
700c x 35mm Kenda Flintridge tires
The Bianchi Impulso eBike class 1 model combines the beauty of traditional Italian engineering and modern technology to deliver a high-end racing bike that makes you feel like a pro.
The e-Impulso is exceptionally light for an e-bike, one of the lightest on the market. This is due to the combination of a lightweight monocoque carbon fork, premium components, and lightweight Ebikemotion electronics.
An 11-speed Shimano GRX/SLX blend pairs perfectly with the rear-hub 250W motor and 250Wh battery. Finally, hydraulic disc brakes and 35mm Kenda Flintridge tires ensure speed and traction at max assisted speeds of 20mph.
Buy from Backcountry    Buy from Competitive Cyclist
---
FAQ
---
Class 1 vs Class 2 vs Class 3 eBikes
Class 1, 2, and 3 electric bikes differ slightly in their build and limitations.
Class 1 bikes are not fully electric, don't have a throttle, and rely on pedaling in order to activate the motor. The motor stops assisting at 20mph, meaning these bikes have greater ranges than classes 2 and 3
Class 2 models have a throttle, this means they can be used as fully electric bikes without pedaling. They also have a top speed of 20mph at which the motor stops assisting the rider
Class 3 e-bikes may or may not have a throttle, have max speeds of 28mph and have the most legal restrictions such as age limit and helmet requirements
The restrictions on the three Ebike classes differ depending on where you live. For more information on your state's laws, see PeopleForBikes.org.
How fast are Class 1 e-Bikes?
Class 1 electric bikes are limited to 20mph when using the pedal-assist mode. However, that doesn't mean that you can't go faster than that. You absolutely can.
However, you will have to do so using the power of your legs, as the motor shuts down after you reach 20 mph.
Is 20 mph enough speed for an e-Bike?
Yes. An assisted speed of 20mph is plenty for any rider to get maximum enjoyment from their bike. Remember, this is just the assisted speed, so you can reach higher speeds by using the pedals once the motor stops giving assistance.
What is the typical range of Class 1 e-Bikes?
There are many factors that contribute to this including the level of components, bike weight, rider weight, and riding conditions. However, from our reviews of dozens of Class 1 bikes, the average range is about 50 miles.
What is the age limit for Class 1 e-Bike?
In most states, there is no age limit for class 1 e-bikes. Although, there are 10 states where there is some kind of age limit for e-bikes.
| | |
| --- | --- |
| State | E-Bike Age Limit |
| Alaska | 14 |
| Minnesota | 15 |
| New Mexico | 15 |
| South Carolina | 15 |
| Massachusetts | 16 |
| North Carolina | 16 |
| Oregon | 16 |
| Pennsylvania | 16 |
| Washington DC | 16 |
| Hawaii | 18 |
Do you need a helmet to ride Class 1 e-Bike?
Although it is strongly recommended to wear a helmet, only in 2 states itis mandatory for everyone.
Massachusetts
Connecticut
Next, here are the states where people under the specific age must wear a helmet when riding class 1 eBike:
| | | | | | | |
| --- | --- | --- | --- | --- | --- | --- |
| 12 | 14 | 15 | 16 | 17 | 18 | 21 |
| Louisiana | New York | Rhode Island | Alabama | New Jersey | California | South Carolina |
| Pennsylvania | Virginia | West Virginia | Florida | Indiana | Delaware | |
| | | | Georgia | | Idaho | |
| | | | Hawaii | | New Mexico | |
| | | | Maine | | | |
| | | | Maryland | | | |
| | | | North Carolina | | | |
| | | | Oregon | | | |
| | | | Tennessee | | | |
| | | | Washington DC | | | |
In the rest of the states wearing a helmet is not required, although you should still do it.