In 2023, electric bicycles are becoming more and more common on the streets. The technology that goes into them has never been as cheap or as accessible. They've become popular with commuters, leisure cyclists, and even roadies and mountain bikers.
The number of e-bikes is rising worldwide as an answer to people becoming more focused on their health and fitness, but also the environment. People in urban areas are now willing to ditch their cars and replace them with an e-bike, which was not the case just a few years ago.
Let's dive into some interesting and up-to-date stats and facts about:
The history of e-bikes.
The growth of the worldwide market.
Usage statistics.
Health research related to e-bike usage.
Potential risks that come with electric bikes.
Laws governing the use of e-bikes around the world.
Environmental impact of electric bikes.
Costs and financial effects of e-biking compared to other modes of transportation.
And more!
History of E-Bikes: Key Facts and Moments
Contrary to popular belief, electric bikes are not a new thing. Even though they have become popular and widely available only in the last two decades, the concept of an e-bike has been known for more than 120 years.
Big Breakthroughs Came in the 20th Century
Even though these electric bicycle concepts and inventions were rudimental, they created a starting point. Future inventors to refine them and make them readily available for consumers. The story behind e-bikes was put on hold for almost a century until big companies became interested in electric bicycles again in the 1990s.
In 1989, Yamaha built one of the first prototypes of electric bicycles and later also invented the pedal-assist system in 1993.
The worldwide production of e-bikes grew by 35% between 1993 and 2004.
In 1997, Lee Iacocca founded EV Global Motors and produced E-Bike SX, which was one of the first electric bicycles to become widely popular in the US.
More affordable early e-bikes used clunky lead-acid batteries, whereas more expensive models relied on NiMH, NiCd, or Li-ion batteries.
The E-Bike Market Continues to Grow
The electric bicycle market has never stopped growing, ever since e-bikes first gained popularity in the 1990s and early 2000s. By 2007, e-bikes were estimated to make up 10 to 20% of all two-wheeled vehicles in Chinese cities. Today those numbers are even higher everywhere around the world.
In 2019, the electric bicycle market was estimated at $15.42 billion and is expected to achieve a CAGR (Compound Annual Growth Rate) of 7.49% between 2020-2025.
The same year, pedal-assisted electric bicycles dominated the market by propulsion type. They accounted for 88.36% of the worldwide market. Urban e-bikes dominated the market by application type.
Between 2020 and 2023, upwards of 130 million electric bicycles (using all battery technologies) are expected to be sold worldwide.
In 2023, e-bike sales are estimated to reach 40 million units worldwide, generating about US$20 billion in revenue.
The growing number of global sales means that there are going to be more and more e-bikes on the streets worldwide. Therefore, by 2023, it is expected that the total number of electric bikes in circulation around the world will reach 300 million. That is a 50 percent increase compared to 2019's 200 million.
China Is Leading the Front
Of all the regions in the world, China is leading the pack when it comes to the annual and total numbers of manufactured e-bikes, sold e-bikes, and the number of e-bikes on the streets.
Asia-Pacific is expected to dominate the global market in the future period, with China at the top.
China has been the leader in the number of annual electric bicycle sales for quite some time. In 2013, 37 million e-bikes were manufactured in the country, 32 million of which were sold that same year.
That same year, only 1.8 million e-bikes were sold in Europe, 440,000 in Japan, and just 185,000 in the United States.
How Is China Staying Competitive?
Electric bicycles are more accessible in China because they are equipped with lead-acid batteries, which are cheaper than other types, bringing the final price of the e-bike down.
By using lead-acid batteries, an electric bicycle costs $167 in China on average. In comparison, e-bikes cost on average $815 in North America, and those in Western Europe cost an average of $1,546, according to Pike Research.
The Global market is dominated by China, as estimates show that 85% of all e-bikes are sold in this Asian country.
Estimates created by Macquarie show that there were 180 million e-bikes on the streets in China in 2013, which is substantially more than elsewhere around the world.
Electric Bicycle Market in Europe
The number of electric bicycles is rising in Europe as well. The leading countries include Germany, France, and Italy. But the trends can be seen elsewhere as well, such as in the Netherlands, Denmark, and the other Scandinavian countries.
After the Asia-Pacific region, the European region accounts for around 20% of the market. That is huge when we compare the number of people living in both regions.
In 2009, only around 500,000 electric bikes were sold in Europe. That number jumped to 2.6 million in 2018, which is more than a 500% increase in just 9 years.
In Germany, e-bike sales rose by 36%, reaching 1 million units.
According to the Royal Society for the Prevention of Accidents (ROSPA), Germany and The Netherlands are the two leading e-bike markets in Europe, accounting for 44% and 21% of all European sales, respectively.
In 2019, electric bicycle sales in Germany accounted for 25% of the entire bicycle market. Most Germans ride electric bicycles for leisure and sports, but also as a clean, quiet, and space-saving means of transportation.
Of all sales, 99.5% of e-bikes sold in Germany are 250W models that reach 25 kph speeds. The other 0.5% are speed pedelecs with a 45 kph maximum speed, which require insurance and a helmet.

E-Bike Numbers on the Rise in All of Europe
Even though Germany is the European leader when it comes to the annual number of e-bikes sold, other European countries are following along.
In 2018, more than half of all adult bikes sold in the Netherlands were electric.
Similarly, Spain witnessed a 55% annual increase in e-bike sales in 2018, selling a total of 111,297 e-bikes for an average price of 2,165 euros each.
In the UK, e-bikes have taken longer to be regarded as a major mode of transport, although the number of
bikes now being sold has risen to around 50,000 per year and is expected to increase further.
Moreover, one study found that 5% of all UK residents said that they are 'likely' to purchase an e-bike in the following year. It is equating to around 2.5 million people.
More and More Electric Bicycles on the US Streets
Of all the global markets (except for Africa), the USA was the slowest to accept the electric bicycle as a viable means of transportation. Even today, the USA is considered to have a medium growth rate, which is much lower than the European and Asia-Pacific regions.
Nonetheless, the USA is picking up the pace and seeing higher and higher growths every year.
For example, between 2006 and 2012, electric bicycles accounted for less than 1% of all annual bicycle sales in the US.
The year 2013 is considered to be the inflection point in the US, with 185,000 electric bicycles sold in the US, according to INSG.
The number of sold e-bikes in the USA continued to rise, reaching 263,000 units sold in 2017. The following year, in 2018, those numbers surpassed 400,000.
The Electric Bicycle Market Is Fragmented
The electric bicycle market is highly fragmented.
That means that the market is not dominated by a few major players who have a monopoly over the manufacturing and the sales of the product. Instead, the market is highly competitive without any dominant players.
That said, there are still a few major players that lead the pack and make more sales than others. The biggest ones are Giant Bicycles, Merida, Trek Bikes, Riese & Muller, and M1 Sporttechnik.
In the future, however, Giant Bicycles is expected to become the most dominant player in the e-bike market. The company is located in Taiwan, which gives it easy access to China and the rest of the Asia-Pacific region. These are the biggest global e-bike markets at the moment.
But, Why Do People Use Electric Bicycles?
People around the world love riding electric bicycles for very different reasons. Some struggle with injuries that e-bikes help them overcome, some need the pedal-assist system due to old age, and others simply don't want to work too hard when cycling.
According to a survey conducted by Transport of London, 20% of London residents who don't ride a bicycle say that they don't do it because they are too old or unfit to do so.
According to the same survey, 28% of e-bike riders bought their e-bike as a substitute for a car.
A study found that completing a journey on an electric bicycle was 21% faster than on a traditional bike on average. The median speed was 23.1 km/h for E-bike and 18.4 km/h for a traditional bicycle.
A government survey in Copenhagen—where 62% of people ride a bike to work, school, or university—found that 49 percent of people said that their main reason for cycling was because it was faster.
According to Mordor Intelligence, some of the most common reasons for embracing e-bikes are the health and environmental benefits, reduction in costs, avoidance of traffic jams, and the increase in demand for e-bikes as sports equipment among youth.
A Wealth of Reasons
Numerous studies, research, and surveys conducted around the world show that people in different countries have similar reasons for purchasing and riding e-bikes. They allow them to commute faster and with less effort, as well as continue riding well into old age.
Halfords reported that it sells 65% of its electric bikes to those aged over 55. It means old age is one of the primary reasons why people consider riding an e-bike.
Another study found that replacing car trips was mentioned by almost 65% of respondents as one of the main reasons for purchasing an electric bike.
The same North American study of e-bike owners found that 60% of respondents felt safer riding an electric bike compared to a traditional bike and further 42% said that the e-bike had helped them avoid collisions.
Similarly, an Australian study concluded that 60% of respondents to an online survey said that replacing some car trips was the main reason for purchasing an electric bike. This was followed by 49% of respondents who said that they were motivated by being able to ride with less effort.
Companies Are Jumping on the Bandwagon
The reasons for adopting electric bikes are not strong only for individuals—companies have numerous reasons to electrify their fleet as well. Delivery and courier services are turning to e-bikes more often than ever before because they allow them to cut costs, reduce delivery times, and receive better reviews from customers.
For example, electric cargo bikes are expected to become a preferred answer for last-mile deliveries in cities. They have zero carbon emissions and need far less road space than cars when parked or in use. Logistics companies are using data to find out when using electric cargo bikes instead of cars or vans improves delivery times and reduces costs.
In 2018, the UK government announced a new program that would subsidize the purchase of e-cargo bikes. It allowed companies to save 20% on each new bike they add to their fleet.
One Dutch study concluded that electric cargo bikes are a great alternative for around 20% of deliveries. That means that e-cargo bikes could replace millions of deliveries conducted by cars and vans in big cities.
E-bikes are expected to become the preferred vehicle for making deliveries in big cities. That's not just in crowded European cities, but in the United States as well.
In the USA, the number of deliveries is rising by 20% every year, with forecast of 285 billion shipments in 2021. This shows how important it is to replace conventional delivery methods with e-bikes.
In the near future, standard-sized delivery trucks are expected to get replaced by electric cargo bikes. For example, UPS is trying out electric tricycles that can carry up to 181 kilograms, with a capacity of 2.7 cubic meters.
Likewise, Domino's Pizza concluded that e-bike deliveries were not only faster than car deliveries, but also led to higher customer service ratings.
Bikesharing Programs Are Getting Electrified
Bikesharing programs are a growing trend in big cities around the world. However, they are not always successful because of the impracticality of traditional shared bikes—they're big, slow, and heavy.
More and more cities are adding electric bikes to their bikesharing fleets and seeing great responses from users and surges in the number of rides. More people want to use shared bikes instead of cars if they have the pedal-assist feature to help them out when they get tired.
At the moment, more than 1,000 bikesharing programs exist worldwide, with tens of millions of shareable bikes.
Electric bikes are expected to make bikesharing programs more appealing in the future. They'll do so by neutralizing one of its major drawbacks: the weight and clunkiness of bikes.
Shared bicycles are designed to be up to three times heavier than traditional bikes, to make them more robust and able to withstand heavy use, as well as to make them less appealing to potential thieves.
Of the 192 cities in the United States that offer bikesharing programs, more than 50 cities include e-bikes in their fleet.
For example, Madison, Wisconsin converted all of the bikes in its bikesharing program to electric bikes in June 2019.
In tests, the e-bikes in Madison had led to up to five times as many trips as traditional bikes; since the move to electric bikes, the number of riders has risen by a factor of 1.5 to 4.
Similarly, Hello Bike, a Chinese shared mobility company that started offering shared electric bikes in 2017, has stated that e-bikes are its most profitable branch.
E-Bike Battery Technology is Changing
E-bikes are built with batteries that use different chemical compositions to store power and increase the power provided by the rider. The most common types are:
Lead-acid
Nickel metal hydride (NiMH)
Lithium-ion (Li-ion)
One of the reasons that China has seen such a major surge in e-bike sales is that the production costs have been much lower than elsewhere. According to INSG, this was partly achieved through the usage of cheaper and heavier lead-acid batteries. However, the trends have recently been shifting in favor of more refined lithium-ion batteries (LIB).
In 2016, more than 80% of all e-bikes manufactured and sold worldwide were using lead-acid batteries.
Since the prices of Li-on batteries have been falling dramatically. It is expected that two-fifths of all e-bikes sold worldwide will come with LIBs.
In 2020, it is expected that 25% of electric bikes will be powered by Li-ons. Whereas that number is estimated to reach 60% by 2023.
Lithium-ion batteries are now produced for various applications in electric bicycles. Different models are designed for commuting, hauling cargo, or mountain biking.
Prices of Li-Ion Batteries Are Dropping
As mentioned above, many manufacturers (especially on the Chinese market) are using lead-acid batteries because of their low price. The cost of batteries is usually expressed in terms of USD per kilowatt-hour (kWh), so let's make a comparison.
In 2013, estimates showed that lead-acid batteries cost just $35/kWh, NiMH cost around $350/kWh, and lithium-ion go up to $700/kWh. Therefore, lithium-ion batteries were the least cost-effective option of the three as they were 20 times more expensive than the lead-acid type.
However, according to Statista, the price of lithium-ion batteries was $156/kWh. It is expected to drop to $135/kWh by the end of 2020.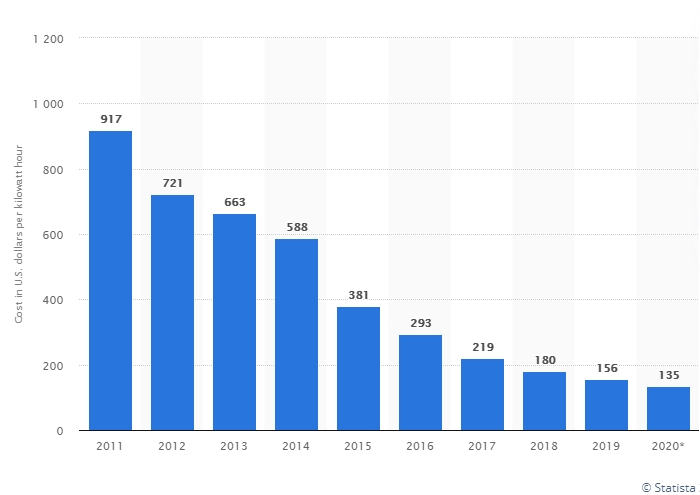 Commuting
Health
Exercise intensity was also measured, showing a 51% intensity for the electric bike and 58% for
the conventional bike.
A Norwegian study also found that those provided with an electric bike increased the proportion of trips completed by bike from 28% to 48% of all trips
Another study16 involved randomly selecting 66 individuals and giving them an electric bike and comparing
their cycling levels to a control group of 160 individuals. The research found that cycling trips increased from
0.9 to 1.4 per day and distances increased from 4.8km to 10.5km following the provision of an electric bike.
Risks
Dutch news outlets also reported people on e-bikes were involved in 341 accidents in the first part of
2018, a 26% rise on 2017, with 102 electric bike users killed between 2014 and 201822
For cyclists over 75 years of
age, the injury risk on electric bikes was twice the injury risk on conventional bikes21
Hu et al (2014) found that electric bike collisions were more severe than crashes on conventional bikes.
INFOGRAPHIC
See the full infographic of ebike stats & facts below: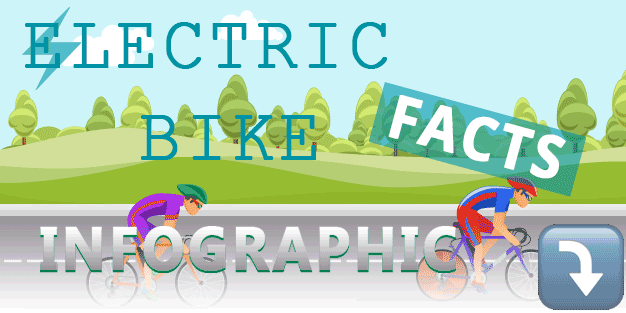 If you want to use this infographic, please contact us for full size and permission.
Use of Data & Infographics
If you would like to use an infographic or data from this article, they are licensed under Creative Commons CC BY which means they can be used or distributed as long as they are accompanied by an attribution link back to this page.
Sources:
https://patents.google.com/
https://www.yamahabicycles.com/the-yamaha-evolution/
https://www.nytimes.com/1997/09/21/business/investing-it-a-bet-on-electric-bikes-or-at-least-on-lee-iacocca.html
https://www.mcclatchydc.com/news/nation-world/world/article24464464.html
https://medium.com/calamus/e-bike-sales-worldwide-91c1df5da89a
https://www.mordorintelligence.com/industry-reports/e-bike-market
http://insg.org/wp-content/uploads/2019/01/INSG_Insight_23_Global_Ebike_Market.pdf
https://www.bike-eu.com/home/nieuws/2019/07/for-my-2020-bosch-focuses-on-more-power-at-less-weight-10136106?vakmedianet-approve-cookies=1&_ga=2.36053408.1400612523.1571062144-578402208.1571062144
https://www2.deloitte.com/us/en/insights/industry/technology/technology-media-and-telecom-predictions/2020/bike-technology-transformation.html#endnote-sup-59
https://www2.deloitte.com/content/dam/insights/us/articles/722835_tmt-predictions-2020/DI_TMT-Prediction-2020.pdf
https://ppms.trec.pdx.edu/media/project_files/E-bikes_in_North_America.pdf
http://content.tfl.gov.uk/cycling-action-plan.pdf
https://www.cycling-embassy.dk/wp-content/uploads/2015/05/Copenhagens-Biycle-Account-2014.pdf
https://www.forbes.com/sites/carltonreid/2018/10/15/cargobikes-not-drones-are-the-future-for-urban-deliveries/#6ca9a079e790
https://www.conveyco.com/ecommerce-order-fulfillment-statistics/
https://electrek.co/2018/10/26/ups-electric-cargo-tricycles/
https://en.wikipedia.org/wiki/List_of_bicycle-sharing_systems
https://www.fastcompany.com/90339750/turns-out-people-really-miss-e-bikes-when-theyre-taken-away
https://www.usnews.com/news/cities/articles/2019-08-12/e-bikes-take-the-lead-in-city-bikeshare-programs
https://www.fastcompany.com/90365265/madison-is-the-first-city-to-go-100-electric-for-its-bike-share
https://techcrunch.com/2019/07/14/china-micromobility-hellobike/
https://www.researchgate.net/publication/280572410_E-bikes_in_the_Mainstream_Reviewing_a_Decade_of_Research
https://ijbnpa.biomedcentral.com/articles/10.1186/s12966-017-0513-z