Electric bicycles aren't as new as the recent trend would have you think, but they've become extremely popular lately due to plummeting prices. New technology, longer-lasting batteries, and cheaper materials mean high-quality, affordable electric bikes are now available to the wider public.
Although they were once scoffed at by traditional cyclists, the benefits of electric bikes can no longer be ignored. Older people, people with disabilities, or simply those who don't want to exert themselves are finding ebikes to be a life-saver. The more people cycling, the less traffic and fewer emissions, so we hope ebikes have a bright future!
>
Table of Contents
---
Best Electric Bikes Under $2,000
2021 selection
Rad Power Bikes – RadRover 6
Fat Tire Hybrid e-Bike. New, upgraded model
Ride1UP – LMT'D
City Hybrid by an e-specific
Co-op Cycles – CTY e2.1
Great value mid-drive city hybrid / commuter e-bike
Electra – Townie Go! 7D
Cruiser & commuter style ebike
Lectric – XP 2.0
3 in 1 – folding-fat-ebike. One of the best-selling units ever sold – over 30,000 units!
Hurley – Layback
A new cruiser ebike, quite unusual to see Hurley bike, but it is an awesome deal indeed
Buzz – E-Bike
Mid-drive commuter eBike at an affordable rate. They also have an e-trike for sale.
---
Rad Power Bikes
RadRover 6
Best electric bike under $2,000 (the RadRover 5 had a score of 4.7/5 out of 3,000 ratings!)
Weight – 73 lbs | Battery – 48V 14Ah (672Wh) | Motor – 750W | Range – 45mi | Torque – 80Nm
MSRP: $1,999
Rad Power Bikes
With massive 4″ tires, front suspension, and a custom motor, and the RadRover 6 is no ordinary ebike. This rather heavy beast of a bike is an off-road machine that can take on sand, snow, or mud with no trouble at all.
The fat Kenda tires are fitted on 26″ wheels and feature a puncture-resistant liner for added protection. They're driven by a powerful 750W geared-hub motor with 5 levels of pedal-assistance, taking the stress out of uphill cycling while still giving you some exercise. With a 672WH semi-integrated, removable battery, you'll easily get a full day cycling before needing to pop it out and recharge it.
The rest of the bike's components are fairly standard, including hydraulic disc brakes, a 6061 aluminum frame, and a basic 7-speed drivetrain. The focus is mainly on the electric side of things but it tackles rough terrain with ease. One thing for sure, it's the best cheap fat tire electric bike on the market!
Size Recommendation
5'4″ – 6'2″
Hydraulic brakes
Class 2 eBike (Speed limited to 20mph with throttle & pedal-assist)
7-speed gearing
6061 aluminum frame
26″ x 4″ Kenda Juggernaut tires
Backlit LCD
More from Rad Power Bikes
| | | | | | | |
| --- | --- | --- | --- | --- | --- | --- |
| RAD POWER | TYPE | MSRP $ | FRAMES | SPEEDS | TIRES | FORK |
| RadMission 1 | Fixie | 1,099 | ST & Standard | Single-speed | 700c | Rigid |
| RadRunner 1 | Utility | 1,299 | ST & Standard | Single-speed | 20×3.3″ | Rigid |
| RadRunner Plus | Utility | 1,799 | ST & Standard | 7 | 20×3.3″ | 80mm |
| RadWagon 4 | Cargo | 1,899 | Step-Through | 7 | 22×3″ | Rigid |
| RadMini 4 | Folding | 1,499 | ST & Standard | 7 | 20×3″ | 80mm |
| RadRover 5 | Fat Hybrid | 1,699 | ST & Standard | 7 | 26×4″ | 80mm |
| RadRover 6 Plus | Fat Hybrid | 1,999 | Standard | 7 | 26×4″ | 60mm |
| RadCity 4 | Hybrid | 1,599 | ST & Standard | 7 | 26×2.3″ | 100mm |
RadPowerBikes.com/
---
Ride1UP
LMT'D
Score: 4.8 / 5 out of 91+ ratings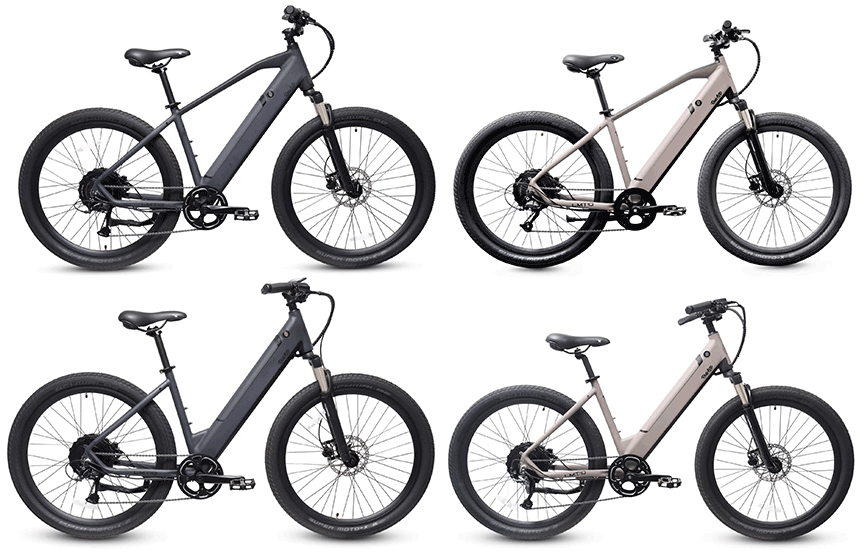 Weight – 53 lbs | Battery – 48V 14Ah (672Wh) | Motor – 750W | Range – 30-50mi | Torque – 100Nm
MSRP: $1,895
Ride1UP
With a powerful 750W motor, thick tires, and air-sprung front fork, you'd be forgiven for thinking the price on this bike is wrong. It's an impressive collection of parts for under $2,000!
Not only that, the motor kicks out an astonishing 100Nm of torque and as a Class 3 bike, you can reach a full 20mph (32km/h) before you even have to start pedaling. Beyond that you continue to get pedal assistance to 28mph (45km/h), making this bike feel more like a motorbike than a bicycle. All this power does put a strain on the battery which only lasts about 30-50 miles (48-80km) but it'll get you to work and back.
The fork provides a decent 80mm of travel to swallow up bumps and you get quality disc brakes for instant stopping power. The Shimano 8-speed drivetrain is sufficient and on the handlebars, you get a color display, thumb throttle, and Rapidfire shifters.
If you're looking for the best budget eMTB, Ride1UP has an excellent one for just over $2,000.
Size Recommendation
XR: 5'6″ – 6'4″
ST: 5'1″ – 6'2″
Class 3 eBike with a 20mph throttle
Tektro Auriga hydraulic brakes
80mm RST Asteria Air suspension
Lightweight alloy frame
Adjustable display
| | | | | | | | | |
| --- | --- | --- | --- | --- | --- | --- | --- | --- |
| RIDE1UP | TYPE | MSRP $ | FRAMES | SPEEDS | TIRES | WEIGHT | COLORS | TORQUE |
| Roadster V2 | Fixie | 1,095 | S-L | 1 | 700x28c | 33lbs | 3 | 40Nm |
| Core-5 | City | 1,195 | XT/ST | 7 | 27.5″x2.2 | 49lbs | 2 | 60Nm |
| 500 Series | City | 1,395 | XT/ST | 8 | 27.5×2.2″ | 55lbs | 2 | 60Nm |
| 700 Series | Hybrid | 1,595 | XT/ST | 8 | 27.5×2.4″ | 62lbs | 2 | 60Nm |
| LMT'D | Hybrid | 1,895 | XR/ST | 8 | 27.5×2.4″ | 53lbs | 2 | 100Nm |
| Prodigy | Mountain | 2,195 | XR/ST/XC | 9 | 27.5×2.0″ | 48lbs | 1 | 90Nm |
Ride1UP.com/
---
Co-op Cycles
CTY e2.1
Reliable mid-drive commuter e-bike
Weight – 50.5 lbs | Battery – 36V 11.6Ah (418W) | Motor – 250W | Range – 50mi | Torque – 40Nm
MSRP: $1,999
REI Co-op
Co-op Cycles CTY range is a long-running and trustworthy brand name that gets the REI seal of approval as its parent company. It's a lightweight Class 1 commuter ebike, pre-fitted with a rear rack, kickstand, and front and rear lights. Some quality components include the Shimano Altus groupset with a matching 9-speed drivetrain and hydro disc brakes. 
The 250W motor only has 40Nm of torque so it takes some time to get rolling but will carry you along with pedal assistance up to 20mph (32km/h). The 418W battery delivers a decent 50 miles (80km) worth of cycling power and pops out for easy overnight charging.
You even get 75mm of travel on the front suspension fork, which works with the 1.95″ puncture-resistant Schwalbe tires to give you a smooth, hassle-free ride. Overall, the CTY e2.1 doesn't have any outstanding features but rather provides a reliable, lightweight ebike for getting around town.
Size Recommendation
S: 5'0″ – 5'6″
M: 5'6″ – 5'9″
L: 5'6″ – 6'3″
Upright riding position
27.5″ x 1.95″ Schwalbe tires
Shimano Altus hydraulic disc brakes
Charge time: 6.5 hours
Class 1 eBike
Integrated rear rack
Co-op CTY e2.1 size recommendations
S – 5'0″ – 5'6″
M – 5'3″ – 5'9″
L – 5'6″ – 6'3″
REI.com/
---
Electra Townie Go! 7D
Stylish, affordable electric bike under 2000
Weight – 48 lbs | Battery – 309Wh | Motor – 250W | Range – 20-50mi | Torque – 40Nm
MSRP: $1,600
REI Co-op
Electra is popular for its affordable ebikes and the Townie Go! is one of their best-selling models. Its classic style and simplicity are its winning factors, combined with a lightweight frame and practical design. Electra's patented Flat Foot Technology means you'll never have to lean over when stopping, keeping you upright and comfortable all day long.
As a Class 1 bike, the 250W motor provides pedal assistance up to 20mph (32km/h), after which you can speed up with the 7-speed Shimano drivetrain. The 309Wh battery charges in just over 5 hours but only provides you with a maximum 50 mile (80km) range – and that's if you pedal a lot!
However, it's the perfect town commuter for collecting groceries, visiting friends or going to work. You get a convenient integrated rear rack and kickstand, comfortable fat tires, and powerful disc brakes.
Size Recommendation
5'3″ – 6'4″
Class 1 eBike
27.5″ x 2.35″ tires
Tektro mechanical disc brakes
Charge time: 5.5 hours
Integrated rear rack
REI.com/
---
Best Electric Bikes Under $1,500
---
Lectric
XP 2.0
Best budget folding electric bike
Weight – 63 lbs | Battery – 460Wh | Motor – 500W | Range – 45mi | Torque – 60Nm
MSRP: 1,099
Lectric eBikes
Lectric is a new company that's exploded onto the scene with its range of cheap folding electric bike models. The XP 2.0 folds up to be suitcase-sized 37x18x27 inches, perfect for going in elevators, storage, or taking on public transport.
At 63 lbs (28kg), it's not the lightest ebike but it sure packs a punch for its size. A powerful 500W motor gives you 60Nm of torque powered by a throttle that will take you up to 20mh (32km/h) before you have to pedal. The 460Wh battery will keep going for 45 miles (72km) on one charge, making the XP 2.0 a great long-distance ebike. 
On top of all that you get lights, a rack that holds 75lbs (34kg), solid disc brakes, and comfy 3″ tires. You can even upgrade the top speed to 28mph (45km/h) if the laws in your area allow. The components aren't brand names but for the price, it's convenient and easy commuting.
Size Recommendation
Standard: 5'0″ – 6'4″
Step-Thru: 4'10" – 6'3″
Class 2 eBike (option to change it to class 3)
20″ x 3″ tires
Tektro mechanical disc brakes
Charge time: 4-6 hours
Integrated rear rack and lights
Lectricebikes.com/
---
Hurley
Layback
Best affordable electric bike
Battery – 360Wh | Motor – 350W | Range – up to 30mi
MSRP: $1,300
Jenson USA
Hurley is a well-known manufacturer of quality sports equipment, which now includes a new line of inexpensive electric bikes. These beach cruiser bikes are designed to fit in with the Hurley brand – surf, sun, and sand! Hop on, lean back, and roll down to the beach in laidback style on your stylish Hurley Cruiser eBike.
This bike is clearly designed for comfort over speed, with only a single-speed drivetrain and a heavy steel frame. Still, the 350W motor kicks out a decent 20mph (32km/h) pedal-assist speed, more than enough to cruise the boardwalk safely.
Fortunately, you can't go too fast because the alloy caliper brakes aren't great but they do the job. Also, the battery is quite small so don't wander too far – you can only go about 30 miles (48km) before it runs dead. This bike is certainly built for purpose, which is looking good while taking short, layback weekend rides along the promenade.
Size Recommendation
M/L: 5'4″ – 6'2″
Class 1 eBike
26″ x 2.1″ Wanda tires
Alloy caliper brakes
Single-speed drivetrain
Steel frame and fork
JensonUSA.com/
---
Buzz
E-Bike
One of the best ebikes under $1,500 with a mid-drive
Weight – 57 lbs | Battery – 374Wh | Motor – 350W | Range – 40mi
MSRP: $1,499
Buzz Bicycles
E-bikes have certainly become a buzzword lately, so much so that there's an actual ebike called the Buzz. The Buzz e-Bike is a fun little machine for zooming around town with your friends, grabbing some drinks, and hitting the park. It's got compact 24″ wheels, a front basket, an easy step-over frame, and just enough juice to go 40 miles (64km).
The 7-speed Shimano drivetrain is an impressive addition, allowing you to push a bit beyond the 20mph (32km/h) pedal-assist speed limit that the 350W motor provides. You also get decent disc brakes and front and rear lights for added safety at night. I wouldn't try to go cross-country on it but it's an ideal and affordable way for getting around town.
24″ tires
Disc brakes
7-speed Shimano Tourney
Integrated front basket
Front and rear lights
Lockable battery
BUZZBicycles.com/
---
FAQ
How much are electric bikes worth in 2021?
These days, you can get great ebikes under 2000 dollars if you shop around a bit. Some of the best low-cost electric bikes are found online but you should really check the components and read the reviews, as some are low quality. 
The most affordable electric bike that still provides good quality is around $1,500 but if you can push it to $2,000 you'll appreciate the difference. Above $2,000 you can start finding the best budget electric mountain bikes and specialty bikes for touring or gravel.
$500 – $999 | Entry hub motor
$1,000 – $1,500 | Mid-range hub motor & entry mid-drive
$1,500 – $2,000 | Mid-range hub motor & entry/mid level mid-drive
$2,000 – $3,000 | High-end hub motor & mid-range mid-drive
$3,000 – $4,000+ | High-end hub motor & high-end mid-drive
$1,000 vs $2,000 vs $3,000 eBike
At $1,000 or less, you're getting the type of bike that is only used on the occasional weekend for short, fun rides. It could be a bit unsafe and probably won't have much power or gearing options.
For a decent yet affordable electric bike, you should look between $1,500 and $2,500. Bikes in this price range will have better parts and feel more solid and safe. Currently, the best electric bike under 2000 is probably the Ride1UP L'td.
Above $3,000, you can get some good quality mountain bikes, gravel bikes and carbon road bikes.
How much should I spend on an electric bike?
If you're just looking for any cheap motorized bicycle, you can get something for under $1,000 but it won't be good. You really want to get something with disc brakes, wider tires, and a strong frame because ebikes are heavy and need extra safety features.
Between $1,500 and $2,000 is a good range for the best affordable e bike.
Are cheap electric bikes any good?
Although you can get cheap ebikes under $1,000, it's not recommended because they will probably break down quite often. The best inexpensive ebikes are between $1,500 and $2,000. At this price, you're likely to get decent components, strong materials, and a better guarantee.
Which is better – mid-drive or hub motor eBike?
It's hard to find an affordable mid drive ebike because the motors are more expensive but are also more powerful and reliable. If you just want to ride around town, a hub motor is more than adequate. However, most of the low-cost, affordable eMTB bikes lack the necessary power for off-road if they don't have a mid-drive motor.
---
RELATED Reviews
Best Electric Bikes Under $500
Best Electric Bikes Under $1,000