Buying a second-hand bicycle is an excellent way to save money, be environmentally friendly, and find the bike you want when stock is unavailable.
Since 2020, the global supply of electric and traditional bikes hasn't been able to keep up with the increase in demand, so more and more riders are turning to used electric bikes.
Navigating the private second-hand market is tricky. There are scams, stolen bikes, and no guarantees or warranties. In addition, you must be able to check the condition of a bike before you buy it or bring someone who can.
Alternatively, you can buy from a reputable seller of pre-owned bikes, such as a local bike shop or The Pro's Closet bikes online. These businesses take much of the risk out of buying used electric bikes.
This article will explain the service that The Pro's Closet offers, the pros and cons, and provide ten tips for getting a good deal and avoiding scams in the used e-bike market.
The Pro's Closet Review: What Is It and How Does It Work?
---
In 2006, pro mountain biker Nick Martin began selling his unwanted MTB gear on eBay to make some cash. He quickly recognized the high demand and began helping other professionals sell the contents of their closets. Hence, The Pro's Closet (TPC) was born.
Martin fostered this side business using eBay and eventually turned it into what it is today; a customer-friendly website selling an extensive selection of models from almost every brand and buying used bikes from individual sellers.
Buying from The Pro's Closet
Each bike sold is inspected and serviced by the company's mechanics, so it's ready to ride when it arrives. TPC also sells unused bikes that are an older generation.
The sales part of the brand's website works almost identically to any other online retailer. You browse the selection, narrow your search using standard filters, read the description, click 'add to cart,' and process the transaction as usual.
All The Pro's Closet bikes come with a buy-back clause (Guaranteed Buyback Program). This program allows you to sell it back to them at any stage before the 18 months are up and recuperate most of what you paid.
Selling to The Pro's Closet
Any bike owner can sell or trade their bike, frame, or wheels to The Pro's Closet, given it meets the brand's requirements, such as being less than five years old and free of structural damage.
You just need to provide two photos and some basic details about the bike, and you'll get a quote within 24 hours. If you receive an offer, it will be for cash, store credit, or credit at your local TradeUP bike shop.
Shipping is free, and once the bike is received and the mechanics inspect it, they release the money to your account.
Advantages and Disadvantages of The Pro's Closet
---
Used electric bikes make up a significant portion of The Pro's Closet bikes. At the time of writing, 244 of the 1788 pre-owned bikes on the site are electric.
These 244 used eBikes came from 32 brands, ranging from $1,370 to $11,000. The range includes commuter/city, road, gravel, trekking, and mountain electric bikes.
Selling or trading to The Pro's Closet is appealing because you avoid what is often a frustrating and time-consuming experience of selling privately.
Let's look at the pros and cons of buying and selling from The Pro's Closet.
Advantages of Using The Pro's Closet
1. As mentioned, the company sells some of the best electric bikes, including hundreds of models from dozens of brands comparable to the largest online retailers, such as Jenson USA and Mike's Bikes. In a time when stock is low all around the world, you may find the bike you're looking for on The Pro's Closet.
2. All used electric bikes on TPC are "Certified Pre-Owned," which promises full professional inspection and service, a 30-day return period, and easy five-minute assembly upon delivery.
3. Each bike has 'Master Mechanic's Notes,' which detail any issues and what they did to the bike, for example, "light scratches on the fork, top tube, & down tube." In addition, TPC e-bikes come with a mileage rating which you can use for an approximate calculation of how many charge cycles the battery has undergone.
4. The guaranteed buy-back program is another advantage of buying from TPC. They will purchase the bike back from you for up to 18 months, given it meets their quality criteria. Taking full advantage of this means you can ride a different bike each year without a considerable cost.
5. Selling or trading to TPC means you can skip listing a bike, dealing with messages from interested buyers, and meeting and haggling with strangers. Their process is quicker, easier, and hassle-free.
6. Finally, TPC has responsive and helpful customer service that includes mechanics and former bike shop managers who know what they're talking about and can help with technical questions.
Downsides of Using The Pro's Closet
1. The biggest downside of buying from or selling to TPC is that you won't get as much money for selling to them, and the bikes are more expensive than the private market. If you're patient and understand the pitfalls and how to avoid the risks of buying from an individual seller, you can find better deals.
2. TPC does its best to simplify the selling process, but it still requires a laborious disassembly and boxing of the bike to prepare it for shipping.
3. TPC only sells online, meaning all bikes require some assembly on arrival, albeit only around five minutes, and the relevant tools are included.
4. Finally, you're liable for the return shipping cost if you don't like the bike and want to return it before the 30 days are up.
10 Tips for Buying Used Electric Bikes
---
The used electric bike market is a minefield for the inexperienced buyer. With unsavory characters, scams, and poor-quality bikes to avoid, it's essential to be alert and aware.
Consider the following ten tips to give yourself the best chance of getting a good deal when buying a used electric bike.
1. Choose the correct bike
There are a host of factors to consider when choosing a used electric bike. Firstly, what type of bike do you want? Some popular e-bike types include city, cruiser, mountain (hardtail or full-suspension), road, folding, and fat tire. Consider the following questions before starting your search.
What ride position do you enjoy, relaxed, sporty, or in between?
Do you need a step-over or step-through frame?
Will you be hauling cargo or not?
How long are your average journeys, 10, 15, 30 miles, or more?
How much power do you need? (look for more power/torque if you live in a hilly area, are a heavy rider, or like to use high assistance levels)
How much payload capacity (rider+cargo) do you need?
Do you need a throttle or just regular pedal assistance?
Do you want a mid-drive e-bike or a hub-drive e-bike?
We also recommend reading our detailed E-Bike Buying Guide to learn more about how to choose the perfect ebike for your needs.
2. You can buy from a dealer or a pre-owned online store like The Pro's Closet
The safest way to buy used electric bikes is to go through a reputable dealer in your area or buy one of The Pro's Closet bikes.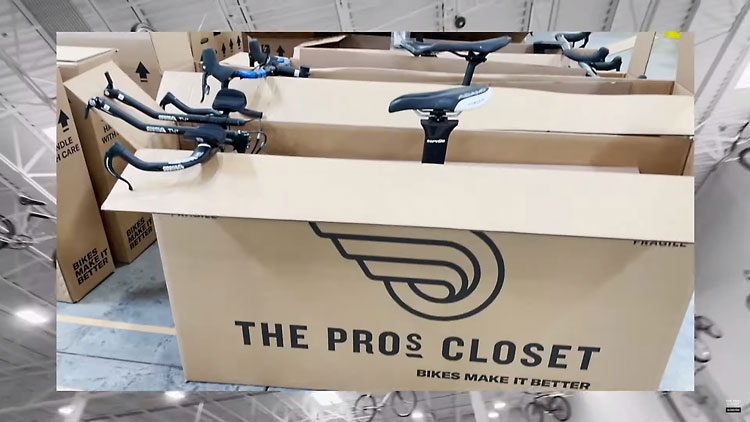 Examples of local dealers include bike shops selling second-hand models and rental or tour companies changing their fleets. The Pro's Closet is an online dealer of pre-owned bikes.
The advantage of buying from a dealer or TPC compared to a private seller is that the bikes are inspected and serviced by professionals. In addition, you'll usually get a short warranty or guarantee.
If you purchase from a tour or rental company, they will also have a detailed service history. Similarly, buying from a local bike shop allows you to establish a relationship with them for future questions or repairs.
3. Buying from a private seller has pros and cons
You can find unbeatable deals if you're comfortable buying from a private seller and understand how to mitigate the risks.
There are many used electric bikes for sale from private individuals, giving you more choices when stock is low on new e-bikes. Many of these sellers can be negotiated with and will sell at a price significantly lower than pre-owned dealers.
That said, the quality and condition of these bikes will vary hugely, so it's vital to be able to assess an e-bike before you buy it or bring along somebody who does. In addition, you won't get any warranty, and you mightn't be able to trust the seller to tell you the correct history and usage.
4. Avoid stolen electric bikes
Identifying and avoiding stolen electric bikes is straightforward. Firstly, if the deal is too good to be true, it probably is. Be very skeptical of unusually low prices, as they are a good indicator of a stolen bike. Likewise, it's probably a stolen bike if the keys or charger are missing.
If you're suspicious of a specific situation or a seller, you should ask for a receipt or proof of purchase and check the serial number online on Bike Index or Project 529.
5. Ask for a diagnostic report
Electric bikes are not cheap, and you won't get a warranty in a private sale, so do your best to ensure that everything is working and that issues won't begin arising soon after buying.
At a minimum, we recommend asking the seller for a recent battery life diagnostic report, which can be obtained for most e-bike systems. For example, Bosch and Yahama dealers can give you a printout of the battery life, whereas Specialized and Shimano connect to an app that provides full diagnostics.
6. Always view, check over, and test-ride the bike before purchase
If a seller asks for money before you meet, it's a scam. Always arrange to view the bike for a test ride before you commit or agree on a price, and organize meetings in a public space during daylight. Take along a chain tool if you have one.
Remember, you can ask the seller if it's possible to have an e-bike mechanic do a thorough review of the bike if you aren't confident doing it yourself.
When you begin your test ride, listen out for strange noises or rattling. Ensure everything works, including all assistance levels, each gear shift, the brakes, the battery lock, the lights, and other components. Also, look at the battery charge/range and ensure they don't drop rapidly.
When you finish riding, thoroughly inspect the components and frame. Use the chain tool to check chain wear, look at the frame for cracks and chips, check the shocks for fluid leakage (on MTBs), and examine each component for rust.
The benefit of using a dealer or a service like The Pro's Closet is that a professional mechanic will do this for you.
7. Double-check the electrical components and battery life
Take extra time to inspect the electrical components when buying a used electric bike, as these will be the most costly if they break. In addition, it can be challenging to find and purchase a new battery if yours breaks.
As mentioned, ask for a battery life report from a dealer or through the Bluetooth app when possible.
When in person, visually inspect the battery, the connections, and the charger port looking for rust or any damage. Check that charger works and that the key(s) fit and turn.
Look at the display for error codes, warnings, or other damage. If you don't have a battery life report, read through the odometers and range per charge. Using this information, you can roughly calculate the remaining life using the total miles ridden and range per charge.
For example, if the odometer reads 5,000 miles, and the battery lasts around 25 miles per charge, the battery has been through roughly 200 charge cycles.
You can then check the battery model for the total charge cycles (usually around 500-800). Offer a lower price if the battery is heavily used.
8. Get to know the seller
When you're with the seller, you can get valuable information about how the e-bike has been used by asking the following.
How many miles has the bike done?
What style of riding and terrain do you ride on?
Which assist levels do you mostly use?
When was it purchased and last serviced?
Which parts have been replaced or repaired?
Why are you selling?
Is the bike tuned?
These questions will give you an idea of the seller, their riding style, and maintenance practices. But take any answers with a pinch of salt.
9. Electric bike warranties generally don't transfer to a second owner
One important thing to remember when purchasing second-hand from a private seller is that the warranty typically doesn't transfer, so the original owner is the only one who can claim for damage or defective parts. Likewise, you won't have any recourse if something breaks the week after you buy it.
Without a warranty or guarantee, you'll have to fork out for any repairs or replacements that occur, even if they happen the next day. For this reason, many people prefer the peace of mind you get by buying a used electric bike from a company like The Pro's Closet.
10. Negotiate the price, especially if you foresee repairs or maintenance
Negotiations are part and parcel of private selling. An e-bike's posted price is typically higher than what they would accept, especially if the advertisement has been active for a long time.
With this in mind, you can extend your budget and offer less for e-bikes listed slightly outside what you want to pay.
When viewing a bike, take note of everything wrong with it, including immediate repairs or replacements necessary and anything that you believe will arise in the short term. Then, factor these costs into your offer to the seller.
Frequently Asked Questions
---
Yes, it's worth buying a second-hand eBike if you don't have the budget for a new one or you want a higher-end model that you can't afford to buy new. You can find excellent deals if you're comfortable navigating the used electric bike market and accepting the potential risks.
The lifespan of an electric bike varies based on the component. For example, an eBike battery should last three to five years and a motor up to ten years. So, you could replace individual components as they wear out and keep an e-bike running until they stop producing the parts.
Is The Pro's Closet legit?
Yes, The Pro's Closet is legit. It's the largest online seller of pre-owned bikes in the US and Canada. The Pro's Closet reviews online are largely positive, with a rating of 4.2/5 stars on Google Reviews and 4.1/5 on Facebook.
The Pro's Closet aims to process and ship all orders within one business day (Monday to Friday). Unfortunately, the company does not offer expedited shipping on electric bikes. The shipping time will depend on the carrier and how far you live from the warehouse in Colorado.
Where can I find used electric bikes?
You can find used electric bikes for sale in local bike shops and from time to time in bike tour and rental companies. In addition, you can find used e-bikes on Facebook marketplace, Craigslist, and eBay. Alternatively, you can find pre-owned e-bikes online on The Pro's Closet.