Finding the best e-bike for your needs is not an easy task. We'll show you our favorite mountain, road, hybrid, cruiser, city, cargo, and folding electric bikes, suitable for all types of riders and all budgets. 
It's time for e-bike skeptics to change their minds and accept the reality—electric bicycles are here to stay. They get you to spend more time outside, ditch your car, save money on gas, and be happy and healthy. Best of all, you don't even need to be fit to ride one every day.
The problem is that many people are still confused by e-bikes, as their components are slightly more complex than those found on regular bicycles.
If various types of e-bikes and their motors (hub motor for example) and batteries are currently a mystery for you, you're at the right place.
We'll tell you what you need to know about the basic features of e-bikes and show you our top choices in the most popular categories.
So let's start with:
Choosing the Best Electric Bike —A Step-by-Step Guide
Before we show you the best e-bikes you can get right now, you should first learn about the most important features to pay attention to when finding the best electric bike FOR YOU.
Simply follow the steps below to start e-riding in no time.
Step #1 – Choose the Type and Class
The first thing that you should do is choose the type and class of e-bike you want to get. Do you need a mountain, road, hybrid, folding, cargo, or some other type of bike? You should make this choice based on what type of riding you plan to do the most.
Next, choose whether you need a Class 1, Class 2, or a Class 3 e-bike. Class 1 e-bikes have a 20 mph max-speed and no throttle, whereas Class 2 bikes have the same top speed but come with a throttle, in addition to assistance. Class 3 e-bikes don't have a throttle, but their maximum assisted speed is 28 mph. Consider your local laws when choosing the class as well.
Step #2 – Determine Your Budget
Next, think about how much money your budget allows you to spend. The cheapest e-bikes on the market cost less than $500, but their quality and durability are questionable. Decent budget models can be found between $500 and $1,000, but good-quality mid e-bikes cost between $1,000 and $3,000. This is the price area we recommend if you plan to ride regularly and cover serious distances.
Step #3 – Consider the Type of Motor
E-bike motors differ in position and type of gearing. You can choose between front or rear hub motors fitted on the wheels or mid-hub motors fitted inside the bottom bracket. The former option is cheaper, whereas the latter is more expensive but feels more natural.
If you go for a front or rear hub motor, you can choose between a direct-drive or geared motor. Direct-drive is good for flat rides, but geared is better for hills. We'll talk about this distinction in more detail below.
Step #4 – Think About the Range
How far and how often do you plan to ride your e-bike? This is an important question to ask to determine how big of a battery you need and how much distance your bike should have. If you plan to ride often, get an e-bike with a bigger battery and more riding time. This way, you won't have to charge the battery every day or carry a spare battery with you all the time.
Step #5 – Get the Right Fit
Finally,  make sure to get the right frame size. You need a bike that fits you well to be able to ride free of pains, aches, and injuries. This is true for all types of bicycles, including e-bikes. Some electric bicycles, such as cruiser, folding, and cargo bikes, are frequently built around one-size-fits-all frames, but these are often not ideal for very short or very tall riders.
Mountain
---

Motor: Bosch Performance CX
Battery: Power Tube 625 Wh
Class: 1
Features: Four modes, 47-mile distance, hydraulic discs, 160 mm travel, SRAM SX Eagle
MSRP: $5,995
Niner RIP e9 is a proper all-mountain e-bike and one of the first electric bikes Niner has made. It's powered by a Bosch Performance CX motor supported by a 625 Wh battery that ensures a 47-mile average distance.
Niner RIP e9 is built around a 6061 frame with a lifetime warranty and has 160mm of travel front and 150mm on the back with RockShox suspension.
This e-mountain monster also has a 12-speed SRAM SX drivetrain for climbing and 4-piston hydraulic discs for descending. It rolls on massive 29″ x 2.5″ Maxxis tires with loads of traction.
If you want a capable best electric mountain bike with assistance that can be used on the trails like a normal MTB, Niner RIP e9 is the right choice.
Motor: Shimano Steps E8000
Battery: Shimano E8010, 500 Wh
Class: 1
Features: RockShox 140mm suspension, 27.5+ tires, SRAM EX1 drivetrain
MSRP: $4,410
Trail lovers in search of an electric bike that will allow them to ride more than before can stop and marvel at Marin Nail Trail E2. This is a class 1 trail e-bike with a powerful Shimano motor and a high-capacity battery with a decent range.
It has a RockShox Revelation RC 140mm suspension, an 8-speed SRAM EX1 drivetrain, and Shimano hydraulic discs with 203 mm rotors. Therefore, it is ready for serious trail exploration and exploitation.
Shimano's mid-hub motor will have no issues conquering steep hills and the Vee Tire Crown Gem 2.8″ tires will ensure a good grip even under maximum torque.
Marin Nail Trail E2 has all you need to ride longer and harder, in spite of any limitations you might have.
Motor: Shimano STEPS DU-E7000 250W
Battery: 504 Wh
Class: 1
Features: Front and Rear 140/150 mm suspension, Shimano Deore groupset, 60-mile PA range, hydraulic discs
MSRP: $4,200
Cannondale Moterra Neo 5 is a beautifully crafted trail bike that's not just for show. It's built for trail and all-mountain riding with 140/150mm of trail.
This e-bike has a Shimano 250W mid-hub motor that delivers 75 Nm of torque. The 504 Wh battery is neatly integrated into the downtube, so Moterra Neo 5 doesn't even look like an e-bike.
All electric components are fully-sealed, so you can ride in all conditions and expect a 60-mile maximum assist distance.
Moterra is also equipped with a Shimano Deore 10-speed drivetrain and Shimano hydraulic disc brakes, both of which are excellent mid-range parts.
Get it if you want a powerful, trail-ready e-bike that doesn't have "electric" written all over it.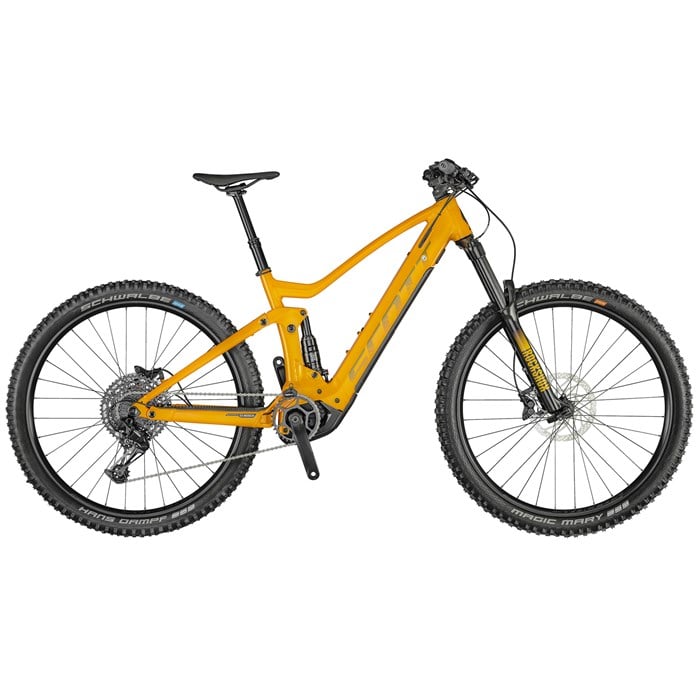 Motor: Bosch Gen 4
Battery: Bosch PowerTube Integrated 625Wh (Extendable up to 1125 Wh)
Class: 1
Features: Full-suspension, hydraulic discs, SRAM SX Eagle drivetrain, ultra-long distance
MSRP: $4,600
Scott Genius eRide 930 is a purebred all-mountain bike crowned with assistance and a massive battery. It has a capable full-suspension setup and 29″ wheels that make it fun and exciting to ride up and down the hills.
This Scott e-bike is powered by a Bosch Gen 4 motor that drains juice from a massive 625 Wh battery locate inside the downtube. If that's not enough electricity for you, you can add another 500Wh battery and extend ot to 1125 Wh!
Genius eRide 930 has a 12-speed SRAM SX Eagle drivetrain coupled with strong Shimano 4-piston brakes, which is just the combo you need on the trails. Plus the tires are 2.6″ wide so traction is no issue.
This is the right choice if you want the longest distance with a powerful motor and decent components.
Motor: Shimano Steps E8000 250W
Battery: 504 Wh
Class: 1
Features: Full-suspension, SRAM NX, dropper post, plus-sized tires, lifetime frame warranty
MSRP: $5,800
Devinci DC 29 is a long-travel aluminum e-bike built for all-mountain and trail riding. It features durable and reliable Shimano electronics that will assist you up to 20 mph when pedaling. That makes it a class 1 e-bike as it has no throttle.
This e-bike is equipped with Fox 160mm suspension front and back and comes with a SRAM NX 11-speed drivetrain suitable for different types of trails.
Devinci DC has a mid- motor, which is the best option for electric mountain bikes. It slows down with reliable SRAM Guide R brakes with 203 mm rotors and rolls on 2.6″ Maxxis tires.
It's a great choice for all types of off-road riding if you need some extra power on the trails.
Road
---

Motor: Bosch Active Line Plus 250W
Battery: 500 Wh
Class: 1
Features: Aluminum frame, integrated battery, 1×11 drivetrain, hydraulic discs
MSRP: $4,500
It's hard to believe that Cannondale Synapse Neo SE is an electric road bike. At first glance, it looks nothing like it. The mid-motor is neatly placed inside the bottom bracket, whereas the battery is integrated into an oversized down tube.
The Bosch Active Line Plus motor has 250W, with 50 Nm of torque, and 20 mph max-speed. It's supported by a 500 Wh battery that promises a 93-mile range. That's if you use a low pedal-assist mode.
Other notable features include a 1×11 SRAM Apex 1 drivetrain that suitable for climbing hills and hydraulic discs that are suitable for hard descents.
With its 650B x 47mm tires, Cannondale Synapse Neo SE is not a classic road bike, but that won't stop it to be fast on paved routes. Get it if you want a phenomenal all-road e-bike that can take you on an adventure.
Motor: MAHLE ebikemotion X35 250W
Battery: 250 Wh
Class: 1
Features: Full carbon construction, Shimano 105 drivetrain, hydraulic discs, aerodynamic
MSRP: $4,500
Cannondale SuperSix Neo 3 is an electric road bike that will supplement your riding ability and not completely overwhelm it. If you want to do most of the job yourself and get a trickle of assistance when necessary, this is the e-bike for you.
The MAHLE 250W motor is powered by a 250 Wh battery integrated into the down tube. This low-capacity battery still gives you 40-70 miles of range, thanks to the efficiency of the entire bike.
Cannondale SuperSix Neo 3 is a full-carbon machine, with a Shimano 105 groupset and Shimano 105 hydraulic discs. The 700c x 28mm Vittoria Rubino Pro tires are smooth, fast, and comfortable all at once.
Get it to go longer and faster than ever before.
Motor: Ebikemotion X35 250W
Battery: 250 Wh
Class: Class 1
Features: Full-carbon frame and fork, Shimano Ultegra Di2 groupset, hydraulic discs, lightweight construction
MSRP: $5,800
Would you ever suspect that the bike pictured above has a motor and a battery? We don't think so. Orbea Gain M20I is incredibly lightweight thanks to its inconspicuous motor and battery.
The 250W rear hub motor is hard to notice and the integrated 250Wh battery is completely hidden in the down tube. Yet, this setup will give you 40 Nm of torque and a 20 mph maximum assisted speed. The entire system weighs just 8 lbs.
Orbea Gain M20I also has a full-carbon construction, high-end Ultegra Di2 components, hydraulic discs, and versatile 700x28c tires.
It's the perfect bike for anyone who needs an extra push at the end of a long day of riding.
Motor: Bosch Performance Line Speed 250W
Battery: 500 Wh
Class: Class 3: High-Speed Pedal-Assist
Features: Full-carbon, Kingpin suspension, 28 mph top speed, big tire clearance
MSRP: $6,800
Cannondale Topstone Neo Carbon 2 is a high-end gravel e-bike with a steep price that's somewhat justified. This gravel machine comes with a 250W Bosch mid-motor and a removable 500Wh battery.
The motor will support you up to 28 mph, which makes this Topstone a class 3 e-bike. The battery ensures a 125km range, which means you can enjoy long days in the saddle.
Cannondale Topstone also has a revolutionary Kingpin 30mm rear suspension travel that eliminates vibrations along with the 700c x 37mm tires. It also comes with the gravel-specific Shimano GRX 810 drivetrain.
Cannondale Topstone Neo Carbon 2 costs a lot but brings a lot for the money to the table as well!
Motor: Mahle ebikemotion X35 250W
Battery: 250 Wh
Class: Class 1
Features: Full-carbon frame and fork, 2×11 Ultegra drivetrain, hydraulic disc brakes, 20 mph top speed
MSRP: $6,500
Cannondale SuperSix EVO Neo 2 is a high-performance road e-bike that will make you faster and help you keep up with the fast riders on any group ride.
It has a powerful 250W motor hidden in the hub (rear) and a medium-capacity 250 Wh battery placed in the downtube. The combo will support you up to 20 mph and give you an assist range of about 62 miles.
Even without the electronics, Cannondale SuperSix EVO Neo 2 is a fast and capable road bike. It has a 22-speed Shimano Ultegra drivetrain, Ultegra hydraulic discs, and 700c x 28mm Vittoria Rubino Pro tires. The whole bike weighs just 27 lbs.
We recommend it to anyone who doesn't need too much assistance and wants to preserve the natural feel of a purebred road bike.
Hybrid, Cruiser & City
---
Motor:  Bosch Active Line Gen 3, 250W
Battery: 400 Wh
Class: Class 1
Features: Aluminum construction, rear rack, fenders, hydraulic disc brakes, mid-drive motor
MSRP: $2,200
Commuting by bike is becoming the cheapest and most efficient way of getting from point A to point B in big cities. This is especially true if you're doing it on an efficient e-bike such as the Batch Bicycles E-Commuter.
This e-bike is built around an alloy that come equipped with a rear rack, fenders, and a kickstand. It's powered by a Bosch 250W mid-motor and a 400Wh battery located on the downtube. The company claims you can get between 30 and 80 miles of distance from it.
This is a Class 1 e-bike, so the top assisted speed is 20 mph. However, you can go faster than that thanks to the Shimano Altus 8-speed drivetrain.
Batch Bicycles E-Commuter is incredibly practical and comfortable, so you'll find it joyful to ride it to work and back every day, without breaking a sweat.
Motor: Bosch Active Line 250 W
Battery: 400 Wh
Class: Class 1
Features: Alloy frame, disc brakes, fenders, upright geometry, up to 70 miles of range
MSRP: $2,200
Electra Townie Go! 8D EQ is a simple and affordable city e-bike with a comfy upright geometry and a step-through aluminum frame.
It's ideal for riders who want to commute, run errands, and ride for leisure. This Electra model is powered by a 250W Bosch mid-drive motor and a 400Wh battery with a range of 20-70 miles.
The Shimano Acera 8-speed drivetrain is basic but gives you enough range to tackle different types of trail. The same goes for the mechanical discs that offer decent braking power.
Electra Townie Go! 8D EQ can be ridden day or night, rain or shine, thanks to both fenders and battery-powered lights.
Motor: MAHLE ebikemotion X35 250W
Battery: 250 Wh
Class: Class 1
Features: Alloy frame, fenders, front rack, kickstand, lights, disc brakes
MSRP: $2,650
The Cannondale Treadwell Neo EQ is the one e-bike to rule them all. It's the only bike you need to run errands, commute to work, lose weight, or just get some vitamin D on the weekend.
Its electronic parts are not super-powerful, but they're powerful enough to assist you up to 20 mph for up to 70 miles per charge. You can ride it at night as well, thanks to front and rear battery-powered lights.
Treadwell Neo EQ has a Shimano Acera 9-speed drivetrain with a wide 11-36T cassette that's great for hilly rides. It rolls on 650B x 47mm tires, which are quite comfortable on and off paved roads.
We recommend this bike to anyone who can get just one e-bike and plans to use it for their everyday tasks.
Motor: Bosch Active Line Plus 250W
Battery: 400 Wh
Class: Class 1
Features: Alloy frame, a mid  motor, fenders, kickstand, front suspension, Acera groupset
MSRP: $2,750
Cannondale Mavaro Neo is the definition of a versatile city e-bike that can be ridden by the entire family. It has an easy-to-ride step-through alloy frame with a bunch of accessories: fenders, kickstand, lights, chainguard, etc.
Mavaro Neo will assist you up to 20 mph with a Bosch 250W motor that has a 65-mile range thanks to the 400Wh battery. The package also includes a 1×9 Shimano Acera drivetrain that will make pedaling easier uphill.
This bike also has front suspension with 63mm of travel and 27.5″ x 2.0″ Schwalbe tires for maximum comfort on and off paved roads.
Get it if you want a comfortable, practical, and fun experience every time you start cycling.
Folding & Cargo
---
Motor: Bosch Active Line Plus, 250W
Battery: 400 Wh
Class: Class 1
Features: Alloy frame, front suspension, rear rack, Alivio groupset, numerous accessories
MSRP: $3,200
Tern HSD P9 can best be described as a compact cargo bike that can haul you and some additional weight with the help of Bosch electronics.
This bike has an aluminum frame and small 20″ wheels and tires. The handlebar folds, so it's easy to transport it and take it anywhere with you.
Tern HSD P9 has a long rear rack that can fit panniers, a basket, or a child seat. It's suitable for riders from 4'11" to 6'5″ tall.
Other cool features include fenders, a front suspension fork for comfort, a chainguard, kickstand, and an abuse lock for quick stops. According to the company, you can get between 26-69 miles out of the 400 Wh battery.
Ideal if you are an urban dweller who wants to ditch their car for good! Cargo bikes are excellent for this!
Motor: Bafang M400 Drive System, 36 V/250 W
Battery: 400 Wh
Class: Class 1
Features: Folding alloy frame, rear rack, fenders, disc brakes, Shimano Claris group
MSRP: $2,200
Folding e-bikes are becoming more and more popular in big cities. They are the pinnacle of practicality for urban commuters.
Tern Vektron D8 folds down into a compact bundle in a matter of seconds. You can then put in your car trunk or take it on a bus or a train.
When riding it, the Bosch 250W motor and the 400Wh battery will support you up to 20 mph for up to 56 miles, depending on how much assistance you use.
Tern Vektron is very practical and comfortable, as it comes with front and rear fenders, a kickstand, a durable rear rack, discs, and an 8-speed Shimano Claris drivetrain.
If you get it you'll forget that other means of transportation in the city even exist.
Motor: Bosch Performance Line CX, 250W
Battery: 500 Wh
Class: Class 1
Features: Long cargo frame, integrated rear rack, fenders, kickstand, a mid motor, lights
MSRP: $5,000
If you need to transport yourself and haul additional cargo through busy city streets, electric cargo bikes are an ideal solution to the problem.
Tern GSD S00 is a high-performance electric cargo bike with a long integrated rear rack. It can take two pairs of big panniers or two child seats. You can take your kids to school, go grocery shopping, or commute to work and back.
This, one of the best cargo bikes here, is powered by a mid-drive 250W Bosch motor and a 500Wh battery. It can assist you up to 20 mph but sadly does not have a throttle to help you start pedaling when fully loaded.
Tern GSD S00 also has a foldable handlebar and seat post, so you can store it in a small space, even though it's a cargo bike. It has a 400 lbs. maximum weight capacity, so it can carry a lot!
---
Why You Should Buy an E-Bike
There are many reasons why almost anyone could benefit from getting an e-bike. People have long believed that best electric bikes are only beneficial for those with injuries or for lazy or old people. But that's far from the truth.
If you're still in two minds about buying an e-bike, let us help you make the final decision by sharing a few of their biggest benefits:
E-bikes make pedaling uphill easy.
They'll help you save money.
E-bikes help you go faster and farther.
You don't need to break the bank to get one.
Lose weight and improve your fitness.
E-bikes are nature-friendly.
You'll spend more time outside.
Therefore, e-bikes are a great choice to spend more time outside riding and enjoying bicycles. You can easily pedal up steep hills if you live in a hilly area, which is one of the reasons why many people never start cycling.
Some e-bikes might seem like a pricey investment, but they help you save money in the long run. You'll save on gas, car maintenance, and public transportation fees. They're also much more nature-friendly than these alternatives.
Finally, contrary to popular belief, e-bikes are excellent for weight loss and fitness. If these are your goals, just ride with a lower pedal-assist level. You'll burn fat and get fit easily by riding more than on a regular bike.
What Are the Three E-Bike Classes?
All electric bicycles can be separated into three classes based on the type of assistance they provide and the maximum assisted speed they offer.
Therefore, the three classes are:
Class 1: These are e-bikes that don't have a throttle and assist the rider only when they are turning the pedals. The maximum assisted speed they provide is 20 mph in the USA and 15 mph in Europe.
Class 2: These e-bikes have a throttle in addition to the assist function. Their maximum assisted speed is also 20 mph in the USA and 15 mph in Europe.
Class 3: This type of e-bikes doesn't have a throttle function and their maximum assisted speed is 28 mph. They're also known as speed pedelecs.
Class 1 e-bikes are a good choice for beginners because they usually require no license to operate and don't fall under any regulations. On the other hand, Class 2 e-bikes are good for cargo bikes and riders who need help to start pedaling, but they require licensing in some countries. Class 3 e-bikes might also require some licensing, depending on where you live.
Choosing the Right Motor and Battery Pack
Many people feel puzzled when buying an e-bike. What type of motor is right for me? How much battery capacity do I need? These are questions that we get asked a lot.
These are very good and very important questions, so let's clarify things in simple terms. There are three types of drive motors you can choose from:
Direct drive (hub motor)
Geared (Hub motor)
Mid-drive
Direct drive and geared motors are hub motors and can be located on the front or the rear wheel. The direct-drive motor is cheaper than geared and is a great choice for mainly flat rides. The geared motor is better for hills and dynamic riding.
Mid-drive hub motors are more expensive and they're fitted in the bottom bracket. They're often seen on mountain bikes and road bikes, as well as more expensive models in other categories. They offer the most natural riding feel which is why experienced riders prefer them.
When it comes to the battery, the more the better. Get the biggest battery pack that your budget allows. You'll get more rides out of one charge and you'll need to charge the battery less often.
What Range Do E-Bikes Have?
The range of an e-bike depends on a lot of factors.
The most important ones are the battery capacity and the level of assist you use. However, your weight, position on the bike, tire pressure, the terrain, riding style, etc. also play important roles.
A good way to estimate how much (minimal) range you can expect from your e-bike is to divide the battery capacity in Wh by 20. According to that logic, a 350 Wh battery has a minimal range of 17.5 miles.
However, most manufacturers estimate their bikes to have a range between 20 and 50 miles, but there are some models that can offer a lot more.
Additional Features to Keep in Mind
Apart from the motor, battery capacity, and range, there are a few other important features you should keep in mind when trying to find the best e-bike for yourself.
Battery integration is one of them. Many bike manufacturers have started integrating batteries into the downtube, which makes e-bikes look more like regular bikes. Think about how important that is for you.
Tire width and the brakes are also important features. Wider tires will give you more control and more comfort, considering that best electric bikes are faster than regular bikes. You'll also want decent-quality discs to slow or stop the bike when going at high speeds.
We also recommend thinking about the accessories you'd like your bike to have. Fenders, racks, lights, a kickstand, a chainguard, etc. are valuable additions for some riders, but completely unnecessary for others. Which type of rider are you?
People Also Ask
What is the best electric bike for the money?
The best electric bike for the money is the one that suits your needs the best and that you will end up riding the most.
The best e-bike is not the same for every rider out there. Some need an e-MTB model, whereas others might want an e-Road or an electric commuter bike. To find the best one for you, refer to our list and our guide above. Compare different models within your budget and choose the one with the best features.
What is the best electric bike motor?
Mid-hub drive motors are the best type to get if you want a natural riding feel when motor-assistance kicks in. The best electric bike motor manufacturers are Bosch, Shimano, Brose, Fazua, Yamaha, Bafang, etc. Therefore, we recommend getting an e-bike equipped with a motor made by one of these companies if you want to get the best quality for your money.
Is an electric bike worth it?
Yes, an electric bicycle is worth spending the money on if you want to ride for longer, cover greater distances, ride over hills, and get tired less. If you are a regular commuter and you want to do it on a bike, an electric bike is the best choice you have. Also, with an e-bike, you can still get fit and lose weight, just as with a regular bike.
What is the best cheap electric bike?
The best cheap electric bike is one that offers good value for your money, but it all depends on how much money you plan to spend. For example, Rad Power Bikes makes excellent cheap electric bicycles that cost somewhere between $1,000 and $1,700. They are equipped with DD or geared hub motors, alloy frames, lights, big batteries, and a plethora of accessories. They're considered to be some of the best cheap electric bikes.
Are front or rear-drive electric bikes better?
Electric bicycles with rear hub motors are a better choice than those with front hub drive motors. The reason is that the bike will have better traction because there is more weight on the rear wheel. Pedaling will also feel more natural and more like pedaling on a regular bike. Steering and handling are also better and more predictable on e-bikes with hub motors. These bikes are also more expensive because of these reasons.
What are the best brands of electric mountain bikes to buy?
The number of brands that make the best electric mountain bikes is truly huge. In our opinion, that is shared by most experienced electric MTB riders, the best brands are Niner, Marin, Cannondale, Scott, Devinci, Santa Cruz, Yeti, Specialized, Trek, and a few others. If you get an e-bike from any one of these manufacturers, you're unlikely to make a mistake.
What should I look for when buying an electric bike?
The process of buying an electric bike is not very different from buying a regular bike. Make sure that you get the right frame size and that the components fit your needs. Consider the power of the motor and the capacity of the battery, as these should be sufficient for the distances and the terrain you plan to cover. Also, don't forget about the drivetrain, the brakes, and the accessories, as these will determine the quality of your ride even on an e-bike.
See also
Best Electric MOUNTAIN Bikes for 2022
Best Electric Bikes under $1,000