Fat tire e-bikes come in a wide range of styles but at their core, they are powerful, comfortable, and highly functional.
Wide 4-inch+ tires and powerful electronics make the fat tire bike the most versatile you can buy. Riders can confidently take on soft terrains like sand, snow, or mud, ride in poor weather conditions, and carry large cargo loads over tough gradients.
The ability of fat bikes to absorb shocks, maintain traction on slippy surfaces, and support heavy payloads makes them even more special. For anyone who enjoys taking their bike on adventures, riding with confidence in any conditions, or values unbeatable comfort, they will surely love what fat-tire e-bikes have to offer.
In this article, you can see some fat-tire eBike reviews, covering different types of fat bikes with varied prices and components.
---
Best Electric Fat Bikes of 2021
RadRover 6
---
Rad Power Bikes
RadRover 6 Plus

'2021

Definitely the best fat tire electric bike under $2,000
Weight: 73.4 lbs | Payload Capacity: 275 lbs
MSRP: $1,999
Rad Power Bikes
The RadRover 6 Plus fat tire electric bike is Rad Power's flagship model and comes with great components and a serious punch for the affordable price of $2000.
Rad Power has optimized this bike's geometry to improve comfort with an ergonomic design that reduces fatigue and also improves performance while climbing. This performance is helped by a powerful 750W motor and a large 14Ah battery.
Additionally, the RadRover 6 Plus has a sleek, semi-integrated battery design, compatibility with various accessories, automatic activation LED lights, and hydraulic disc brakes.
Finally, puncture-resistant 4″ Kenda Juggernaut fat tires, fork suspension, and enhanced ergonomics make this the most comfortable RadRover yet!
750W

rear hub motor
672Wh battery
Range:

Up to 45 miles

26″ x 4″

Kenda Juggernaut tires
Frame: 6061 aluminum alloy
60mm RST spring

fork suspension
Score: 4.8 / 5 out of 3,754 ratings 🏆
Other Fat Tire eBikes by Rad Power Bikes
| | | | | | | |
| --- | --- | --- | --- | --- | --- | --- |
| RAD POWER BIKES | TYPE | MSRP $ | FRAMES | SPEEDS | TIRES | FORK |
| RadMission 1 | Fixie | 1,099 | ST & Standard | Single-speed | 700c | Rigid |
| RadRunner 1 | Utility | 1,299 | ST & Standard | Single-speed | 20×3.3″ | Rigid |
| RadRunner Plus | Utility | 1,799 | ST & Standard | 7 | 20×3.3″ | 80mm |
| RadWagon 4 | Cargo | 1,899 | Step-Through | 7 | 22×3″ | Rigid |
| RadMini 4 | Folding | 1,499 | ST & Standard | 7 | 20×3″ | 80mm |
| RadRover 5 | Fat Hybrid | 1,699 | ST & Standard | 7 | 26×4″ | 80mm |
| RadRover 6 Plus | Fat Hybrid | 1,999 | Standard | 7 | 26×4″ | 60mm |
| RadCity 4 | Hybrid | 1,599 | ST & Standard | 7 | 26×2.3″ | 100mm |
RadPowerBikes.com/
---
QuietKat
Jeep
Perfect full-suspension fat tire electric bike for hunting & camping

Weight: 70 lbs | Payload Capacity: 300 lbs
MSRP: from $7,099
QuietKat
QuietKat's Jeep is a full-suspension fat-tire eBike that comes from a partnership with the iconic off-road vehicle brand JEEP.
This electric fat tire mountain bike is designed to be the ultimate off-road machine with 150mm travel suspension, a choice of 1000W or 750W ultra mid-drive motor with a peak output of 1500W/160Nm of torque. Riders can get up to 58 miles of range from a single charge of its 14.5Ah Panasonic battery.
The Jeep also handles like a dream on in all terrains and conditions. It does so using 4-piston Tektro hydraulic disc brakes, huge 4.8″ CST fat tires, and perfectly balanced weight distribution from the integrated electronics.
Finally,  premium SRAM 9-speed gearing rounds out one of the best fat-tire e-bikes on the market.
750W / 1000W

ultra mid-drive motor
696Wh battery
Range:

Up to 58 miles

26″ x 4.8″

Poly fat tires

150mm inverted air fork

 suspension
150mm

RockShox Monarch RL
Quietkat.com/
---
Lectric
XP 2.0
Best folding fat tire electric bike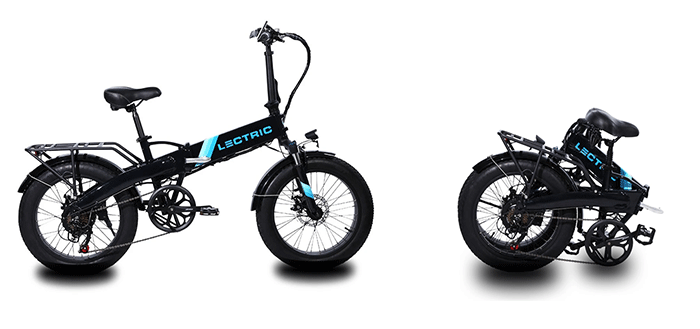 Weight: 63 lbs | Payload Capacity: 330 lbs
MSRP $1,099 $999
Lectric eBikes
Lectric's XP 2.0 20-inch fat tire electric bike is a great example of what innovative brands can do with budget-price e-bikes.
Despite costing just $1000 the XP 2.0 is loaded with features. Additionally, it has an amazing 4.9/5 star rating from over 500 customers.
This bike has a rear hub motor with 500W including throttle activation and five levels of pedal assistance. You can expect up to 45 miles of range due to a 9.6Ah battery which charges in 4-6 hours.
Lectric have also managed to include Tektro mechanical disc brakes, 3″ CST fat tires, fork suspension, and a huge payload capacity. Finally, this budget bicycle folds quickly and securely and has full fenders, a rear pannier rack, and integrated LED lights to make any job more convenient
Class 2 Ebike with an option to change it to Class 3
500W

rear hub motor
460Wh battery
Range:

Up to 45 miles

20″ x 3″

Chaoyang/CST fat tires

Oil front

 suspension
Lectricebikes.com/
---
Rambo Bikes
The Rebel
1,000W fat-tire eBike
Weight: 69 lbs | Payload Capacity: 300 lbs
MSRP: $5,500
Rambo Bikes
The Rambo Rebel 1000 watt electric fat tire bike is a hunting bicycle with all the components needed for extreme riding.
The premium features that allow it to perform at a high level in extreme backcountry environments include a reliable Bafang 1000W mid-drive motor with up to 1500W peak performance, GT air suspension fork, huge Maxxis Minion 4.8″ fat tires, and powerful Tektro hydraulic disc brakes.
The Rebel mid-drive fat tire electric bike also has a large battery with a 21Ah capacity that can deliver 48 miles of range. Additionally, an advanced LCD control panel allows you to see all of your ride metrics. Finally, you can trust Rambo's stealthy camo finish and whisper-quiet motor to help make all your hunting trips a success.
1000W

mid-drive motor

1,080Wh

battery
Range:

Up to 48 miles

26″ x 4.8″

Maxxis Minion tires
GT 860

air suspension
RamboBikes.com/
---
E-Cells
Super Monarch
Dual motor fat tire electric bike
Weight: 95 lbs | Payload Capacity: 400 lbs
MSRP: $5,595
E-Cells
The Super Monarch by E-Cells is an off-road eBike with a Class 4 rating that features a design optimized for carrying massive payloads of up to 400lbs as well as a camo finish.
This fat-tire e-bike comes with a unique dual-motor and battery system of two Bafang 750W motors and two Samsung 17.5Ah batteries combining to deliver 1638Whs of juice. This powerful electronic setup means riders can expect 2200W of peak power and 170Nm peak power, enough to pull 400lbs over any terrain.
The other components needed to deliver this excellent off-road performance include full RockShox 96mm travel suspension, powerful 4-piston Tektro hydraulic disc brakes, and durable Vee Bulldozer 4.25" fat tires.
9 levels of power assist!
2 x 750W

geared hub motors
2 batteries with a total capacity of 1,638Wh
Battery charging time: 7 hours

26″ x 4.25″

Vee Bulldozer tires
96mm RST

air suspension
E-cells.com/
---
Rungu
Dualie™ Standard
3 wheel fat tire electric bike
Weight: 87.2 lbs | Payload Capacity: 344 lbs
MSRP: $4,599
RideRungu
The Rungu Dualie Standard electric off-road bike is another mid-range fat-tire choice that has a unique three-wheel design that greatly improves traction and stability allowing you to go where other bikes cannot.
The double front wheel setup also improves descending ability and relies on dual disc brakes to provide enough stopping power. Rungu have designed the bike with 75/25 weight distribution for better control on soft surfaces and steep grades of up to 50%.
The electronics used for the Dualie are a 1120W mid-drive motor and a 780Wh battery. Additionally, the Dualie has a lightweight aluminum frame with 350lbs of payload capacity, 4.7″ Vee Rubber Snowshoe tires, and a durable skid plate to protect your motor.
1,120W

mid-drive motor
780Wh battery
Range: 20 miles (off-road riding)

26″ x 4.7″

Vee Rubber Snowshoe tires
100mm

custom Rungu fat tire suspension steel forks
Riderungu.com/
---
Pedego
Trail Tracker 24″
24-inch fat tire electric bike
MSRP: $2,995
Pedego
Pedego's Trail Tracker 24″ is one of the more affordable off-road eBikes with fat tires and plenty of punch where it counts.
Pedego has optimized this bike's frame geometry to be relaxed and responsive while handling brilliantly both on and off-road. The electronics on this bike are very snappy with a whisper-quiet 500W max power rear hub motor and a 396Wh battery that delivers up to 56 miles of range.
Other notable components on the Trail Tracker are the puncture-resistant Big Daddy 4″ fat tires,  integrated LED lights, a suspension seatpost, and Tektro mechanical disc brakes.
350W

rear hub motor
396Wh battery
Range:

up to 56 miles

24″ x 4.0″

Big Daddy tires
24″ fat-tire rigid steel fork
PedegoElectricBikes.com/
---
Himiway
Cruiser Step-Thru
All-terrain step through fat-tire eBike
Weight: 72 lbs | Payload Capacity: 350 lbs
MSRP: $1,599
Himiway
Himiway's Cruiser is one of the best-priced fat tire step-through electric bikes that still packs tons of power and range compared to its more expensive competition.
For power, the Cruiser has a 750W/80Nm rear hub motor combined with a 17.5Ah battery that lasts between 35 and 60 miles. Additionally, the bike has 7-speed gearing to make hills even easier to take on.
This e-bike comes fitted with Aries 180mm mechanical disc brakes, 4″ Kenda fat tires, fork suspension, and a soft saddle which improves overall ride quality and handling. Finally, the bike is also fully equipped with integrated lights, fenders, and a rear rack.
750W

rear hub motor
840Wh battery
Range: 35-60 miles

26″ x 4″

Kenda fat tires
Alloy front suspension fork
HimiwayBike.com/
---
Ecotric
Fat Tire Electric Bike
Best fat-tire eBike under $1,000
MSRP: $900
Ecotric
Ecotric's 26″ bicycle is a cheap fat tire electric bike that is a perfect introductory choice with great power.
Despite its cheap price, this bike has a punchy 500W rear hub motor. This motor is supported by a 450Wh battery and a 7-speed Shimano drivetrain to deliver up to 20 miles of range.
Ecotric has included a lightweight aluminum frame, mechanical disc brakes, an ergonomic saddle, and a smart LCD computer that displays your ride stats.
500W

rear hub motor
450Wh battery
Range: up to 20 miles

26″ x 4″

fat tires
Rigid fork
Ecotric.com/
---
QuietKat
Ranger 5.0
Fat wheel electric bike for hunting
Weight: 61 lbs | Payload Capacity: 325 lbs
MSRP: from $2,599
QuietKat
QuietKat's Ranger 5.0  is a great fat-tire e-bike and one of the top entry-level hunting bikes you can get.
The Ranger uses a 500W rear hub motor and 500Wh battery to deliver up to 40 miles of range on pedal assistance with full throttle functionality too. This motor like all of QuietKat's motors is super quiet for better compatibility with hunting.
This fat bike is definitely at home in extreme conditions with 4″ Kenda Juggernaut puncture-resistant tires, a lightweight 6061 aluminum frame, and powerful mechanical disc brakes with 180mm rotor.
Finally, you can enjoy all your ride stats on a premium LCD screen choose from a Sandstone or Camouflage finish depending on your preferences.
500W

rear hub motor
500Wh battery
Range:

Up to 40 miles

26″ x 4.0″

Kenda Juggernaut tires
Rigid frame and fork
QuietKat.com/
---
Sondors
XS
Stylish fat-bike with powerful electronics
Weight: 75 lbs | Payload Capacity: 300 lbs
MSRP: $2,199 Sondors
The Sondors XS fat tire electric bike is an example of thoughtful design and component selection resulting in an affordable yet high-performing bicycle.
The motor and battery are especially powerful on the XS. A 750W rear hub motor and 17.5Ah battery with Panasonic cells give riders up to 60 miles of range. This is further complemented by a 7-speed signature series drivetrain.
Adjustable fork suspension, a suspension seatpost, huge 4.9″ fat tires, and an ergonomic gel saddle help make this bike feel smooth no matter what the trail brings. Finally, Sondor equipped the XS with a convenient kickstand and a color LCD screen with USB charging for added convenience.
750W

rear hub motor
840Wh battery
Range:

Up to 40-60 miles

26″ x 4.9″

tires
Adjustable

air shock suspensions
Sondors.com/
---
What to Look for When Choosing an Electric Fat Bike
TIRE WIDTH
x2.8″ – Rather known as a plus-size tire (not exactly a fat tire). You can find these on 27.5-inch MTBs.
x3.8″ – According to Wikipedia, anything above that width is considered a fat bike tire.
x4.0″ – A standard fat tire size.
x4.5″ – Another standard fat bike tire width.
x4.8″ – Also standard size of fat tire.
x5.0″ – The max tire width we've seen so far.
WHEEL SIZES
The standard wheel size of a fat bike is 26 inches.  However, there are other wheel sizes to choose from too.
20″ – Folding fat eBikes have this size.
26″ – Like previously said, it's the most common size among fat bikes.
27.5″ – You don't see many fat bikes with such wheel size, but there are some hybrid and mountain fat bikes.
*29er fat bikes are not available, although a 26″ and 27.5″ wheel plus the fat tire make up the size of a 29″ mountain bike wheel.
RIGID vs. SUSPENSION on a Fat Bike
Depending on how and where you like to ride your bike, fork suspension may or may not be needed.
Fat tires do a great job of absorbing much of the shocks and vibrations you encounter on the road or light trails. However, if you plan on more extreme use like singletrack riding, you may want fork suspension to make it easier to control the bike and more enjoyable to ride.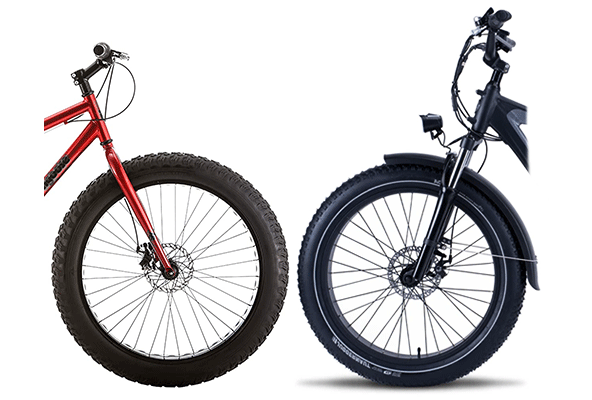 Rigid fork vs Suspension fork
MISCONCEPTION
Are fat bikes slow and hard to ride?
No. Wider wheels do come with speed sacrifice but they are not especially slow. Additionally, they usually feature powerful motors which can easily counteract any lost speed.
Wider wheels have better grip to make them more stable and easier to ride on varied terrain or in wet weather compared to more narrow tires.
SPEED
Fat bikes, as mentioned, are not especially fast, as extra traction on the road slows you down. Although with modern motors and batteries, they can be very fast.
POWERFUL MOTOR
Most fat-tire electric bikes have motors 500W+, with 750W being the most common. These kinds of wattages allow riders to reach max speeds very quickly and carry large cargo loads. That is why these e-bikes are the best kind for hunting and backcountry adventure riding.
E-BIKE CLASSIFICATIONS
Class 1 E-Bike – Pedal-assist without throttle. The maximum pedal-assisted speed is 20mp/h.
Class 2 E-Bike – Pedal + throttle-assist. The maximum assisted speed for both is limited to 20mp/h.
Class 3 E-Bike – Pedal-assist up to 28mp/h (+ optional throttle-assist up to 20mp/h). Must wear a helmet. Age restriction may apply.
Class 4 E-Bike – Motor with 750W and more, no regulated speed limit. Considered a motor vehicle so licenses may apply. The fastest fat tire electric bikes are in this class.
---
RELATED