Finding the best road eBike is difficult as the market is highly competitive and many of the bikes come with a hefty price tag.
The best electric road bikes will have some standard features. These characteristics include a light base weight, a stiff and responsive frame, big battery capacity for long-range rides, smooth power transfer, and a durable wheelset.
In addition, cyclists that ride in areas with lots of rain or ridiculously steep climbs will need powerful hydraulic disc brakes and high wattage from their motor.
In this article, we will look at eight of the best electric road bikes on the market in 2023. These models are categorized as mid to top-end, with prices starting from $4500 up to $15,000.
---
Best Electric Road Bikes of 2023
---
1. Cannondale Topstone Neo 5

MSRP: $5,550
Frame – SmartForm C1 Aluminum
Motor – Bosch Performance Line Speed 250W, 85Nm
Drivetrain – Shimano GRX 400
Brakes – Shimano GRX 400
Wheels – WTB ST TCS i23
Tires – WTB Exposure, 700c x 36 mm
The Cannondale Topstone Neo 5 is a Class 3 electric road bike that perfectly balances innovative modern technology with the exceptional engineering of the world-class off-road brand.
This high-end gravel-friendly bike will make you feel like a pro thanks to the lightweight aluminum frame, a responsive carbon fork, and powerful Bosch electronics.
The drivetrain on this bike is an 11-speed Shimano GRX 400. This groupset combines perfectly with a 250W mid-drive motor and 500 Wh battery to deliver full days of pedal assistance.
Lastly, powerful hydraulic disc brakes, 36 mm WTB Exposure tires, and stable geometry give this bike a comfortable and controlled ride feel.
---
2. BMC Roadmachine AMC TWO
MSRP: $7,300
Carbon frame
12-speed SRAM Rival AXS
SRAM Rival eTap AXS Hydraulic Brakes
Vittoria Rubino Pro 30mm (33mm max)
BMC's Roadmachine AMP TWO is an e-road bike with a stylish design and comfortable endurance geometry. It's a seriously lightweight electric bike, weighing just 29 lb.
This bike performs best on long rides where comfort is a priority. The relaxed geometry and a shock-absorbing carbon fiber frame ensure a premium ride quality. In addition, the Roadmachine has sleek internal cable routing and versatile 33mm tire clearance.
Electronics
Class 1 eBike – 20mph
250W Mahle X20 Motor
350Wh Mahle iX350 Battery
Torque: 25nm
Range: 87 mi
The Mahle X20 motor provides up to smooth 20mph of pedal-assistance, making climbs seem effortless, while a 350Wh battery and 12-Speed SRAM Rival drivetrain keep you going for mile after mile.
Finally, SRAM Rival hydraulic disc brakes provide responsive stopping power for excellent control, whereas XRD-522 Tubeless Ready rims and Vittoria Rubino Pro 30mm tires add more to the smooth ride quality.
---
3. Trek Domane+ AL 5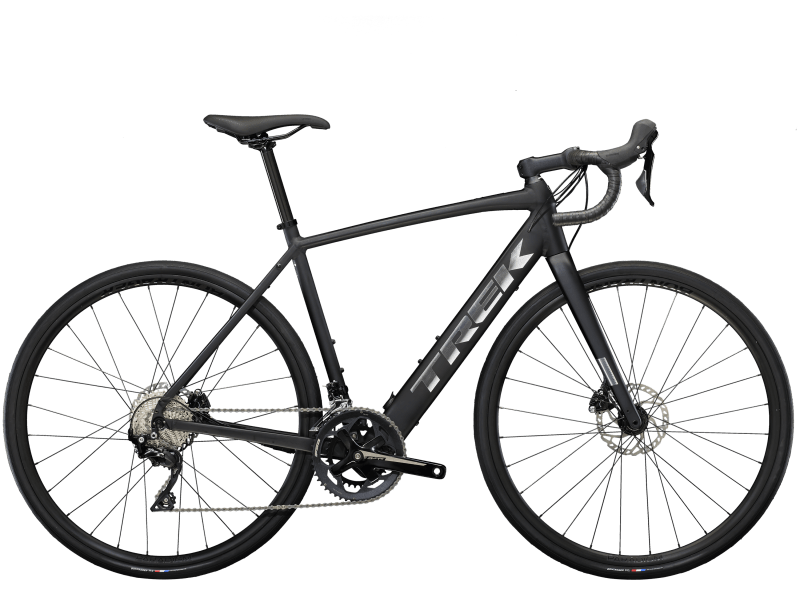 MSRP: $3,500
Aluminum frame and carbon fork

Shimano 105 groupset
Shimano 105 Hydraulic Brakes
700c x 32 mm Bontrager tires
Trek is one of cycling's most prestigious brands and their Domane+ AL 5 ebike gives you the ability to ride like a pro.
This bike features the same design and clean lines as the regular  Trek Domane bikes and uses such stylishly and stealthily integrated electronics that you barely even know it's a motorized road bike.
Electronics
Class 1 eBike – 20 mph
250W Rear-Hub Motor
250 Wh Battery
Beginning with an aluminum frame, the Domane+ AL 5 has incredible handling and a smooth feel. The drivetrain used is a Shimano 105 1×12-speed drivetrain which integrates perfectly with the Hydrive motor and battery.
In addition, you have a 250W rear hub motor and a 250 Wh battery. This pair lasts up to 60 miles with max-assisted speeds of 20 mph.
You also get multi-surface 32 mm wide Bontrager tires and Shimano 105 hydraulic disc brakes, so this bike is more than ready for all-road adventures.
---
4. Santa Cruz Bicycles Skitch
MSRP: $6,299
Carbon
SRAM Apex Eagle 12-speed
Hydraulic Disc Brakes
Schwalbe G-One 700c x 45 mm tires
WTB EZR i23p 700c Rims
Santa Cruz Bicycles Skitch is an electric road/gravel bicycle that comes with elite-level components and powerful electronics on a sleek carbon fiber frame.
For power, you have a Fazua Ride 60 e-bike system. This pair includes a 250W/60Nm mid-drive motor and a 430 Wh battery to provide max speeds of 28 mph for long-range rides.
Electronics
Class 3 eBike – 28 mph
250W Motor
430 Wh Battery
Torque: 60 nm
The most impressive features of this bike are the electronic drivetrain and the lightweight carbon fiber frameset and build kit. In addition, this bike comes with massive Schwalbe G-One 700c x 45 mm tires that are ready for any gravel conditions.
Finally, powerful hydraulic disc brakes and a SRAM Apex 12-speed drivetrain ensure excellent control and performance in varied riding conditions.
Buy from Jenson USA    Buy from evo.com
---
5. Cannondale Topstone Neo Carbon SL 2
MSRP: $3,625
Aluminum frame
11-speed Shimano GRX 600/400
Shimano GRX hydraulic brakes
WTB Resolute Comp 700c x 42 tires
Weight: 32 lbs 6.4 oz.
Although not technically a road bike, Cannondale's Topstone Neo SL 2 is a unique electric bike worth mentioning. This bike has lots of innovative technology and high-quality components, allowing it to perform above its price tag.
This bike flourishes in tough conditions thanks to its lightweight Mahle electronics. Headwinds and steep hills are nullified thanks to 45Nm of torque and a 250Wh battery. In addition, the Topstone Neo SL 2 has a reliable Shimano GRX 2×10-speed drivetrain, which helps you get up to 47 miles of range on a single four-hour charge.
Electronics
Class 1 e-bike – 20mph
250W Mahle ebikemotion x35
250Wh battery
Torque: 40Nm
Range: 47 mi
Charge Time: 4 hours
The lightweight aluminum frame is coupled with a carbon fork that increases comfort and speed. Again, the Topstone is actually a gravel bike, but it is fast enough on smooth paved roads as well.
---
6. Trek Domane+ SLR 6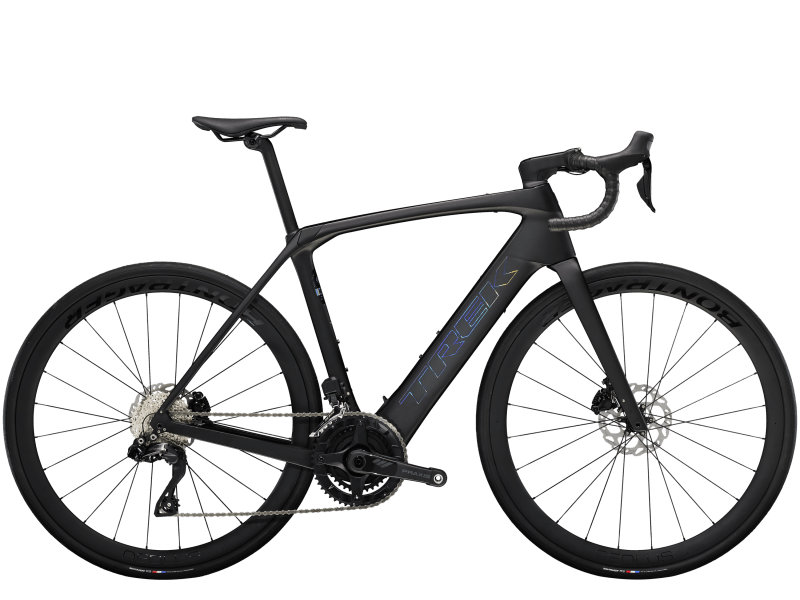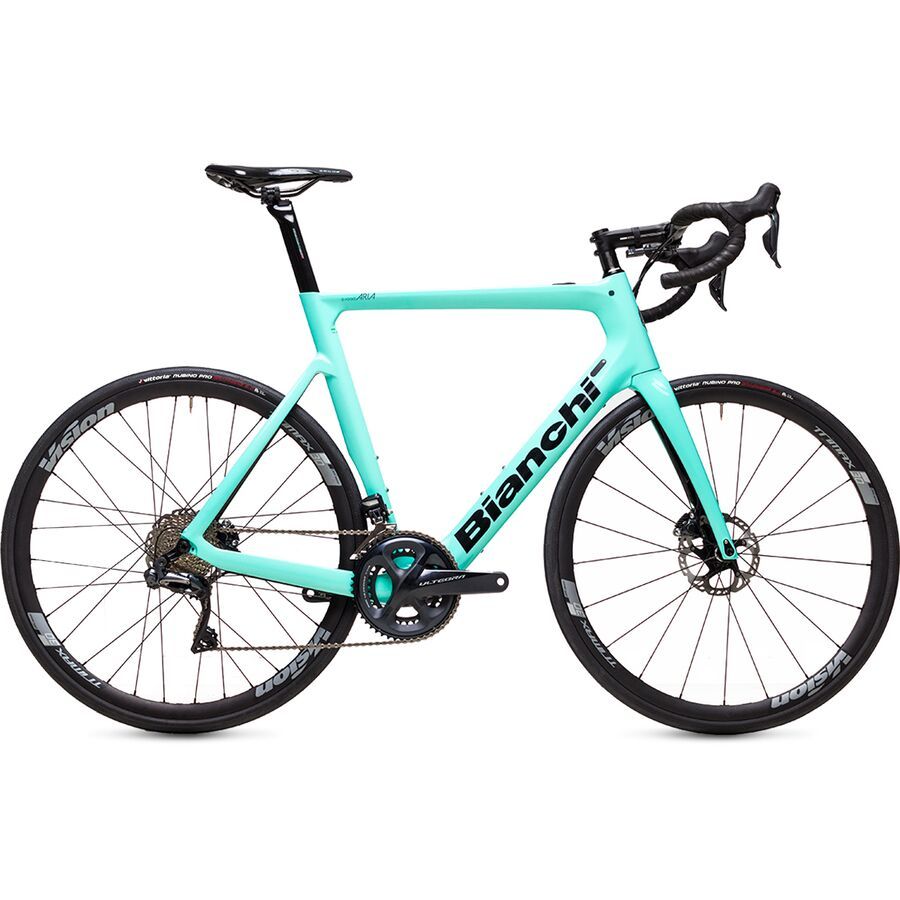 MSRP: $8,500
Carbon frame and fork
Shimano 105 Di2 gearing
Shimano 105 Hydraulic Brakes
700 x 32c Bontrager Tires
Weight: 27.34 lbs
Trek's Domane+ SLR 6 electric racing bike is an exceptional piece of engineering that looks exactly like a regular road bike.
This bike completely disguises the battery in a regular-sized down tube and houses the motor in the bottom bracket to keep the frame proportional. The frame itself is made from lightweight carbon fiber and has efficient aerodynamic geometry. Thanks to premium electronics, the total base weight is only 27 lb.
Electronics
Class 3 eBike – 28 mph
TQ mid-drive motor
360 Wh Battery
Range: 60 mi
The motor is a TQ mid-drive model, and the battery has 360 Wh, which, when combined with the 2×12-speed Shimano 105 Di2, delivers long ranges of up to 60 miles. In addition, you can choose from several levels of pedal assistance to extend the battery's life and fine-tune the assistance.
The Shimano 105 set up on this bike is incredibly sharp, reliable, and versatile. Powerful 105 hydraulic disc brakes are necessary to handle the extra power away from the motor and battery.
Finally, wider 32 mm Bontrager tires, Bontrager wheels, and the carbon fiber build contribute to smooth and comfortable riding over long distances.
---
7. Santa Cruz Skitch Flat Bar Ebike
MSRP:  $7,299
Carbon Frame and fork
SRAM GX Eagle drivetrain
SRAM Level Hydraulic Brakes
700 x 45c Schwalbe G-One tires
Weight: 30 lbs
We're showing you another build of the all-new Santa Cruz Skitch electric gravel/road bike, but this time with flat bars and better components. The famous bike brand delivers an exceptional piece of engineering with the most delightful ride quality a gravel or road bike lover could ask for.
Thanks to its powerful electronics and high max speed, the Skitch is considered a Class 3 speed pedelec.
This bike is built using a carbon frame with the most advanced carbon manufacturing processes. In addition, you have a carbon fork to help dampen any road vibrations, helping you stay fresh for longer.
Electronics
Class 3 eBike – 28 mph
Fazua Ride 60 Motor
430 Wh Battery
The electronics used include a premium Fazua Ride 60 mid-drive motor and 430 Wh battery. This motor provides incredibly smooth power matching that ensures riding the Santa Cruz Skitch Flat Bar feels like riding a normal bike.
Lastly, the SRAM GX Eagle drivetrain delivers elite-level shifting accuracy, reliability, and efficiency.  You also have SRAM Level hydraulic disc brakes, 45 mm tires, and an upright geometry to boost comfort.
Buy from Jenson USA    Buy from Mike's Bikes
---
8. Ride1UP Roadster v2
MSRP: $1,095
Aluminum frame and fork
Single-speed Gates drive belt
Rim brakes
700c x 28 mm tires
The Ride1UP Roadster v2 electric road bike makes you feel like you can do anything. This falt-bar electric bike is made for road or urban cycling enthusiasts who want the natural riding experience with minimal assistance.
The Roadster v2 has a lightweight aluminum frameset with internal cable routing and fully integrated electronics.
Electronics
Class 3 eBike – 24 mph
350W geared rear hub motor
250 Wh battery
Torque: 40 Nm
For power, you have a smooth 350W geared rear hub motor coupled with a 250 Wh battery to match. When used with the Gates belt-driven single-speed drivetrain, riders can expect long days in the saddle without breaking a sweat. On top of that, the belt-drive requires minimal maintenance, which will save you time and money.
Other notable features of this bike include the lightweight rim brakes and 700c tires that are suitable for fast city rides. These components, along with a stable and comfortable geometry design, help provide a comfortable ride matter the length.
---
How to choose an electric road bike?
---
Choosing an electric road bike depends mostly on your budget, where and when you'll be riding, and the distances you hope to travel.
Wheel Sizes
In general, the diameter of road bike wheels is 700. The width of your wheels will determine how stable your bike is, the amount of traction you get on the road, and the speed of your tires. Once you pass 30c you see an increase in stability and traction with a reduction in speed.
700x28c – 700x37c
Frame
All of the bikes in this electric road bike review use carbon fiber as the frame material. Carbon is the lightest, strongest, stiffest, and, therefore, the most effective material for speed. Additionally, carbon reduces road vibrations quite nicely. Well-built aluminum frames can also perform quite well, especially when compared to cheap carbon fiber bikes.
Many bike brands like Trek (IsoSpeed) or Cannondale use other frame technology to increase comfort, reduce vibration fatigue, and improve the overall handling and ride quality.
Gearing
The most common gearing for electric road bikes is 2×11-speed or 1×11/12-speed. For e-bikes, the gear range and ratios do not impact ride quality as much as they do with regular bikes because you have the added power from the motor.
However, for those who like to ride without the help of pedal assistance, choosing a bike with a broader gear range (2×11-speed) or one with larger ratios will give you a better chance of finding the perfect gear.
Brakes
All of the bikes in this electric road bike review come with hydraulic disc brakes, which will deliver similar stopping power.
However, the higher quality ones (Ultegra, Dura-Ace, SRAM Rival 1) will last longer and be more durable under stress, such as having the ability to dissipate heat better.
Motor
Most e-road bikes have a similar-sized 250W motor. This size motor provides the perfect balance of wattage and weight for this style of bike. Ebikemotion is the most common brand found because they are very lightweight and efficient.
Additionally, most electric road bike motors are placed in the rear wheel hub to eliminate resistance when pedal assistance is not in use. If this is not important to you, a mid-drive motor is more efficient and lighter.
Battery
As with the motor, most of the bikes in this review use Ebikemotion 248Wh batteries for their low weight and small size for integration. This type of battery provides around 50 to 60 miles of range, depending on the specific bike.
The top-end electric road bikes may have a bigger battery. In addition, you can also choose a bike that has a range extender.
---
FAQs
---
Why get an electric road bike after all?
The benefits of an electric road bike are twofold.
Firstly, they enhance many aspects of cycling that we love, including the ability to enjoy the outdoors, ride long distances to faraway places, ride with friends, and do all of this without worrying about your fitness or ability to keep up.
E-bikes also limit the negative aspects of cycling. These may be wicked headwinds that make you want to turn around or stomach-turning climbs. Additionally, they give you the ability to keep up on days where you're not feeling so good, and they remove the barriers to cycling, which many of us will experience, like old age or loss of fitness.
How fast do e road bikes go?
Class 1 models have a 20mph pedal-assist max speed. Class 3 bikes (speed pedelecs) have a 28mph max assisted speed. All the bikes in this review are considered Class 1.
Is it worth buying an electric road bike?
In our opinion, buying an electric road bike is an exciting and worthwhile purchase for many people. That said, it depends on your needs, how long and where you ride, and your budget.
As mentioned above, these bikes can take the discomfort out of riding and enhance everything we love. If that sounds good to you too, we hope you find the perfect bike for the job.