Class 2 e-bikes are a popular group of bikes because they have a throttle that allows riders to ride without having to pedal.
These bikes will also have standard pedal assistance mode with a range of levels to choose from. To be considered a Class 2 bike, the max assisted speed must be limited to 20mph with both pedal assistance and throttle mode.
The people that find the most benefit from these bikes are those who want the ability to get where they need to go even when they are tired and don't feel like exercising. Additionally, you can use the throttle to build up speed from a standstill which is much easier for stop-start riding, such as in the city.
In this article, we cover some of the best class 2 eBikes in the price range of $1,100 to $2,600. This is an extremely competitive group of bikes resulting in a lot of quality at affordable prices.
Down below we have selected a small selection of bikes that have rather positive feedback, so have a look and pick what you like.
---
Best Class 2 Electric Bikes
1. Rad Power Bikes RadRover 6 Plus
2. Ride1UP 700 Series
3. Lectric XP 3.0
4. Aventon Pace 500.3
5. QuietKat Ranger 5.0
6. Engwe C20
7. Lectric XPremium
8. Wing Freedom 2
9. Charge City

---
1. Rad Power Bikes RadRover 6 Plus
Best eBike with a throttle
Weight – ~73 lbs | Max Payload – 275 lbs | Range – up to 45mi | Charge time – 6h
MSRP: $1,399
750W Brushless Geared Hub Motor
672Wh Lithium NMC Battery
60mm RST Spring Fork
Hydraulic Disc Brakes
7-Speed Gearing
26″ x 4″ Kenda Juggernaut Tires
Step-Thru and Step-Over Frames Available
The RadRover 6 Plus is Rad Power Bikes' highest-sold flagship model and one of the best class 2 e-bikes in terms of value. It features all the top components and design technology they offer.
For electronics, you have a powerful 750W motor that's optimized to increase power output and smoothness on steep gradients. Additionally, creative frame geometry further improves climbing capability and reduces fatigue on long rides.
The RadRover has a modest range of up to 45 miles using a stylishly integrated 672Wh battery and 7-Speed gearing. Thanks to 60mm travel fork suspension, upright geometry, rider-facing handlebars, and shock-absorbent Kenda Krusade fat tires, this bike is also very comfortable.
This bike includes excellent features such as auto-on LED lights, powerful hydraulic brakes with ceramic pads, and the choice between a step-through and step-over frame. Unfortunately, the bike does not come with a rear rack as sold, but one can be purchased from the online store.
---
2. Ride1UP 700 Series
Class 2 electric bike with throttle (20mph) + Class 3 pedal-assist (28mph) 
Weight – 62 lbs | Max Payload – 275 lbs | Range – 30-50mi | Charge time – 6h
MSRP: $1,695
750W Brushless Geared Hub Motor – 60nm Torque
672Wh Battery
100mm Mozo Front Suspension
Tektro Dual Piston Hydraulic Disc Brakes
Shimano Acera 8-Speed Gearing
20″ x 3″ Schwalbe Super Moto Tires
Ride1UP's 700 Series is a 20 mph electric bike is designed to be comfortable and versatile on varied terrain and in different conditions.
Ride1UP built this bike to work great as a commuter, touring bike, or city cruiser using a typical hybrid design. To do this, they offer the 700 Series with the choice between two frames, step-over or step-through. Both models are very comfortable, but the step-through is slightly more comfortable thanks to a shorter reach and rider-facing handlebars.
A 100mm travel hydraulic suspension fork, Schwalbe Supermoto X 2.4″ balloon tires, and comfortable touchpoints help ensure a smooth ride wherever you go in the city. In addition, Tektro hydraulic disc brakes help you maintain control no matter the weather.
To maximize the range of this bike up to 50 miles, you have a Shimano Acera 8-speed drivetrain combined with the 14Ah battery. Meanwhile, for power, you have a 750W motor.
Finally, the 700 Series comes fully equipped with a rear rack, fenders, a heavy-duty kickstand, and integrated LED lights.
Other Class 2 eBikes by Ride1UP
| | | | | | | | | |
| --- | --- | --- | --- | --- | --- | --- | --- | --- |
| RIDE1UP | TYPE | MSRP $ | FRAMES | SPEEDS | TIRES | WEIGHT | COLORS | TORQUE |
| Core-5 | City | 1,195 | XT/ST | 7 | 27.5″x2.2 | 49lbs | 2 | 60Nm |
| 500 Series | City | 1,395 | XT/ST | 8 | 27.5×2.2″ | 55lbs | 2 | 60Nm |
| LMT'D | Hybrid | 1,895 | XR/ST | 8 | 27.5×2.4″ | 53lbs | 2 | 100Nm |
In addition to 20mph throttle, all these bikes have 28mph pedal assistance.
---
3. Lectric XP 3.0
Most affordable class 2 bike with folding and fat-tires

Weight – 64 lbs | Max Payload – 330 lbs | Range – up to 45mi | Charge time – 4-6h
MSRP: $999
500W hub motor
500Wh Lithium-Ion battery
50mm fork suspension
Mechanical disc brakes, 180mm rotors
7-speed gearing
20×3″ CST tires
The XP 3.0 by Lectric is a Class 2 electric bike with throttle functionality, versatile fat tires, convenient folding, and a bargain price tag. It's one of the best 20-inch electric bikes on the market considering the value you get for your money.
For power, the XP 3.0 has a 500W rear hub motor that includes five levels of pedal assistance and electricity-only modes.
The 500Wh battery can get up to 45 miles of range depending on how you use the 7-speed gearing. With this bike, Lectric has chosen 20″ wheels that are easy to maneuver on city streets or light trails while working perfectly with the folding mechanism for a compact and secure folded package.
Other components that make this bike comfortable and easy to control include the Tektro mechanical disc brakes, 3″ fat tires by CST, and 50mm front fork suspension.
Finally, this Class 2 electric bike is also fully equipped with fenders, an integrated rear pannier rack, and LED lights for commuting convenience.
---
4. Aventon Pace 500.3
A versatile and comfortable cruiser e-bike
Weight – 52 lbs | Max Payload – 300 lbs | Range – 60 mi (max)
MSRP: $1,799
500W Motor
614 Wh Battery
Rigid Fork
Hydraulic Disc Brakes
8-Speed Gearing
27.5″ x 2.1″ Tires
The Aventon Pace 500.3 is designed as a functional and comfortable urban bike. This model is one of the cheapest you can buy from the company and works great for many jobs and situations.
Aventon made a few changes in 2022 to ensure this bike is up to date. These include a sleek color display, an integrated battery, and integrated lights. Plush tires, a comfortable saddle, swept-back handlebars, and upright geometry give this bike its cruiser personality.
Despite its low price, the Pace 500.3 has a punchy 500W motor and 614 Wh Battery that offers a 60-mile maximum range.
The other components which make this bike an excellent deal are the hydraulic disc brakes and an 8-speed drivetrain.
---
5. QuietKat Ranger 5.0
The most affordable hunting bike from QuietKat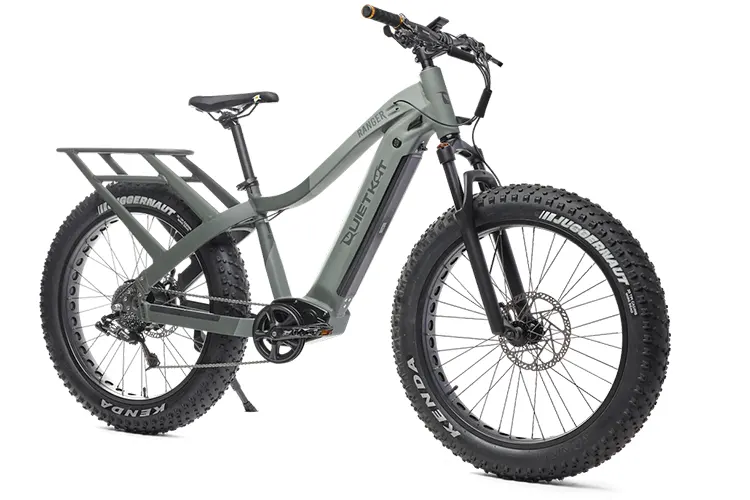 Weight – 61 lbs | Max Payload – 325 lbs | Range – up to 40mi
MSRP: from $2,999 – 3,599
500W Hub-Drive Motor
500Wh Integrated Battery
Rigid Fork
Tektro Mechanical Disc Brakes
Single-Speed Gearing
26″ x 4″ Kenda Juggernaut Tires
The Ranger 5.0 by QuietKat is the company's cheapest and one of the best affordable hunting eBikes with throttle functionality on the market.
As a hunting e-bike, the Ranger 5.0 is designed to be the perfect companion on backcountry trips, including hunting, angling, and camping. QuietKat's silent motor technology and stealthy paint finish help to facilitate successful hunting expeditions.
Ranger 5.0 is the newest and most affordable class 2 electric bike for hunting.
Using a 500W hub drive motor, riders of this bike will have plenty of power to take on soft terrain and steep gradients. A 500Wh battery also allows you to achieve up to 40 miles of range.
QuietKat chose 4″ puncture-resistant Kenda Juggernaut tires, a low-maintenance single-speed drivetrain, and Tektro mechanical disc brakes to ensure excellent off-road performance. Additionally, this bike is also relatively lightweight compared to other electric hunting bikes.
---
6. Engwe P26
Commuter Electric Bike with throttle
Weight – 53.35 lbs | Max Payload – 220 lbs | Range – 60 mi | Charge time – 8h
MSRP: $1,122
500W (800W Peak) Hub-Drive Motor
48V 13Ah Lithium-Ion Battery
Front Coil Suspension fork
Mechanical Disc Brakes
7-Speed Gearing
26 x 1.95″ Tires
Engwe P26 is a smartly designed class 2 eBike with a stylish look, a comprehensive list of components, and an affordable price.
Engwe Bikes
sells P26 ready-to-go as a fully functional commuter or urban workhorse. It comes fitted with an upright frame, front and rear lights, and a suspension fork.
Using a 48V 13Ah integrated battery and a 7-Speed gearing drivetrain, you can expect a range of around 60 miles with an average of 40. In addition, a 500W rear hub motor makes any hill feel flat.
Another noteworthy aspect of this bike is that it is comfortable to ride. This comfort is made possible by a front fork suspension, 1.95″ slick tires, upright geometry, and ergonomic contact points.
Finally, the mechanical disc brakes give you plenty of stopping power in wet or dry weather so you can commute to work no matter the weather conditions.
---
7. Lectric XPremium
Affordable mini cargo e-bike with dual battery capacity
Weight – 75 lbs | Max Payload – 330 lbs | Range – up to 100+ mi (with dual Battery) | Charge time – 4-6h
MSRP: $1,599
500W Hub-Drive Motor
1,000 Wh Dual-Battery
Suspension Fork
Hydraulic Disc Brakes
7-Speed Gearing
20″ x 4″ Tires
The Lectric XPremium is a highly effective mini cargo electric bike with a class 2 rating and a unique dual battery capacity for huge ranges.
Depending on which model you choose, this bike comes with one or two batteries. That means a max range of 100+ miles for around $1,999.
With these powerful electronics and functional components, this bike can be a car replacement for many people. The motor on the XPremium is a 500W rear hub drive model  that offers sufficient power output when the road kicks up, and you've got a loaded bike.
This bike has many safety features to keep you safe on the road. These include powerful hydraulic disc brakes, a kickstand, integrated LED lights, fenders, a rear rack, and a foldable frame.
Finally, you can carry up to 330 lb using the long rear rack system and smart mounting points. In addition, you can also mount a front rack or basket to split the weight more evenly across the bike.
---
8. Wing Bikes Freedom 2
Sleek urban e-bike with extra security features
Weight – 39 lbs | Max Payload – N/A | Range – 35/45/60 mi (depending on battery) | Charge time – ~4h
MSRP: from $1,098
350W Bafang Hub-Drive Motor
8.8ah, 10.4ah, or 14ah battery
Mechanical Disc Brakes
7-Speed Shimano Tourney Gearing
26″ x 1.75″ Kenda Tires
The Wing Freedom 2 is the brand's flagship model with its sleek monochrome finish available in black or white. Wing Bikes makes bikes similar to Vanmoof Bikes, but they are more affordable and have slightly different designs.
The Freedom 2 uses a punchy 350W Bafang hub motor that pairs with one of three battery sizes (chosen at checkout). You'll get a max range of 35, 45, or 60 miles depending on the battery you choose.
Unique features of this and all the Wing bikes include the remote-locking custom key fob and tamper detection alarm. In addition, you'll get seamlessly integrated LED lights.
Other notable components include the mechanical disc brakes to provide all-weather stopping power, 1.75 Kenda tires with puncture resistance, and Shimano's Tourney 7-speed drivetrain with RapidFire shifters.
Don't miss out on this sleek e-bike if you want to turn heads on your commutes without breaking the bank.
---
9. Charge City
Fully-equipped e-bike for urban riders
Weight – 45 lbs | Rack Capacity – 36 lbs | Range – up to 50 mi | Charge time – 3-7h
MSRP: $1,799
250W Bafang Hub-Drive Motor
418Wh Dual-Battery
Chromoly steel fork
Mechanical Disc Brakes
7-Speed Gearing
Goodyear Transit Tour 700 x 40c Tires
The Charge City is the company's pure electric commuter bike with all the essentials for safe and convenient urban riding.
Firstly, Charge chose a punchy Bafang hub motor with 45Nm of torque to get you around the city without breaking a sweat. The battery has 418Wh of juice and delivers up to 50 miles of range. Unfortunately, it isn't integrated into the frame.
All Charge bikes come almost fully assembled and tuned for riding. They also have unique design features such as folding handlebars and pedals for tidier at-home storage and tire pressure indicator caps.
The groupset comprises mechanical disc brakes and a Shimano Altus 7-speed drivetrain. Tires are fast-rolling Goodyear Transit Tour 40mm with puncture protection.
Overall, this is a well-thought-out bike with a reasonable price tag and plenty of useful features for an urban rider.
---
Frequently Asked Questions
---
Differences between Class 1, Class 2, and Class 3 electric bikes?
The classes of e-bikes differ slightly in how they are made and their limitations.
Class 1 e-bikes do not have a throttle and the motor can only be used to assist you while pedaling. The motor stops assisting you at 20mph. This generally means that these bikes have a high range because you must assist the motor.
Class 2 models have both throttle functionality and pedal assistance. With this, you can use the motor in full electric mode or with pedal assistance. This eBike classification is also limited to a top speed of 20mph, at which the motor stops assisting
Class 3 e-bikes all have a top assisted speed of 28mph. However, they may or may not have a throttle. If they are throttle, it will be limited to 20mph has with the class 2 models. In addition, these bikes are subject to more legal restrictions.
Are Class 2 electric bikes better than electric mopeds?
A moped is essentially an eBike with no pedals. However, a moped is considered a licensed vehicle with corresponding restrictions and isn't limited to a certain speed. For example, a class 2 e-bike has a 20mph assisted speed limit, meaning anyone can ride them.
How fast is a class 2 eBike?
Class 2 eBike laws state that these bikes must be limited to a max assisted speed of 20mph in the USA. However, once the motor cuts off, there is no limitation on how fast you can ride without assistance.