E-bikes have revolutionized the way we cycle, offering a fantastic blend of exercise, convenience, and fun. However, they come with one significant drawback: their limited range.
Many riders experience anxiety about running out of battery mid-ride, forcing them to either cut their ride short or pedal home without assistance. Fortunately, dual battery ebikes provide a solution to this problem by effectively doubling the average electric bike range and providing upwards of 100 miles of range.
In this buying guide, we'll explore the 7 best dual battery ebikes that not only address the range issue but also enhance your overall riding experience.
Do You Need a Dual Battery Ebike?
A dual battery ebike solves one significant problem for many electric bike riders—running out of range. If your daily commute involves short distances and you're not a big fan of long out-and-back adventures, then you probably don't need one.
However, if you've already experienced the anxiety caused by seeing the last battery bar flashing while you're still one big hill away from home, you'll likely want to consider a dual battery electric bike.
If you enjoy riding long distances, exploring your local area, climbing steep hills, or hauling a lot of cargo, an e-bike with two batteries will provide peace of mind to fully enjoy your rides.
However, keep in mind that these e-bikes have some disadvantages as well, the most significant of which is the weight. On average, a 500 Wh e-bike battery weighs around 6-8 lb, which is not negligible.
---
Dual Battery Ebike Selection for 2023
---
1. Tern GSD S10
Tern GSD S10 is a luxury cargo dual battery ebike that can easily replace your car for short to medium-long daily trips.
The GSD S10 is one of Tern's most popular options, partly because it comes with a 400 Wh battery and allows for an additional 500 Wh PowerPack. The only downside is that the extra Bosch 500 battery, costing around $900, brings the total price of the bike to $6,300.
If you aim to replace your car and minimize maintenance expenses, this investment will pay off pretty quickly. The GSD S10 offers assistance up to 20 mph and a 120+ mile maximum range, so you can get anywhere without worrying about running out of battery.
The bike also has more accessories and features than we can list here, some of which include 4-piston hydraulic disc brakes, Shimano Deore 10-speed drivetrain, lights, fenders, folding handlebar stem, Abus wheel lock, and much more.
If you want the best dual-battery e-bike that can carry anything, including two kids, the Tern GSD S10 is a no-brainer (if you can afford it).
---
2. Lectric XPremium
The Lectric XPremium is an affordable dual battery folding e-bike that offers a wealth of features.
It comes with two 500 Wh batteries, 48V 10Ah each; one is integrated into the downtube while the other sits behind the seat tube. Together, they provide you with 60-100+ miles of range, depending on your riding style.
The XPremium also boasts a 500W mid-drive motor with Class 1, 2, and 3 capabilities, controllable through 5 PAS levels and a throttle.
This versatile dual battery electric bike is perfect for commuting, hauling cargo, taking your kids to school, or leisure rides on both paved and unpaved roads.
We like that it comes with a host of accessories, including lights and fenders, but its 75 lb weight could be a turn-off for some. User reviews are generally overwhelmingly positive, though some riders suggest adjusting the gears and brakes before the first ride.
---
3. Ride1UP Revv 1
The Revv 1 by Ride1UP is a moped-style e-bike that comes with a single battery but has the capacity to carry a secondary battery, effectively doubling the range.
It's available in Hardtail and Full-Suspension versions, which come with different batteries, 52V 15Ah (HT) or 52V 20ah (FS). Therefore, by adding an auxiliary battery, you can increase the range to over 2000 Wh.
Another impressive feature is the 750W, 95 Nm rear hub motor that offers Class 2 and 3 capabilities, as well as top speeds of 30+ mph.
The Revv 1 is a fun and speedy commuter that includes front and rear lights, turn signals, fenders, and 4-piston hydraulic disc brakes.
However, keep in mind that it weighs a hefty 83 lb and the frame geometry makes pedaling difficult, requiring you to rely mainly on the throttle, which will decrease your range.
That said, the Ride1UP Revv 1 looks amazing, rides fast, and is one of the most affordable moped-style ebikes available today.
---
4. Blix Ultra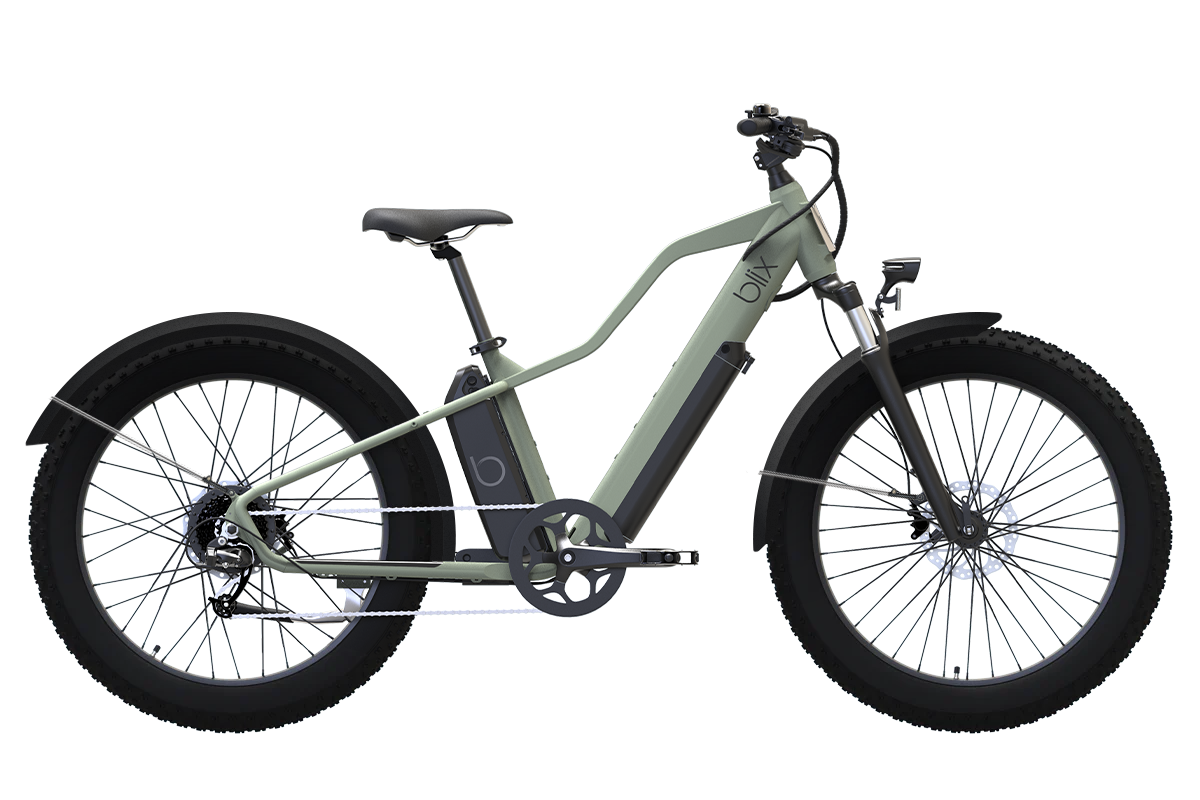 The Blix Ultra is another dual-battery electric bike that enables you to tackle off-road terrain or personalize with accessories for urban jobs.
The Ultra combines a 750W (90 Nm) hub motor and a 1344 Wh battery, assisting you up to 28 mph and making short work of carrying all the cargo.
This off-road electric bike also boasts an 8-speed microSHIFT drivetrain and Zoom hydraulic brakes, and Chaoyang Big Daddy 4″ tires.
The stock model has smart mounting points for installing a rear rack, child seat, front basket, and much more.
The Blix Ultra is an affordable all-terrain dual battery option that won't leave you wanting.
---
5. Gazelle Ultimate C380+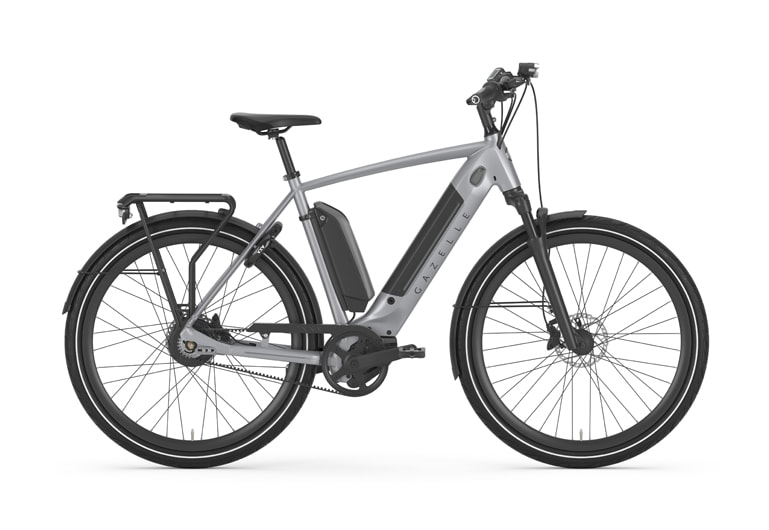 The Gazelle Ultimate C380+ is a high-end Bosch dual battery ebike, ideal for commuting, city riding, and long bike tours.
It comes with one Bosch PowerTube 500 Wh battery integrated into the downtube, but can carry a secondary 500 Wh powerpack on the seat tube. With a 1000 Wh total battery capacity, you can expect to get 100+ miles from a single charge.
Gazelle Bikes
Ultimate C380+ uses battery power efficiently thanks to a Bosch Performance Line Speed Gen 4 mid-drive motor and an Enviollo 380 Trekking Hub combined with a belt drive instead of a chain.
This setup requires minimal maintenance but also allows you to shift smoothly and ride efficiently on any terrain, preserving battery life.
The only drawback is that a Bosch PowerPack 500 Wh battery costs around $800-$900, which is a considerable expense given the bike's initial price.
Despite that, if you want a premium riding experience and plenty of range for any type of adventure, you just can't go wrong with the Gazelle Ultimate C380+.
---
6. Engwe M20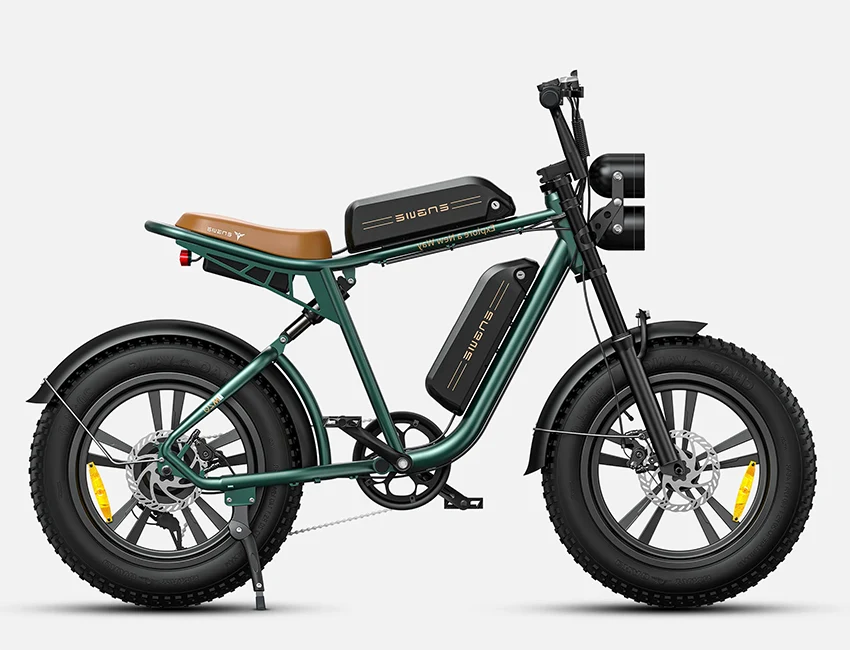 Moped-style e-bikes are known for their large batteries and powerful motors, and the Engwe M20 is no exception.
Its aluminum frame houses two 48V 13Ah batteries boasting a total capacity of almost 1250 Wh. In real-world conditions, that translates to around 94 miles of range, or even more if you don't overuse the throttle.
The Engwe M20 also excels in the motor department, featuring a 750W brushless rear hub motor that can reach speeds of 28 mph, utilizing speed and cadence sensors.
It also comes with all the accessories you may need for commuting, including powerful front and rear lights, turn signals, and front and rear suspension.
However, be aware that this is one of the heaviest moped e-bikes available, weighing 104 lb with both batteries.
Despite this, the Engwe M20 dual battery ebike is a bargain considering the value you get for your money.
---
7. Gazelle Medeo T10+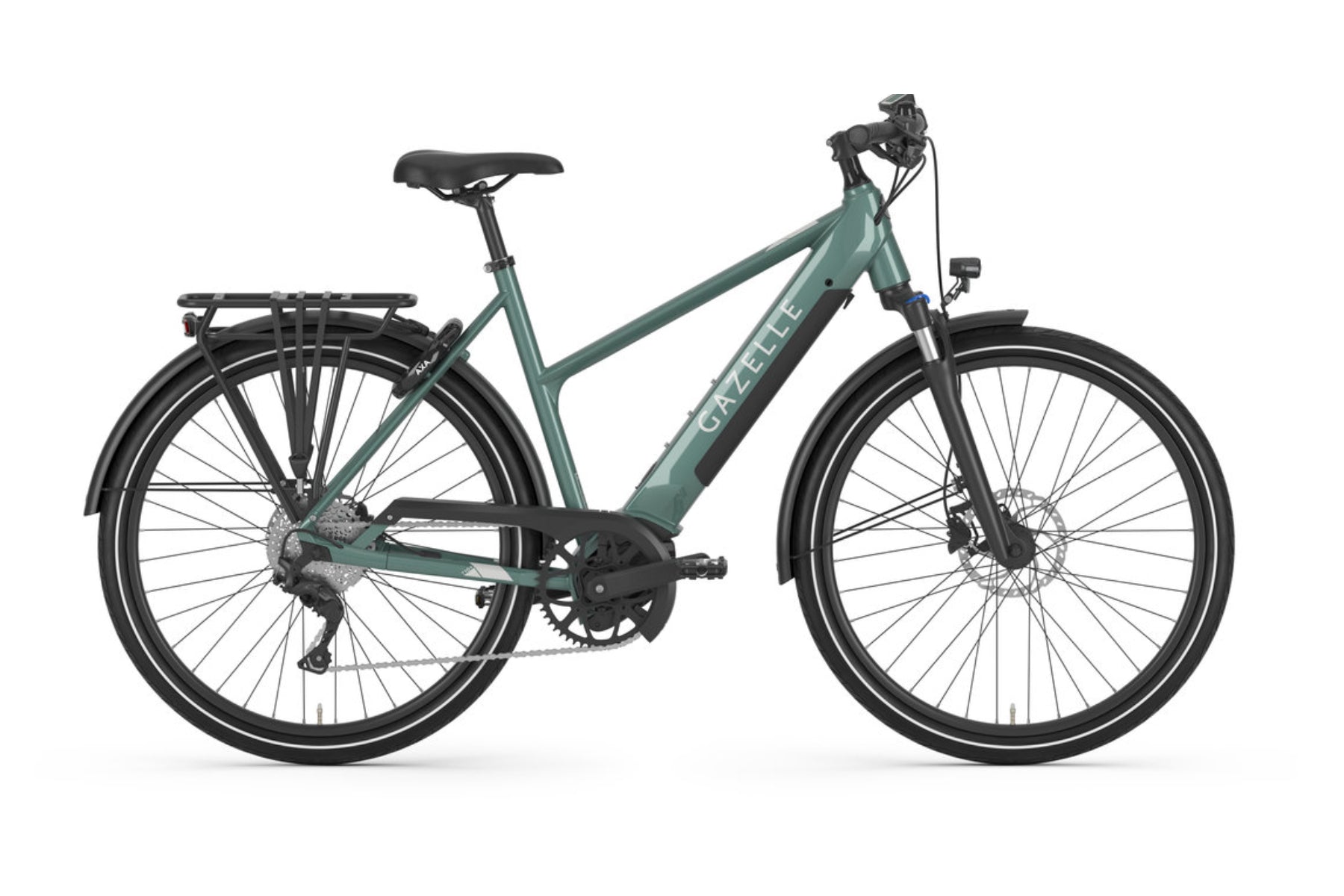 The Medeo T10+ is another dual battery compatible option by Gazelle Bikes. This Bosch dual battery ebike comes with a single 500W PowerTube battery and can accommodate an additional 500 Wh PowerPack inside the main triangle.
With a total capacity of 1000 Wh, you can easily anticipate a 100+ mile range with each charge. Plus, as a Class 3 e-bike, the Medeo T10+ assists you up to 28 mph, thanks to its Bosch Performance Line Speed (85 Nm) Gen. 4.0 mid-drive motor.
Like most Gazelle ebikes, the Medeo T10+ is perfect for commuting and urban riding. It includes all the accessories you could need, such as lights, fenders, a rear rack, wheel lock, kickstand, and even a chain guard.
The e-bike also features a 10-speed Shimano Deore drivetrain and hydraulic disc brakes, making it a top contender if the $3,800 price fits your budget.