The moped-style electric bicycle is a popular sub-trend in the industry. As a result, many popular e-bike brands offer one or two moped-style models, and Juiced Bikes specializes almost exclusively in this design.
Moped eBikes gained popularity for their versatile capabilities, comfort, and power. All but one of the models in this review are priced under $2,000, making them an affordable choice too.
This article will explain the characteristics of these bikes and review eight of the best moped-style eBikes on the market.
What Is a Moped Electric Bike?
A moped-style electric bicycle is one designed to resemble a traditional moped with small-diameter wheels wrapped in wide tires, powerful electronics, and a throttle. As with all e-bikes, a moped eBike must have a pedal assistance system (PAS).
Other features of this category include suspension, commuter components (rack, fenders, lights), and the ability to carry high payloads, such as an extra passenger.
Finally, while most electric moped bikes are Class 3 eBikes, with 28 mph max speeds, some models from Juiced Bikes, such as the HyperScorpion, can reach speeds over 30 mph.
Moped vs. Electric Bike
A moped is considered a motor vehicle and subject to the same licensing and registration as a car. Mopeds also don't have pedals and a PAS for operating the motor; they rely on the throttle alone and can run on gas or electricity. In contrast, moped-style electric bikes are fully electric, must have a pedal assistance system, are limited to 28mph and 750W to be road-legal, and cannot reach the same speeds.
---
7 Best Electric Moped Bikes in 2022
---
1. Ride1UP Revv 1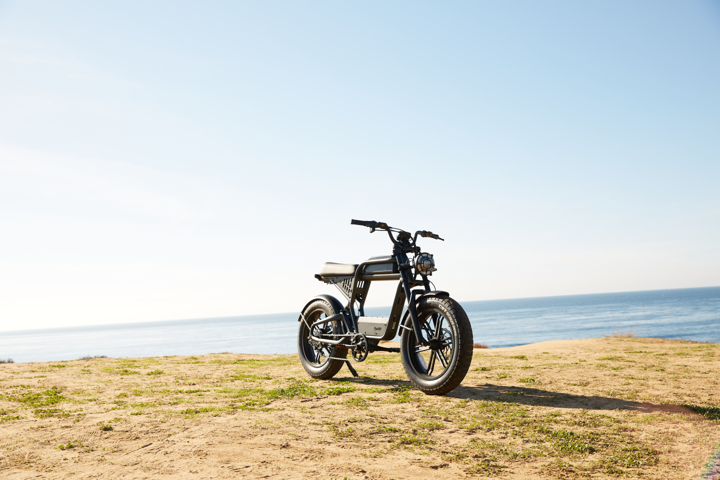 The Revv 1 by Ride1UP is the newest moped-style electric bike on the market from one of the hottest e-bike brands in the US.
The Revv 1 comes in a hardtail or full suspension setup on a sleek, integrated frame ($500 difference). The hardtail version comes with a smaller battery but has the same expected range because of the lower weight and greater efficiency.
Both bikes get a powerful 90Nm Bafang hub motor that provides plenty of power to maximize the 400-lb weight capacity and tackle steep hills. In addition, Ride1UP equipped a large handlebar-mounted display with a unique RPM/Wattage bar.
The Ride1UP Revv 1 has a comfortable padded saddle and upright ride position for relaxed riding. However, the full suspension build provides a superior ride quality.
Other notable components include the four-piston hydraulic disc brakes, a 120-lux headlamp with high and low beams, rear taillights with indicators, and 4″ puncture-resistant tires.
Don't look past the Ride1UP Revv 1 if you want a stylish and practical moped e-bike at an affordable price.
---
2. Rad Power Bikes RadRunner 2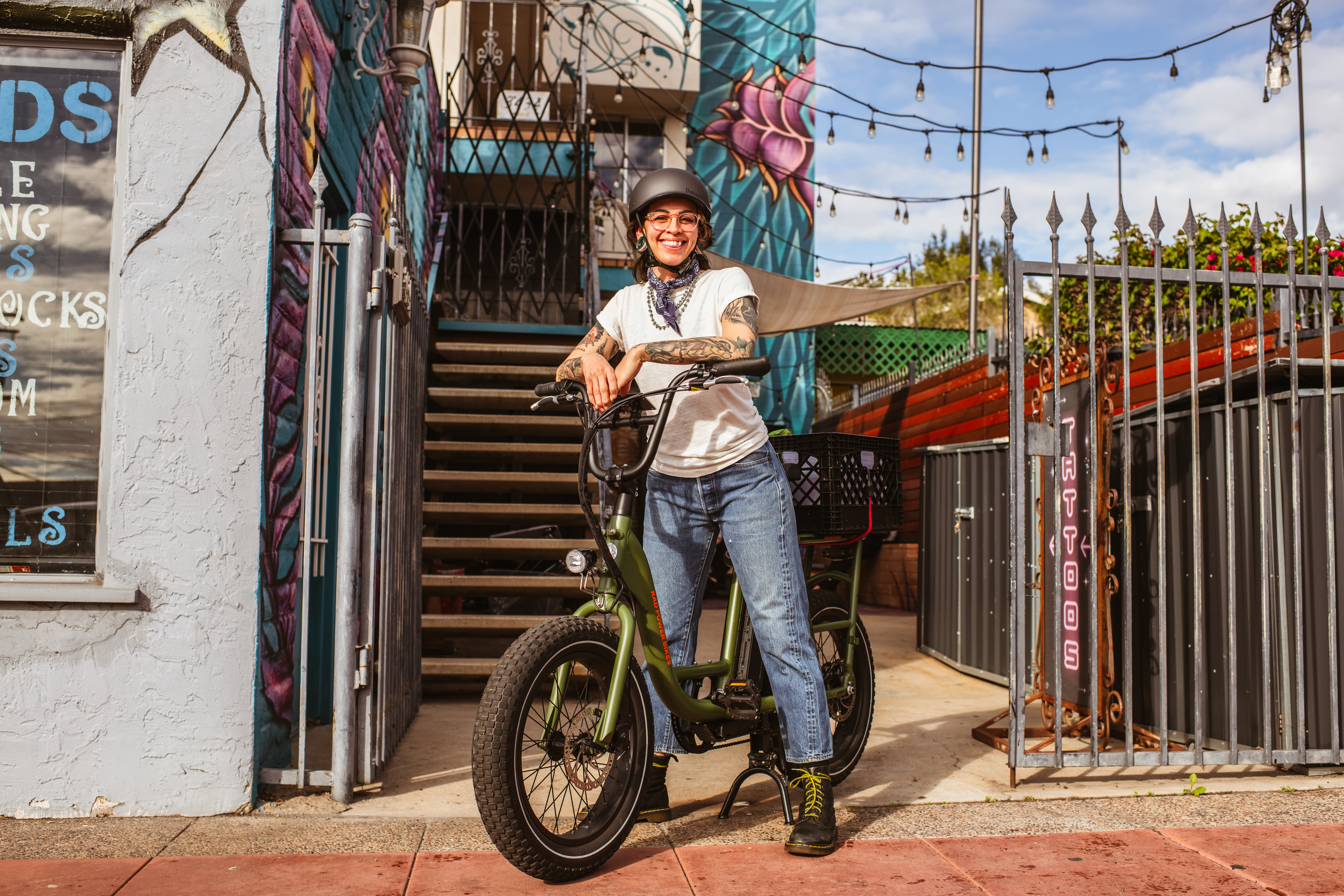 The RadRunner 2 is another moped electric bike with a utility-focused design. It's Rad Power Bikes' cheapest model but comes with the brand's renowned quality.
This moped-style electric bike uses the same electronics as the company's other models, including a 750W motor and 672 Wh battery. However, as a Class 2 e-bike, there is a 20 mph max speed from PAS or throttle, and the RadRunner reaches it quickly.
An impressive characteristic of this e-bike is the 120-lb capacity rear rack, capable of supporting a second passenger with the purchase of the Bring a Friend Kit. Unfortunately, fenders need to be purchased extra.
The single-speed drivetrain has the advantage of being low-maintenance, but the drawback is its limited ability to pedal on hills.
Finally, 3.3″ K-Shield puncture-resistant tires, a low-step frame, and adjustable riser handlebars make for a relaxed ride, although the saddle might be worth changing.
Consider Rad Power Bikes' RadRunner 2 if you have a tight budget and want a straightforward utility bike with enormous carrying capacity.
---
3. Electra Ponto Go!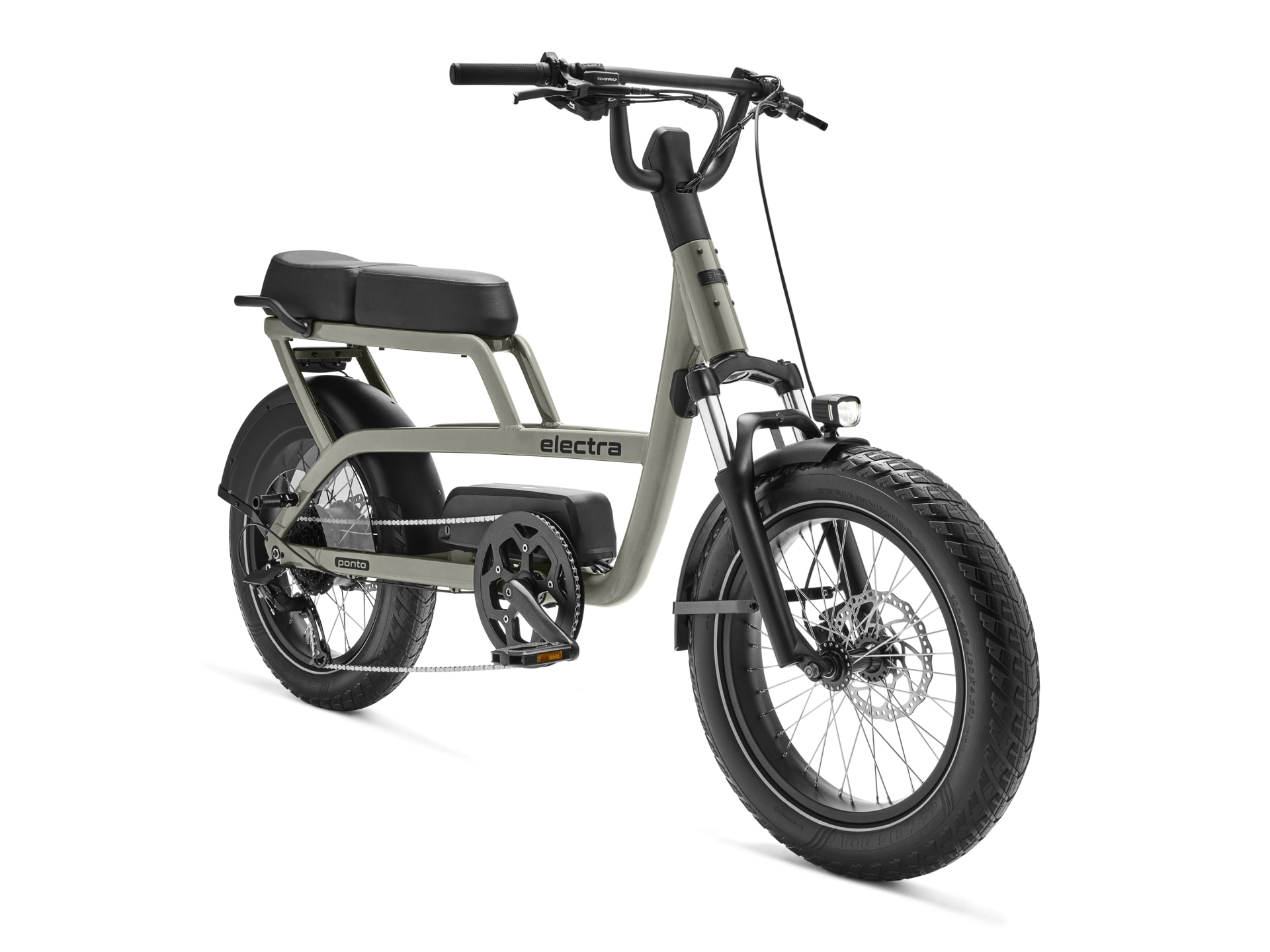 The Electra Ponto Go! is the most stylish moped-style electric bicycle on this list, with tons of extra safety and security features to make life in the city more convenient.
This model has a powerful 750W, 60 Nm hub motor and a 650 Wh battery. The Ponto Go! can reach max speeds above 26 mph and last up to 60 miles on one charge. In addition, you get a throttle with a 20 mph top speed for quick accelerations.
The Electra Ponto Go! comes equipped with front and rear fenders, a fronts suspension fork, front and rear lights, and even a large passenger seat.
Electra chose 20″ x 4″ fat tires, and adjustable handlebars to create a smooth and enjoyable ride quality, even at high speeds.
Other notable components include Tektro hydraulic disc brakes, a 360 lb weight limit, and an 8-speed rear derailleur. The drawbacks of this ebike moped are the high weight (80 lbs), limited range, and under-powered two-piston brakes.
Choose the Electra Ponto Go! if you want a pure moped-style ebike with enormous power and an affordable price.
---
4. ENGWE M20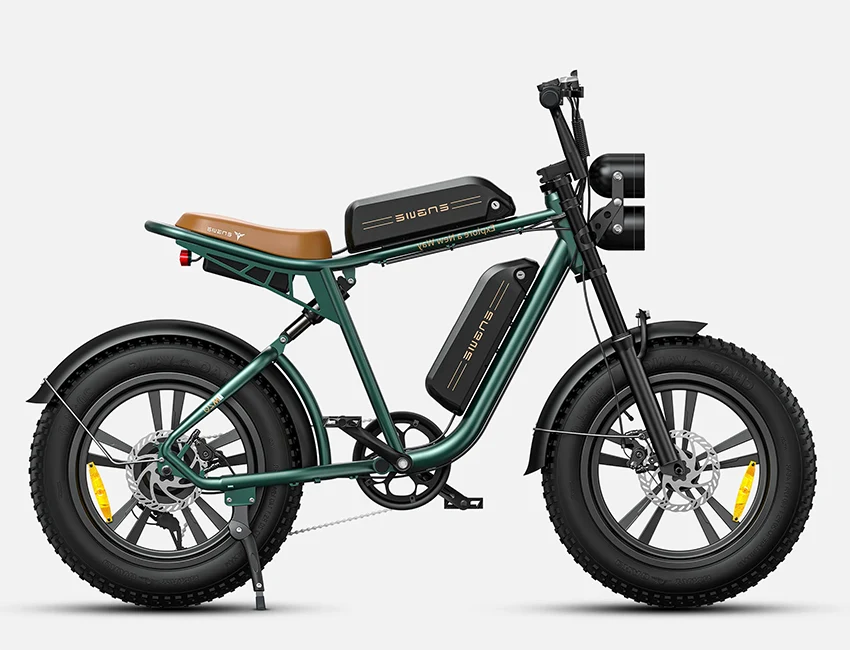 The ENGWE M20 is the brand's moped-style electric bike, sporting a step-over top tube instead of the low-step design often seen on this style of bike.
This model has a 750W hub motor that reaches its top speed of 28 mph. The single 624Wh battery version returns up to 47 miles of range, but you can get double that with the dual-battery M20.
The M20 has dual headlights powered by the battery and a single rear light. In addition, you get fenders with this e-bike.
Without rear suspension, the M20 isn't as comfortable as other moped e-bikes. However, its large padded seat, 4″ fat tires, and riser handlebars make it comfortable on smooth pavement. The 89.29-lb weight requires two people to carry it.
Add the ENGWE M20 electric bike moped to your shortlist if you value power, comfort, and an affordable price tag.
---
5. Benno RemiDemi 10D Sport
Benno's RemiDemi 10D Sport is the most expensive electric moped bike on this list, but it doubles as a light-duty cargo bike and has a mid-drive motor.
The Bosch Performance Sport 65 Nm mid-drive provides a buttery smooth ride quality and tons of torque for tackling steep hills. The 400 Wh battery isn't very big and takes 6.5 hours to charge, but it provides enough juice for the average urban rider.
With a Chromoly steel frame, fork, and 4.25″ Duro fat tires, the RemiDemi is comfortable to ride, although slightly heavy at 65 lb. You also get an easy-to-mount low-step frame and upright geometry with a short reach.
The Shimano 9-speed Acera/Sora drivetrain with MT200 hydraulic disc brakes is a step below what you would expect at this price but still performs reliably. Finally, the RemiDemi 10D is compatible with a range of accessories and can support up to 400 lbs.
Choose the Benno RemiDemi 10D Sport if you want a compact moped-style cargo e-bike and have a big budget.
---
6. Rad Power Bikes RadExpand 5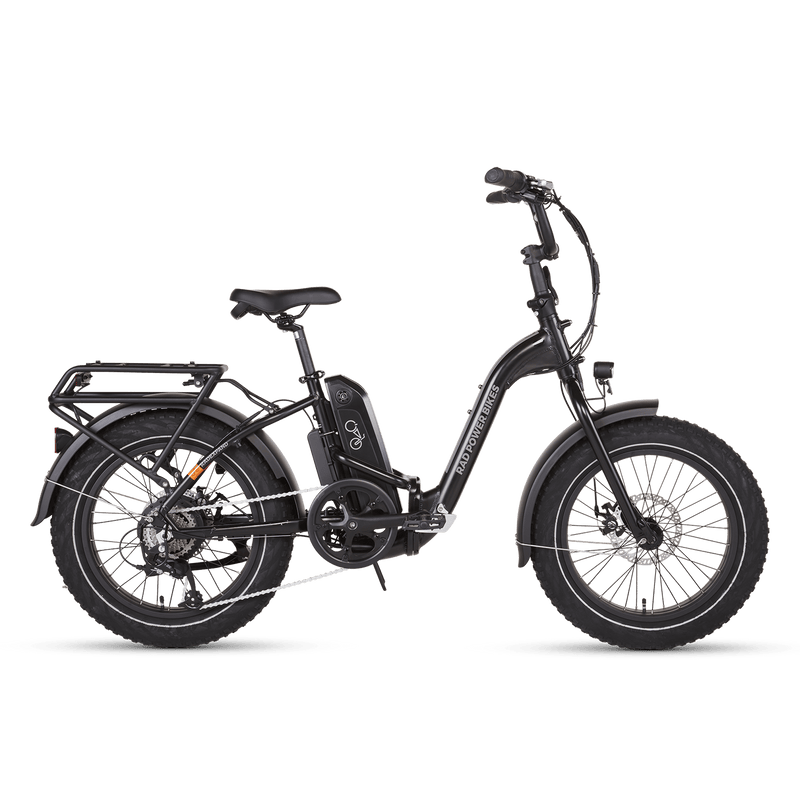 The Rad Power Bikes RadExpand 5 is a moped-style ebike than can fold for storage or transportation.
Although not as fast as other bikes on this list, the RadExpand is highly versatile and suitable for many jobs. The folding frame allows you to store it in a small space at home, put it in your car's trunk, or take it on public transport as part of a commute.
The low-step frame, upright geometry, adjustable handlebars, 4″ CST tires, and plush saddle deliver an enjoyable ride quality on bumpy city roads. Additionally, the 59.5-lb capacity rear rack, fenders, and lights make for safe and convenient city riding.
The electronics aren't as powerful as other moped ebikes, but they return 25 to 45 miles of range and Class 2 top speeds of 20 mph from pedal assistance or throttle.
At just under $1,700, the RadExpand 5 is competitively priced. The only complaints are the mechanical disc brakes and the lack of a speedometer and odometer on the display.
All things considered, this is a solid choice if you want a moped-style e-bike that folds.
---
7. Co-op Cycles Generation e1.1
The Co-op Cycles Generation e1.1 is an electric moped bike designed for urban utility, perfect for budget-conscious riders.
The Generation e1.1 is a Class 1 e-bike with a punchy Bafang 350W hub motor and 417 Wh battery. This setup returns ranges up to 40 miles but takes a lengthy seven hours to charge. In addition, users report the 7-speed Shimano drivetrain doesn't have enough range for pedaling at 20 mph.
An integrated rear rack gives this bike plenty of cargo capacity and is compatible with various accessories, including a child carrier. Its 2.4″ Schwalbe puncture-resistant tires and a 70mm Suntour fork smooth out bumpy roads, and Tektro hydraulic disc brakes keep you in control in all conditions.
Co-op Cycles didn't include fenders, so you'll have to purchase an aftermarket set, but at the reasonable price of $1,500, the Generation e1.1 is a worthwhile investment.
---
8. Wing Freedom Fatty 2
The Wing Bikes Freedom Fatty 2 is a sleek off-roader with a flat top tube reminiscent of a step-over moped.
The unique frame with its matt-black finish, integrated lights, and arrow-straight tubing makes the Freedom Fatty turn heads. In addition, they've managed to keep the weight down at just 39 lbs, impressive for a fat tire e-bike.
Wing chose chunky 4″ Kenda Krusader puncture-resistant tires with deep tread for tackling any terrain you encounter. Unfortunately, the mechanical disc brakes leave a lot to be desired at higher speeds.
A 500W Bafang hub motor quickly gets you up to the 28 mph max speed. It pairs with a choice of batteries at checkout, the smaller with a 35-mile range and the larger with 45.
Other features included with this bike include a remote-locking key fob and a tamper-detection alarm. However, you'll have to pay $60 at checkout for fenders.
Don't miss out on the Wing Freedom Fatty 2 if you want a moped ebike with all-terrain capability.