The single-speed electric bike is an ideal fusion of simplicity and performance, offering plentiful features and requiring minimal maintenance.
While geared electric bikes boast versatility, they are not the right choice for everyone—increased complexity, added weight and higher maintenance costs are some of the reasons many riders shy away from them.
On the other hand, a single-speed ebike is a streamlined alternative that offers simplicity, lower costs, and user-friendliness.
In this buying guide, we'll show you our 9 favorite single-speed electric bikes you should consider for your daily commutes in 2023.
What Are the Benefits of a Single-Speed Electric Bike?
The benefits of a single-speed electric bike are abundant, making them an increasingly popular choice among riders seeking simplicity and efficiency.
With fewer moving parts, these bikes offer increased reliability and lower maintenance costs compared to multi-speed ebikes.
The absence of gears and derailleurs results in a lighter, more maneuverable bike that is perfect for navigating city streets. Additionally, single-speed e-bikes boast a clean, minimalist design that appeals to riders who value aesthetics.
Finally, their straightforward functionality makes them easy to operate, even for cycling novices, especially if they come with a belt drive instead of a chain.
Of course, they have some drawbacks as well, such as poorer climbing abilities and less efficient battery use, but the benefits outweigh the disadvantages for the right type of rider.
In essence, single-speed electric bikes deliver a hassle-free, enjoyable riding experience that appeals to a wide range of users.
---
9 Single-Speed Electric Bikes to Consider in 2023
---
1. Rad Power Bikes RadRunner 2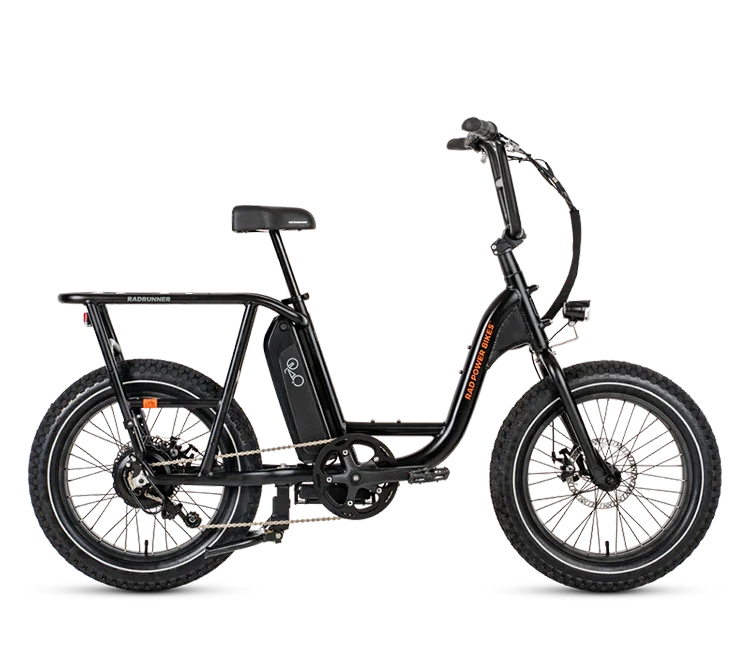 The Rad Power Bikes RadRunner 2 is a versatile, single-speed electric fat bike that is both practical and highly customizable.
With the ability to accommodate over 350 accessory combinations, you can tailor the bike to fit your unique riding style. Options include fenders, racks, baskets, cargo boxes, and much more. The standard version comes with an integrated rear rack, kickstand, and lights.
The bike is powered by a 750W rear hub motor and a 672 Wh battery, which are standard electronic components on most Rad Power Bikes' ebikes. You can control the motor with five pedal assist levels and throttle, which makes it easy to ride over any terrain.
RadRunner 2 rolls on 20″ x 3″ wide tires and uses mechanical disc brakes to stop, which is great for urban riding. The 53×16 gear ratio is pretty average for single-speed electric bikes, so you can comfortably pedal in most situations.
Choose the RadRunner 2 if you're looking for a highly adaptable e-bike that can fulfill your specific requirements and has stood the test of time.
---
2. Lectric XP Lite
The XP Lite is Lectric's cheapest, lightest, and most compact model. This Single-speed electric folding bike features a simple drivetrain and a streamlined look that appeals to modern urban bike commuters.
This is a class 1 or 2 ebike, with a removable throttle and a 20 mph top speed thanks to the 300W rear hub motor, so you can tweak it to fit your local ebike regulations.
The 48V 7.8 Ah battery provides around 40 miles of range, which is not bad at all.
User reviews are overwhelmingly positive, with riders praising how light and nimble the bike is. The only downside is the location of the key (underside of the downtube) that you need to turn to engage the battery before turning on the ebike and riding.
Lectric XP lite also boasts front and rear lights, mechanical disc brakes, a kickstand, and versatile 20″ x 2.4″ tires, which is a great deal at just $799.
---
3. Electra Cruiser Go! Step-Through E-Bike
Electric cruiser bikes are known for their simplicity and ease of use, and Electra Cruiser Go! is the perfect example.
This single-speed electric bike has a sturdy aluminum frame and steel fork with a comfortable upright geometry.
The bike is available is several attractive colors and features a sleek design due to the 250 Wh battery being hidden inside the down tube.
Electra Cruiser Go! is powered by a Hyena 250W rear hub motor, which is not the most powerful around, but it is known for being reliable, smooth, and quiet.
Any rider valuing comfort will also love the 26 x 2.35 in balloon tires and swept-back handlebars. Electra also equipped this bike with mechanical disc brakes, so you can stop confidently.
The only disadvantage is the 16-40-mile range, which could be higher, but it's still enough for leisurely rides by the beach.
So get Electra Cruiser Go! if you want an attractive electric single-speed bike that boasts comfort and great looks.
---
4. Priority E-Coast Single-Speed Electric Bike
The NYC-based Priority E-Coast is a unique single-speed electric belt drive beach cruiser.
Single-speed electric bikes are already low-maintenance, but a belt drive lowers the maintenance requirements even more.
The E-Coast ships as a class 2 ebike with a throttle and 20 mph top speed, which can be upgraded to 28 mph for Class 3 performance.
Featuring a 500W rear hub motor and a 576 Wh rear rack-mounted battery, its design mirrors the original Priority Coast cruiser. Although not ideally placed, the battery location is a practical adaptation and you can still use the rear rack to carry panniers or a basket.
The hydraulic disc brakes, a rarity in this price range, make it a strong contender for the best single-speed e-bike title.
The E-Coast is also equipped with lights, fenders, a dual-leg kickstand, balloon tires, and five pedal-assist levels.
If you love cruiser electric bikes, we see no major downsides to this Priority's single-speed electric bike with a throttle, apart from the battery position.
---
5. Ride1UP Roadster v2
The Ride1UP Roadster v2 is among the most popular single-speed e-bikes available in both city and gravel versions. It's known for its minimalistic design, low weight, and powerful components.
Ride1UP equipped it with a 350W rear hub motor and a 252 Wh battery hidden inside the downtube, making it difficult to identify as an electric bike at first glance.
While the Roadster v2's 24 mph top speed isn't the fastest among single-speed e-bikes, it's sufficient for urban riding.
What we don't particularly like is the caliper brakes, though you can get the Roadster Gravel version as well, which comes with beefier tires and disc brakes.
The belt drive guarantees minimal maintenance, although the 20-30-mile range is not ideal if you plan to cover long distances.
If you're a fan of the fixed-gear electric bike aesthetic, the Ride1UP Roadster is an excellent choice for you!
---
6. Huffy Montview
Huffy Montview is one of the most affordable single-speed electric bikes on this list, which is surprising given its solid specs.
This is an entry-level bike with a basic look, but if you're looking for a starter ebike or you're planning to do regular short trips, the Montview will not disappoint you.
The Huffy Montview is a single-speed electric bike that rolls on multi-purpose 700C wheels and tires that are great for city streets and gravel roads.
As a Class 1 ebike, the Montview has a 20 mph top speed and the 36V battery provides a 25-mile range. Unfortunately, the battery is not integrated, but at least that makes it easy to remove it or replace it.
Additionally, the Montview boasts mechanical disc brakes and front and rear lights, which are exceptional value at this price point.
We don't see any significant drawbacks to this single-speed e-bike, so if you like its appearance, don't hesitate to give it a try.
---
7. State Bicycle Co. 6061 Single-Speed E-Bike
State Bicycle Co. is well-known for building attractive and minimalistic fixie and single-speed bikes, as well as different types of steel bikes.
The model you see here is their first single-speed electric bike, built around a 6061 aluminum frame and equipped with a 250W rear hub motor and a 350 Wh battery.
As a class 1 e-bike, it offers five levels of pedal assistance up to 20 mph, and the battery provides 20 to 100 miles of range, depending on how you ride.
The State Bicycle Co. 6061 is a clear competitor to single-speed electric bikes like the Ride1UP Roadster.
However, while the Roadster is slightly more affordable and features a more powerful 350W motor, the State 6061 boasts a superior gear ratio due to its 52T chainring (compared to the Roadster's 64T), making uphill pedaling easier.
Another advantage of the State 6061 is its mechanical disc brakes and large, central display that keeps all your ride information readily visible.
Get the State 6061 if you want one of the most attractive single-speed ebikes around, with a sleek design and a lightweight c38 lb build.
---
8. Vvolt Alpha
Vvolt Alpha is a simple, low-maintenance single-speed electric mountain bike that's perfect for tackling off-road trails as well as urban rides and commutes.
Featuring a belt drive instead of a chain, it means that you don't need to clean it or lubricate it at all. Plus, it uses hydraulic disc brakes for stopping, which are known to be low maintenance as well.
The Alpha uses a 350W rear hub motor with 45 Nm of torque to support you up to 20 mph, and a 375 Wh battery to provide that support for up to 40 miles. These are pretty standard specs for single-speed ebikes in this price range.
It's built around a heavy-duty aluminum frame and fork, with numerous mounting points throughout, including three-bolt points on the fork.
The Alpha weighs just 43 lb and rolls on 27.5″ x 1.95″ tires, which makes it quite maneuverable even if you venture off the beaten path.
---
9. Engwe T14
Engwe T14 stands out as the cheapest and most compact electric single-speed bike on our list. It's a direct competitor to Lectric's XP Lite, as both of them have foldable frames, rear hub motors, and affordable price tags.
Although small, the T14 packs a strong punch thanks to its 350W rear hub motor and a 48V 10Ah battery. Plus, it boasts a 20 mph top speed and a range of around 50 miles, according to Engwe. You can ride it in pedal-assist mode or using a throttle, in which case the range is around 22 miles.
Compared to Lectric's XP Lite, the Engwe T14 has a few advantages, such as the triple suspension system, a more powerful motor and battery, and much better accessories.
However, the suspension might not suit everyone's preferences as it complicates maintenance and adds unnecessary weight.
Nonetheless, if you're in search of a reliable single-speed electric folding bike that's both economical and offers excellent value for money, we highly recommend giving the Engwe T14 a try.