Electric commuter bikes are the most popular category of eBike, making up a significant percentage of total annual sales.
Since the Covid-19 pandemic started in 2020, there has been a massive increase in cycling commuters, especially on electric bikes. An e-bike makes commuting easier and faster and allows you to carry cargo without feeling the extra weight.
The best electric bikes for commuting make your daily ride convenient and comfortable while providing enough power and range to get your where you're going.
This article will review 18 of the best electric commuter bikes for 2023 and finish with a guide to help you choose the perfect one.
Why Commute by E-Bike?
Deciding to travel to work on an electric bicycle might seem like a big step, but there are plenty of benefits. Cycling is cheap, fun, and great for your health.
Riding to work means starting the day on a positive note. Instead of spending your morning commute burning fossil fuels and cursing traffic, you get to spend the time outdoors, observing your community and filling your body with feel-good endorphins.
On top of that, you also save money on gas, car maintenance, and gym bills, and get a solid workout first thing in the morning.
---
Best Electric Commuter Bikes
1. Rad Power Bikes RadCity 5 Plus
2. Co-op Cycles CTY e1.1
3. Ride1UP 700 Series
4. Aventon Soltera
5. Gazelle Ultimate C380+
6. Charge City
7. Cannondale Treadwell Neo 2 EQ Remixte
8. Buzz Cerana
9. Blix Aveny Skyline
10. Lectric XP 3.0
11. Electra Townie Go 5i
12. Priority Current E-Bike
13. Wing Bikes Freedom ST
14. Co-op Cycles Generation e1.1
15. Brompton C-Line Explore
16. Cannondale Adventure Neo 4
17. Tern GSD S10
18. Aventon Level.2
---
1. Rad Power Bikes RadCity 5 Plus
Rad Power Bikes' electric commuting bike, the RadCity 5 Plus, balances affordability with functionality for urban riders.
The electronics used provide plenty of power and range for long commutes and for maximizing the 59.5-lb capacity rear rack. In addition, you have a throttle to make starting from a stopped position easier.
Commuters can customize the RadCity 5 Plus with various accessories, and it comes with lights, fenders, and a kickstand. However, the bike is already quite heavy, so be wary when adding extra weight.
Rad Power Bikes chose puncture-resistant 2″ tires for comfort and convenience. The upright geometry, 50mm fork suspension, and padded saddle add to the smooth ride quality.
Finally, you get a set of hydraulic disc brakes and a 7-speed Shimano Altus drivetrain, which perform well for the price.
All things considered, the RadCity 5 Plus is our choice for the best bike for work commutes under $2,000.
---
2. Co-op Cycles CTY e1.1
The Co-op Cycles CTY e1.1 is the brand's best rear hub electric bike for commuting, sporting an efficient Bafang motor and battery system and a full set of urban components.
The geometry of the CTY e1.1 makes it the ideal electric bike for commuting as the position is upright, giving you a clear view of the road ahead. The adjustable stem makes it easy to get the correct position, but users report that it comes loose easily.
Co-op Cycles did not add any accessories to this ebike, but there are mounts for everything you need. If you wish, you can add fenders and a rear rack to make the CTY e1.1 more practical for daily commutes.
The CTY e1.1 comes with a rigid fork and shock-absorbent tires to smooth out bumpy roads. The groupset is full Shimano, including a decent 7-speed Altus drivetrain with easy-to-use trigger shifters and powerful Tektro hydraulic disc brakes.
Finally, the 450 Wh battery will return up to 40 miles of range and make light of steep hills.
Don't look past the Co-op Cycles CTY e1.1 if you want an affordable commuter e-bike with everything you need for your daily commutes.
---
3. Ride1UP 700 Series
The Ride1UP 700 Series electric commuter bike makes it onto our list of best ebikes for commuting thanks to the high owner satisfaction and cheap price tag.
From almost 800 reviews, the 700 Series has an impressive rating of 4.8/5 stars. In addition, online reviews provide overwhelmingly positive feedback about the quality and ride feel.
Commuters will appreciate the complete set of components, including a 50-lb capacity rear rack, solid alloy fenders, LED lights, and a kickstand. The main disadvantage is that the bike is heavy (62 lbs).
The comfort-minded rider will also enjoy the 700 Series' plush ride feel. The 100mm travel fork, shock-absorbent 2.4″ Schwalbe tires, padded saddle, and upright geometry ensure a smooth and controlled ride feel.
Power comes from a high-wattage hub motor paired with a large battery, returning ranges between 30 and 50 miles. Finally, you have a Shimano Acera 8-speed drivetrain and Tektro hydraulic disc brakes to round out the groupset.
Choose the Ride1UP 700 Series if you want the complete commuter package at a low price without sacrificing quality.
---
4. Aventon Soltera
The Aventon Soltera is a cheap single-speed electric commuter bike option for urban dwellers.
Weighing just 41 lbs, the Soltera is among the lightest on this list. In addition, it has aggressive geometry and narrow 35mm tires that are ideal for navigating the city at speed.
Aventon designed the Soltera's frame with mounts for a rack and fenders, which you can purchase through the brand's online store.
Power comes from a punchy 350W hub motor and 345Wh battery that lasts an average of 41 miles and 20 miles using the throttle alone. Unfortunately, a single-speed drivetrain limits your ability to pedal on hills, which drains the battery faster.
The other disappointing feature of the Soltera is the choice of caliper brakes, which aren't powerful enough for an e-bike, especially in wet weather. However, a 7-speed version with Tektro mechanical disc brakes is also available ($200 extra).
Add the Aventon Soltera to your shortlist if you want a cheap and fast electric commuter bike without the extras.
---
5. Gazelle Ultimate C380+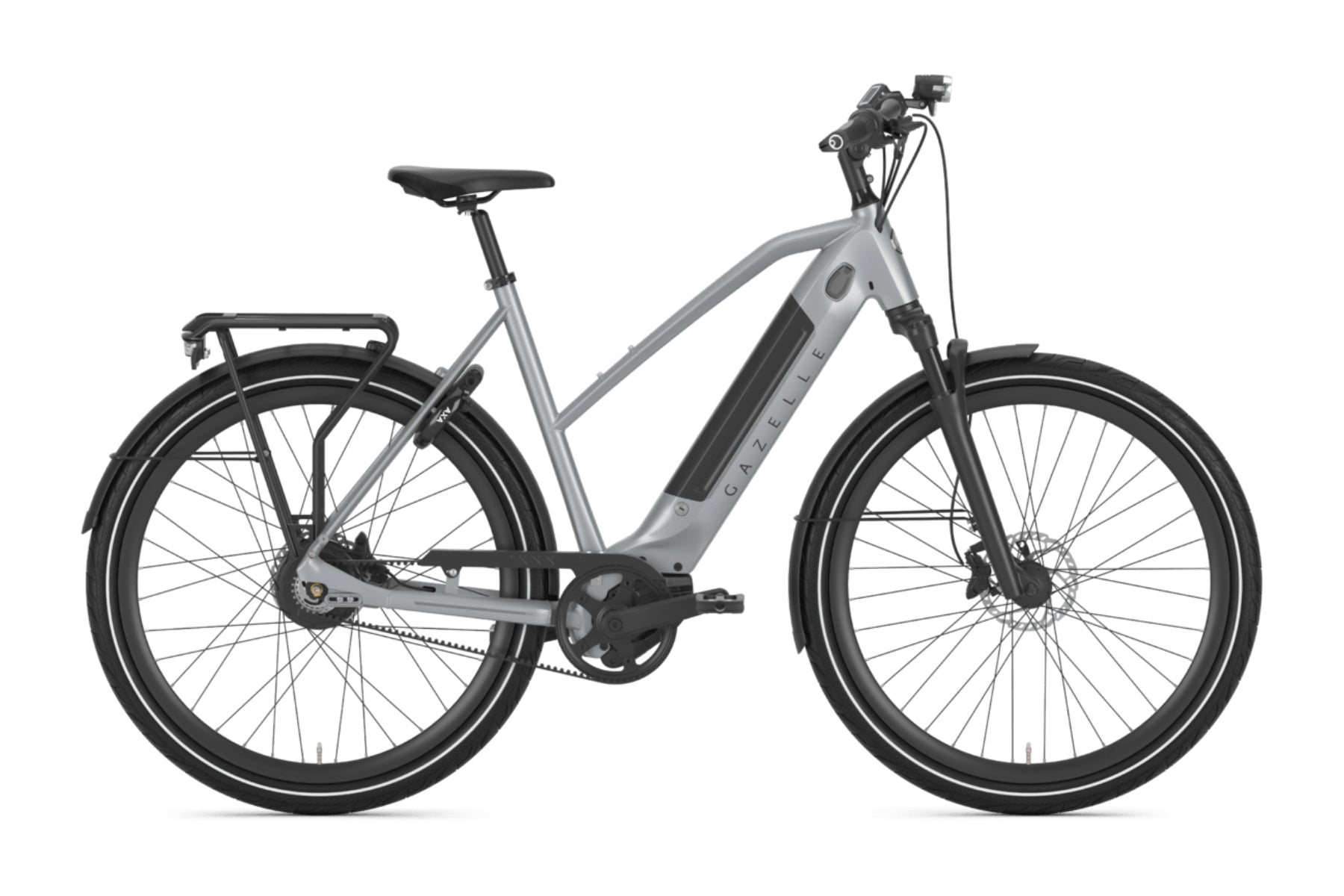 The Gazelle Ultimate C380+ is the brand's best commuter ebike. It's equipped with a belt drivetrain, Bosch's most powerful mid-drive, and a range of premium features to make your life easy.
Gazelle Bikes chose a Gates Carbon belt drive and Enviolo 380% continuously variable transmission (CVT) hub for the drivetrain. This hub provides completely smooth transitions between gears, and because it's enclosed in a casing, it lasts up to four times longer than traditional gearing.
Likewise, the belt drive and cogs are much more durable and don't require maintenance. Being grease-free also means you won't stain your work clothes.
The Ultimate C380+ has a rack, fenders, lights, a rear-wheel lock, and a kickstand. The electronics comprise a 75Nm Bosch Performance Line Speed motor and a 500Wh battery, lasting up to 55 miles.
Comfort comes from 1.75″ puncture-resistant Schwalbe tires, an ergonomic saddle and grips, upright geometry, and 80mm of fork suspension.
Consider the Gazelle Ultimate C380+ if you want the best commuter ebike of 2023.
---
6. Charge City
The Charge City is an electric bike for commuting or general urban riding, designed with unique features to make city living more convenient.
All Charge bikes have a set of tire pressure indicator caps, folding handlebars and pedals to save space at home, and puncture-resistant Schwalbe tires.
The City commuter has everything you need to transport cargo and ride safely in the city, including a rack, lights, fenders, and a kickstand. This rack has a modest capacity of 36 lbs.
A small Bafang hub motor and 418Wh battery return a surprising max range of 50 miles, but we'd expect much less on average. Finally, Charge chose a 7-speed Shimano drivetrain and mechanical disc brakes, which could be better but are typical at this price.
Add this unique model to your shortlist if you want one of the best commuter e-bikes for adults under $2,000.
---
7. Cannondale Treadwell Neo 2
Cannondale's Treadwell Neo 2 is a stylish electric bike with comfortable sweptback handlebars, comfort geometry, and great components.
This e-bike has a slight premium due to the Cannondale name, so it has a cheap Hydrive direct-drive hub motor and a small 250 Wh battery to save costs. This setup is suitable for paved riding with minimal elevation.
The Treadwell Neo 2 also has a set of lights, but no fenders or rear rack, so it's not fully equipped for commuting out of the box. Other notable features include Tektro mechanical disc brakes, 47 mm Maxxis DTR-1 tires, and a MicroSHIFT 7-speed drivetrain.
All things considered, the Treadwell Neo 2 is a solid choice for an electric commuting bike, albeit slightly overpriced.
---
8. Buzz Cerana
The Buzz Cerana is the best ebike for commuting short distances and doing grocery hauls, thanks to its 40-mile max range and front basket.
The Cerana is powered by a 350W mid-drive motor to flatten out hills, fight strong headwinds, or haul heavy cargo. It's very rare to see a mid-drive motor in this price range, so that's a positive surprise from Buzz Bikes.
The Cerana has all the typical commuter features, including a front rack, fenders, bright lights, and a kickstand. Buzz chose a broad 7-speed drivetrain to help you get the most from your battery and mechanical disc brakes so you can stop reliably in all weather.
Finally, 24″ x 2.8″ tires balance efficiency and comfort and pair nicely with the comfy saddle to take the sting out of bumpy roads.
Don't look past the Buzz Cerana if you want tons of power and range for your long commute.
---
9. Blix Aveny Skyline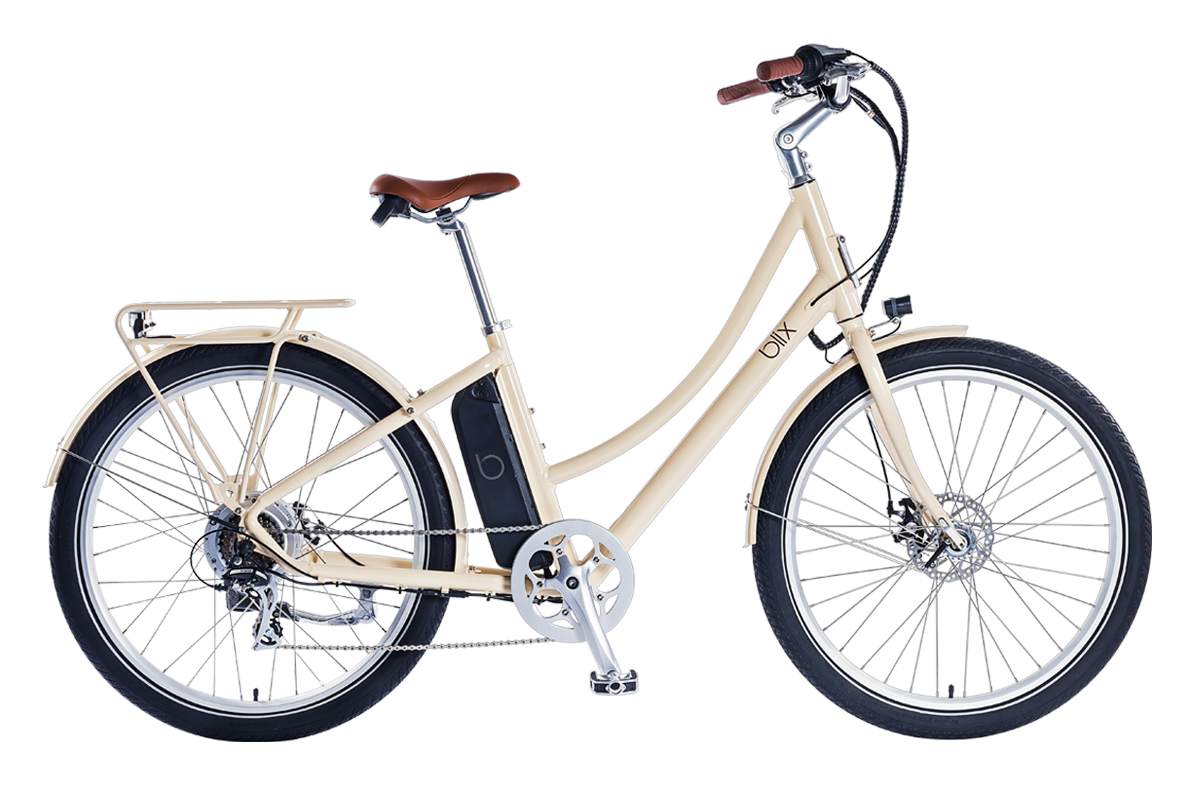 If you're looking for comfort, the Blix Aveny Skyline is among the best electric bikes for commuting.
This model has commuter components like a rack and fenders and is compatible with modular easy-install accessories.
Blix designed this bike with cruiser geometry, swept-back handlebars, a step-through frame, 2.25″ balloon tires, and a plush comfort saddle.
Power comes from a punch 500W, 45Nm hub motor and 614Wh battery combination, providing plenty of power and range for the average urban rider.
Finally, the Shimano Acera 7-speed drivetrain and mechanical disc brakes function well but are slightly low quality for this price range.
Choose the Blix Aveny Skyline if you want unbeatable comfort on your commutes and have a limited budget.
---
10. Lectric XP 3.0
The Lectric XP 3.0 is the latest iteration of the brand's flagship folding e-bike and one of the cheapest electric bikes for commuting.
Despite costing just over $1,000, the XP 3.0 has many features that make it an appealing choice for urban riders.
You have a frame-integrated rear rack with a 150-lb capacity, fenders, lights, and a folding frame, allowing you to take the bike on public transit. Unfortunately, the 64-lb weight is difficult for most riders to lift.
The build kit is all entry-level, but the bike feels solid and well-made. The 3″ tires ensure a stable base and plenty of grip in wet weather, but the 20″ wheels are slow and slightly uncomfortable. Thankfully, you have a fork suspension to help smooth out the bumps.
Overall, this is the best electric commuter bike in the budget price range, the ideal choice for riders who take public transit as part of their commute or have limited storage space at home.
---
11. Electra Townie Go 5i
Trek's subsidiary brand Electra is a specialist in cruiser bikes and the Townie Go! 5i is their fully equipped mid-drive model.
The plush ride quality of this cruiser makes it one of the best ebikes for commuting short to medium distances in comfort.
A Bosch Active Line Plus 50Nm motor and 400Wh battery provide up to 70 miles of range and plenty of punch to tackle hills with a loaded bike.
Like the Blix Aveny Skyline cruiser, the Townie Go! 5i has a rack and fenders. In addition, you get lights and a rear tire lock.
A highlight of this e-bike is the Shimano Nexus 5-speed hub which requires little to no maintenance and lasts roughly three times longer than a traditional drivetrain on average.
Of course, you also get balloon tires, mustache handlebars, an oversized saddle, and Electra's FlatFoot technology to ensure a smooth and comfortable ride feel.
Add the Townie Go! 5i to your shortlist if you want premium comfort and all the commuter extras.
---
12. Priority Current E-Bike
The Priority Current is a unique choice on this list as it has almost double the torque of the next highest model, making it ideal for taking on steep hills and carrying cargo.
Priority chose a 5-speed Shimano hub for this bike, as they are best suited to taking the extra force of high-power motors. In addition, the shifting is smooth and requires minimal maintenance. Tektro four-piston hydraulic disc brakes round out a solid groupset.
Commuters will appreciate the fenders, lights, puncture-resistant tires, grease-free drivetrain, and mounts for a rear rack and cargo-carrying accessories.
The Current has a comfort-focused design with a mid-step frame, a gel saddle, and high-volume 650b tires. However, there isn't a front fork, so venturing off-road isn't smooth.
Consider this commuter e-bike for adults if you want unbeatable power and a bulletproof groupset.
---
13. Wing Bikes Freedom ST
Wing Bikes is a new producer of electric bikes for commuting, and the Freedom ST is their only step-through model. You can read more in our detailed Wing Bikes Brand Review.
Wing offers the choice of battery with each bike. The Freedom ST is compatible with a 316Wh, 375Wh, or 504Wh unit, each with a $100 increase on the next.

The motor is a 350W, 55Nm Bafang hub that will reach 22mph and has a removable thumb throttle included. To maximize the range, make use of the 7-speed Shimano Tourney drivetrain.
Wing bikes have a distinct monotone design with frame-integrated lights for urban safety. In addition, you get a remote-locking key fob and a tamper-detection alarm.
The 1.75″ tires, upright geometry, low-step frame, and padded saddle give the Freedom ST a smooth ride quality. The downsides of this bike are it doesn't feel particularly solid and doesn't have a rear rack for cargo.
Consider Wing's Freedom ST if you want a unique-looking commuter e-bike with extra security features.
---
14. Co-op Cycles Generation e1.1
The Co-op Cycles Generation e1.1 is one of the best commuter e-bikes of 2023 under $2,000.
Featuring a high-torque Bafang motor and 417Wh battery, you can expect around 40 miles of range. You can get even more from this system by utilizing the 7-speed Altus gearing.
Co-op Cycles chose Schwalbe Super-Moto-X 2.4″ urban tires and Tektro hydraulic disc brakes to ensure off-road capability.
The aluminum frame has an integrated rack and lights. But, disappointingly, there are no fenders included. Choose the Generation e1.1 if you want one of the best electric bikes for commuting and utility riding.
---
15. Brompton C-Line Explore
Brompton is an English bicycle brand specializing in hand-made steel frames, and the C-Line Explore is one of their premium electric commuters.
This e-bike folds down rapidly, is compact and sturdy when folded, and weighs just 38.3 lbs, making it easy to carry and lift for most riders. The lightweight design also means the bike rides well without assistance.
A hand-made folding steel frame drives the price of Brompton bikes up, so some of the other components, such as the rim brakes and front hub motor, aren't typical of the price.
You get a 312Wh battery, a 250W motor that delivers a modest range of 20 to 45 miles, and a top speed of just 15.5mph (UK e-bike limit).
Other notable features include a USB charging port, a 2×3-speed drivetrain, integrated lights, fenders, and a front-mounted bag for cargo.
With just 16″ wheels, don't expect a smooth ride, but you can trust the build quality and the unbeatable functionality of the Brompton C-Line Explore.
---
16. Cannondale Adventure Neo 4
Cannondale Quick Neo 4 is a solid choice for commuters who are looking for a mid-range hybrid e-bike that can deliver Class 1 performance. This machine combines ergonomic design, long-range capability, and low-weight performance in the most efficient way possible.
You can enjoy a top speed of 20 mph on this e-bike thanks to the Bosch Active Line 250W motor. It can deliver up to 50 Nm of torque to power you across any type of terrain with little effort.
The Quick Neo 4 can also take you far on pedal assist mode because of its 250Wh battery.
Cannondale Quick Neo SL 1 takes just 3.5 hours to reach full charge, which is worth the wait for the 63 miles of assisted travel that it can give you.
Cannondale is known for its incredibly tough bike frames, as evidenced by the 6061 aluminum alloy used for the Quick Neo 4. The well-designed geometry, in addition to the 2.2″ tires, results in extra comfort for the rider.
Cannondale Quick Neo 4 ticks all the boxes if you're in need of one of the best class 1 e-bikes that can take you on multiple missions in the city. Not only that, but you also can take this e-bike out for a lengthy ride during your free time!
---
17. Tern GSD S10
The Tern GSD S10 is all about utility. This step-through e-bike uses an extra-low design for the benefit of all riders regardless of height. Its large cargo rack makes it ideal for commuters, delivery workers, and parents who want to bring their kids along for a joyride!
The GSD S10 is run by a Bosch Cargo Line 85Nm motor, which is responsible for pushing the e-bike to a top speed of 20mph over flat or sloped terrain. The 400Wh battery delivers up to 53 miles of range to help you haul your cargo multiple times through the city.
This e-bike uses a step-over aluminum frame with a much lower profile than most commuter e-bikes. Tern used this design on purpose to provide riders with more control and weight distribution. The closer to the ground, the easier it is to balance!
The Tern GSD S10 bike is an all utility bike with its 440lb load capacity and powerful 400%-assistance motor that can take you anywhere.
This bike looks nothing like the usual electric commuter bike, but that's not a bad thing! This e-bike still delivers superb results performance-wise, thanks in part to its unique design and efficient transmission system.
This mid-range Class 1 e-bike can carry a large amount of cargo unlike any other. It's the perfect choice for commuters who want to take their kids around town as it fits up to two Thule Yepp Maxi seats.
---
18. Aventon Level.2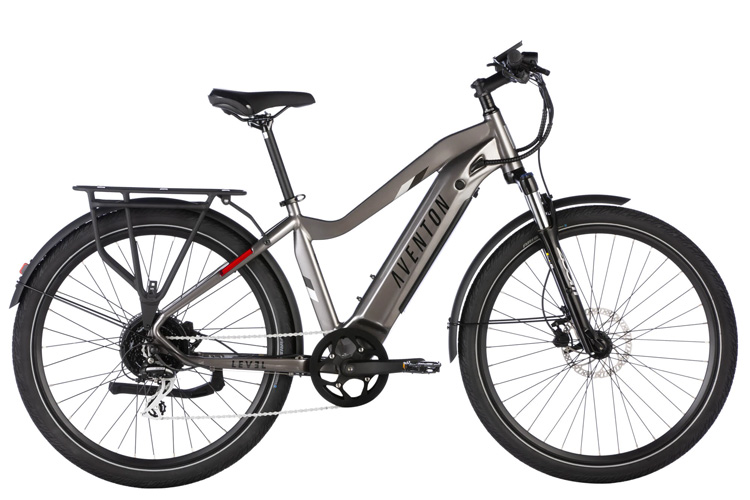 The Aventon Level.2 is one of the best commuter bikes under $2,000. Impressively, it weighs just 53lbs with a full-equipped setup and large electronics.
This e-bike is armed with a 500W hub motor with five levels of pedal assistance and a max speed of 28mph (20mph throttle).
The 672Wh Lithium-ion battery will last 30 miles without pedaling and up to 60 miles on Eco mode. This bike's battery is easily detachable, takes four to five hours to reach full charge, and is well-protected by the e-bike's frame.
The Level.2's frame is made from 6061 aluminum which is lightweight and responsive.
Aventon already has a reputation for making some of the best value e-bikes, and somehow they managed to make the new Level even more impressive.
Aside from the upgraded frame, the Level.2 is 9lbs lighter, has more range, and has faster tires. Most product reviews for the original Level pointed out its superb durability and functionality in urban environments and we expect the exact same from this updated model.
If you're searching for one of the best electric commuter bikes with an affordable price and great performance, then the Aventon Level.2 might be the one for you.
---
How to Choose the Best Electric Commuter Bike
---
The best ebikes for commuting make your commute enjoyable and convenient. The type of bike you choose depends on the demands of your commute and your preferences, such as if you carry cargo, the distance you travel, type of terrain, elevation gain, how fast you need to go, and how comfortable you like to be.
Your budget will determine the level of components you get, but everything else is up to you. While some riders prefer the relaxed ride of an e-cruiser, others enjoy the speed and agility of a hybrid fitness e-bike.
Let's look at some components to watch out for in electric commuter bikes.
What Type of Electric Bike is Best for Commuting?
Bicycle commuters ride a variety of electric bikes. Some have a racey style, and others prefer mountain bikes, hybrids, or folding bikes. Commuting doesn't require a specific type of e-bike, but you should get one you're comfortable with that suits your needs.
Some companies make models explicitly designed for commuting, such as the Juiced CrossCurrent X. Many copy European commuting bikes, which come equipped with handy accessories like fenders, chain guards, and racks and are typically quite heavy.
While these bikes are perfect for riding short to medium-distance commutes, they may be uncomfortable over long distances and have limited range, so if you plan on using the bike outside of commuting, they may not be the best choice.
The most popular choice for commuting are the best city electric bikes, combining elements of mountain and road bikes with extra components that suit commuters. Folding e-bikes are another choice for those who take a train, bus, or subway for part of their commute.
Whatever style of electric commuter bike you choose, the most important elements for a commuter to think about are the bike's geometry, electronics, groupset, and tires.
Geometry and Handlebars
Most commuters are navigating congested city streets at busy times of the day. A bike with relaxed, upright geometry gives you a clearer view of the road ahead and better peripheral vision. In addition, you are more visible to other road users. The down-and-forward position of road or gravel bikes is faster, but it's not as safe for city riding.
Deciding on a handlebar style can be tricky. Drop handlebars—the curvy ones you see on racing bikes—provide three grip options and put your body in a position that helps you go faster. But, on the other hand, they force you to lean over for the entire ride, which isn't as comfortable.
More traditional commuting bikes, like those used in Europe or China, have upright handlebars to match the geometry, allowing you to sit in a relaxed position and see what's happening on the road ahead. They aren't as convenient for long distances, though. The one that's best for you depends on your commute and preferences.
Hub vs. Mid-drive Motors: Which Is Better?
There are two categories of motors to choose from: hub-drive (front or rear) and mid-drive. Each has its advantages and disadvantages.
Hub motors are encased in the hub of the front or rear wheel, driving the wheel directly. These motors are the cheaper of the two and are easier to use as the rider doesn't need to consider the gearing. Additionally, hub motors usually come with a throttle. However, the downsides are that they are inefficient and clunky to ride with and can negatively impact handling and traction.
In general, mid-drive e-bikes are favorable if you can afford one. However, a hub motor may be the right choice if you want a throttle and a more straightforward ride.
In contrast, mid-drive motors are installed at the bottom bracket and connect to the drivetrain, making power transfer smoother and more natural-feeling. These motors produce more torque, are more durable and efficient, and don't impact handling. However, they require changing gears to maximize efficiency, they're expensive, and they typically don't come with a throttle.
How Much Battery Capacity and Range Do I Need?
When considering an electric commuter bike's range, it's important to remember that it's highly variable. Some factors that impact the range you get include rider weight, bike weight, elevation gain, wind resistance, temperature, motor efficiency, and assistance level.
If a manufacturer states a max range, they usually base it off a rider of average weight (~170 lbs) riding on flat terrain in ideal conditions.
Thankfully, most commuters don't travel over 30 miles in one day, so the majority of electric bikes for commuting will have sufficient battery capacity. However, if your rides are longer or you like to ride on the highest pedal assist level, you may want a bike with a higher max range, such as the CrossCurrent X.
Hydraulic or Mechanical Disc Brakes
Staying safe in the city requires the ability to stop quickly and reliably in all conditions. The extra power and weight of electric commuter bikes put greater demands on the brakes, so the best commuter ebikes have strong and consistent brakes, such as hydraulic discs.
Look for recognized brands such as Shimano and Tektro, adequately-sized disc rotors (180mm+), and even four-piston calipers. These indicate that the brakes will be effective and reliable when needed.
Mechanical disc brakes also work well, but they degrade faster and thus aren't as reliable as hydraulic discs.
Wider Tires for Comfort
It's essential to have tires that fit the riding you're doing. For example, mountain bike tires are wide and sturdy, but their treads will slow you down on the pavement. In contrast, road tires are smooth, narrow, and light but are uncomfortable on bumpy roads and have poor traction in wet conditions.
The best tires for commuting are somewhere in the middle, not too thick and not too thin, and with a moderate amount of tread. However, if you do a mixed-terrain commute, you may want a slightly wider tire with deeper tread.
Another feature common on the best commuter electric bikes is puncture resistance. Stopping to change a tire on an e-bike is a commuter's worst nightmare. A set of durable tires will drastically reduce the likelihood of punctures.
Accessories to Ease Your Commute
Commuters have different demands for their bicycles than recreational cyclists, so some specific accessories come in handy. The best electric bikes for commuting are usually loaded with these accessories and features, but you can always purchase racks, fenders, and lights if they aren't included.
Remaining Dry and Clean
Whether you ride in work clothes or change into them later depends on you, your commute, and the climate where you live. One significant advantage electric commuting bikes have over traditional ones is that you can ride to work in hot weather without breaking a sweat, thanks to the motor's assistance.
If you live in a wet climate, we'd recommend purchasing a waterproof coat and pants to avoid arriving at your destination drenched. Of course, if you shower on arrival, you can buy a waterproof cycling backpack or pannier bag to keep your work clothes dry.
The biggest problem with riding an electric bike in the rain is the grit that gets sprayed upward by your wheels and covers your legs and back. For this reason, most commuter e-bikes have fenders. They keep the dirt from splashing on you and are available in various materials and styles at most bike shops or online if they don't come with the bike.
Regardless of your cycling clothes, you'll want to ensure your pants don't get caught in your bike chain. Most bike stores carry reflective clips or bands that hold your pants tight to your ankle.
Carrying Your Gear
Commuting by bike means you'll invariably carry something you need for work, such as spare clothes, folders, papers, a laptop, and maybe a packed lunch. Some commuters are satisfied hauling their stuff in a backpack or messenger bag, but most get tired of carrying a load on their shoulders and arriving with a sweaty back.
Finding a way to put the load on your bike allows the e-bike to support the load. For example, some commuters strap their possessions onto a rear rack, and others put everything in pannier bags that attach to the bike's front or rear racks. Alternatively, an e-bike with a basket, such as the Cannondale Treadwell Neo, can solve the problem.
Staying Safe
Staying safe while riding among lots of whizzing cars is crucial. Of course, you'll have a helmet on, but other tools can help, too.
You'll undoubtedly ride at night or in periods of low light, so the best commuter electric bikes should have pre-installed lights. In addition, features such as auto-on activation and a brake light indicator are worth consideration.
Other helpful accessories include a mirror that attaches to your handlebars or helmet so that you can see behind you and a bell or horn in case you need to alert cars or pedestrians that you're coming.
Finding a Route
Before you head out, think about your route. Streets that are good for riding aren't necessarily the same ones you choose for walking or driving.
A good biking street has ample room for riders on either side. In addition, pick a route with less traffic and lower speed limits when possible.
If your city or town is on a grid, there are likely quiet streets parallel to the big ones; those are perfect biking streets that won't take you far out of your way. Google Maps has a useful function that allows you to find routes that avoid highways; you may also want to buy a good bicycle map for your area.
Cycling in Traffic: Setting Out
Now that you're completely prepared, it's time to hit the road. Remember, your commute should fit your style. Some riders are wild: they'll constantly go through every red light, dodge between cars, and pedal. There's no need to copy them; do what feels best for you and always ensure you're safe.
You may initially be tempted to ride on sidewalks, but avoid doing this. First, it's illegal for cyclists to use the sidewalk, and you can get a ticket if you do. Just as important, sidewalks aren't made for electric bikes. They're slow and bumpy, and walkers will get in your way. So instead, get used to riding on the road.
Here are a few rules that can help.
Be Predictable
One of the key elements to staying safe on the road is making sure your actions are clear and predictable to the other road users. You have the same rights as a driver and the same responsibilities. So when you're at a four-way stop sign, and there are cars at the intersection, follow the same rules you'd use as a driver.
Similarly, when you're on the road and planning on turning, use hand signals to indicate your intentions. Remember, drivers can't always react quickly to changes in front of them, so don't do anything that requires them to make split-second decisions.
Be Courteous
Bikers who force cars to slam on their brakes, or zip around pedestrians like they're in a race, give cycling a bad name. There's no reason to be rude to the people around you. A good rule of thumb in dealing with pedestrians is to treat them as you'd like drivers to treat you, that is, with respect.
Take Up Space
It's important to stand your ground as a biker and take the space that's rightfully yours. When available, bike lanes are great. The painted lines remind drivers to move to the left and give cyclists room on the right side of the road.
But many streets don't have bike lanes, and drivers often forget to make space for riders. Your first instinct might be to hug the right side of the road so that cars can pass easily. What often happens, though, is that drivers avoid moving out of their lane and may come dangerously close to you. In contrast, if you take up more of the road, drivers are forced to go around you – and when they do, they'll usually give you a wide berth.
One of the most common cycling accidents is getting "doored," that is, riding into the door of a parked car that has suddenly opened. If you keep enough space between you and parked cars on your right, that won't happen.
Riding Defensively
Once you get used to riding on city streets, you might become complacent. Don't. For better or worse, a critical characteristic that distinguishes bicycle commuting is the need to be constantly alert. There are few times on a busy street that you can space out while riding; there's too much that can happen while you're not paying attention.
Over time, you may grow to be a "defensive rider." That is, you don't assume cars see you or will make choices that are best for you. Instead, you check that they're looking your way and aren't planning on turning directly into your path, and you slow down when there's a chance a car doesn't see you.
A key element of safe riding is checking behind you. Some commuters buy mirrors for their bikes or helmets; others simply look behind them regularly.
Ultimately, riding in traffic takes practice. Staying alert doesn't mean you should feel scared or stop having fun. Instead, it means that you're present in your surroundings and can appreciate all the great sensations that riding brings.
Parking and Locking up your Bike
Once you arrive at your destination, what are you planning on doing with your bike? Ideally, your office has an indoor spot where you can stash your bike for the day. But that's not always the case.
Many people park their bicycles outside. A bike rack is ideal if it's nearby; otherwise, a parking meter or signpost can work. The most important thing, though, is your lock. If you live in an area with a high rate of bicycle theft, you must get a good lock for your bike. Many people swear by U-locks, but some go further and get heavy-duty chain locks.
Most e-bikes with removable batteries have a secure lock, but we'd recommend putting it in your backpack while the bike is locked outside. Some, such as Wing bikes, even have alarm systems.
And remember, if it's removable, it's stealable. If your seat or wheels are quick-release, they should be locked up, too, using a separate cable if necessary. After all, you'll soon start thinking of your electric commuter bike as a reliable friend that gets you from one place to another, one you definitely won't want to lose.