Hybrids are the most versatile type of bicycle. They blend the functionality of the city, MTB, and road bikes together to make a versatile, durable, comfortable, and great all-around bike.
These characteristics are what make e-hybrids some of the best e-Bikes for commuting. An electric hybrid bike allows you to go much farther and makes jobs like carrying cargo or tackling steep hills seem effortless.
You can use this type of bike in most places. Urban roads, forest trails, and gravel paths are all within the capability of your hybrid bike.
If you have diverse needs and enjoy riding in different environments, then look no further than this list of the best electric hybrid bikes.
---
Best Electric Hybrid Bikes in 2023
---
1. Rad Power Bikes RadCity 5 Plus
Perfect all-terrain city bike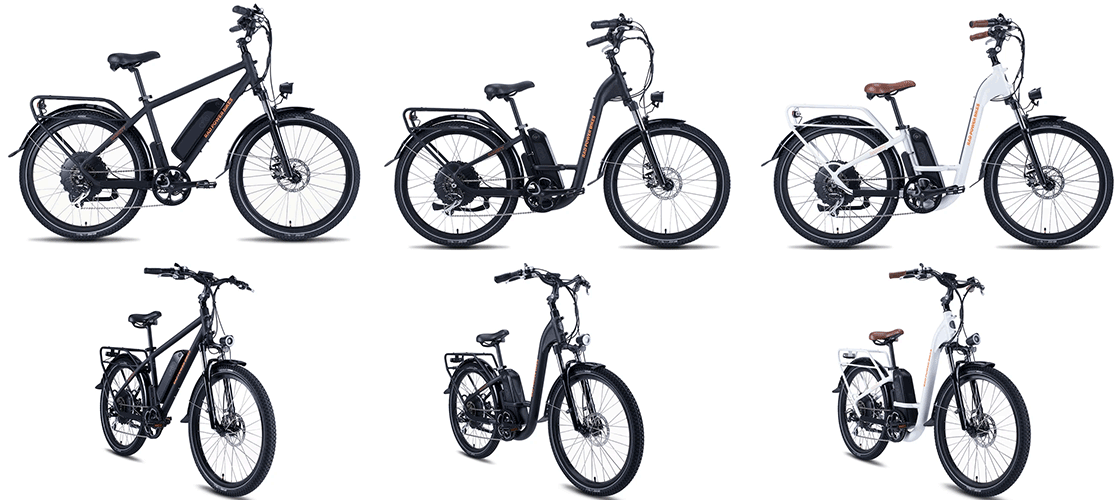 MSRP: $1,999
750W hub-drive brushless motor – 40nm torque
672Wh battery
Range: up to 50mi
Class 2 eBike (Throttle and Pedal-assistance limited to 20mph)
Weight: 65lbs
Rad Power Bikes' RadCity 5 Plus
 hybrid electric bicycle is an affordable yet powerful commuter-style hybrid.
For power, you have a huge 750W hub motor to get you over any obstacle and easily pull a fully loaded bike. This motor relies on a large 672Wh battery and a Shimano 7-speed drivetrain for up to 50 miles of range.
The comfort geometry, puncture-resistant 2″ puncture-resistant tires, 50mm travel fork suspension, and soft saddle make the RadCity 5 Plus a pleasure to ride on varied terrains.
Lastly, Rad Power has also included great components like hydraulic disc brakes, a rear rack, fenders, and integrated lights to complete a great all-rounder e-bike.
Size Recommendations
---
2. Trek Allant+ 7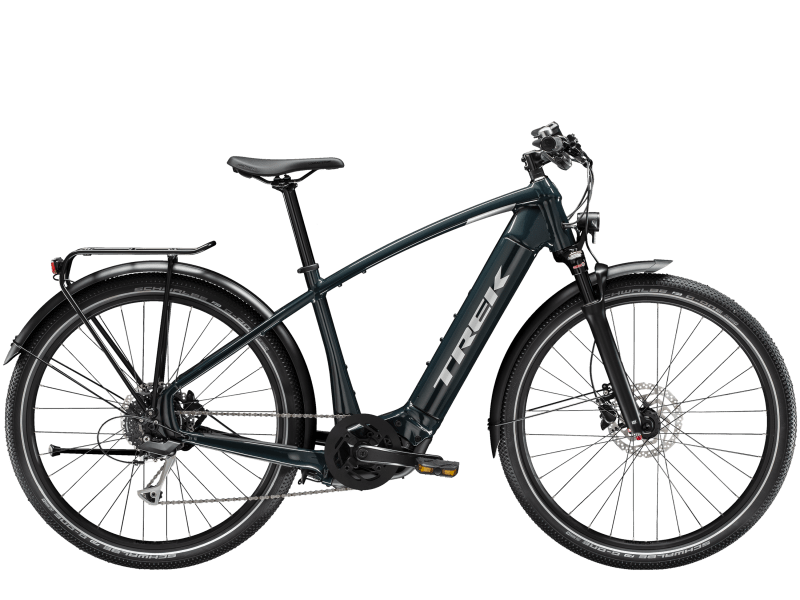 MSRP: $3,800
Bosch Performance CX 250W, 85 Nm torque
500 Wh battery
Range: NA
Class 1 eBike (20 mph pedal assist)
Weight: 54 lb
Trek Allant+ 7 is a great electric hybrid bike from the reliable USA brand.
The Allant+ 7 is designed for comfort and convenience with a lightweight aluminum frame, suspension fork, upright, relaxed riding geometry, and all the accessories you could ask for.
The bike comes with a premium Bosch Performance CX 250W mid-drive motor which has a punchy 85 Nm of torque and super-smooth power delivery. This is backed up by a 500 Wh battery and a Shimano Alivio 9-speed groupset.
Other notable features that allow it to perform in all environments include the 45 mm SR Suntour fork suspension, Schwalbe G-One multi-surface tread tires, and Shimano hydraulic disc brakes. Finally, the bike is fully equipped with all the components required for city riding.
---
3. Ride1UP 700 Series
Best value!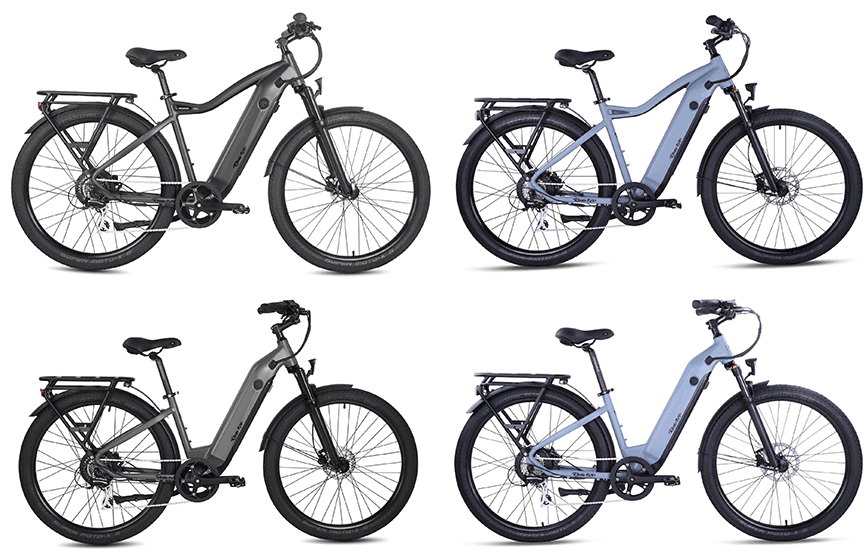 MSRP: $1,695
750W geared hub-drive motor, 60nm torque
672Wh battery
Range: 30-50 mi
Class 3 (28mph pedal-assist, 20mph throttle)
Weight: 62lbs
Ride1UP's 700 series is the perfect example of a hybrid all-terrain electric bike.
This powerful bike has all the features needed to take on any type of ride or job without a huge price tag.
The 700 Series uses versatile components like 100mm hydraulic fork suspension, Tektro hydraulic disc brakes, puncture-resistant Schwalbe Supermoto X  2.4″ tires, and a Shimano Acera 8-speed drivetrain.
Additionally, Ride1UP equipped it with a rear rack, fenders, a heavy-duty kickstand, and integrated LED lights. All of this makes this bike perform no matter where you take it.
Finally, you can ride between 30-50 miles on fully electric mode or pedal assistance thanks to the 750W motor and 14Ah battery combination.
Recommended Sizes
XR – 5'5″ – 6'4″
ST – 5′ – 6'2″
---
4. Priority Bicycles Current E-Bike
Smooth and maintenance-free electric hybrid
MSRP $3,299
500W mid-drive motor @ 140Nm of torque
500Wh battery
Range: up to 60 mi
Class 1 eBike (20mp/h pedal-assist) with an option to change it to Class 3 (28mp/h)
USB port for charging external devices
Priority' Current hybrid eBike is a sleek, fully integrated bicycle with great premium components.
Most notably, the Current uses a Gates Carbon belt-drive system and Enviolo internally geared rear hub. This system virtually eliminates maintenance, is silent while riding, it runs without grease, all while providing a smooth and natural pedaling motion.
For power, this hybrid uses a 500W torque-sensing mid-drive motor with a huge 140Nm of torque. This is combined with a 500Wh battery that lasts between 30 and 60 miles.
Additionally, the Current has comfy 650B tires, a plush gel saddle, and relaxed geometry which make it a pleasure to ride.
Finally, dual-piston hydraulic disc brakes, USB charging capability, and automatic lights on the front and back complete an excellent bicycle all-around.
---
5. Aventon Level 2
Comfort-focused commuter hybrid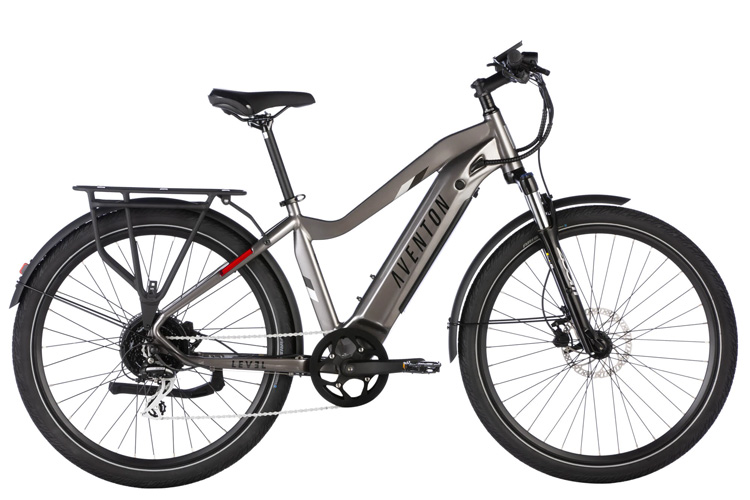 MSRP: $1,799
500W motor
672Wh battery (Charge time 4-5 hours)
Range: 30-60 mi
Class 3 eBike (28mph pedal-assist)
65 mm front suspension travel
Hydraulic disc brakes
The Aventon Level 2 electric hybrid bike is a versatile urban bike that displays some of the best that e-bikes have to offer at this price range.
This high-quality hybrid has a 500W hub motor that delivers smooth power thanks to the updated torque sensors. It relies on a fast-charging 672Wh battery to deliver up to 60 miles of range. The drivetrain chosen is a reliable Shimano Acera 8-speed which allows riders to better take on tough hills.
Comfort is one of the main strengths of Aventon's Level 2, and this is seen clearly by the upright geometry and low standover height frame. Additionally, riders enjoy an ergonomic saddle, a suspension fork, and cushy 2.1″ tires.
Finally, this e-bike has Shimano hydro disc brakes, full internal cabling, and is fully equipped with lights, a kickstand, fenders, and a pannier rack.
---
6. Gazelle Ultimate C380+
Sporty hybrid e-bike with premium electronics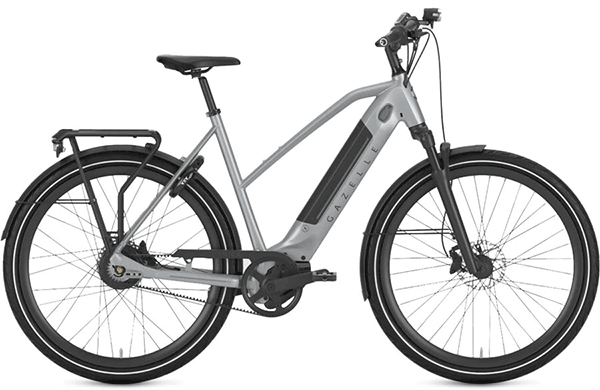 MSRP: $4,999
Bosch Performance Line mid-drive motor – 75Nm torque
500Wh battery
Class 3 (28mp/h pedal-assist)
80mm Suntour front suspension
Shimano hydraulic disc brakes
Bosch Purion display
Hybrid e-bikes don't get much better than Gazelle's Ultimate C380+. The name perfectly describes the ultimate versatile electric bike which is ready for any task you take on.
This sporty yet comfortable hybrid has great electronics including a Bosch Performance Line 500W/75Nm mid-drive motor and a large 500Wh PowerTube battery.
These electronics, along with the efficient Enviolo 380 Trekking hub make the bike perform well in any terrain. This internally geared hub pairs perfectly with a Gates Carbon belt drive to produce a maintenance-free, clean, long-lasting, and quiet ride.
Additionally, the C380+ has other top components like Schwalbe Energizer Plus tires, 80mm fork suspension, an integrated rear wheel lock, hydraulic disc brakes, and ergonomic touchpoints.
If you want one of the best belt-drive ebikes on the market, definitely shortlist this Gazelle.
---
7. Electra – Townie Go! 5i
Best commuter eBike
MSRP: $2,950
250W mid-drive motor – 50nm torque
400Wh battery (Charge time: 3.5 hours)
Range: up to 70 mi
Weight: 55lbs
Electra's Townie GO! 5i electric commuter bike is a stylish comfort-focused hybrid with lots of premium components.
This Electra hybrid bike combines upright geometry, a plush saddle, and puncture-resistant 2.35″ balloon tires to provide a great quality ride.
For power, you can rely on a Bosch 250W mid-drive motor. The smooth torque-sensing power output is what makes this motor so enjoyable to use. Additionally, a 40oWh Powerpack gives up to 70 miles of range and is supported by a Shimano Nexus internally geared hub.
Finally, the GO! 5i has patented Flat Foot Technology that allows you to sit with a foot flat on the ground without sacrificing pedaling position and is fully equipped for all types of city riding.
---
8. Marin Sausalito E2 ST
Sleek hybrid mid-drive e-bike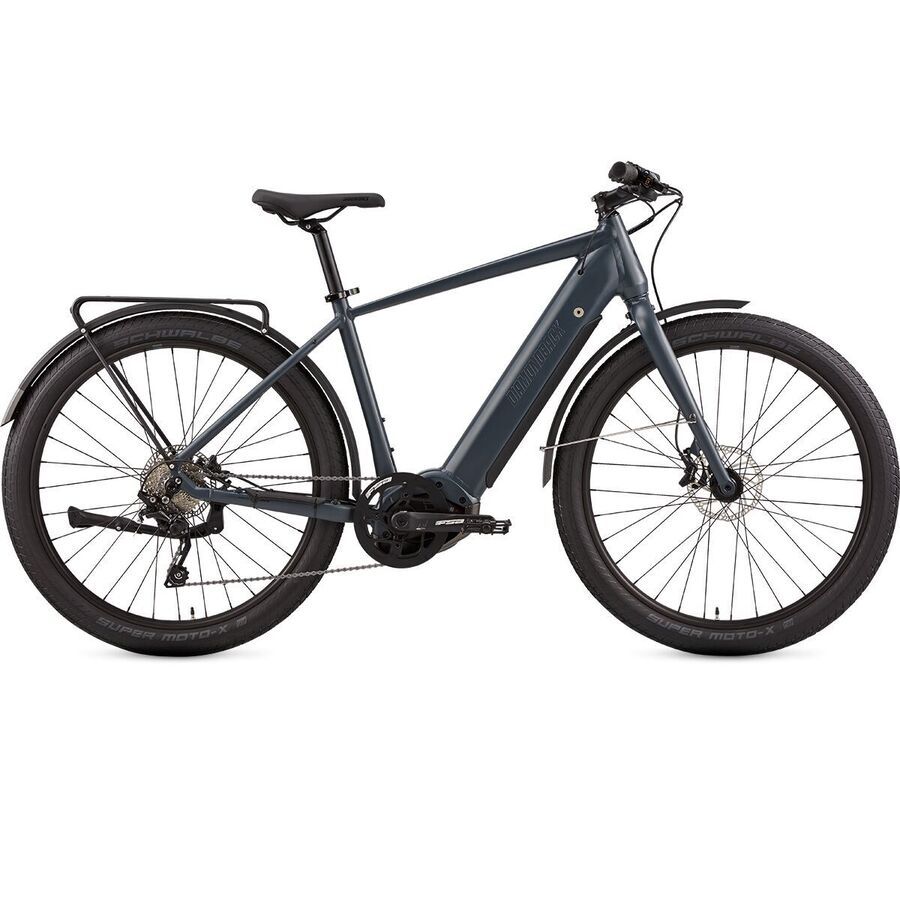 MSRP: $2,889
Shimano STEPS E6100 System
418 Wh battery
Class 1 eBike (20 mph pedal-assist)
Shimano hydraulic disc brakes
Shimano Deore 11-speed rear derailleur
The Marin Sausalito E2 ST hybrid electric bicycle is a beautifully designed bike with everything a rider needs and more.
This bike features a sleek aluminum frame with internal cable routing and integrated electronics. The motor and battery chosen by Marin are both Shimano, with a Shimano STEPS E6100 motor that will assist you up to 20 mph, and a 418 Wh battery that will provide you with hours of riding.
Other notable components include a reliable 11-speed Shimano Deore groupset, powerful two-piston Shimano hydraulic disc brakes, and shock-absorbent 650b x 47 mm WTB Horizon tires. You even get a 63 mm SR Suntour suspension fork to smooth out any bumps in the road.
Finally, the Marin Sausalito E2 is ready for anything with its mounts for a rear rack and fenders, a kickstand, and a high-comfort saddle.
---
9. Huffy Everett+
Cheapest Electric Hybrid Bike
MSRP: $1,200
Backcountry
350W rear hub motor
36V li-ion battery
Class 1 eBike (20 mph pedal-assist)
Mechanical disc brakes
7-speed rear derailleur
Hybrid e-bikes can be the perfect style of bike for commuting and daily riding and Huffy's Everett+ is a great example of this.
This electric bike is ideal as a day-to-day workhorse that you can use for short trips to the shop, around the neighborhood, or even longer commutes to work.
The rear hub motor offers 350W of power and the 36V battery is easily removable for charging. This combines nicely with a 7-speed derailleur to help you tackle tough gradients.
Finally, the Huffy Everett+ has other great features like front and rear fenders, mechanical disc brakes, and versatile 27.5″ tires. It even comes equipped with front and rear lights, so you can ride at night and stay safe.
---
10. Electra Townie Go! 7D Step-Over
One of the best hybrid e-bikes in its niche

MSRP: $1,900
250W rear hub motor – 40 Nm torque
250Wh battery
Class 1 eBike (20mph pedal-assist)
Mechanical disc brakes
Weight: 44lbs
Electra bikes need no introduction and their Townie Go! 7D is an entry-level hybrid/cruiser e-bike with plenty of versatility and all the quality associated with the manufacturer.
This bike is sleek, user-friendly, and comfortable. It utilized comfort components like a plush seat, wide puncture-resistant tires, and the patented Flat Foot Technology.
The electronics are from the reliable manufacturer Hyena. This includes a 250W/40Nm motor and a 250Wh battery resulting in max speeds of 20mph for distances in excess of 40 miles on eco mode.
Finally, this bike is also equipped with a kickstand as well as mechanical disc brakes, and a 7-speed drivetrain to help you get up and down hills.
---
11. Wing Freedom 2
Hybrid e-bike with a unique design
MSRP: from $1,098
36V/550W Bafang with 45Nm of torque
8.8Ah, 10.4Ah, or 14Ah battery
Range: up to 60 mi
Class 1 or 2 eBike (throttle can be bought separately)
Weight: 39 lb
Wing Freedom 2 is a stylish hybrid electric bike optimized for riding on busy city streets.
This powerful e-bike has what it takes to do this kind of work due to the large 550W rear hub motor, a frame-integrated battery (with 60 miles of range), powerful disc brakes with 180 mm rotors, and 1.75″ wide tires.
Additionally, the Freedom 2 has features like front and rear fenders, integrated lights, a swept-back handlebar, and a 7-speed drivetrain to make climbing easier.
Finally,  this hybrid e-bike looks unique, grabs attention, and leaves a lasting impression when it rolls down a busy city street.
---
How to Choose an Electric Hybrid Bike?
---
What is a hybrid electric bike?
A hybrid electric bike is one that takes key features of city, road, and mountain bikes to make a bike that can perform well on or off-road, as well as in a commuter or urban environment.
These bikes are not optimized for any single riding style or job but they can do various things well and are suited to those with a wide range of needs for their bike.
What are the Main Features of a Hybrid E-Bike in 2023
Battery – Removable & integrated.
Wheel size – 650b, 700c and 26″ wheels.
Fenders
Front suspension
Frame material
An upright riding position
Who should get a hybrid e-bike?
Hybrid e-bikes are a great choice for many individuals who want to get their first e-bike without committing to a style like mountain biking or road biking.
With this type of bike, you can go on or off-road, carry cargo, navigate urban areas with ease, or just take a leisurely ride along a bike path. Because they are comfortable, fast, and easy to use, these bikes work for just about anyone.
Hybrid vs commuter
A commuter bike is any bike that can be used for commuting, and a hybrid bike is one of the best styles for this job.
A hybrid has elements of performance, comfort, and convenience to make it the perfect choice for commuters, especially those who encounter varied terrains or ride in poor weather conditions regularly on their commute. Additionally, a hybrid performs well in other environments outside of commuting.
Hybrid vs Touring
At first glance, hybrid and touring bikes can look very similar. In general, they both have wide, grippy tires, a pannier rack and fenders, wide gearing for hills, and comfortable geometry.
However, touring bikes are further optimized for long-distance riding. They often have strong steel frames (for shock-absorption and durability under load), slightly more aggressive geometry with drop handlebars, and extra clearance for wider tires.
Motor – Hub vs mid-drive?
Mid-drive electric hybrids are the more premium models. The power transfer is very smooth due to torque sensors and they generally have more acceleration.
Hub-drive electric hybrids are more affordable and heavier. They are more clunky in their power transfer but are reliable and work perfectly for most people.
E-Bike Classification
What is a Class 1 E-Bike? – Pedal-assist without a throttle. The maximum assisted speed is 20mp/h.
What is a Class 2 E-Bike? – Pedal-assist + throttle-assist. The maximum assisted speed for both is limited to 20mp/h.
What is a Class 3 E-Bike? – Pedal-assist up to 28mp/h (+ optional throttle-assistance up to 20mp/h). Wear a helmet is compulsory. Age restriction may apply.
What is a class 4 E-Bike? – Motor with 750W and over with no regulated speed limit. Considered a motor vehicle so licenses may apply.
Cheap vs mid-range electric bikes
In general, you get what you pay for when it comes to e-bikes. However, some cheaper direct-to-consumer brands like Ride1UP, Lectric, and Rad Power sell bikes for lower prices than an equivalent bike for a big name brand.
As you can see among the bikes we've reviewed above, once you break the $2000 barrier you start to see mid-drive motors, better batteries, and more powerful components amongst the mid-range models.
Looking for a cheap electric bike?
Best Electric Bikes Under $1,000