In the United States, electric bicycles range from lightly-powered pedal assist companions to high-powered motorcycle-like machines.
Because of this variance and the differences in how much assistance each person likes to use, it's challenging to say if any individual will lose weight and improve their fitness.
However, studies on European populations have shown clear benefits of e-bike use for health. With the right approach, losing weight while riding an ebike is definitely possible.
But it's worth noting that in the EU, throttles are illegal, max power is 250W, and top speeds are 15.5 mph. Conversely, US law permits throttles, 750W of power, and 28 mph max speeds.
In this article, we will explore if riding an e-bike helps you lose weight, discuss the best types of e-bikes for exercise, and finish with some tips to help you maximize the benefits of your rides.
Calories In vs. Calories Out — Changing Your Energy Balance to Lose Weight
To lose weight, you must expend more energy (calories) than you take in. Although several factors affect this equation, the fact remains; if you have excess calories, you cannot lose weight, regardless of how much you cycle.
Therefore, you must carefully consider your food choices if you struggle with achieving or maintaining a healthy weight. Nonetheless, you still obtain many benefits from exercise, such as blood sugar, cholesterol, and blood pressure regulation, regardless of changes to body weight. So, be encouraged that you're improving your health by cycling, no matter what the scale says.
Electric Bikes vs. Traditional Bikes for Weight Loss
There's no doubt that traditional bikes require more effort to ride than electric bikes, meaning they are more effective for weight loss when the total time on the bike is equal.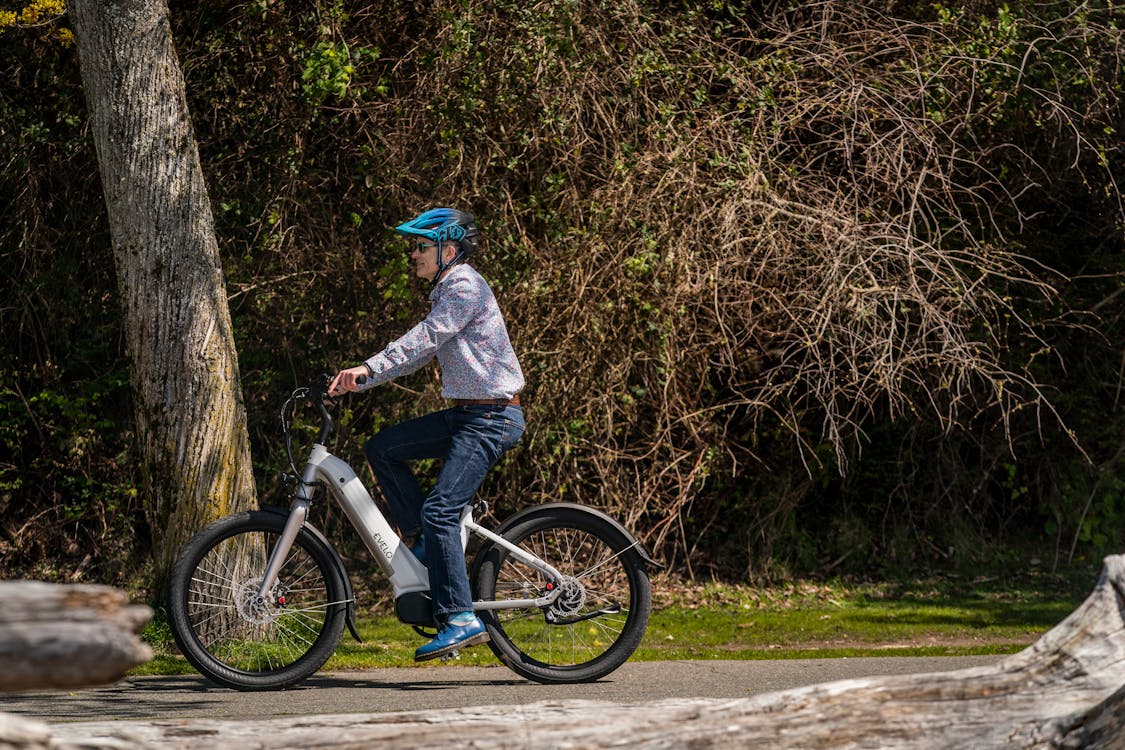 However, this doesn't tell the whole story, as a study shows that many cyclists who start using e-bikes ride more often, go longer distances, and replace passive car or public transport journeys. Overall, this can lead to increased calorie expenditure.
The main caveat to the above study is that it was carried out in Europe, which doesn't allow throttles or high-power e-bikes. So, if you plan to ride a 750W e-bike and rely heavily on high assistance levels and the throttle, you won't get the benefits described in this study.
Likewise, if you replace your traditional bike with an e-bike, you will likely reduce your calorie expenditure and potentially gain weight. However, using an e-bike to replace car or public transit journeys or increase active time can help you lose weight.
How Many Calories Do You Burn Riding an E-Bike?
It's impossible to say precisely how many calories one will burn when riding an e-bike. Your size, muscle mass, how much you exert yourself, weather conditions, and many more factors contribute to calorie burn.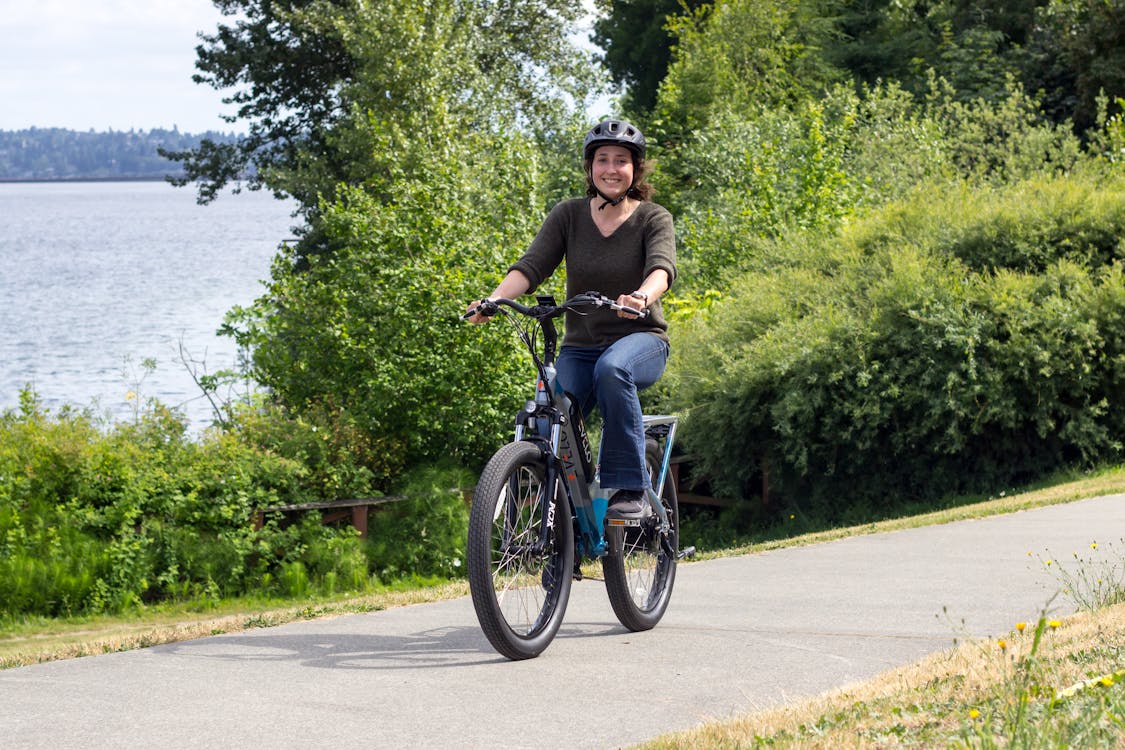 An excellent way to know that you are expending energy and getting a decent workout is to notice how hard you are breathing. In general, the more out of breath you get, the more calories you're burning. Sweating is also a good indicator that you're exerting yourself unless it's very hot and humid out.
If you never get out of breath or sweat on your e-bike, calorie burn is likely quite low. However, you will still get some slight benefits once you're not relying completely on the motor.
Another study was done to "compare the cardiometabolic responses and ratings of perceived exertion (RPE) between a regular bike and an e-bike at two different assist levels during a 3-mile ride". It showed that e-bike riding meets the WHO's recommended intensity level for physical activity.
While the exact calorie burn from e-biking is difficult to estimate, signs of physical exertion like heavy breathing and sweating can indicate a decent workout.
Riders in the study reported lower perceived exertion (how hard it feels) and more positive perceptions, using words like "easier" or "fun" to describe the experience, compared to those riding the traditional bikes. The researchers conclude that this positivity and lower perceived exertion may incentivize e-bike use and lead to e-bikers spending more time on their bikes.
What Types of E-Bikes Are Best for Losing Weight and Getting Fit?
The best types of bikes for exercise are mid-drive electric bikes. Most of these bikes don't have throttles, so you must pedal to activate the motor. Likewise, they usually use torque sensors to determine power output. This means you must pedal continuously and use your own force to keep the motor engaged. To increase assistance, you must increase your power. For these reasons, mid-drive e-bikes are ideal for losing weight.
The other common type of sensor is a cadence sensor. These are typically found on hub-drive e-bikes. In these systems, the motor provides power when the pedals are spinning, regardless of how hard, so minimal energy is needed to activate the motor. However, some newer hub-drive e-bikes come with torque sensors (Aventon e-bikes), allowing you to get a better workout.
It's possible to get decent exercise on most electric bikes as long as they're set up so that pedaling is comfortable. Some models, like moped-style e-bikes, are not set up for constantly pedaling, so getting exercise is difficult.
The best electric bikes for fitness are those that require constant pedaling and force exertion to engage the motor, helping increase calorie burn and facilitate weight loss.
Aside from the above considerations, the best type of electric bike for losing weight is the one you can afford and look forward to riding. If you love riding your e-bike, you'll want to spend as much time as possible riding it, leading to increased calorie burn and, hopefully, weight loss (if that's your goal).
A Potential Downside To E-Biking
If you replace your traditional bicycle with an e-bike, you may reduce the total number of calories you burn, potentially resulting in weight gain. Be aware that you'll need to increase your total riding time or add other forms of exercise and movement to your weekly routine to replace the lost calorie expenditure.
Six Tips for Losing Weight By Riding Your E-Bike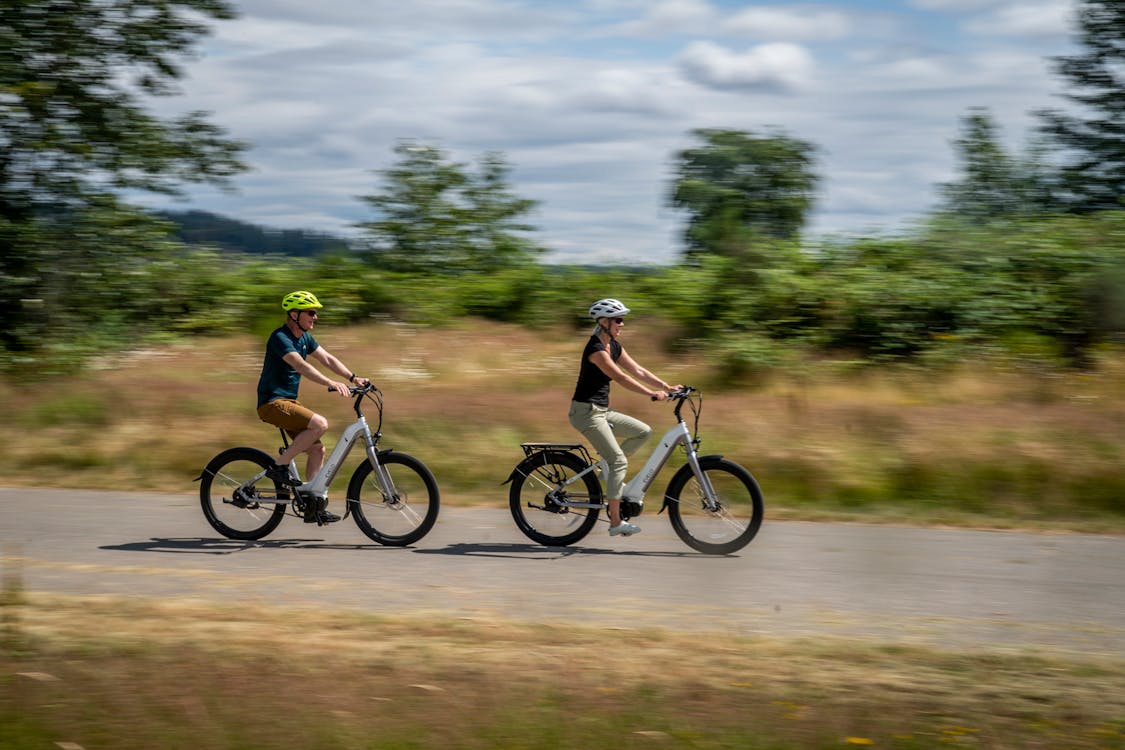 If you're new to e-biking or looking to lose weight through your rides, we have six tips to help you achieve that.
Choose the right e-bike – As we covered above, mid-drive or hub-drive e-bikes with torque sensors are the optimal choice for exercise. However, don't obsess about all the specs and different models. Choose one that fits your body and budget.
Consistency – Ride regularly, and you'll give yourself the best chance to lose weight. E-bikes require less effort, so you need more time in the saddle to achieve weight loss. Consistent riding is the key to this. Fit your rides into your daily routine, such as when running errands, commuting, or just for pure pleasure.
Increase distance – If you can't be as consistent as you'd like, increase the length of your rides each time you head out; more miles equates to more energy spent.
Use mostly the lower PAS levels – Relying heavily on the motor at all times will hamper your ability to lose weight. Try using the lower assistance levels when possible, allowing your heart and breathing rates to increase.
Escape into nature – Try to get out of the city or urban environment whenever possible. Riding on trails or rural roads with trees or fields will make the rides less stressful and more rewarding mentally, helping you stay more consistent.
Ride with friends or family –  Use your time on the bike as a chance to connect with friends or family. If there are other cyclists you know who are stronger than you, you can use your e-bike to keep up and enjoy more challenging rides that your fitness would allow.
---
Read Next
Best Heavy-Duty Electric Bikes for Heavy Riders
Lightest Electric Bikes of 2023: Great for Weight Loss
Hub Motor vs. Mid-Drive Motor Differences Explained
---