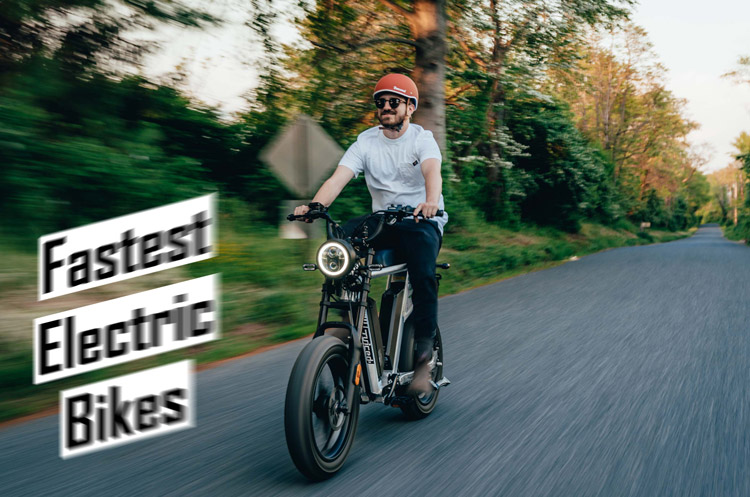 The fastest e-bikes on the market can quickly reach and maintain speeds of 28mph and over, providing more than enough speed for the average rider. However, top speed isn't the only consideration when searching for the fastest electric bike.
Ideally, you want a bike that builds speed smoothly, not in a jerky fashion, and can hold high speeds while going uphill or carrying cargo.
The best e-bikes for this job are those with powerful mid-drive motors, but the trade-off is they cost more.
This article will review a mix of the fastest electric bikes with hub-drive and mid-drive motors and top speeds of 28 to 32 miles per hour and finish with a short buying guide.
What is the fastest electric bike?
The fastest electric bike currently in production is technically the Delfast Top 3.0, with an impressive 50mph top speed and 200-mile max range. The Stealth B-52 is also a candidate with a 50 mph top speed.
Another limited edition (only 20 units produced) electric bike HI Power Cycles Revolution XX, with a top speed of over 70mph.
For this article, we will consider more traditional electric bike designs, as the abovementioned are more similar to an electric motorcycle.
---
Fastest Electric Bikes You Can Get in 2023
---
1. Trek Allant+ 8S Stagger — 28 MPH Top Speed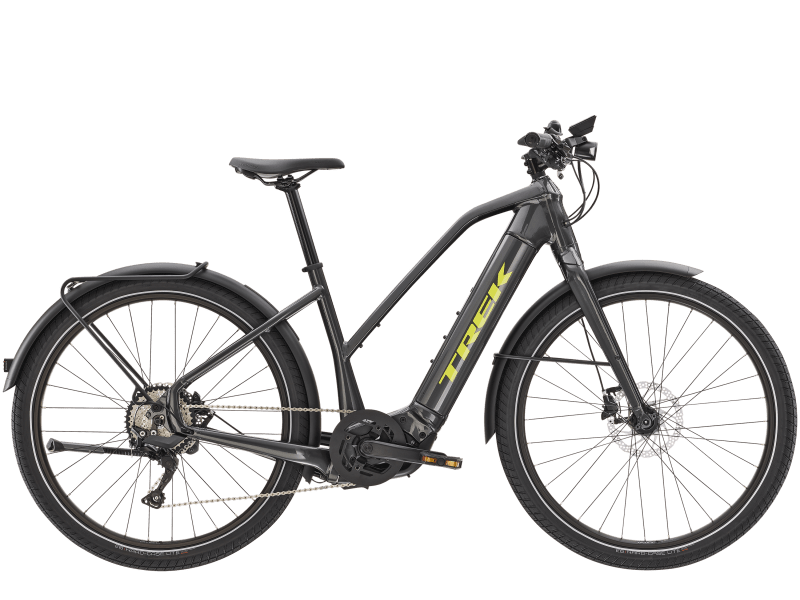 Price: $4,450
Motor: Bosch Performance Line Speed 250W, 85 Nm mid-drive
Battery: 625 Wh
Top speed: 28 mph
Trek Allant+ 8S
Stagger is a Class 3 e-bike built for speeds of up to 28 mph. It's the ideal choice for urban riders and commuters who want to travel fast and have all the necessary features and accessories that make an e-bike practical and comfortable.
First things first, the Allant+ 8S is powered by an 85 Nm Bosch Performance Line Speed mid-drive electric motor and a Bosch PowerTube 625Wh battery integrated into the down tube.
Trek doesn't disclose the estimated range, but the bike weighs just 56.4 lb and rolls on fast Bontrager E6 Hard-Case Lite 2.4″ tires, which will increase battery life.
For the $4,450 price, you also get a Shimano Deore 10-speed drivetrain and a Shimano's MT520 4-piston hydraulic disc brakes, which is a decent deal.
When it comes to practicality and accessories, the Allant+ 8S Stagger features front and rear battery-powered lights, a rear rack, and fenders—everything you need for daily adventures.
Get it if you want a tried and tested product that reaches Class 3 speeds from a world-famous brand.
---
2. Ride1UP Prodigy — 28 MPH Top Speed
Price: $2,395
Motor: 250W, 90Nm mid-drive
Battery: 504Wh
Top speed: 28mph
Ride1UP's Prodigy is the brand's premium electric bike, consisting of three different builds, each with a punchy 90Nm mid-drive motor.
The Brose TF Sprinter motor offers a smooth and natural ride quality with plenty of power to reach the top speed of 28mph, even while tackling climbs. Combine that with a 504Wh battery and a 9-speed Shimano Alivio drivetrain, and you'll get up to 50 miles (80 km) of range.
This bike has a fully-equipped setup for urban living, including a 40lb-capacity cargo rack that allows you to maximize the 300lb payload capacity.
Ride1UP chose Maxxis Re-Fuse 2″ gravel-ready tires and Tektro hydraulic disc brakes so you can take the Prodigy off-road onto light gravel trails. However, they also offer an XC version with 120mm of fork travel and 2.4″ Forekaster cross-country tires for off-road enthusiasts.
Consider the Ride1UP Prodigy e-bike if you want speed and versatility with an attractive price to match.
---
3. Bakcou Mule – 35+ MPH Top Speed
Price: $4,800 – $5,200
Motor: 1000W, 160 Nm mid-drive
Battery: 48v 17.5 Ah – 25 Ah
Top speed: 35+ mph
Bakcou Bikes
is a major manufacturer that produces some of the
best hunting electric bicycles
on the market with high-quality components.
The Mule can reach 35+ mph with a Bafang M620 Ultra 1000W mid-drive motor that generates up to 160 Nm of torque. To power this impressive motor, Bakcou offers a choice of four 48V batteries ranging between 17.5 Ah all the way up to 25 Ah.
Regarding components, the Bakcou Mule sports powerful Tektro four-piston hydraulic disc brakes with 203/180 mm rotors and a Shimano Alivio 9-speed drivetrain. This is a great combination both for climbing and for descending.
On top of that, the 26″ x 4″ Maxxis Minion tires and 100 mm air fork suspension ensure a comfortable ride on bumpy roads and gravel paths. You also get front and rear fenders and a rear rack, which makes this ebike not just fast, but also practical.
Overall, the Bakcou Mule covers all your bases for urban and off-road commuting and has one of the highest top speeds on our list.
---
4. Blix Ultra — 28 MPH Top Speed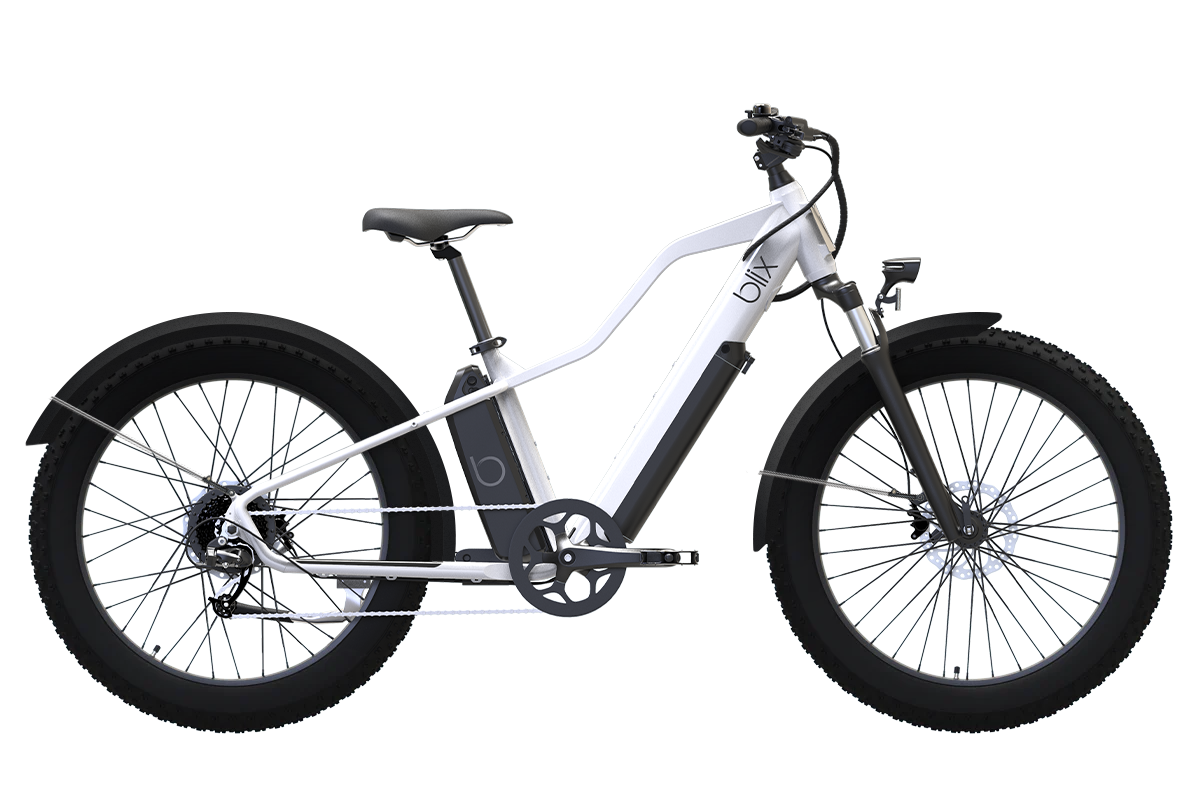 Price: $2,099 or $2,499
Motor: 750W, 90Nm hub
Battery: 672 Wh or 1344 Wh
Top speed: 28 mph
Blix Bikes specializes in creating the fastest e-bikes on the market, with a range of designs, including the Ultra fat-tire model.
This e-bike can reach top speeds of 28 mph thanks to its 750W hub motor. The Ultra has dual battery capacity, meaning you choose one or two 672 Wh batteries at checkout. The max range of the full-capacity version is up to 80 miles.
The fastest e-bikes should stay comfortable at high speeds, so Blix designed this bike with shock-absorbent 26″ x 4″ fat tires. It also has a modular design that allows you to add a long rear rack and transport kids or cargo.
The high-performance hydraulic disc brakes on this bike are the best choice, given the high maximum speed. In addition, the bike weighs 76 lb with the two batteries installed and 68 lb with one.
The Blix Ultra does not come with a lot of ebike accessories, except for fenders and lights, but you can retrofit it with front and rear racks and baskets and make it a lot more practical.
Nonetheless, this is a unique model with an affordable price. So choose the Blix Ultra if you're in the market for a utility e-bike with tons of range.
---
5. Engwe X26 — 31 MPH Top Speed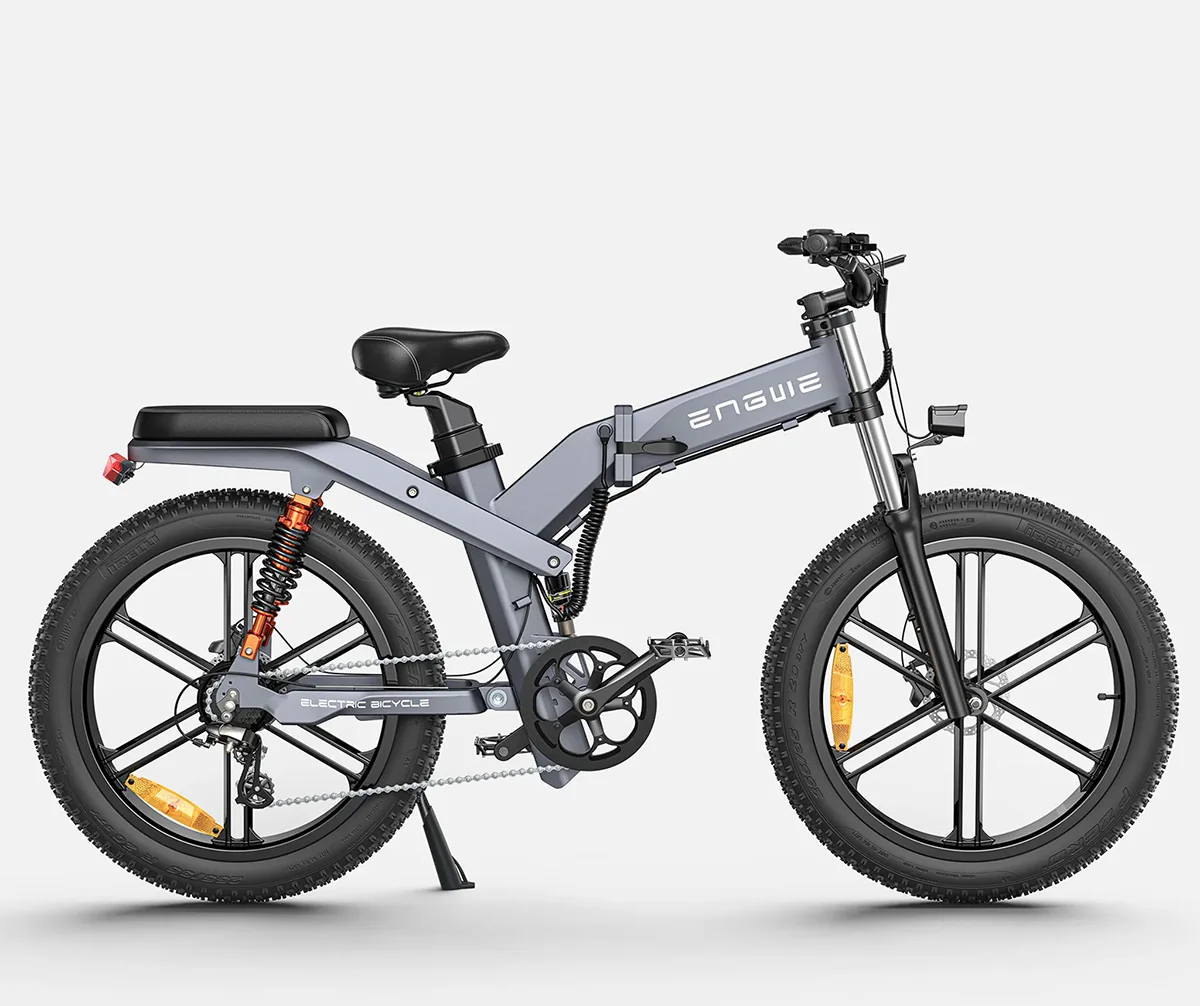 Price: $2,000
Motor: 1000W, 70 Nm
Battery:48V 19.2Ah & 10AH Dual
Top speed: 31 mph
The Engwe X26 is one of the brand's top three speed pedelec models, characterized by a folding frame, one-piece wheels, triple suspension, and powerful electronics.
With a top speed of 31 mph and a huge 1000W rear hub motor, this is easily one of the fastest electric bikes to reach its top speed. The motor has a 1200W peak power and generates up to 70 Nm of torque for climbing and fast acceleration.
Engwe designed this bike to handle the most extreme terrain you will encounter. Triple suspension, 60+ miles of range, plus-sized 26″ x 4″ tires, and powerful hydraulic disc brakes ensure no place is out of reach.
Unsurprisingly, the X26 is a very heavy ebike. It weighs 112 lb with both batteries, which makes sense considering the triple suspension, folding frame, and fat tires. However, all of these features give you a feeling of stability and control on rough terrain.
So if you're looking for unbeatable power and capability and have a limited budget, consider the Engwe X26 ebike.
---
6. Aventon Level.2 — 28 MPH Top Speed
Price: $1.799
Motor: 500W hub
Battery: 672Wh
Top speed: 28mph
The updated Aventon Level.2 is among the fastest electric bikes 2023 had to offer the urban/commuter market.
The Level.2 has a 500W motor with a 750W peak output paired with a 672Wh battery to deliver a max range of 60 miles and top speeds of 28mph. With a smaller motor and battery, this is one of the lightest models on this list at just 53lbs.
Because it's an urban e-bike, Aventon provides a complete set of commuter components for the Level.2, including a rear rack, fenders, lights, and a kickstand. The groupset comprises a Shimano Acera 8-speed drivetrain and Tektro hydraulic disc brakes, a solid combination for a sub-$2,000 e-bike.
Comfort-seekers will also enjoy this bike with its 2.1″ tires, 65mm fork suspension, upright geometry, and low-step frame.
Choose the Aventon Level.2 if you want a cheap urban e-bike with a high max speed and plenty of range, ideal for busy city streets.
---
7. QuietKat Ibex — 28+ MPH Top Speed
Price: $6,199
Motor: 1000W, 160Nm ultra mid-drive
Battery: 1008Wh
Top speed: 28+mph
The QuietKat Ibex is the best electric mountain bike on this list, with a top speed of over 28mph thanks to the industry-leading Bafang 1000W ultra mid-drive motor.
Despite the explosive power and kick, the Ibex feels buttery smooth. Speed and torque sensors measure rider inputs to deliver the most natural-feeling ride possible. In addition, this bike can reach its top speed in mere seconds.
QuietKat
chose a large 1008Wh battery that's stylishly integrated into the frame. It provides a solid max range of 63 miles.
The Ibex's frame has a 130mm RockShox Monarch RL shock that uses the brand's proprietary Fire-Link suspension platform and combines with a 140mm inverted air fork to deliver traction, stability, and control on extreme terrain.
Finally, with a 300lb payload capacity, you can load up this bike with gear for your hunting or camping trips and still easily reach the top speed.
Add the QuietKat Ibex to your shortlist if you need an electric hunting mountain bike to handle whatever you throw at it.
---
8. Bakcou Scout — 35 MPH Top Speed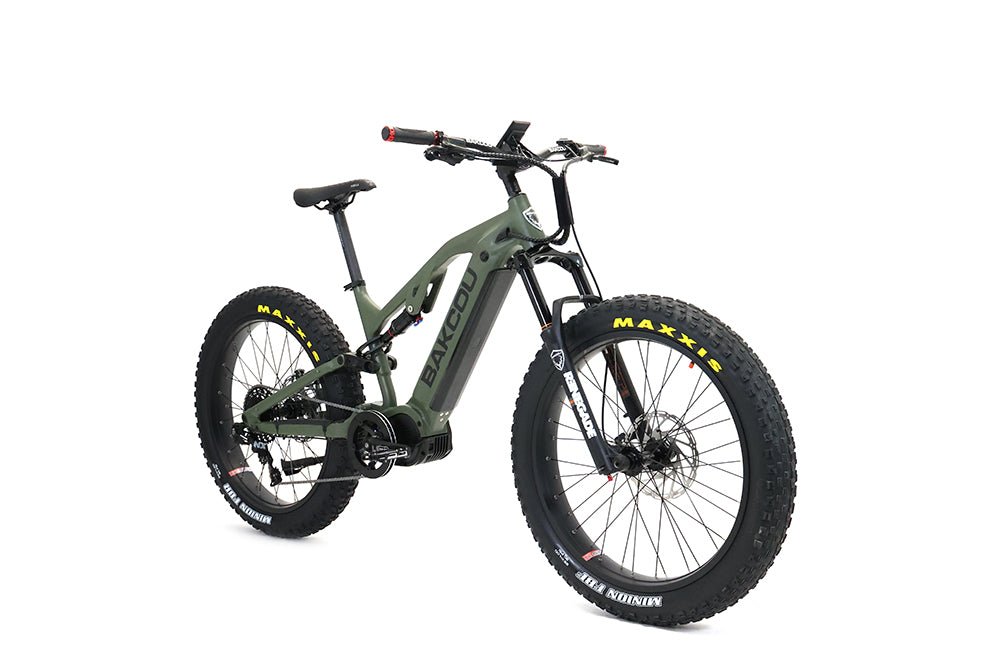 Price: from $5,599
Motor: 1000W mid-drive motor, 160 Nm
Battery: 48V, 17.5 Ah or 21 Ah
Top speed: 35 mph
The Bakcou Scout is one of the priciest fastest electric bikes out there, costing from $5,599, but offering pretty impressive electronics for the money.
Like the Mule, this bike uses a 1000W hub motor that can achieve max speeds of around 35 mph. In addition, its large battery will return plenty of range when used with the 11-speed SRAM NX gearing.
Its 26″ x 4.0″ Maxxis Minion tires, dual suspension, and comfortable touchpoints ensure the Scout is comfortable even at high speeds. The fat tires also allow you to venture off-road onto dirt tracks when necessary.
Other notable features of this bike include the 4-piston hydraulic disc brakes, a large LCD screen, and even a kickstand for quick stops.
Don't miss out on Bakcou Bikes' fastest fat tire electric bike if you want incredible power without the price tag.
---
9. QuietKat Ranger 1000W — 28 MPH Top Speed
Price: $2,999 – $3,599
Motor: 1000W hub
Battery: 614Wh
Top speed: 28mph
QuietKat's Ranger
is the fastest electric bike for hunting below $4,000, thanks to its 1000W hub motor that guarantees thrill on your rides.
The Ranger can quickly reach its top speed of 28mph with a kick from the powerful motor. However, a relatively small 614Wh battery returns max ranges of just 38 miles, so you'll need to use the highest setting sparingly.
The Ranger has a camo paint finish option and a whisper-quiet motor that improve the chances of a successful hunt. In addition, the frame-integrated rear rack has an impressive carrying capacity of 100lbs, enough to haul fresh game back to camp.
4.5″ Kenda Juggernaut tires, a 100mm travel coil fork, and 203mm-rotor Tektro mechanical disc brakes ensure almost all terrain is within reach of the Ranger.
Add the QuietKat Ranger to your shortlist if you want an affordable electric hunting bike with impressive power.
---
10. Cannondale Topstone Neo 5 — 28 MPH Top Speed
Price: $5,550
Motor: 250W, 85Nm mid-drive
Battery: 500Wh
Top speed: 28 mph
Cannondale's Topstone Neo 5 is a unique full-suspension gravel bike that's fast but eco-friendly.
The Topstone Neo 5 has an aluminum frame and carbon fork that reduces weight and provides front-end responsiveness.
The wheelset consists of WTB ST TCS i23 28 rims wrapped in WTB Exposure 36 tires. These tires and slack gravel geometry provide a confidence-inspiring ride feel, even on light singletrack.
Power comes from Bosch's Performance Line Speed 85Nm motor and 500Wh PowerPack combination, allowing you to reach the 28mph max speed in seconds and travel up to 70 miles on one charge. Finally, you get a Shimano GRX 600 11-speed drivetrain with GRX hydraulic disc brakes that will allow you to go even faster with pedal power.
Choose the Cannondale Topstone Neo 5 if you want one of the most capable and fastest electric bikes for gravel riding.
---
11. Gazelle Ultimate C380 Plus — 28 MPH Top Speed
Price: $5,000
Motor: 250W, 85Nm mid-drive
Battery: 500Wh
Top speed: 28mph
The final inclusion on our list of the fastest electric bikes for adults is Gazelle's premium Ultimate C380+.
This model is the most advanced Gazelle e-bike, with a powerful Bosch Performance Line Speed 85Nm motor that quickly reaches its max speed of 28mph. It pairs with a 500Wh integrated battery to deliver up to 55 miles of range.
This bike's sporty yet comfortable design reflects the general style of the 'Ultimate' Gazelle e-bike family. The C380+ comes with an 80mm travel fork, 1.75″ puncture-resistant Schwalbe tires, and upright geometry for a relaxed and smooth ride feel.
The highlight of this bike is the drivetrain, comprising a Gates Carbon belt drive and Enviolo's 380% Trekking stepless hub. This combination ensures flawless shifting and unbeatable durability, requiring virtually no maintenance.
Finally, the Ultimate C380+ has four-piston Shimano MT420 hydraulic disc brakes, so you can stop safely even when traveling at 28mph.
Overall, this Gazelle bike is one of the best all-around urban models on the market, as well as having an impressive motor.
---
Fastest e-Bikes Buying Guide
If you're on the hunt for a new electric bike that can hit high max speeds, there are plenty of options, such as the ones we reviewed above. However, there are some important things to consider before buying one of the fastest e-bikes on the market. Most importantly, you must ensure it's legal to ride in your state or county.
Classification of E-Bikes — Three-Class System
Electric bikes are subject to restrictions based on their top assisted speed and the power (watts) of the motor.
To be able to ride on the road legally, without the need for a license, electric bikes can have a maximum motor power of 750W (equal to one horsepower) and a top speed of 20mph (Class 2) or 28mph (Class 3).
Depending on where you live, the regulations may restrict Class 3 electric bikes in specific ways, such as requiring minors to wear an electric bike helmet or restricting Class 3 e-bikes from riding on multi-use paths.
The classifications are as follows:
Class 1: Pedal assistance only, 20mph max speed, 750W limit
Class 2: Pedal assistance or throttle modes, 20mph max speed, 750W limit
Class 3: Pedal assistance with 28mph max speed, throttle with 20mph max, 750W limit
Any electric bikes (like those above) that exceed these limits are not legally allowed on the road without licensing and insurance. These are off-road e-bikes, but riding off-road in some public areas is also restricted.
Is a 1000W eBike legal?
In the United States, a 1000W eBike is not legal unless registered as a vehicle and insured appropriately. In addition, electric bikes are limited to 750W and have a max assisted speed of 20mph or 28mph (depending on the state), meaning you can only ride a 1000W eBike off-road.
How fast can a 1000-watt electric bike go?
A 1000-watt electric bike can go roughly up to 35mph. However, there are different types of motors and brands, which all perform differently. For example, mid-drive motors provide much more torque than hub drive motors, meaning a 1000W mid-drive should reach higher speeds than a 1000W hub motor.
How fast can a 3000-watt electric bike go?
A 3000-watt motor can theoretically reach speeds in the range of 50mph. An example of such a bike is the Delfast Top 3.0 electric bike which has a top speed of 50mph. The Top 3.0 is closer to an electric dirt bike than a traditional e-bike.
What brakes should the fastest electric bikes come with?
The fastest electric bikes should come with hydraulic disc brakes at a minimum. Ideally, powerful bikes should also have large brake rotors to increase braking power and heat dissipation. Brakes from recognized manufacturers like Tektro and Shimano are favorable as they are typically more reliable.