Batch Electric Bicycles Review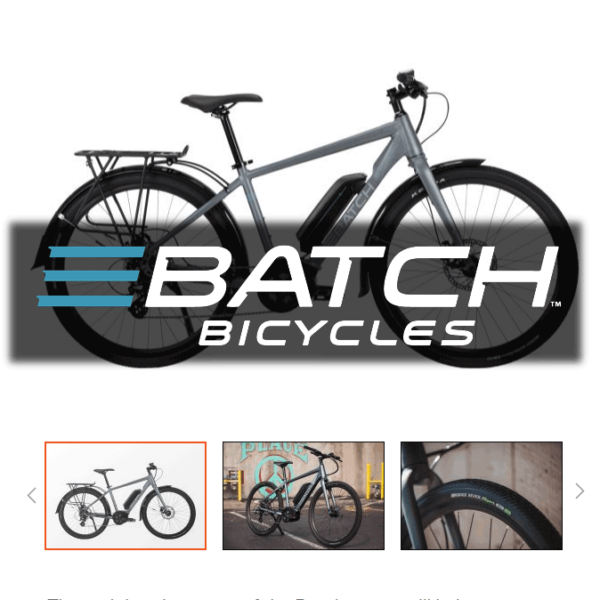 Batch Bicycles is an aspiring US-based brand that produces electric bicycles on par with far more established manufacturers.
At first glance, Batch e-bikes are not flashy or refined, quite the contrary, they appear streamlined and minimalistic. At a closer look, it's easy to see that the components, build quality, performance, ride feel, and price paint a completely different picture.
Our Batch Bicycles review below will answer any questions you have about this brand and their e-bikes. Let's find out if Batch e-bikes deserve a place among the best e-bikes out there.
Brand Overview – Batch Bicycles
---
Batch Bicycles is a growing bicycle brand that partners with your local bike shop to bring you simple-to-use bikes that you don't have to assemble and can ride every day.
These are straightforward bikes intended for beginners, commuters, leisure riders, and even those who haven't been on a bicycle in decades.
Even though their selection is quite limited, Batch makes bicycles in the following categories:
Electric
Cruiser
Mountain
Comfort
Commuter
Fitness
Lifestyle
Kids'
The Electric category that we're going to take a closer look at in this Batch Bicycles review consists of three models at this moment.
Batch makes most of their bikes from aluminum and steel and equips them with quality Shimano components and Bosch electronic parts. Many also feature various accessories that everyday commuters and riders who value comfort will know how to appreciate.
Who Are Batch E-Bikes For?
---
Due to their reasonable price tags, Batch electric bicycles are suitable for much more diverse rider profiles than some more expensive e-bikes. They're perfect for experienced e-riders who want a reliable electric two-wheeler that doesn't break the bank. They're also a great choice for those who want to try an e-bike for the first time.
If you're looking for a fitness bike to ride centuries or push your limits on trails, you should probably start looking elsewhere. These are tame comfort e-bikes built as city bikes and outfitted with kickstands, fenders, and racks. They'll put you in an upright riding position that you can maintain for hours.
To be honest, Batch does not make bicycles that could easily win a beauty pageant; their names are also quite uninspiring. But they get the job done and they come with excellent components that will last for years. So if you're on a tight budget, a Batch bike is definitely worth a thought.
Batch Bicycles Review of Electric Models
---
At the moment, Batch makes three e-bikes that are ideal for commuters and city riders. They do have some off-road capabilities, but that's not really where they excel.
Batch electric bicycles roughly fall inside the $2,000–$2,500 price range, which puts them in the mid-range category. You get really good value for the money reflected in Bosch electric parts, Shimano components, and well-designed aluminum frames. You also get easy assembly and servicing through the local bike shops Batch partners with.
Let's see what these inconspicuous e-bikes are capable of, as well as what you can and can't expect to get from them.
Batch Bicycles 'The E-Bike'
---
An affordable entry ticket into the world of electric bikes
MSRP: $2,100
Motor: Bosch Active Line Gen 3, 250W
Battery: Bosch 400Wh with ABUS lock
Range: 30–80 Miles
Gears: Shimano Altus 8-speed
Batch The E-Bike is a straightforward electric bicycle that prioritizes performance instead of looks. It's far from elegant, but it's pretty capable to take you around town at 20 mph for tens of miles and several hours.
The E-Bike is built around an aluminum frame coupled with a rigid aluminum fork. The frameset carries a mid-drive Bosch Active Line 250W motor and a 400Wh Bosch battery. The battery is pretty prominent and lies on top of the down tube, but comes with an ABUS lock, so it can be removed. It provides you with a range between 30-80 miles, depending on how much effort you put into pedaling.
It's a Class 1 e-bike so it will support you up to 20 mph. It's sufficiently strong in most situations, but don't expect to reach the top speed while pedaling up very steep hills.
This electric deal also includes an 8-speed Shimano Altus rear derailleur which makes pedaling a lot easier than expected, considering that the bike weighs 46.5 lbs.
Instead of 700C wheels that you'll find on most city commuters, this bike rolls on 27.5″ wheels and 1.75″ tires. These are stable and sufficiently wide to offer a good grip on pavement and hard-packed dirt roads.
This e-bike also features Tektro hydraulic disc brakes, fenders, a rear rack, and a kickstand. Unfortunately, it does not include lights, which is something Batch should improve upon in the future.
Consider it if you want a simple and effective ride that comes at a low cost.
Batch Bicycles 'Step-Thru E-Bike'
---
An upright commuter and leisure rider designed for easy accessibility
MSRP: $2,500
Motor: Bosch Active Line Plus, 250W, 40Nm
Battery: Bosch 400Wh with ABUS lock
Range: 30–80 Miles
Gears: Shimano Altus 8-Speed
The Step-Thru E-Bike is a more premium model coming off Batch's production lines. It packs a stronger motor, semi-integrated battery, suspension, and a few other changes and improvements. Luckily, it has good enough components, because its name would not motivate many people to go ahead and buy it.
This e-bike comes with a step-thru aluminum frame that's complemented with an SR Suntour suspension fork for a more comfortable ride. It's powered by a more refined Bosch Active Line Plus mid-drive motor, though the maximum assisted speed is still 20 mph.
The 400Wh Bosch powerpack is the same as on 'The E-Bike' but this time it is semi-integrated into the downtube. It's a pretty smart and neat solution that greatly improves the overall appearance of this bicycle.
The better drive unit will translate into more power when fighting steep climbs or strong headwinds, but the range stays the same as on 'The E-Bike', 30–80 miles.
This bike gets 700C x 50mm tires, which are pretty wide. You can comfortably ride it on paved and unpaved roads if your commutes or leisure riding routes demand it.
It also features Tektro hydraulic disc brakes, fenders, a kickstand, and a rear rack. Lights are not included, which is a bit of a problem at this price point if you want to ride at night.
All in all, Batch 'Step-Thru E-Bike' is a great deal considering what you get, especially if your main motivation is commuting and running errands daily, keeping your car in the garage.
Batch Bicycles 'Step-Thru Plus E-Bike'
---
Powerful Bosch electronics coupled with creative design solutions
MSRP: $2,700
Motor: Bosch Active Line Plus 3.0, 50Nm
Battery: Bosch 400Wh powerpack with ABUS lock
Range: 30–80 miles
Gears: Shimano Alivio 9-speed
The Step-Thru Plus E-Bike is the premium model in Batch's electric selection. It is pretty similar to the model above in terms of appearance and build, but packs a stronger motor and a better Shimano groupset. That's a pretty good deal for an upcharge of just $200.
This bike uses a Bosch Active Line Plus 3.0 mid-drive motor that delivers 50 Nm of torque and assists your pedaling up to 20mph. This is a class 1 e-bike, so there is no throttle, but you'll find it easy to start pedaling thanks to the 9-speed Shimano Alivio drivetrain.
The Bosch 400Wh powerpack is semi-integrated, the same as on the previous model. It's an elegant solution as it blends in with the black color of the frame.
The 'Step-Thru Plus E-Bike' sports Kenda Kwik Journey 700C x 50mm tires, Tektro hydraulic disc brakes, a rear rack, kickstand, and plastic fenders. There are still no lights even at $2,700.
However, a cool feature that all three of Batch e-bikes do have is an adjustable quill stem that lets you change the height of the handlebar to improve posture and comfort.
If you live in a hilly area or you want a more snappy riding feel, it's worth paying the $200 extra to get the Batch Step-Thru Plus E-Bike.
Batch E-Bikes—Function Over Form at an Affordable Price
---
Batch makes e-bikes that keep things simple and actionable. However, in the effort to streamline things as much as possible and keep the price down, a few commodities had to be sacrificed. If you're fine with that and you have reasonable expectations from a ~2,500 electric bike, then Batch is going to make you happy.
These bikes put function over form. They're not the prettiest out there, but they are more than sufficiently capable of being exploited for everyday commutes or enjoyed on occasional hedonistic rides.
'The E-Bike' is available in three sizes (15″, 17.5″, 20″), whereas the Step-Thru models come in two sizes (18″ and 20″). The former fits riders between 4'11" and 6'3″, whereas the latter fit 5'1″ to 6'2″ riders.
Batch e-bikes come with all the features and accessories you need to ride worry-free every day, except for the lights. You get fenders, a kickstand, and a rear rack as standard equipment, which is a plus. You can attach panniers and ride a bike to the grocery store instead of going in your car.
As we've already stated, at $2,100 to $2,700, Batch e-bikes provide really good value for money. Though they're not perfect, we'd say the riding experience is pretty comparable to more expensive e-bikes from much bigger brands.
Plus, the fact that Batch sells their bikes through local bike shops throughout the USA is an important selling point. It supports LBS while improving and simplifying the customer experience at the same time.
People Also Ask
---
Yes, Batch bicycles are a good choice. Even though these are inexpensive bikes by the industry's standards, they feature Bosch electronics and Shimano components, which is the best choice you can have. These bikes are no different to similar yet more expensive models, bar for a few accessories, and design shortcuts. Batch makes bikes that last but don't empty your wallet.
Where are Batch bicycles made?
Batch bicycles are manufactured in Asia to cut down on costs. They are then shipped to independent bike shops throughout the United States to be sold directly to customers.
Are Batch electric bikes worth it?
Once you take a closer look at the price and the components, it's easy to conclude that Batch electric bikes are worth the money. They are built around quality aluminum frames with parts from reputable brands such as Bosch, Shimano, Kenda, SR Suntour, FSA, Tektro, and others. Plus, Batch bikes are sold in local bike shops. That means that the assembly and servicing process is made as easy as possible for novice riders.
Is Batch a good bike brand?
Yes, Batch is a good bike brand which is confirmed by numerous positive online reviews from people who buy and ride their bikes. Their bikes are built to last, with quality parts and components from well-known brands. Batch bicycles have an excellent value for the money. You'll get all the features you need at very reasonable prices.
What is the best Batch Bicycles e-commuter bike?
The best Batch Bicycles e-commuter bike is definitely the 'Step-Thru Plus E-Bike'. It is the most expensive of the three e-bikes that are available at the moment. Still, it offers really good value for the money. The Bosch Active Line Plus motor has ample power for everyday use and all the other quality components and features ensure an enjoyable ride for most average cyclists out there.
---