Overview of Co-op Cycles Electric Bikes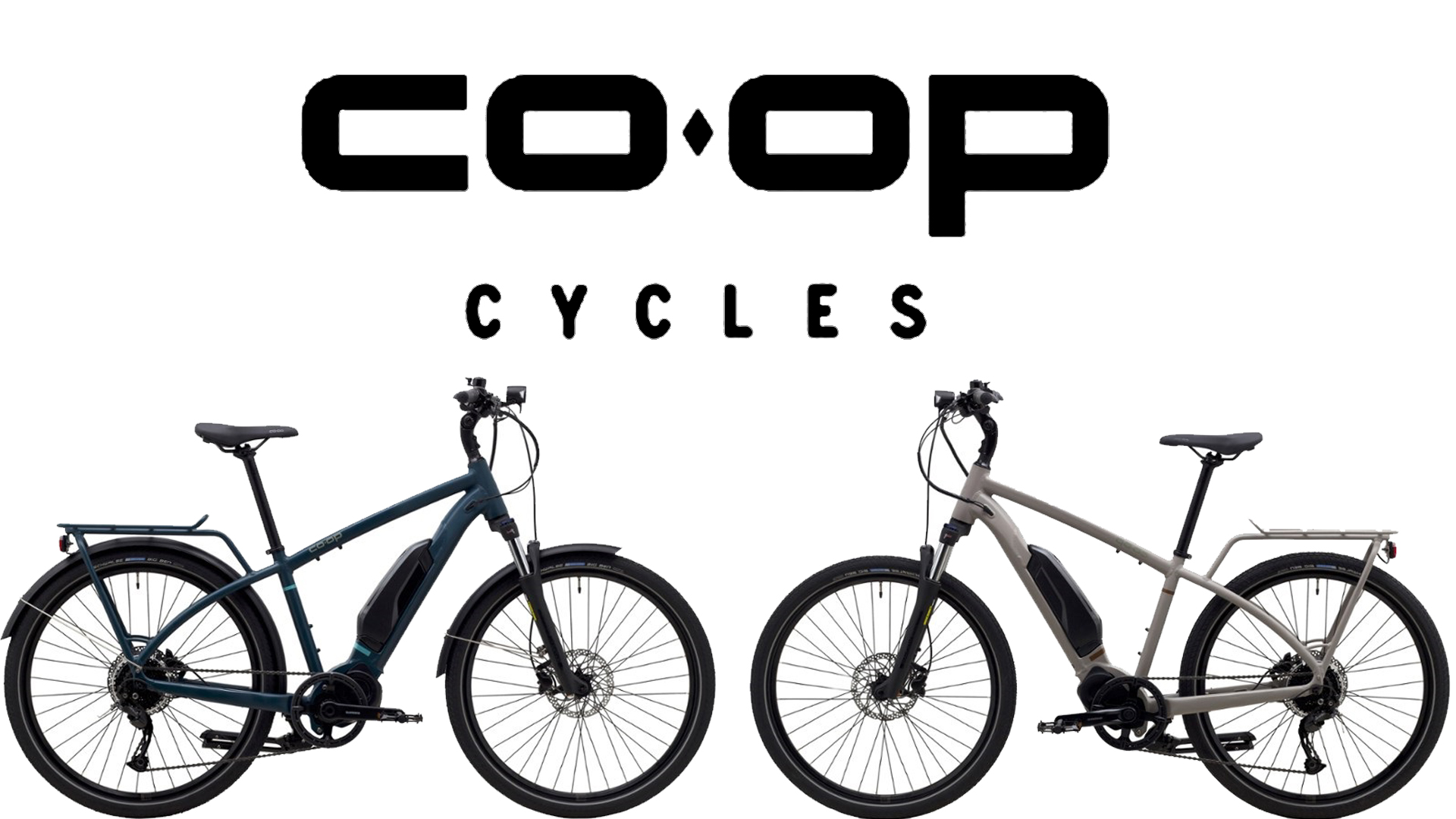 Co-op Cycles is a brand that indulges people from all walks of life to enjoy life outdoors. And that's exactly what their bikes embody. Stability in multiple settings is a highlight feature of the bicycles made by Co-op Cycles—an ideal companion wherever you go. 
Recreational Equipment Inc., or REI for short, is a business based in Kent, Washington, selling different brands of sporting goods, camping gear, clothing, and travel equipment. They also offer adventure-oriented vacations, courses, and services, and even make their own gear and apparel through REI Co-op and Co-op Cycles.
REI's origin story is just as alluring, if not inspiring, as every great company out there. It started in 1938 when 23 people got tired of spending a large amount of money to enjoy life outdoors. With that, they decided to establish a co-op securing quality equipment for outdoor enthusiasts. And at what cost? Only a dollar each. 
They started with an ice ax and 23 people. Today, the cooperative has grown to 20 million lifetime members, with nearly 15,000 employees and 168 locations in 39 states and the District of Columbia. That's what I call dedication.
---
Save Up to $900 on Generation E-Bikes Until 8/7 2023
REI's Big Summer Sale starts this Friday 7/28 and lasts all through 8/7 2023, allowing you to save up to $900 on Co-op Cycles Generation e1.1 and e1.2 models. If you're interested in these unique ebikes, now is the best time to get them! Shop on the link below:
Save $900 on Generation E-Bikes
…or check out other numerous cycling deals on REI.com and save up to 30% on the link below!
---
Overview of Co-op Cycles Electric Bikes
---
Co-op Cycles believes that life lived outdoors is a life well-lived. But their concept of the outside isn't limited to untamed spaces.
It's about being in the presence of majestic trees, gushing rivers, and breathtaking mountains, but also about taking your dog for a walk and even commuting to work. 
REI, Co-op Cycles' parent company, had previously launched a line of bicycles called Novara. Unfortunately, they needed to put it down in 2017 simply because it wasn't selling like hotcakes. Given its unclear association with REI, many considered it as an entry-level brand which hindered its sales.
Out with Novara, the company revealed its new in-house cycling brand called Co-op Cycles. REI made the move in response to its member-consumers' needs and sought to show that it is fully responsible for the brand. 
The move worked, so now, Co-op Cycles has 48 products that range from mountain bikes, city bikes, road bikes, and kids bikes in addition to their relatively strong following. Their electric bike line, which is their newest addition, was unveiled to the public in September 2020.
What We Like About Co-op Cycles Electric Bikes
---
Co-op Cycles continues to deliver what its parent company has promised, which is providing affordable but good quality bikes to every individual. They even took it a step higher by adding the element of versatility to their bikes.
Even then, being affordable and versatile still wouldn't sweeten everybody's cup of coffee. Here is a list of the good and bad qualities of Co-op Cycles. 
Reasons to buy:
Co-op Cycles bring

premium quality components

without needing to bust your bank account. 

Its e-bikes also sport

mid-drive motors

that give it

stunning stability

during rides.

Co-op Cycles gives its customers the

option to choose from three sizes

, which includes a step-through variant. 

Its

rigid aluminum frame and large wheels

make the bikes suitable in urban and off-road settings. 
Reasons to avoid:
As of the moment, Co-op Cycles

only has two e-bike models available for purchase

.

While it can be used off-road, Co-op Cycles' e-bikes are mainly urban bikes. They have yet to design an e-bike meant for trailing. 
Popular Co-op Cycles E-Bike Models
---
While Co-op Cycles devotes itself to making bikes for adventurers, they currently only have two e-bike variants under their belt. The company is fairly new to the e-bike scene, but their track record has shown that they will not lag behind their competitors. Having said that, here are five of their best bikes.
Co-op Cycles CTY e1.1
---
MSRP: $1,599 
The Co-op Cycles CTY e1.1 is an urban electric bike with a simple design, solid components, and an affordable price tag.
This Co-op Cycles bike is perfect for fast trips across town to run errands or comfortable leisure rides. It has relaxed hybrid geometry with an adjustable stem that allows you to fine-tune your ride position. In addition, the touchpoints are optimized for comfort.
Modest electronics provide enough kick for whatever you encounter in the city but will struggle on steep inclines. These include a 250W, 45Nm Bafang hub motor and a 450Wh battery that provides up to 40 miles of range.
Tektro hydraulic disc brakes are an excellent inclusion for an eBike in this price range, and the Schwalbe 1.95″ Big Ben tires with puncture protection take the hassle out of urban riding. Finally, the Shimano Altus 7-speed has plenty of gearing for an urban bike.
Consider the CTY e1.1 if you need a no-frills e-bike for short to moderate-duration rides around the city.
Co-op Cycles CTY e2.1
---
MSRP: $1,799
Co-op Cycles' CTY 2.1 costs just $200 more than the CTY e1.1 but has several extra features that appeal to the commuter or performance-minded rider.
Firstly, this model gets a significant upgrade to a mid-drive motor. The Shimano STEPS E5000 is a lightweight yet punchy 40Nm motor that provides much more ability on hills, even with a loaded rack.
A smaller 418Wh battery supports this motor, but the system's efficiency increases the max range by 25% to 50 miles. Support the motor with a 9-speed Shimano Alivio drivetrain with RapidFire trigger shifters.
The CTY e2.1 also changes from a rigid fork to a 75mm travel Suntour MOBIE-A32, improving comfort but adding a little extra weight. Additionally, this model gets a 59lb-capacity integrated rear rack, LED lights, and improved Shimano Altus hydraulic disc brakes.
Choose the Co-op Cycles CTY e2.1 if you want one of the best value urban e-bikes in the sub-$2,000 range.
Co-op Cycles CTY e2.2
---
MSRP: $2,699
The Co-op Cycles e2.2 takes a $900 jump up from the more affordable CTY 2.1. The major differences between this and the cheaper model are the improved electronics and the addition of fenders.
Shimano's E6100 drive system provides 60Nm of torque for more capability on steep gradients and a shorter time to reach the max speed of 20mph. In addition, a larger 504Wh battery returns similar ranges of up to 50 miles. This battery also has an integrated ABUS lock for better security.
The Co-op Cycles CTY e2.2 is fully equipped for commuter or urban riding, with fenders, a rear rack, LED lights, and a kickstand. The same Schwalbe Big Ben 1.95″ tires seen across the series provide plenty of grip on wet city roads or light gravel trails.
Overall, the extra $900 is a lot for the minimal amount of upgrades this bike has, but if you value the improved electronics, add the CTY e2.2 to your shortlist.
Co-op Cycles Generation e1.1
---
MSRP: $1,499 
Co-op Cycles' most recent electric bike series, the Generation e1.1 and e1.2 are two utility models with unique designs but plenty of functionality and reasonable prices.
The Generation e1.1 is the cheapest Co-op Cycles e-bike and comes with a Bafang rear hub motor like the CTY e1.1. This motor has 350W of power and 80Nm of torque and pairs with a 418Wh battery for 30 to 40 miles of range.
The Generation e1.1 has an integrated rear rack, LED lights, a kickstand, 20×2.4″ tires, and a low-step frame that makes riding with cargo easy and convenient.
An upright ride position, adjustable stem, high-volume tires, 70mm fork suspension, and soft touchpoints make this bike a joy to ride.
Impressively, Co-op Cycles managed to include Tektro hydraulic disc brakes and reliable Shimano Altus 7-speed gearing while keeping the price low.
All things considered, this is a solid utility bike with plenty to offer for the busy urban rider who regularly carries cargo.
Buy Co-op Cycles Generation e1.1
Co-op Cycles Generation e1.2
---
MSRP: $1,899 
The Co-op Cycles Generation e1.2 is mostly the same as the cheaper model but with a few notable changes that justify an extra $400.
Most notably, the e1.2 has a larger 672Wh battery that increases the range by roughly 25 to 33% (40-50 miles). This battery pairs with the same 350W, 80Nm motor.
Another key addition was a removable front rack which expands your carrying capacity and distributes your cargo for a more balanced ride.
To help save weight and keep the front end steady for the rack, Co-op Cycles removed the fork suspension for a rigid aluminum one. The only other notable difference is the choice of color finishes.
Add the Generation e1.2 to your shortlist if you want an affordable utility bike with lots of carrying capacity and range.
Buy Co-op Cycles Generation e1.2
Co-op Cycles E-Bike Classes, Motors, and Batteries
---
It should be noted that REI Co-op's e-bikes are hindered by the fact that they're in the Class 1 category. The motors will give you a push until you reach 20 mph only. 
In terms of range, Co-op's e-bikes are nothing to sneeze at as they have a 50-mile range for only a single charge.
Once the bike exceeds that speed, the motor will deactivate, and you will have to proceed with your manual labor. But you don't necessarily need to have Hulk's leg power, as their bikes are very easy to pedal thanks to their Shimano drivetrain. 
Stability and Reliability
---
What makes Co-op's e-bikes so interesting is that they provide a wonderfully stable commuting platform for concrete roads. One aspect that contributes to this is that their wide wheels come with multi-surface treads that allow you to cruise dry concrete while retaining traction when it rains. 
Another superb feature of the e-bikes is that they come with Suntour suspension that has 75 mm of fork travel. This makes it terrific for smoothening out the ride when passing over speed bumps, potholes, and other irregularities you'll encounter in the road. 
There's no question that Co-op Cycles also offers some of the more reliable bikes in the market today. What makes it even more appealing is that they managed to squeeze in premium components while keeping the cost down. 
True to its pro-people stance, Co-op Cycles also ensures that their patrons get the most out of their bikes by allowing them to be at the center of the production and selling process. This results in stricter quality control and undercutting the prices of the competition.
You Might Also Ask
---
If you're looking for additional information, we have prepared this list to answer any of your potential questions about Co-op Cycles. 
Where is Co-op Cycles based? 
Co-op Cycles is based in Kent, Washington, where their parent company REI Co-op is headquartered. 
How can I buy Co-op Cycles e-bikes? 
You may choose to have your Co-op Cycles e-bike delivered to your home, or you may purchase it directly from their store closest to you. 
How can I avail the Co-op Cycles discount?
REI members get back a fixed amount on certain Co-op Cycles items as part of their member dividend. You can learn more about the membership benefits from their website. 
How many modes does the Co-op Cycles e-bike pedal assist have?
Co-op Cycles' e-bike has four modes of pedal assist—off, low, medium, and high.
Are Co-op Cycles e-bike waterproof? 
No, Co-op Cycles' e-bikes are not necessarily waterproof, but their LCD display and other components can resist rain and water splashes. However, to be on the safe side, avoid submerging or exposing your battery in water for long periods.
Bottom Line—Who Are Co-op Cycles E-Bikes For?
---
Co-op Cycles specifically targets a demographic composed of anybody who wants to get their first e-bike on a low budget. While the e-bikes can be used for mountain trails, they are still built with urban riding in mind. 
If you are looking for an affordable yet durable e-bike with plenty of premium hardware, then Co-op Cycles' e-bikes will not disappoint you. They are perfect for your daily commute while giving you the option to go on a mountain trail during weekends. 
What's more? If you find something wrong with your bike, you'll have free adjustments for one whole year starting the purchase date!
---