Overview of Ride1UP Electric Bikes
Ride1UP is a company that believes more in the efficiency and lifestyle of an e-bike commuter than the profits of the business. As a result, the company brings affordable yet premium quality e-bikes to the masses, perfect for going to work and back.
The company is based in San Diego, California, which is a common location for e-bike manufacturers. Ride1UP currently has seven e-bikes in its portfolio.
Founded by Kevin Dugger, Ride1UPs origin story hits as close to home as it gets. Kevin grew up in Northern California, with cycling as his primary mode of transportation. When he was in college, he worked part-time on his own as a bicycle mechanic. As far as company founder origin stories go, you couldn't write a better bicycle story than this.
Although Ride1UP was only recently launched in 2018, it has since consistently performed well in the market due to its affordable prices and dedication to making quality e-bikes.
Overview of Ride1UP Electric Bikes
Being in the game for only three years, Ride1UP has made a name for itself for multiple reasons. First off, it's an incredibly efficient business. Ride1UP is primarily an online company. This helps them save on costs, making the overall price of their e-bikes cheaper than the competition.
The business model of the company is clear-cut: to replace car commutes with cost-effective electric bikes.
The company philosophy is clear and easy to resonate with if you're passionate about reducing pollution and having a better commuting experience.
Ride1UP offers a wide variety of e-bikes that their customers can choose from. Personally, the best part of their design is the minimalist yet refined quality of their e-bikes.
The company doesn't take itself too seriously, and designs e-bikes that look more like traditional bicycles than the semi-motorcycle aesthetic that other companies offer. We're looking at you Juiced.
What We Like and Dislike About Ride1UP Electric Bikes
While Ride1UP checks out on a lot of things, there's always the other side to every coin. In this section, we'll be flipping that coin and viewing it on both sides. Here are the good and the bad parts of Ride1UP bikes.
Likes:
Ride1UP e-bikes are incredibly affordable, especially in contrast to most competitors that range between $2,000 to $7,000 in price.
These e-bikes are visually pleasing and minimal, which caters very much so to the traditional look and design of bicycles. This gives riders that casual aesthetic of a regular bicycle yet with the power of a Class 3 e-bike.
Although these e-bikes fit within most budgets, Ride1UP did not sacrifice quality for affordability. These bikes are strong, equipped with powerful motors and long-lasting batteries.
Next, there's a wide variety of options for every type of rider, from city commuters, mountain trail riders, and road cyclists.
The bicycle design, following traditional bicycles, keeps these e-bikes lightweight. This is an especially underrated feature that's overlooked, only coming to mind when you're parking or pedaling an e-bike without any battery left.
Additionally, Ride1UP has a free shipping policy for all customers within the US and a 30-day free return policy if you don't like the bike.
Almost every review from blogs, forums, and threads always has something good to say about the customer support team.
Points to Consider:
Some models only use mechanical brakes, which is more than enough for some but doesn't provide the same safety as a hydraulic brake.
The Roadster v2 and LMT'D don't come with a built-in headlight.
Some models don't have a USB charger for your phone.
Ride1UP E-Bike Models
Currently, Ride1UP offers seven e-bikes in its portfolio. There are e-bikes at various price points, mainly targeting entry-level prices. All of the bikes, except the Roadster v2, are available in step-through (ST) and step-over (XR) frames.
You can expect an investment between $1,095 to $2,295 for a Ride1UP e-bike. Here are the seven e-bikes on Ride1UP's current portfolio. The definition of value for money.
Ride1UP Rift
---
MSRP: $1,895
Ride1UP has recently introduced the Rift, a competitively priced fat-tire e-bike designed for comfort and versatility.
This electric bike can serve as a comfortable urban companion or backcountry adventure machine, depending on what you need.
Key specs include a 750 W hub motor with 95 Nm of torque, a 960 Wh battery, and a range of 45-60 miles.
The Rift is also equipped with a 120 mm travel fork, hydraulic lockout, and 4″ Kenda Krusade tires, making it suitable for various terrains. Despite its heavy 84.5 lb weight, it is maneuverable and perfect for navigating city roads and bike paths.
Four-piston hydraulic disc brakes are a nice touch for a sub-$2,000 electric bike, while the 8-speed Altus rear derailleur is not impressive but definitely good enough.
Available in XR and ST frames, the Rift is a powerful, versatile choice for e-bike enthusiasts.
Buy Ride1UP Rift     Ride1UP Rift Full Review
Ride1UP Revv 1
---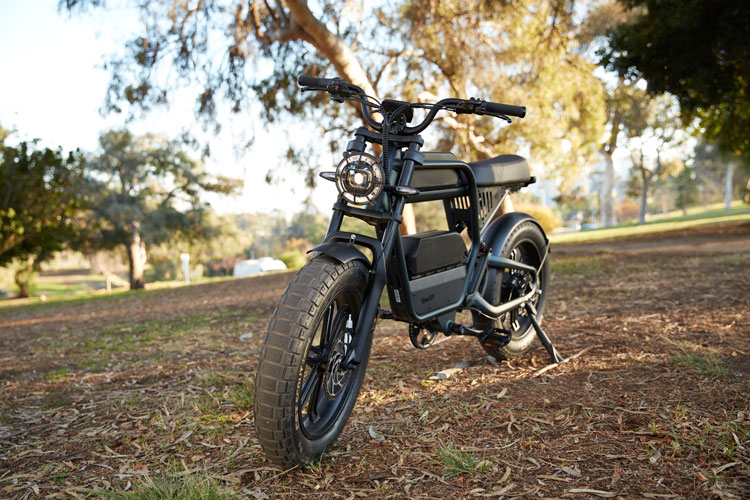 MSRP: $1,895 (HT) or $2,395 (FS)
Ride1UP has proven time and again that it's not afraid of venturing into unexplored territories. This time, they've done it with a moped-style e-bike called Revv 1, which is a direct competitor to the well-known Super73-ZX.
The Revv 1's pricing starts at $1,895 for the hardtail version and tops at $2,395 for the full-suspension version. That's significantly lower than the competition, which is quite surprising.
This moto-style ebike boasts an impressive 750W sustained (1456W peak) rear hub motor that delivers 90 Nm, so it doesn't lack in torque. Though the HT model has a 1300W peak power. Revv 1 ships as a class 2 ebike (20 mph top speed) but you can unlock the "off-road mode" with speeds of over 28 mph by contacting the support.
The battery is mounted on the top tube and offers 1040 Wh (52V 20 Ah) on the full-suspension model and 780 Wh (52V 15Ah) on the hardtail. The 52V spec tells you that Revv 1 will have no problems pulling all 400 lb of its weight capacity once you twist the throttle or push the pedals.
Revv 1 is pretty low maintenance as well, thanks to its hydraulic disc brakes, spokeless wheels, and single-speed drivetrain. Other notable features include a double crown fork and front and rear turn lights on the full-suspension model, as well as fenders and front and rear lights on both models.
If you're looking for a stylish modern commuter that has plenty of oomph and looks amazing, Ride1UP Revv 1 is available on pre-order and ships in April 2023.
Buy Ride1UP Revv 1    Full Revv 1 Review
Ride1UP Turris
---
MSRP: $1,295
Ride1UP Turris is a powerful adventure-touring style ebike with a dynamic geared rear hub motor and a 7-speed Shimano drivetrain. Ride1UP designed it as a daily commuter equipped for any type of weather, as well as a touring electric bike for longer adventures.
The Turris is built around a heavy-duty aluminum frame available in step-over and step-through variations and paired with a plush 100 mm front suspension fork. Combined with 27.5″ x 2.4″ all-terrain tires, you can comfortably ride on paved city streets, gravel roads, and even light off-road trails.
Other positive aspects of the new Turris e-bike include hydraulic disc brakes, a bright front headlight, front and rear fenders, and bottle cage bosses. You can also equip it with a rear rack if you wish to carry cargo with you.
This bike should prove to be very comfortable, considering it comes with a wide saddle and raised handlebars, which easily eliminate most road chatter and vibrations.
Get it if you're looking for a daily commuter or a reliable touring ebike.
Buy Ride1UP Turris    Full Ride1UP Turris Review
Ride1UP Roadster v2
---
MSRP: $1,095
The Ride1UP Roadster v2 is the second generation of this model. It's a sleek single-speed option designed for zipping around the city.
A lightweight and low-maintenance set of components give this bike its appeal. It weighs just 33lbs, less than many standard bikes, and doesn't even look like an electric bike at first glance.
The highlights of the Roadster v2 eBike include the long-lasting belt drive drivetrain, smartly integrated electronics including a 350W motor, and a 250Wh battery that lasts between 20 and 30 miles.
Fast Kenda Kwest 28mm tires and upright, agile geometry allow you to maneuver city streets quickly and easily.
The Ride1Up Roadster is also available in a gravel model with 40mm tires, a Gates Carbon belt drive, and Tektro mechanical disc brakes instead of rim brakes.
Choose the Roadster v2 if you want a stylish e-bike for easy and convenient city rides.
Buy Ride1UP Roadster v2     Full Roadster v2 Review
Ride1UP 700 Series
---
MSRP: $1,695
Commuter e-bikes don't get much better than the Ride1UP 700-series, spec'd with everything you need to make life easy in the city.
The 700 Series gets a higher-end Bafang 750W, 60Nm motor with a larger 720Wh battery that returns 30 to 50 miles of range.
Other notable upgrades to the 700 Series include the 180mm-rotor Tektro hydraulic disc brakes, 2.4″ WTB Groov-E tires, a Spanninga Luceo taillight, a color display, and improved hydraulic lockout Mozo suspension.
The Ride1UP 700 Series comes in a step-over and step-through frame like the rest of the models. However, the step-through version has a set of cruiser-style handlebars that create a more upright and relaxed position than the flat handlebars on the step-over frame.
Consider the 700 Series if you want a fully-equipped city commuter built to last.
Buy Ride1UP 700 Series     Ride1UP 700 Series Full Review
Ride1UP Cafe Cruiser
---
MSRP: $1,595
The Ride1UP Cafe Cruiser is a blend of comfort cruiser and utility electric bike in one sleek package. Each component on the Cafe Cruiser optimizes for functionality or comfort.
Ride1UP chose 26×3″ Chaoyang SandStorm tires, an 80mm travel Mozo fork, mustache handlebars, and a plush comfort cruiser saddle with suspension. These features combine for an exceptionally smooth ride quality but make the Cafe Cruiser the heaviest bike on the lineup, unfortunately.
The Cafe Cruiser has a frame-integrated rear rack with an enormous 130lb capacity, a 350lb payload capacity, a heavy-duty adjustable kickstand, alloy fenders, and LED lights. This setup is similar to that of a cargo e-bike.
Power comes from the same 750W Bafang motor and 720Wh battery as the 700 Series, with a range of 30 to 50 miles. Likewise, the groupset consists of a Shimano Acera 8-speed drivetrain and Tektro hydraulic disc brakes.
All things considered, this is one of the most versatile urban bikes you'll find, an excellent choice for riders who value comfort and utility.
Buy Ride1UP Cafe Cruiser     Ride1UP Cafe Cruiser Full Review
Ride1UP LMT'D
---
MSRP: $1,895
The new generation Ride1UP LMT'D is an attractive electric bike with more power and an improved ride quality.
A notable feature of this bike compared to the cheaper Ride1UP e-bikes is the torque sensor. These sensors allow the motor to deliver a much smoother and natural-feeling power transfer compared to cadence sensors.
The motor on the LMT'D is also more powerful, featuring 100Nm of torque for faster acceleration and improved ability on steep hills. However, Ride1UP chose a smaller 672Wh battery range to save weight. This battery has the same 30 to 50-mile range.
Other notable components include the 180mm-rotor Tektro hydraulic disc brakes, 8-speed Shimano drivetrain, WTB Groov-e 2.4″ tires, and an 80mm travel air suspension fork. Impressively, Ride1UP kept the weight of this bike down to 50lbs.
If you want to turn your LMT'D into a commuter, add a front or rear rack, fenders, and a range of other accessories from the online store.
Add the Ride1UP LMT'D to your shortlist if you want a powerful urban e-bike with mixed-terrain capabilities.
Buy Ride1UP LMT'D     Full LMT'D Review
Ride1UP Prodigy v2
---
MSRP: $2,395 – $2,695
Ride1UP's premium electric bike, the Prodigy v2, is a model with the builds and two distinct designs.
You have the standard 9-speed model with external microSHIFT drivetrain. The other is a Gates Carbon belt-drive e-bike with a stepless-shifting enviolo hub. Both types are available in step-through or step-over.
Both are cross-country hardtail mountain bikes with commuter capabilities. They come with a premium Brose TF Sprinter mid-drive motor with 90Nm torque, a 504Wh battery, and up to 50 miles of range.
In addition, they each have Tektro four-piston 180mm hydraulic disc brakes and 100mm front suspension. This suspension and Maxxis Rekon Race 2.25″ cross-country tires ensure you can carve up XC-style trails on the weekend and enjoy comfortable commuting on the weekdays.
Don't miss out on the Prodigy v2 if you've got a higher budget and want a premium mid-drive electric bike from Ride1UP.
Buy Ride1UP Prodigy v2    Full Prodigy Review
Ride1UP Portola
---
MSRP: $995 to $1,095
Ride1UP's newest addition to the lineup is a compact folding commuter with an integrated rack, wide 3″ tires, and a suspension fork.
This model is only available in a step-through frame, which folds down in seconds for storage or transportation. Unfortunately, the 60lb weight means it's not easy to lift or carry.
The Portola's knobbly high-volume tires, suspension, and low center of gravity mean it's comfortable and stable on varied terrain. This stability is ideal when maximizing the 130lb rear rack capacity. You can purchase a passenger kit or Thule Yepp Maxi kids seat for taking passengers alone.
The one disappointment about this bike is the meager max range, which is 40 or 45 miles, depending on the battery you choose. Thankfully, the 750W motor provides plenty of power for reaching Class 3 speeds.
The Ride1UP Portola folding e-bike is ideal for those with a small budget who want a practical and reliable companion for commuting or storing in a small space at home.
Buy Ride1UP Portola    Full Portola Review
---
Ride1UP E-Bike Classes, Motors, and Batteries
Ride1UP focuses on efficient bikes that get riders from point A to B in the most cost-efficient way.
The company philosophy is simple, and it works. Not only are the e-bikes efficient, but everything about the company is quick and seamless. Customer service has been regarded as A+ throughout multiple reviews. Ordering an e-bike is quick, the 30-day return process is easy to process, and the manufacturing is all self-funded.
Ride1UP offers all these great principles behind a production line that lives up to the same standards as the best Class 3 e-bikes.
Good Customer Service and Affordable Prices
We've read through dozens of online blog reviews and hundreds of customer-submitted reviews in Reddit, Amazon, Quora, and so on. Almost everyone has something good to say about their customer experience.
If we had to choose a unique feature that Ride1UP excels at, it's pricing their e-bikes and keeping their customers happy.
Have a broken part in the shipping? Get a replacement within the week after contacting customer service. Have a question about adding aftermarket accessories? Customer service has got your back. This among many other effective and punctual responses from Ride1UPs customer service, has kept customers loyal to their product and company.
All in all, it's a refreshing experience for beginner and veteran e-bike riders to find a company that cares more about the experience than the profit.
You Might Also Ask
On the off chance that you have unanswered questions, here's a quick overview of the most frequently asked questions about Ride1UP.
Where are Ride1UP bikes made? 
Ride1UP e-bikes are designed in San Diego, California, where the company is stationed. However, the assembly line does happen in China. As for the sourcing of all the components, this is backed by a global supply chain sourced from multiple countries.
What types of e-bikes does Ride1UP make?
Ride1UP offers three types of e-bikes: mountain, road, and city. Ride1UP offers pretty much all three types of e-bikes, all of which are Class 3. Specifically, Ride1UP offers 3 city bikes, 1 road bike, and 1 mountain bike.
How much weight can Ride1UP bikes carry?
All five of Ride1UP's e-bikes can carry up to 275 lbs of weight. This doesn't exclude the passenger, so don't expect your 500 or 700 Series to carry two people at once without buckling in pain.
How fast do Ride1UP e-bikes go?
All of Ride1UP's e-bikes are Class 3, meaning they accelerate up to 28 mph. However, the Roadster v2 is limited to 24mph, making it the slowest but cheapest among the group.
Are Ride1UP bikes worth the money?
Absolutely. Ride1UP bikes are arguably the most worth-it e-bike when looking for an e-bike with the specifications they offer. Ride1UP's product line is affordable, and the quality lacks nothing but even more praise.
Bottom Point — Who Are Ride1UP E-Bikes For?
Ride1UP has a target demographic of absolutely everybody who wants to get a beginner e-bike that's affordable yet powerful. The company's product line offers e-bikes that are built for mountain trails, city streets, and road pathways.
If you're looking for an e-bike that's entry-level priced but jacked with premium hardware components, Ride1UP is something you can stand behind. Lastly, we've said this multiple times already, but their customer service is excellent. If you don't like the e-bike, you can return it with no questions asked within 30 days of owning the bike!
---