Review of Santa Cruz Electric Bikes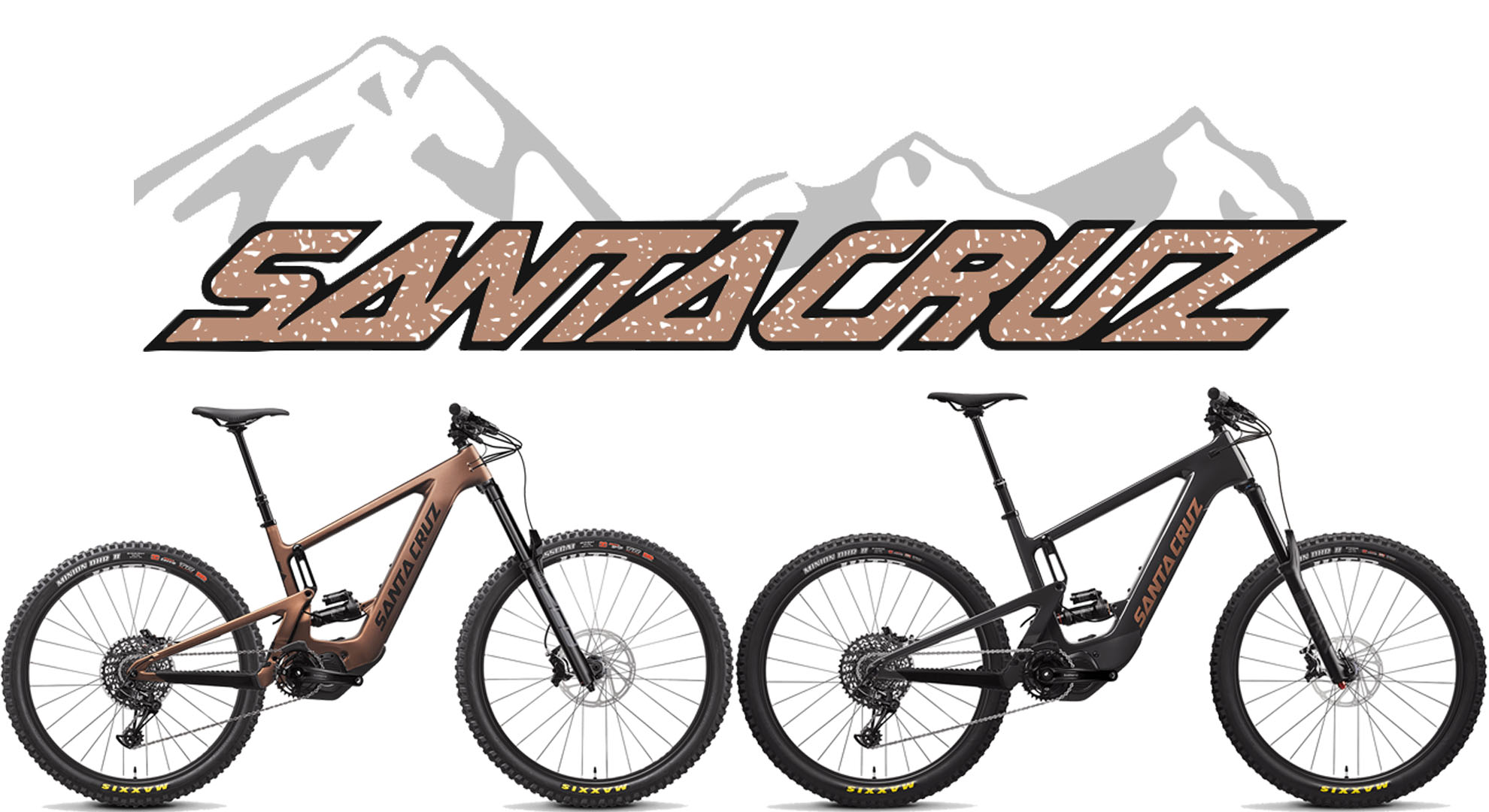 Santa Cruz continues to push forward with innovative and pioneering designs. The company's history of producing bikes that carry their customers to the moon and back is as strong as ever. Electrifying.
Santa Cruz Bicycles was founded back in 1994 by Rob Roskopp, Mike Marquez, and Rich Novak. The first bike they ever made was called the Tazmon and was the first bike ever to enter the market with a full suspension.
The company grew from operating in a space the size of a single garage to being one of the world's biggest bike companies in the span of a decade. Santa Cruz Bicycles widely excels in the field of mountain biking, especially in Downhill and Enduro racing.
Currently, the company only has three e-mountain bikes in their portfolio. But given their track record of continually innovating, it is safe to say that there's more on its way.
Santa Cruz Electric Bikes For Sale
Online
Overview of Santa Cruz Electric Bikes
---
Santa Cruz's reputation of being highly innovative started in the 1990s. To illustrate, the company created a full suspension bike back when hardtails were the more popular choice. The result was the Tazmon, a single-pivot dual suspension bike.
The company's principle can be summarized in one sentence.
Building mountain bikes that are simply too advanced for the competition.
True to their words, they released the Chameleon that went on to define hardtails for two decades. In addition, Santa Cruz's VPP (Virtual Pivot Point) suspension technology was simply unmatched for a decade before competitors started to catch up.
Another area where Santa Cruz excels is the enduring quality of their bikes. With almost 30 years of experience and thousands of hours in research and development, Santa Cruz makes sure that each of its customers receives a top-performing bike.
What We Like
---
It's no surprise that Santa Cruz quickly rose to the top despite being a relatively new player in the electric-bike game. Santa Cruz has a history of success and innovation, a reputation for being the first to try bold changes to their bicycles.
There's a lot to like about Santa Cruz, but no one is perfect. Listed out below are some of the best and worst parts of the Santa Cruz brand.
Likes:
The company retains its boutique aesthetic and vibe despite growing into a major bike company.
Santa Cruz offers a lifetime warranty not just on their frames but also on their pivot bearings as well. This is something that other bike companies do not offer.
Santa Cruz employs a high-end suspension system on its mountain bikes. Just take a look at their VPP Suspension system.
Santa Cruz bikes are created with high-quality materials to get through all the trail challenges without as much as a scratch.
Points to Consider:
Santa Cruz bikes are costly, but that does come with a lifetime warranty.
Santa Cruz primarily focuses on mountain bikes, hence the variation of bikes to choose from is far limited.
The e-bikes are limited to just Type 1 models, but that's generally standard practice for e-MTBs.
Popular Santa Cruz E-Bike Models
---
Santa Cruz has a whole lot to offer the sport of mountain biking. Currently, they only have three variants of e-bikes in their portfolio. Considering that their first entry, the Heckler, only came out in early 2020, we're confident that they'll be ramping up on e-bike production soon.
Santa Cruz E-Bike Classes, Motors, and Batteries
---
At the moment, Santa Cruz bikes are mostly composed of conventional mountain bikes, 16 of them in all. The exceptions are the Stigmata, which is a Gravel bike, and three e-mountain bike variants.
Santa Cruz made sure to integrate their original VPP suspension design in their e-bikes, which ensures an efficient and comfortable downhill ride even with the most rugged terrain. It is also fine-tuned to a lower anti-squat configuration to allow for continuous pedaling while seated when you'd normally assume a standing position.
The esteemed bike company also made sure to utilize carbon CC frames to its e-bikes for a more durable bike. Carbon CC is rigid and light, thus making the ride up and down the trail as effortless as possible.
Santa Cruz utilizes Shimano's STEPS components. This means that you will have no trouble with all your crucial electrical components such as the battery, power button, controllers, and charge port as it is up to a world-class standard.
High-Quality Craftsmanship and Warranty
---
Santa Cruz's mantra has always been to simply build bikes that are too advanced for the competitors to cope with. Just take a look at their VPP suspension design that took almost two decades for their counterparts to figure out.
Another aspect that sets Santa Cruz apart from its competitors is that they assemble the bikes themselves before sending them out to its customers.
They could have easily skimped on this, but assembling it themselves is a testament to the quality that this brand has upheld for years.
On top of that is their strong lifetime warranty program that covers not only the frames but also the bearings. While Santa Cruz's bikes are built with strength and reliability in mind, the warranty is the icing on the cake. A lifetime warranty? It's a no-brainer.
People Also Ask For
---
If there are still questions that linger on your mind, then maybe this section will help you out. We have listed down some of the most frequently asked questions regarding Santa Cruz bikes.
Where are Santa Cruz's Bikes made?
Santa Cruz Bikes fabricate their frames in China and Taiwan, but the assembly occurs in Santa Cruz, California before being shipped out to each customer. Santa Cruz' other components, like the motors, are outsourced from Shimano.
What type of bikes do Santa Cruz make?
Santa Cruz mostly makes mountain bikes. As of the moment, they have 17 bikes, including three variants of electricity-assisted bikes and one gravel bike.
Where is Santa Cruz based?
As per their name, Santa Cruz Bicycles is based in Santa Cruz, California. However, they cater to customers and patrons all over the world.
How does Santa Cruz ship their bikes?
Santa Cruz takes about five to seven days of processing during its peak season. The quoted price for continental shipping is $29.95 with the help of UPS. However, the delivery method can change depending on the logistics of the customer.
How soon does Santa Cruz ship their bikes after ordering?
Standard shipping time takes five to ten business days within the Continental US. However, International orders typically take somewhere between three to five weeks to arrive, depending on destination and customs processing.
Are Santa Cruz e-bikes good?
Santa Cruz e-bikes are good, although they're a new brand. Based in California, Santa Cruz has a lot of customers with happy reviews. Although they're on the more affordable side, Santa Cruz e-bikes are made of great quality.
How much is a Santa Cruz Heckler?
Standard shipping time takes five to ten business days within the Continental US. However, International orders typically take somewhere between three to five weeks to arrive, depending on destination and customs processing.
Are Santa Cruz Bikes Overpriced?
Santa Cruz bikes are expensive and some may call them overpriced. Purchasing a Santa Cruz bike is also a social statement, but you get a lot of benefits, an assurance of quality, and a lifetime warranty make it quite worth it.
What is the cheapest Santa Cruz bike?
The cheapest Santa Cruz e-bike is the Heckler, which gets up to $7,699. As for regular bikes, their Jackal is an $899 deal.
Will Santa Cruz make an E-bike?
Although this question has been asked for a long time, Santa Cruz has already made an e-bike. They currently have two e-MTB models in their shop.
Bottom Line — Who Are Santa Cruz E-Bikes For?
---
All in all, Santa Cruz's e-bikes are catered for those hard-core mountain bikers that need that extra push in scaling steeper slopes. It is also perfect for those who are looking for the extra speed on a mountain trail to get a more exhilarating ride.
Those who go on leisure cruises around the city will find Santa Cruz electric bikes, suitable companions. These Type 1 bikes have no throttle and can go as fast as 20 mph using pedal assist. This means that going on an errand takes less energy from you.
Santa Cruz Electric Bikes For Sale
Online
---
Facts
Quick Stats
Santa Cruz e-bikes are geared towards mountain bikers. This brand is a staple to the sport and has been one of the forefront companies for mountain biking innovations and competitions.
Santa Cruz bikes are made with Carbon CC frames that are durable and light for the best mountain biking experience.
With the bikes' VPP suspension, the Santa Cruz e-bikes are super smooth, even on rugged terrains.
The company is proud to be one of the few brands that offer a lifetime warranty.
Santa Cruz bikes utilize Shimano's STEPS for the battery and controller.
Santa Cruz e-bikes' price ranges from $3,000 to $11,000.
Santa Cruz has a reputation for being one of the top mountain bike manufacturers in the world.
---
How it stacks against others