Himiway Cruiser Electric Bike Review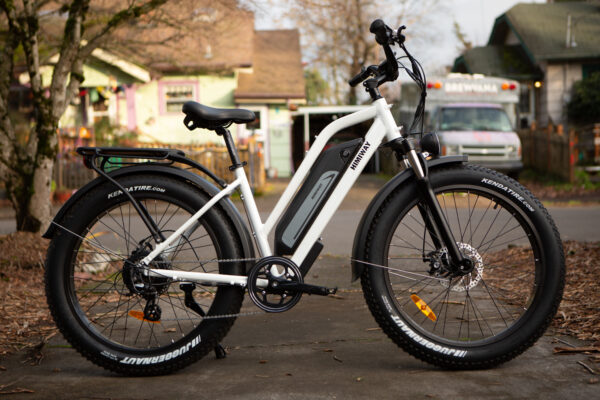 The Himiway All-Terrain electric step-through is a pedal-assist electric bike. Getting a bit more particular it carries massive 4-inch-wide tires and front suspension to make it a fat bike. Or, probably more likely it's an affordable city commuter. The off-road capabilities mean that there's no reason to fear anything the city might throw at you.
The marketing makes references to hunting and riding on the beach and it would be entirely capable if put to use in that way. It does have legitimate off-road capability but off-road riding isn't where I expect you will find it most of the time. More likely is that it's going to find use as a city commuter in much the same way the modern SUV has found its way into use as a city commuter.
The Himiway name might not be one you've heard of but if you are looking for a bike in this style there are others with greater name recognition.  Likely you've checked them all out and want to know if Himiway is offering the right features to do what you want.
Use Discount Code EBICYCLES to save $50
The Frame
---
The frame on the Himiway uses 6061 aluminum alloy. 6061 is a common aluminum alloy for bike frames. It's easy to weld, provides good stiffness to weight, and is generally an inexpensive option. Although aluminum is inexpensive it's a welcome choice on this bike. At the price of the Himiway Step Through Cruiser it wouldn't be out of the question to see a more cost effective, but heavier, steel frame.
Whatever market forces played into the choice of aluminum there aren't signs of obvious cost cutting. The welds are all smooth and appear to be of high quality. The finish on the frame looks to be high quality as well. These kinds of details aren't a huge challenge for modern manufacturing but quality details are still worth noting. The paint is thick and even and should hold up over the long run.
Despite the aluminum frame this bike is not a lightweight. The sloping top tube is almost 2 inches across and the assembled weight comes in at 72lbs. This isn't a surprise given the large battery, powerful motor, front suspension, and massive tires but it's worth noting.
Payload capacity is a generous 350lbs but no matter how you slice it this is a heavy bike.
It's not a good choice for carrying up flights of stairs or trying to negotiate tight single track.
The Specs
---
It's in this section that the affordability of the Himiway All Terrain Step Thru Electric Bike shows up a little bit. The pieces on their own are not the top of the line. Put everything together though and it does work well.
Choices made are solid even though they are also hitting a price point.
The traditional bike drivetrain uses a Shimano Altus rear derailleur on a 7 speed 14-28 freewheel. Altus falls under the mountain bike heading in the Shimano lineup and is down near the bottom though there are lower options available. In most situations a freehub, vs a freewheel, is desirable for compatibility of replacements options. In this case, given the electric assist, it's unlikely anyone will be swapping the gearing for better climbing gears so this is not an issue.
Along with the Altus branded rear pieces there is a 47-tooth front chainring with a 170mm crank arm, a KMC chain, and Shimano Tourney right hand shift mechanism. The Tourney shifter features an optical gear display and although it's at the bottom of what Shimano offers it does get the job done.
Braking duties get taken care of with Tektro Arias 180mm cable pull discs. Depending on your level of familiarity with bike components you may not have heard of Tektro. Shimano has more brand recognition but Tektro makes some of the best brake components on the market.
Cable pull discs are almost always difficult to adjust so as to avoid rubbing and that was the case here as well. Despite an occasional rub though the brakes do a good job of stopping the bike. The levers chosen by Himiway deserve a special call out as being comfortable and stylish.
The electric part of the Himiway All Terrain Step Thru consists of a 750 watt hub mounted motor with 80Nm of available torque. There are 5 pedal assist speeds as well as a half twist throttle and an easy-to-read display. The battery is an 840Wh lithium unit good for 30-60 miles of range depending on your use.
The Ride
---
The frame and specs are mostly details you can find yourself. I counted the front chainring because it's not listed anywhere but it's unlikely anyone really needs that info. What you really want to know is what this bike is like to ride and what it's going to work well for.
In the marketing this is an electric assist fat bike. The use would be snow, sand, and dirt roads and it would work for that stuff. The only thing that really keeps you from doing that is what it requires to get it loaded up. The bike weighs over 70lbs and taking it on a rack will mean a rack setup that can handle that kind of weight.
What I think is more likely though is use as a commuter bike that can handle anything. You don't need a bike this burly for commuting duty but like an SUV that never sees the dirt, there are advantages.
It sits you up on top of a nice big platform that feels safe moving through an urban landscape. Air the massive tires out to something appropriate for city streets and let them work with the front suspension to soak up every bump. There's nothing that a city street could throw at this thing that is going to upset it. The fenders will keep you clean and dry and the generous payload can handle all the groceries the racks can carry. The front and rear lights are more than enough for staying visible or seeing where you are going. All these conveniences work because the large platform has plenty of room without making sacrifices.
The seating position of the Himiway All Terrain Step Thru Electric Bike is totally upright. There's no pretense of a forward lean for aerodynamics or aggressive riding and that works perfectly. Combined with the upright position is an appropriate saddle. With all the weight on your butt a wide, soft saddle is both necessary and appreciated and that's exactly what you'll find.
The whole experience feels mellow and comfortable. The electric assist settings require turning the pedals but calling it pedaling is kind of a stretch. You could pedal if you wanted to but you can just as easily choose a speed based on the assist amount and proceed to slowly turn the pedals. If you need to pull into traffic and pass a bus the throttle is there to help.
Use Discount Code EBICYCLES to save $50
Verdict
---
At $1499 the Himiway All Terrain Step Thru Electric Bike is an affordable option. If you want to look for how they meet that price you can find it. There are some down-market components pulled off the rack to fit the price point. That stuff isn't actually that important though.
Instead of looking for small component details, consider how the package comes together. You've got tons of power and lots of battery life. It's comfortable, and fun, to ride. I don't recommend trying to lift it up and down stairs regularly, or even much transportation on a rack, but get out on the road and it's a dream.
Cruising through the city feels like a mellow walk.
The touchpoints feel good and all the details feel good too.
It's easy to charge the battery and interact with the electric system. Everything feels well made and solid. It's easy to cruise through the city next to cars and buses and you are sure to arrive at your destination with a smile. The Himiway All Terrain Step Thru Electric Bike is a solid buy as long as it fits your needs.
Buy from HimiwayBike.com
Use Coupon Code EBICYCLES To Get $50 OFF
---