Review of Lectric XP 3.0
Sale!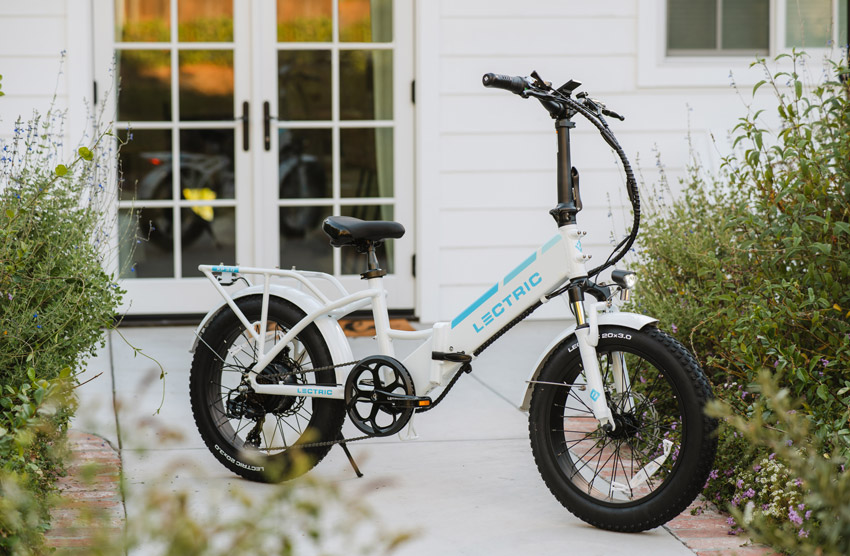 Lectric XP 3.0 is a budget-friendly foldable electric bicycle with an adjustable top speed and unmatched comfort and convenience for urban commutes. 
Lectric E-Bikes is a growing USA-based company behind the Lectric XP e-bikes, a fun and exciting foldable electric bike. This compact two-wheeler is ideal for urban dwellers to speed up their commute or save some storage space in their apartments. Though affordable, this bike will surprise you with comfort, convenience, power, and range.
Easy to fold step-over and step-thru aluminum frames.
Control the motor via five pedal-assist levels, a cadence sensor, and a throttle.
Adjustable saddle and handlebars fit riders of different heights.
Includes a rear rack, kickstand, fenders, and lights.
Comes with a 7-speed Shimano rear derailleur and Tektro mechanical disc brakes.
Even though Lectric XP 3.0 is a foldable e-bike, it is relatively customizable and versatile. It ships fully assembled as a Class 2 e-bike, but it can become a Class 3 e-bike by increasing the top speed in the settings. In addition, it has quality entry-level components, a powerful motor, and a decent size battery.
MSRP: $1,099 or $1,299
Class: Class 1, 2, or 3
Motor: 500W (1000W peak) geared rear hub motor
Battery: 48V 10.4 or 14Ah removable battery
Range: 45-65 miles
Lectric XP 2.0 vs. XP 3.0: What's New?
---
The popularity of the Lectric XP 2.0 eBike and the addition of two new models, the XPremium and the XP Lite has allowed Lectric to upgrade and rerelease its flagship model.
The Lectric XP 3.0 clearly shows the brand's dedication to improving and serving the needs of its loyal customers.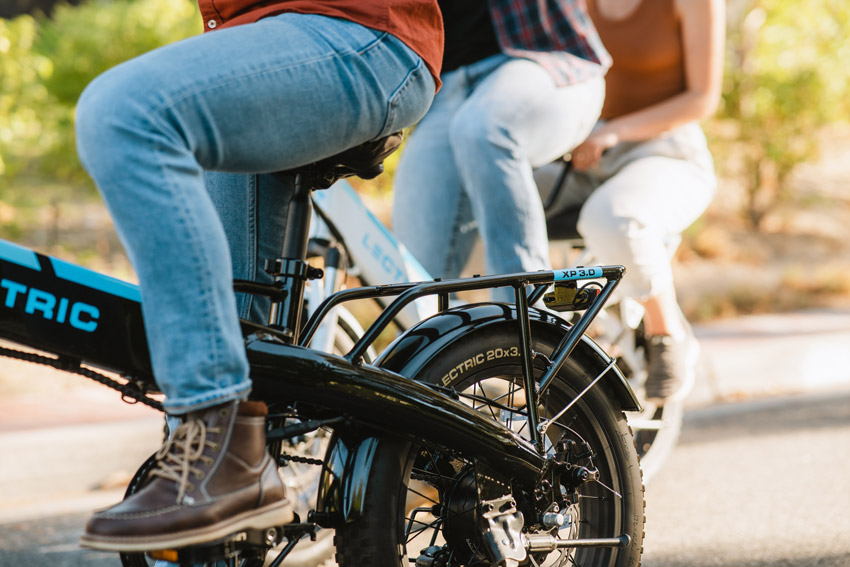 Lectric has integrated the pannier rack into the frame for the new XP model, replacing the installed rack. Doing so increases the payload capacity from 75lbs to 150lbs, enough to carry a child or an adult as a second passenger.
To complement the passenger-carrying abilities, you can now select a 'passenger mode' on the motor, limiting you to 10mph and a more steady ride quality.
The other major upgrade for the third-generation XP is the drive system. You'll get an extra 20Nm of torque (55Nm) and two additional amps in the controller, making for faster acceleration and more power on the climbs.
Besides that, the Lectric XP 3.0 has larger brake rotors to increase stopping power, 10mm more fork travel for a smoother ride feel, improved grips and saddle, and a new cassette that provides more gear choices.
Foldable Frameset and Geometry
---
One of Lectric XP 3.0's main selling points is the foldable aluminum frame coupled with a front suspension fork. The frame folds down to less than half the bike's original size, allowing you to carry it anywhere. In addition, the folded dimensions are 37″ x 18″ x 28″, so you can easily fit it in your trunk or take it on a train.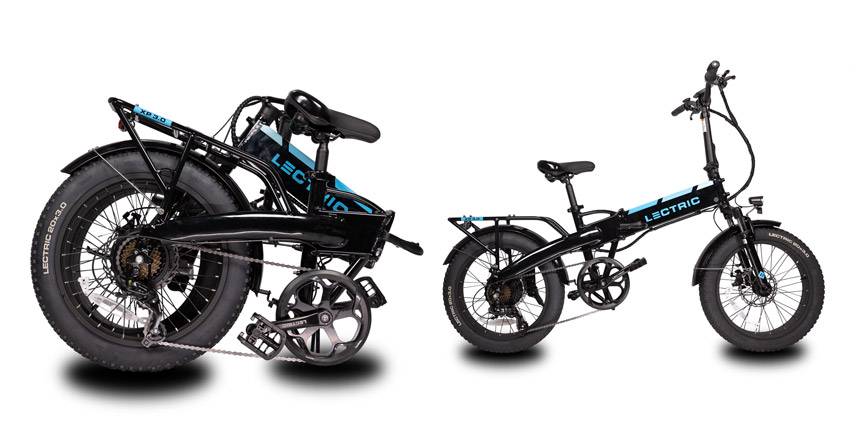 This bike also offers you the choice of a step-through and a step-over frame, though both variations sit low to the ground thanks to compact 20″ x 3″ tires.
The bike fits riders of different sizes thanks to adjustable handlebars and a customizable saddle height. The frame is also available in two simple colors: Black and White.
The only downside is the 64lb weight, which is on the heavy side. However, this bike has a 330 lb. maximum weight capacity, which is pretty impressive and comes as a good trade-off.
Lectric XP 3.0 Sizing Recommendation
Lectric E-Bikes recommends a rider height range of 4'10" – 6'5″ for this e-bike. This bicycle is built around a one-size-fits-all frame.
The saddle (32″ -42″) and handlebar (45 "-48") heights can be raised and lowered quite a bit, so riders should be able to ride comfortably.
500W Motor and Battery
---
For an affordable city bike, Lectric XP 3.0 has solid electronics. This e-bike gets power from a 500W geared rear hub motor with a 1000W maximum peak output. It can be operated with a throttle or one of the five assist levels.
The cool thing about this bicycle and its motor is that it ships as a Class 2 e-bike, but you can upgrade it to a Class 3 or deactivate the throttle to make it Class 1. In addition, if the laws in your area allow it, you can increase the maximum speed to 28mph in the settings.
The Lectric XP 3.0 comes in two models, the standard one with a 48V 10.4Ah (500Wh) battery and a long-range version with a 48V 14Ah (672Wh) battery. These models provide max ranges of 45 miles and 65 miles, respectively. The batteries charge fully within 4-6 hours.
The large backlit LCD display is controlled with three buttons (Mode, Up, Down) and shows battery level, pedal-assist levels, speed, odometer, lights, and much more.
Brand-Name Components
---
The Lectric XP 3.0 specs list has no flashy, high-end components. However, most of the componentry is from reputable companies.
The Shimano Tourney 7-speed rear derailleur is entry-level in class but plenty reliable. The 180mm-rotor Tektro mechanical disc brakes require more frequent adjustments than hydraulic ones, but they will stop on a dime when needed.
You will get great value with Lectric XP 3.0 if you keep your expectations realistic and use this e-bike for commutes and relaxed everyday rides.
One thing that will catch your attention is the puncture-resistant 20″ x 3″ tires. They're super-wide, ensuring comfort and grip on smooth and rough roads and gravel paths. So the Lectric XP 3.0 fat tire bike can handle off-road rides, though the small wheel diameter does not provide the best cornering traction.
Direct-to-Consumer Model
---
If you're wondering how the Lectric XP 3.0 e-bike is priced so low, it's because of the company's direct-to-consumer business model.
Instead of relying on distributors and third-party retailers to sell their bikes, Lectric does it all by themselves. They manufacture the bikes and ship them directly to riders, who can order their bike on the official website.
While this means you can't try the bike before purchasing it, you will get the best possible price because unnecessary costs have been eliminated from the equation.
Assembly
---
This bike comes folded and fully assembled, which isn't typical in the direct-to-consumer e-bike business.
Once you open the box and remove all the packaging, all that is left is to unfold the bike and ride away. To unfold it, do the following:
Pull the handlebar stem to its upright position and push the clasp down firmly.
Lift the bike up slightly and unfold the bike to its original position. Push down on the clasp firmly.
To unfold the pedals, push down on them slightly and move them outwards.
That's it, and you're ready to go out and have fun if the battery is charged!
Folding and unfolding the Lectric XP 3.0 e-bike takes less than 30 seconds. When folded, if you're transporting the bike in a horizontal position, place something soft between the wheels to avoid scratching the fork and the frame.
People Also Ask
---
Do you have any unanswered questions about the Lectric XP 3.0 fat-tire e-bike? Find the answers below.
What's the Lectric XP 3.0 range?
Lectric XP 3.0 has a 45-mile maximum range, and the XP 3.0 Long-Range has a 65-mile max. To get this much range out of one battery charge, you should avoid using the throttle and stay in pedal-assist levels 1 and 2. The minimum range is around 17 or 25 miles
How long does the Lectric XP 3.0 take to ship?
It takes the Lectric XP 3.0 between two to ten business days to ship unless the ordered product is on preorder. Shipping time can be affected by high demand and issues with stock in a specific color or frame style.
Is Lectric XP 3.0 waterproof?
No, Lectric XP 3.0 is not waterproof, but it is water-resistant. Most electric bicycles are not fully waterproof, meaning it's safe to ride in the rain and go through puddles, but you should avoid riding in heavy rain or through deep puddles. Water damage isn't covered under warranty.
What does Lectric XP 3.0 weigh?
The Lectric XP 3.0 weighs 57lbs without the battery and 64lbs with the 7lb battery. The Long-Range version of the Lectric XP 3.0 eBike is marginally heavier due to the larger battery. Unfortunately, this bike is quite heavy for carrying and lifting for most people.
What class is a Lectric XP 3.0?
The Lectric XP 3.0 is a Class 2 electric bike when it leaves the factory, meaning the top speed is programmed at 20mph. However, you can increase the max assisted speed to 28mph, making it a Class 3 e-bike. Alternatively, deactivate the throttle to make it a Class 1 e-bike.
How long does it take to charge the Lectric XP 3.0 battery?
It takes roughly four to six hours for the Lectric XP 3.0 battery to charge from empty, regardless of the model. To maximize the lifespan of your battery, try to keep the charge level between 20% and 90% full at all times.
Lectric XP 3.0 Extra Components
---
This bike comes with many valuable stock accessories. Namely, this e-bike ships with durable color-matching fenders that protect you from water, mud, and dirt when riding in wet weather.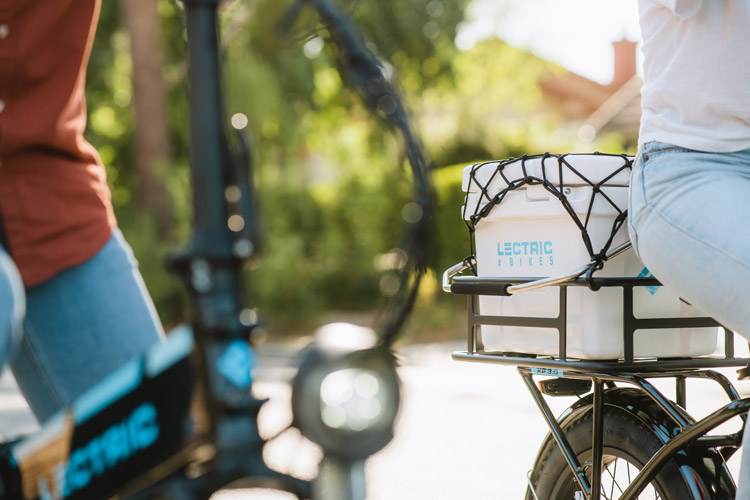 You'll also get a frame-integrated rear rack with a 150lb payload capacity that you can use to carry a second passenger (using the passenger package), a basket, transport groceries, or fit a child seat.
Lectric XP 3.0 ships will all the necessary accessories you need to enjoy this bike and use it for a variety of purposes. You don't need to spend a cent to start riding.
One of the most useful accessories is the front and rear lights. A battery powers them, so you don't need to worry about charging them individually.
Remember that they will improve your visibility at night and help you stay seen, but they might be too weak to illuminate your way in pitch-dark conditions. You can purchase the new Elite Headlamp from the online store if you want a high-powered light.
This bike also features a durable kickstand for quick stops and a rear derailleur guard that will protect your rear mech while transporting the bike.
Bottom Line: Ride or Pass?
---
To put it simply, Lectric XP 3.0 is a fun and versatile folding electric bike. While it won't dazzle you with its looks, it doesn't look bad.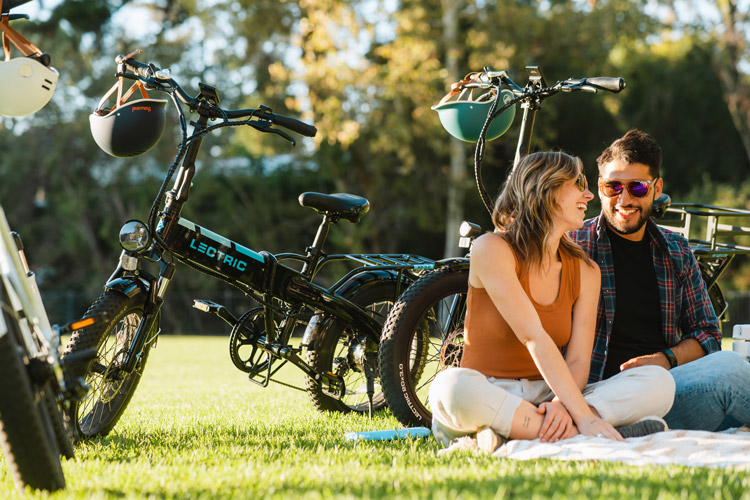 The specs are good quality for the price and serve the bike's purpose well. For $1,099 or $1,299, it's hard to ask for much more than what you get with this e-bike. Some highlights include a 500W motor, a 150lb-capacity rear rack (plus passenger mode), a throttle, adjustable top speed, integrated battery, accessories, and puncture-resistant tires.
So if budget is your main limitation and you think Lectric XP 3.0 will fit your needs, it's a worthwhile consideration. You'll have plenty of fun on it and save some hard-earned cash.
What do you think about Lectric XP 3.0? Let us know in the comments below! 
---