RadCity 4 by Rad Power Bikes (Full Review )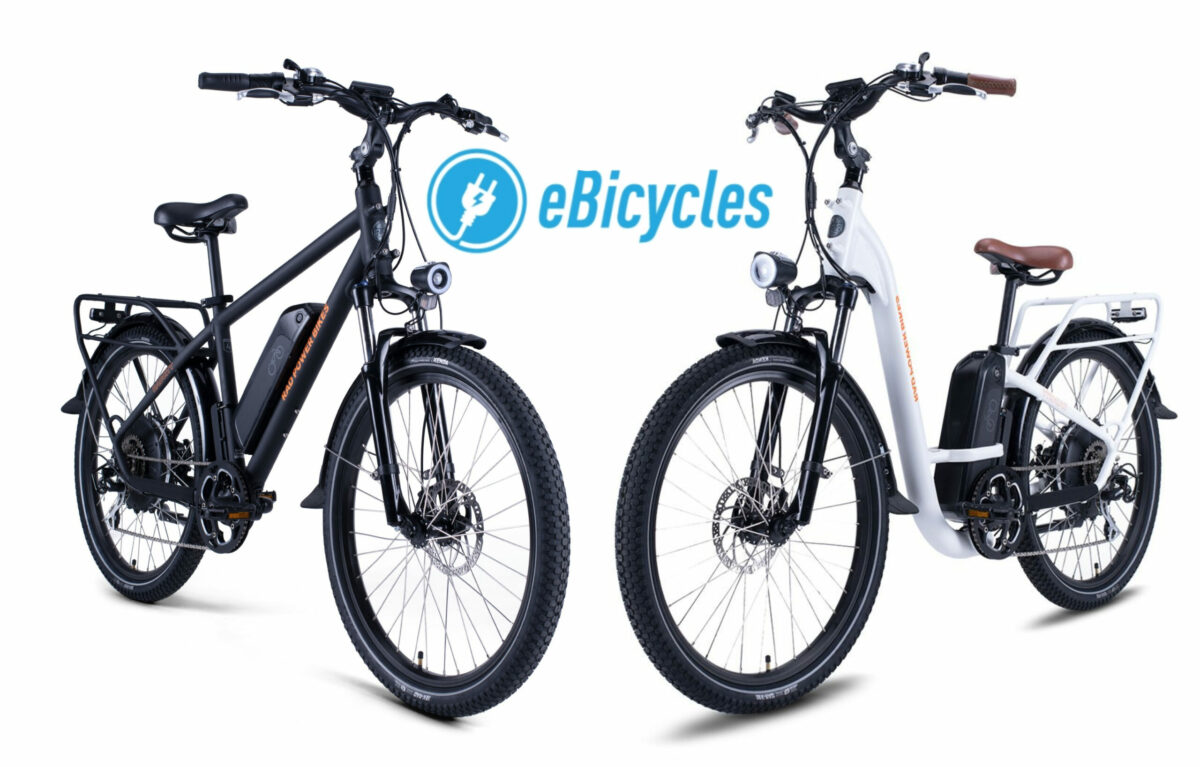 The RadCity 4 hybrid electric bike that we'll be reviewing today comes fully equipped to commute, to replace your car, to haul groceries, or let you enjoy a leisurely ride with your friends.
---
Class 2 eBike – Speed limited to 20mph.
750W rear hub direct-drive motor – 40 Nm of torque.
Twist-grip throttle & pedal-assist.
672Wh battery  – 45+ miles range.
Integrated aluminum rear rack for mounting panniers, baskets, or a child seat.
Mechanical disc brakes stop on demand and enable regenerative braking.
Puncture-resistant 26×2.3″ Kenda tires for paved and unpaved roads with reflective sidewalls.
---
RadCity comes with either a step-through or a step-over frame, a powerful 750W motor, a high-capacity 672Wh battery, capable components, disc brakes, and a host of other features that add value. It's a Class 2 e-bike with pedal assistance and throttle to fine-tune the power from the motor.
So let's dive in, take a look at the nitty-gritty details about RadCity 4, and find out if this is the e-bike that can solve all of your urban commuting-related problems.
Make sure to also read our full review of the new and updated Rad Power Bikes RadCity 5 Plus.
Rad Power RadCity 4 PROS and CONS
RadCity 4 is a very affordable class 2 e-bike that provides incredible value for the money. However, as such, it also comes with some shortcomings, as Rad Power Bikes has to cut a few corners here and there to ensure the low final price of the bike.
Here are the main pros and cons you should be aware of if you decide to buy this unique commuter e-bike.
| | |
| --- | --- |
| Pros | Cons |
| Step-over and step-thru frame variations are available. | High total weight. |
| Reliable 750W direct-drive rear hub motor. | 20 mph maximum assisted speed. |
| High battery capacity and an excellent predicted range. | A direct-drive motor instead of a geared one. |
| Integrated rear rack, lights, kickstand, fenders, and more. | |
| Adjustable front suspension with 100mm of travel. | |
| High-visibility backlit LCD display with detailed ride info. | |
Rad Power RadCity 4 Step-Over vs. Step-Thru
The RadCity 4 e-bike is available with either a step-over or a step-thru frame.
The previous version of RadCity came with two frame sizes to choose from, but both versions of the newest model have only one frame size.
The step-over model has a larger frame that measures 18.5″, whereas the step-thru frame is significantly smaller at 14″.
As such, the step-over model is suitable for taller riders, 5'11"- 6'5″ tall, with a 27-34″ inseam. The step-through model is suitable for shorter riders, 4'10" – 6'0″ tall, with a 22-30″ inseam. The handlebar, though adjustable in height, is wider on the step-over model, which is something to keep in mind.
Another difference between the two versions is the color panel. RadCity step-thru comes in white or black, whereas the step-over model only comes in black.
Other than that, all other components are completely the same and the ride feel is very comparable. If you're in two minds between the two, we recommend making the choice based on your height and your preference for the frame shape.
Electric
All Rad Power bikes have recognizable electronic components that include a powerful rear hub motor and a high-capacity frame-mounted battery.
Motor
In the case of RadCity 4, the motor is a rear hub brushless direct-drive unit made by Shengyi. It packs 750W of power and delivers 40 Nm of torque, assisting the rider up to 20 mph. This motor also comes with regenerative braking that fires up on its own, which is a nice extra.
Rad Power opted for a DD unit instead of a geared one like on RadWaggon or RadRover because it's quieter, more affordable, simpler, and more durable. These are all virtues an everyday urban bike needs to have.
The motor performs well on all terrain, including steep hills, and does not have a delay when you twist the throttle or apply force on the pedals. On very steep hills, the 40 Nm unit will struggle a bit but will get you over them.
Battery
The battery is made by Samsung and offers a total of 672Wh of capacity (48V, 14 Ah). With that much juice, you can expect a minimum range of 25 miles and a maximum of over 45 miles.
Charging it to the brim takes between five and six hours, but you can do it on or off the bike.
The battery comes with a key and a lock that has three positions: Locked ON, Locked OFF, and Unlocked. That way, you can leave the battery on the bike, turned off, without worrying that someone will tamper with it.
Display
Finally, RadCity 4 in this review, has Rad Power's more advanced backlit LCD display.
It's large enough to ensure good visibility and shows all the ride info you need. It contains information about the battery level, speed, assistance level, power in Watts, and an odometer to keep track of your rides. You can control it using the three buttons mounted on the opposite side of the handlebar, which are pretty intuitive to use.
The display also comes with a 5V/1A USB charging port, so you can keep your smartphone and other devices charged.
Frame Design and Features
As mentioned previously, you can ride the RadCity e-bike with a step-over or a step-thru frame.
Both are made of lightweight 6061 aluminum with sturdy and straight tubing.
The one thing both of these frame designs have in common is the integrated rear rack. It will allow you to mount panniers, platforms, baskets, or attach a child seat and take your kids along for the adventure.
The frame geometry puts you in a relaxed upright riding position that most people can maintain for hours. Plus, thanks to the adjustable handlebar, you can easily find the right position on the bike to avoid back, wrist, neck, or shoulder pain.
Read more on RadPowerBikes.com
Comfortable Wide Tires and Front Suspension
One thing you'll notice on RadCity, even though it's a city e-bike, is that it has very wide and comfortable tires.
It rolls on Kenda K-Rad 26×2.3″ tires with a low-profile tread that's ideal for slippery city streets and hardpacked dirt and gravel roads.
They feature Kenda's K-Shield puncture-resistant liner that offers protection against punctures from glass, thorns, and other small objects. They also have reflective sidewalls that will make you visible from all sides.
Another feature that adds to the comfort is the SR Suntour front suspension with 100mm of travel. It comes with preload and lockout adjustments, so you can choose how to use it. It eliminates vibrations from curbs, potholes, and uneven terrain. However, it adds a bit of weight and makes you lose some momentum when pedaling hard.
Mechanical Brakes & Shimano Drivetrain
Apart from the excellent electronic components, RadCity 4 also comes with decent Tektro brakes and a Shimano drivetrain.
The Tektro Aries mechanical disc brakes in combination with 180mm rotors offer all the stopping power you need. They're not as sophisticated as hydraulic disc brakes, but a bit more finger power will stop the bike just as quickly.
RadCity 4 is also equipped with a 7-speed Shimano Altus drivetrain. This is an entry-level groupset, but it shifts smoothly and precisely without any noticeable hiccups.
The drivetrain consists of a 7-speed 11-34T freewheel on the back and a 42T crankset. Together, they give you a pretty good ratio of gears for flat terrain and moderate hills.
Packed with Accessories and Ready for More
Rad Power is known for not cutting any corners when it comes to the accessories they put on their bikes. Almost all of the e-bike models they make come jam-packed with useful features that will make your daily rides easier. It's the same with RadCity 4.
This e-bike comes ready with front and rear fenders, an adjustable kickstand, integrated rear rack, dual-suspension saddle, and front and rear lights.
The lights are battery-powered so they'll work automatically as long as your battery is charged. The rear light also works as a brake light, so it will light up brighter every time you press the brake levers, alerting anyone behind you that you're slowing down or stopping.
Additionally, you can equip your RadCity 4 with a front rack, a bottle cage, a wheel lock, a child seat, or panniers and a basket. Basically, whatever you need to enjoy day-to-day rides.
Handling and Ride Feel
RadCity 4 is incredibly comfortable and smooth to ride. That's no wonder as it comes with wide tires, front suspension, an upright geometry, and wide and stable handlebars.
The bike feels predictable to ride and not at all sluggish, even though it weighs just shy of 65 lbs. When the power from the motor kicks in, you can really feel it, even if you're grinding up a steep hill.
Of course, don't expect it to be the zippiest or quickest e-bike out there, that's not what it's made for. It's made to be comfortable at low and high speeds alike, which is what it is good at.
However, keep in mind that, due to its weight, it's not easy pedaling the bike for a long time without pedal assistance, if you run out of battery. You can do it easily on flat roads, but you'll struggle up hills.
---
RadCity 4 User Reviews: Hot or Not?
If you take a look at RadCity user reviews on Rad Power's website, you will see that most people leave a 5-star rating, with very few lowest ratings, such as 1-star or 2-star ones.
RC Cole (Owner of RadCity Step-Thru)
          I recently received my RadCity Step-Thru. This is my first e-bike.  I chose to have it professionally set up and this was a good idea. The bicycle shop that recommended the Rad (even though they do not sell this brand) set the bike up for me. There were several things that I would not have been able to handle properly, loose spokes, of round wheels, and some bolts not tightened properly.

With these issues resolved I have had a GREAT experience with this e-bike. The first ride was high speed and I averaged about 20mph for 24 miles. I got 34 miles from this battery charge. The next ride I stayed in PAS 2 except for hills and head winds and got 51 miles from that charge. Since I am 67 and have a bad heart I am thrilled. The Step-Thru works great for my 5'3" frame. Even though the bike is 66 lbs. I can power walk it up a ramp to store it inside.   The seat is comfortable as are the pedals, though I have changed them to allow attachment of mini clips.

For a first e-bike at an attractive price point the RadCity Step-Thru is hard to beat.
Other happy RadCity owners praise how the bike rides, love the power of the motor, and the long range that the battery provides. They also like the comfort of the tires and the suspension, as well as the lights and other accessories that make riding more enjoyable.
A few cons that RadCity owners have been pointing out include the taxing weight of the bike, only one frame size, and the fact that the brakes and derailleur need adjusting out-of-the-box. Some would also like more than 7 gears and a bottle cage mount that's easier to reach than the current one.
All in all, even though RadCity is not perfect, it seems to be a great deal considering its $1,500 price tag. Read through more of the reviews on the site thoroughly to get the complete picture before buying.
---
Other Rad Power Models to Consider
If you like the concept behind RadCity but don't think it will meet all of your needs, you should check out the other Rad Power models. This USA-based company makes cargo, fat, folding, hybrid, and compact bikes with practicality and everyday users in mind.
RadMission — This is a simple city/hybrid bike with a 500W motor and minimal accessories. It's Rad Power's cheapest model that is excellent for urban commutes and leisure rides.
RadRunner (& Plus model) (Our in-depth review)— A compact cargo electric bike that can be completely transformed by attaching different accessories. The bike is quite small, with 20″ wheels, which makes it suitable for city commutes. The Plus model comes with more accessories out of the box and better components.
RadRover (& Step-Thru) (Our in-depth review) — This is Rad Power's fat electric bike with 4″ tires. It's intended for off-road rides as it also comes with front suspension. However, it can navigate paved roads as well, which makes it a good choice for mixed commutes.
RadMini (& Step-Thru) — A compact folding electric bike that has a step-over and a step-thru frame design. It has the same power and battery capacity as all other Rad bikes. It folds down small, so it's excellent for urban dwellers and travelers.
RadWagon (Our in-depth review) — A heavy-duty cargo bike that can haul up to 350 lbs of weight. It has an oversized integrated rear rack that can take two kids, a passenger, or bags and baskets to carry cargo.
---
Final Thoughts About RadCity 4
What more can we say about Rad Power Bikes' RadCity 4 but that we like it and think it delivers excellent value for the money. It's an affordable Class 2 e-bike that offers a lot more features compared to its higher-priced competitors.
We'd describe it as a reliable, well-thought-out e-bike with phenomenal accessories and even better electronics. It has some shortcomings, such as only one frame size, a high-total weight, and entry-level components, but these are far from being deal-breakers for most people.
If you need a simple, practical, good-looking, and affordable e-bike to replace your car or your current traditional bike, you're unlikely to go wrong if you buy RadCity 4.
---