RadMission 1 Electric Metro Bike Review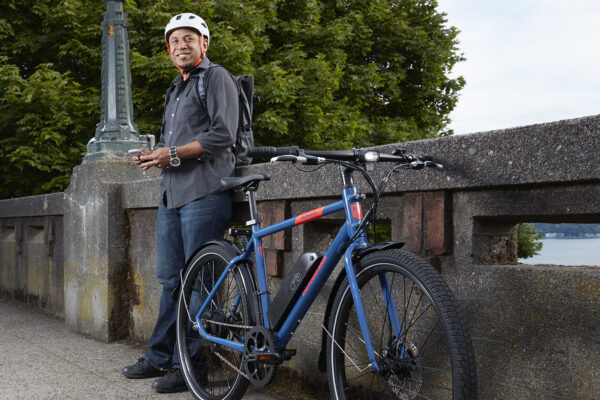 Single speed bikes have always been one of the least complex, and most affordable commuter bike options.
Rad Power Bikes is one of the best-selling eBike brands available today, and here's their entry-level bike to fit a wide variety of users.
Motor: 500W rear hub
Battery: 504Wh frame-mounted
Weight: 48lb
Drivetrain: Single-speed
Range: 20-45+ miles
Wheels: 27.5″ – 650b
Max payload: 275lbs
---
RadMission 1 Electric Metro Bike Frameset Geometry and Sizes
The frame of the RadMission 1 is a 6061-aluminum design. If you've checked out other articles on this site you've seen info about 6061-aluminum. It's an inexpensive but quality option. Easy to manufacturer it keeps the price down and there's not really a downside. For the fork, Rad Power Bikes has used a steel design.
A steel fork adds extra compliance at the expense of a little extra weight.
Speaking of weight. It's important to note this is not a light bike. Depending on the options chosen the system weight is 47.5lbs or 48lbs. That might be 30% lighter than other bikes in the Rad Power lineup but it's a lot if you are carrying it up flights of stairs.
Given the price, the weight isn't terrible but make sure you are aware of what you are getting. An entry-level road race bike weighs around 22lbs and a lightweight electric bike in this style can get down to mid 20lbs.
For sizing, there are two options. A traditional straight top-tube is what Rad Power Bikes calls a High-Step and they list a size range from 5'7″ – 6'4″. If you need something a little smaller the RadMission also has a Mid-Step option for those in the 5'2″ – 6'2″ height range.
The obvious difference is a change in the top tube design but look closely and there are a few other small differences. Everything adds up to be a little easier for smaller riders. Whatever frame you choose the sizing is what most brands would call a medium.
RadMission 1 Electric Metro Bike Motor and Battery
The motor system for the RadMission is a little bit of a black box. The company that manufactures it is Vision. That is not the same Vision as the FSA brand which does manufacture a rear hub based electric assist motor. The FSA Vision system is 250 Watt though and the system used in the RadMission is a 500Watt unit.
Whatever the details of the Vision who Rad Power Bikes has partnered with it's the specs that matter. In this case, it's a 500 Watt rear hub motor with a max of 50Nm of available torque assist.
When it comes to the battery things look a little more like what you might expect. The system is a 48V, 10.5 Ah (504 Wh), with Lithium NMC 18650 (LiNiMnCoO2) Samsung 35e cells. If you are comparing the specs to other options on the market what you want to know is that it's a 504 Wh pack. The guts are Samsung parts that look a lot like a typical AA battery.
Rad Power Bikes lists a range of 25-45 miles. Based on the motor and battery size that makes sense. Expect a 25-mile range if you depend mostly on the motor doing the work. Help things out a bit and that's where the 45-mile range comes from. If you want to hit that mileage you will need to be doing a lot of the work.
RadMission 1 Electric Metro Bike Components
The RadMission 1 is a single-speed bike. There is no derailleur but unlike some single-speed bikes, there is a chain tensioner. Some single-speed bikes use a slotted drop-out for the rear wheel. A horizontal drop-out allows for chain tensioning by physically sliding the rear wheel back as needed. Horizontal dropouts are a simple design but they have a big disadvantage. If the rear axle is not carefully aligned on each side it's possible to have a misaligned rear wheel. On an electric bike that could be a dangerous mistake and Rad Power Bikes has wisely chosen a vertical dropout and a chain tensioner.
At the front of the bike, a crank is a 50-tooth unit with a 170mm crank arm. At the rear of the bike that 50-tooth crank pairs with a 16-tooth freewheel. 170mm cranks don't typically get paired with a medium frame size but I often switch between 172.5 and 170mm without any issues. Some people even consider the shorter crank arms an advantage.
To figure out the gearing, my favorite thing to do is compare it with standard road bike gearing. Most modern road bikes use a 50-34 front crank paired with an 11 speed 11-34 rear cassette. If you've ever spent time on a bike like that the RadMission 1 would be like riding on the big ring up front and the 4th gear from the bottom in the back.
That kind of gearing will keep you moving on the flats, or downhill. Head to the hills and it would be tough. The electric assist should help flatten out hills but if you live somewhere with a lot of hills you might consider changing the gearing a little. If you go that route, it's an inexpensive option. The included freewheel comes from DNP and you can find an 18-tooth option for less than $25.
Braking gets taken care of with Tektro mechanical disc brakes at both ends. The rotors are 180mm and the tires are 650b in a 1.95″ width. While mechanical disc brakes aren't my favorite they work well. The nice bike rotors will have no trouble slowing things down while the high-volume tires will make for a cushy ride.
RadMission 1 Electric Metro Bike Optional Accessories
One of the defining characteristics of the RadMission 1 is that it is a bare-bones experience. This is a feature, not a bug, in that it's what makes the bike worth covering. There are lots of electric bikes on the market but there are not a lot of electric bikes in this price range.
There are some quirks to the bare-bones bike experience though. For better, or worse, everything is ala carte. The first place this becomes an issue is when you look for the kickstand. There's not one there, but it's available. For $15 extra you can grab a kickstand from Rad Power Bikes. I have plenty of bikes without kickstands but none of them are city bikes. City bikes need a kickstand so expect to add one either directly through Rad Power Bikes or at your local bike shop.
Aside from the kickstand, there is an impressive array of other accessories available. There is a RadMission specific rear rack and fenders then for the front you can choose a basket or a rack. If you choose a rack there are a couple of options for adding a larger platform. Given the impressive 275lb max payload, all the options for carrying cargo are tempting. If you would rather add lighting there is also an upgraded light that is not compatible with the front cargo options. The rear light comes standard.
One of the more interesting upgrade options is the option to upgrade the control panel. Many electric bikes use an LCD display for showing what mode the electric assist is in as well as battery information. There are also a handful of electric bikes that use no display of any kind. The RadMission comes with a half step between the two approaches. A simple series of lights shows what mode the motor is in and there are four buttons for controlling the bike. If you'd prefer a more involved display Rad has it available.
If you need to carry a child Rad Power Bikes lists the Thule Yepp Maxi child seat. Filter the accessories for compatibility with the RadMission and the Yepp Maxi still shows up. Don't get your hopes up though, it's not compatible and it says that clearly on the product page for the Yepp Maxi accessory.
RadMission 1 Electric Metro Bike Assembly
Like most bikes the RadMini 4 Electric Folding Fat Bike comes in a box mostly assembled. Once you've got the bike unpacked the assembly needed includes the pedals, the handlebars, the fenders, the front light, and the front wheel. All of the tools needed come in the box and the instructions are clear. If you'd like more info, check out the RadMini 4 Assembly Instructions on YouTube.
Other Rad Power Bikes Models
Verdict
In my coverage of the RadMission 1 Electric Metro Bike, there might be more warnings than some of my other articles. This is a very inexpensive electric bike and it's not without compromise. That doesn't mean it's not a good choice.
Be aware of what you are getting for your money. Set your expectations ahead of time and know that there will be features on more expensive bikes that you might not get. As long as you've got the right mindset going in, this is a great bike.
The raw components on an electric bike add up and they add up pretty fast. If your budget puts you in the $1000 range then you are likely looking at a range of unknown options from unknown companies. Instead of taking a leap on a company you've never heard of the RadMission 1 Electric Metro Bike gets you into the Rad Power Bikes brand.
Rad Power Bikes is a company that has been around and isn't likely to disappear anytime soon. They have support if you need it and they are responsive. The RadMission represents the basic formula for an inexpensive commuter bike that has been around for a long time. Rad Power Bikes took that formula and added an electric assist.
---