Rad Power Bikes RadRover 6 Plus Review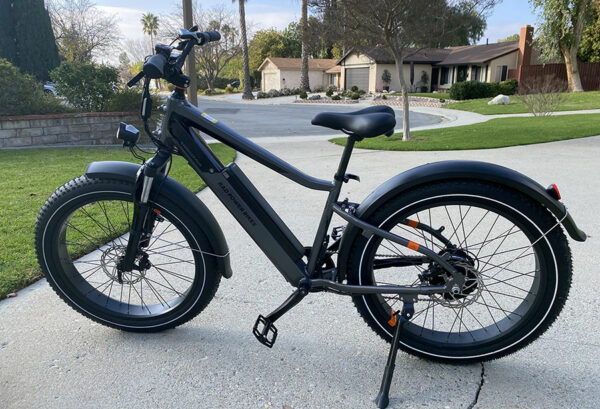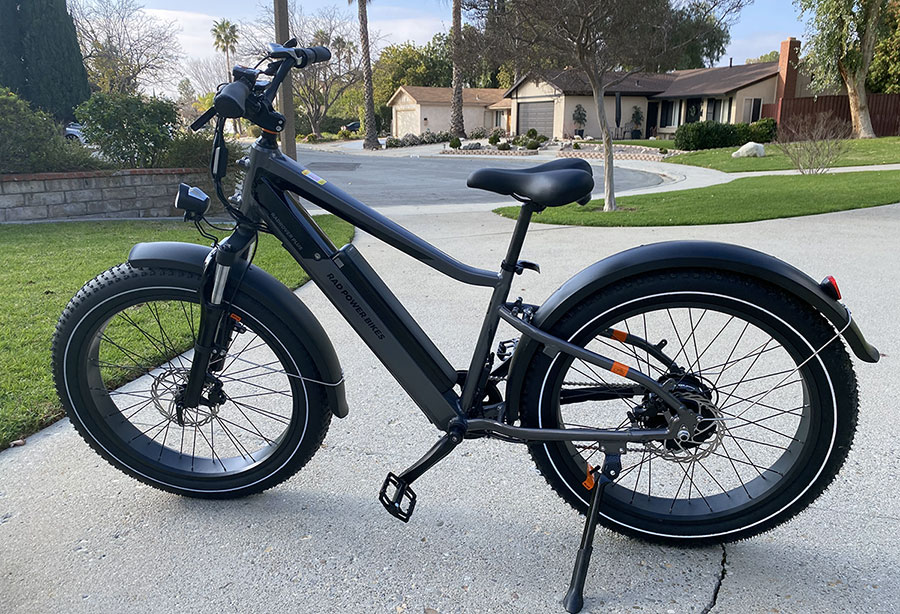 Rad Power Bikes RadRover 6 Plus is the new and improved model of the company's best-selling flagship e-bike.
This 2023 release features improvements across the board, demonstrating Rad Power Bikes' commitment to developing, innovating, and improving their bikes in this highly competitive electric bicycle market.
The new model has taken the already popular RadRover 5 to the next level. The key improvements come in the geometry, the motor, the brakes, and the wheelset.
Because of these changes, the bike has had a price increase of $300 compared to the previous model. However, these changes mean a smoother, more efficient, more comfortable, and intuitive ride.
In this RadRover 6 Plus review, we will compare the new model and its predecessor and highlight some of the essential features that make this electric fat bike as popular as it is.

RadRover 6 Plus Main Specs:
MSRP: $1,999
Class: 2
Motor: 750W geared hub
Battery: 589-672Wh
Range: 25-45 miles
Drivetrain: 7-speed Shimano
Brakes: Hydraulic discs
Tires: 26×4″
What's New for the RadRover 6 Plus?
The Rad Power Bikes gave the RadRover a complete overhaul to improve on the previous 5th-generation model.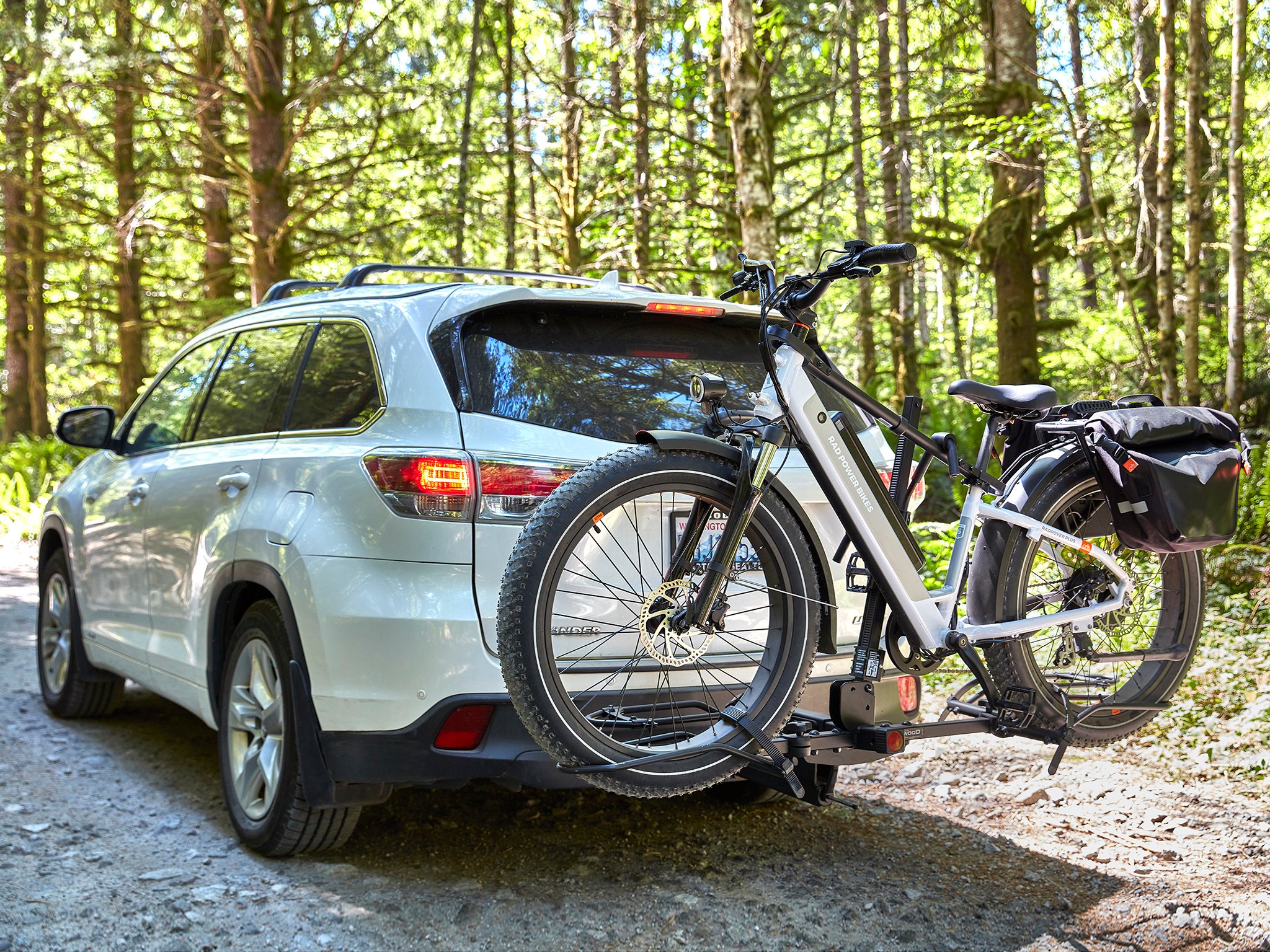 A few key upgrades transform the ride quality and performance, making the RadRover 6 Plus a far superior electric bike.
Most consequentially, updated geometry reduces fatigue and makes it comfortable to ride for longer, and a custom-tuned motor improves hill climbing ability (25% faster) and increases power output.
Other significant upgrades include a move to hydraulic discs from mechanical ones to improve braking performance, and a greater focus on speed by narrowing the tires by 0.5″ and reducing suspension travel by 20mm.
Finally, improved integration of electronics, a more intuitive control panel, auto-on lights, and a battery-level indicator all contribute to an enhanced user experience.
---
Rad Power Bikes RadRover 6 Plus Review
---
Frame, Fork, and Geometry
Rad Power Bikes uses the same 6061 aluminum material on each model, except the RadTrike 1, which has a Chromoly steel frame. This material is ideal for entry-level bikes as it's cheap to manufacture, long-lasting, and lightweight.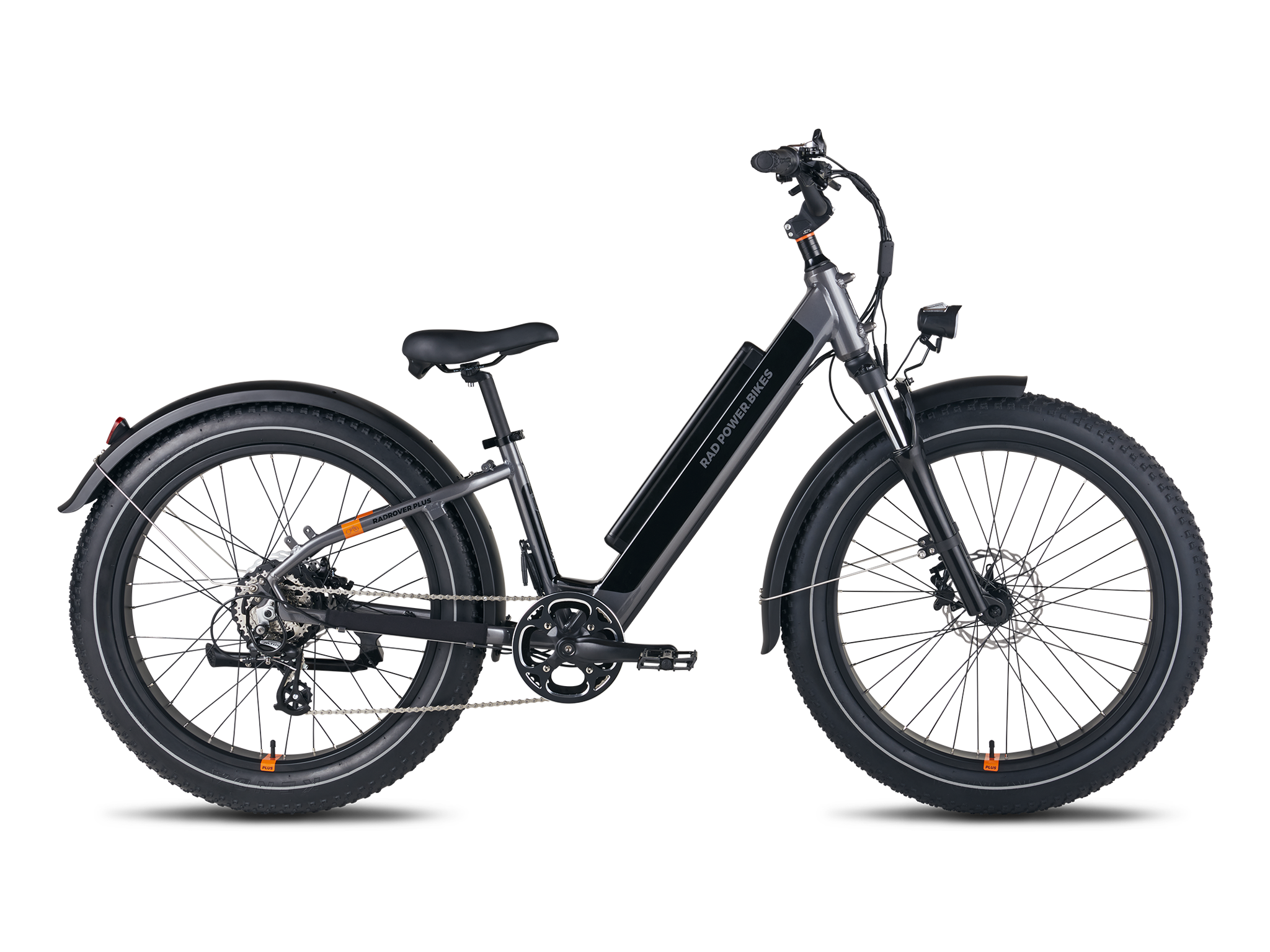 This bike was the first in the lineup to get semi-integrated electronics, making for a much tidier-looking frame.
You can choose between a RadRover 6 Plus step-thru or step-over model. Regardless, the geometry is upright and relaxed. The step-thru model is easier to mount and dismount, but both are easy to handle and more comfortable going uphill than the previous model.
This fat-tire e-bike also has 60mm of travel from an RST coil fork, 20mm less than before. In addition, this fork has lockout and preload adjustments for increasing efficiency on pavement.
RadRover 6 Plus Electronics
The RadRover 6 Plus' e-bike system also got an overhaul, with an upgraded motor, integrated battery, improved display, and a battery level indicator.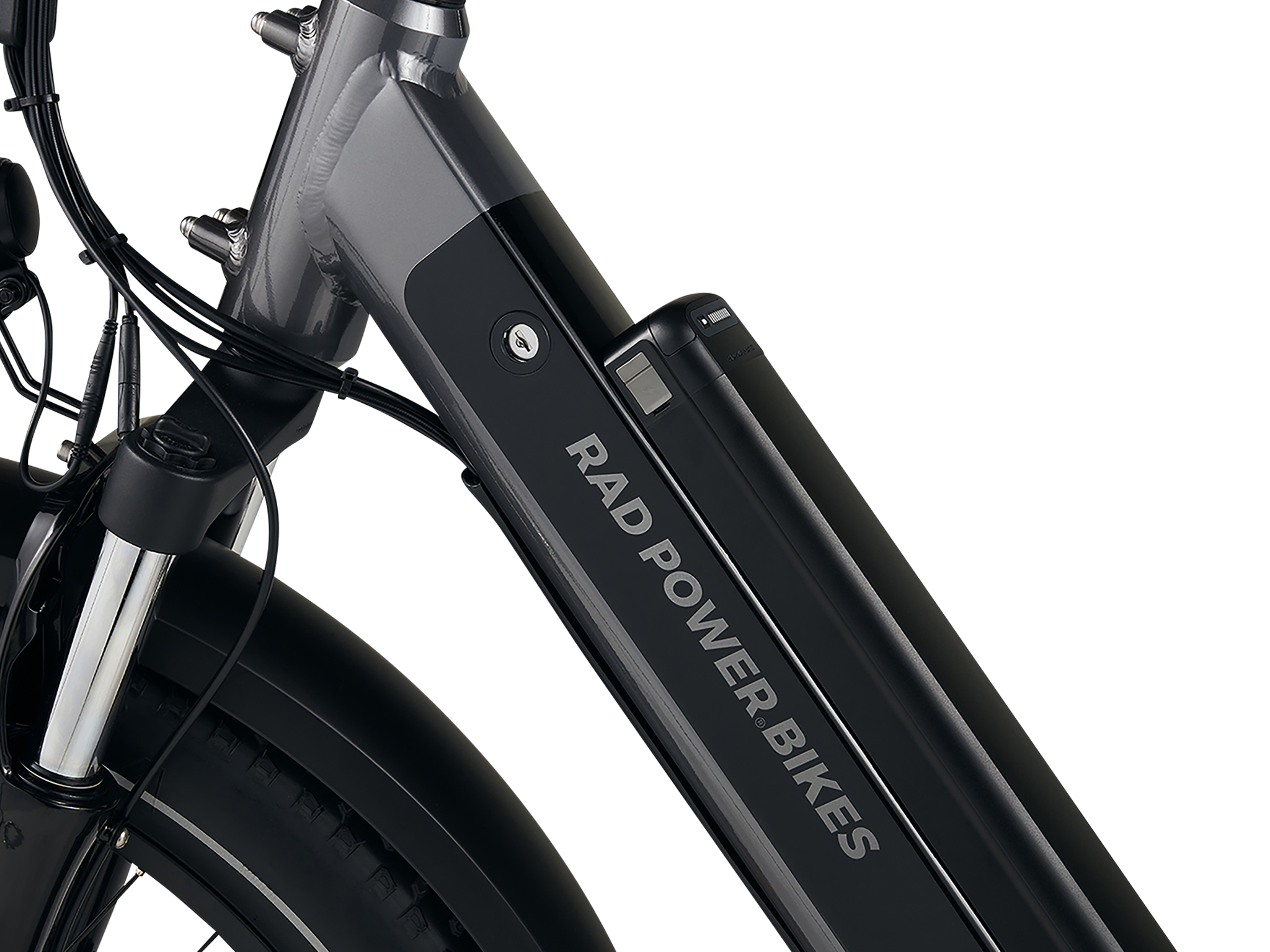 A 750W geared hub motor combines with a 589-672Wh battery, returning ranges between 25 and 45 miles. This motor feels powerful but comes into its own on hills, where it can hold high speeds. The top speed is 20mph as it's sold.
The max range is lower than you'd expect because the RadRover 6 Plus weight is high (73.4 lbs), and the fat tires create a lot of rolling resistance.
Finally, a new user-friendly control panel shows your charge, speedometer, odometer, trip odometer, pedal assist level, clock, and more. You can also access the RadRover 6 Plus hidden menu to change the max speed through the display.
 Solid Drivetrain and Brakes
The Rad Power Bikes RadRover has a solid drivetrain and brakes for the price, like all of the models in the brand's lineup.
A Shimano Altus 7-speed setup shifts reliably and is long-lasting and cheap to repair. Pair this with improved hydraulic disc brakes, and you have yourself a reliable groupset.
Hydraulic disc brakes are more powerful, durable, and consistent than mechanical alternatives, so we were delighted to see this upgrade for the new model.
Reliable Build Kit and Components
The rest of the build kit is typical of what the brand offers. Firstly, you get 4″ Kenda Juggernaut tires with K-Shield puncture protection on 26″ double-wall alloy rims. These tires have plenty of tread and are wide enough to tackle any terrain you encounter, even snow, sand, and mud.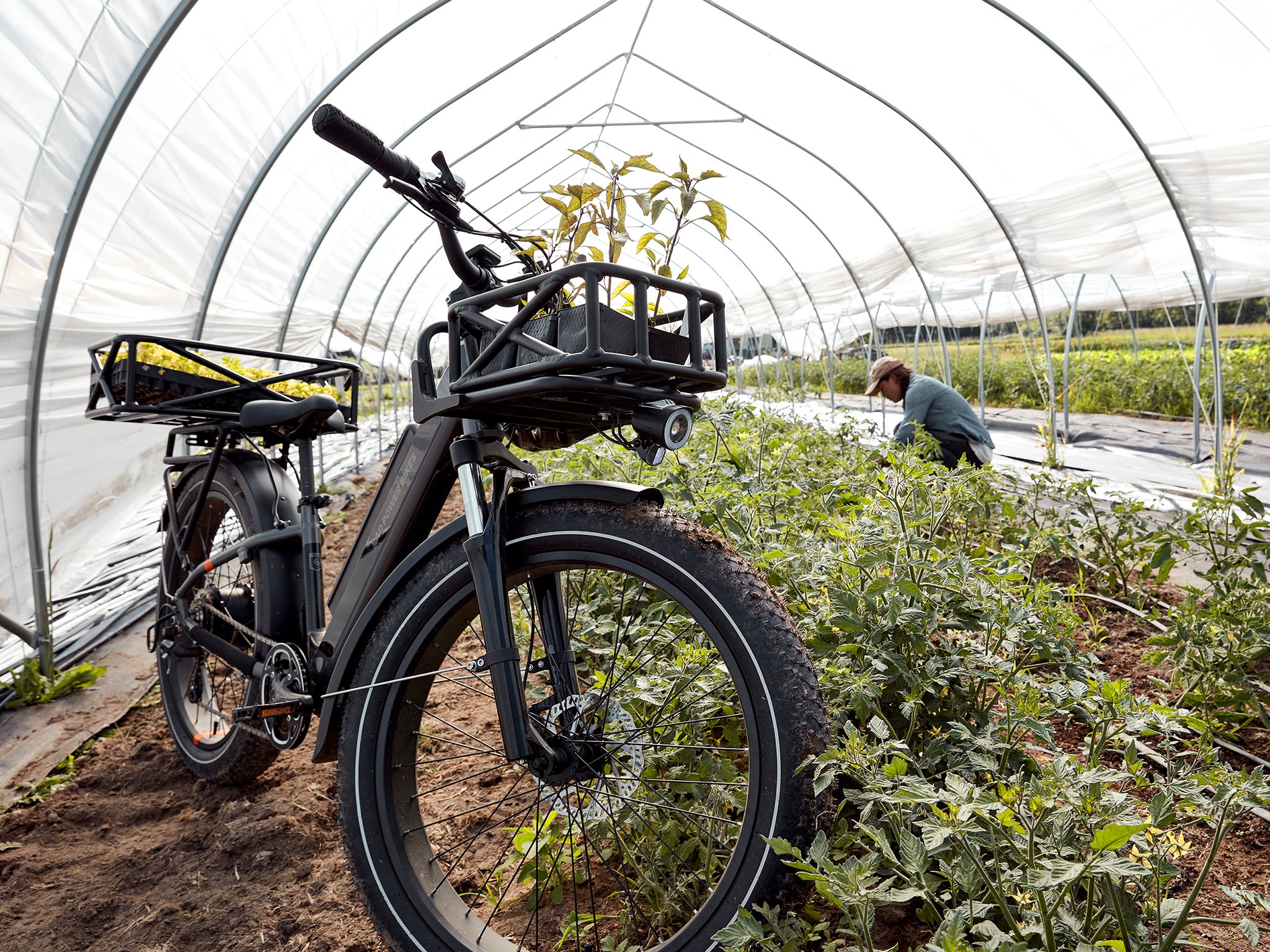 As this is an off-road machine, it doesn't come with a rack, but you can easily add one. However, it has fenders, integrated auto-on lights, and a kickstand.
Finally, the touchpoints are all durable and comfortable, adding to the enjoyable ride quality of this bike.
RadRover Accessories
Rad Power Bikes has a wide array of accessories that you can use to customize your RadRover for the job you need, such as for carrying cargo or accessories for urban living. In addition, you can buy spare or replacement parts for your bike, all available at their online store.
When you navigate to the store, choose the model of bike you have, and the compatible accessories will show up. Some potential additions you could choose for this bike include:
Rear pannier rack
Baskets or bags for the rack
Mirror
Phone mount
Shop All RadRover 6 Plus Accessories
---
FAQs
How fast does RadRover 6 Plus go?
The RadRover goes up to 20mph. Modify the top speed by holding down the pedal assist (PA) and headlight buttons until the screen changes, then hold both PA buttons and the headlight until the 'top speed' screen appears. Finally, adjust the top speed using the PA buttons.
Is RadRover 6 Plus too big?
No, this fat-tire e-bike isn't too big. It fits riders 5'4″ to 6'2″, so the smaller riders in this range may find the bike to be quite large, but this is typical for entry-level electric bikes, especially fat tire models.
What is the difference between RadRover 5 and 6?
The difference between the RadRover 5 and 6 is primarily in the motor performance, geometry, and brakes. The newer model is more efficient and powerful, the geometry is more comfortable and fatigue-reducing, and the brakes are now hydraulic instead of mechanical.
How heavy is RadRover 6 Plus?
The RadRover 6 Plus weight is 73.4 lbs. This weight makes it one of the heaviest in the category. Unfortunately, this may deter some riders from purchasing, as it can be slightly cumbersome to steer and almost impossible to ride if the battery dies.
How can I speed up my RadRover 6 Plus?
You can speed up your RadRover by modifying the top speed in the hidden menu accessed through the display. This menu is accessible by performing a series of actions and adjusting the speed up to 40 km/h, roughly 25 mph.
Does RadRover 6 have a throttle?
Yes, the RadRover 6 has a throttle on the right-side handlebar, which works in a half-twist motion. This throttle allows you to travel up to 20mph and is helpful for getting started from a stop or when you want to sit back and relax without pedaling.
How much torque does the RadRover 6 Plus have?
This e-bike has 80Nm of torque from the 750W geared hub motor. This motor is tuned for efficiency going uphill and performs better than the previous generation's direct-drive hub. Take time to practice getting used to the torque, as it can be slightly jerky.
How much are Rad Power Bikes?
Rad Power bikes prices range from $1,499 – $2,499. The brand's cheapest model is the basic version of the RadRunner, an electric utility bike, while the most expensive is the new RadTrike electric tricycle. The RadRover 6 Plus is the brand's top-end e-bike.
Conclusion: Is RadRover 6 Plus Worth Buying?
A careful look at the new RadRover 6 Plus leaves excellent first impressions. This model is far enough ahead of the RadPower 5 that $300 extra seems reasonable.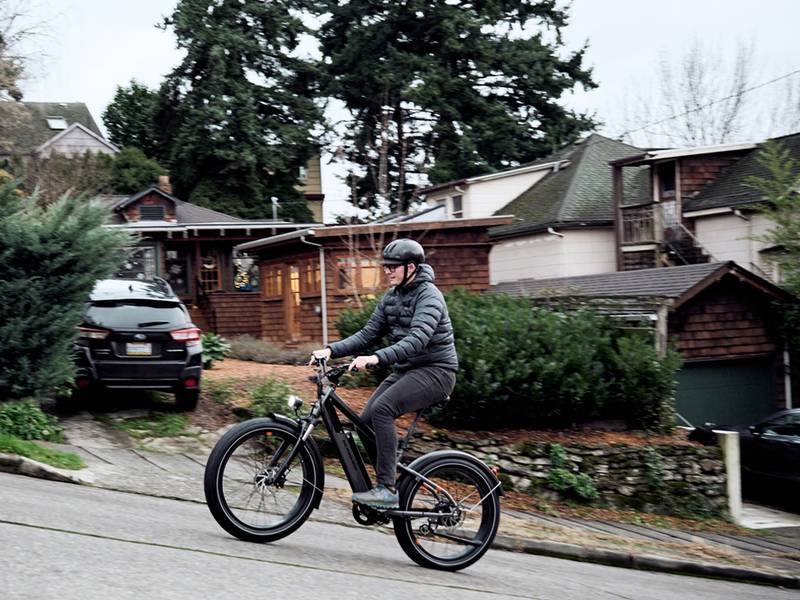 Considering the level of components and the $2,000 price tag, this fat-tire e-bike will surely be a significant competitor in its price category.
The upgrades to comfort, power, efficiency, handling, and the stylish new semi-integrated look are welcome changes. So don't miss out on the RadRover 6 Plus for an affordable and versatile fat-tire e-bike.
---