RadWagon 4 By Rad Power Bikes (Review)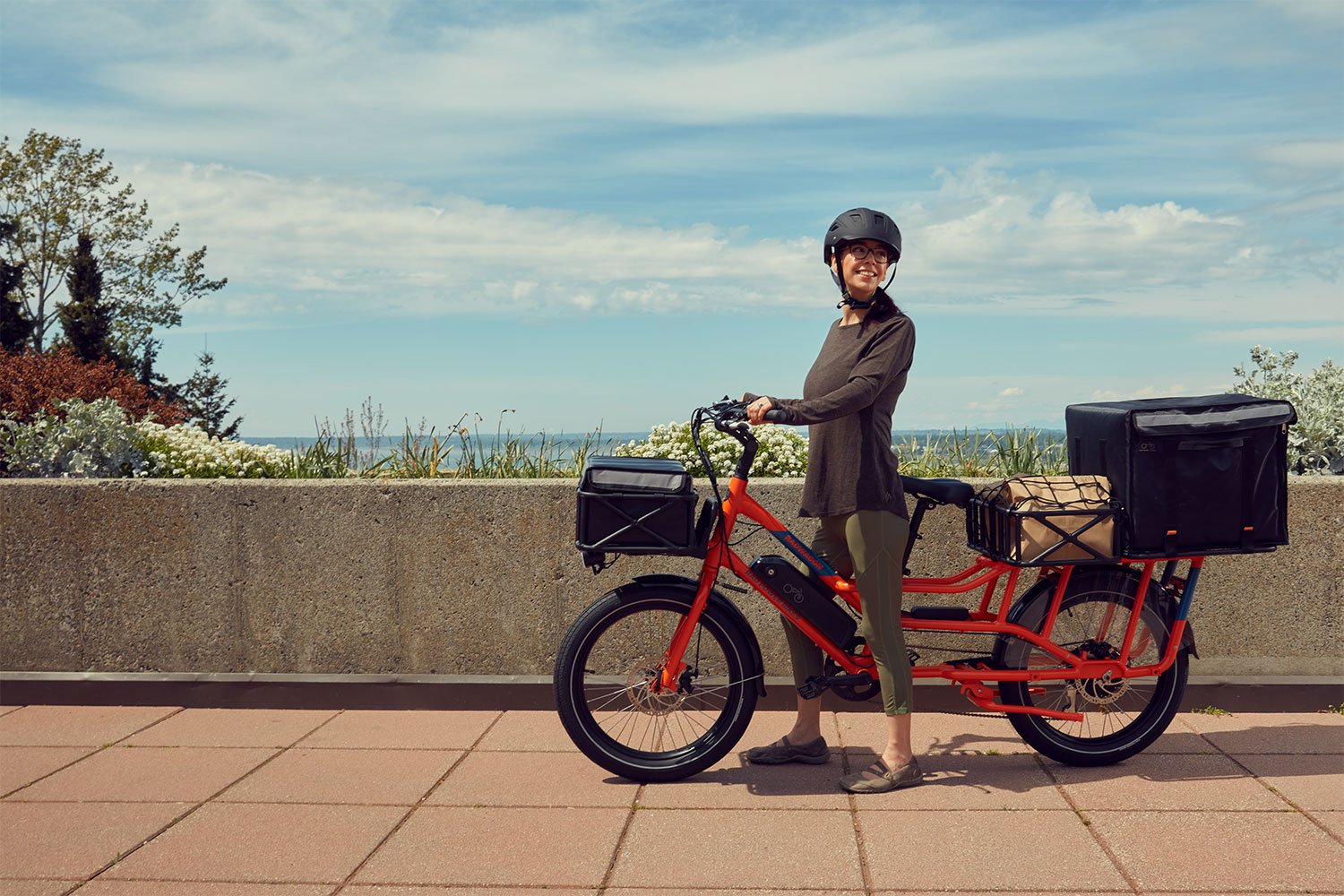 More and more people are trying to combat the consequences of living in urban jungles by replacing their cars with more efficient and cheaper alternatives.
Rad Power Bikes' RadWagon is aimed towards those exact individuals. It is a brand-new e-cargo bicycle built by a well-known Seattle-based company. It's more powerful, more capable, more stable, and more attractive than the previous model.
---
RadWagon 4 is powered by a 750W geared motor with twice as much torque compared to the previous model.
The motor provides a boost to the rider with either pedal-assist or throttle modes.
RadWagon's battery gives you a range of 25-45+ miles and is good for 800 charge cycles.
This e-cargo bike has a payload capacity of 350 lbs (rider + passengers/cargo).
Its one-size-fits-all frame is suitable for riders between 5'1″ and 6'4″ tall.
Telescoping seat post and adjustable handlebars help find the right fit.
RadWagon is fully customizable with a plethora of accessories.


---
With a long, integrated rear rack, a powerful motor, and a 350 lbs weight limit, RadWagon has the capacity to become the ideal mode of transportation for most urban dwellers looking for a practical and cost-efficient day-to-day vehicle.
RadWagon PROS and CONS
It offers great bang for the buck, which is why so many people consider it to be one of the best budget electric cargo bikes. However, it's worth noting that it comes with both positive and negative sides.
There are many reasons why you should buy this bike without any second thoughts, but there are also a few drawbacks that you should reconsider. Take a look below.
Pros

Cons

Impressive 350 lbs payload capacity
A powerful 750W rear hub motor 
Entry-level rear derailleur
A high-capacity battery rated for 800 charge cycles

Throttle and pedal-assist functions

Wide 22″ wheels and tires that provide stability under load

Easily customizable with available accessories
Pros:
Rad Power Bikes custom designs its frames, so RadWagon is fully optimized to serve as a functional everyday cargo bike. It has a low center of balance which makes it easy for riders to mount and dismount, as well as load and unload cargo.
The bike is decently comfortable even without front suspension. For that, we can thank the frame design as well as the 22″ x 3″ tires that grip the road well and soak up vibrations.
The tool-free adjustable handlebar and the telescoping seat post make it super easy to find the right fit and enjoy the ride.
The 750W geared rear hub motor is sufficiently strong and has twice as much torque compared to the previous model. It does not struggle uphill and it's easy to set the right amount of assistance with the LCD controller.
The battery has a massive 672 Wh capacity and should last for 800 charge cycles. You can fully charge it on and off the bike in around five and a half hours and enjoy a 25-45+ mile range.
RadWagon comes with a host of accessories that will make your daily rides easier and more functional. You can also upgrade the bike with numerous additional accessories to make it suitable for carrying passengers or to enlarge the capacity of the cargo area.
The throttle provides you will full power whenever you give it a twist, making it incredibly easy to start riding at a hill or even when fully loaded or carrying two kids.
Cons:
The bike is pretty heavy and large, so some people might find it problematic to store it. It weighs 76 lbs, which is expected from a cargo bike, but it makes lifting and carrying that much more difficult.
Rad Power Bikes makes custom tires and tubes for the RadWagon 4 which is excellent from the point of functionality. However, that means that you can order these tires only from them, which might be a problem if they're not in stock.
The dual-leg kickstand sometimes rattles when riding on bumpy roads at high speeds.
The charger only puts out 2 amps, so charging the battery fully can take up to 6 hours. Make sure to charge it overnight so it does not interfere with your daily schedule.
What Is Rad Power Bikes RadWagon 4?
RadWagon 4 is a Class 2 electric cargo bike made by Rad Power Bikes. It offers pedal-assist and throttle modes that will provide you with a boost in power up to 20 mph.
RadWagon 4 is based on the original RadWagon model, but the two have some crucial differences. The new model has 80 Nm of torque (twice as much as the old model), making this e-cargo bike capable of hauling more weight than before and do it in more demanding circumstances.
RadWagon 4 is Rad Power Bikes' new and improved electric cargo bike—a capable cargo hauler that can replace your car and save you money in the long run.
The stock version of RadWagon 4 comes already equipped with a host of essential accessories, but it can be further customized and personalized with additional accessories that can be bought for cheap on Rad Power Bikes' official website.
Frame Design
RadWagon's frame design is completely dedicated to practicality and comfort. The long, low-standover frame is stable and adjustable, allowing riders to pedal fully loaded with ease. The bottom bracket position gives it a low center of gravity and the long wheelbase gives it stability when turning even at high speeds.
The frame is made from aluminum, which is a material that offers decent strength to weight ratio. However, due to its bulky design, RadWagon 4 weighs around 76 lbs. That's plenty, but keep in mind that this is not an ordinary bike.
The rear rack comes with a wooden deck, but this can be replaced with various other accessories.
As mentioned before, RadWagon 4 has a one-size-fits-all frame (5'1″ to 6'4″). You can fine-tune your position by adjusting the telescoping seat post and modifying the tool-free adjustable handlebar.
You can get this e-cargo bike in orange, white, and black colors, orange being our absolute favorite.
Cargo Area
The cargo area is the most prominent part of the RadWagon e-bike. The integrated rear rack is long and fully customizable, with a carrying capacity of up to 120 lbs. You can use it as is, with a wooden deck, or you can optimize it by attaching panniers, platforms, seats, or baskets.
The rear rack is long and sturdy enough to carry two kids or a petite adult friend, the choice is yours. In addition to that, the top tube and the down tube each have a pair of mounts that can carry two water bottles for long hauls.
We like that, because of the custom 22″ wheels, the frame sits decently low, so it's very easy to load and unload the bike. You don't have to lift your kids or panniers high to get them on the rack.
The front fork is rigid, but it does not have any eyelets. Not that you'd find those necessary with all the other mounting and carrying options, but it would have been nice to see Rad Power Bikes maximizing RadWagon's hauling potential with a few mounts on the fork as well.
Electronic Parts
In terms of electronics, RadWagon 4 can be considered to be Rad Power Bikes premium e-bike. It has the most powerful and most advanced electrical components.
The heart of this e-cargo bike is the 750W geared hub motor with 80 Nm of torque. For comparison, the previous model had a direct drive motor with half as much torque, so the boost in power will definitely be felt when you face a steep hill.
The motor offers 5 levels of pedal assist and a throttle function to help you take off when fully loaded. You can control the level of assistance via a backlit LCD display mounted on the handlebar.
RadWagon's LCD display shows you the charge level, speedometer, odometer, trip odometer, pedal assist level, wattmeter, and more.
The LCD display is fixed and not removable, which is not ideal, as it can get damaged when storing the bike on a rack. We still like it because it has an adjustable backlight and a USB charging port that you can use to keep your smartphone charged. The screen is controlled via an independent control pad on the left with three buttons: Up, Mode, and Down.
RadWagon's battery has a 672 Wh capacity and is rated for 800 charge cycles. Once you fully charge it in around five and a half hours, you can expect it to provide you with a range of 25-45+ miles. For most people, that's enough for around a week's worth of riding.
Drivetrain and Components
Considering the drivetrain, RadWagon 4 is a rather simple contraption. It comes with a straightforward 1×7 drivetrain with an entry-level Shimano Acera rear derailleur. Having multiple gears is welcome, but don't expect pedaling to be easy if you run out of battery far away from home—especially if you are loaded to the brim.
Rad Wagon protected the rear derailleur with a steel guard that will prevent any damage to the components in case the bike falls on the drivetrain side.
The derailleur is controlled with a Shimano SIS index shifter which is easy enough to use, but trigger shifters are a more elegant solution. However, a trigger shifter might not fit with the throttle, which is why Rad Power Bikes opted for the index version.
Because of the long wheelbase, the chain is quite long as well, so it may slap a bit when riding off-road, in which case it rattles when it comes in touch with the frame.
An e-monster bike like RadWagon needs powerful brakes to slow down and stop. For that reason, Rad Power Bikes equipped it with Tektro Aries mechanical disc brakes paired up with 180 mm rotors. They offer more than enough stopping power even when fully loaded.
However, they are not as precise as hydraulic disc brakes and you need to press the levers harder to fully engage them.
Accessories
Personally, accessories are the most exciting part of the RadWagon for us. The stock version comes with all the essentials most people will require for everyday riding, but you can choose from a host of other accessories to give this e-cargo bike your personal touch.
RadWagon is equipped with front and rear fenders, a rear-wheel skirt, front and rear lights (with integrated brake light), a dual-leg kickstand, and a wooden deck.
The headlight is upgraded compared to the previous model. It has an LED light ring and an 80-lumen focused beam, which improves your visibility and makes you more visible from the sides.
The decals on the frame and the tire sidewalls have reflective materials, so the bike is clearly visible at night from all directions.
Additionally, you can equip RadWagon with a front rack, a passenger seat, baskets, passenger pegs, wooden footrests, and numerous bags and baskets. You can also fit two Thule Yepp Maxi child seats on the rear rack and add deckhands for kids to hold onto.
The possibilities are plentiful.
RadWagon 4 Riding Experience
The first thing that needs to be pointed out is that RadWagon is a pretty big e-cargo bike. It has a 53.76″ wheelbase and a 78.7″ total length. That's much longer than a traditional bike. Plus, it weighs around 76 lbs, which is 50% heavier than a standard e-bike.
Still, with all that in mind, RadWagon is extremely easy to ride and handle. The long wheelbase and the low center of gravity make it very stable. The low standover clearance means that it is easy to mount and dismount the bike, as well as load and unload kids or cargo.
The 750W motor provides more than enough power to propel this chubby e-bike up steep hills or keep it moving briskly against a headwind. But keep in mind that the estimated range is around 25 miles if you mostly stay in assist levels 4 and 5 and use the throttle too much.
RadWagon rolls on 22″ tires that are 3″ wide, which provides you with plenty of comfort and stability. You can take it on unpaved roads, but don't expect the ride to be too comfortable.
All in all, at this price point, RadWagon is an excellent deal for anyone who wants to cycle more and spend less time in their cars, stuck in a neverending traffic jam.
User Reviews
RadWagon is a very popular electric cargo bike, especially on the North American market, so there are a lot of user reviews floating around the internet. This is great for anyone who is in two minds about buying it because they can see what real people who purchased the bike have to say about their experience.
We'll show you a few positive and a few negative reviews here, left on the official website, but you can find many more there, as well as on Facebook, Twitter, Reddit, and YouTube.
The majority of positive reviews praise how well the bike rides and how fun it is to ride it. People also love that RadWagon can actually replace your can and help you save a lot of money on gas in the long run. Riders also praise the company and the build quality, which is high despite RadWagon's low price tag.
But, there are also a few people who were not 100% happy about their purchase and feel that there is some room for improvement.
The number of negative reviews is a lot smaller than the number of positive reviews, which is a good sign. Most negative reviews were left because of some out-of-the-box issues. For example, the bike assembly was complicated, components needed adjusting, or the wheels needed truing.
Some people mentioned that RadWagon could have more power up very steep hills, but most cargo e-bikes would struggle up a very steep climb. We've also noticed that not everyone was happy with the customer support service, which is easy enough to handle and Rad Power Bikes should really take care of it.
Other Models
A massive cargo e-bike is NOT a good solution for everyone. Unless you have two kids that you want to take to school or you frequently need to haul a lot of weight, then you should get a different model that would suit your needs a bit better.
If that's the case, you should consider some of Rad Power Bikes' other models. The company makes 10 bikes in total, six of which are 'original' models, and the other four are step-thru and plus models.
RadTrike 1 — This is a simple electric trike with a 750W motor and excellent accessories. It's Rad Power Bikes' only trike model that is excellent for urban commutes, senior riders, and people with disabilities.
RadRunner (& Plus model) (Our In-depth review)— A compact cargo electric bike that can be completely transformed by attaching different accessories. The bike is quite small, with 20″ wheels, which makes it suitable for city commutes. The Plus model comes with more accessories out of the box and better components.
RadRover (& Step-Thru) (Our in-depth review) — This is Rad Power Bikes' fat electric bike with 4″ tires. It's intended for off-road rides as it also comes with front suspension. However, it can navigate paved roads as well, which makes it a good choice for mixed commutes.
RadMini (& Step-Thru) — A compact folding electric bike that has a step-over and a step-thru frame design. It has the same power and battery capacity as all other Rad bikes. It folds down small, so it's excellent for urban dwellers and travelers.
RadCity 5 Plus & Step-Thru (Our review) — A straightforward hybrid or city electric bike that's an excellent choice for city commutes or fitness and leisure rides. It's very powerful and very practical, especially as it's available with either a step-over or a step-thru frame.
All Rad Power bikes are pretty cheap and have similar motor power outputs. The batteries are the same on all 2019+ models, so they are swappable if you have two or more Rad bikes.
Also, all models have thick tires and are built with a focus on functionality and practicality. Even though they are vastly different, they follow the same philosophy and the same design and build standards.
FAQ
Are Rad Power bikes good?
Rad Power Bikes makes very good and affordable electric bicycles. All Rad bikes, including RadWagon 4 are built with durable materials and quality components. These are budget bikes, but corners have not been cut in important areas such as electronics and the frame. Rad Power bikes are so popular because they offer some of the best bang for the buck on the market.
Is RadWagon a good electric cargo bike?
Yes, RadWagon is an excellent electric cargo bike. It's hard to find the same value elsewhere unless you want to spend a lot more money. RadWagon has a sturdy build and a powerful motor, which allows it to carry a lot of weight, up to 350 lbs. RadWagon is also packed with useful accessories, such as lights, fenders, a kickstand, a wheel skirt, etc. All of this makes it a great electric cargo bike.
How fast does a Rad Power bike go?
Rad Power BIkes makes Class 2 e-bikes which means they have a 20 mph maximum assisted speed. They certainly can go faster than that, but you can't use the motor's assistance past that speed.
How do you charge a Rad Power Bikes e-bike?
The batteries on Rad Power bikes, including RadWagon, can be charged both on and off the bike. All you need to do is plug the charger into the charging port on the battery and wait five to six hours for the battery to charge from 0 to 100%.
How does a Rad Power Bikes e-bike work?
RadWagon is a Class 2 electric bicycle, just like all other Rad Power bikes. It has a geared rear hub motor that aids the rider via pedal-assist or the throttle. The motors usually have 750W of power and the batteries have a 672 Wh capacity. You can choose to use the electric assistance when necessary, or you can pedal on your own. In the EU and Canada, Rad Power bikes have 250W or 500W motors, respectively.
How can I make my Rad Power BIkes e-bike faster?
Rad Power bikes' maximum speed is limited to 20 mph to comply with the local e-bike laws. However, this limit can be changed on some Rad bikes (with an LCD screen) to 25 mph (40 kph). You can easily find online tutorials on how to do this, but before going along, consider the safety and legislative issues you might encounter afterward.
Where are Rad Power Bikes electric bikes made?
Rad Power Bikes electric bicycles are made in China. They are designed and developed in Seattle, Washington, which is where the headquarters of the company are.
Are Rad Power Bikes pedal-assist?
Yes, Rad Power bikes have pedal-assist, but they also have a throttle. The pedal-assist usually has four or five levels that you can choose from, depending on how much extra power you need. It's up to every rider to decide how they want to use the motor's assistance.
Final Thoughts: Is There a Better Alternative to RadWagon?
RadWagon 4 sells on Rad Power Bikes' official website for $1,899, which is a very good deal all things considered. Rad Power Bikes is able to offer competitive prices on their bikes because of the direct-to-consumer business model that takes distributors and retailers out of the bigger picture.
If you want a bicycle with maximum practicality and minimal costs, there are few better alternatives to RadWagon that we know of. This is an e-cargo bike that has some downsides and limitations (entry-level components and high weight, specifically), but meets and exceeds daily requirements for hauling cargo and running errands.
RadWagon offers great bang for the buck in an attractive and capable package that can easily become the go-to mode of transportation in most households.
It is packed with features that make it practical and capable. Plus, its low price makes it attractive to anyone looking to replace their car to save money in the long run, improve health, and simplify life.
---