Review of Santa Cruz Bullit Electric Mountain Bike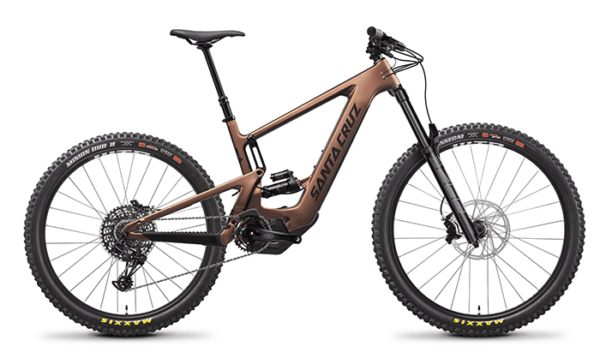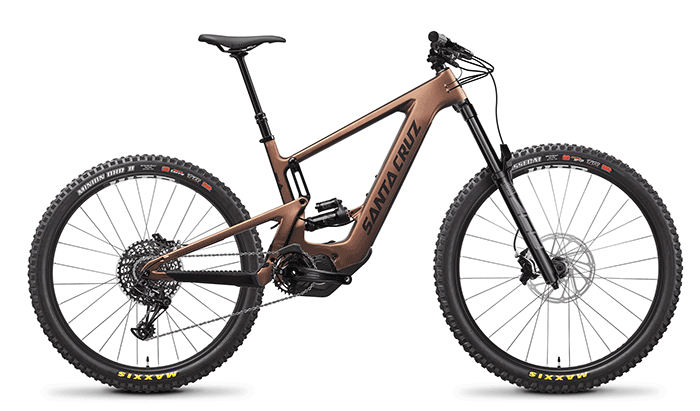 'Twas growing dark and three wise trail riders were looking to pack it in until the morrow, when what did appear unto them but a new star in the evening sky.  They followed this star to their local Santa Cruz retailer and what they beheld therein gave them much cause for rejoicing.  It was the Bullit reborn!
Gone were the aluminum tubes of old, replaced now by a frame wrought of light and sturdy carbon CC.  Where 26" wheels had been on the Bullit of yore now spun a 29er up front and a 27.5" in the rear.  Instead of a single pivot suspension platform, this new incarnation featured 170 mm of travel in both the front and rear.
What did they espy on this Bullit but a pedal-assist motor of such power and efficiency that the three wise trail riders did reach deep into their pockets, not for gold, frankincense, and myrrh, but for a starting suggested retail price of $7,499.
Lo, they had seen the new Santa Cruz Bullit, and it was glorious.
MSRP: from $9,049 depending on the build
Class: Class 1 EMTB MX
Motor: Shimano STEPS EP8
Battery: Shimano 630 Wh Integrated
Range: 50 – 80 miles depending on riding conditions
Quick PROs & CONs
---
Pros
8 out of 10 stars for the Shimano EP8 motor and 630 Wh battery for powerful pedal assist over long rides
7 out of 10 stars for the Fox 38 fork for its 170 mm travel around a 29" front wheel for supple stability over bumpy downhills
7 out of 10 stars for the RockShox Super Deluxe Select to further eat up the stresses of rugged trails
Cons
4 out of 10 stars for the price. Even though this is Santa Cruz' top of the line EMTB, many of its features and specs are similar to the lesser priced Heckler also from Santa Cruz or a bike like the YT DECOY Shred
4 out of 10 stars for a noisy motor. When not engaged by pedaling, the EP8 motor tends to rattle in its housing.
Key Features
Mixed wheel sizes provide the rollover capability of a 29" front wheel with the precision handling of a 27.5" rear wheel.
A carbon CC frame that is stiff, precise, and lightweight.
Shimano STEPS EP8 motor offers a gnarly 85 nm of torque.
The 630 Wh battery is the largest capacity battery Shimano makes and ensures power over long rides.
Our Santa Cruz Bullit MX Overview
---
Frameset, Geometry, and Sizes
As more and more riders are having success in competitions using a combination of 29" wheels and 27.5" wheels, these bikes are becoming more popular.  Shimano refers to them as "MX" or "Mixed Wheel" bikes, but many know them colloquially as "mullet bikes" named for the famed hockey-hair that is all business up front while there's a party in the back.  The Bullit is a bike designed with this mindset.
As far as business in the front, a 29er combined with a 64 degree headtube angle provides a solid base to take on obstacles with confidence.  The party in the back comes from a 27.5" wheel and 449 mm chainstay giving the rider the precision to be able to place their rear wheel exactly where they want it while still helping to keep the front end down on the more wicked uphills one might encounter.
The traction of the big front wheel and the playfulness of the back ensure nimble maneuvering in tight spaces. A 77.1 degree seat tube angle and 475 mm reach (for a large sized Bullit) put the rider in a comfortable and upright position over longer and more rugged rides.
Motor and Battery
---
Shimano's new EP8 motor, short for DU-EP800, is a big step up from its predecessor, the STEPS E8000 also from Shimano.  The 85 Nm of torque it offers represents a 21% increase from the previous model.  This welcomed increase in power comes with an additionally welcomed decrease in both the size and weight of the motor.
In large part due to ditching an aluminum housing for a magnesium one, the EP8 weighs in at 2.6 kg shaving off 300 grams from the forerunner.  This is a big oomph in a small package.
The EP8 motor hums more quietly than the STEPS E8000.  The whirring of the motor could easily be eclipsed by the dulcet tones of nature or the primal grunting of the rider.
When coasting on a descent, cobbling over rough patches of the trail, or when the motor engages and disengages, a metallic clunking noises can be heard.  This may be disconcerting for some, however, it is a problem easily solved with louder music in one's earbuds.
Powering the EP8 is a 630 Wh battery that is also a step up from Shimano's previous e-bike batteries.  With nearly 25% more Wh than their prior models, and coupled with the more efficient EP8 motor, Shimano has presented a drive system meant for sustained power across extended, challenging rides.
Fully integrated into the frame, Santa Cruz has redesigned the battery's cover.  It is polycarbonate combined with a gasket to protect the battery from both impact and crud, but easily removable for charging.
Components
---
Especially at its most impressive and expensive build, the Bullit touts a package of components that seem as enviable as they are reliable.  SRAM's X01 Eagle offers 12 gears to allow for chugging up the steepest climbs or cruising across the flowiest trails from a setup known for durability and smoothness.
Similarly, the EM900 crankset features crank arms made with Shimano's Hollowtech process to cut down on the overall weight of the parts without sacrificing their rigidity over the long term.  In the case of said long-term performance of the Bullit, Santa Cruz offers a lifetime warranty on the bearings, handlebars, bottle cage, and rims, not to mention the carbon frame itself.
The Bullit isn't only meant for longer life, but for longer rides as well.  With 170 mm of travel in the Fox 38 fork and another 170 mm in the back with RockShox Super Deluxe Select, the Bullit is meant to soak up the shock and provide the rider more comfort in the saddle over long-duration trips through rock gardens and across rooty paths.
ECO Mode
---
Where the trail is flat and smooth, the motor can be set to Eco mode to provide a little extra zip without draining the battery.
As it begins to climb, it can be easily switched into Trail mode and finally Boost mode when the ascent really turns vertical.  This is all standard EMTB operation.  However, when that steep climb gets too steep and the 29er starts pulling off the ground, that is where the Walk mode has been improved over Santa Cruz's Heckler model.
The bike does not have to be in any specific gear and the pedals do not need to be engaged to get a little added push from the motor when forced to hop off the seat and shove the Bullit's 49 pounds uphill.
Display
---
While the Bullit's wheels are bouncing and spinning across the terrain, its motor can be adjusted using the Shimano SC-EM800 display unit, but what about when the rider gets home?  What about when they start recounting their ride and they realize they want the EP8's Boost mode to be a bit boostier, or they realize they don't want to use up as much juice when rolling along in Eco mode?
The Shimano E-Tube Project can turn a cell phone into a tool for fine-tuning the Bullit's performance.  The app allows customization of the amount of torque used in different modes, as well as setting conditions for automatic shifting.
Santa Cruz Bullit Ride Feel and Suggested Use
With its efficient motor and high-capacity battery, the Bullit lends itself to extended trail rides over rugged terrain.
It's mixed wheel setup grants surefire, root-chewing rollover capability, while the 27.5" rear wheel still allows for playful precision handling.
The springy suspension wants to engage obstacles head-on and bound right over them.  The bike would be wasted on simple, flat ground, but screams to be taken where the way is rough and wavy.
Santa Cruz Bullit Size Recommendations
---
Medium: 5'5" – 5'9" (165 – 175 cm)
Large: 5'9" – 6'1" (175 – 185 cm)
XL: 6'1" – 6'4" (185 – 193 cm)
XXL: 6'4" – 6'7" (193 – 201 cm)
Ride or Pass?
---
Ride, that is, as long as one has put serious thought into it.
To quote the Talking Heads' David Byrne, "This ain't no disco.  This ain't no foolin' around."  The Bullit ain't foolin' around either.
This isn't an entry-level e-bike for certain.  The Bullit is a serious investment.  Anyone putting up that kind of dough should know what they want out of an EMTB and see that directly reflected in this bike before their purchase.
There may be other options more suitable at a lower price, but for a rider brimming with passion who is looking for top-of-the-line quality, the Bullit may suit their lust for mud nicely.
---