Tern GSD Folding Cargo Electric Bike Review
Tern bikes, and by extension the Tern GSD, haven't been around for all that long but it's been long enough that you can hardly call it a flash in the pan anymore. Since 2011 Tern has been building folding bikes of all kinds. I found an old quote from back in 2011 where Vice President Joshua Hon says what Tern is all about. What Joshua says is that Tern makes "bikes which fold, not folding bikes."
Over the years the focus at Tern Bikes has shifted a little bit. It's a subtle change that doesn't leave behind what Joshua said in 2011 but it's definitely a shift. Look at the About Us page on the Tern website in 2023 and there's a different statement.
"At Tern, we're working to build a sustainable future based on a core belief that the bicycle—the ultimate high-efficiency vehicle—is central to that vision."
To that end Tern creates bikes for the urban environment that allow you to leave your car behind.
There's a thought process behind maximizing the space available in cities. They've created a product for getting around in whatever way makes sense for you.
For some people that means a flat bar hybrid style bike that happens to fold. For others that means small, folding, bikes that have provisions for commuting and some cargo. If you are someone that needs a pickup truck of a bike then the Tern GSD is for you.
The Tern GSD is an electric cargo hauler. Carry a couple of kids, an adult, or a couple of adults squeezed on, or enough cargo to feed a small family for a couple of weeks. Excuses for keeping an internal combustion car around are harder and harder to come up with when you have a bike this capable.
Tern GSD Frameset Geometry and Sizes
The Tern GSD is actually a collection of models each with their own set of nuances. Currently available from Tern are both the first generation of Tern GSD bikes and the second generation. To make things even more confusing the Tern website is not always accurate.
I'll break down the differences in the models shortly but let's start with the pieces that are the same. I'll break down the model differences shortly but let's start by talking about what you can expect from the second generation of Tern GSD models.
Originally launched in 2017 the Tern GSD represents a compact design that is still highly functional.
In August 2020 that original design went through an update. The update continues to help families and business transition to sustainable mobility.
Tern Team Captain Joshua Hon describes the relationship between the old design and the new design as evolutionary.
According to Joshua, "We think we did a pretty good job, but that was only version 1.0." With the additional time and kilometers there has been a lot learned at Tern. The old design was a good one and the new one is even better.
Whatever version of the Tern GSD you decide is right for you the frame, geometry, and sizing is the same. The frame carries a gross vehicle weight rating of 440lbs and can do the work of a heavy-duty cargo bike. The cargo area out back carries up to two kids, or even an adult passenger, plus tons of groceries while keeping the same length as a standard bike.
Without tools, or adapters, the GSD frame can handle riders as small as 4'11" or as large as 6'5″. Out back two Thule branded seats fit, no adapters needed, or a combination of seats and no seats to handle multiple children of different ages.
If cargo capacity sounds more interesting than passengers then the large capacity and compact size of the GSD fits the bill equally well. Trim down operating costs and reduce carbon emissions for a better way to deliver business goods. It's an easy win as it's better for you and better for the environment.
The backbone of all this versatility is a beefy new frame. There are larger, internally-reinforced, tubes and an optimized truss design. The result is a stiffer frame that can handle heavy cargo, or passengers, with being overly flexible.
To make loading passengers, or cargo, easier the GSD features a very special kickstand. The patented Atlas Lockstand is wide, strong, and stable. When engaged there is an autolock feature. Unlocking of the lever happens at the handlebars for safety and convenience. You never have to worry about the bike tipping over while loading cargo or passengers.
The geometry of the Tern GSD isn't that of a racer. Instead, it's an easy-step upright geometry.
There's a clack seat tube angle and higher handlebars that works better for both taller and smaller riders. Coming to a stop it's easy to reach the ground for stabilization. All models feature a custom suspension fork and 20″ wheels for comfortable riding and a small footprint.
When it comes to the older models of Tern GSD frames you can expect the same geometry, and a similar frame but with less stiffness. Gross vehicle weight remains the same and riders of the same size range can choose either option. The Atlas kickstand is a new innovation however the older frames do have a double kickstand which also provides stability.
---
Tern GSD Models
The easiest way to know at a glance if you are looking at a first-generation or second-generation Tern GSD is to look at what motor is being used. All second-generation Tern GSD models use the Bosch Cargo Line motor. The Bosch Cargo Line features 400% Assist, 85 Nm Torque and a max speed 25 kph (EU) or 20 mph (US).
The other features that are an easy giveaway are more structural. Tern GSD v2 bikes use the Atlas kickstand which features an auto locking design that releases via a button on the handlebar. Overall, there are also updates to the frame however the easiest to spot is the integrated lower deck in the rear of the bike.
Accessories exist to add lower deck functionality to first-generation Tern GSB bikes. What is different is that second-generation bikes have an integrated design. It offers built-in support for cargo and passengers' feet.
For even bigger loads, add the Sidekick Wide Decks for extra room and even more load capacity.
Whichever version of the Tern GSD you choose there are a lot of similarities. Suggested rider height remains the same at 150 – 195 cm (4'11" – 6'5″) as does max rider weight of 120 kg (264 lb) and max gross vehicle weight 200 kg (440 lbs).
Brakes on both the v1 models and the v2 models are the Magura MT5 hydraulic brakes and all models fit two Thule Yepp Maxi child seats without adapters. The front fork is a custom designed suspension fork and the same elevator friendly design remains as well. It's short enough to fit in small elevators and will quickly fold down to one third of the size.
Both generations let the bike stand vertically for compact and stable storage. Choose what works for you without compromising the ease of use and utility that comes with a Tern bike.
There are differences though, let's run through each model.
Tern GSD R14
This is the top model that Tern offers. It's part of the second-generation of Tern GSD and what sets this model apart is mechanical drivetrain and the battery system. On the mechanical side of things shifting happens via a Rohloff® Speedhub. It's a 14-speed system with 526% gear range, electronic shifting, and automatic downshifting. Power transfers from the front crank to the rear using a Gates carbon Belt Drive.
On the electric side of things, there is the same Bosch cargo line motor as all second-generation Tern GSD models. The difference is that dual batteries are part of the purchase price. There is 1000Wh available for a range of up to 206 km (128 mi).
---
Tern GSD S00 LX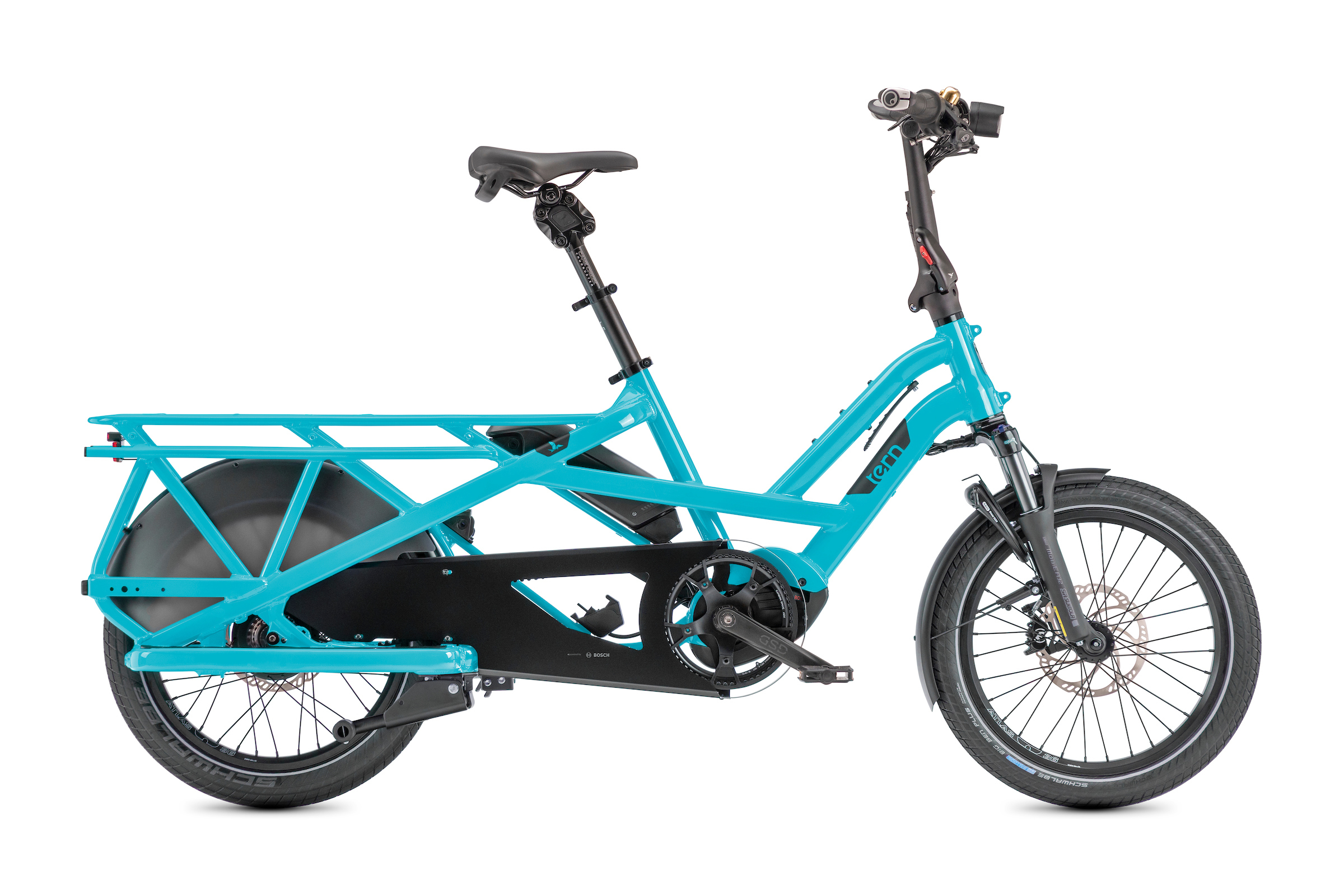 This model represents largely the same bike as the more expensive Tern GSD R14 with two major differences. Instead of the Rohloff Speedhub the shifting gets handled by the continuously variable Enviolo SP hub. The Enviolo hub is a system without distinct gears and with a 380% gearing range.
The other major difference is that the dual battery is now an option with a price tag attached. One option is a 500Wh single battery but a second battery is available for increased range.
---
Tern GSD S10 LX
Continuing to follow the trend the GSD S10 LX represents further cost savings compared to the top-of-the-line R14. The same electric system found up the model line exists with the GSD S10 LX. Just like the S00 LX the second battery is an option but not included in the base pricing.
The departure here is the shift in drivetrain. Instead of a belt drive system with an internally geared hub the S10 LX makes use of a Shimano derailleur system with a chain. It's a 1×10 Shimano Deore level drivetrain with 11-36 gearing.
---
Tern GSD S10
This bike is the bridge between the old and the new. All second-generation Tern GSD bikes feature a Cane Creek Thudbuster ST
Suspension Seatpost as well as an Ignis Headlight. The GSD S10 is a departure from those details.
Instead of the suspension seatpost a telescoping Tern seatpost is what you will find on the GSD S10. Tern Valo Direct, with 190 lumens, also represents a change from the 700 Ignis headlight on the other second-generation models.
When it comes to the drivetrain it's again a mix. The same Shimano Deore system found on the S10 LX shows up on the S10. Like other second-generation GSD models, the chosen motor is a Bosch cargo line model. The battery options are different though. Instead of the 500Wh/1000Wh options there are 400Wh/900Wh options. Torque remains the same 85nm as does the second-generation frame.
---
Tern GSD S00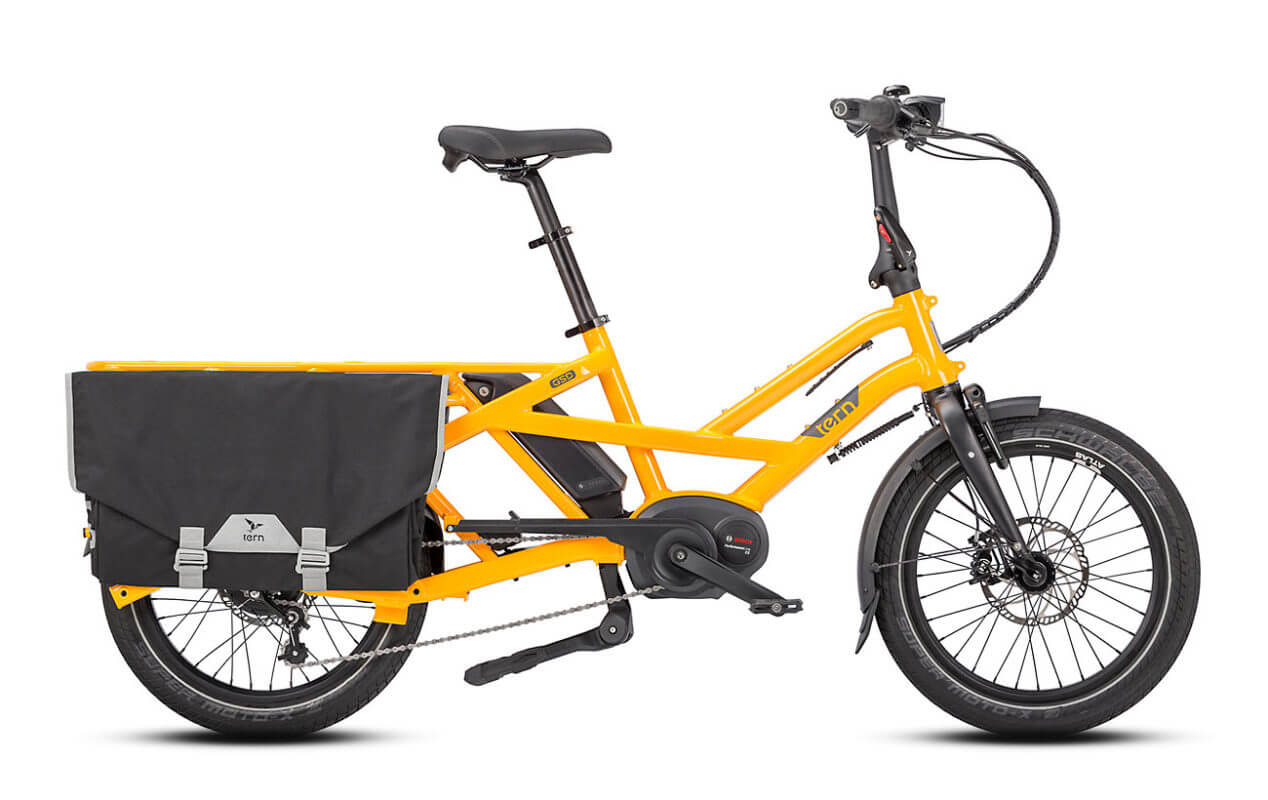 The Tern GSD S00 is the higher model of the two Tern first generation models still available for purchase. The older frame design is what you will find along with the Bosch Performance CX motor. It's a 36 V/250 W, max speed 25 kph (EU) and 20 mph (US), max torque 75 Nm system but there are still dual batteries on offer.
A single 500Wh battery comes included or a second battery is available at additional cost.
The drivetrain consists of an Enviolo Cargo Groupset. The groupset features a 380% continuously variable gear range and a boost Thru-Axle. Unlike other Enviolo systems this cargo groupset employs a chain instead of a belt drive.
---
Assembly and Delivery
Tern offers some bikes for sale directly through their website but it's not as simple as it might seem. All Tern bikes sell through dealer partners. Even if you are able to purchase directly through the Tern website a Tern dealer is the one who will be handling your order.
If that dealer happens to be close enough for direct pickup then your order will be fully assembled for you. it is possible to order Tern bikes for shipment though. not all bikes who use a dealer network allow that arrangement but Tern does. If you have the bike delivered it will arrive in a box, like other bikes, however given that it's a folding bike it requires even less assembly.
Because Tern bikes fold the handle bars are fully assembled when shipped. Similarly, wheels are ready to go as well. The only items that need installation are the pedals and any accessories. If you order any of the many accessories Tern sells, they will come in a separate box.
Verdict
The Tern GSD is a bike for today but also for the future. Tern is thinking about a future where the world is increasingly urban and cars are both unnecessary and undesirable. Ride more and pay less without giving up on doing the things you want to do. Carry the cargo and the passengers, both kids and adults, that make sense for your life without needing a car. Instead of needing to have a car for the times when you want to carry things now you've got a choice.
There are other options that make this same pitch though and Tern has taken it a step further. Cargo bikes are big. If you've got a small elevator to get to a small apartment a traditional cargo bike might not be a possibility. This is where the Tern GSD can step in and do things competitors can't. Fold the handlebars down, drop the saddle, and stand the bike upright. If you can fit a planted pot you can fit a Tern GSD.
The only thing that might hold things up is pricing. Tern bikes are not inexpensive. For the money spent you are getting top of the line components however the initial investment can seem large. Think about the context though. Cars are expensive and require tons of ongoing expense. Trade your car for a nice bike and the Tern model lineup is a lot more affordable.
---