Aventon Level.2 Review — Torque Sensor, Color Display & Class 3 Speeds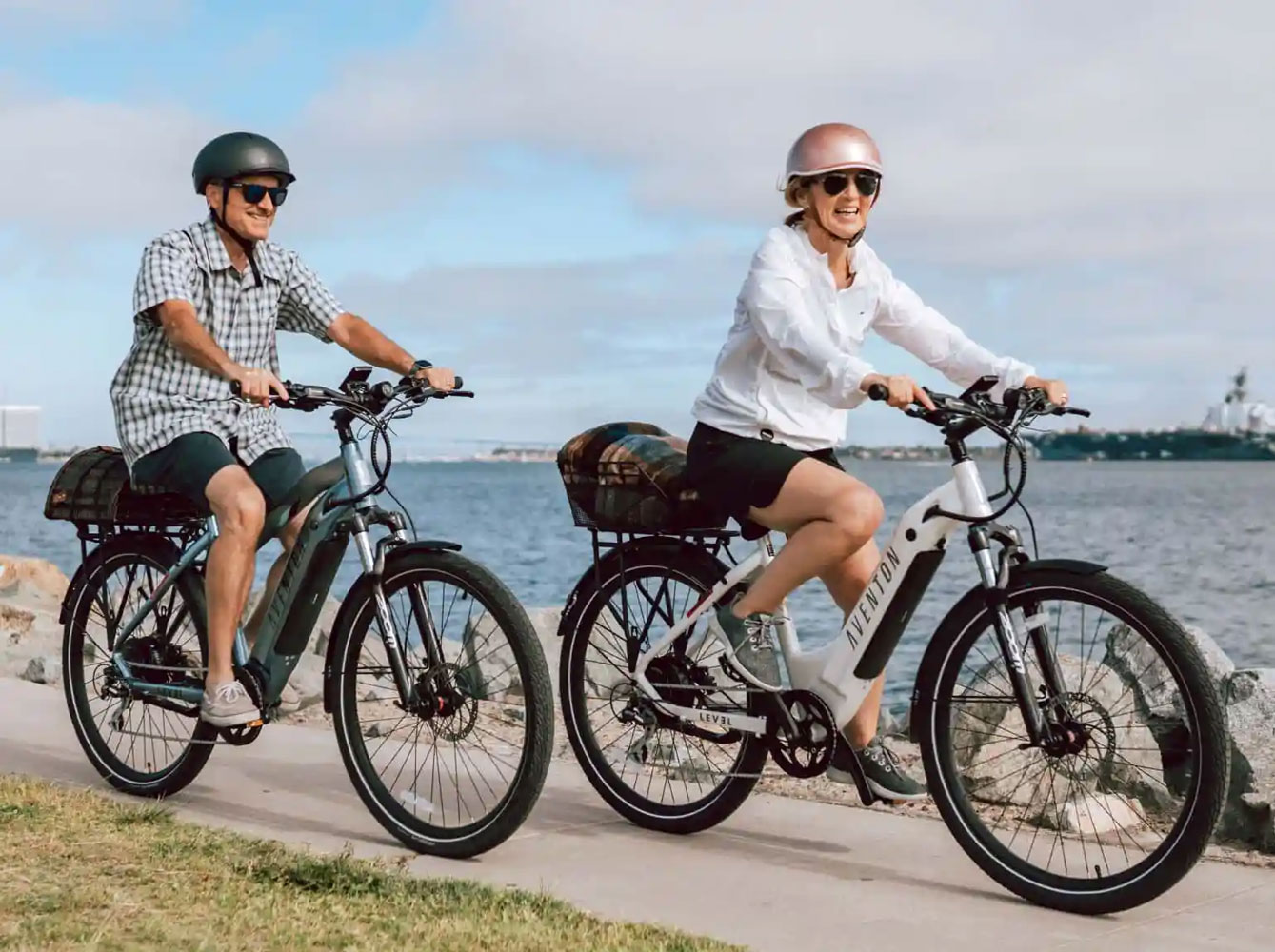 The Aventon Level.2 is the perfect commuter companion, equipped with all the necessary components to make urban life convenient. The new model is much lighter, has more range, and has smoother power transfer from the updated torque sensors. 
One of the most common uses for electric bikes is commuting, and that's why we see an explosion of quality yet affordable commuter e-bikes hitting the market.
The sub-$2,000 urban eBike segment is highly competitive, so manufacturers like Aventon must constantly innovate to develop unique features and components while keeping prices down.
The Aventon Level.2 e-bike is an example of this dedication to improvement. The brand has significantly upgraded many aspects of the bike for a modest price increase of $150.
This Aventon Level.2 review will cover the bike's main features and characteristics, answer some common questions, and provide our verdict on whether or not it's worth the money.
MSRP: $1,949
Class: 2 or 3 (Electric Commuter Bike)
Motor: 500W Brushless Hub Motor (750W Peak)
Battery: 48V/14Ah (672 Wh)
Range: 30-60 Mile Range
What's New for the Aventon Level.2
---
As mentioned, the Level.2 received a big update for 2023, including an upgrade to the frame, bringing down the weight by eight pounds. The other changes include:
Torque sensors for a more natural ride feel
A sleek color display
10mm less fork travel
Integrated LED taillights
More range
The Aventon Level.2's weight is 54 lb compared to the previous 62 lb. In addition, 10mm less suspension travel increases ride efficiency without impacting comfort, and torque sensors ensure a more even use of power, further extending battery capacity.
As a result of these changes, you have a higher minimum and maximum range of 30 to 60 miles vs. 25 to 57 miles on the previous model.
All the abovementioned changes come with only a $150 increase in price. Given the recent increases in inflation, we feel this new model is a bargain.
Frameset and Geometry
---
The Aventon Level.2 frame is a typical commuter-style, built with upright and comfortable geometry, a low standover height, and new narrower tubing.
Aventon uses a standard 6061 double-butted aluminum alloy for the frame and cleverly integrates the electronics and cabling for a sleek finish. This material is almost universal on eBikes in this price range.
Impressively, the new Level.2 frame is much lighter than that of the previous model. In addition, riders can choose between an Aventon Level.2 step-through or step-over frame, each with different colors and sizes.
The step-over frame has Clay and Glacier blue color options with a regular or large frame size fitting riders 5'7″ to 6'4″. The step-through frame comes in Polar white or Himalayan pink and an S/M or M/L frame, fitting riders 4'11" to 6'2″.
The geometry is ideally suited to navigating busy city streets. An upright position gives you stability and a good vantage point to see and be seen on the road, which easily makes Aventon Level.2 one of the best electric commuter bikes out there.
Motor and Battery
---
The Aventon Level.2 comes with a brushless rear hub motor that has a 750W peak and 500W sustained power.
For the new version, Aventon replaced the cadence sensor with a torque sensor, resulting in a much smoother and more natural power transfer. This change improves how the bike feels to ride and increases the range.
The Aventon Level.2 battery is the same 672Wh, 48V unit used on the original model. It is housed neatly in the downtube, giving a refined look to the frame. However, you can easily remove it for charging if you don't want to plug it in while it's in the frame.
Aventon provides a rapid charger for the Level.2, which gives a full charge from almost empty in roughly 4 hours, an impressive stat for a bike of this price.
This bike provides more than enough power and range for urban riding, commuting, and running errands.
You'll easily get a day's riding while using the throttle and the higher PAS settings, even with hilly terrain. In addition, you can maximize the 300lb payload capacity to carry whatever cargo you need without any issue for the motor.
The final electronic component worth mentioning is the upgraded color display that offers all your ride metrics and connects to the Aventon mobile application for customizing your ride.
Components
---
The rest of the Aventon Level.2 specs are impressive given the price of just $1,949, easily competing with other commuter e-bikes in this range, such as the RadCity 5 Plus.
Firstly, you have a fully-equipped setup of a preinstalled rear pannier rack and metal fenders, a kickstand, frame-integrated LED taillights and a battery-powered headlight. These components make commuting and general urban riding convenient and safe.
The drivetrain is a reliable Shimano Acera 8-speed with trigger shifters, a 12-32t cassette, and a 46t crankset. This setup performs well for this price range and offers enough gearing for handling light to moderate hills.
Stopping comes from 180mm-rotor Tektro hydraulic disc brakes, a low-cost yet effective setup with plenty of power for stopping in varied conditions.
Aventon chose a comfort-focused build kit that complements the relaxed ride style of the Level.2. The smooth and enjoyable ride feel is enhanced by 65mm travel coil fork suspension, ergonomic lock-on grips, plush 2.1″ balloon tires, and a comfy saddle.
Is the Aventon Level 2 Still Worth It?
In our opinion, the Aventon Level.2's price is very competitive given the spec. It sits in a category flooded with great choices and is certainly worth considering.
The new updates to the bike easily justify the $150 (eight percent) price increase. Most manufacturers have raised their prices by five to ten percent in the last year, regardless of upgrading or not due to inflation.
If you're looking for a workhorse electric bike for mixed-terrain commutes, entire days spent running errands around the city, or just leisurely weekend and evening spins, the Aventon Level.2 has got you covered.
Ride Feel and Suggested Use
The words that best describe this bike are comfort, versatility, and reliability.
Aventon describes the Level.2 as their pure commuter bike, which is where it excels. However, it's also perfect as an urban hybrid, regardless of whether you need it for commuting or not.
Large 2.1″ tires and 65 mm of fork suspension give this bike the ability to traverse light gravel roads and forest paths without issue.
Overall, the Level.2's ride quality is comfortable and relaxed. An upright position and choice of a step-through frame make it easy to ride for any age or flexibility. In addition, it's relatively light and maneuverable for a fully-equipped e-bike.
However, if you want something more versatile that you can take off-road as well, we recommend looking at Aventon Aventure.2 instead.
You Might Also Ask
---
Where are Aventon bikes made?
Aventon bikes are made in the company's factory in China. When the manufacturing is complete, the bikes are sent to the headquarters in Los Angeles, California, for assembly, testing, and quality control. By owning its own factory, Aventon can control the whole manufacturing process.
The Aventon Level battery lasts from 30 to 60 miles. The real-world range test that the company carried out returned 60 miles on the lowest PAS level on flat terrain with a 165lb rider. The Level.2 will last roughly 30 miles on flat terrain while using the throttle alone.
Jianwei Zhang and Augusto Peraza III own Aventon eBike. The two former university classmates co-founded the company in 2013 and still maintain ownership. Zhang moved to the US from China to complete his studies and joined forces with Peraza, a Los Angeles native.
The Aventon Level is a Class 3 bike. When shipped, the Level.2 is set as a Class 2 bike, but it can be reprogrammed through the Aventon mobile application to increase the top assisted speed to the Class 3 limit of 28mph.
Is the Aventon Level waterproof?
No, the Aventon Level.2 is not waterproof. The Level.2 and all Aventon eBikes have an IPX4 water-resistant rating. This means they resist rain and splashing from water in normal riding conditions. However, they cannot be submerged or cleaned with pressurized water.
Ride or Pass?
---
We're impressed with this new release from a growing electric bike company. The Aventon Level.2 eBike is, without doubt, a worthy recipient of a "Ride" grade.
It's affordable, comfortable, and highly functional in urban environments. In addition, reliable and durable componentry means you can ride with confidence and peace of mind. So add the Level.2 to your shortlist if you're searching for your next commuter e-bike!
---