Aventon Sinch.2 Review: Now with Torque Sensor and New Tech
Aventon has recently released the Sinch.2, the second iteration of the USA-based brand's popular folding electric bike.
The Sinch.2 has a recognizable sleek look but comes with exciting new tech, smoother welds, improved looks, and even a torque sensor.
The demand for folding ebikes has been growing steadily, as people want the full functionality of electric assistance coupled with easy storage, which is what this ebike is all about.
In our Aventon Sinch.2 review below we'll take a closer look at the components, all the new features, and break down the value you get for your money.
Aventon Sinch.2 Main Specs:
MSRP: $1,799
Class: Class 2, 20 mph
Motor: 500W (750W peak) rear hub, 36V
Battery: 48V 14Ah (672Wh)
Range: 55 Miles on PAS, 22 Miles on Throttle
Tires: 20″ x 4″ ebike rated
Drivetrain: Aventon 8-Speed
Brakes: Mechanical Disc Brakes
Weight: 68 lb
Weight limit: 300 lb
Aventon Sinch.2 Pros and Cons
Pros

Responsive 500W motor and solid
672 Wh battery.
Torque sensor, which is a rare find on a
sub $2,000 ebike.
Integrated rear lights withturn signal
functionality.
A one-size-fits-all frame that truly fits almost everyone.
Metal fenders and a rear rack come as stock accessories.

Cons

Hydraulic disc brakes would have been a much better choice for this price.
Low-tier Aventon-branded rear derailleur.
No bottle cage mounts.
Aventon Sinch.2 Review: Affordable Folding E-Bike with a Torque Sensor
As its name suggests, the Sinch.2 is the second version of Aventon's foldable ebike. The first version was available in step-over and step-through variations, whereas the new model is offered only with a step-through aluminum frame.
However, it's important to note that the frame is now more refined, the welds are smoother, and the colors are more modern and vibrant than before.
Aventon is generally well-known for providing excellent value for the money, and it's safe to say they went a step further with the Sinch.2.
This foldable ebike now comes with a torque sensor instead of a cadence sensor (which makes for a more natural ride feel), integrated taillights with turn signals, an 8-speed drivetrain, and a much better range.
Aventon's Sinch.2 represents the next level of folding e-bikes, showcasing improved aesthetics, a smoother frame, and the integration of a torque sensor.
While the competition is fierce in the folding ebike scene, the Sinch.2 easily beats many of its fierce competitors on value, such as the Rad Power Bikes RadExpand 5 or Blix Bikes Vika+ Flex.
And although there's always room for improvement, such as mechanical disc brakes and Aventon's low-tier rear derailleur, the level of tech and performance you get for $1,799 is pretty impressive.
Modern Aluminum Frame with Smooth Welds
The new Sinch.2 inherited its frame from the older model's step-through version, but Aventon made sure to improve it both in terms of looks and functionality.
Namely, the new frame now has much smoother welds that add to the sleek look and comes in two colorways—Quicksilver and Sapphire—both of which have a modern metallic look.
If you frequently ride over curbs, on imperfect city pavement, or on light gravel, you'll be happy about the suspension fork as well. It offers 45 mm of travel, which greatly improves the overall comfort of rides.
The frame comes in one size that should fit most, as it's suitable for riders between 4'11″ and 6'2″ tall.
When you're not using the bike, you can quickly fold the frame, handlebars, and pedals and store it as a 46" L x 28" W x 30" H bundle.
Reliable Motor and Battery with a Torque Sensor
When it comes to the motor and battery, not much has changed on Aventon Sinch.2. It still comes with a 500W nominal rear hub motor (750W peak) and a 672 Wh battery.
However, the battery is now located on the upper side of the downtube which makes it much easier to take it out for charging.
The most significant change in the electronics department is the introduction of a torque sensor that replaced the old cadence sensor, which is a rare find on electric bikes under $2,000. All other competitors come with a cadence sensor, including the RadExpand 5, Blix Vika+ Flex, and Lectric XP 3.0.
Torque sensors provide assistance by measuring how much power you're producing and then adding a certain amount of assistance on top of that, based on which assistance level you've chosen.
That makes pedaling feel much more natural and it's easier to pedal casually at low speeds. On the contrary, a cadence sensor feels jolty because it essentially works like cruise control on a car, giving you much less control.
Despite minor changes in the motor and battery setup, the Sinch.2 still boasts a formidable 500W nominal rear hub motor with a peak of 750W, alongside a robust 672 Wh battery.
Thanks to the torque sensor, the estimated range is now 55 miles for PAS (up from 40 on the old model) and 22 miles on throttle only. You can keep track of all your metrics on Aventon's color display which looks great and has tons of functions, including USB charging and connectivity with Aventon's official app.
The only hiccup is the fact that the thumb throttle is now located on the right side of the handlebars which makes the space feel a bit crowded with shifter levers right next to it.
Low-Tier Components that Get the Job Done
There have been some changes in the components department as well, but not the ones we'd like to see, unfortunately.
Aventon replaced the Shimano Acera 7-speed rear derailleur with its proprietary 8-speed derailleur which is both a good and a bad thing. You get one more gear, which will help you ride more efficiently, but you lose Shimano's reliability. Though, so far, there haven't been any negative reports about the new derailleur.
The Sinch.2 still rolls on 20″ x 4″ tires, that are quite road-friendly and have a cool brown sidewall.
For stopping, it uses mechanical disc brakes that are not ideal. Considering how premium all other features feel, we think hydraulic disc brakes would have been the logical choice here. They are clearly riders' favorite and are becoming more and more common on ebikes in this price range.
That's something Aventon could definitely improve upon in the future.
Premium Accessories Ready for Commuting
The Sinch.2 is pretty decently equipped for commuting to work and running everyday errands. It has all you could ask for.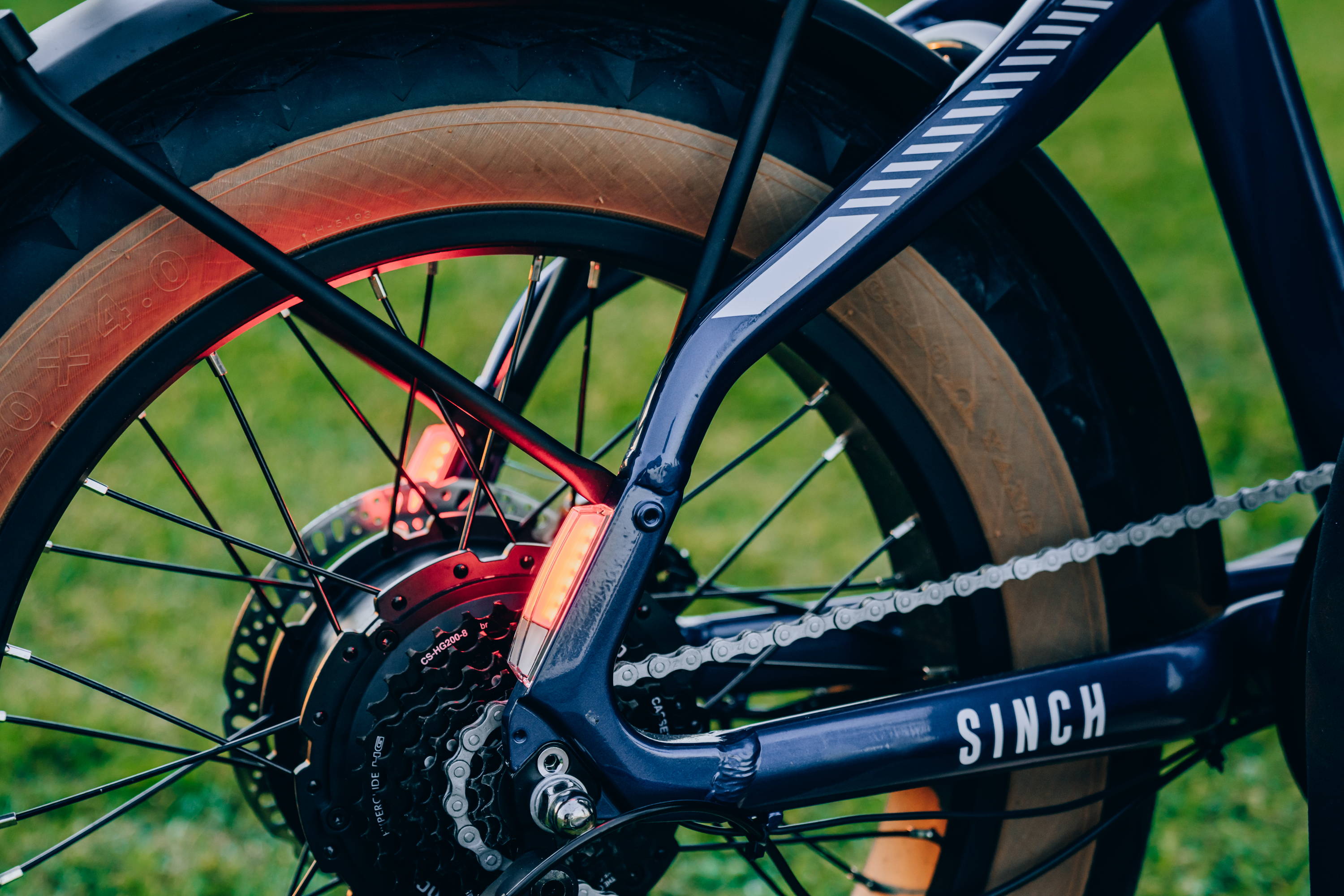 You get front and rear durable metal fenders and a rear rack with a 55 lb load capacity. Unfortunately, that's not enough to carry a child, but it's more than enough for getting groceries.
Front and rear lights are a big plus as well. The front light is bright enough to ride at night, whereas the rear lights are now integrated into the seat stays, which is a premium feature first seen on the Aventure.2.
The change we're happiest about is the addition of turn signals that work great as they sit separately on each seat stay, which is not always the case on ebikes that have them.
Adding a touch of safety and convenience, the Sinch.2 integrates rear lights with turn signal functionality, a feature that places it a notch above in the realm of foldable e-bikes.
All in all, you won't have to spend any additional money on accessories, as you get everything you need for the base price of $1,799.
Frequently Asked Questions
What is the range on the Aventon Sinch?
The Aventon Sinch.2 has a 55-mile range on PAS and a 22-mile range on throttle alone. Aventon states that this is a range estimate for a 160 lb cyclist riding in eco mode. If you are heavier than that or are using higher assist levels, you should expect a lower range.
What is the top speed of the Aventon Sinch?
The Aventon Sinch.2 is a Class 2 ebike with a 20 mph top speed with both pedal assistance and throttle. Unlike other Aventon's models, its top speed cannot be increased to 28 mph in the settings. However, the throttle can be removed in order to turn it into a Class 1 ebike.
How much does the Aventon Sinch ebike weigh?
The Aventon Sinch.2 weighs 68 lb with the battery and all the accessories. While this seems heavy, it's a pretty standard weight for a foldable ebike that costs less than $2,000. The folding mechanism adds some weight, as do the large battery, 500W motor, and all the accessories.
Is the Aventon Sinch waterproof?
The Aventon Sinch.2 is IPX4 rated which means that it is water-resistant but not waterproof. It's OK to ride it in light rain as it can handle road spray from puddles from all directions. However, you should not ride it in prolonged heavy rain or wash it with a hose or pressure washer.
How long does an Aventon Sinch battery last?
An Aventon Sinch's battery will probably last for around 500-800 charge cycles, which translates to around a 5-year lifespan. However, this is just a rough estimate as the real-life expectancy depends on how you use the ebike, how you charge the battery, and how you store it when not in use.
Our Verdict: Ride or Pass?
In conclusion, Aventon's Sinch.2 is an impressive improvement on its already popular folding electric bike, offering excellent value at $1,799.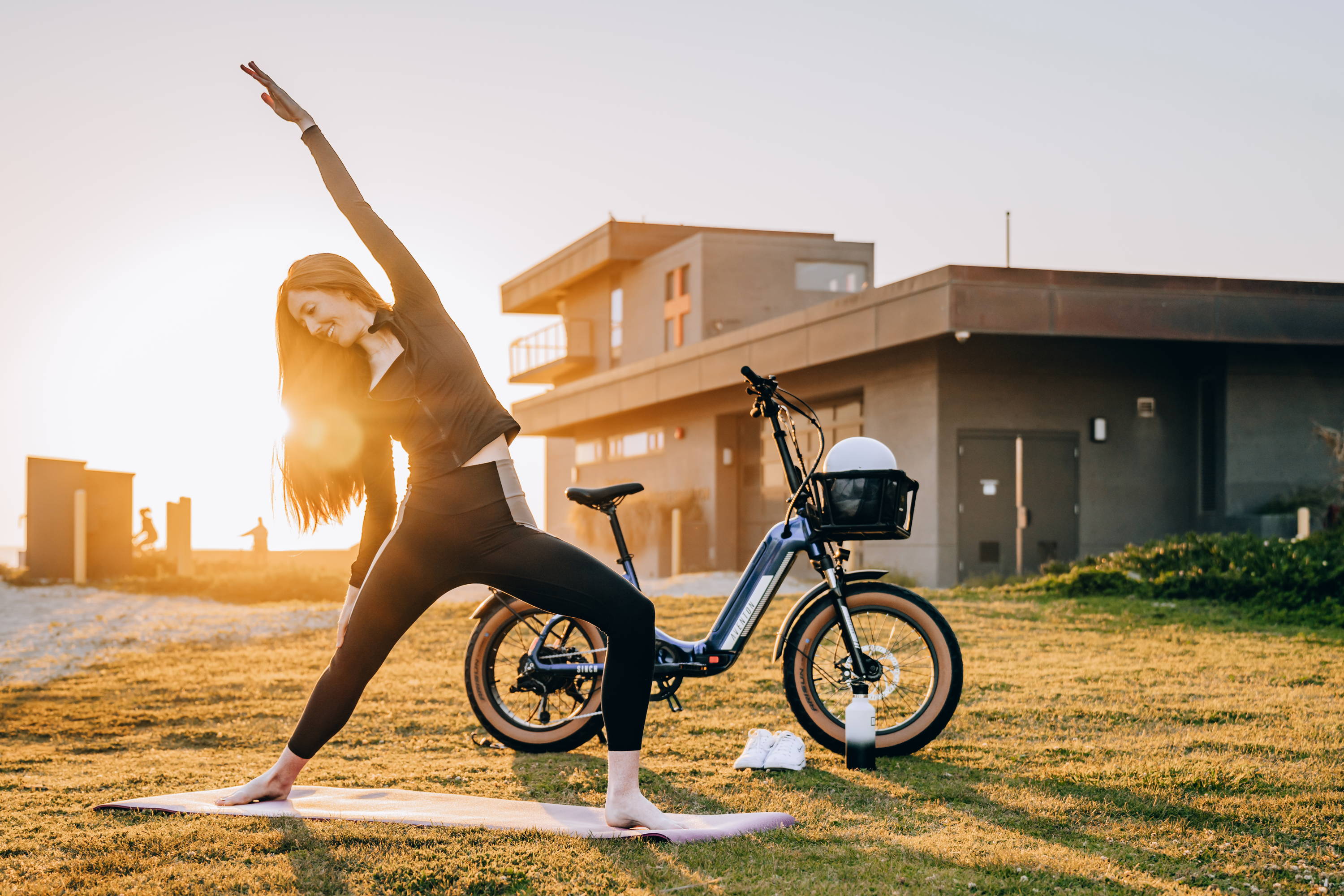 The new model stands out with enhanced aesthetics, a torque sensor, and better range.
In the competitive landscape of folding e-bikes, the Sinch.2 stands out by delivering superior value, surpassing many of its rivals.
Although there is room for improvement in certain components like the brakes and rear derailleur, the Sinch.2's superior features and competitive price point make it a noteworthy contender in the ever-growing e-bike market.
---